| | |
| --- | --- |
| AceNotes Today | Monday, August 16, 2021 |
Fall Conference and Concurrent Sessions 2021
The opening session of the University of Evansville Fall Conference is Tuesday, August 17, beginning at 1:30 p.m. in Eykamp Hall, Ridgway University Center. All faculty, staff, and administrators are welcome and invited to attend. Current UE Covid guidelines will be observed with masks required and 3 feet social distancing for all events.
Fall Conference will continue Wednesday, August 18, with Concurrent Sessions in the Schroeder School of Business Building from 9:00 a.m. to 4:30 p.m. The campus community is encouraged to attend the informational sessions.
View the Fall Conference Schedule for a complete list of events and Concurrent Sessions.
Please address questions to Tracey Folden at ext. 2509 or tf91@evansville.edu or Paula Heldt at ext. 2479 or ph28@evansville.edu.
Employees – United Way Day of Caring
United Way of Southwestern Indiana's Day of Caring is happening on Friday, September 24! This is the largest service day in the area where volunteers give their time and energy to help non-profit organizations in the local community of Vanderburgh, Spencer, and Warrick counties.
This year, UE will be partnering once again with the Buffalo Trace Council of the Boy Scouts of America located at the Eykamp Scout Center just down the road off the Lloyd Expressway (behind the State Hospital).
Projects this year include general landscaping, pressure washing, new tree care, organizing program storage, painting posts, and more! Participating employees will not need to use a vacation day but are required to obtain approval from respective supervisors.
You are also invited to attend the Volunteer Breakfast at the Old National Events Plaza in Evansville, on Friday, September 24 at 7:00 AM.
Sign up by completing this survey by September 17. Contact Alex Amick, Administrative Assistant and Events Coordinator in the Office of the President at ext. 2151 or aa308@evansville.edu with any questions.
Thank You For Your Support and See you Soon!
Employees: Sign up for Purple Patrol this Fall!
The first Purple Friday of the Fall 2021 semester is coming up in just a few weeks on August 27! After a long break, we are excited to bring back our weekly Purple Patrol on campus and pass out goodies to those showing their school spirit. To do this, we need your help as a Purple Patroller!
If you would like to volunteer for a Purple Friday, please sign up here. There is one slot per week, and you may sign up your department/team or a small group of coworkers (please sign up for one spot only so everyone has a chance to participate!). Please be sure to include the names of all employees who will be helping. The more, the merrier! Note: We will not have Purple Patrol the week of Fall Break (November 12) or Thanksgiving (November 26).
When it's your week to help, you will receive an email in advance with basic instructions. Purple goodies will be waiting for you on Friday morning in the Office of Marketing and Publications (top floor of the Schroeder Family School of Business Administration Building). There is no specific time or place to hand out these items; the only requirement is that the recipients are wearing purple!
If you have any questions about the sign-up or Purple Patrol, please contact Julie Bryant, university relations coordinator, at jb855@evansville.edu.

Save the Date - UE Majors and Minors Fair
Save the Date for the UE Majors and Minors Fair on Tuesday, October 19, 2021, from 4:00 to 5:30 p.m. in Eykamp Hall.
Faculty, students, and alumni along with campus support teams will provide information about their discipline, professional outcomes, education programs, academic support, social innovation, and much more.
Watch for additional information coming soon. Contact Paula Heldt at ph28@evansville.edu or 812-488-2479 with questions.
Welcome to the Bookstore, Freshmen
We know that moving away from home can be a stressful situation, and getting your textbooks should not be part of that stress!
For that reason, the Bookstore will be open for extended hours, 8am-4:30pm, on Saturday, August 21st for freshman move-in, and Sunday, August 22nd, from 9am-1pm. On Saturday, we will have giveaways and refreshments.
If you've already ordered textbooks online and have received the second email confirming your books are ready, all you'll need to show us is your student ID for pick-up. We highly recommend you order your textbooks in advance, in order to receive the condition you prefer and alleviate long wait-times, but it is not necessary. If you haven't placed an order online, simply bring a copy of your schedule and a member of our helpful staff will pull books for you.
This is also great time for you and your parents to shop our collection of UE clothing and gifts.
We look forward to seeing you!
Special Bookstore Hours
Special Bookstore hours for the next few weeks:
Monday, August 16th-Friday, August 20th: 9a-4p
Saturday, August 21st: 8a-4:30p (Welcome Freshmen event)
Sunday, August 22nd: 9a-1p
Monday, August 23rd-Thursday, August 26th: 9a-6p
Friday, August 27th: 9a-5p
Saturday, August 28th: 10a-2p
The Bookstore will then return to its regular operating hours beginning the week of August 30th:
Monday-Thursday: 9a-5p
Friday: 9a-4p
Saturday: 10a-2p
Sunday: CLOSED
Order Textbooks Online and Skip the Lines
Did you know you can order your textbooks online ahead of time and skip the long in-store lines? Simply visit the bookstore online at evansville.bncollege.com, click on the "Textbook" header, select your courses from the dropdown menus, and the website will pull a personalized list of Required and Recommended titles!
Now if you plan on renting any books, you will need to put in a credit card to secure the rental BUT you can pay a different way! Are you an Athlete? On VA benefits? Or just need to use your Book Loan before your Financial Aid is distributed? You can do that AND rent! When it comes time to check out, make sure you follow the directions, putting in your credit card AND selecting the secondary form of payment as "Student Account". When the order comes through, the appropriate account will be charged (nothing will be charged to the credit card unless you don't bring them back at the end of the semester).
Not interested in renting? Then you don't need to put in a credit card at all if you're using a different form of payment! Have a Barnes and Noble giftcard? You can use that with us too! The only form of payment we do not accept are checks.
Please allow up to 72 hours for web order processing during the first 2 weeks of class. You will receive 2 emails: one confirming the order, the other to let you know what it is ready to pickup/has been shipped. Please wait for that second email before coming in to pick up your order. If you have decided to have your books shipped, the tracking number will be on that email.
Of course, if you don't feel comfortable ordering online, you're more than welcome to bring your schedule into the store and we will pull your books at our back counter and you can pay at the register. Remember, if you're renting, you need to have a credit card to secure the rentals, even if you're using a different form of payment.
History Professors Deliver Lectures
The History program has been active in the community this summer, delivering four lectures to local adult classes. In June at Old North Church Professor Emeritus Annette Parks spoke on Islam and Europe, Professor Dan Byrne lectured on the development of Islam, and Professor James MacLeod discussed World War One memorialization. In July, Dr MacLeod addressed the Redeemer Lutheran adult summer class on the history of Evansville in World War Two.
Professor Byrne Participates in National Civil War Seminar
Dr Daniel Byrne, Professor of History, has been a participant at the highly selective CIC/Gilder Lehrman Institute of American History seminar on "The American Civil War: Origins and Consequences" in Charlottesville, Virginia during the first week of August. Congratulations to Dr Byrne on is selection to this highly prestigious event.
In Remembrance of Professor Walter Wangerin
Walter Wangerin taught English at UE from 1970 to 1991, and from 1977 to 1985, he was the pastor of Evansville's Grace Lutheran Church. While in Evansville, he wrote a weekly column for The Evansville Press and hosted an evening radio show on WNIN-FM. Wangerin was the author of more than thirty novels, numerous children's books, and a handful of plays, and he received several awards for his short stories and essays. Most of his writing were religious, primarily giving theological guidance on subjects such as marriage, meditation, parenting, and grieving. Other religious books concern the events in the Bible.
Amazon's website states, "Walter Wangerin Jr. is widely recognized as one of the most gifted writers writing today on the issues of faith and spirituality. Starting with the renowned Book of the Dun Cow, Wangerin's writing career has encompassed most every genre: fiction, essay, short story, children's story, meditation, and biblical exposition. His writing voice is immediately recognizable, and his fans number in the millions. The author of over forty books, Wangerin has won the National Book Award, New York Times Best Children's Book of the Year Award, and several Gold Medallions."
The Book of the Dun Cow won a U.S. National Book Award in the one-year category Science Fiction. His Letters from the Land of Cancer received the Award of Merit in the Spirituality category of the 2011 Christianity Today Book Awards. The Evangelical Christian Publishers Association awarded Wangerin six Gold Medallions (now Christian Book Awards) in several categories.
---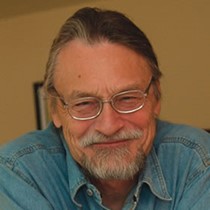 Award-winning author, professor, pastor, broadcaster, and speaker Walter Wangerin Jr., 77, died August 5, 2021. He was Emil and Elfriede Jochum Professor and writer-in-residence at Valparaiso University. Wangerin won the National Book Award, The New York Times Best Children's Book of the Year Award, and several Evangelical Christian Publishers Association Gold Medallion Awards, including for The Book of God: The Bible as a Novel (Zondervan, 1998) and Paul: A Novel (Zondervan, 2001).
The author of more than forty books, Wangerin's writing career encompassed multiple literary genres: fiction, essay, spirituality, children's stories, and biblical exposition. He was an ordained pastor in the Evangelical Lutheran Church of America (ELCA), speaker for the ELCA's nationally syndicated radio program, Lutheran Vespers, from 1994 through January 2005, and a columnist for The Lutheran magazine. Prior to joining Valparaiso's faculty, he served as an inner-city pastor in Evansville, Indiana, for sixteen years. Wangerin was diagnosed with lung cancer in 2006.
In August 2002, Wangerin embarked on a 9-week bicycle tour called "Outspoken for Lutheran Vespers" through eight Midwestern states in an effort to draw attention to ELCA's radio ministry. He broke his hip in a biking accident as he neared the halfway point and completed the trip in a motor home.
Calvin Kimbrough, Jr. photographed the following picture of Walgerin in 1981 in his office at Grace Lutheran Church. Kimbrough commented, "His wonderful voice still resonates in our hearts!"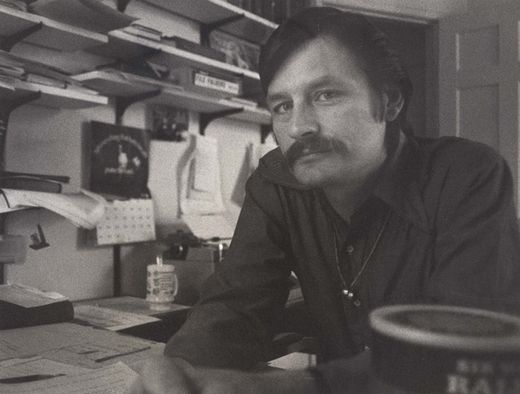 Philip Amerson, President Emeritus at Garrett-Evangelical Theological Seminary, wrote the following about Walter Wangerin:
"Last week, Walter Wangerin Jr. passed away, and a unique voice fell silent. His wife Thanne (short for Ruth Anne), his family, and a few close friends from Valparaiso University were with him when he died.
I first encountered Walter as a speaker at a conference in which we both participated. A slender man with a handsome, angular face and a shock of dark hair, he stalked the stage like a Shakespearean actor. I thought of the accounts of Charles Dickens sitting onstage in the great halls of England, reading his stories to a mesmerized audience.
Yet Wangerin was neither reading nor sitting. He was performing in the purest sense of the word, weaving stories and concepts together in erudite prose, directing our minds and emotions much as a conductor directs an orchestra's sounds—now meditative and melodic, now electrifying and bombastic.
We got to know each other mainly through the Chrysostom Society, a group comprising 20 or so writers of faith. Walt usually sat quietly on the margins, stroking his then-shaven chin while observing everything around him with piercing blue eyes. He rarely showed emotion, and when he spoke, he acted as a peacemaker, calming the heated arguments that sometimes emerged from the gaggle of writers. A pastor by profession and calling, he seemed thrilled simply to be in the company of writers.
A few years before, he had written The Book of the Dun Cow. At the time, he was trying to support his family on the salary provided by his predominantly African American church, and his days were filled with counseling, parenting, social work, and the many tasks of an inner-city pastor.
To his surprise more than anyone's, his first book won the National Book Award in the science fiction category, a prestigious award that propelled him into exalted company. The winners in other categories that year included Henry Kissinger, Tom Wolfe, John Irving, William Styron, and Madeleine L'Engle.
Walt and I became fast friends. I had been working in publishing for more than a decade, and he had many questions about the arcane world of editors, agents, and marketing. He wanted only to write, and had just resigned from the church in order to devote himself to the craft full time. I answered dozens of letters of anguish about the pressure he felt from publishers to modify his style. Editors drove him crazy. They urged him to streamline his "heightened prose" and adopt a more pragmatic tone. Walt would listen to their advice, agonize for weeks, and finally decide to ignore it.
No doubt, staying true to his principles cost Walt a broader readership. For example, his book As for Me and My House contains more helpful advice than a dozen others offering "ten steps for a better marriage."
Yet he rightly refused to accommodate his natural style to the artificiality of self-help bromides. He chose to subsume some of his most powerful personal experiences into The Orphean Passages, knowing that many readers would miss the Greek myth's overtones. And in private conversations, I heard from him chilling childhood stories that he declined to write about because of the pain it would cause family members.
Walt knew he was swimming against the tide. He spoke of the "cool pragmatism" of modern literary taste. He sought instead to draw the reader into another world, a suspension of disbelief carried more by music and lyricism than by sense and reason. He once told me in a letter that "a writer hopes for the obedience of a good reader who says, 'I will enter this world a while, however different it is from my own more familiar expressions of truth.'"
Thousands and ultimately millions of readers responded. The late Eugene Peterson, sometimes called "the pastor's pastor," credited Wangerin's first book with helping to clarify his understanding of the pastor's life. The Book of the Dun Cow, a fantasy novel based loosely on a tale from Geoffrey Chaucer, stars a rooster and a basilisk, along with such supporting characters as a rat, a fox, a toad, and a melancholy dog."
Aces battle in exhibition loss to Kentucky
Battling with an opponent that advanced last season's NCAA Sweet 16, the University of Evansville men's soccer team held strong for 70 minutes in a 4-1 loss to Kentucky in the Aces' preseason opener on Sunday evening in Lexington, Ky.
"I'm very encouraged by what we saw in the first half. To go down a goal to Kentucky, who made the Sweet 16 last year, to come back and create some opportunities and get the goal to tie it at 1-1 at half was very encouraging," said Aces head men's soccer coach Marshall Ray. "We were able to get everybody in who traveled with us on the roster and unfortunately we gave up two goals late to make the scoreline look a little lopsided, but feel like we challenged ourselves today. We got a lot of guys on the field, we got to see a lot of combinations of players. Coming in we had an idea of kind of going through three phases of the match and how would we use that rotation of those guys and stuck to that. Very pleased with what we saw and look forward to getting to work this week. The video is going to help us. We'll have some good things to look at and reinforce and some of the things we didn't do so well, we'll have a chance to correct those before our preseason home opener against Hanover on the 22nd. All-in-all, a good day."
More than 10 minutes passed in the opening of the match without a shot before the Wildcats recorded a shot in the 14th minute. 10 minutes later, Kentucky got on the board first by way of a goal from Luke Andrews.
Evansville answered in the 36th minute as Adam Dahou found Jakub Hall, who finished in the back of the net to equalize the match. The Aces held strong throughout the opening portions of the second half, keeping the match tied until the 70th minute. In the 70th, Kentucky's Carmeron Wheeler put the Wildcats in front for good.
In the final five minutes, the Wildcats added two more goals to finish the night with a 4-1 win.
Fifth year senior Matt Bryant played all 90 minutes between the post for Evansville, making seven saves. The Aces made the most of their opportunities on the night, recording three shots with Hall, senior Evan Dekker, and sophomore Pablo Guillen each tallying a shot.
Evansville plays its first match at home on Sunday, August 22 when the Aces host Hanover in the team's final exhibition contest at 5 PM in Arad McCutchan Stadium. The Aces welcome the class of 2025 to the match and all UE students signed up for UEFC and following @UEAthleticsMSOC on Twitter and Instagram will be entered to win a pair of Apple AirPods.
Evansville defense shows strength in 1-0 exhibition loss at SLU
Allowing an early goal, the University of Evansville women's soccer team held the scoreline, giving itself a chance, in a 1-0 exhibition loss to Saint Louis on Saturday night in St. Louis, Mo.
Much like the two sides' last meeting, the Aces conceded an early goal in the ninth minute, but then held firm defensively, taking chances to equalize as they came, before ultimately falling to the Billikens.
Both Aces keepers showed well against the preseason favorites in the A-10, as junior Lauren Fischer made three stops on the night in the first half and freshman Sophie Lindner stopped all four shots she faced in the second half.
The opening goal and what would prove to be the match-deciding goal came in the ninth minute as SLU's Katie Houck found the back of the net to give the Billikens the early advantage.
Evansville would generate opportunities as the Aces recorded six shots on the night with three coming on target. Two shots came off the foot of sophomore Abbi Lenk, who forced a pair of saves by SLU keeper Emily Puricelli.
The best chance of the night came in the 64th minute as Maria Alexopoulos was awarded a penalty. Alexopoulos' attempt from the spot was saved to the bottom left of goal by Puricelli as the BIllikens preserved their lead in what would be a 1-0 SLU win.
Evansville takes five days to prepare for its season opener when the Aces next hit the pitch on Thursday against Bellarmine at 5 PM in Louisville, Ky.
Men's Soccer Opens Preseason at Kentucky
Following an unconventional spring campaign, the University of Evansville men's soccer team makes the return to the pitch on Sunday at 5 PM (CT) against Kentucky in Lexington, Ky.
Evansville at Kentucky (Exh.) | 5 p.m. (CT)
Date | Time Sun. Aug. 14, 5 p.m. (CT)
Location Lexington, Ky.
Site Bell Soccer Complex
Previewing the Wildcats
• Kentucky enters Sunday's match following a 2021 spring campaign that saw the Wildcats advance to the Sweet 16.
• Building a 12-5-2 overall record, racking-up eight of their 12 wins at home.
• Of the 31 goals scored by Wildcats last season, the goal-scorers of 25 return, including UK's top three goal scorers.
Coach's Comments
• "We're looking forward to getting back on the field," said Aces head men's soccer coach Marshall Ray. "It was great to see our women play here with the start of the fall season with their exhibition against Murray State and its just great to get back on the field against a team like Kentucky."
• "They had a great run last spring, I think they made it to the Sweet 16 in the NCAA Tournament, and that's where we want to be. We've got a group with new players coming in that have gelled and mixed and a lot of our younger guys that played in 2019 and the spring have matured and we're looking forward to getting this group together."
Returners Aplenty
• The Aces return nearly everyone for the fall campaign.
• Of Evansville's 23 letter winners a season ago, all but four return to the pitch for the Aces, while just two starters do not return for the fall.
• Included in the returners are Evansville's leading goal-scorer and MVC Freshman of the Year, Pablo Guillen, who tallied four goals in the spring.
• In all, the Aces return 87.9% of their minutes played last season with 10 of the top 11 players in terms of minutes played all back.
Logging Serious Minutes
• Four players returning for the Aces in the fall played significant minutes in the spring.
• Four Aces played 850 or more minutes last season, including Evan Dekker, who logged an average of 90.5 minutes per contest, playing less than 90 minutes inn just two matches.
Women's Soccer Looks to Final Exhibition Test at SLU
After an unsuccessful attempt to get in a full preseason contest on Tuesday due to inclement weather, the University of Evansville women's soccer team will travel to the Gateway to the West to face Saint Louis in its final preseason tune-up at 7 PM on Saturday.
Evansville vs. Saint Louis (Exh.) | 7 p.m.
Date | Time Sat. Aug. 14, 7 p.m.
Location Saint Louis, Mo.
Site Hermann Stadium
Previewing the Billikens
Saint Louis comes off a 2021 spring campaign that saw the Billikens capture the A-10 Championship and advance to the NCAA Tournament.
The Billikens amassed a 15-1-1 overall record, running a 10-game win streak before losing in the opening round of the NCAA Tournament to Washington.
Three Billikens combined to scorer 23 of SLU's 40 goals and all three of the most prolific goal-scorers for Saint Louis are back for the fall.
SLU opened the preseason with a 3-0 victory over SIUE in an exhibition on Saturday.
Last Meeting
The two sides last met on Sept. 16, 2018 when the Aces put on a strong defensive showing in a 1-0 loss.
Then sophomore Michaela Till recorded 15 saves, the most an Evansville goalkeeper had made since 2009.
An Attempt to Begin
Evansville opened the preseason on Tuesday against Murray State, but inclement weather spoiled the opener.
After playing 33 minutes, the game was delayed and eventually called due to lightning.
Contribute to AceNotes
To have content considered for inclusion in AceNotes, please submit a Marketing Request Form. Deadline for submission to AceNotes is 10:00 a.m. on the requested date of publication. Only articles concerning UE related/sponsored activities will be accepted. Articles submitted to AceNotes may be edited for length and clarity. Submitter contact information is at the end of each article.