| | |
| --- | --- |
| AceNotes Today | Tuesday, July 27, 2021 |
Eastbound Walnut St. Closed 7/27- 7/30
The eastbound lane of Walnut St. will be closed this Tuesday-Friday. The closure will allow crews to complete infrastructure work for the new residence hall. Please use Lincoln Ave. as the alternate route.
Fall Conference and Concurrent Sessions 2021
The opening session of the University of Evansville Fall Conference is Tuesday, August 17, beginning at 1:30 p.m. in Eykamp Hall, Ridgway University Center. All faculty, staff, and administrators are welcome and invited to attend. Current UE Covid guidelines will be observed with masks required and 3 feet social distancing for all events.
Fall Conference will continue Wednesday, August 18, with Concurrent Sessions in the Schroeder School of Business Building from 9:00 a.m. to 4:30 p.m. The campus community is encouraged to attend the informational sessions.
View the Fall Conference Schedule for a complete list of events and Concurrent Sessions.
Please address questions to Tracey Folden at ext. 2509 or tf91@evansville.edu or Paula Heldt at ext. 2479 or ph28@evansville.edu.
Inaugural UE Ceramics Workshop Sale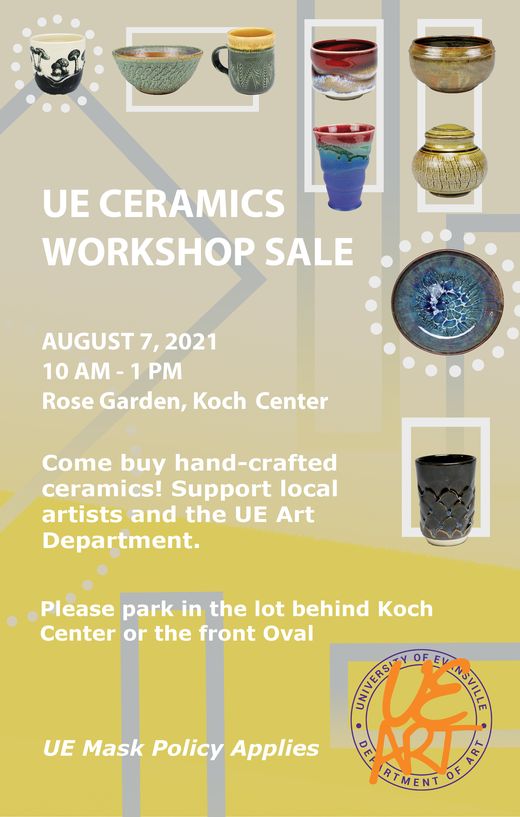 The Department of Art announces the Inaugural UE Ceramics Workshop Sale. The sale will be August 7, 2021, from 10 am - 1pm. Location: Rose Garden, south side of Koch Center on UE's campus. Come buy hand-crafted ceramics from the summer workshop attendees.
Reception Honoring Dr. Michael Roscoe
Please join us in a reception honoring Dr. Michael Roscoe on Thursday, August 5, 2021 from 10am-11am in the Stone Center Lobby/Atrium. Mike was the founding Director of the University of Evansville Physician Assistant Program, which under his guidance, recently achieved full continued accreditation. Please make plans to join us as we wish him well on his next professional endeavor.
Pickleball!? Who's Ready To Learn? Check Out The Latest Fitness Center Class
***Every Wednesday @ Noon starting THIS Wednesday 7/14****
The people have spoken and we're excited to share that the Fitness Center is hosting a 3 part mini series of "Learn to Play Pickleball"
ALL levels of experience are welcome. If you've never played, we'll teach you the ropes. If you're competitive, we have competition coming to show you a few things!!! UE Alumni/Pickleball enthusiast are joining us for three sessions to show beginners, amateurs, and competitive players tips, tricks, and everything you need to know to learn the game and become a better player!!! All equipment will be provided or bring your own.
Pickleball is currently the most popular and fastest growing sport, for ALL ages!
Tennis x Ping-Pong x Chess x Incredible Cardio Workout = Pickleball
Come check out what you've been missing!
RSVP to @AH519 to reserve a spot or get additional information.
Campus Fire Alarm Testing to be Conducted 7/27-8/5
Beginning Tuesday, July 27th, Johnson Controls will be on campus conducting the annual fire alarm system testing. As each building is tested, the alarm will intermittently sound between the hours of 7:30AM-5PM. Facilities and Public Safety will know on a daily basis the buildings being tested, and will be notified as the technicians move from building to building. Testing will be completed by Thursday, August 5th.
If you have any concerns, please contact the Facilities Department at ext. 2775.
Order Textbooks Online and Skip the Lines
Did you know you can order your textbooks online ahead of time and skip the long in-store lines? Simply visit the bookstore online at evansville.bncollege.com, click on the "Textbook" header, select your courses from the dropdown menus, and the website will pull a personalized list of Required and Recommended titles!
Now if you plan on renting any books, you will need to put in a credit card to secure the rental BUT you can pay a different way! Are you an Athlete? On VA benefits? Or just need to use your Book Loan before your Financial Aid is distributed? You can do that AND rent! When it comes time to check out, make sure you follow the directions, putting in your credit card AND selecting the secondary form of payment as "Student Account". When the order comes through, the appropriate account will be charged (nothing will be charged to the credit card unless you don't bring them back at the end of the semester).
Not interested in renting? Then you don't need to put in a credit card at all if you're using a different form of payment! Have a Barnes and Noble giftcard? You can use that with us too! The only form of payment we do not accept are checks.
Please allow up to 72 hours for web order processing during the first 2 weeks of class. You will receive 2 emails: one confirming the order, the other to let you know what it is ready to pickup/has been shipped. Please wait for that second email before coming in to pick up your order. If you have decided to have your books shipped, the tracking number will be on that email.
Of course, if you don't feel comfortable ordering online, you're more than welcome to bring your schedule into the store and we will pull your books at our back counter and you can pay at the register. Remember, if you're renting, you need to have a credit card to secure the rentals, even if you're using a different form of payment.
CiSM Scholarships Available for Science and Math Majors
Are you a science or math major? Are you interested in computers, data, or the intersection of both?
If so, we'd like to invite you to apply for NSF-funded scholarships of up to $1,500 to participate in the Computers in Science and Math (CiSM) Certificate Program this fall. For just a few more credits, you could complete an interdisciplinary certificate which future employers and professional programs will see attests to the fact that you "get it" - the way computers, data, science, and math are all intertwined and integral to modern (and future) society. You will have a few additional useful and 'marketable' skills to boot!
To be eligible for the scholarship, you must be a US citizen or permanent resident, demonstrate financial need, as determined by the FAFSA, and have a UE GPA of at least 3.0.
To apply for the scholarship, email cism@evansville.edu with an unofficial transcript and a short essay (~250 word) addressing the prompt on the application webpage. You should also make sure that you have submitted a FAFSA for 2021-22.
The application deadline is Monday, August 9. If you are awarded the scholarship, you should plan to enroll in two one-credit classes this fall: ID121: Intro to Scientific Computing (Tuesday/Thursday 8:00 – 9:15 am) and STAT 166: Introduction to R for Data Science (schedule TBA).
Interested? Please check out the CiSM website, and email Dr. Joyce Stamm (js383@evansville.edu) with any questions.
SAE Chapter Receives the Most Awards at National Convention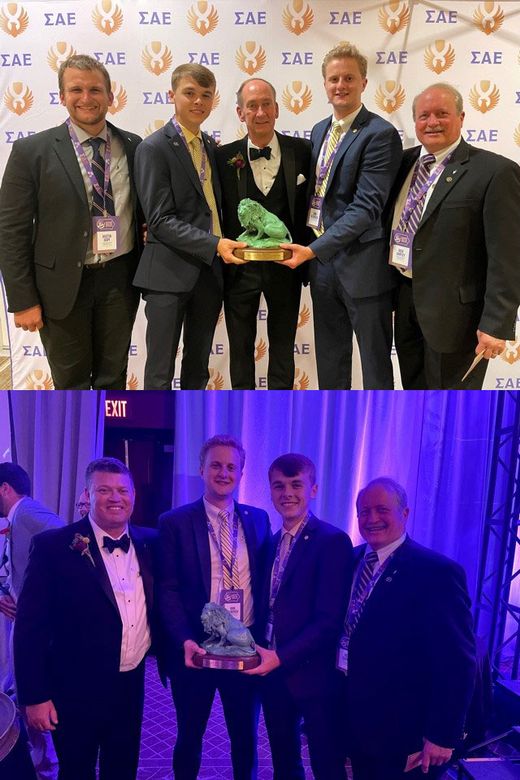 The University of Evansville's Sigma Alpha Epsilon Chapter recently attended the SAE National Convention, and they are thrilled to announce that they received more awards than any other chapter! One of the awards presented to the Chapter was the John O. Moseley Zeal Award, which recognizes the most outstanding Chapter. They are the only third chapter in the history of the fraternity to receive this award three separate times: 2011, 2019, and 2021.
Congratulations to SAE!
Aces Assist Club Opens Membership for 2021-22 Campaign
Membership is officially open for the Aces Assist Club, which serves as the official booster club for the University of Evansville men's basketball program.
Three primary membership levels are available and include All-Conference, All-American and Champions. Membership at the All-Conference level is $1,000/year with benefits consisting of an exclusive club sideline pullover, "Dinner with the Aces", recognition in the game program and Ford Center scoreboard, road game ticket opportunities and membership in the University of Evansville President's Club.
The second level is the All-American, which has a cost of $2,500/year and includes all benefits from the All-Conference level as well as a pair of Aces lounge sandals and an exclusive dinner for two with head coach Todd Lickliter and his staff. Champion's level features some of the most exclusive opportunities for Purple Aces supporters. Members at this level are entitled to a charter flight for two to a conference road game, a complimentary golf admission for the Aces Golf Scramble, courtside seating for two at one UE home game and a VIP parking space at the Ford Center. Champion's members also receive all benefits from the All-Conference and All-American levels.
Additional Household Memberships are available to people living in the same household as an Assist Club member at any of the three levels. This cost is $500 and the additional member receives benefits at the All-Conference level. Gear will be branded at the primary member's level.
Those interested in joining the Aces Assist Club are able to do so in multiple ways. To sign up online, click here to access the secure membership form. If you want to sign up through mail, print out the official club brochure and return the registration form to the address at the bottom. To join over the phone, please contact Athletics Advancement Officer Sarah Tuohy at 812-488-4065.
A limited number of spots remain for the annual Aces Assist Club Golf Scramble, which will take place on Monday, August 30 at Rolling Hills Country Club in Newburgh. Registration is $600 for a foursome or $150 per individual. Call 812-488-2297 for more information or to sign up.
Contribute to AceNotes
To have content considered for inclusion in AceNotes, please submit a Marketing Request Form. Deadline for submission to AceNotes is 10:00 a.m. on the requested date of publication. Only articles concerning UE related/sponsored activities will be accepted. Articles submitted to AceNotes may be edited for length and clarity. Submitter contact information is at the end of each article.