| | |
| --- | --- |
| AceNotes Today | Thursday, April 18, 2019 |
Monarchs and Milkweeds at Earth Day Birthday
The Monarchs and Milkweeds ChangeLab class will hand out free milkweed plants to those attending Earth Day Birthday to educate the community about the importance of planting native plants to ensure the future of the Monarch butterfly species.
Earth Day Birthday will be held from 5:00-7:00 p.m. on Monday, April 22 on the East Terrace Lawn.
Contact ag263@evansville.edu for more information.
UE Theatre presents Twelfth Night
The University of Evansville Department of Theatre proudly presents its final production of the season, Twelfth Night, by William Shakespeare, opening Friday, April 19, at 7:30 p.m., in Shanklin Theatre. Additional performances are at 7:30 p.m. on Apr. 20, 25, 26, and 27, and at 2:00 p.m. on April 27 and 28.
Teaming with an infectious sense of romantic exuberance, Shakespeare's fascination with mistaken identity is played out in a delightfully complex comedy of love and loss, and more than a little mischief and mayhem.
UE Theatre alumna Amy Attaway '01 guest-directs Twelfth Night. Department chair Eric Renschler serves as the scenic designer; Morgan Severeid, a senior from Westfield, Ind., is the costume designer; Maggie Ste.Marie, a senior from Littleton, Colo., is the lighting designer; Matt McDonald, a senior from Carmel, Ind., is the sound designer; Professor of Theatre Diane Brewer is the dramaturg; Gia Gleason, a sophomore from Sellersburg, Ind., is the stage manager; and Professor Chuck Meacham serves as the technical director.
The cast features senior Alexandra Curren, from McKinney, Texas, as Viola; senior Daniel Stewart, from Fort Worth, Texas, as Orsino; senior Madeline Easley, from Overland Park, Kan., as Olivia; senior Marshall Hopkins, from Baldwin City, Kan., as Sebastian; junior Luke Lowrance, from Arlington, Texas, as Malvolio; senior Kathleen Finch, from College Station, Texas, as Feste; junior JR Scott, from Austin, Texas, as Sir Toby Belch; senior Meredith Ham, from Castle Rock, Colo., as Maria; junior Alexander James Hunter, from Conifer, Colo., as Sir Andrew; senior Isaac Baker, from Bowling Green, Ky, as Antonio; first-year Stephanie Voteau, from St. Louis, Mo., as Fabian; sophomore Liam Johnson, from Wardsboro, Vt., as Curio/Officer; sophomore Luke Moran, from Mount Vernon, Iowa, as Valentine/Officer; sophomore Andrew Flynn, from Lilburn, Ga., as Sea Captain/Priest; and senior Will Esty, from Franklin, Wis., as Musician/Officer.
Ticket prices are $18 for adults and $16 for senior adults, students, and UE faculty/staff. UE students may obtain one free student rush ticket beginning at noon on the day of the performance they wish to attend. Tickets may be purchased by calling 812-488–2031, Monday through Friday, noon-5:00 p.m.
Submitted by Sharla Cowden sc75@evansville.edu
New UE Logos: Use, Phaseout, and Orders
Thanks to all who attended the logo launch press conference on Friday and/or participated in one of our many campus events this weekend using the new logo. You can view the new logos and learn more on the website.
We know you probably have questions about what to do with your supply of items with old logos. In order to remain budget conscious while maintaining our new brand standards, we ask that you please begin phasing out the use of old logos as soon as possible. View our old logo phaseout guidelines for more information.
We are also working with our vendors to secure lower bulk pricing on items we know many people will want to order across campus. For example, if you need a new tablecloth for use at fairs or conferences, we'll be collecting those requests to place a bulk order in the near future.
Additionally, it's once again time to order letterhead and envelopes. An email with ordering information went out to offices on Friday, April 12. Please contact publications at extension 2561 or by email at publications@evansville.edu for more information.
Before disposing of old items, please visit our website for information on campus recycling resources. If you have old t-shirts you'd like to get rid of, please consider donating them to ECO, our Environmental Concerns Organization, for use in making reusable shopping bags during the Earth Day Birthday celebration on April 22. Email ob28@evansville.edu for donation information.
Additionally, the library is always looking for scrap paper to provide to students for notetaking. Drop off any unwanted paper (including letterhead or other paper used on one side only) to the library offices, or email ma35@evansville.edu for more information.
We look forward to seeing the new logo come to life on your items! Please fill out a marketing request to get started.
Submitted by Amanda Campbell.
Student Success Lab hours
The Student Success Lab will be closed Thursday, April 18, and Sunday, April 21, for the Easter holiday. It will be open with regular hours on Thursday, April 25, for students needing help with time management and study skills in preparation for finals! The Success Lab is in Library 462 and open every Sunday, Monday and Thursday from 4:00-8:00 p.m. No appointment necessary!
Submitted by Frances Renschler fr25@evansville.edu
Jones gives invited lecture at Cincinnati
This Friday, Associate Professor of Philosophy Derek Jones will present "Desires of One's Own Making: A Biological Approach to Freedom and Agency" as part of the University of Cincinnati Philosophy Lecture Series. Jones will discuss the origins of volition in basic living systems and show how a biological perspective on agency can illuminate philosophical problems concerning free will.
Nicola Boyle attends 47th annual Shakespeare Association of America conference
Nicola Boyle, teaching fellow at Harlaxton College, is in Washington DC, for the 47th annual Shakespeare Association of America conference. She will be taking part in the Theatre History seminar group "Players, Playwrights, Playhouses, Plays, and Parishes." This is an opportunity for Boyle to work with world-renowned Shakespearean scholars. Following the conference, she will be making a short research trip to the American Shakespeare Center's Blackfriars Playhouse in Virginia.
Library hours - Easter break
Here are the libraries' hours for the upcoming break:
Wednesday, April 17: 7:45 a.m. – 10:00 p.m. (No After-Hours)
Thursday, April 18: 8:00 a.m. – 5:00 p.m.
Friday, April 19: Closed
Saturday, April 20: Closed
Sunday, April 21: Closed
Regular hours (and After-Hours) resume on Monday, April 22.
Submitted by Meg Atwater-Singer ma35@evansville.edu
Kerr's paper accepted for publication in Labour Economics
Amanda Kerr, assistant professor of economics in the Schroeder School of Business, has had a paper accepted for publication in Labour Economics.
Her paper determines if ownership of time-saving household appliances has a positive impact on children's outcomes. She uses micro-level data from the China Health and Nutrition Survey from 1989 through 2011 to infer that ownership of time-saving household appliances results in a decrease in time allocated to household work, increase in school enrollment rates, and decrease in labor force participation rates for children aged 12 to 18.
When the sample is partitioned on the basis of gender, these outcomes are more pronounced among females. To deal with endogeneity of household durable goods, she instrument household ownership of time-saving appliances by average ownership rate among households with no children living in the same community and two family-specific time-using household assets.
With gender equality and women's empowerment being a top priority among developing countries according to the United Nations, the results presented in this paper suggest one effective way to increase girls' school enrollment is to reduce their household obligations. Time-saving appliances are tools that can provide the requisite decrease in time dedicated to household work.
UE Bookstore Easter closing
The UE Bookstore will be closing on Thursday, April 18, at 5:00 p.m. and remain closed until Monday, April 22 for the Easter holiday. Please plan your visit accordingly.
Submitted by Doug Gustwiller dg57@evansville.edu
Student Health Center closed for Easter Break
The Student Health Center will be closed on Thursday and Friday (April 18-19) this week for Easter Break. We will resume normal business hours on Monday, April 22, at 8:00 a.m. Should you require medical attention, please locate the nearest hospital or urgent care. For on-campus emergencies, dial 488-6911.
Submitted by Tara Ulrich tu19@evansville.edu
2019-20 Letterhead and Envelope Orders due April 22
The 2019-20 letterhead and envelope orders are due April 22. If your department uses letterhead or envelopes during the fiscal year, this is the time to order it. We are able to get a substantial price break on boxes of envelopes (500 quantity) and reams of letterhead (500 quantity) due to the size of the order. Smaller orders placed later in the year will be more expensive.
Check your email inbox for a message from the Office of Publications with ordering instructions, or email publications@evansville.edu or call ext. 2561 for more information.
Remember - orders are due April 22!
Submitted by publications@evansville.edu
2019-20 Dr. Marvin E. Hartig Memorial Scholarship
Family, friends and loved ones of the late Dr. Marvin E. Hartig are pleased to announce the application process for the Dr. Marvin E. Hartig Memorial Scholarship. This scholarship is dedicated to the loving memory of Dr. Hartig, Dean of Evansville College's Evening College in 1967, and administrator for the Center for Advanced Study, director of the Evansville chapter of the American Institute of Banking (AIB), and the international student advisor. In 1974, Dr. Hartig was appointed Dean of Academic Services. He retired in 1984 after serving his alma mater for thirty-five years and passed away in 2007.
This scholarship will be awarded annually to a deserving sophomore student. Preference will be given to a student working while being enrolled as a full-time student. International students are encouraged to apply.
The application can be found here.
Deadline: Please return all materials to the Office of Student Financial Services by April 26.
The decision will be announced by July 1.
Questions: Trisha Hawkes, administrative assistant to the Office of Student Financial Services, at th187@evansville.edu or 812-488-2364
Submitted by Trisha Hawkes th187@evansville.edu
PT students and Ace CARE featured in Evansville Living
UE Physical Therapy students and Ace CARE programs are featured in the March/April issue of Evansville Living magazine. Each week, the students use their skills and knowledge to serve the vulnerable populations in our community through our pro bono Ace CARE programs, including the Ace +PT Clinic, ACErcise, and AceBuddies. Congratulations to our UE Changemaker students, faculty and community volunteers! Learn more about the services and read the article at this link http://www.evansvilleliving.com/articles/passion-to-serve.
Rami Malek makes Time magazine's Annual 100 Most Influential People in the World list
UE Theatre alumnus Rami Malek '03 has made Time magazine's annual 100 Most Influential People in the World list! More information can be found in this article on Washington DC's Channel 4's website.
In February, Malek won an Academy Award for Best Actor for his portrayal of Freddie Mercury in the motion picture Bohemian Rhapsody. Malek also won a Golden Globe in January for that performance. Malek had been nominated twice before for a Golden Globe - once in 2016 and 2017 - for his role as Elliot in the series, Mr. Robot. In 2016, he won an Emmy Award for the same role.
Stevenson and students present research at Midwestern Psychological Association Conference
UE psychology majors Luci Hulsman, Katelyn Parmenter, Lilee Robinson, and Allie Winstead, and Associate Professor Margaret Stevenson recently attended the Midwestern Psychological Association conference in Chicago, where they presented four talks within a symposium session.
Specifically, Stevenson developed and chaired a symposium session titled "Applying Psychological Theory to Legal Decisions."
Within this session Molly Elfriech (Holly's House forensic interviewer) and Stevenson presented work entitled "Effects of Abuse Prevention Program on Abuse Disclosure and Substantiation," which reflects analysis of over 400 children who received forensic interviews at Holly's House for sexual abuse investigations. Their promising results reveal that children exposed to an abuse prevention program employed throughout Evansville schools are more likely to disclose abuse during forensic interviews, and in turn, their abuse is more likely to be substantiated in court. UE students Allie Winstead and Katelyn Parmenter co-authored this research presentation.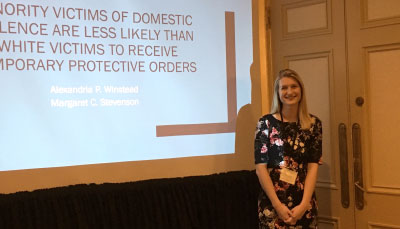 Winstead presented the results of her senior thesis, titled "Effects of Race on Allocation of Protective Orders," which revealed that Black victims of domestic violence are less likely to receive temporary protective orders than White victims, even after controlling for likely confounds, including offense severity, prior offenses, etc.
Stevenson also presented a talk titled, "Understanding How Jurors Deliberate About a Defendant's Coerced Confession," which was co-authored with several UE alum, including Evan McCracken and Tyler Plogher. They found that a substantial proportion of jurors will discuss a coerced (and false) confession in ways favoring conviction, attributing guilt to a defendant who actually confessed to a crime he did not commit.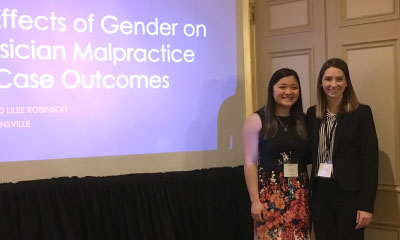 Finally, Hulsman and Robinson presented a talk titled, "Effects of Physician Gender on Medical Malpractice Case Outcomes." This pilot research revealed tentative, possible evidence of bias against female physicians in medical malpractice law suits – effects they are continuing to explore in subsequent grant-funded research.
UE Penny Wars - total count and winners!
Thank you to all who participated in the inaugural UE Penny Wars. The event was a huge success, and we couldn't have done it without you! The Penny Wars helped to promote philanthropy on UE's campus, plus, it was a lot of fun to see the competition grow throughout the week among the four colleges and staff. And now, the results are in! In total, UE raised $383.08. All proceeds collected will go towards a student scholarship sponsored by UE Staff and Administrator Assembly. Thank you to everyone who donated and participated!
As a reminder, pennies and any bills gave the jar points, while silver coins resulted in negative points. The winner of the first annual UE Penny Wars, and recipient of the Golden Squirrel Trophy, is: William L Ridgway College of Arts and Sciences at 3,537 points!
• 2nd Place: College of Education and Health Sciences, 2,171 points
• 3rd Place: College of Engineering and Computer Science, -260 points
• 4th Place: Schroeder School of Business, -373 points
• 5th Place: UE Staff and Administrator Assembly, -2,185 points
Submitted by Nichole Coffey ns50@evansville.edu
Contribute to AceNotes
To have content considered for inclusion in AceNotes, please submit a Marketing Request Form. Deadline for submission to AceNotes is 10:00 a.m. on the requested date of publication. Only articles concerning UE related/sponsored activities will be accepted. Articles submitted to AceNotes may be edited for length and clarity. Submitter contact information is at the end of each article.