| | |
| --- | --- |
| AceNotes Today | Wednesday, April 17, 2019 |
BiSci Plant Sale
Mark your calendars! BiSci Plant Sale will kick off on April 15 and end on April 22 - Earth Day Birthday! Plants for sale will include butterfly milkweed and other flowers, succulents, tomatoes, and herbs, including basil and cilantro, and many more. Prices will range from $1 for cups of seedlings to $15-25 for larger plants and "design-your-own" succulent bowls.
Submitted by Kelly Nixon kn94@evansville.edu
UE Theatre presents Twelfth Night
The University of Evansville Department of Theatre proudly presents its final production of the season, Twelfth Night, by William Shakespeare, opening Friday, April 19, at 7:30 p.m., in Shanklin Theatre. Additional performances are at 7:30 p.m. on Apr. 20, 25, 26, and 27, and at 2:00 p.m. on April 27 and 28.
Teaming with an infectious sense of romantic exuberance, Shakespeare's fascination with mistaken identity is played out in a delightfully complex comedy of love and loss, and more than a little mischief and mayhem.
UE Theatre alumna Amy Attaway '01 guest-directs Twelfth Night. Department chair Eric Renschler serves as the scenic designer; Morgan Severeid, a senior from Westfield, Ind., is the costume designer; Maggie Ste.Marie, a senior from Littleton, Colo., is the lighting designer; Matt McDonald, a senior from Carmel, Ind., is the sound designer; Professor of Theatre Diane Brewer is the dramaturg; Gia Gleason, a sophomore from Sellersburg, Ind., is the stage manager; and Professor Chuck Meacham serves as the technical director.
The cast features senior Alexandra Curren, from McKinney, Texas, as Viola; senior Daniel Stewart, from Fort Worth, Texas, as Orsino; senior Madeline Easley, from Overland Park, Kan., as Olivia; senior Marshall Hopkins, from Baldwin City, Kan., as Sebastian; junior Luke Lowrance, from Arlington, Texas, as Malvolio; senior Kathleen Finch, from College Station, Texas, as Feste; junior JR Scott, from Austin, Texas, as Sir Toby Belch; senior Meredith Ham, from Castle Rock, Colo., as Maria; junior Alexander James Hunter, from Conifer, Colo., as Sir Andrew; senior Isaac Baker, from Bowling Green, Ky, as Antonio; first-year Stephanie Voteau, from St. Louis, Mo., as Fabian; sophomore Liam Johnson, from Wardsboro, Vt., as Curio/Officer; sophomore Luke Moran, from Mount Vernon, Iowa, as Valentine/Officer; sophomore Andrew Flynn, from Lilburn, Ga., as Sea Captain/Priest; and senior Will Esty, from Franklin, Wis., as Musician/Officer.
Ticket prices are $18 for adults and $16 for senior adults, students, and UE faculty/staff. UE students may obtain one free student rush ticket beginning at noon on the day of the performance they wish to attend. Tickets may be purchased by calling 812-488–2031, Monday through Friday, noon-5:00 p.m.
Submitted by Sharla Cowden sc75@evansville.edu
Newman Club Migration Simulation
Please join us in Eykamp Hall, Rooms 251/252, Ridgway University Center on Monday, April 22, at 7:00 p.m. for our migration simulation! This event will simulate what refugees go through when fleeing their homes and the way refugees are treated at the border. There will be FREE PIZZA, and a discussion will follow the simulation. The first 25 people will receive a free water bottle. In addition, there will be materials available for anyone who wants to write to Congress in support of refugees. Please contact Kristen Sportiello at ks491@evansville.edu for more information or if you'd like to get more involved in the Newman Club's migration initiative.
Submitted by Michaela Kunkler mk305@evansville.edu
New UE Logos: Use, Phaseout, and Orders
Thanks to all who attended the logo launch press conference on Friday and/or participated in one of our many campus events this weekend using the new logo. You can view the new logos and learn more on the website.
We know you probably have questions about what to do with your supply of items with old logos. In order to remain budget conscious while maintaining our new brand standards, we ask that you please begin phasing out the use of old logos as soon as possible. View our old logo phaseout guidelines for more information.
We are also working with our vendors to secure lower bulk pricing on items we know many people will want to order across campus. For example, if you need a new tablecloth for use at fairs or conferences, we'll be collecting those requests to place a bulk order in the near future.
Additionally, it's once again time to order letterhead and envelopes. An email with ordering information went out to offices on Friday, April 12. Please contact publications at extension 2561 or by email at publications@evansville.edu for more information.
Before disposing of old items, please visit our website for information on campus recycling resources. If you have old t-shirts you'd like to get rid of, please consider donating them to ECO, our Environmental Concerns Organization, for use in making reusable shopping bags during the Earth Day Birthday celebration on April 22. Email ob28@evansville.edu for donation information.
Additionally, the library is always looking for scrap paper to provide to students for notetaking. Drop off any unwanted paper (including letterhead or other paper used on one side only) to the library offices, or email ma35@evansville.edu for more information.
We look forward to seeing the new logo come to life on your items! Please fill out a marketing request to get started.
Submitted by Amanda Campbell.
Student Success Lab hours
The Student Success Lab will be closed Thursday, April 18, and Sunday, April 21, for the Easter holiday. It will be open with regular hours on Thursday, April 25, for students needing help with time management and study skills in preparation for finals! The Success Lab is in Library 462 and open every Sunday, Monday and Thursday from 4:00-8:00 p.m. No appointment necessary!
Submitted by Frances Renschler fr25@evansville.edu
Jones gives invited lecture at Cincinnati
This Friday, Associate Professor of Philosophy Derek Jones will present "Desires of One's Own Making: A Biological Approach to Freedom and Agency" as part of the University of Cincinnati Philosophy Lecture Series. Jones will discuss the origins of volition in basic living systems and show how a biological perspective on agency can illuminate philosophical problems concerning free will.
Nicola Boyle attends 47th annual Shakespeare Association of America conference
Nicola Boyle, teaching fellow at Harlaxton College, is in Washington DC, for the 47th annual Shakespeare Association of America conference. She will be taking part in the Theatre History seminar group "Players, Playwrights, Playhouses, Plays, and Parishes." This is an opportunity for Boyle to work with world-renowned Shakespearean scholars. Following the conference, she will be making a short research trip to the American Shakespeare Center's Blackfriars Playhouse in Virginia.
Library hours - Easter break
Here are the libraries' hours for the upcoming break:
Wednesday, April 17: 7:45 a.m. – 10:00 p.m. (No After-Hours)
Thursday, April 18: 8:00 a.m. – 5:00 p.m.
Friday, April 19: Closed
Saturday, April 20: Closed
Sunday, April 21: Closed
Regular hours (and After-Hours) resume on Monday, April 22.
Submitted by Meg Atwater-Singer ma35@evansville.edu
Kerr's paper accepted for publication in Labour Economics
Amanda Kerr, assistant professor of economics in the Schroeder School of Business, has had a paper accepted for publication in Labour Economics.
Her paper determines if ownership of time-saving household appliances has a positive impact on children's outcomes. She uses micro-level data from the China Health and Nutrition Survey from 1989 through 2011 to infer that ownership of time-saving household appliances results in a decrease in time allocated to household work, increase in school enrollment rates, and decrease in labor force participation rates for children aged 12 to 18.
When the sample is partitioned on the basis of gender, these outcomes are more pronounced among females. To deal with endogeneity of household durable goods, she instrument household ownership of time-saving appliances by average ownership rate among households with no children living in the same community and two family-specific time-using household assets.
With gender equality and women's empowerment being a top priority among developing countries according to the United Nations, the results presented in this paper suggest one effective way to increase girls' school enrollment is to reduce their household obligations. Time-saving appliances are tools that can provide the requisite decrease in time dedicated to household work.
UE Bookstore Easter closing
The UE Bookstore will be closing on Thursday, April 18, at 5:00 p.m. and remain closed until Monday, April 22 for the Easter holiday. Please plan your visit accordingly.
Submitted by Doug Gustwiller dg57@evansville.edu
Baines gives paper at Dublin Joyce Conference
Robert Baines, assistant professor of English, gave a paper at the "Finnegans Wake at 80" conference at Trinity College Dublin on April 11. The conference marked the anniversary of the publication of James Joyce's final novel. Baines' paper was titled "A Portrait of the Ondt as a Young Man."
Student Health Center closed for Easter Break
The Student Health Center will be closed on Thursday and Friday (April 18-19) this week for Easter Break. We will resume normal business hours on Monday, April 22, at 8:00 a.m. Should you require medical attention, please locate the nearest hospital or urgent care. For on-campus emergencies, dial 488-6911.
Submitted by Tara Ulrich tu19@evansville.edu
Help refugees at advocacy table today!
Please stop by the Catholic Relief Services table in Ridgway University Center on Tuesday, April 16 (11:00 a.m.-noon or 5:00-5:45 p.m.) or on Wednesday, April 17 (12:45-2:15 p.m.) to learn about migration issues and write letters to representatives. We'll have supplies and information ready, so it should only take a few minutes. Studies have shown that writing letters to your representatives by hand is the most effective way to communicate with them -- writing letters can make a huge difference! There will also be a raffle at the table. Please email ks491@evansville.edu if you'd like to get more involved in the Newman Club's migration initiative.
Submitted by Sam Wallisch sw265@evansville.edu
2019-20 Letterhead and Envelope Orders due April 22
The 2019-20 letterhead and envelope orders are due April 22. If your department uses letterhead or envelopes during the fiscal year, this is the time to order it. We are able to get a substantial price break on boxes of envelopes (500 quantity) and reams of letterhead (500 quantity) due to the size of the order. Smaller orders placed later in the year will be more expensive.
Check your email inbox for a message from the Office of Publications with ordering instructions, or email publications@evansville.edu or call ext. 2561 for more information.
Remember - orders are due April 22!
Submitted by publications@evansville.edu
Timely adoption returns save students money
This is a reminder that summer and fall textbook adoptions from faculty or departments are now past due. Buyback is quickly approaching and your timely return of textbook adoptions affect students and the money they get for their books. Your adoption return also creates more used book inventory for the UE Bookstore for students to purchase. If you haven't returned your textbook adoption forms, please do so as soon as you can. Contact the UE Bookstore if you have any questions.
Submitted by Doug Gustwiller dg57@evansville.edu
Fitness Center Easter break hours
The Fitness Center will be open on Wednesday (April 17) from 6:30am- 7:00 p.m., and Thursday (April 18) from 8:00 a.m.-7:00 p.m. The Fitness Center will be closed Friday (April 19)-Sunday (April 21).
Submitted by Lori Adams la87@evansville.edu
Earth Day Birthday volunteers needed
ECO invites you and your student-organization to volunteer at Earth Day Birthday 2019 happening on Monday April 22 from 5:00 -7:00 p.m. on the East Terrace Lawn. At this event, there will be environmentally themed activity booths in which we need your help overseeing. Some examples of activities include decorating recycling bins, up-cycling T-shirts into reusable bags, and recycling toss (AKA corn hole). Every volunteer will receive a FREE T-shirt in return for their help at the event.
If you or your organization are interested in volunteering, please sign up on the Earth Day Birthday 2019 SignUpGenius accessed through the following link: https://www.signupgenius.com/go/5080f49a9ac2ba1fb6-earth. Please sign up on behalf of your organization and split the volunteer time among your members.
For more information, please contact Olivia Blasdel at ob28@evansville.edu.
Submitted by Olivia Blasdel ob28@evansville.edu
Earth Day Birthday Recycling Competition
The Earth Day Birthday committee is hosting a recycling competition among all student organizations. The competing organizations are to collect clean, glass jars, and old T-shirts to use at Earth Day Birthday on April 22, from 5:00-7:00 p.m. The competition will last from April 1-17. There will be a table in Ridgway University Center from April 15-17 between 11:00 a.m.-1:00 p.m. for recycled items to be deposited. The winning organization receives free food as a reward!
Submitted by Paige Johnson pj31@evansville.edu
Peters-Margedant House wins a 2019 Preservation Award
Last week, the Peters-Margedant House won a 2019 Preservation Award from the Preservation Alliance of Evansville "for the efforts of preserving and celebrating the region's irreplaceable history and historic places." It was a big week for the little house, which was also one of the field sites for the 2019 Indiana's Statewide Preservation Conference, Preserving Historic Places. The April 9-12 conference was jointly sponsored by Indiana Landmarks, Indiana Division of Historic Preservation and Archaeology, and Indiana University. Our small house is having a big impact on local and Midwestern preservation.
Environmental Studies Program students present at Society for Ecological Restoration!
Anna Jean Stratman (environmental administration major) presented a poster at the Eleventh Annual Chapter Meeting of the Midwest-Great Lakes Chapter of the Society for Ecological Restoration. The presentation, entitled, "Oviposition preference of monarch butterflies among milkweed species in Southern Indiana" included both Stratman and Julie Rabe (environmental science major), under the guidance of professor of biology Cris Hochwender.
These two undergraduate researchers carried out research supported by UExplore during the summer of 2018. As a platform to promote the use of native plants in gardens of Southwest Indiana, these two students evaluated monarch egg laying preference among milkweed species, with a plan to share the preferred milkweed species with gardeners who would be interested in rearing monarch butterflies. While monarchs exhibited significant differences in milkweed preference, with egg laying occurring on more than 90% of swamp milkweed, well above 50% of plants for every milkweed species were used for oviposition. These results suggest that monarchs value all four species for rearing caterpillars during the monarch's Summer residency in Indiana.
In an extension of their research, Stratman has established a Monarch and Milkweed changelab this semester; while disappointed not to participate in the changelab, Rabe has been able to endure the disappointment by engaging in the living/learning community at Harlaxton College this semester. The Monarch and Milkweed team has grown over a thousand common, butterfly, swamp, and thin-leaf milkweed plants to give to the public. Milkweed giveaway events have been hosted, and more will be held, including one at the University of Evansville for Earthday Birthday. Students also provided native seed packets for the public, encouraging the local gardening community to become inspired to invest in a variety of native plants for pollinators.
The conference at which n Stratman and Rabe presented was the Eleventh Annual Chapter Meeting of the Midwest-Great Lakes Chapter of the Society for Ecological Restoration. This conference was held at Central College in Pella, Iowa, from April 12 to April 14. This year's meeting theme was Cultivating Innovative Restoration Connections in the Midwest. The meeting goal was to explore how to foster the development of innovative restoration connections ecologically, culturally, and professionally to enable the field of ecological restoration to meet future challenges.
The Society for Ecological Restoration advances the science, practice and policy of ecological restoration to sustain biodiversity, improve resilience in a changing climate, and re-establish an ecologically healthy relationship between nature and culture. Ecological restoration becomes a fundamental component of conservation and sustainable development programs throughout the world by virtue of its inherent capacity to provide people with the opportunity to not only repair ecological damage, but also improve the human condition.
UE education students recognized at IACTE recognition ceremony
Three School of Education students at the University of Evansville were recognized recently at the Indiana Association of Colleges for Teacher Education (IACTE) luncheon. They were Sara Cannaday, special education, Leesa Jing, math education, and Shelby Preston, elementary education. These individuals received awards during the organization's Outstanding Future Educators banquet at the Ritz Charles in Carmel, Indiana.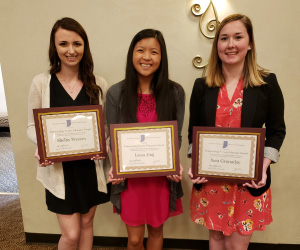 Azarian publishes research paper reviews in Mathematical Reviews of the American Mathematical Society
Mohammad K. Azarian, professor of mathematics, published reviews of two research papers in the Mathematical Reviews of the American Mathematical Society (MathSciNet), the most prestigious and the authoritative gateway to the scholarly literature of mathematics in the world.
The first paper, by Fan Ge, entitled "On the index conjecture in zero-sum theory: singular case," was published in the International Journal of Number Theory 14 (2018). In this paper the author's goal was to make a contribution to the index conjecture by proving that if is a singular sequence, then the index of S is 1.
The second paper, by Dmitriy Shtefan and Irina Dobrovolska, entitled "The sums of the consecutive Fibonacci numbers," appeared in the Fibonacci Quarterly 56 (2018). The authors investigate all integers d>1 such that the sum of any d consecutive Fibonacci numbers is divisible by d. Also, they show that all d-numbers are multiples of their own Pisano period.
UE Penny Wars - total count and winners!
Thank you to all who participated in the inaugural UE Penny Wars. The event was a huge success, and we couldn't have done it without you! The Penny Wars helped to promote philanthropy on UE's campus, plus, it was a lot of fun to see the competition grow throughout the week among the four colleges and staff. And now, the results are in! In total, UE raised $383.08. All proceeds collected will go towards a student scholarship sponsored by UE Staff and Administrator Assembly. Thank you to everyone who donated and participated!
As a reminder, pennies and any bills gave the jar points, while silver coins resulted in negative points. The winner of the first annual UE Penny Wars, and recipient of the Golden Squirrel Trophy, is: William L Ridgway College of Arts and Sciences at 3,537 points!
• 2nd Place: College of Education and Health Sciences, 2,171 points
• 3rd Place: College of Engineering and Computer Science, -260 points
• 4th Place: Schroeder School of Business, -373 points
• 5th Place: UE Staff and Administrator Assembly, -2,185 points
Submitted by Nichole Coffey ns50@evansville.edu
Aces Baseball wins slug-fest over Murray State
The University of Evansville baseball team put an end to their season-high six game losing streak at the plate, out-slugging Murray State 16-12 in a non-conference matchup Tuesday night in Murray, Kentucky.
"Great to see our offense explode tonight", said University of Evansville head coach Wes Carroll. "This is always a tough place to play , but our guys battled through."
The Aces got the bats going early, beginning with junior shortstop Craig Shepherd belting an RBI double, scoring senior center fielder Troy Beilsmith in the opening frame, putting Evansville up 1-0.
Freshman right-hander A.J. Fritz got his first collegiate start, and the Racers tagged him for a four-run frame. However, he would come back to toss a scoreless second, before giving was to fellow freshman Sam Steimel.
Down 4-1 at the top of the second, Troy Beilsmith came up clutch with a two-out two-run home run, narrowing the deficit to one.
Two innings later, senior third baseman Sam Troyer got into the longball barrage, launching a solo homer to left, knotting the game up at 4. Later in the frame, junior catcher Ben Komonosky sent a single through the left side of the infield, bringing in senior left fielder Matthew Jones, giving Evansville the lead back, 5-4.
However, no lead was safe at Reagan Field tonight. In the bottom of the inning, the Racers hit a pair of home runs off Steimel, and suddenly Murray State was back in the driver's seat, leading 7-5.
Then came the big inning for the Aces. UE would send 14 batters to the plate, scoring eight runs on seven hits, highlighted and capped by senior designated hitter Nate Reeder's three-run home run, and when the smoke cleared, Evansville had rocketed back into the lead, 13-7.
Still leading by five in the seventh, the Aces continued to swing away. Sam Troyer sent an opposite field two-run single to right, plating both freshman second baseman Danny Borgstrom and Craig Shepherd. Troyer would score on a passed ball later in the inning, giving UE a 16-8 lead.
The Racers would strike for four runs in the eighth on freshman hurler Garrett Presko, forcing the Aces to go to their bullpen one more time, and newcomer Shane Gray closed out Murray State the rest of the way.
Evansville improves to 18-16 on the season. Murray State drops to 16-18.
The Aces are back in action Friday night when they open a three game Missouri Valley Conference series with Indiana State. First pitch from Charles H. Braun Stadium is at 6:00 p.m.
Submitted by Joseph Downs jd305@evansville.edu
Contribute to AceNotes
To have content considered for inclusion in AceNotes, please submit a Marketing Request Form. Deadline for submission to AceNotes is 10:00 a.m. on the requested date of publication. Only articles concerning UE related/sponsored activities will be accepted. Articles submitted to AceNotes may be edited for length and clarity. Submitter contact information is at the end of each article.