| | |
| --- | --- |
| AceNotes Today | Wednesday, April 3, 2019 |
Employee Benefit Open Enrollment
During the period of March 18 through April 12, benefit-eligible employees may enroll or make changes in the University's health, life, long term disability, and dental insurance, and ACES flexible spending account benefit plans. It is the only chance for benefit-eligible employees to enroll or make changes until the next open enrollment period unless you have a qualifying change in status.

Please review the documents in the Open Enrollment section of the MyUE portal at: https://bit.ly/2GcdKph, beginning with the open enrollment memo, for important announcements, reminders, and changes which will occur June 1 to the University's benefits.

We will once again utilize an on-line enrollment process, eliminating all paper enrollment forms for health, life, dental, and long term disability insurance, as well as the ACES flexible spending account. This will ensure the accuracy of your enrollment elections and maintain records electronically regarding your current and future participation. Enrollment/changes to your TIAA and Emeriti VEBA Trust retirement plan salary deferrals will continue to be processed on paper forms available in the Office of Human Resources. Therefore, you do not need to re-enroll in the TIAA or Emeriti retirement plans.
ALL benefit eligible employees (including those who do not want to make any changes to their current coverage) must enter their elections by April 12.
Please review the open enrollment memo and On-Line Benefit Enrollment Documents on the HR Area of the MyUE portal, which should answer many of the questions you might have about this system.

Please contact the Office of Human Resources at ext. 2943 with any questions.
Submitted by Lori LeDuc ll138@evansville.edu
I-House: Thailand
This week's I-House presentation is about Thailand. Narupat Rattanakit from Thailand will be the presenter. He is an international student majoring in British and American studies. His favorite part of UE is the faculty and his hobbies include playing video games. He will be sharing more about himself and his culture at I-House Thailand happening on April 3 (Wednesday), on the second floor of Ridgway University Center at 7:00 p.m.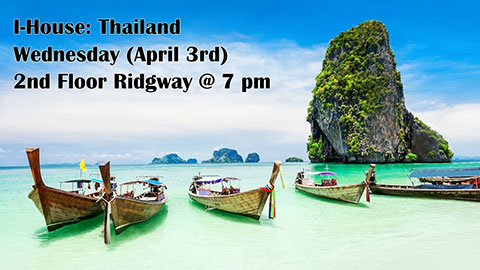 Submitted by Hussam Taj ht70@evansville.edu
Medical Spanish Practice
Medical Spanish practice is designed to help students practice communication skills in Spanish for medical settings. Students may arrive and leave at any time. The next session is Wednesday, April 3, from 5:30-7:00 p.m. in Room 73in the Schroeder School of Business Building. Please contact associate professor of Spanish Diana Rodríguez Quevedo at dr130@evansville.edu for more details. ¡Nos vemos el miércoles!
Submitted by Diana Rodríguez Quevedo dr130@evansville.edu
AT Club Clothing Drive
AT Club will be hosting a clothing drive Tuesday, April 2 through Thursday, April 4 in Ridgway University Center. The items will be going to Uncharted International and the YWCA in Evansville. The club will be accepting T-shirts, sweatpants and shorts. If you donate, you can guess how many clothing items we will donate and whoever guesses the closest will receive a gift card of their choice.
Submitted by Lauren Schnell ls271@evansville.edu
Health Careers Forum 2019 set for TODAY
The University of Evansville Exercise and Sport Science Student Organization, in collaboration with the Center for Career Development, cordially invites you to attend its annual Health Careers Forum. The event is planned for TODAY - Wednesday, April 3 - from 6:00-8:00 p.m. in Eykamp Hall, Ridgway University Center.
There will be panelists from different organizations in the health field who will come to share their experiences. This event will be a great opportunity for everyone who would like to make acquaintances with local health care professionals.
Students are expected to RSVP as soon as possible by filling out the registration form. For more information on registration, email ea97@evansville.edu.
Attendees are asked to dress business-casual. All EXSS students are advised to attend.
Submitted by Emily Armstrong ea97@evansville.edu
RSA elections
The Resident Student Association will be holding elections for the 2019-20 executive board on Wednesday, April 3. Elections will take place in Room 203 in the library.
Submitted by Shelby Hoyert sh327@evansville.edu
God the Creator: The Stunning Convergence of Scripture and Science
Join the Newman Club today - Wednesday, April 3 - at 5:00 p.m. for our weekly dinner and discussion. This week's topic is "God the Creator: The Stunning Convergence of Scripture and Science" hosted by UE's own professor of philosophy and religion im Ware. He will be talking about the beauty and mystery of science and scripture. We will be serving lemon chicken breasts afterward. All are welcome!
Submitted by Michaela Kunkler mk305@evansville.edu
UE Student Research and Honors Symposium
Please join us Wednesday, April 3, for the UE Student Research and Honors Symposium! Students will be presenting their research in sessions from 10:00 a.m.-4:00 p.m. in Eykamp Hall, Rooms 253 and 254, Ridgway University Center. Those wishing to attend the symposium are welcome to participate in sessions throughout the day as they are able. A detailed schedule of presentations and symposium presenters can be found here.
Submitted by Leslie Barton lb261@evansville.edu
Newman Club Migration Solidarity Vigil
Please join the Newman Club in Neu Chapel on Wednesday, April 3, at 8:00 p.m. to pray for refugees. This multilingual candlelight service will have music, and there will be an opportunity to write letters in support of refugees at the end. Please contact Kristen Sportiello at ks491@evansville.edu if you'd like to become more involved in the Newman Club's migration initiative.
Submitted by Sam Wallisch sw265@evansville.edu
Inaugural International Food Festival is set for Friday, April 12
The University of Evansville's inaugural International Food Festival is Friday, April 12, from 5:00-7:30 p.m. at the Café Court in Ridgway University Center. This celebration of the home cuisine of UE's international students is open to the public. Tickets for adults are $7 until April 11, and can be purchased at UE's Office of Cultural Engagement and International Services, located on the second floor of Ridgway University Center. If purchased at the event, tickets will be $10 for adults and $5 for children under 12. UE students are admitted free.
The festival food will be prepared by UE international students with the assistance of Chartwells, the University's food service. The menu will include such dishes as poutine, grape leaves, kabsa, biryani, feijoada, matar paneer, and baklava. Entertainment for the event will be provided by the local folk music group, Redwood Preservation Society.
For more information, please contact UE's Office of Cultural Engagement and International Services at 812-488-2279 or internationalstudent@evansville.edu.
Event contact: Megan Sicard
Reception for Lindsay Roberts
Please join us in the Phillips Study Alcove on the second floor of Ridgway University Center from 2:00-04:00 p.m. on Wednesday, April 10, to say farewell and wish the best to Lindsay Roberts, director for the advancement of learning. Refreshments will be served and all are welcome.
Submitted by Kim Flowers kf186@evansville.edu
Death doula to speak at Neu Chapel forum
The campus community is invited to join the Neu Chapel Forum this Thursday, April 4, at 8:00 p.m. as we welcome Jim Zaher, a death doula who works with the dying as they transition into leaving this world. He will give a special presentation on what it means to have a good death and the special work done by a death doula. All are welcome to join the conversation! The Neu Chapel Forum meets in Grabill Lounge (downstairs in Neu Chapel)
Submitted by Keith Turner kt160@evansville.edu
Coffee Hour Senior Reading
Our graduating creative writing majors will read from their poetry and prose, at the Coffee Hour Senior Reading event held on Friday, April 12, at 4:00 p.m. in the Melvin Peterson Gallery. The faculty will also announce the winners of the Virginia Grabill Writing Awards. Please join us for a delightful and often moving send-off to our graduating seniors.
Submitted by Michelle Lehman ml281@evansville.edu
Drag Show 2019: Creatures in the Night
Come to PRIDE's annual Drag Show on Saturday, April 6 at 7:00 p.m.!
This year the theme is fairy-tale creatures. Enjoy a mocktail bar and professional drag and student performers!
Ticket proceeds benefit Matthew 25 and AIDS Resource Group. Tickets are $5 in advance and $7 at the door. If you are interested in a "VIP" experience, sitting at an 8-person table that includes a free drink and waiter service from the bar, then you can purchase the VIP Ticket for $6 in advance or $8 at the door (if there are still seats available).
Email uepride@gmail.com for more information or if you have any questions.
And don't forget to come to our Health Fair from 6:00-7:00 p.m. before the show, free of charge!
Submitted by Charlie Hoeg uepride@gmail.com
Civil rights activist Isra Chaker to speak on Thursday
Isra Chaker, civil right activist, campaigning expert, and public speaker, will be at the University of Evansville on Thursday, April 4, to present "College Students Rise Up: Advocation in the Trump Era, Dismantling the Misconceptions of Refugees, the Muslim Ban, and Breaking down Stereotypes on National Television." The event, which is free and open to the public, is from 7:00-8:00 p.m. in Eykamp Hall in Ridgway University Center.
Chaker serves as the refugee campaign lead at Oxfam, one of the leading international NGOs in the world. In this position, she uses her campaign expertise to manage Oxfam's campaign, that advocates for vulnerable people such as refugees, asylees, and temporary protected status (TPS) holders. The campaign also opposes discriminatory policies such as the Muslim bans.
Being personally impacted by the Muslim ban, and not being able to reunite with her extended family in Syria, Chaker is passionate in her work in reuniting families and advocating for vulnerable people. Recently, she was a featured speaker at the national #FamiliesBelongTogether March in Washington, DC, an event which drew over 40,000 people.
One of Chaker's infamous projects that went viral in 2017 was bringing refugees to President Trump's childhood home in Queens, New York, to share their experiences and their "American Dream."
Chaker has been interviewed and featured on Democracy Now with Amy Goodman, NowThis, AJ+, ABC News, Al Jazeera, CNN, the Associated Press, VICE News, the Washington Post, and more.
Chaker was appointed Global Ambassador for the United Nations Relief and Works Agency USA (UNRWA) for her invaluable contributions in raising awareness and funds for their projects supporting refugee assistance.
In addition, Chaker was recently chosen as an ICON for the "We The Future" campaign by Amplifier, which recognizes 10 young activists from across the country in their leading work on current social justice issues affecting humanity. Chakra was chosen to represent the refugee and immigration justice theme, known as "We the Future, will not be Banned." She is the only Muslim in the campaign, and her art work, as well as a curriculum she designed to break down the stereotypes and misconceptions of Muslims, refugees and immigrants, will be taught in over 20,000 schools across the United States this academic year.
Event contact: LaNeeca Williams
Pitch your idea to make Evansville more fun and exciting!
The first ever Community Changemaker Challenge is underway, and EVERYONE is invited to pitch their idea on how to improve our city. Folks of all ages and walks of life are welcome to form a team. The top four teams will win $1,000 in cash and pitch their idea to a panel of community investors. A 60-second video is due on April 8 by midnight. Learn more.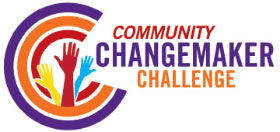 Submitted by Cindy Kelley ck116@evansville.edu
Earth Day Birthday Recycling Competition
The Earth Day Birthday committee is hosting a recycling competition among all student organizations. The competing organizations are to collect clean, glass jars, and old T-shirts to use at Earth Day Birthday on April 22, from 5:00-7:00 p.m. The competition will last from April 1-17. There will be a table in Ridgway University Center from April 15-17 between 11:00 a.m.-1:00 p.m. for recycled items to be deposited. The winning organization receives free food as a reward!
Submitted by Paige Johnson pj31@evansville.edu
Who doesn't love free stuff?
With the consolidation of Student Accounts and Financial Aid into Student Financial Services, we have tons of extra/unused organizational office supplies. Please feel free to stop by our office in Room 105 (formerly Student Accounts) in the Olmsted Administration Building to shop your heart out!
Submitted by Thrisha Hawkes th187@evansville.edu
Monarchs and Milkweed Changelab team presentation for the Nature Notes Lecture Series at Audubon Nature Preserve
The Monarchs and Milkweed Changelab team gave a presentation to the Nature Notes Lecture Series for Friends of Audubon on Saturday, March 30. The team discussed the decline of the monarch population, the role of milkweeds in supporting monarchs, and the value of native plants to support North American biodiversity. After educating the dozens of community members, the Monarchs and Milkweed Changelab team gifted the attendees with native milkweed plants. In addition, the team shared seeds of native plants that can be grown in people's backyards.
The seeds given away came from UE's Native Plant Garden, which provides a venue where over 100 species of native flowers, grasses, shrubs, and trees.
Native plant diversity has great value for several reasons, including beneficial ecosystem services through improved ecosystem function, support for native insects (including insect herbivores and pollinators), and the food resources to other animals (e.g., birds via seeds and/or prey items). Unfortunately, habitat destruction has led to the loss of wetlands, prairies, and forests, resulting in reduced numbers of native plant species. As one would expect, the loss of floral diversity has caused a reduction in the number of herbivores and pollinators, and a reduction in ecosystem services.
If you are interested in having an opportunity to plant milkweeds for monarchs or if you are interested in having native seeds to grow other plants, look for the two additional events that the Milkweed and Monarch team will have in the community during April.
Submitted by Cris Hochwender ch81@evansville.edu
TIAA individual counseling sessions
The TIAA-CREF representative will be on the UE campus for individual counseling sessions on April 17 and 18. To schedule an appointment, call TIAA-CREF at 1-800-732-8353.
Please note that the meeting location has been changed to Room 153 (Eades Music Room), Schroeder School of Business Building.
Submitted by Lori LeDuc ll138@evansville.edu
Volunteers needed for Earth Day Birthday 2019
ECO invites you and your student-organization to volunteer at Earth Day Birthday 2019. On Monday April 22, from 5:00-7:00 p.m. on the East Terrace Lawn, there will be environmentally themed activity booths which we need your help overseeing. Some examples of activities include decorating recycling bins, up-cycling t-shirts into reusable bags, and recycling toss (AKA corn hole).
All volunteers will receive a FREE Earth Day t-shirt as a thank you for helping. If you or your organization are interested in volunteering, please sign up on the Earth Day Birthday 2019 SignUpGenius accessed through the following link: www.signupgenius.com/go/5080f49a9ac2ba1fb6-earth.
For more information, please contact Olivia Blasdel at ob28@evansville.edu.
Submitted by Olivia Blasdel ob28@evansville.edu
Students: Participate in recruitment focus group for Office of Admission and earn free Starbucks coupon
What was it about UE that made you choose to attend here? How far from home did you consider going to college? The Office of Admission wants to hear your answers to these questions, and many more, during our upcoming focus group Tuesday, April 9, at 4:00 p.m. This conversation will be held in Room 172 in the Schroeder School of Business Building. Each student participant will receive a coupon to UE's Starbucks.
Spots open for "Busy Person Retreat" on campus
Newman is offering a laid-back approach to retreats perfect for your hectic schedules! This 4-day retreat on campus will fit into YOUR schedule. Participants will schedule meetings with a spiritual director Monday-Wednesday for about 30 minutes a day. Spiritual directors are trained to focus on the problems and issues students are having in college. They can meet early or stay late - it is up to you! All participants will receive instructions for prayer, a booklet to guide their 4-day journey, and other essentials, compliments of the Newman Club Ministry.
The retreat officially begins on Sunday, April 14, with dinner at 5:30 p.m. At that dinner, participants will plan their week with their spiritual director. Students also have the option to attend the Diocesan Chrism Mass Tuesday at 5:30 p.m., with a dinner at Turoni's to follow. All activities are free of charge this year.
If you are interested in signing up or have other questions about how this may fit into your schedule this year, please email Catholic Campus Minister Jenny Koch (je46@evansville.edu) or call/text her at 812-454-0062.
Submitted by Michaela Kunkler mk305@evansville.edu
College of Engineering and Computer Science hosts ASEE 2019 Conference
On March 22-23, the American Society for Engineering Education (ASEE) held its 2019 Illinois-Indiana Section Meeting at the University of Evansville. The focus of the conference was Reaching Tomorrow's Engineer Today. The conference featured a distinguished speaker, Jennifer Amos of the University of Illinois at Urbana-Champaign, and a keynote speaker, Stephanie Farrell of Rowan University and current ASEE president. The meeting was attended by over 100 educators, students and practicing professionals, with 20 technical papers presented in five sessions, along with 14 posters presented in a standalone session.
In conjunction with the conference was a Vex Robotics Competition design challenge for 6th-12th grade students conceived and implemented by associate professor of mechanical engineering John Layer, who served as chief judge. The winner of the competition was Holy Redeemer Catholic School.
On March 22, Stephanie Farrell led a session on Safe Zone training, geared to STEM faculty. This training was held in the Library Boardroom and was attended by faculty from UE, Purdue, IUPUI, Ivy Tech, and Rose-Hulman Institute of Technology.
The College is very appreciative of the efforts of associate professor of mechanical engineering Peter Schmidt, assistant professor of mechanical engineering Jessica Lofton, and assistant professor of electrical engineering Mark Randall in leading the planning committee for this successful conference as well as the support and assistance of the UE student chapters of ASME, IEEE, and PRIDE.
The conference was sponsored in part by generous donations from CHA Consulting, AMERICA MAKES, The University of Southern Indiana, ALCOA, Accuride, and other community partners.
Submitted by Kimberly Higgins kh209@evansville.edu
File the 2019-20 FAFSA by April 15th
File the 2019-20 FAFSA by April 15 at www.fafsa.ed.gov.
Continuing students should file the 2019-20 Free Application for Federal Student Aid (FAFSA) to apply for federal, state and University need-based financial aid, including all federal student loans. UE's FAFSA code is 001795.
Filing by April 15 is essential for Indiana residents to receive state aid, and highly recommended for all.
Questions regarding the FAFSA should be directed to the Student Financial Services (Olmsted Administration Hall, Room 106) at 812-488-2364.
Submitted by Trisha Hawkes th187@evansville.edu
2019-20 Dr. Marvin E. Hartig Memorial Scholarship
Family, friends and loved ones of the late Dr. Marvin E. Hartig are pleased to announce the application process for the Dr. Marvin E. Hartig Memorial Scholarship. This scholarship is dedicated to the loving memory of Dr. Hartig, Dean of Evansville College's Evening College in 1967, and administrator for the Center for Advanced Study, director of the Evansville chapter of the American Institute of Banking (AIB), and the international student advisor. In 1974, Dr. Hartig was appointed Dean of Academic Services. He retired in 1984 after serving his alma mater for thirty-five years and passed away in 2007.
This scholarship will be awarded annually to a deserving sophomore student. Preference will be given to a student working while being enrolled as a full-time student. International students are encouraged to apply.
The application can be found here.
Deadline: Please return all materials to the Office of Student Financial Services by April 26.
The decision will be announced by July 1.
Questions: Trisha Hawkes, administrative assistant to the Office of Student Financial Services, at th187@evansville.edu or 812-488-2364
Submitted by Trisha Hawkes th187@evansville.edu
Master of public health students present at international conference
Master of public health students Carrie Mehringer, Anthony Chastain, Dane Turner, and Sarah Harness - along with their faculty advisors Payal Patel-Dovlatabadi and Su Jin Jeong - recently presented their research at the MBAA International Conference in Chicago.
Chastain, Turner, and Harness along with Patel-Dovlatabadi, won the best paper award in the health and wellness track. Their research was titled "Perceptions of Universal Healthcare among Students, Faculty, and Staff at the University of Evansville."
Aces Baseball plays host to UT-Martin Wednesday
On the heels of their first Missouri Valley Conference sweep in two years, the University of Evansville plays host to Tennessee-Martin Wednesday night at Charles H. Braun Stadium.
The Aces (14-9), who swept conference rival Bradley in Peoria this past weekend, have won five in a row, their longest winning streak since 2016. The Skyhawks (11-16) come into Wednesday night's contest winners of three of their last four, including Sunday's series-sealing win over Morehead State at home.
The pitching matchup will be a showdown of freshman right-handers, with Evansville sending Shane Gray (1-0, 3.33 ERA) out to the hill and UT-Martin countering with Seth Petry (1-0, 5.11 ERA).
First pitch from Braun Stadium is at 6:00 p.m.
Contribute to AceNotes
To have content considered for inclusion in AceNotes, please submit a Marketing Request Form. Deadline for submission to AceNotes is 10:00 a.m. on the requested date of publication. Only articles concerning UE related/sponsored activities will be accepted. Articles submitted to AceNotes may be edited for length and clarity. Submitter contact information is at the end of each article.