| | |
| --- | --- |
| AceNotes Today | Tuesday, April 2, 2019 |
AT Club Clothing Drive
AT Club will be hosting a clothing drive Tuesday, April 2 through Thursday, April 4 in Ridgway University Center. The items will be going to Uncharted International and the YWCA in Evansville. The club will be accepting T-shirts, sweatpants and shorts. If you donate, you can guess how many clothing items we will donate and whoever guesses the closest will receive a gift card of their choice.
Submitted by Lauren Schnell ls271@evansville.edu
This Week in Music: Eykamp String Quartet Gives First Tuesday Concert
Eykamp String Quartet
Tuesday, April 2
7:30 p.m., Wheeler Concert Hall
On Tuesday, April 2, at 7:30 p.m., the Eykamp String Quartet will be presenting a wide-reaching program featuring works by John Adams, Joseph Haydn, and Robert Schumann. The concert is free and open to the public. For complete program information, visit the music department concert calendar.
Student Recitals
Saturday, April 6
April Kuhnert, mezzo-soprano, senior recital, Wheeler Concert Hall, 1:00 p.m.
Megan Gemmel, soprano, senior recital, Wheeler Concert Hall, 2:30 p.m.
Haley Russler and Haley Taylor, guitar and viola, senior recital, Wheeler Concert Hall, 4:00 p.m.
Submitted by James Sullivan js820@evansville.edu
Death doula to speak at Neu Chapel forum
The campus community is invited to join the Neu Chapel Forum this Thursday, April 4, at 8:00 p.m. as we welcome Jim Zaher, a death doula who works with the dying as they transition into leaving this world. He will give a special presentation on what it means to have a good death and the special work done by a death doula. All are welcome to join the conversation! The Neu Chapel Forum meets in Grabill Lounge (downstairs in Neu Chapel)
Submitted by Keith Turner kt160@evansville.edu
I-House: Thailand
This week's I-House presentation is about Thailand. Narupat Rattanakit from Thailand will be the presenter. He is an international student majoring in British and American studies. His favorite part of UE is the faculty and his hobbies include playing video games. He will be sharing more about himself and his culture at I-House Thailand happening on April 3 (Wednesday), on the second floor of Ridgway University Center at 7:00 p.m.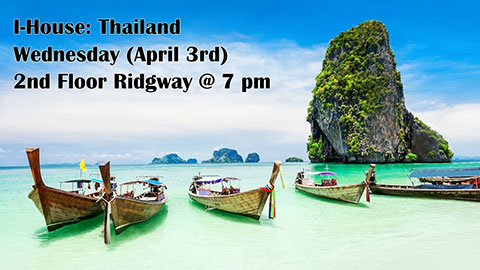 Submitted by Hussam Taj ht70@evansville.edu
Medical Spanish Practice
Medical Spanish practice is designed to help students practice communication skills in Spanish for medical settings. Students may arrive and leave at any time. The next session is Wednesday, April 3, from 5:30-7:00 p.m. in Room 73in the Schroeder School of Business Building. Please contact associate professor of Spanish Diana Rodríguez Quevedo at dr130@evansville.edu for more details. ¡Nos vemos el miércoles!
Submitted by Diana Rodríguez Quevedo dr130@evansville.edu
Dinner and Mass on campus with the bishop - April 9!
Join Newman Club for dinner and Mass with the bishop on Tuesday, April 9! The Newman Campus Community invites you to a special dinner with Most Reverend Joseph M. Siegel, DD, STL. We will be having a dinner at 6:00 p.m. at the Newman house and then hang out until mass at 8 p.m. at Neu Chapel. All are welcome to come join us for the free dinner and discussion and/or Mass with the bishop!
Submitted by Sam Wallisch sw265@evansville.edu
Health Careers Forum 2019 set for Wednesday
The University of Evansville Exercise and Sport Science Student Organization, in collaboration with the Center for Career Development, cordially invites you to attend its annual Health Careers Forum. The event is planned for Wednesday, April 3, from 6:00-8:00 p.m. in Eykamp Hall, Ridgway University Center.
There will be panelists from different organizations in the health field who will come to share their experiences. This event will be a great opportunity for everyone who would like to make acquaintances with local health care professionals.
Students are expected to RSVP as soon as possible by filling out the registration form. For more information on registration, email ea97@evansville.edu.
Attendees are asked to dress business-casual. All EXSS students are advised to attend.
Submitted by Emily Armstrong ea97@evansville.edu
RSA elections
The Resident Student Association will be holding elections for the 2019-20 executive board on Wednesday, April 3. Elections will take place in Room 203 in the library.
Submitted by Shelby Hoyert sh327@evansville.edu
WATCH: Guatemala: A Habitat for Humanity Mission
Every year, University of Evansville students travel the globe with Habitat for Humanity. Last May, two students - Brea Mullen and Amanda Ackerman - documented their experience.
Watch the trailer for Habitat Guatemala: A Habitat for Humanity Mission and get ready for the premiere!
Show times are:
April 4 at 7:30 p.m.in Eykamp Hall in Ridgway University Center on the University of Evansville campus.
April 5 at 7:30 p.m. at WNIN's Old National Theater in Downtown Evansville.
God the Creator: The Stunning Convergence of Scripture and Science
Join the Newman Club this Wednesday, April 3, at 5:00 p.m. for our weekly dinner and discussion. This week's topic is "God the Creator: The Stunning Convergence of Scripture and Science" hosted by UE's own professor of philosophy and religion Jim Ware. He will be talking about the beauty and mystery of science and scripture. We will be serving lemon chicken breasts afterward. All are welcome!
Submitted by Michaela Kunkler mk305@evansville.edu
UE Student Research and Honors Symposium
Please join us Wednesday, April 3, for the UE Student Research and Honors Symposium! Students will be presenting their research in sessions from 10:00 a.m.-4:00 p.m. in Eykamp Hall, Rooms 253 and 254, Ridgway University Center. Those wishing to attend the symposium are welcome to participate in sessions throughout the day as they are able. A detailed schedule of presentations and symposium presenters can be found here.
Submitted by Leslie Barton lb261@evansville.edu
Newman Club Migration Solidarity Vigil
Please join the Newman Club in Neu Chapel on Wednesday, April 3, at 8:00 p.m. to pray for refugees. This multilingual candlelight service will have music, and there will be an opportunity to write letters in support of refugees at the end. Please contact Kristen Sportiello at ks491@evansville.edu if you'd like to become more involved in the Newman Club's migration initiative.
Submitted by Sam Wallisch sw265@evansville.edu
Sign up for Dialogue on Diversity Conference planned for April 12
The 8th Annual Dialogue on Diversity Conference will take place Friday, April 12, at Spalding University. The primary objective of the conference is to construct a space where participants can engage in thoughtful and instructive conversations about the relevance and role of diversity in the fields of business, education, media, health, politics, community engagement, and religion.
Conference sessions will focus on providing audience members with best practices and current research in diversity, inclusion and/or social justice that can be utilized in the workplace, in and out of the classroom, and in the community.
We will leave at 7:00 a.m. and return to campus by 5:00 p.m. Seating is limited and on a first come, first served basis but all are invited to attend. Please send your interest to LaNeeca Williams, chief diversity officer, by Friday, April 5, to reserve your seat.
Submitted by LaNeeca Williams lw161@evansville.edu
Monarchs and Milkweed Changelab team presentation for the Nature Notes Lecture Series at Audubon Nature Preserve
The Monarchs and Milkweed Changelab team gave a presentation to the Nature Notes Lecture Series for Friends of Audubon on Saturday, March 30. The team discussed the decline of the monarch population, the role of milkweeds in supporting monarchs, and the value of native plants to support North American biodiversity. After educating the dozens of community members, the Monarchs and Milkweed Changelab team gifted the attendees with native milkweed plants. In addition, the team shared seeds of native plants that can be grown in people's backyards.
The seeds given away came from UE's Native Plant Garden, which provides a venue where over 100 species of native flowers, grasses, shrubs, and trees.
Native plant diversity has great value for several reasons, including beneficial ecosystem services through improved ecosystem function, support for native insects (including insect herbivores and pollinators), and the food resources to other animals (e.g., birds via seeds and/or prey items). Unfortunately, habitat destruction has led to the loss of wetlands, prairies, and forests, resulting in reduced numbers of native plant species. As one would expect, the loss of floral diversity has caused a reduction in the number of herbivores and pollinators, and a reduction in ecosystem services.
If you are interested in having an opportunity to plant milkweeds for monarchs or if you are interested in having native seeds to grow other plants, look for the two additional events that the Milkweed and Monarch team will have in the community during April.
Submitted by Cris Hochwender ch81@evansville.edu
Students: Participate in recruitment focus group for Office of Admission and earn free Starbucks coupon
What was it about UE that made you choose to attend here? How far from home did you consider going to college? The Office of Admission wants to hear your answers to these questions, and many more, during our upcoming focus group Tuesday, April 9, at 4:00 p.m. This conversation will be held in Room 172 in the Schroeder School of Business Building. Each student participant will receive a coupon to UE's Starbucks.
Tickets now available for International Food Festival
The inaugural International Food Festival, hosted by the International Club, is set for April 12. Tickets can be purchased before the event for $7, starting April 1, at the Office of Cultural Engagement and International Services on the second floor of Ridgway University Center in Student Life.
Submitted by Farrah Beidas fb33@evansville.edu
2019-20 Margery Florence Kahn Scholarship
2019-20 Margery Florence Kahn Scholarship applications are now available.
It was the desire of the donor, Margery Florence Kahn, that her scholarship be awarded to "dedicated and conscientious students who exhibit a true passion for their chosen fields of study, and who, in the opinion of the members of the University of Evansville faculty, are likely to bring the same enthusiasm into the performance of their jobs or the practice of the professions which they will pursue following graduation."
All University of Evansville full-time undergraduate students who will be juniors or seniors in 2019-20 may apply. An essay of about 300 words must accompany the application, along with two to five faculty recommendation letters.
Applications and recommendation letters are available from the Student Financial Services in Room 106 in Olmsted Hall and should be returned by APRIL 15.
You may also request application materials by emailing th187@evansville.edu.
Questions may be sent via email or call 812-488-2364.
Submitted by Trisha Hawkes th187@evansville.edu
Master of public health students present at international conference
Master of public health students Carrie Mehringer, Anthony Chastain, Dane Turner, and Sarah Harness - along with their faculty advisors Payal Patel-Dovlatabadi and Su Jin Jeong - recently presented their research at the MBAA International Conference in Chicago.
Chastain, Turner, and Harness along with Patel-Dovlatabadi, won the best paper award in the health and wellness track. Their research was titled "Perceptions of Universal Healthcare among Students, Faculty, and Staff at the University of Evansville."
Professor Tamara Wandel receives 1 for All First Amendment PR grant
University of Evansville associate professor of communications Tamara Wandel has received a 1 for All First Amendment public relations grant. She was one of 10 professors from across the country who received this grant from 1 for All, a nonpartisan educational program based at Middle Tennessee State University's Free Speech Center.
These $2,000 grants are used to build awareness and increase understanding of the First Amendment. The grants support college public relations and strategic communications professors in giving their students hands-on PR campaign experience while building awareness and understanding of the First Amendment.
Wandel will use her grant in the fall to work with students on a PR campaign concerning the first amendment, sports, and politics.
"We're very pleased to recognize some of the most creative professors in public relations and strategic media education, all with a commitment to ensuring that today's college students have a clear understanding of the importance of the First Amendment to our democracy," said Ken Paulson, director of the Free Speech Center and founder of the 1 for All educational program.
The campus PR effort is a project of 1 for All and the Free Speech Center at MTSU. The effort is completely nonpartisan and educational.
Contribute to AceNotes
To have content considered for inclusion in AceNotes, please submit a Marketing Request Form. Deadline for submission to AceNotes is 10:00 a.m. on the requested date of publication. Only articles concerning UE related/sponsored activities will be accepted. Articles submitted to AceNotes may be edited for length and clarity. Submitter contact information is at the end of each article.