| | |
| --- | --- |
| PurplePulse | Monday, November 20, 2023 |
2023 Holiday Schedule
The University of Evansville will be closed during the holidays to allow our employees to enjoy this special time with their families.
The following November – December holiday schedule will be observed:
Thanksgiving Holiday
Closed Wednesday, November 22 through Friday, November 24
Offices reopen on Monday, November 27
Winter Holiday Break
Closed Thursday, December 21 through Tuesday, January 2
Offices reopen on Wednesday, January 3
Submitted by Noah Alatza na122@evansville.edu
University Choir and Choral Society Fall Concert
November 19, 2023
University Choir and Choral Society
6:30 p.m.
Neu Chapel
Join the 70 plus voices of the combined UE University Choir and Choral Society for their Fall Concert. The program will feature settings of the American poet Virginia Hamilton Adair by composer Gwyneth Walker alongside settings of the poetry of Robert Frost by composer Randall Thompson. Works by American composers Williametta Spencer, Kinley Lange, and Dominick Argento, as well as music by South African composer Roelof Temmingh, and British composers Roger Quilter and C.V. Stanford are also on the program. The concert is free and open to the public.
Please note that this concert was originally listed as starting at 6:00 p.m. It will begin at 6:30 p.m.
Submitted by Mary Elizabeth Deig md334@evansville.edu
The Finance Club is Pleased to Announce Guest Speaker
The Finance Club is pleased to announce that Ross Mayfield, CFA, Investment Strategy Analyst with Baird, an international, employee-owned financial services firm, will have a video conference with UE students at 12:15 p.m. on November 28. Ross's role involves authoring investment research for advisors and clients focused on financial markets, the economy, and the benefits of long-term investing. He frequently appears in print, television, and online media to discuss markets. Ross holds a bachelor's degree in finance from the University of Kentucky and earned his MBA from the University of Louisville. He is the former President and current Treasurer of the CFA Society of Louisville.
Please contact Landon Stoll (ls353) if you are interested in attending the session!
Submitted by Landon Stoll ls353@evansville.edu
Save the Date for MLK Day Events – Join Us in Commemorating Dr. Martin Luther King, Jr.
As we approach the commemoration of Dr. Martin Luther King, Jr.'s legacy, we are excited to announce several significant events that honor his contributions to civil rights, justice, and equality. Please save the dates and mark your calendars to join us in these meaningful activities.
UE MLK Day of Service on Saturday, January 13
Faith-based Service: Monday, January 15, 2024
MLK Day Rally and Symbolic March: Monday, January 15, 2024
The 2024 William G. and Rose M. Mays Lectureship and Luncheon: Wednesday, January 17, 2024
Unity Conference: Saturday, January 20, 2024
Additional details will be provided as we get closer to the date
Submitted by Noah Alatza na122@evansville.edu
2023 Advent Candlelight Vespers Service
It's the Most Wonderful Time of the Year!
In conjunction with the Winter On Walnut event, the Office of Religious Life, the Music Conservatory, and the Center for Diversity, Equity, and Inclusion are hosting the 75th Advent Candlelight Vespers service.
Here are some of the details:
Day/Date: Friday, December 1, 2023
Time: 7:00 p.m.
Location: Neu Chapel
Let us know if you want to serve as a door greeter, reader, or usher for the program by responding to Center4DEI@evanville.edu.
Submitted by Kaylee LeDuc kl170@evansville.edu
Basham - Allaire Exhibit in Krannert Gallery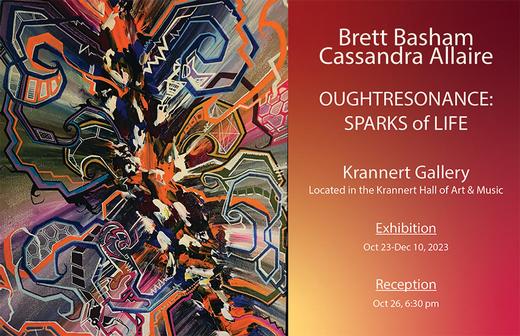 OUGHTRESONANCE: SPARKS of LIFE, a collaboration by artists Brett Basham and Cassandra Allaire, will be exhibited in the Krannert Gallery from October 23 through December 10.
Please join us for the artists reception on Thursday, October 26 at 6:30 p.m. in the Krannert Gallery.
Submitted by Carol McCraney cm177@evansville.edu
Prayer Space for Finals Week
We all need space to breath; a place to rest from the doing to just be. As we enter into finals week, UE's campus ministries and staff want to create a sanctuary space where you can come to rest, decompress, pray, and meditate. This will be a come and go space set up throughout the week with self-guided stations as well as a scheduled noonday prayer service that will be led each day by Campus Ministry Leaders and UE's Spiritual Formation Coordinator.
Submitted by Breanna Bondurant bb369@evansville.edu
Music Conservatory News
The UE Music Conservatory recently hosted two events for over 85 young pianists and accompanying teachers and parents. The day-long "GEMTA Keyboard Education for Youth Piano Festival (KEY)" was held on Saturday, Nov. 18. This is a significant competition for area pre-college students sponsored by the Greater Evansville Chapter of the Indiana Music Teachers Association. A winner's recital followed on Saturday evening in Wheeler Concert Hall. UE Professor Anne Fiedler also held a piano masterclass prior to the competition on Nov. 12 for select area pre-college students of GEMTA teachers.
Submitted by Mary Beth Deig md334@evansville.edu
Purple Patrol Spring 2024 Sign Up
Purple Patrol is returning for Spring 2024! Sign up as coworkers, a department/office, or a team, and get ready to pass out fun goodies to our Aces displaying purple pride!
When you sign up using the link below, please include your name and department or additional employees who will be helping you. Please sign up for one slot only so everyone has a chance to participate.
For questions or more information, please contact Abbie Perry at ap445@evansville.edu
Submitted by Abbie Perry ap445@evansville.edu
Kevin Corbin Named New Public Safety Director
The University of Evansville (UE) is pleased to announce the appointment of Kevin Corbin as the new Public Safety Director. Corbin's extensive background in law enforcement, security management, and his commitment to innovation and safety will play a pivotal role in ensuring the safety and well-being of the University's campus community.
A highly qualified professional with a master's degree in security management and actively pursuing a Ph.D. in Criminal Justice, Corbin brings a wealth of knowledge and academic rigor to his new role.
With nearly 22 years of dedicated service at the Evansville Police Department, Corbin has demonstrated his commitment to public safety. He has served in various capacities, including the Crime Prevention Unit, where his creative problem-solving and adaptive critical thinking skills were instrumental to the unit's success. His experience also includes roles in Motor Patrol, Crises Intervention Team (CIT), Mobile Field Force, Humane Officer Unit, and Honor Guard, in addition to conducting a wide range of criminal investigations.
Furthermore, Corbin holds certifications in Crime Prevention through Environmental Design (CPTED) at both basic and advanced levels, as well as a Professional Designation in CPTED. His expertise extends to school safety, and various certifications in OSHA and FEMA disciplines.
In addition to his law enforcement career, Corbin has shared his knowledge as a guest instructor at local universities and colleges. His commitment to education extends to positions as an adjunct in Criminal Justice at Oakland City University and contributions to the Southwestern Indiana Law Enforcement Academy.
"I am thrilled to be joining UE as the new Public Safety Director. My commitment to safety and my professional experiences will be essential in ensuring the well-being of the University's students, faculty, and staff. I look forward to collaborating with the University of Evansville community to further enhance the safety and security of campus," said Corbin upon his appointment.
Corbin replaces current Director Jason Cullum who leaves the university after a nearly four-year stint for a school resource officer position at a local district. Corbin officially begins his duties on Wednesday, November 15.
Submitted by Noah Alatza na122@evansville.edu
Spring Meal Plan Changes
Students can adjust meal plans for the Spring semester until Friday, January 12, 2024 at 5:00 p.m.
Submitted by Brian Conner bc32@evansville.edu
Proposal for Summer Camps 2024
If you are interested in having a camp during Summer 2024, please complete the proposal form. All proposals are due by Tuesday, November 21, and will then be reviewed by the Camp Proposal Committee. After review, the Committee will contact you with the next steps. Compensation is available.
If you have any questions or inquiries, please contact the Office of Youth Programs at 812.488.3440 or youthprograms@evansville.edu.
Submitted by Rachel Roscoe rr209@evansville.edu
Giulia Cardona named MVC Player of the Year
After putting together one of the best seasons in Missouri Valley Conference Volleyball history, University of Evansville junior Giulia Cardona was named the league's Player of the Year on Saturday.
Cardona became the first Purple Aces player to earn the prestigious honor while earning All-MVC First Team accolades for the second time in her career. Ainoah Cruz also earned league recognition, earning a spot on the MVC All-Freshman Team.
Over the course of the 2023 season, Giulia Cardona made her presence known not just in the MVC, but the nation as a whole. She completed the regular season as the national leader in kills (5.34/set), points (6.14/set) and attempts (15.00/set) while ranking 11th in the nation and tops in the MVC with 0.54 service aces per set. Cardona wrapped up the 2023 campaign with a total of 593 kills, breaking her own UE program mark, which she set in 2022.
She was named the AVCA GameChanger Division I National Player of the Week on October 17 becoming just the second player in league history to earn the accolade. Cardona was a 4-tie MVC Player of the Week and recorded two of the league's four 20-kill, 20-dig performances in 2023.
"This is a very well-deserved honor for Giulia. She carried us from day one until the last game and proved to be one of the best scorers in the nation," Aces head volleyball coach Fernando Morales said. "Giulia is such a well-rounded player and her numbers are insane! She put up some of the best numbers in MVC history. I am very proud of her
In the October win over UIC, Cardona tied the single-match MVC record with 40 kills. Her season average of 5.34 kills per set was the first above 5.00 in the league since 2006.
Ainoah Cruz became the latest UE player to be named to the All-Freshman squad. In her first collegiate season, Cruz averaged 4.49 digs per set, which was 8th in the league. On Sept. 5, she was named the MVC Freshman of the Week following wins over Samford and North Alabama.
Her top performance was a 32-dig effort in the win over UIC. As the season progressed, Cruz added to her numbers, finishing the MVC portion of the schedule with 4.78 digs per frame.
"Ainoah had a great season and she earned the respect of the other coaches in the MVC in a very short time," Coach Morales exclaimed. "I knew she was going to be a difference-maker in the conference, but I did not know just how fast she would do that. I am very proud of her."
Submitted by Athletics
Women's basketball faces tough road test at Michigan State
The University of Evansville women's basketball team hits the road for its longest road trip yet to Michigan State.
Evansville's comeback against the Eastern Kentucky Colonels ended just short as they fell in the final game of the Tri-State Challenge on Wednesday evening. The Aces fought to the final buzzer in the 77-75 loss after two strong offensive games. UE had its best defensive game of the season so far against the Colonels. Evansville outrebounded EKU, pulling down 41 boards while also picking up 9 steals and blocking 2 shots. The Aces also drew 29 fouls from the Colonels, giving themselves 33 attempts at the free-throw line.

Sunday's game will be only the second time in program history that Evansville has played Michigan State. UE's prior visit to East Lansing came in the 2007-08 season as part of the Preseason WNIT where the Aces played three games against Marshall, Western Kentucky, and Michigan St. The Spartans come into tomorrow's game as the winner of the previous contest by a 20-point margin.

Michigan State hasn't lost a game yet and has spent all three of its first games at the Breslin Center. The Spartans are coming off a record contest against Detroit Mercy after shooting 70.9% from the field on the Titans. Michigan State also tied the school assist record with 34, led by junior guard DeeDee Hagemann. Hagemann scored a career-high 24 points in the Spartans 105-44 win over Detroit Mercy.
Early in the season, UE is getting strong performances out of its underclassmen on the roster. All of Evansville's top three scorers are underclassmen, led by sophomore point guard Kynidi Mason Striverson. Along with Mason Striverson, the Aces are getting production from their freshman forwards Neveah Thomas and Maggie Hartwig. Both newcomers put up double-digit performances over the last two games along with a double-double each.
Thomas led the team on Wednesday night against EKU with a career-high 24-point performance. She just edged out Hartwig's monster game against SIUE only three days prior as the best freshman performance against a Division I team in almost a decade. Along with a big offensive performance, Thomas also had eight rebounds, one steal, and one block for an all-around game.
Submitted by Athletics
Strawbridge reaches 1,000 points in win over Ball State
Playing in front of 5,172 fans inside the Ford Center, the University of Evansville men's basketball team put on a show in an impressive 74-50 victory over Ball State on Saturday afternoon. Evansville improved to 4-0 to open a season for the first time since 2017.
Highlighting the day was the performance of Kenny Strawbridge Jr. In the second half, he reached the 1,000-point mark in his collegiate career on his way to a team-high 13 points. Ben Humrichous and Joshua Hughes scored 12 apiece.
"Our guys were locked in from the start. It is a mindset and a commitment to the process. To be able to respond the way we did in front of a large crowd and play the right way was something that I really commend our guys for," UE head men's basketball coach David Ragland exclaimed following the win. "We are committed to reviving this program. Winnings games is part of that process and this is one step in that journey."
Antonio Thomas completed the day with nine points while Yacine Toumi recorded eight points and a game-high eight boards.
Ball State opened the game with a triple and, following a 0-for-3 start to the afternoon, the Purple Aces got on the board with a Cam Haffner triple. Kenny Strawbridge Jr. forced a turnover and scored to give UE its first lead at 5-3. Trailing 9-7, Joshua Hughes scored the first of his eight first-half points to tie it up and open a 6-0 run that gave UE a 13-9 edge at the 12:07 mark.
Evansville held that lead for the remainder of the game. Strawbridge's third basket of the period put the Aces up 19-14 inside of the 9-minute mark before two field goals by the Cardinals cut the edge to one a minute later. Over the next four minutes, the defense by the Aces took over, holding Ball State scoreless. Ben Humrichous and Hughes picked up baskets that pushed the lead to a game-high of six points at 24-18.
In the final stretch of the half, BSU made it a one-possession game and that would be the deficit at the break with Evansville holding a 30-27 edge. Hughes led the Aces with eight points while Basheer Jihad posted 14 to pace the Cardinals.
Out of the break, the Aces took full control. The defense held the Cardinals without a point over the first seven minutes of the half while the offense reeled off 17 points in a row. Evansville held Ball State to a 0-for-5 start in the latter half while forcing seven turnovers. Humrichous picked up a 3-pointer before Strawbridge connected on a free throw to establish the first double digit lead of the day at 37-27.
Thomas stepped up in the latter part of the run, scoring two field goals off turnovers with the lead growing to 20 points (47-27) with 13 minutes remaining. With 8:43 left in the game, a triple by Thomas made it a 59-33 game. One of the most impressive parts of that sequence was that the Aces never let up; BSU got as close as 19 points before UE quickly countered.
With 2:19 remaining, the Aces extended the lead to its largest at 29 points (74-45) with BSU scoring the final five points to make it a 74-50 final. For the game, the Aces outshot the Cardinals by a 45.8%-31.4% margin while taking the battle of the boards by a 39-31 margin. Basheer Jihad paced Ball State with 21 points.
Next weekend, UE will be on the road in Chattanooga facing the Mocs on Friday before squaring off against SEMO once again on Saturday.
Submitted by Athletics
WSOC: UE's Benati, Rosborough, Wiebe Named To MVC Scholar-Athlete First Team
University of Evansville women's soccer players Nicole Benati (London, Ontario/Lord Dorchester SS), Rachel Rosborough (Mt. Brydges, Ontario/Strathroy District CI) and Emily Wiebe (Mequon, Wis./Homestead) were all named to the Missouri Valley Conference Scholar-Athlete First Team on Friday, in a vote of the league's sports information contacts.
Benati, a sixth-year midfielder for UE who led the team in shots this fall, garnered her second career MVC Scholar-Athlete team selection while owning a 3.99 cumulative grade point average in Mathematics at UE. Rosborough earned first team MVC Scholar-Athlete honors for the second-straight year on Friday, as she carries a 3.99 GPA in Elementary Education, while also earning second team all-Valley honors this season. Wiebe, meanwhile, was voted to her second-straight MVC Scholar-Athlete first team after playing every minute in defense for UE this year, while owning a perfect 4.0 GPA in Civil Engineering.
Evansville produced three of the 12 first-team MVC Scholar-Athlete Team selections this year, with the lowest grade point average of the first-team honorees being 3.84. The criteria for the honor mirrors the College Sports Communicator (CSC) standards for Academic All-America voting. Nominees must be starters or important reserves with at least a 3.50 cumulative grade point average (on a 4.0 scale) and they must have reached sophomore athletic and academic standing at their institution.
Submitted by Athletics
Contribute to AceNotes
To have content considered for inclusion in AceNotes, please submit a Marketing Request Form. Deadline for submission to AceNotes is 10:00 a.m. on the requested date of publication. Only articles concerning UE related/sponsored activities will be accepted. Articles submitted to AceNotes may be edited for length and clarity. Submitter contact information is at the end of each article.