| | |
| --- | --- |
| PurplePulse | Friday, November 17, 2023 |
Campus Community Invited to Mental Health and Wellness Clinic Dedication
The University of Evansville will hold a dedication and ribbon cutting for the new Mental Health and Wellness Clinic today, Friday, November 17, at 11 a.m. in University Square. The clinic is adjacent to the Mel Peterson Gallery. The campus community is invited to join for this celebration.
Submitted by University Communications
University Choir and Choral Society Fall Concert
November 19, 2023
University Choir and Choral Society
6:30 p.m.
Neu Chapel
Join the 70 plus voices of the combined UE University Choir and Choral Society for their Fall Concert. The program will feature settings of the American poet Virginia Hamilton Adair by composer Gwyneth Walker alongside settings of the poetry of Robert Frost by composer Randall Thompson. Works by American composers Williametta Spencer, Kinley Lange, and Dominick Argento, as well as music by South African composer Roelof Temmingh, and British composers Roger Quilter and C.V. Stanford are also on the program. The concert is free and open to the public.
Please note that this concert was originally listed as starting at 6:00 p.m. It will begin at 6:30 p.m.
Submitted by Mary Elizabeth Deig md334@evansville.edu
The Finance Club is Pleased to Announce Guest Speaker
The Finance Club is pleased to announce that Ross Mayfield, CFA, Investment Strategy Analyst with Baird, an international, employee-owned financial services firm, will have a video conference with UE students at 12:15 p.m. on November 28. Ross's role involves authoring investment research for advisors and clients focused on financial markets, the economy, and the benefits of long-term investing. He frequently appears in print, television, and online media to discuss markets. Ross holds a bachelor's degree in finance from the University of Kentucky and earned his MBA from the University of Louisville. He is the former President and current Treasurer of the CFA Society of Louisville.
Please contact Landon Stoll (ls353) if you are interested in attending the session!
Submitted by Landon Stoll ls353@evansville.edu
Guest Speaker: Exploring the Marshallese Culture 12/6 12-1245 in Eykamp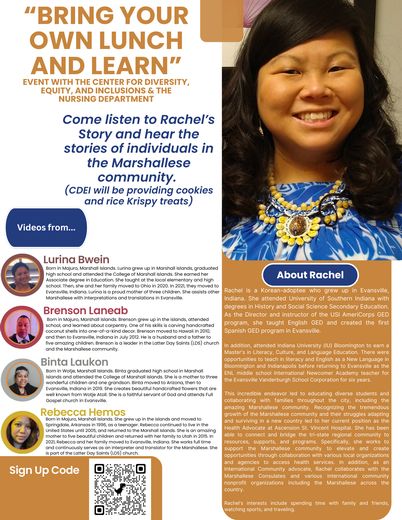 "Bring Your Own Lunch and Learn" event with the Center for Diversity, Equity, and Inclusion & the Nursing Department
Come listen to Rachel's story and hear the stories of individuals in the Marshallese community.
CDEI will be providing cookies and rice krispy treats
Bio for Rachel Acton, guest speaker:
Rachel is a Korean-adoptee who grew up in Evansville, Indiana. She attended University of Southern Indiana (USI) with degrees in History and Social Science Secondary Education. As the Director and instructor of the USI AmeriCorps GED program, she taught English GED and created the first Spanish GED program in Evansville. In addition, attended Indiana University (IU) Bloomington to earn a Masters in Literacy, Culture, and Language Education (LCLE). There were opportunities to teach in literacy and English as a New Language (ENL) in Bloomington and Indianapolis before returning to Evansville as the ENL middle school International Newcomer Academy (INA) teacher for the Evansville Vanderburgh School Corporation (EVSC) for six years. This incredible endeavor led to educating diverse students and collaborating with families throughout the city, including the amazing Marshallese community. Recognizing the tremendous growth of the Marshallese community and their struggles adapting and surviving in a new country led to her current position as the Health Advocate at Ascension St. Vincent Hospital. She has been able to connect and bridge the tri-state regional community to resources, supports, and programs. Specifically, she works to support the Marshallese community to elevate and create opportunities through collaboration with various local organizations and agencies to access health services. In addition, as an International Community advocate, Rachel collaborates with the Marshallese Consulates and various international community nonprofit organizations including the Marshallese across the country. Rachel's interests include spending time with family and friends, watching sports, and traveling.
Videos from:
Lurina Bwein was born in Majuro, Marshall Islands. Lurina grew up in Marshall Islands, graduated high school and attended the College of Marshall Islands. She earned her Associate degree in Education. She taught at the local elementary and high school. Then, she and her family moved to Ohio in 2020. In 2021, they moved to Evansville, Indiana. Lurina is a proud mother of three children. She assists other Marshallese with interpretations and translations in Evansville. ansville.
Brenson Laneab was born in Majuro, Marshall Islands. Brenson grew up in the islands, attended school, and learned about carpentry. One of his skills is carving handcrafted coconut shells into one-of-a-kind decor. Brenson moved to Hawaii in 2010, and then to Evansville, Indiana in July 2012. He is a husband and a father to five amazing children. Brenson is a leader in the Latter Day Saints (LDS) church and the Marshallese community.
Binta Laukon was born in Wotje, Marshall Islands. Binta graduated high school in Marshall Islands and attended the College of Marshall Islands. She is a mother to three wonderful children and one grandson. Binta moved to Arizona, then to Evansville, Indiana in 2019. She creates beautiful handcrafted flowers that are well known from Wotje Atoll. She is a faithful servant of God and attends Full Gospel church in Evansville.
Rebecca Hemos was born in Majuro, Marshall Islands. She grew up in the islands and moved to Springdale, Arkansas in 1996, as a teenager. Rebecca continued to live in the United States until 2005, and returned to the Marshall Islands. She is an amazing mother to five beautiful children and returned with her family to Utah in 2015. In 2021, Rebecca and her family moved to Evansville, Indiana. She works full time and continuously serves as an interpreter and translator for the Marshallese. She is part of the Latter Day Saints (LDS) church.
Submitted by Kayla Michelle Guzman kg285@evansville.edu
Homecoming 2023
Homecoming on Main will be at the Ford Center Saturday from 11 am to 1 pm. Please come out and support the Ace's as they face Ball State at 1 pm.. The Homecoming Ceremony will be at half time.
Submitted by Kelsey Rowland kr286@evansville.edu
Community Band Performance
November 16, 2023
Community Band
7:30 p.m.
Wheeler Concert Hall
The UE Music Conservatory presents the Community Band performing selections by Sergei Prokofiev, Robert Sheldon and Leonard Bernstein.
Submitted by Mary Beth Deig md334@evansville.edu
University of Evansville Theatre Present Final Four Performances of Their Smash-Hit "RENT"
UE Theatre is back for the final weekend of RENT, book, music and lyrics by Jonathan Larson. Performances resume at 7:30 p.m. on Nov. 16. Additional performances are at 7:30 p.m., on Nov. 17, 18, and at 2:00 p.m. on Nov. 19. Winner of the Pulitzer Prize for Drama, an Obie Award, and the Tony Award for Best Musical in 1996, this iconic rock musical shaped a generation of audiences and is being performed for the first time in Shanklin Theatre. Loosely based on Puccini's La Boheme and set in New York's Lower East Side, this fast-paced musical follows a year in the life of a group of destitute young artists struggling to survive and stay true to their creative ambitions, all under the daunting shadow of the HIV/AIDS epidemic. This exuberant American rock opera is a pop-cultural phenomenon not to be missed!
RENT is directed by Assistant Professor Wes Grantom '03. Tyler Simpson, guest artist, serves as the music director; Avery Finn, a senior theatre studies major from Terre Haute, Ind., is the choreographer and costume designer; Jason Simms, guest artist, serves as the scenic designer; Avery Reagan '17, guest artist, is the lighting designer; Jon Robertson, guest artist, serves as the sound designer; Morgan Bailey, a senior stage management major from Keller, Texas, is the stage manager, and Lily Rehberg, a senior design and technology major from Dalton, Ga., is the technical director.
The cast features Landry Barker, a sophomore performance major from Fort Worth, Texas, as Roger; Antonio Cortés Román, a sophomore performance major from Metepec, Mexico, as Angel; Tomi Akinwande, a sophomore performance major from Houston, Texas, as Mimi; Spencer Marfy, a senior performance major from Tallmadge, Ohio, as Mark; Drake J. Susuras, a senior performance major from Broomfield, Colo., as Tom; Alijah J. Roberson, a sophomore performance major from Marietta, Ga., as Benny; Alyssa Meadows, a sophomore performance major from Louisville, Ky., as Maureen; Brynna Waters, a junior performance major from Brownsburg, Ind., as Joanne; The ensemble includes: Dinarri Cox, a first-year performance major from Woodstock, Ga.; Bailey Crawford, a first-year performance major from Frisco, Texas; Ben Lodge, a first-year performance major from Overland Park, Kan.; Quinn McGaugh, a first-year performance major from McAlester, Okla.; Mason Norton, a sophomore performance major from Bremen, Ind.; Kennedy Olson, a sophomore performance major from Porter, Texas; Lindsay Perr, a junior performance major from Medford, NJ.; Umbra Person, a sophomore performance major from Jonesboro, Ga.; Rylie Sudduth, a first-year performance major from Versailles, Ky.; Andrea Vargas, sophomore performance major from Missouri City, Texas; and Owen White, a first-year performance major from Valley Center, Kan.
Adult ticket prices are $20 and $18 for senior adults, UE employees, and non-UE students. UE students may obtain one free student rush ticket beginning at 12 p.m. on the day of the performance they wish to attend. In addition, UE Theatre is excited to continue their "Pay What You Will" initiative again this second season. Every Thursday evening performance in Shanklin Theatre is available for any person to pay any price that best fits their budget. Single tickets may be purchased online at theatre.evansville.edu or by calling the ticket office at 812.488.2031, Monday through Friday, 12:00 to 5:00 p.m.
Submitted by Sharla Cowden sc75@evansville.edu
2023 Advent Candlelight Vespers Service
It's the Most Wonderful Time of the Year!
In conjunction with the Winter On Walnut event, the Office of Religious Life, the Music Conservatory, and the Center for Diversity, Equity, and Inclusion are hosting the 75th Advent Candlelight Vespers service.
Here are some of the details:
Day/Date: Friday, December 1, 2023
Time: 7:00 p.m.
Location: Neu Chapel
Let us know if you want to serve as a door greeter, reader, or usher for the program by responding to Center4DEI@evanville.edu.
Submitted by Kaylee LeDuc kl170@evansville.edu
Jonpaul Smith Exhibit Opens October 30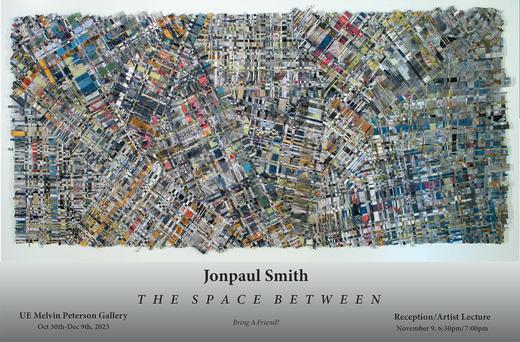 Efroymson Artist in Residence, Jonpaul Smith, and the UE Department of Art present THE SPACE BETWEEN from October 30 - December 9. Please join us for a public reception and artist lecture on Thursday, November 9 at 6:30pm in the Melvin Peterson Gallery.
Gallery hours are Mon, Tue, Fri & Sat 12:00pm - 3:00pm; Wed & Thu 12:00pm - 6:00pm.
Submitted by Carol McCraney cm177@evansville.edu
November 2023 Board of Trustees | Front Oval Parking
The November 2023 meetings of the University of Evansville Board of Trustees will be held on campus Friday, November 17, 2023 and Saturday, November 18, 2023. Parking in front of Olmsted Administration Hall and the Schroeder Family School of Business Administration will be reserved for University Trustees. Employee parking on the front oval will be limited on both days.
Submitted by Abby Murphy am983@evansville.edu
Road Trip 2024 - Hosts Needed
The Office of Admission needs current UE students who live in a residence hall or Jones Hall to host prospective high school seniors for Road Trip 2024, February 23-25. If you are available, you can apply to host online. Please contact Heather Cook (hw30@evansville.edu), Jennifer Troutman (jt65@evansville.edu) or Alli Haley (ah757@evansville.edu). Deadline to sign up is Friday, February 9.
Submitted by Jennifer Troutman jt65@evansville.edu
Kevin Corbin Named New Public Safety Director
The University of Evansville (UE) is pleased to announce the appointment of Kevin Corbin as the new Public Safety Director. Corbin's extensive background in law enforcement, security management, and his commitment to innovation and safety will play a pivotal role in ensuring the safety and well-being of the University's campus community.
A highly qualified professional with a master's degree in security management and actively pursuing a Ph.D. in Criminal Justice, Corbin brings a wealth of knowledge and academic rigor to his new role.
With nearly 22 years of dedicated service at the Evansville Police Department, Corbin has demonstrated his commitment to public safety. He has served in various capacities, including the Crime Prevention Unit, where his creative problem-solving and adaptive critical thinking skills were instrumental to the unit's success. His experience also includes roles in Motor Patrol, Crises Intervention Team (CIT), Mobile Field Force, Humane Officer Unit, and Honor Guard, in addition to conducting a wide range of criminal investigations.
Furthermore, Corbin holds certifications in Crime Prevention through Environmental Design (CPTED) at both basic and advanced levels, as well as a Professional Designation in CPTED. His expertise extends to school safety, and various certifications in OSHA and FEMA disciplines.
In addition to his law enforcement career, Corbin has shared his knowledge as a guest instructor at local universities and colleges. His commitment to education extends to positions as an adjunct in Criminal Justice at Oakland City University and contributions to the Southwestern Indiana Law Enforcement Academy.
"I am thrilled to be joining UE as the new Public Safety Director. My commitment to safety and my professional experiences will be essential in ensuring the well-being of the University's students, faculty, and staff. I look forward to collaborating with the University of Evansville community to further enhance the safety and security of campus," said Corbin upon his appointment.
Corbin replaces current Director Jason Cullum who leaves the university after a nearly four-year stint for a school resource officer position at a local district. Corbin officially begins his duties on Wednesday, November 15.
Submitted by Noah Alatza na122@evansville.edu
Proposal for Summer Camps 2024
If you are interested in having a camp during Summer 2024, please complete the proposal form. All proposals are due by Tuesday, November 21, and will then be reviewed by the Camp Proposal Committee. After review, the Committee will contact you with the next steps. Compensation is available.
If you have any questions or inquiries, please contact the Office of Youth Programs at 812.488.3440 or youthprograms@evansville.edu.
Submitted by Rachel Roscoe rr209@evansville.edu
Apply for Harlaxton Summer and Fall 2024
Applications are open now for Harlaxton for the Fall 2024 semester and Summer 1 and 2 2024 terms! If you have worked with your advisor on planning for one of these upcoming terms at our amazing manor, now is the time to get your application in. The application process is simple and all online, and you can find details on the Harlaxton website: https://college.harlaxton.co.uk/programs. Feel free to contact the team if you have any questions at harlaxton@evansville.edu!
Submitted by Kaylynn McCalister kc205@evansville.edu
Men's basketball announces the signing of Battle and Berridge
Continuing an impressive recruiting trend since he first stepped foot on the University of Evansville campus, men's basketball coach David Ragland has announced the signing of Kaia Berridge and Ramondo Battle. Both will join the Purple Aces in 2024.
"We are extremely excited to add two skilled and talented players to our roster for the 2024-25 season. Adding both Berridge and Battle will add to our roster size, skill and shooting ability," Ragland stated. "Both young men come from wonderful families who have instilled great qualities into each of these young men. Recruiting quality people from quality families and basketball programs continues to be a huge focus of our coaching staff as we continue to build a culture for long-term success on and off the floor."
KAIA BERRIDGE
Kaia Berridge is a 6-foot-4 guard who is entering his final high school season at Archbishop Riordan in San Francisco. As a junior Berridge helped his team to a 23-7 mark, including a 12-2 record in league competition.
"Arriving in Evansville reminded me so much of New Zealand. The weather, the landscape. And then arriving on campus, and meeting the staff, the people reminded me of home too," Berridge said. "Everyone is super friendly and embracing. I immediately felt comfortable. The facilities at Evansville are amazing for a student-athlete."
Berridge represented New Zealand U17 World Cup Team in 2022. During the event, he played in six contests for an average of 17.7 minutes per game. He posted 4.3 points, 2.8 assists and 2.2 rebounds per contest.
"The ability to have everything at your fingertips, living quarters, training facilities, classes and the home court arena- made the decision of attending this school so much easier," he added. "With peace of my mind for my family back in New Zealand, too."
Coach Ragland on Berridge:
"We had an opportunity to follow Kaia as he was playing last summer in the NBA Academy.
Kaia's ability to run a team as a lead guard was the first thing that jumped out to us as a staff.
He plays with very good offensive pace and rarely gets sped up or makes an incorrect read.
Kaia is a very good athlete with an ability to play above the rim. He always can shoot from behind the 3-point line while also being a willing passer. We have been focused on adding positional size and Kaia embodies that with his 6'4 height as a lead guard."
RAMONDO BATTLE
Ramondo Battle is set to join the Purple Aces from Walters State Community College in Tennessee. The 6-foot-8 forward played at Weatherford College last season where he saw action in 30 games and chipped in an average of 11.7 points. Battle was a 45.1% shooter from the field and knocked down 74.3% of his free throw tries. He put up solid numbers on the glass, recording 6.1 rebounds per contest.
"Evansville is a perfect fit for so many reasons. I had a great campus visit and really enjoyed the opportunity to speak with Prez. P. (UE President Christopher M. Pietruszkiewicz) and the AD (Director of Athletics Ziggy Siegfried)," Battle exclaimed. "Evansville is the perfect size for me and seeing the support the program receives from the community was impressive. I was also a big fan of the Ford Center!"
The McKinney, Texas native earned North Texas Junior College Athletic Conference Honorable Mention accolades to wrap up his freshman campaign. Prior to his college career, Battle completed high school at United States Air Force Academy Preparatory School.
"After seeing the system that Evansville runs, I knew that it was a situation where I could be successful," Battle continued. "They run a very similar system to what I am accustomed to and that will allow me to make a more immediate impact on the court."
With three games in the books this season, Battle ranks second on the team with 13.7 points per game. He has also registered 8.7 rebounds and 4.0 assists per contest.
Coach Ragland on Battle:
"We have been focused on size, skill and shooting as a staff since we arrived at UE. Ramondo embodies all those characteristics. He is 6'8 and shoots the ball with ease from beyond the 3-point line. He also plays high above the rim and has the ability to drive to a shot or pass to a teammate. Ramondo will also add collegiate level experience as he has played the last 2 years at the junior college level."
Submitted by Athletics
Student Shuttle Schedule for Homecoming
UE Students can take a FREE shuttle from campus to the Ford Center for Saturday's men's basketball game and homecoming festivities! The shuttle picks up from the front ovals in front of Olmsted at 12:15 PM and 12:45 PM and will pick students up at the Ford Center 15 minutes after the conclusion of the game. There will be free food and soda/water available at the pick-up spot in the front oval!
Submitted by Athletics
Pomykal named Evansville's State Farm MVC Good Neighbor Fall Honoree
Senior midfielder Porter Pomykal has been selected as one of 12 Missouri Valley Conference (MVC) recipients of the State Farm MVC Good Neighbor Award for the 2023 fall sports season, as announced by the league on Thursday morning.

To be eligible for the award, student-athletes must be in good academic standing, must demonstrate good citizenship through good sportsmanship and significant community service, and must participate in a sport during the season of recognition. The MVC recognizes 12 student-athletes three times annually (fall, winter, and spring), for a total of 36 honorees. Institutions select their State Farm MVC Good Neighbor Award honorees.

Pomykal, a senior from Corinth, Texas, is currently studying finance while maintaining a perfect 4.00 GPA. Pomykal will graduate in the spring of 2024 and has made the dean's list every semester he has attended UE since the fall of 2021.

Pomykal is active in a variety of community service events around the Evansville area. Some of his favorite causes to volunteer with include the Susan G. Komen walk, the YMCA, and a local soup kitchen. Pomykal is described by his coaches as being a good teammate who represents the University of Evansville in a positive way. Along with his work in the community, Pomykal is also one of the men's soccer team's SAAC representatives.

Over the 2023 season, Pomykal played in 11 games while starting seven. In three of his final seven starts, Pomykal played a full 90 minutes for the Aces as a major part of their midfield defense.

Fall sport honorees of the State Farm MVC Good Neighbor Award include…
Laura Shoopman, Volleyball - Belmont
Camden Kowalski, Men's Soccer – Bradley
Delaney Goertzen,, Women's Soccer – Drake
Porter Pomykal, Men's Soccer – Evansville
Maggi Weller, Volleyball – Illinois State
Asia Povlin, Volleyball - Indiana State
Natalie Clayton, Women's Cross Country – Missouri State
Jenna Villacres, Women's Soccer – Murray State
Ashley Harrington, Women's Soccer – UNI
Tatum Tornatta, Volleyball – Southern Illinois
Juan Gutierrez, Men's Soccer – UIC
Sam Warren, Volleyball - Valparaiso
Pomykal is the son of Preston and Holley Pomykal of Corinth Texas. He is the brother of Pierce and Paxton Pomykal, who plays for FC Dallas in the MLS and has made four appearances with the men's national team.
Submitted by Athletics
Feliciano's 31 kills lifts Aces to third win in a row
Melanie Feliciano recorded a season-high 31 kills to help the University of Evansville volleyball team complete the season with a 3-1 road win at Indiana State on Tuesday evening at ISU Arena.
Feliciano hit .333 in the victory and tallied 10 digs. Giulia Cardona had another exceptional performance, posting a career-high 26 digs along with 24 kills, three blocks and two aces. Brooke Springer added eight kills, four block assists and a solo block. Kora Ruff tallied 28 digs and 62 assists while Ainoah Cruz finished the night with 26 digs and seven assists.
Game 1 – UE 28, Indiana State 26
Each point in the early moments was tied until the Sycamores turned a 7-7 game into a 10-7 advantage. The run for the Sycamores continued as they led by as many as six tallies when a UE error gave them a 16-10 lead.
Four in a row by the Purple Aces got them right back into the mix. Giulia Cardona picked up a pair of kills and a block assist to cut the deficit to two. Indiana State doubled the lead back to four at 20-16 before another Evansville run sent the set into extra points. Trailing 23-20, UE scored three in a row with Kora Ruff picking up an ace. Both teams had their opportunity at set point, but it was the Aces who took advantage first. With the score tied at 26-26, Emilee Schuemann had a solo block and Cardona followed with a kill to seal the win.
Game 2 – Indiana State 25, UE 21
With a come-from-behind win in the books to open the night, the Aces picked up right where the left off in the second frame. Led by three kills apiece from Melanie Feliciano and Cardona, UE jumped out to a 7-2 advantage. The Sycamores quickly countered with five in a row to tie it up.
In the late moments, ISU pushed the lead out to four points (22-18) and clinched the set by the same margin to tie the match.
Game 3 – UE 25, Indiana State 15
Evansville jumped out to a 4-0 lead with Blakeley Freeman recording an ace and Feliciano adding two more kills to her tally. Four more kills by Feliciano saw the Aces establish a 12-2 advantage. Cardona tacked on two more aces and UE retook the match lead with the 10-point win. Feliciano's 24th kill of the night clinched the set.
Game 4 – UE 25, Indiana State 17
Set #4 of the evening started off with multiple ties, leading to a 5-5 score. Kills from Feliciano and Cardona, coupled with another ace from Freeman, put the Aces up 9-5. Indiana State reeled off the next three in a row, but Evansville responded with seven in a row to open a 16-8 lead. Feliciano added two more tallies with Ainoah Cruz picking up an ace.
From there, it was all Aces as they clinched the match with a 25-17 decision in the fourth set.
Submitted by Athletics
Aces improve to 3-0 with road victory at SEMO
Yacine Toumi tied his career scoring high with 20 points to help the University of Evansville men's basketball team earn a 76-58 win over Southeast Missouri State on Tuesday evening inside the Show Me Center.
UE improves to 3-0 for the first time since the 2019-20 season on the strength of its largest win away from the Ford Center since the 2015-16 campaign. That win was a 68-42 win over Indiana State at Arch Madness in St. Louis.
"From the beginning, we were locked in. Our guys are so unselfish and connected and that is a great feeling as a coach," UE head men's basketball coach David Ragland said. "A lot of credit goes to our scout team. They did a great job."
Toumi opened the game knocking down his first eight attempts before finishing 10-of-15. He added five rebounds and three assists. Ben Humrichous added 18 points on an efficient 7-of-10 effort from the field. Cam Haffner and Kenny Strawbridge Jr. finished the night with 10 and 8 points, respectively.
Led by Toumi's 12 first-half points, the Purple Aces had an exceptional opening 20 minutes. Ben Humrichous picked up a 3-point play to open a 5-0 run that turned a 2-2 tie into a 7-2 advantage. SEMO scored the next four before Antonio Thomas went coast-to-coast as he forced a steal and took it all the way for a layup to reestablish a 5-point lead at the 14:40 mark.
Chuck Bailey III converted a field goal that extended the lead to 19-10 as the period reached its midway point. The Redhawks closed to within four points with 6:09 remaining in the half as an Adam Larson basket made it a 27-23 game. That is when Evansville took control. Over the next five minutes, UE went on a 12-3 run to make it a 39-26 game with 1:12 showing on the clock.
Ben Humrichous and Cam Haffner hit from long range during the run. The final basket of the half belonged to the Redhawks, who cut the UE lead to 39-28 at the break.
Haffner drained a three to open the second half scoring while Humrichous had a second-chance basket to make it a 47-33 game two minutes into the period. Southeast Missouri State responded with a 7-0 rally to cut the lead to eight points just two minutes later. As fast as SEMO made its run, the Aces came right back. Four points apiece from Toumi and Humrichous comprised an 8-0 stretch to give UE its largest lead of the night at 56-40 with 14:12 remaining.
Evansville continued to add to the lead with a turnaround jumper by Toumi pushing the edge to 64-45 with just over eight minutes on the clock. Kenny Strawbridge Jr. hit a shot that made it a 20-point game for the first time and the advantage for UE would reach 21 in the final minutes before a late basket by the Redhawks made it the final of 76-57.
Strawbridge led UE with seven rebounds and five assists. Antonio Thomas recorded a game-high four steals. SEMO was led by Rob Martin and BJ Ward, who score nine each. Evansville shot 53.3% on the game with the Redhawks finishing at 43.4%. SEMO finished with a slight 31-30 edge on the boards.
On Saturday, UE will look to keep rolling with a 1 p.m. game against Ball State at the Ford Center.
Submitted by Athletics
Arntsen named to MVC Scholar-Athlete Second Team
For the first time in his career, midfielder Ola Arntsen has been named to a Missouri Valley Conference (MVC) Scholar-Athlete Team.
On Wednesday morning the conference office announced its Valley Men's Soccer Scholar-Athlete teams. The Aces had one representative honored for his academics and play on the pitch in sophomore Ola Arntsen. Arntsen was named to the MVC Scholar-Athlete Second Team for his work in the 2023 season. Western Michigan forward Dylan Sing was named the MVC Scholar-Athlete of the Year after being named the 2023 MVC Player of the Year last week.
Over the past season, Arntsen was recognized for his academics as an MVC Scholar-Athlete Spotlight earlier in the fall of 2023. Arntsen is currently a sophomore at UE majoring in business management with a GPA of 3.68.
On the pitch, Arntsen led the Aces in playing time with 1255 minutes across 14 games while starting in all 14. The sophomore midfielder had 13 games where he played a full 90 to anchor Evansville's back line while also contributing on offense. Arntsen scored his lone goal of the season against Southern Indiana and added two assists against Missouri State and Bradley in his final two games of the season.
Valley scholar-athlete teams are decided by league men's soccer sports information directors based on the College Sports Communications Academic All-American criteria. Nominees must be starters or important reserves with at least a 3.50 cumulative grade-point average (on a 4.00 scale). Also, students must have participated in at least 75 percent of the season matches. Student-athletes must have reached sophomore athletic and academic standing at their institution and must have completed at least one full academic year at their institution.
Submitted by Athletics
Contribute to AceNotes
To have content considered for inclusion in AceNotes, please submit a Marketing Request Form. Deadline for submission to AceNotes is 10:00 a.m. on the requested date of publication. Only articles concerning UE related/sponsored activities will be accepted. Articles submitted to AceNotes may be edited for length and clarity. Submitter contact information is at the end of each article.