| | |
| --- | --- |
| PurplePulse | Wednesday, November 15, 2023 |
Campus Community Invited to Mental Health and Wellness Clinic Dedication
The University of Evansville will hold a dedication and ribbon cutting for the new Mental Health and Wellness Clinic on Friday, November 17, at 11 a.m. in University Square. The clinic is adjacent to the Mel Peterson Gallery. The campus community is invited to join for this celebration.
Submitted by Noah Alatza na122@evansville.edu
2023 Holiday Schedule
The University of Evansville will be closed during the holidays to allow our employees to enjoy this special time with their families.
The following November – December holiday schedule will be observed:
Thanksgiving Holiday
Closed Wednesday, November 22 through Friday, November 24
Offices reopen on Monday, November 27
Winter Holiday Break
Closed Thursday, December 21 through Tuesday, January 2
Offices reopen on Wednesday, January 3
Submitted by Noah Alatza na122@evansville.edu
Community Band Performance
November 16, 2023
Community Band
7:30 p.m.
Wheeler Concert Hall
The UE Music Conservatory presents the Community Band performing selections by Sergei Prokofiev, Robert Sheldon and Leonard Bernstein.
Submitted by Mary Beth Deig md334@evansville.edu
University of Evansville Theatre Present Final Four Performances of Their Smash-Hit "RENT"
UE Theatre is back for the final weekend of RENT, book, music and lyrics by Jonathan Larson. Performances resume at 7:30 p.m. on Nov. 16. Additional performances are at 7:30 p.m., on Nov. 17, 18, and at 2:00 p.m. on Nov. 19. Winner of the Pulitzer Prize for Drama, an Obie Award, and the Tony Award for Best Musical in 1996, this iconic rock musical shaped a generation of audiences and is being performed for the first time in Shanklin Theatre. Loosely based on Puccini's La Boheme and set in New York's Lower East Side, this fast-paced musical follows a year in the life of a group of destitute young artists struggling to survive and stay true to their creative ambitions, all under the daunting shadow of the HIV/AIDS epidemic. This exuberant American rock opera is a pop-cultural phenomenon not to be missed!
RENT is directed by Assistant Professor Wes Grantom '03. Tyler Simpson, guest artist, serves as the music director; Avery Finn, a senior theatre studies major from Terre Haute, Ind., is the choreographer and costume designer; Jason Simms, guest artist, serves as the scenic designer; Avery Reagan '17, guest artist, is the lighting designer; Jon Robertson, guest artist, serves as the sound designer; Morgan Bailey, a senior stage management major from Keller, Texas, is the stage manager, and Lily Rehberg, a senior design and technology major from Dalton, Ga., is the technical director.
The cast features Landry Barker, a sophomore performance major from Fort Worth, Texas, as Roger; Antonio Cortés Román, a sophomore performance major from Metepec, Mexico, as Angel; Tomi Akinwande, a sophomore performance major from Houston, Texas, as Mimi; Spencer Marfy, a senior performance major from Tallmadge, Ohio, as Mark; Drake J. Susuras, a senior performance major from Broomfield, Colo., as Tom; Alijah J. Roberson, a sophomore performance major from Marietta, Ga., as Benny; Alyssa Meadows, a sophomore performance major from Louisville, Ky., as Maureen; Brynna Waters, a junior performance major from Brownsburg, Ind., as Joanne; The ensemble includes: Dinarri Cox, a first-year performance major from Woodstock, Ga.; Bailey Crawford, a first-year performance major from Frisco, Texas; Ben Lodge, a first-year performance major from Overland Park, Kan.; Quinn McGaugh, a first-year performance major from McAlester, Okla.; Mason Norton, a sophomore performance major from Bremen, Ind.; Kennedy Olson, a sophomore performance major from Porter, Texas; Lindsay Perr, a junior performance major from Medford, NJ.; Umbra Person, a sophomore performance major from Jonesboro, Ga.; Rylie Sudduth, a first-year performance major from Versailles, Ky.; Andrea Vargas, sophomore performance major from Missouri City, Texas; and Owen White, a first-year performance major from Valley Center, Kan.
Adult ticket prices are $20 and $18 for senior adults, UE employees, and non-UE students. UE students may obtain one free student rush ticket beginning at 12 p.m. on the day of the performance they wish to attend. In addition, UE Theatre is excited to continue their "Pay What You Will" initiative again this second season. Every Thursday evening performance in Shanklin Theatre is available for any person to pay any price that best fits their budget. Single tickets may be purchased online at theatre.evansville.edu or by calling the ticket office at 812.488.2031, Monday through Friday, 12:00 to 5:00 p.m.
Submitted by Sharla Cowden sc75@evansville.edu
This Week in Music
November 14, 2023
Eykamp String Quartet
7:30 p.m.
Wheeler Concert Hall
The UE Music Conservatory presents the Eykamp String Quartet performing selections by Caroline Shaw and Franz Schubert.
Admission is free and open to the public.
Submitted by Mary Beth Deig md334@evansville.edu
UE Faculty, Students in Evansville Civic Theatre's Death of a Salesman
Evansville Civic Theatre will open its production of Arthur Miller's classic Death of a Salesman, this Thursday, Nov. 9, at 7:30 p.m. at Benjamin Bosse High School.
The production, directed by UE Assistant Professor of Communication Joe Atkinson, runs Nov. 9, 11, 12, 17, 18, 19 at Bosse High School, with 7:30 p.m. productions Thursday-Saturday nights, and 2:00 p.m. matinees on Sundays. University of Evansville Theatre students Adam Techmanski, Gavin Ramirez, Aibhlinn Rose, and Caden Sevier also are featured onstage in the production, with UE sophomore Tabitha Kierstead overseeing sound design and UET senior Beverley Buchanan composing original score.
Tickets are available on the Evansville Civic Theatre website at www.evvcivic.org/buy-tickets.
Submitted by Joe Atkinson ja122@evansville.edu
Save the Date for MLK Day Events – Join Us in Commemorating Dr. Martin Luther King, Jr.
As we approach the commemoration of Dr. Martin Luther King, Jr.'s legacy, we are excited to announce several significant events that honor his contributions to civil rights, justice, and equality. Please save the dates and mark your calendars to join us in these meaningful activities.
UE MLK Day of Service on Saturday, January 13
Faith-based Service: Monday, January 15, 2024
MLK Day Rally and Symbolic March: Monday, January 15, 2024
The 2024 William G. and Rose M. Mays Lectureship and Luncheon: Wednesday, January 17, 2024
Unity Conference: Saturday, January 20, 2024
Additional details will be provided as we get closer to the date
Submitted by Noah Alatza na122@evansville.edu
Basham - Allaire Exhibit in Krannert Gallery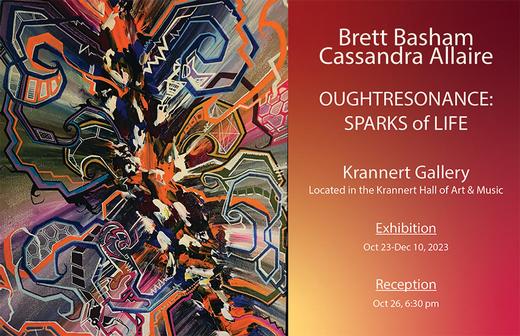 OUGHTRESONANCE: SPARKS of LIFE, a collaboration by artists Brett Basham and Cassandra Allaire, will be exhibited in the Krannert Gallery from October 23 through December 10.
Please join us for the artists reception on Thursday, October 26 at 6:30 p.m. in the Krannert Gallery.
Submitted by Carol McCraney cm177@evansville.edu
UEclipse Coming April 2024
UE is thrilled to announce a speaker ahead of the upcoming solar eclipse on Monday, April 8. Maria Weber '08, PhD, a distinguished alumna of the University of Evansville (UE) and a leading astrophysicist, will be delivering a captivating presentation on the mysteries of solar magnetism titled "From Eclipses to Magnetism: The Secret Life of the Sun."
Event Details:
Title: From Eclipses to Magnetism: The Secret Life of the Sun
Presenter: Dr. Maria Weber '08, PhD
Date: Sunday, April 7
Time: 2:00 p.m.
Location: Eykamp Hall, UE Campus
Weber received her bachelor's degree with majors in physics and philosophy from UE and furthered her education by obtaining a PhD in Physics from Colorado State University. Her extensive research on solar magnetism, particularly magnetic flux emergence, has established her as a renowned authority in the field.
This exclusive presentation by Weber offers a unique opportunity for the Evansville community to delve into the fascinating world of solar magnetism and its significance in our universe. We extend a warm invitation to all interested parties to join us on Sunday, April 7, for this enlightening event.
To register and access further event details, please complete this form by clicking here.
Additionally, we encourage residents near the UE campus to witness the solar eclipse alongside our community on Monday, April 8. For more information, please visit https://www.evansville.edu/ueclipse.
Submitted by Noah Alatza na122@evansville.edu
Crick Lecture November 16-Neurobiology, Trauma, and Child Forensic Interviewing by Emily Denne
Emily Denne, Visiting Assistant Professor of Psychology, will present the Fall, 2023 Crick Lecture. This will take place on November 16 at 4:00 p.m. at Koch Center 100 (Vectren Lecture Hall).
Children who make an initial disclosure of sexual violence often undergo a police interview to gather forensically relevant details related to their experience. Yet it is not uncommon for children to report fragmented memories and at times omit key pieces of information (i.e., inability to describe the suspect, no memory for peripheral details, etc.). This often raises concerns from police and forensic interviewers about the credibility and accuracy of a child's report. How the brain responds to threats and fear impacts how children both remember and report incidents of sexual violence. An understanding of basic neurobiology can explain the unintuitive ways children react to and report abuse. Such principles can be used to guide police interviewing practices towards being trauma informed.
Submitted by Cheryl Emmons ce36@evansville.edu
November 2023 Board of Trustees | Front Oval Parking
The November 2023 meetings of the University of Evansville Board of Trustees will be held on campus Friday, November 17, 2023 and Saturday, November 18, 2023. Parking in front of Olmsted Administration Hall and the Schroeder Family School of Business Administration will be reserved for University Trustees. Employee parking on the front oval will be limited on both days.
Submitted by Abby Murphy am983@evansville.edu
Road Trip 2024 - Hosts Needed
The Office of Admission needs current UE students who live in a residence hall or Jones Hall to host prospective high school seniors for Road Trip 2024, February 23-25. If you are available, you can apply to host online. Please contact Heather Cook (hw30@evansville.edu), Jennifer Troutman (jt65@evansville.edu) or Alli Haley (ah757@evansville.edu). Deadline to sign up is Friday, February 9.
Submitted by Jennifer Troutman jt65@evansville.edu
Kevin Corbin Named New Public Safety Director
The University of Evansville (UE) is pleased to announce the appointment of Kevin Corbin as the new Public Safety Director. Corbin's extensive background in law enforcement, security management, and his commitment to innovation and safety will play a pivotal role in ensuring the safety and well-being of the University's campus community.
A highly qualified professional with a master's degree in security management and actively pursuing a Ph.D. in Criminal Justice, Corbin brings a wealth of knowledge and academic rigor to his new role.
With nearly 22 years of dedicated service at the Evansville Police Department, Corbin has demonstrated his commitment to public safety. He has served in various capacities, including the Crime Prevention Unit, where his creative problem-solving and adaptive critical thinking skills were instrumental to the unit's success. His experience also includes roles in Motor Patrol, Crises Intervention Team (CIT), Mobile Field Force, Humane Officer Unit, and Honor Guard, in addition to conducting a wide range of criminal investigations.
Furthermore, Corbin holds certifications in Crime Prevention through Environmental Design (CPTED) at both basic and advanced levels, as well as a Professional Designation in CPTED. His expertise extends to school safety, and various certifications in OSHA and FEMA disciplines.
In addition to his law enforcement career, Corbin has shared his knowledge as a guest instructor at local universities and colleges. His commitment to education extends to positions as an adjunct in Criminal Justice at Oakland City University and contributions to the Southwestern Indiana Law Enforcement Academy.
"I am thrilled to be joining UE as the new Public Safety Director. My commitment to safety and my professional experiences will be essential in ensuring the well-being of the University's students, faculty, and staff. I look forward to collaborating with the University of Evansville community to further enhance the safety and security of campus," said Corbin upon his appointment.
Corbin replaces current Director Jason Cullum who leaves the university after a nearly four-year stint for a school resource officer position at a local district. Corbin officially begins his duties on Wednesday, November 15.
Submitted by Noah Alatza na122@evansville.edu
Does a UE Workflow have you stumped?
Submitting a Supplemental Payroll Request or PCard change but something in the process just isn't working how you expected? Be sure to read over the homepage of workflow.evansville.edu for documents and tips on how to submit, approve, and navigate the forms and tool!
Submitted by Nicholas Messer nm169@evansville.edu
Trashcan and Table/Chair Reservations for Campus Events
If you need extra trashcans brought in for campus events, please submit this request through a work order. This may be combined with a table and chair request. Please complete the following to ensure your campus event setup occurs as desired.
Submit a work order request. In the Work Requested box, include ATTENTION MOVERS, the drop-off location, date, time, contact person, # of 8' rectangular tables, chairs, trashcans, time of the event, and pick-up date and time. These items will be dropped off and picked up. Set-up is only provided when specifically requested with details of the setup request (table/chair arrangement).
Location, sprinklers/irrigation, and electrical needs should be considered in scheduling an event.
Moving Services requires at least 10 working days of advanced notification so we can schedule accordingly. If request is submitted less than 10 working days, it is less likely we will be able to provide you with items needed.
Reserve space in Resource Scheduler.
Please note, if you desire a different length or shape of folding table, arrangements will need to be made with an outside rental company. Facilities Management can make these arrangements on your behalf. Please allow for a longer lead time. Once notified of your request, we will contact a rental a company to obtain a quote. The rental order will not be placed until you approve the amount and provide an account number for the charge.
Please let us know if you have any questions or concerns.
Mike Averett
Executive Director, Facilities Management and Planning
Submitted by Karen McDonald km598@evansville.edu
Spring Meal Plan Changes
Students can adjust meal plans for the Spring semester until Friday, January 12, 2024 at 5:00 p.m.
Submitted by Brian Conner bc32@evansville.edu
Important Updates to Stationery Orders
Effective immediately, the Office of Marketing is shifting from Marcom to Lytho for all stationery requests (e.g., letterhead, business cards, envelopes). Lytho offers a more streamlined and user-friendly experience, and UE has been using this service for over one year now. To make a request, simply log in with your University credentials, navigate to "Requests" from the left-hand menu, select "Add Request" in the upper-right corner, and follow the prompts. If you need any assistance, please contact Abigail Perry at ap445@evansville.edu.
Submitted by Abigail Perry ap445@evansville.edu
It's Not Too Late to Register for Winter Intersession Courses
Get ahead by taking Winter Intersession online courses. Complete a missing required course, lighten your spirng load, and take advantage of winter break. Classes are held from December 15, 2023 through January 5, 2024. Students may take one class and register when registering for spring classes starting October 30, 2023.
Learn more about Winter Intersession.
Winter Intersession Course List

| | | | | |
| --- | --- | --- | --- | --- |
| Subject | Number | Cr Hrs | Course Title | Instructor |
| ART | 105 | 3 | Introduction to the Visual Arts | Larmann |
| AT | 180 | 3 | Introduction to Athletic Training | Tilly |
| CHEM | 103 | 3 | Chemistry of Adult Beverages | Miller K. |
| EXSS | 150 | 3 | Introduction to Health Sciences | Laughbaum |
| EXSS | 320 | 3 | Nutrition for Performance Health | Miller W. |
| EXSS | 417 | 3 | Advanced Exercise Science | Miller W. |
| EXSS | 453 | 2 | Motor Learning | Wilson |
| EXSS | 488 | 1 to 4 | Internship | Miller W. |
| EXSS | 488 | 1 to 4 | Internship | Wilson |
| FIN | 280 | 3 | Introduction to Personal Finance | Brockman |
| HIST | 112 | 3 | World History 1500 - Present | MacLeod |
| MUS | 156 | 3 | Music in America | Strandberg |
| NEUR | 125 | 3 | Introduction to Neuroscience | Campese |
| PH | 190 | 3 | Introduction to Public Health | Patel-Dovlatabadi |
| PSYC | 121 | 3 | Introduction to Psychology | Campese |
| PSYC | 226 | 3 | Child and Adolescent Psychology | Hennon |
| PSYC | 229 | 3 | Social Psychology | McCracken |
| PSYC | 450 | 3 | Learning | Campese |
| QM | 227 | 3 | Introduction to Statistics | Khormali |
| SOC | 105 | 3 | Introduction to Sociology | Plikuhn |
| SOC | 230 | 3 | Social Problems in the Modern World | Plikuhn |
Submitted by Paula Heldt ph28@evansville.edu
Sympathies to the family of Dr. William Weiss
The UE community is saddened to learn of the passing of Dr. William Weiss, a former Professor of Psychology at University of Evansville from 1976 to 2008. Dr. Weiss passed away on Sunday November 5, 2023. He was 85. Dr. Weiss retired from UE in 2008 and moved to the Pacific Northwest, where he worked part-time in independent practice as a psychologist and enjoyed traveling and spending time with his children and grandchildren. Please keep the family in your thoughts during this time.
Submitted by Noah Alatza na122@evansville.edu
Save the date: Harlaxton is coming to Ridgway
Save the date: Harlaxton is coming to Ridgway!
On November 16 from 2:00 - 4:00 p.m. the Dean of Harlaxton, Holly Carter, will be on campus.
She will be showing students and staff Harlaxton's new brand and handing out stickers (while supplies last)!
Mark your calendars so you don't miss this exciting event!
Submitted by Abigail Perry ap445@evansville.edu
Aces women's basketball to finish Tri-State Challenge against EKU
The University of Evansville women's basketball returns home for the final game of the Tri-State Challenge on Wednesday night.
Evansville's first road game ended up being an offensive battle against the SIUE Cougars in a 91-83 loss. The Aces had a strong game from behind the arc, shooting 52.4% from three-point range while also shooting 42.9% from the floor. UE's strong game from three-point range now has them in the national rankings. Evansville's 11 made three-pointers on Sunday is the most in a year for the Aces since making 14 last season against Eastern Kentucky. Following Sunday's game, the Aces are shooting 40.5% from behind the arc, ranking them 39th in the nation and third in the MVC.

UE will look to continue its strong three-point shooting against Eastern Kentucky on Wednesday night. The Colonels come into tomorrow's game with a perfect 3-0 record following an 86-75 win over Northern Kentucky at home. EKU also played SIUE last week, prevailing in overtime at First Community Arena on Thursday 74-72. Leading the Colonels is senior guard Alice Recanati who is averaging 20.7 points, 5.7 rebounds, 4.3 assists, and 2.3 steals per game. Recanati's 62 points through three games is eighth in the NCAA behind Iowa's Caitlin Clark as of Monday afternoon.

Four players for Evansville had double-digit outings on Sunday against the Cougars. Sophomore point guard Kynidi Mason Striverson led the team with a career-high 24 points followed by freshman Maggie Hartwig with 23 points including making
4 of 4 three-pointers. Guard Alana Striverson and forward Nevaeh Thomas also had strong performances with 13 and 11 points. Mason Striverson currently leads the team in offense averaging 18.5 points a game for fourth in the MVC.
With 23 points and nine rebounds on Sunday against SIUE, freshman Maggie Hartwig had UE's best performance by a freshman since Abby Feit in 2019-20 against Brescia. It was the best freshman performance against a Division I team since Sarah Dickey scored 30 points against Southern Illinois in 2019. Hartwig in two games for UE is averaging 12.5 points, 6.5 rebounds, and 1.5 blocks.
Submitted by Athletics
Men's basketball set for first road trip
Taking to the road for the first time this season, the University of Evansville men's basketball team will be in Cape Girardeau to face Southeast Missouri State on Wednesday evening. Tip is set for 6:30 p.m. with ESPN+ and the Purple Aces Radio Network covering the action.
Setting the Scene
- UE is in search of its first 3-0 start to a season since the 2019-20 campaign
- Wednesday's game will mark the fourth season in a row the squads have met and the sixth instance since 2015
- In the last meeting in Cape Girardeau between the squads, the Redhawks outlasted the Purple Aces for a 75-73 overtime win
Last Time Out
- It was a record-breaking night on Nov. 9 when the Aces defeated UHSP by a 116-46 final at the Ford Center
- The scoring output was tied for the most by UE in its Ford Center history
- All 15 UE players to see the floor found their way into the scorebook
- Freshman Braylon Jackson was the leading scorer, registering 14 points on 6-of-8 shooting in the win
Freshman Award
- On Monday, Chuck Bailey III was recognized as the Missouri Valley Conference Freshman of the Week
- In Evansville's first two games, Bailey averaged 10.5 points, 2.5 rebounds and 2.0 assists per game
- His top effort came against UHSP where he scored 12 points along with three boards and two assists
Inside the UHSP Win
- UE erupted for 116 points against UHSP on Nov. 9, tying the highest point total in regulation since the program joined the Division I ranks in 1977
- It tied the program Ford Center mark of 116, which came in 2014 versus Earlham
- Hauling in a total of 65 rebounds, the Aces finished with more than 60 for the first time since recording 61 caroms against SIU Edwardsville in 2008; the single-game program record for rebounds was 87 against St. Joseph's in the 1958-59 season
Scouting the Opponent
- Southeast Missouri State is coming off a season that saw them go 19-17 while winning the Ohio Valley Conference Tournament Championship
- The Redhawks played in the first four, falling to Texas A&M Corpus Christi by a score of 75-71
- This year, SEMO has opened the season with a pair of road losses at Grand Canyon (67-88) and Butler (56-91)
- Adam Larson is their leading scorer with 12.0 points per game and has connected on 8 of his 13 shot attempts (61.5%)
- Kobe Clark anchors the defense with 6.0 rebounds through the first two outings
Submitted by Athletics
Cardona garners 4th weekly honor of 2023
In a weekend that saw her lead the University of Evansville volleyball team to a pair of home victories, Giulia Cardona has been named the Missouri Valley Conference Player of the Week. This is the fourth time Cardona has earned the award in 2023.
Cardona had a pair of unbelievable performances in the final home weekend of the season while leading the Purple Aces to wins over Belmont and Murray State. Cardona hit an unreal .355 while averaging 7.13 kills per set. She added 2.00 digs, 0.88 aces, 0.63 blocks and 0.38 assists per frame in the two contests.
Friday's contest against the Bruins saw Cardona pick up 31 kills while hitting .435. She picked up 8 digs, 3 block assists, 2 aces and 2 assists. Cardona followed that up with a 26-kill effort against Murray State while hitting .274. She notched 8 digs, 5 aces, 2 block assists and an assist.
On Wednesday, the Aces complete the season with a 5 p.m. CT match at Indiana State.
Submitted by Athletics
Chuck Bailey III named MVC Freshman of the Week
After averaging 10.5 points per game and leading the University of Evansville men's basketball team to a 2-0 start, Chuck Bailey III has been named the Missouri Valley Conference Freshman of the Week.
Bailey averaged 10.5 points, 2.5 rebounds and 2.0 assists per game. He got things started against Miami Ohio with nine points and two rebounds. Bailey had an efficient performance, going a perfect 2-for-2 from the field and 5-for-6 from the line. He added two assists.
In the win over UHSP, Bailey played just 12:59, but was effective for the duration of his time on the floor. Bailey connected on 5 of his 9 attempts to score 12 points along with three rebounds and two assists.
Next up for the Aces is a trip to Southeast Missouri State on Wednesday evening in Cape Girardeau.
Submitted by Athletics
Contribute to AceNotes
To have content considered for inclusion in AceNotes, please submit a Marketing Request Form. Deadline for submission to AceNotes is 10:00 a.m. on the requested date of publication. Only articles concerning UE related/sponsored activities will be accepted. Articles submitted to AceNotes may be edited for length and clarity. Submitter contact information is at the end of each article.