| | |
| --- | --- |
| PurplePulse | Monday, November 13, 2023 |
Campus Community Invited to Mental Health and Wellness Clinic Dedication
The University of Evansville will hold a dedication and ribbon cutting for the new Mental Health and Wellness Clinic on Friday, November 17, at 11 a.m. in University Square. The clinic is adjacent to the Mel Peterson Gallery. The campus community is invited to join for this celebration.
Submitted by Noah Alatza na122@evansville.edu
This Week in Music
November 14, 2023
Eykamp String Quartet
7:30 p.m.
Wheeler Concert Hall
The UE Music Conservatory presents the Eykamp String Quartet performing selections by Caroline Shaw and Franz Schubert.
Admission is free and open to the public.
Submitted by Mary Beth Deig md334@evansville.edu
Diary of a Misfit Author Speaking on Campus Today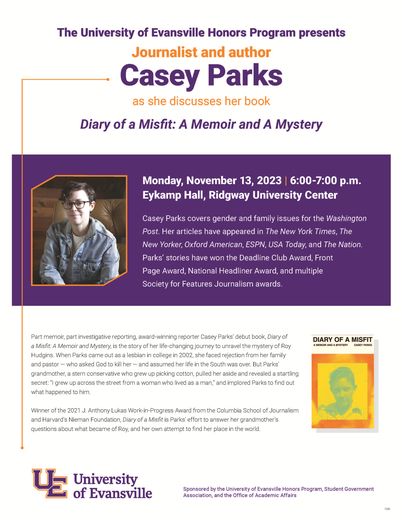 The campus community is invited to attend the Honors Program common read speaking event, a presentation by author Casey Parks, today at 6:00pm in Eykamp Hall. Ms. Parks will be discussing her book, Diary of a Misfit: A Memoir and a Mystery, which was the common read for Honors Program freshmen this year. Please join us for this enlightening presentation.
Submitted by Jayme Williams jw504@evansville.edu
Thankful is Back
We are stepping into November full of thanks. Our next BIG JoyFul event, ThankFul is returning on November 14th! We welcome everyone to come and enjoy a scrumptious Thanksgiving-inspired meal.
Submitted by KaBria Carr kc403@evansville.edu
UE Faculty, Students in Evansville Civic Theatre's Death of a Salesman
Evansville Civic Theatre will open its production of Arthur Miller's classic Death of a Salesman, this Thursday, Nov. 9, at 7:30 p.m. at Benjamin Bosse High School.
The production, directed by UE Assistant Professor of Communication Joe Atkinson, runs Nov. 9, 11, 12, 17, 18, 19 at Bosse High School, with 7:30 p.m. productions Thursday-Saturday nights, and 2:00 p.m. matinees on Sundays. University of Evansville Theatre students Adam Techmanski, Gavin Ramirez, Aibhlinn Rose, and Caden Sevier also are featured onstage in the production, with UE sophomore Tabitha Kierstead overseeing sound design and UET senior Beverley Buchanan composing original score.
Tickets are available on the Evansville Civic Theatre website at www.evvcivic.org/buy-tickets.
Submitted by Joe Atkinson ja122@evansville.edu
2023 Advent Candlelight Vespers Service
It's the Most Wonderful Time of the Year!
In conjunction with the Winter On Walnut event, the Office of Religious Life, the Music Conservatory, and the Center for Diversity, Equity, and Inclusion are hosting the 75th Advent Candlelight Vespers service.
Here are some of the details:
Day/Date: Friday, December 1, 2023
Time: 7:00 p.m.
Location: Neu Chapel
Let us know if you want to serve as a door greeter, reader, or usher for the program by responding to Center4DEI@evanville.edu.
Submitted by Kaylee LeDuc kl170@evansville.edu
Jonpaul Smith Exhibit Opens October 30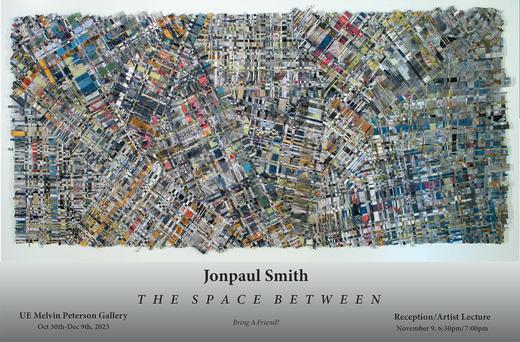 Efroymson Artist in Residence, Jonpaul Smith, and the UE Department of Art present THE SPACE BETWEEN from October 30 - December 9. Please join us for a public reception and artist lecture on Thursday, November 9 at 6:30pm in the Melvin Peterson Gallery.
Gallery hours are Mon, Tue, Fri & Sat 12:00pm - 3:00pm; Wed & Thu 12:00pm - 6:00pm.
Submitted by Carol McCraney cm177@evansville.edu
Crick Lecture November 16-Neurobiology, Trauma, and Child Forensic Interviewing by Emily Denne
Emily Denne, Visiting Assistant Professor of Psychology, will present the Fall, 2023 Crick Lecture. This will take place on November 16 at 4:00 p.m. at Koch Center 100 (Vectren Lecture Hall).
Children who make an initial disclosure of sexual violence often undergo a police interview to gather forensically relevant details related to their experience. Yet it is not uncommon for children to report fragmented memories and at times omit key pieces of information (i.e., inability to describe the suspect, no memory for peripheral details, etc.). This often raises concerns from police and forensic interviewers about the credibility and accuracy of a child's report. How the brain responds to threats and fear impacts how children both remember and report incidents of sexual violence. An understanding of basic neurobiology can explain the unintuitive ways children react to and report abuse. Such principles can be used to guide police interviewing practices towards being trauma informed.
Submitted by Cheryl Emmons ce36@evansville.edu
Kevin Corbin Named New Public Safety Director
The University of Evansville (UE) is pleased to announce the appointment of Kevin Corbin as the new Public Safety Director. Corbin's extensive background in law enforcement, security management, and his commitment to innovation and safety will play a pivotal role in ensuring the safety and well-being of the University's campus community.
A highly qualified professional with a master's degree in security management and actively pursuing a Ph.D. in Criminal Justice, Corbin brings a wealth of knowledge and academic rigor to his new role.
With nearly 22 years of dedicated service at the Evansville Police Department, Corbin has demonstrated his commitment to public safety. He has served in various capacities, including the Crime Prevention Unit, where his creative problem-solving and adaptive critical thinking skills were instrumental to the unit's success. His experience also includes roles in Motor Patrol, Crises Intervention Team (CIT), Mobile Field Force, Humane Officer Unit, and Honor Guard, in addition to conducting a wide range of criminal investigations.
Furthermore, Corbin holds certifications in Crime Prevention through Environmental Design (CPTED) at both basic and advanced levels, as well as a Professional Designation in CPTED. His expertise extends to school safety, and various certifications in OSHA and FEMA disciplines.
In addition to his law enforcement career, Corbin has shared his knowledge as a guest instructor at local universities and colleges. His commitment to education extends to positions as an adjunct in Criminal Justice at Oakland City University and contributions to the Southwestern Indiana Law Enforcement Academy.
"I am thrilled to be joining UE as the new Public Safety Director. My commitment to safety and my professional experiences will be essential in ensuring the well-being of the University's students, faculty, and staff. I look forward to collaborating with the University of Evansville community to further enhance the safety and security of campus," said Corbin upon his appointment.
Corbin replaces current Director Jason Cullum who leaves the university after a nearly four-year stint for a school resource officer position at a local district. Corbin officially begins his duties on Wednesday, November 15.
Submitted by Noah Alatza na122@evansville.edu
Does a UE Workflow have you stumped?
Submitting a Supplemental Payroll Request or PCard change but something in the process just isn't working how you expected? Be sure to read over the homepage of workflow.evansville.edu for documents and tips on how to submit, approve, and navigate the forms and tool!
Submitted by Nicholas Messer nm169@evansville.edu
Trashcan and Table/Chair Reservations for Campus Events
If you need extra trashcans brought in for campus events, please submit this request through a work order. This may be combined with a table and chair request. Please complete the following to ensure your campus event setup occurs as desired.
Submit a work order request. In the Work Requested box, include ATTENTION MOVERS, the drop-off location, date, time, contact person, # of 8' rectangular tables, chairs, trashcans, time of the event, and pick-up date and time. These items will be dropped off and picked up. Set-up is only provided when specifically requested with details of the setup request (table/chair arrangement).
Location, sprinklers/irrigation, and electrical needs should be considered in scheduling an event.
Moving Services requires at least 10 working days of advanced notification so we can schedule accordingly. If request is submitted less than 10 working days, it is less likely we will be able to provide you with items needed.
Reserve space in Resource Scheduler.
Please note, if you desire a different length or shape of folding table, arrangements will need to be made with an outside rental company. Facilities Management can make these arrangements on your behalf. Please allow for a longer lead time. Once notified of your request, we will contact a rental a company to obtain a quote. The rental order will not be placed until you approve the amount and provide an account number for the charge.
Please let us know if you have any questions or concerns.
Mike Averett
Executive Director, Facilities Management and Planning
Submitted by Karen McDonald km598@evansville.edu
UE Opera Program Receives Large Grant
The Music Conservatory is pleased to announce that UE Opera has received a $25,000 grant from the William E. Schmidt Foundation in support of their program and outreach efforts. Included in this grant is funding for the Schmidt Opera Series for productions on campus as well as the Schmidt Opera Collaborative which provides outreach and education to the tri-state community. In addition, the grant will allow for the continuation of Community Conservatory Study Grants which provides lessons for area students who could not otherwise afford private study. UE Opera is under the direction of Dr. Alanna Keenan with additional instruction from Dr. Dennis Malfatti and Dr. Gregory Rike.
Submitted by Dennis Malfatti dm155@evansville.edu
UE Assistant Professor of Theatre, Amelia McClain, Receives National Recognition for Excellence in Undergraduate Training in Acting
Amelia McClain, Assistant Professor of Theatre at the University of Evansville, has been announced as the recipient of the University Resident Theatre Association (URTA)'s 2023 Award for Excellence in Undergraduate Training in Acting. McClain been on the faculty at UE since 2018. In the Fall of 2021, McClain took leave from UE as a member of the Broadway cast in Aaron Sorkin's TO KILL A MOCKINGBIRD, at the Shubert Theatre.
She received her BFA from the University of Evansville and MFA from the graduate acting program at New York University's Tisch School of the Arts. McClain is a member of the Actors Equity Association and the Screen Actors Guild.
Before returning to her alma mater, she completed a year-long run on Broadway as Sandra in the smash-hit production of THE PLAY THAT GOES WRONG. Also on Broadway, she worked on FOOL FOR LOVE, NOISES OFF, THE HEIDI CHRONICLES, THE HOUSE OF BLUE LEAVES, and the Tony Award-winning VANYA & SONIA & MASHA & SPIKE. McClain has been in over 20 productions off-Broadway and in regional theatres across the country.
Lillian Grace Carlson, a current UE senior, said "I have been lucky enough to work with Amelia as my Acting Professor closely these last two years. She is the one who taught me that no matter how impossible it seems, if you keep going, and keep putting in the work, the impossible is possible. When I have been at my lowest lows as a student, Amelia's teachings continuously play in my head, and they keep me going. She has taught me what it means to be an incredibly hard-working actor, artist, and human being. I feel prepared to walk out of college because of the rigor she has taught me to endure. Truly, when I didn't believe in myself as an actor or even a person, Amelia taught me how to refocus those insecurities into strength and determination for my art. Amelia McClain is one of the main reasons I now know why I want to be an actor and what I want in my future."
Jack Russell, a 2021 UE alumnus, added this tribute, "Amelia McClain taught me and my peers with strength, heart, and specificity to each of our needs. Amelia impacted me so much as a student because she led by example. The tools that she was giving to us were the very tools that she uses to book jobs on Broadway. She taught us to be selfless, aware, and precise with our work. She didn't care about creating actors with talent, she cared about creating actors that knew how to work hard and care about the process. Truly, Amelia gave me the education I've always dreamed of. I am eternally grateful for her impact on my life. Without it, I don't think I could pursue this career path."
Founded in 1969, the University Resident Theatre Association works to ensure the continued renewal of the American theatre by supporting excellence in the professional training of new artists. The "2023 Awards for Excellence in Undergraduate Training" will be formally presented at the URTAs, an audition event in which more than 1,200 candidates pursuing graduate training in theatre take part each year in January.
Submitted by Sharla Cowden sc75@evansville.edu
Sympathies to the family of Dr. William Weiss
The UE community is saddened to learn of the passing of Dr. William Weiss, a former Professor of Psychology at University of Evansville from 1976 to 2008. Dr. Weiss passed away on Sunday November 5, 2023. He was 85. Dr. Weiss retired from UE in 2008 and moved to the Pacific Northwest, where he worked part-time in independent practice as a psychologist and enjoyed traveling and spending time with his children and grandchildren. Please keep the family in your thoughts during this time.
Submitted by Noah Alatza na122@evansville.edu
Apply for Harlaxton Summer and Fall 2024
Applications are open now for Harlaxton for the Fall 2024 semester and Summer 1 and 2 2024 terms! If you have worked with your advisor on planning for one of these upcoming terms at our amazing manor, now is the time to get your application in. The application process is simple and all online, and you can find details on the Harlaxton website: https://college.harlaxton.co.uk/programs. Feel free to contact the team if you have any questions at harlaxton@evansville.edu!
Submitted by Kaylynn McCalister kc205@evansville.edu
Save the date: Harlaxton is coming to Ridgway
Save the date: Harlaxton is coming to Ridgway!
On November 16 from 2:00 - 4:00 p.m. the Dean of Harlaxton, Holly Carter, will be on campus.
She will be showing students and staff Harlaxton's new brand and handing out stickers (while supplies last)!
Mark your calendars so you don't miss this exciting event!
Submitted by Abigail Perry ap445@evansville.edu
UE women's basketball offense shines in loss to SIUE
The University of Evansville women's basketball team's hot start wasn't enough to contain the SIUE Cougars in the 91-83 loss.
It was a bigger offensive game for the Purple Aces as four players scored in double figures against SIUE. Freshman forward Naveah Thomas picked up her first double-double of the season with 11 points and 11 rebounds while guard Kynidi Mason Striverson led the team with 24 points. Freshman forward Maggie Hartwig also had a big game for UE with 23 points, nine rebounds, and two blocks.
"If you love offense, that was a great game to watch," said Head Coach Robyn Scherr-Wells following the loss. "The second quarter ended up killing us in the end as we had too many breakdowns on the defensive end. We finally had the offensive game I think we're capable of, but then we stunk on defense. We still have a lot of games in front of us, so we'll grow from this one and get better for the next,".
The Aces got off to a hot start, leading most of the way in the first quarter. UE traded shots with SIUE early, going back and forth until Evansville pulled away with back-to-back threes from guard Kynidi Mason Striverson. A five-point run in the final two minutes of the quarter for the Aces gave the team breathing room to take a 21-18 lead into the second.
UE's strong three-point shooting continued in the second as guard Alana Striverson made a trey in the first 40 seconds of the quarter. But the Cougars began to find their shooting in the second, going on a 10-point run in a minute and a half. Despite the quick change in momentum, Evansville came back with another three from Mason Striverson.
It turned into a shot-for-shot game until the Aces went on a six-point run to make it a one-point deficit with under five minutes left in the half. SIUE responded with its own back-to-back threes keeping UE just out of reach as time winded down in the quarter. Evansville went into the locker room down by nine, looking for a big second half.
The Aces post players showed up big to start the second half as Thomas and graduate center Barbora Tomancova chipped in the first two layups. UE put together two five-point runs in the middle of the quarter to only be down by five with three and a half minutes left in the third. The Cougars capitalized on second-chance points to keep Evansville back. But the Aces got the final word of the quarter as Thomas sank a layup with three seconds left.
UE came out hot in the fourth quarter with a big five-point run to get within three. SIUE made a layup thinking they had created distance, but guard Alana Striverson sunk back-to-back treys to put Evansville back on top by one. The Cougars responded with a run to retake the lead. But a three from Hartwig followed by a jumper for Mason Striverson gave the Aces another lead. But a seven-point stretch for SIUE put the game just out of reach for UE as they fell to the Cougars 91-83.
Evansville had its best offensive game of the young season so far, shooting 42.9% from the floor (27-63) and 52.4% from three-point range (11-21). The Aces also shined on fast break points, grabbing 24 in transition. UE also had its best game sharing the ball with 18 assists. On defense, Evansville brought in 33 rebounds with five steals and five blocks from SIUE.
The Aces return to Meeks Family Fieldhouse on Wednesday, Nov. 15 for the final game of the Tri-State Challenge. Eastern Kentucky comes to Evansville for a 6 p.m. matchup as UE looks to win its first game of the season.
Submitted by Athletics
SWIM/DIVE: UE Swimming & Diving Has Strong Second Day At A3 Performance Invite
The University of Evansville swimming and diving teams had a strong showing on Friday on the second day of the A3 Performance Invitational hosted by Southern Illinois University in Carbondale, Illinois, as the Purple Aces posted seven podium finishes, led by junior Daniel Santos Lopez's individual title in the men's 100-Yard Butterfly.
Santos Lopez (Madrid, Spain) took home the title in the 100 Fly by posting the second-fastest time in UE history at 48.04 to out-touch SIU's Nicolas Barrio Lanuza by 0.01 seconds. Evansville also posted five second-place finishes on Friday and one third-place finish, as both the UE men and women currently sit in third place overall as a team at the three-day meet.
The UE men's relay teams in both the 800-Yard Freestyle Relay (6:51.19) and the 200-Yard Medley Relay (1:30.31) events placed second overall. Divers Madison Rollett (Evansville, Ind./Reitz) and Levi McKinney (Boonville, Ind./Boonville) also both placed second overall, as McKinney placed second in the men's three-meter competition with a score of 266.40, while Rollett narrowly missed an NCAA Zone Qualifying mark with a personal-best one-meter score of 259.90. Junior Patrik Vilbergsson (Kopavogur, Iceland) posted UE's fifth second-place finish of the day in the men's 100-Yard Backstroke with a time of 49.62.
Junior Benjamin Hasanovic (Innsbruck, Austria) also posted a podium finish with a third-place showing in a UE-heavy 100-Yard Breaststroke event, as he touched the wall with a time of 56.08. Junior Carlos Souto (A Coruna, Spain) placed fifth in the 100 Breast with a time of 56.46, with freshman Joao Pereira (Curitiba, Brazil) and sophomore Daniil Goncharuk (Kyiv, Ukraine) finishing seventh and eighth overall with times of 57.51 and 57.55, respectively. Pereira's time moved him into tenth-place on UE's fastest 100-Yard Breaststroke chart, and he was one of seven Purple Aces to crack UE's career top 10 on the day.
Freshman Evelyn Chin (Kuala Lumpur, Malaysia) moved into third place on UE's 100-Yard Butterfly chart, as she posted a time of 56.06 in the preliminary round on her way to a sixth-place finish overall. Fellow freshman Rafaela Makariewicz (Porto Alegre, Brazil) also put her name fourth on UE's career top 10 chart in the women's 100-Yard Breaststroke with a prelim time of 1:04.68 on her way to a seventh-place finish.
Freshman Ane Madina Garate (Onati, Spain) cracked UE's career top 10 in the 100-Yard Backstroke with a time of 58.01 to place eighth-fastest all-time at UE, while finishing seventh overall in the meet.
Freshman Omar Ashraf Hassan (Doha, Qatar) placed fifth overall in the 400-Yard IM, while becoming the ninth-fastest male in UE history in the event with a time of 4:08.06. Fellow freshman Boris Tavrovsky (Jerusalem, Israel) also become the ninth-fastest UE male in the 100-Yard Backstroke with a preliminary round time of 50.72, while placing seventh overall. Freshman Joseph Capo (Luling, La./Jesuit) rounded out UE's attack on the record book by moving into tenth place in the men's 200-Yard Freestyle with a time of 1:41.66, while placing eighth overall.
The A3 Performance Invitational will conclude on Saturday in Carbondale with preliminary round swims beginning at 10 a.m. and finals taking place beginning at 4 p.m. Saturday's schedule includes action in the 200-Yard Backstroke, the 100-Yard Freestyle, the 200-Yard Breaststroke, the 200-Yard Butterfly, the 1,650-Yard Freestyle and the 400-Yard Freestyle Relay.
Submitted by Athletics
Volleyball defeats Racers to complete weekend sweep
Another efficient performance across the board saw the University of Evansville volleyball team complete its home season with a 3-1 triumph inside Meeks Family Fieldhouse on Saturday evening.
Giulia Cardona finished the night with a match-high 26 kills. She added eight digs, five service aces and two blocks. Melanie Feliciano completed the match with 19 kills along with eight digs and three aces of her own. Ainoah Cruz led the way with 14 digs while Kora Ruff tallied 46 assists and 10 digs. Madisyn Steele got the job done on the block, recording four block assists. Four Racers finished with double figure kills, led by Haidi Miliou's 15.
Following the contest, seniors Emilee Scheumann and Brooke Springer were honored on their Senior Day. Scheumann tallied six kills and four digs while Springer had three total blocks in her final home match.
Game 1 – UE 25, Murray State 20
With the score tied at 3-3, Evansville scored five of the next six points to open an 8-4 lead. Giulia Cardona capped off the run with consecutive service aces. The third kill of the night by Cardona pushed the lead to 10-5. Murray State pushed back, making it a 1-point game when an Ella Vogel kill cut the deficit to 11-10.
Melanie Feliciano picked up an ace and Emilee Scheumann followed with a kill to give the Aces some breathing room with a 15-11 edge. The second ace from Feliciano capped off a 6-0 run that extended the advantage to 18-11 and the Aces would take the set by a 25-20 final.
Game 2 – Murray State 25, UE 15
Murray State took control from the start as a pair of Darci Metzger aces gave them a 7-1 lead. Feliciano picked up a kill for UE's second point of the set, but the Racers kept the pressure on and would not let the Aces within six points for the duration of the frame, taking a 25-15 win to tie the match.
Game 3 – UE 25, Murray State 23
Madisyn Steele opened the third game with a kill and Evansville proceeded to open a 5-2 lead. The Racers stormed their way back with five in a row to go up 7-5 before extending the lead to 10-6. Evansville got back on track with a 5-0 run with Cardona doing most of the damage. Two kills and an ace from the junior put her team back in front.
In the next sequence, it was Murray State who retook control as they wrestled away a 17-14 lead. The back-and-forth action continued with Evansville jumping back in front at 21-18 with Maddie Hawkins posting the ace as part of a 5-0 rally. The Racers closed the gap to one (23-22) but a huge block by Scheumann and Steele helped the Aces clinch the set and retake a 2-1 match lead.
Game 4 – UE 25, Murray State 21
Following two Racer points to open the set, Evansville reeled off six in a row to jump out to a 6-2 advantage. Kora Ruff notched a kill during the stretch. Feliciano recorded her third ace of the night to push the lead to 11-4. Murray State never gave up and pulled back within two points thanks to a 5-0 run that cut the UE lead to 12-10.
Scheumann and Feliciano registered kills that pushed the lead back to 16-12. The Racers remained within shouting distance, getting with a pair (21-19) in the late moments, but the Aces held strong to clinch the match.
A trip to Indiana State completes the season for the Purple Aces. They head to Terre Haute on Wednesday for a 5 p.m. CT contest.
Submitted by Athletics
SWIM/DIVE: Caudill Wins 1,650 Free To Lead UE On Final Day At A3 Performance Invite
University of Evansville senior Jackson Caudill (Mt. Sterling, Ky./Montgomery County) won the men's title in the 1,650-Yard Freestyle event on Saturday to lead the University of Evansville swimming and diving teams to a strong finish on the final day of competition at the A3 Performance Invitational in Carbondale, Illinois.
Caudill took home the title by over four seconds, posting a winning time of 15:45.54 in swimming's most grueling event. Caudill's individual title led a pack of six podium finishes for the Purple Aces on the final day of the mid-season championship-style meet.
Junior Patrik Vilbergsson (Kopavogur, Iceland) placed second in the men's 200-Yard Backstroke with a time of 1:47.84, which finished just 0.7 seconds off his school-record time in the event set last year. Fellow junior Benjamin Hasanovic (Innsbruck, Austria) also posted a second-place finish in the men's 200-Yard Breaststroke, posting a mark of 2:03.02, which ranks him as the fourth-fastest UE swimmer in the event in school history. Finishing just behind him in third place was freshman Joao Pereira (Curitiba, Brazil) with a time of 2:03.31, which moved Pereira into fifth-place on UE's career top 10 chart.
UE also posted third-place finishes in both the men's and women's 400-Yard Freestyle Relay events, with the men's quartet of Jakob Grundbacher (Thalwil, Switzerland), Daniel Santos Lopez (Madrid, Spain), Joseph Capo (Luling, La./Jesuit) and Michael Pruett (Nolensville, Tenn./Nolensville) posting a time of 3:03.95, while the female freshman quartet of Rebecca Lago (Tezze sul Brenta, Italy), Evelyn Chin (Kuala Lumpur, Malaysia), Rafaela Makariewicz (Porto Alegre, Brazil) and Ane Madina Garate (Onati, Spain) finishing with a time of 3:34.21.
In addition to Hasanovic and Pereira moving up in UE's career record books, the Purple Aces also had top 10 swims from Garate, Lago and Makariewicz on the women's side and Capo and fellow freshman Boris Tavrovsky (Jerusalem, Israel) on the men's side. Garate placed fourth overall in the women's 200-Yard Backstroke with a time of 2:05.78, which places her as the tenth-fastest female in UE history. Lago, meanwhile, finished fifth in the 100-Yard Freestyle event with a time of 52.03, which ranks her ninth-fastest in school history. Makariewicz also cracked UE's career top 10 in the 200-Yard Breaststroke with a time of 2:22.66, which places her ninth-best in school history.
On the men's side, Tavrovsky posted a blistering preliminary time of 1:48.88 in the 200-Yard Backstroke, which ranks him second-fastest in school history behind Vilbergsson. Tavrovsky went on to place sixth overall in Saturday's finals with a time of 1:49.99. Capo also posted the third-fastest times in both the 1,000-Yard and 1,650-Yard Freestyle events, as his 1,000 split of 9:42.89 and his 1,650 overall time of 16:03.14 rank him third-best in school history.
Overall, Evansville placed third on both the men's and women's sides, behind only the host Southern Illinois Salukis and the University of Nebraska-Omaha.
Saturday's meet concludes the fall competition season for the UE swimming and diving programs. The Purple Aces will return to action next after winter break, as UE will travel to Louisville, Kentucky to battle the Bellarmine Knights on Saturday, January 13, 2024.
Submitted by Athletics
Aces open final weekend with 3-1 win over Belmont
For the fourth time this season, Giulia Cardona reached the 30-kill threshold to pace the University of Evansville volleyball team to a 3-1 victory over Belmont inside Meeks Family Fieldhouse.
Cardona hit an efficient .435 in the win while adding eight digs. Melanie Feliciano registered nine kills and seven digs. Brooke Springer anchored the defense with seven total blocks, including three solo. Kora Ruff notched 44 assists and Ainoah Cruz picked up a game-high 21 digs. Three Belmont players reached double-digit kills with Brooke Gilleland totaling 13.
Game 1 – UE 25, Belmont 22
Belmont had the early momentum, turning a 2-0 deficit into an 11-5 lead. Giulia Cardona recorded three early kills before playing a pivotal role in the comeback. Cardona's serve was spot on as the Aces dug out from a 12-6 hole with four in a row. She picked up an ace during the sequence.
Down 16-14, it was Melanie Felciiano's turn to take control. A kill got her squad back within one before her first ace of the evening gave Evansville a 17-16 lead. The Bruins countered to take a 21-20 edge before the Aces stormed back with four in a row. Cardona's third ace of the set along with a kill from Madisyn Steele highlighted the run. Evansville would clinch the set on a Belmont service error.
Game 2 – Belmont 25, UE 22
After the Bruins took a 3-1 lead out of the gate, the Aces bounced right back. Efficient serving from Feliciano and two Cardona kills put Evansville in front – 8-4. Brooke Springer and Feliciano assisted on a block that pushed the lead to its highest at 14-9. The Bruins chipped away at the deficit and their persistence paid off when consecutive Brooke Gilleland kills knotted the score at 18-18.
UE retook a 19-18 edge, but the Belmont rally continued with four in a row to establish a 22-19 edge. The Aces did not give up, posting the next two tallies before the Bruins finished off the set to tie the match.
Game 3 – UE 25, Belmont 16
Evansville had a big start after spotting the Bruins two points. Madisyn Steele got things started with a kill as UE scored four in a row. Kills from Feliciano and Cardona pushed the lead to 7-3. Belmont made its run, closing within a pair at 13-11. The Aces quickly countered with three in a row to make it a 5-point game.
The turning point came when Cardona converted a kill with her team up 17-13. Her point was the first of four in a row as UE went up by eight before clinching the set by nine points – 25-16.
Game 4 – UE 25, Belmont 11
Early in the set, the Aces had the momentum, holding a 3-1 lead before pushing its lead to six points at 14-8. Feliciano tallied two more kills during the run. After Belmont scored the next two, Evansville stormed back to finish the night. Scoring the next seven in a row, the Aces pulled away to a 21-10 lead before clinching the match on the strength of a 25-11 decision.
On Saturday, the Aces complete the home slate with a 6 p.m. match against Murray State.
Submitted by Athletics
Contribute to AceNotes
To have content considered for inclusion in AceNotes, please submit a Marketing Request Form. Deadline for submission to AceNotes is 10:00 a.m. on the requested date of publication. Only articles concerning UE related/sponsored activities will be accepted. Articles submitted to AceNotes may be edited for length and clarity. Submitter contact information is at the end of each article.