| | |
| --- | --- |
| PurplePulse | Friday, November 10, 2023 |
2023 Holiday Schedule
The University of Evansville will be closed during the holidays to allow our employees to enjoy this special time with their families.
The following November – December holiday schedule will be observed:
Thanksgiving Holiday
Closed Wednesday, November 22 through Friday, November 24
Offices reopen on Monday, November 27
Winter Holiday Break
Closed Thursday, December 21 through Tuesday, January 2
Offices reopen on Wednesday, January 3
Submitted by Noah Alatza na122@evansville.edu
Woodwind and String Ensemble Performance
November 12, 2023
Woodwind and String Ensemble
4:00 p.m.
Wheeler Concert Hall
The UE Music Conservatory presents the Woodwind and String Ensemble performing selections by Pyotr Ilyich Tchaikovsky, Wolfgang Amadeus Mozart and Antonin Dvorak.
Submitted by Mary Beth Deig md334@evansville.edu
Thankful is Back
We are stepping into November full of thanks. Our next BIG JoyFul event, ThankFul is returning on November 14th! We welcome everyone to come and enjoy a scrumptious Thanksgiving-inspired meal.
Submitted by KaBria Carr kc403@evansville.edu
Award-Winning Author to Speak on Campus November 13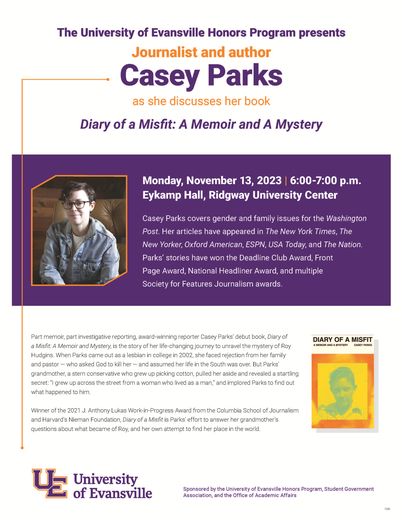 The campus community is invited to attend the Honors Program common read speaking event, a presentation by author Casey Parks, on Monday, November 13 at 6:00pm in Eykamp Hall. Ms. Parks will be discussing her book, Diary of a Misfit: A Memoir and a Mystery, which was the common read for Honors Program freshmen this year.
We hope you will join us for this enlightening presentation. If you'd like to read Diary of a Misfit in advance, copies are on reserve at the library.
Submitted by Jayme Williams jw504@evansville.edu
TIAA Employee Retirement Counseling Sessions
The TIAA representative will be back on campus two more dates this semester for individual counseling sessions. To schedule an appointment for November 16 or December 6, please register for a session at www.tiaa.org/schedulenow or call 1-800-732-8353.
Submitted by Lori A LeDuc ll138@evansville.edu
Pulitzer Prize Winner to Deliver Fiddick Lecture Friday
Pulitzer Prize-winning Harvard University Historian Fredrik Legevall will mark the 60th Anniversary of the JFK Assassination by delivering the 2023 Fiddick Lecture on "John F. Kennedy and the Promise of Democracy" The Lecture will be in Eykamp Hall in the Ridgway University Center at UE on Friday November 10 at 7pm. The event is free and open to the public.
Dr Fredrik Logevall is the Laurence D. Belfer Professor of International Affairs and Professor of History at Harvard University. He is a specialist in U.S. politics and foreign policy. He won the 2013 Pulitzer Prize for History for his book Embers of War: The Fall of an Empire and the Making of America's Vietnam. His most recent book, JFK: Coming of Age in the American Century, 1917-1956 (2020), was a New York Times Notable Book of the Year. It has been called "An utterly incandescent study of one of the most consequential figures of the twentieth century" and "a powerful, provocative, and above all compelling book."
"For over twenty years, the Fiddick Lecture has been one of the best events of the year, as we get to celebrate the career of a truly outstanding faculty member here at UE," said Dr James MacLeod, Director of the Lecture Series. "Tom Fiddick was a brilliant scholar and an incredible teacher who made a life-transforming impact on generations of students."
Submitted by James MacLeod jm224@evansville.edu
Save the Date for MLK Day Events – Join Us in Commemorating Dr. Martin Luther King, Jr.
As we approach the commemoration of Dr. Martin Luther King, Jr.'s legacy, we are excited to announce several significant events that honor his contributions to civil rights, justice, and equality. Please save the dates and mark your calendars to join us in these meaningful activities.
UE MLK Day of Service on Saturday, January 13
Faith-based Service: Monday, January 15, 2024
MLK Day Rally and Symbolic March: Monday, January 15, 2024
The 2024 William G. and Rose M. Mays Lectureship and Luncheon: Wednesday, January 17, 2024
Unity Conference: Saturday, January 20, 2024
Additional details will be provided as we get closer to the date
Submitted by Noah Alatza na122@evansville.edu
University of Evansville Theatre Presents RENT
The University of Evansville Theatre announces the second installment of the 2023–2024 season with RENT, book, music and lyrics by Jonathan Larson. This production opens at 7:30 p.m., Friday, Nov. 10, in Shanklin Theatre. Additional performances are at 7:30 p.m., on Nov. 11, 16, 17, 18 and at 2:00 p.m., on Nov. 19. Winner of the Pulitzer Prize for Drama, an Obie Award, and the Tony Award for Best Musical in 1996, this iconic rock musical shaped a generation of audiences and is being performed for the first time in Shanklin Theatre. Loosely based on Puccini's La Boheme and set in New York's Lower East Side, this fast-paced musical follows a year in the life of a group of destitute young artists struggling to survive and stay true to their creative ambitions, all under the daunting shadow of the HIV/AIDS epidemic. This exuberant American rock opera is a pop-cultural phenomenon not to be missed!
RENT is directed by Assistant Professor Wes Grantom '03. Tyler Simpson, guest artist, serves as the music director; Avery Finn, a senior theatre studies major from Terre Haute, Ind., is the choreographer and costume designer; Jason Simms, guest artist, serves as the scenic designer; Avery Reagan '17, guest artist, is the lighting designer; Jon Robertson, guest artist, serves as the sound designer; Morgan Bailey, a senior stage management major from Keller, Texas, is the stage manager, and Lily Rehberg, a senior design and technology major from Dalton, Ga., is the technical director.
The cast features Landry Barker, a sophomore performance major from Fort Worth, Texas, as Roger; Antonio Cortés Román, a sophomore performance major from Metepec, Mexico, as Angel; Tomi Akinwande, a sophomore performance major from Houston, Texas, as Mimi; Spencer Marfy, a senior performance major from Tallmadge, Ohio, as Mark; Drake J. Susuras, a senior performance major from Broomfield, Colo., as Tom; Alijah J. Roberson, a sophomore performance major from Marietta, Ga., as Benny; Alyssa Meadows, a sophomore performance major from Louisville, Ky., as Maureen; Brynna Waters, a junior performance major from Brownsburg, Ind., as Joanne; The ensemble includes: Dinarri Cox, a first-year performance major from Woodstock, Ga.; Bailey Crawford, a first-year performance major from Frisco, Texas; Ben Lodge, a first-year performance major from ­Overland Park, Kan.; Quinn McGaugh, a first-year performance major from McAlester, Okla.; Mason Norton, a sophomore performance major from Bremen, Ind.; Kennedy Olson, a sophomore performance major from Porter, Texas; Lindsay Perr, a junior performance major from Medford, NJ.; Umbra Person, a sophomore performance major from Jonesboro, Ga.; Rylie Sudduth, a first-year performance major from Versailles, Ky.; Andrea Vargas, sophomore performance major from Missouri City, Texas; and Owen White, a first-year performance major from Valley Center, Kan.
Adult ticket prices are $20 and $18 for senior adults, UE employees, and non-UE students. UE students may obtain one free student rush ticket beginning at 12 p.m. on the day of the performance they wish to attend. In addition, UE Theatre is excited to continue their "Pay What You Will" initiative again this second season. Every Thursday evening performance in Shanklin Theatre is available for any person to pay any price that best fits their budget. Single tickets may be purchased online at theatre.evansville.edu or by calling the ticket office at 812.488.2031, Monday through Friday, 12:00 to 5:00 p.m.
Submitted by Sharla Cowden sc75@evansville.edu
Basham - Allaire Exhibit in Krannert Gallery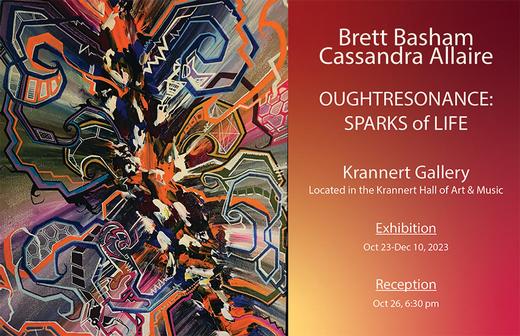 OUGHTRESONANCE: SPARKS of LIFE, a collaboration by artists Brett Basham and Cassandra Allaire, will be exhibited in the Krannert Gallery from October 23 through December 10.
Please join us for the artists reception on Thursday, October 26 at 6:30 p.m. in the Krannert Gallery.
Submitted by Carol McCraney cm177@evansville.edu
Crick Lecture November 16-Neurobiology, Trauma, and Child Forensic Interviewing by Emily Denne
Emily Denne, Visiting Assistant Professor of Psychology, will present the Fall, 2023 Crick Lecture. This will take place on November 16 at 4:00 p.m. at Koch Center 100 (Vectren Lecture Hall).
Children who make an initial disclosure of sexual violence often undergo a police interview to gather forensically relevant details related to their experience. Yet it is not uncommon for children to report fragmented memories and at times omit key pieces of information (i.e., inability to describe the suspect, no memory for peripheral details, etc.). This often raises concerns from police and forensic interviewers about the credibility and accuracy of a child's report. How the brain responds to threats and fear impacts how children both remember and report incidents of sexual violence. An understanding of basic neurobiology can explain the unintuitive ways children react to and report abuse. Such principles can be used to guide police interviewing practices towards being trauma informed.
Submitted by Cheryl Emmons ce36@evansville.edu
Does a UE Workflow have you stumped?
Submitting a Supplemental Payroll Request or PCard change but something in the process just isn't working how you expected? Be sure to read over the homepage of workflow.evansville.edu for documents and tips on how to submit, approve, and navigate the forms and tool!
Submitted by Nicholas Messer nm169@evansville.edu
UE's Division of Talent and Community Welcomes New Spiritual Formation Coordinator
Bre Bondurant has lived in the Evansville area for eight years. She earned her Bachelor of Science (BS) and Master of Arts (MA) degrees from Kentucky Christian University, specializing in theology and leadership. Additionally, she is finishing training to become a certified spiritual director.
For the past eight years, Bre has been on staff at Crossroads Christian Church, where she has served in various roles. Her time serving at Crossroads has provided many opportunities to grow in the areas of spiritual formation and leadership.
Outside of these pursuits, Bre and her husband Andrew have two children, Abe and Lydia. She is deeply passionate about spiritual formation and is driven by a desire to help people grow and develop spiritually.
Bre can be found here on campus in her office in Neu Chapel, ready and willing to help with all things Religious Life!
Submitted by Kaylee LeDuc kl170@evansville.edu
Trashcan and Table/Chair Reservations for Campus Events
If you need extra trashcans brought in for campus events, please submit this request through a work order. This may be combined with a table and chair request. Please complete the following to ensure your campus event setup occurs as desired.
Submit a work order request. In the Work Requested box, include ATTENTION MOVERS, the drop-off location, date, time, contact person, # of 8' rectangular tables, chairs, trashcans, time of the event, and pick-up date and time. These items will be dropped off and picked up. Set-up is only provided when specifically requested with details of the setup request (table/chair arrangement).
Location, sprinklers/irrigation, and electrical needs should be considered in scheduling an event.
Moving Services requires at least 10 working days of advanced notification so we can schedule accordingly. If request is submitted less than 10 working days, it is less likely we will be able to provide you with items needed.
Reserve space in Resource Scheduler.
Please note, if you desire a different length or shape of folding table, arrangements will need to be made with an outside rental company. Facilities Management can make these arrangements on your behalf. Please allow for a longer lead time. Once notified of your request, we will contact a rental a company to obtain a quote. The rental order will not be placed until you approve the amount and provide an account number for the charge.
Please let us know if you have any questions or concerns.
Mike Averett
Executive Director, Facilities Management and Planning
Submitted by Karen McDonald km598@evansville.edu
UE Opera Program Receives Large Grant
The Music Conservatory is pleased to announce that UE Opera has received a $25,000 grant from the William E. Schmidt Foundation in support of their program and outreach efforts. Included in this grant is funding for the Schmidt Opera Series for productions on campus as well as the Schmidt Opera Collaborative which provides outreach and education to the tri-state community. In addition, the grant will allow for the continuation of Community Conservatory Study Grants which provides lessons for area students who could not otherwise afford private study. UE Opera is under the direction of Dr. Alanna Keenan with additional instruction from Dr. Dennis Malfatti and Dr. Gregory Rike.
Submitted by Dennis Malfatti dm155@evansville.edu
Spring Meal Plan Changes
Students can adjust meal plans for the Spring semester until Friday, January 12, 2024 at 5:00 p.m.
Submitted by Brian Conner bc32@evansville.edu
Connect with Nonprofit Organizations in SOBA
All students are invited to attend two upcoming events to connect with area nonprofit organizations: a panel of nonprofit leaders happening on Tuesday, November 14 at 12:20 - 1:10 in SB170 and a nonprofit fair happening on Thursday, November 16, 12:20 - 1:10 in the SOBA Atrium.
Panel Discussion: Are you driven by a desire to create positive change and make a lasting impact on the world? If you've ever considered a career in the nonprofit sector, this panel discussion is the perfect opportunity to gain valuable insights and inspiration from seasoned professionals who have turned their passion into action. Join us for an engaging and enlightening panel discussion featuring distinguished individuals with extensive experience in various nonprofit organizations. Our panelists come from diverse backgrounds and have successfully channeled their passion for social causes into meaningful careers. They will share their personal journeys, challenges, and triumphs, offering an authentic glimpse into the rewarding world of nonprofit work.Whether you're already passionate about a particular cause or are simply curious about the potential of nonprofit work, this event will provide you with the guidance and motivation to take the first step toward transforming your passion into a fulfilling career. Lunch will be provided for those who register in advance; please RSVP by November 10 by emailing Megan Conapinski at mt263@evansville.edu. Tuesday, November 14 at 12:20 - 1:10 in SB170
Nonprofit Fair: This career fair style event is the perfect opportunity to connect with nonprofit organizations and learn about volunteer, internship, and job opportunities in the Evansville area. Lunch will be provided for those who register in advance; please RSVP by November 10 by emailing Megan Conapinski at mt263@evansville.edu. Thursday, November 16, 12:20 - 1:10 in the SOBA Atrium.
Submitted by Megan Conapinski mt263@evansville.edu
Important Updates to Stationery Orders
Effective immediately, the Office of Marketing is shifting from Marcom to Lytho for all stationery requests (e.g., letterhead, business cards, envelopes). Lytho offers a more streamlined and user-friendly experience, and UE has been using this service for over one year now. To make a request, simply log in with your University credentials, navigate to "Requests" from the left-hand menu, select "Add Request" in the upper-right corner, and follow the prompts. If you need any assistance, please contact Abigail Perry at ap445@evansville.edu.
Submitted by Abigail Perry ap445@evansville.edu
Sympathies to the family of Dr. William Weiss
The UE community is saddened to learn of the passing of Dr. William Weiss, a former Professor of Psychology at University of Evansville from 1976 to 2008. Dr. Weiss passed away on Sunday November 5, 2023. He was 85. Dr. Weiss retired from UE in 2008 and moved to the Pacific Northwest, where he worked part-time in independent practice as a psychologist and enjoyed traveling and spending time with his children and grandchildren. Please keep the family in your thoughts during this time.
Submitted by Noah Alatza na122@evansville.edu
Save the date: Harlaxton is coming to Ridgway
Save the date: Harlaxton is coming to Ridgway!
On November 16 from 2:00 - 4:00 p.m. the Dean of Harlaxton, Holly Carter, will be on campus.
She will be showing students and staff Harlaxton's new brand and handing out stickers (while supplies last)!
Mark your calendars so you don't miss this exciting event!
Submitted by Abigail Perry ap445@evansville.edu
Aces tie Ford Center scoring record in win over UHSP
Fifteen University of Evansville men's basketball players saw floor time and made their way into the scorebook as the Purple Aces tied the program Ford Center scoring record in a 116-46 win over UHSP on Thursday evening.
UE improved to 2-0 for the first time since 2019 with the victory. Six players reached double figures with the team doing an admirable job of spreading the ball around. Making his collegiate debut, Braylon Jackson led the squad with 14 points. Yacine Toumi totaled 13 while Chuck Bailey III added 12. Sekou Kalle and Ben Humrichous tallied 11 apiece and Tanner Cuff scored 10.
With a total of 65 rebounds, UE put forth its best-ever effort at the Ford Center, breaking the previous mark of 58 caroms against Mississippi Valley State in 2015. It marked the first time the Purple Aces had 60+ boards since totaling 61 versus SIU Edwardsville in 2008. Kalle had a game-high 9 rebounds.
"Going into this game, we talked about our discipline, emotion and maturity," UE head coach David Ragland said. "We have worked to get better every day in every category. Those things are important; I was proud of our focus, attention to detail and preparation."
In the second half, Evansville's walk-ons received added playing time and Ragland was proud of the effort from those guys.
"They work extremely hard and show up every single day in practice and do their job. We love having them as part of the program. Getting them into the game and showcasing what they have been working on is exciting."
Gage Bobe and Cam Haffner knocked down early 3-pointerss to help the team score the first 12 points of the game. The Aces connected on five of their opening eight attempts while the Eutectics were 0-for-6 to begin the game before hitting their seventh attempt.
Braylon Jackson made his first appearance in an Aces uniform and quickly found the scoreboard as he completed the first half with eight points. His first collegiate basket gave UE a 24-6 lead before Cam Haffner hit a layup to make it a 20-point game with 12:05 remaining in the period.
Evansville would push the lead to as many as 33 in the opening period before taking a 61-29 lead into the halftime break. Ben Humrichous led the way with nine points as all 10 players to see the floor in the half found their way into the scorebook. UE's first-half tally was the first time the program recorded 60 points in a half since posting 62 against Earlham on Nov. 15, 2014.
Things continued to go Evansville's way in the second half as the team reached triple digits for the first time since Nov. 22, 2021 when the team scored 104 against Rice. It was the first time the Aces reached the century mark at the Ford Center since dropping 101 on Miami Ohio on Dec. 7, 2019.
Multiple players made their first appearances this season in the latter stanza as Tyler Myers, Cameron Gehlhausen, Dakota Candler, Michael Day and Weston Aigner all saw extended playing time. Evansville pulled away to finish the night with a 116-46 victory.
Jas Suvalija and Brady Bowers led the Eutectics with 17 points each.
For the first time this season, the Aces take to the road when they head to Cape Girardeau on Wednesday to face Southeast Missouri State.
Submitted by Athletics
SWIM/DIVE: UE Men Second, Women Fourth After First Day At A3 Performance Invitational
The University of Evansville men's swimming & diving team currently sits in second place, while the women sit in fourth, after day one of competition at the A3 Performance Invitational hosted by Southern Illinois University in Carbondale, Illinois.
Evansville owns a 32-point lead on Omaha for second-place on the men's side going into Friday's second day of competition. The UE women, meanwhile, are just three points back of Eastern Illinois for third place out of seven schools after Thursday's opening day in Carbondale.
On the day, Evansville had someone qualify for the 'A Final' as a top-eight qualifier in all but one race. Junior Patrik Vilbergsson (Kopavogur, Iceland) had UE's best individual finish of the day, placing fourth overall in the men's 500-Yard Freestyle event with a time of 4:34.28. Freshman Joseph Capo (Luling, La./Jesuit) was right behind him with a time of 4:36.38 to not only place fifth overall, but also crack UE's career top 10 with a mark that makes him the tenth-fastest UE male swimmer in school history. Senior Jackson Caudill (Mt. Sterling, Ky./Montgomery County) also placed seventh in the 'A Final' of the 500 Free, while fellow senior Grant Kay (Ellicott City, Md./Hebron) placed 15th overall with a time of 4:45.46 in the 'B Final.'
In the women's 500 Free, freshman Luana Carrotta (Ercolano, Italy) posted UE's best finish with a 12th-place finish overall with a 'B Finals' time of 5:10.59, while fellow freshman Hannah Krings (Madison, Ala./Westminster Christian Academy) advanced to Thursday's night's finals and posted a time of 5:24.48 to place 24th.
In the 50-Yard Freestyle, freshman Rebecca Lago (Tezze sul Brenta, Italy) placed sixth overall with an 'A Finals' time of 23.81 to move into tenth-place on UE's career top 10 chart. Fellow freshmen Ane Madina Garate (Onati, Spain) and Rafaela Makariewicz (Porto Alegre, Brazil) also advanced to Thursday night's finals, placing 22nd (24.81) and 25th (24.77) overall respectively.
On the men's side, junior Daniel Santos Lopez (Madrid, Spain) and sophomore Daniil Goncharuk (Kyiv, Ukraine) placed fifth and sixth, respectively, in the 50 Free with times of 20.72 and 20.94. Junior Benjamin Hasanovic (Innsbruck, Austria) and freshman Boris Tavrovsky (Jerusalem, Israel) placed 17th and 19th overall with finals times of 21.22 and 21.38.
Freshman Omar Ashraf Hassan (Doha, Qatar) nearly cracked UE's career top 10 in the 200-Yard IM with times of 1:54.67 and 1:54.95 on the day to place sixth overall. Junior Carlos Souto (A Coruna, Spain) was not far behind with a time of 1:55.07 to place 12th overall in a tightly-contested field. Meanwhile, on the women's side, junior Sveva Brugnoli (Rome, Italy) and sophomore Mari Mueller (Zurich, Switzerland) posted finals times of 2:08.15 and 2:08.65 to place seventh and tenth overall in the 200 IM.
In Thursday night's relays, the UE men placed second in both the 200-Yard Freestyle and 400-Yard Medley Relay events with times of 1:22.20 and 3:18.38, respectively. Vilbergsson also lowered his own personal-best time 100-Yard Backstroke as the lead leg of the 400 Medley Relay with a time of 49.00, which is third-fastest all-time at UE. On the women's side, the UE women placed third in the 400 Medley Relay with a time of 3:51.02, while placing fourth overall in the 200 Free Relay with a time of 1:36.47.
Competition was also held Thursday in both the men's one-meter and women's three-meter diving events, but final results were not available as of 11 p.m. central on Thursday.
The A3 Performance Invitational will continue on Friday, with preliminary swims at 10 a.m. and finals slated to begin at 5 p.m. Friday's events include the 400 IM, the 100 Fly, the 200 Free, 100 Breast, 100 Back, and the 800-Yard Freestyle Relay and 200-Yard Medley Relay events. Women's one-meter diving and men's three-meter diving is also scheduled for Friday.
Submitted by Athletics
UE Women's Basketball adds four on National Signing Day
The University of Evansville women's basketball program has announced the signing of four new players for the 2024-25 season on National Signing Day.
The Purple Aces welcome players from across the Midwest as part of their 2024 class. UE's latest group of signees includes two point guards and two shooting guards from Indiana, Illinois, and Kentucky.
"We hit a home run with this recruiting class!" says Head Coach Robyn Scherr-Wells. "This group compliments our current freshmen class and helps us ensure we are building the right way for the future. These four players are all very skilled guards who can shoot, score at the rim, and play in our press and up-tempo offense. They all share qualities of being intense competitors, being in great shape, being high character individuals, and being excellent students,".
The Aces first player to verbally commit in the spring was 5'10" shooting guard Kylee Norkus. "Kylee has a non-stop motor and will be a great asset in our press and transition offense," says Scherr-Wells. "When Kylee committed to UE in the spring, I was already so excited about what she would bring to our program. And then I watched her game get better and better over the summer.
"She does the obvious things well like scoring in transition and getting to the rim and making shots, but it's all the little things that I get excited about. Her court vision and her ability to find her teammates grew so much in the past year. Her ability to rebound defensively and then lead the break fits perfectly for what we do. Her competitive drive and work ethic are phenomenal. She has gained great experience playing on the EYBL circuit and in a very competitive high school conference. Kylee will make an immediate impact at the wing for us!"
Norkus comes to Evansville from Neuqua Valley High School in Naperville Ill. Over her past three as a starter for the Wildcats, Norkus has been named All-Conference and All-Area in back-to-back years. She was also named to the IBCA All-State team last winter for her help in leading Neuqua Valley to a Regional Championship. Last season, Norkus averaged 16 points, seven rebounds, five steals, and four assists per game.
"I chose UE because of the phenomenal coaching staff to help me continue to grow and develop to my fullest potential athletically," says Norkus. "Evansville's community is extremely welcoming and supportive of their student-athletes. I'm looking forward to adding my contributions on and off the court for UE. I'm escstatic to be an ACE!"
UE welcomes a local recruit to its 2024 class in point guard Avery Kelley. Playing just down the street at Reitz Memorial High School, Kelley is staying home following three successful seasons with the Tigers. "The first time I saw Avery play as a sophomore at Memorial, I knew she was a player we needed to keep home at UE," says Scherr-Wells. "The pace and tenacity at which she played as a young high schooler stood out to me. Avery has toughness and grit to go along with skill.
"She shoots the ball really well and has a good feel for how to create opportunities for her teammates as a point guard. She is a gym rat and comes from a family of athletes. She will set the tone of what it looks like to put the time into the gym. I am so excited she has chosen to stay home in Evansville!"
Along with playing basketball, Kelley is a multisport athlete having spent two years on the Tiger's softball team and one year on the track team. Over the past three years on the court, Kelley has been named an Indiana Jr. All-Star, a First Team selection for both All-Conference and All-Region and an All-State honorable mention. Last season, Kelley averaged 15 points per game with 4 assists, 5 rebounds, and 2 steals. Kelley comes from a family with a strong collegiate athletic background as both her parents' played basketball at Murray State in the late 1990s.
"I chose to play for UE because of the people," says Kelley. "The coaching staff and players all have enthusiastic personalities and a love for the game. I know I'm going to a great school with the ability to teach me new skills on and off the court.
"Being able to have my friends and family come to all my games and support me is another great factor. I'm super excited to be able to wear Evansville on my chest and play for the team I grew up watching and wanting to be part of!"
Evansville's third signee comes from the Bluegrass State in guard Logan Palmer. Palmer hails from Union, Ky. where she has been a four-year starter at Randall K. Cooper High School. "We had the opportunity to watch Logan grow as a player over 2 full years of recruitment," says Scherr-Wells. "It has been a joy to see her game improve and her confidence in herself grow.
"She is such a good athlete and watching her go from being a forward as a young player in high school to developing into her college position as a wing with her AAU team over the last year has been really fun. Her shooting range has grown so much and has made her a threat from all spots on the floor. She is just scratching the surface of what she can be as a basketball player. I think Logan was really underrated in the recruiting process and we are pumped that she has chosen to be an Ace!"
Last season, Palmer averaged nine points, three rebounds, 45% shooting from the floor, and 80.5% shooting from the free throw line. Palmer helped the Jaguars make a run to the Kentucky State Tournament Final Four in 2023 where they fell at Rupp Arena to Mercy High School. Along with making the Final Four in 2023, Palmer was a consistent starter in back-to-back region titles for Cooper where she was named to the District All-Tournament Team and an All-State Honorable Mention.
"I chose UE because it felt like family," says Palmer. "The coaching staff is backed up by an amazing team of loving girls who all have the same goal. Basketball is more than just a sport and UE displays just that.
"I truly believe UE will push, stretch, and mold me into the best version of myself on and off the court. I'm so excited to see all we have in store! Go Aces!!"
The Aces' final 2024 signee on National Signing Day is shooting guard Camryn Runner. Runner will join UE from Hamilton Heights where she is a four-year starter for the Huskies. "The more I watched Camryn this summer, the more I fell in love with her game," says Scherr-Wells. "Her Indiana Elite team on the Adidas circuit won a ton of games this summer, and she was a very important piece.
"I love that Camryn can play both the point and shooting guard. She plays with so much joy and toughness. She makes everyone around her better. I would sit courtside at her games and I could hear how well she communicates on the court, and the confidence she gives her teammates. She shoots the 3 really well. She is a player who can score when you need her to but also has no problem creating for and feeding her teammates. She is a natural leader and I cannot wait to see the impact she will have on our campus!"
Runner is a three-time All-State, All-Sectional, and All-Conference honoree as the Huskies have made three runs to regionals in class 3A. After three years, Runner is already a 1,000-point scorer having averaged almost 19 points a game while being 5th in the state in free throws with 157. Runner is also active on the club basketball circuit with Indiana Flight, a team that was a National Runner Up in the Adidas circuit over the summer. Along with playing basketball, Runner spends time on the Huskies golf and track and field teams.
"I chose UE because of the welcoming environment I experienced on my visit," says Runner. "I could immediately tell the coaching staff and university had nothing but the best intentions for me. Another reason why I chose UE would be the education that I will receive for the next 4 years to set me up for my future career,".
Submitted by Athletics
Volleyball set for final week of action
Three matches over the next six days comprise the final week of the season for the University of Evansville volleyball team who opens at home this weekend with matches against Belmont and Murray State. UE welcomes the Bruins on Friday at 6 p.m. with the Racers coming to Meeks Family Fieldhouse on Saturday at 5 p.m.; the regular season wraps up on Wednesday with a 5 p.m. CT match at Indiana State. All three matches will be carried on ESPN+.
Final Weekend
- One of the best to wear an Aces uniform will be completing her career this weekend as Melanie Feliciano will be wrapping up her fifth year with the program
- She has etched her name into the UE record books and enters the weekend second in program history in attempts and third in career kills
- Over the course of the 2023 season, Feliciano has averaged 3.48 kills per frame, which is 8th in the league
Top of the Charts
- Three of the most important offensive statistics in the sport of volleyball see Giulia Cardona's name at the top
- Evansville's junior continues to lead the nation in kills (5.17/set), points (5.94/set) and attacks (14.87/set)
- One of the top servers in the nation is on one of the most impressive streaks of her career as Cardona is averaging 0.70 aces per set over the last four matches
- Her season average of 0.52 per game paces the MVC and is 17th nationally
Holding the Record
- Last weekend, Madisyn Steele surpassed 1,000 attempts in her career and officially became eligible for the program's career hitting mark
- With a percentage of .327, Steele is 50 points ahead of the current Aces career mark of .277
- Steele set the single-season hitting record for Evansville last season, finishing at .346 (25 points higher than the previous record)
Scouting the Opposition
- Belmont comes into the weekend with a 7-21 mark while sitting at 3-12 in conference matches
- Kamryn Olson is one of the league's top setters, ranking 5th with 8.94 assists per set
- Murray State is 13-11 to start the week while posting a 7-8 MVC mark
- Darci Metzger paces the team with 4.34 kills per set
- Wednesday will mark the final game of the regular season as the Aces face Indiana State in Terre Haute; the Sycamores are currently 3-22 overall and 1-14 in the Valley
Submitted by Athletics
UE cross country to close out the 2023 season at NCAA Great Lakes Regional
The University of Evansville cross country teams will round out the 2023 season with one last meet in the Badger State.

The Purple Aces will end 2023 with their final 6K and 10K races in the NCAA Great Lakes Regional Championships. UE will bring eight women and two men to race midday on Friday, Nov. 10 on the Thomas Zimmer Championship Course. Evansville hopes to end its season with multiple PRs racing against one of its most competitive fields of the season.

There will be a few familiar faces for the Aces on Friday in conference teams Indiana State and Valparaiso along with local Indiana teams in Purdue, IUPUI, and Indiana. It will be a field of over 30 teams including Wright State, Dayton, Milwaukee, Kent State, Detroit Mercy, Michigan State, Akron, Youngstown State, Toledo, Ball State, Xavier (Ohio), Eastern Michigan, Green Bay, Cinncinati, Western Michigan, Michigan, Miami (Ohio), Butler, Purdue Fort Wayne, Notre Dame, Central Michigan, Cleveland State, Ohio State, Ohio, Bowling Green, Marquette, Oakland (Mich.), and hosts Wisconsin.

UE last ran two weeks ago in Nashville at the MVC Championships hosted by Belmont. Evansville's women's team outperformed their pre-championship poll selection finishing 11th out of 12 teams with four runners setting PRs while the men's team finished 11 of 11 teams. The women's side was led by freshman runner Sonja Inzinger (Mautern an der Donau, Austria) with a 38th-place finish while the men's side was led by freshman Samuel Lea (Wooster, England) with a 59th-place finish.
While not having raced at Thomas Zimmer Championship Course in 2023, the Aces are familiar with the Great Lakes Regional site from previous years. UE ran the course in 2019 as part of the Great Lakes Regional and hopes to be back in 2024 for the NCAA Cross Country Championships. The Zimmer Championship Course offers challenging and exciting terrain for runners and elevated viewing for spectators. UW's cross country course has an exterior loop of approximately 2,500 meters and an interior loop of 1,000 meters that cover the area's rolling hills and valleys, while the outside loop also runs through a section of dense woods, which are aflame with color in the fall. The course is built to accommodate race distances of 4K, 5K, 6K, 8K, and 10K.
The women's 6K will begin at 11:30 a.m. while the men's 10K will follow at 12:30 p.m. Aces fans can follow along with Friday's meet through PT Timing.
Submitted by Athletics
SWIM/DIVE: UE Swimming & Diving Heads To A3 Performance Invitational
The University of Evansville swimming and diving teams will cap the fall portion of their 2023-24 schedule this weekend, as the Purple Aces will travel to Carbondale, Illinois to take part in the A3 Performance Invitational, hosted by Southern Illinois. The three-day meet will begin with preliminary round swims on Thursday morning at 10 a.m. and continue through Saturday evening.
The Purple Aces will join Southern Illinois, Southern Indiana, Valparaiso, Nebraska-Omaha, Bellarmine and Eastern Illinois (women only) in the three-day mid-season championship meet. The UE men will take the pool for the first time October 14 on Thursday, as the Purple Aces swept Valpo and USI in a dual meet that day. The UE women, meanwhile, last competed on October 20 in a quad meet at Indiana State.
On the men's side, juniors Patrik Vilbergsson (Kopavogur, Iceland) and Benjamin Hasanovic (Innsbruck, Austria) posted a pair of individual victories in the pool on October 14, while sophomore diver Levi McKinney (Boonville, Ind./Boonville) posted an NCAA Zone qualifying mark on his way to earning his first Mid-American Conference Diver of the Week honor.
On the women's side, freshman Evelyn Chin (Kuala Lumpur, Malaysia) cracked UE's career top 10 in the 100-Yard Butterfly in Evansville's last meet at Indiana State, while senior diver Madison Rollett (Evansville, Ind./Reitz) has started the year strong with a pair of individual titles on the diving boards.
Preliminary round swims will begin at 10 a.m. each of the three days of the A3 Performance Invitational. Finals will begin at 5 p.m. on both Thursday and Friday, with Saturday's finals beginning at 4 p.m. The meet will be live-streamed on the SIU Rec Center Facebook page each day.
Submitted by Athletics
Contribute to AceNotes
To have content considered for inclusion in AceNotes, please submit a Marketing Request Form. Deadline for submission to AceNotes is 10:00 a.m. on the requested date of publication. Only articles concerning UE related/sponsored activities will be accepted. Articles submitted to AceNotes may be edited for length and clarity. Submitter contact information is at the end of each article.