| | |
| --- | --- |
| PurplePulse | Wednesday, November 8, 2023 |
Pop-up Promo Today! UE Theatre's Cast of Rent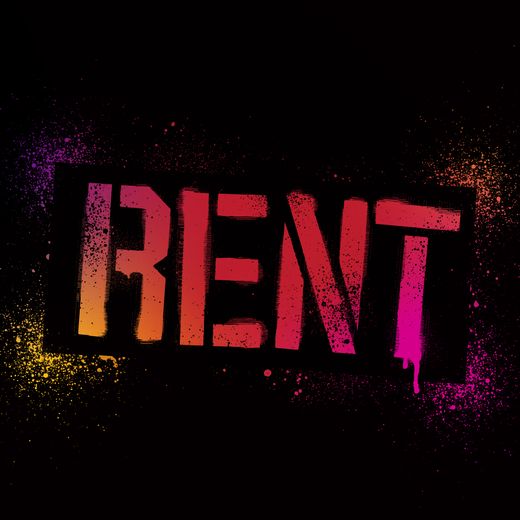 Join the cast of RENT at Rademacher's Lounge this Wednesday at 12 p.m. as they preview the second installment of the 2023–2024 season with a performance of the iconic songs, "Seasons of Love" and "Take Me or Leave Me."
RENT opens at 7:30 p.m., Friday, Nov. 10, in Shanklin Theatre. Additional performances are at 7:30 p.m., on Nov. 11, 16, 17, 18 and at 2:00 p.m., on Nov. 19. Tickets can be purchased online at theatre.evansville.edu or by calling the ticket office at 812.488.2031, Monday through Friday, 12:00 to 5:00 p.m. UE students may obtain one free ticket to each production online or in person at the ticket office in Hyde Hall.
Submitted by Sharla Cowden sc75@evansville.edu
Thankful is Back
We are stepping into November full of thanks. Our next BIG JoyFul event, ThankFul is returning on November 14th! We welcome everyone to come and enjoy a scrumptious Thanksgiving-inspired meal.
Submitted by KaBria Carr kc403@evansville.edu
UE Faculty, Students in Evansville Civic Theatre's Death of a Salesman
Evansville Civic Theatre will open its production of Arthur Miller's classic Death of a Salesman, this Thursday, Nov. 9, at 7:30 p.m. at Benjamin Bosse High School.
The production, directed by UE Assistant Professor of Communication Joe Atkinson, runs Nov. 9, 11, 12, 17, 18, 19 at Bosse High School, with 7:30 p.m. productions Thursday-Saturday nights, and 2:00 p.m. matinees on Sundays. University of Evansville Theatre students Adam Techmanski, Gavin Ramirez, Aibhlinn Rose, and Caden Sevier also are featured onstage in the production, with UE sophomore Tabitha Kierstead overseeing sound design and UET senior Beverley Buchanan composing original score.
Tickets are available on the Evansville Civic Theatre website at www.evvcivic.org/buy-tickets.
Submitted by Joe Atkinson ja122@evansville.edu
Award-Winning Author to Speak on Campus November 13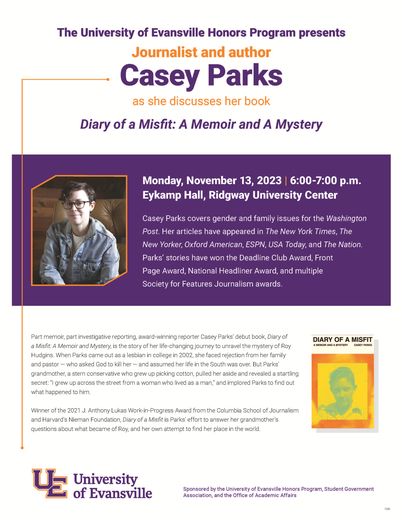 The campus community is invited to attend the Honors Program common read speaking event, a presentation by author Casey Parks, on Monday, November 13 at 6:00pm in Eykamp Hall. Ms. Parks will be discussing her book, Diary of a Misfit: A Memoir and a Mystery, which was the common read for Honors Program freshmen this year.
We hope you will join us for this enlightening presentation. If you'd like to read Diary of a Misfit in advance, copies are on reserve at the library.
Submitted by Jayme Williams jw504@evansville.edu
TIAA Employee Retirement Counseling Sessions
The TIAA representative will be back on campus two more dates this semester for individual counseling sessions. To schedule an appointment for November 16 or December 6, please register for a session at www.tiaa.org/schedulenow or call 1-800-732-8353.
Submitted by Lori A LeDuc ll138@evansville.edu
Faculty Recital - Steinsultz and Zifer
November 7, 2023
7:30 p.m.
Wheeler Concert Hall
The UE Music Conservatory presents a faculty recital featuring Professor of Music Ken Steinsultz on euphonium and Professor of Music Timothy Zifer on trumpet. The concert will feature works by Steven Shewan, Donald H. White and Eduardo Boccalari. They will be joined on stage by Professor Anne Fiedler on piano, Consortium Instructor Ross Erickson on percussion, Consortium Instructor Rebecca Salo on horn and Adjunct Instructor Kristin Jones on piano.
Submitted by Mary Beth Deig md334@evansville.edu
Pulitzer Prize Winner to Deliver Fiddick Lecture Friday
Pulitzer Prize-winning Harvard University Historian Fredrik Legevall will mark the 60th Anniversary of the JFK Assassination by delivering the 2023 Fiddick Lecture on "John F. Kennedy and the Promise of Democracy" The Lecture will be in Eykamp Hall in the Ridgway University Center at UE on Friday November 10 at 7pm. The event is free and open to the public.
Dr Fredrik Logevall is the Laurence D. Belfer Professor of International Affairs and Professor of History at Harvard University. He is a specialist in U.S. politics and foreign policy. He won the 2013 Pulitzer Prize for History for his book Embers of War: The Fall of an Empire and the Making of America's Vietnam. His most recent book, JFK: Coming of Age in the American Century, 1917-1956 (2020), was a New York Times Notable Book of the Year. It has been called "An utterly incandescent study of one of the most consequential figures of the twentieth century" and "a powerful, provocative, and above all compelling book."
"For over twenty years, the Fiddick Lecture has been one of the best events of the year, as we get to celebrate the career of a truly outstanding faculty member here at UE," said Dr James MacLeod, Director of the Lecture Series. "Tom Fiddick was a brilliant scholar and an incredible teacher who made a life-transforming impact on generations of students."
Submitted by James MacLeod jm224@evansville.edu
2023 Advent Candlelight Vespers Service
It's the Most Wonderful Time of the Year!
In conjunction with the Winter On Walnut event, the Office of Religious Life, the Music Conservatory, and the Center for Diversity, Equity, and Inclusion are hosting the 75th Advent Candlelight Vespers service.
Here are some of the details:
Day/Date: Friday, December 1, 2023
Time: 7:00 p.m.
Location: Neu Chapel
Let us know if you want to serve as a door greeter, reader, or usher for the program by responding to Center4DEI@evanville.edu.
Submitted by Kaylee LeDuc kl170@evansville.edu
Jonpaul Smith Exhibit Opens October 30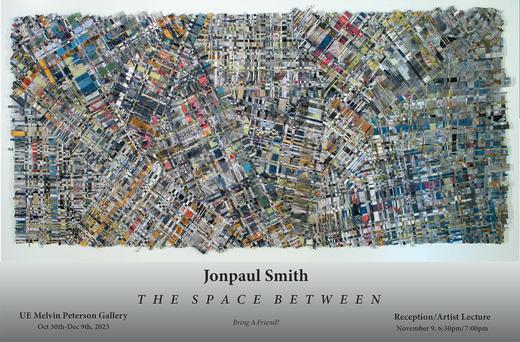 Efroymson Artist in Residence, Jonpaul Smith, and the UE Department of Art present THE SPACE BETWEEN from October 30 - December 9. Please join us for a public reception and artist lecture on Thursday, November 9 at 6:30pm in the Melvin Peterson Gallery.
Gallery hours are Mon, Tue, Fri & Sat 12:00pm - 3:00pm; Wed & Thu 12:00pm - 6:00pm.
Submitted by Carol McCraney cm177@evansville.edu
University of Evansville Theatre Presents RENT
The University of Evansville Theatre announces the second installment of the 2023–2024 season with RENT, book, music and lyrics by Jonathan Larson. This production opens at 7:30 p.m., Friday, Nov. 10, in Shanklin Theatre. Additional performances are at 7:30 p.m., on Nov. 11, 16, 17, 18 and at 2:00 p.m., on Nov. 19. Winner of the Pulitzer Prize for Drama, an Obie Award, and the Tony Award for Best Musical in 1996, this iconic rock musical shaped a generation of audiences and is being performed for the first time in Shanklin Theatre. Loosely based on Puccini's La Boheme and set in New York's Lower East Side, this fast-paced musical follows a year in the life of a group of destitute young artists struggling to survive and stay true to their creative ambitions, all under the daunting shadow of the HIV/AIDS epidemic. This exuberant American rock opera is a pop-cultural phenomenon not to be missed!
RENT is directed by Assistant Professor Wes Grantom '03. Tyler Simpson, guest artist, serves as the music director; Avery Finn, a senior theatre studies major from Terre Haute, Ind., is the choreographer and costume designer; Jason Simms, guest artist, serves as the scenic designer; Avery Reagan '17, guest artist, is the lighting designer; Jon Robertson, guest artist, serves as the sound designer; Morgan Bailey, a senior stage management major from Keller, Texas, is the stage manager, and Lily Rehberg, a senior design and technology major from Dalton, Ga., is the technical director.
The cast features Landry Barker, a sophomore performance major from Fort Worth, Texas, as Roger; Antonio Cortés Román, a sophomore performance major from Metepec, Mexico, as Angel; Tomi Akinwande, a sophomore performance major from Houston, Texas, as Mimi; Spencer Marfy, a senior performance major from Tallmadge, Ohio, as Mark; Drake J. Susuras, a senior performance major from Broomfield, Colo., as Tom; Alijah J. Roberson, a sophomore performance major from Marietta, Ga., as Benny; Alyssa Meadows, a sophomore performance major from Louisville, Ky., as Maureen; Brynna Waters, a junior performance major from Brownsburg, Ind., as Joanne; The ensemble includes: Dinarri Cox, a first-year performance major from Woodstock, Ga.; Bailey Crawford, a first-year performance major from Frisco, Texas; Ben Lodge, a first-year performance major from ­Overland Park, Kan.; Quinn McGaugh, a first-year performance major from McAlester, Okla.; Mason Norton, a sophomore performance major from Bremen, Ind.; Kennedy Olson, a sophomore performance major from Porter, Texas; Lindsay Perr, a junior performance major from Medford, NJ.; Umbra Person, a sophomore performance major from Jonesboro, Ga.; Rylie Sudduth, a first-year performance major from Versailles, Ky.; Andrea Vargas, sophomore performance major from Missouri City, Texas; and Owen White, a first-year performance major from Valley Center, Kan.
Adult ticket prices are $20 and $18 for senior adults, UE employees, and non-UE students. UE students may obtain one free student rush ticket beginning at 12 p.m. on the day of the performance they wish to attend. In addition, UE Theatre is excited to continue their "Pay What You Will" initiative again this second season. Every Thursday evening performance in Shanklin Theatre is available for any person to pay any price that best fits their budget. Single tickets may be purchased online at theatre.evansville.edu or by calling the ticket office at 812.488.2031, Monday through Friday, 12:00 to 5:00 p.m.
Submitted by Sharla Cowden sc75@evansville.edu
Celebrate First-Generation Day at Ace Scholars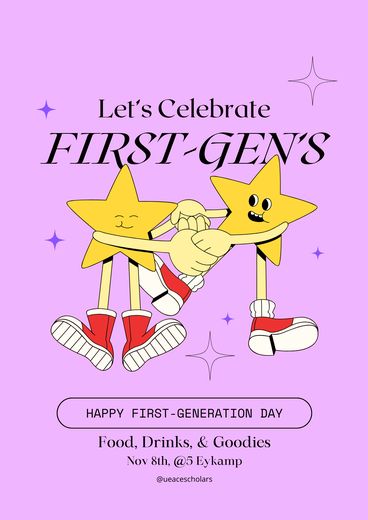 Ace Scholars welcomes students, professors, staff, and administrators to celebrate National First-Generation College Day on November 8, 2023! The event will occur on November 8, 2023, at 5 p.m. in Eykamp. This is a wonderful chance to network with other first-generation college students, faculty, and staff. There will be free food, music, and games present at this event, so bring a friend and have a good time!
Submitted by Trinitie Terrell tt141@evansville.edu
Trashcan and Table/Chair Reservations for Campus Events
If you need extra trashcans brought in for campus events, please submit this request through a work order. This may be combined with a table and chair request. Please complete the following to ensure your campus event setup occurs as desired.
Submit a work order request. In the Work Requested box, include ATTENTION MOVERS, the drop-off location, date, time, contact person, # of 8' rectangular tables, chairs, trashcans, time of the event, and pick-up date and time. These items will be dropped off and picked up. Set-up is only provided when specifically requested with details of the setup request (table/chair arrangement).
Location, sprinklers/irrigation, and electrical needs should be considered in scheduling an event.
Moving Services requires at least 10 working days of advanced notification so we can schedule accordingly. If request is submitted less than 10 working days, it is less likely we will be able to provide you with items needed.
Reserve space in Resource Scheduler.
Please note, if you desire a different length or shape of folding table, arrangements will need to be made with an outside rental company. Facilities Management can make these arrangements on your behalf. Please allow for a longer lead time. Once notified of your request, we will contact a rental a company to obtain a quote. The rental order will not be placed until you approve the amount and provide an account number for the charge.
Please let us know if you have any questions or concerns.
Mike Averett
Executive Director, Facilities Management and Planning
Submitted by Karen McDonald km598@evansville.edu
UE Opera Program Receives Large Grant
The Music Conservatory is pleased to announce that UE Opera has received a $25,000 grant from the William E. Schmidt Foundation in support of their program and outreach efforts. Included in this grant is funding for the Schmidt Opera Series for productions on campus as well as the Schmidt Opera Collaborative which provides outreach and education to the tri-state community. In addition, the grant will allow for the continuation of Community Conservatory Study Grants which provides lessons for area students who could not otherwise afford private study. UE Opera is under the direction of Dr. Alanna Keenan with additional instruction from Dr. Dennis Malfatti and Dr. Gregory Rike.
Submitted by Dennis Malfatti dm155@evansville.edu
All bookstore student accounts CLOSED- including athletes
Hi Aces!
This is a reminder that all student accounts for books for the Fall 2023 semester are closed.
This also includes accounts for athletes on book scholarships. These accounts have been closed anywhere from two months to two weeks now.
All book adoptions were turned in to give plenty of notice to students about required course materials prior to the start of the semester. Thank you.
Submitted by Niamh Steffens ss837@evansville.edu
Connect with Nonprofit Organizations in SOBA
All students are invited to attend two upcoming events to connect with area nonprofit organizations: a panel of nonprofit leaders happening on Tuesday, November 14 at 12:20 - 1:10 in SB170 and a nonprofit fair happening on Thursday, November 16, 12:20 - 1:10 in the SOBA Atrium.
Panel Discussion: Are you driven by a desire to create positive change and make a lasting impact on the world? If you've ever considered a career in the nonprofit sector, this panel discussion is the perfect opportunity to gain valuable insights and inspiration from seasoned professionals who have turned their passion into action. Join us for an engaging and enlightening panel discussion featuring distinguished individuals with extensive experience in various nonprofit organizations. Our panelists come from diverse backgrounds and have successfully channeled their passion for social causes into meaningful careers. They will share their personal journeys, challenges, and triumphs, offering an authentic glimpse into the rewarding world of nonprofit work.Whether you're already passionate about a particular cause or are simply curious about the potential of nonprofit work, this event will provide you with the guidance and motivation to take the first step toward transforming your passion into a fulfilling career. Lunch will be provided for those who register in advance; please RSVP by November 10 by emailing Megan Conapinski at mt263@evansville.edu. Tuesday, November 14 at 12:20 - 1:10 in SB170
Nonprofit Fair: This career fair style event is the perfect opportunity to connect with nonprofit organizations and learn about volunteer, internship, and job opportunities in the Evansville area. Lunch will be provided for those who register in advance; please RSVP by November 10 by emailing Megan Conapinski at mt263@evansville.edu. Thursday, November 16, 12:20 - 1:10 in the SOBA Atrium.
Submitted by Megan Conapinski mt263@evansville.edu
Changes in University Advancement
University Advancement is proud to announce our new hires and position changes!
---
Chelsi Moore joined the University Advancement team as a Major Gifts Officer in July of 2023.
Before joining the UE team, Chelsi was a realtor with FC Tucker Emge, the Chief Development Officer for Ronald McDonald Charities, and Director of Marketing & Development for the Evansville Philharmonic. Chelsi is a fitness enthusiast and is training for an Ironman. She is married to her husband, Pete, and they have a 5 year-old future Ace, Henry.
---
Rachael Stephens Burt '96 returns to the University Advancement team as a Major Gifts Officer living and working in the Indianapolis area. Rachael has 20+ years of experience as a non-profit professional serving in various capacities related to fundraising, and fostering relationships that further community and constituent support. She's held positions at Butler University, Ballet Internationale and the University of Evansville.
Rachael enjoys spending her free time volunteering for various Central Indiana organizations including Carmel United Methodist Church, St. Margaret's Hospital Guild, Guerin Catholic High School and Carmel FC Soccer Club. Rachael and her husband, Robert, have two teenage children and two rescue dogs.
---
Carrie Ziglar joined the University Advancement team as the Administrative Assistant for Major Gifts.
Carrie has held many roles in higher education over the past 33 years including University Registrar, Associate Director for Adult and Continuing Education, Dean of Students and most recently Executive Director for Student Success with the University of West Georgia.
She is a native of West Virginia. Carrie and her husband, Toby, have six children, and nine grandchildren.
---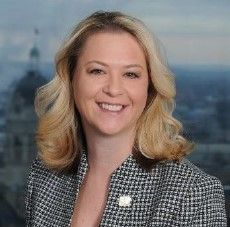 Kelly Gates '99 joined the University Advancement team as the Athletics Major Gift Officer. Kelly is an Evansville native and joins the University after a 30 year career at Fifth Third Bank where she served as a member of the Private Bank team. Kelly has been impactful with her community service, having served on several community boards, Reitz Home, Evansville Philharmonic, Girl Scouts and Mesker Park Zoo. She is also a sustaining member of the Junior League of Evansville. Kelly has had several volunteer roles here at the University: Theatre Society, Board of Visitors and Athletic Directors Council.
Kelly and her husband, Don Shymanski, have four children and enjoy spending their time traveling.
---
Tyler White '14 M'18 has worked in University Advancement since 2015, most recently serving as the Assistant Director of Annual Giving. Having transitioned to the role of Major Gifts Officer in April, he is deeply honored to represent the university in its relationships with the amazing people who engage in philanthropy and give of themselves to make UE such a special place.
As an Evansville native, two-time alumnus, and proud member of the Ace CARE External Advisory Board, Tyler is eager to facilitate and inspire powerful change in his hometown and beyond.
---
Megan McCombs M'21 has been with UE for 5 years. She began her time here as the Sr. Administrative Assistant for Alumni and Parent Relations and was most recently the Assistant Director of Alumni and Engagement.
She graduated from Western Kentucky University with a BA in Advertising and completed her Master of Public Service Administration from UE in 2021. She lives in Evansville with her husband Chad and their three children Henry, Heidi, and Hurley.
---
Morgan Lamberton joined the Alumni and Engagement team in July 2021 as the Assistant Director of Volunteer Engagement. Morgan quickly found her spot on UE's campus, identifying ways to collaborate and bring campus together.
She is excited to take on this new role as Assistant Director of Alumni and Engagement, making more connections and continuing to welcome alumni back home. She holds a Bachelor of Social Work and a Master of Arts in Student Affairs Administration in Higher Education from Ball State University.
---
Ayana Blair has changed roles and is now the Corporate and Foundation Relations Officer. Working with Sylvia DeVault, Ayana facilitates and manages philanthropic engagement with corporate, foundation, and government constituents. She joined UE in March 2020 as a Major Gifts Officer. Prior to her time at the University, Ayana spent more than 20 years in major gift fundraising. She served as the Director of Resource Development for the United Way of Southwestern Indiana, the Executive Director of Development for Ivy Tech Community College, and Asst. Director of Development for the University of Southern Indiana. In addition, Ayana served in various roles during her 15-year tenure at Miami University. These roles included Assistant Director of Development for the Libraries, Director of Development for the College of Arts and Science, and Director of Regional Development.
---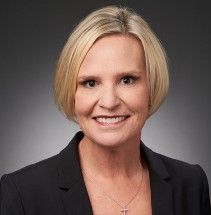 Dina Willming '94 is transitioning from the Center for Innovation and Change to join University Advancement as the Alumni and Engagement Coordinator. Dina is a lifelong resident of Evansville graduating from Memorial High School and U of E. After graduating from UE she worked in the field of Huan Resources for five years. She joined the Center for Innovation and Change in November of 2021.
She and her husband Greg have five children. They are a busy family that loves to spend time outdoors and travel. We are excited to have Dina join the University Advancement team.
Submitted by Carrie Ziglar cz52@evansville.edu
Staff and Administrators Assembly Book Club read for November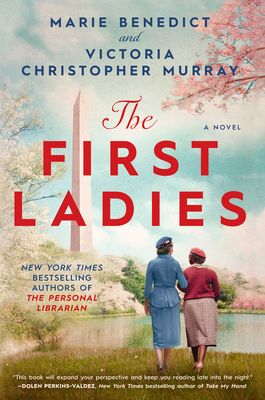 SAA Book Club Read for November
The First Ladies by Marie Benedict and Victoria Christopher Murray
This is a historical fiction novel about the extraordinary partnership between First Lady Eleanor Roosevelt and civil rights activist Mary McLeod Bethune - an unlikely friendship that changed the world, from the New York Times bestselling authors of the Good Morning America Book Club pick the Personal Librarian.
Book Club will meet the Wednesday after Thanksgiving (Nov 29th) in the Phillips Alcove at 12noon to discuss the book. Feel free to bring your lunch and join in the discussion.
Submitted by Katherine Taylor ks6@evansville.edu
On-Site COVID Vaccine Appointment Registration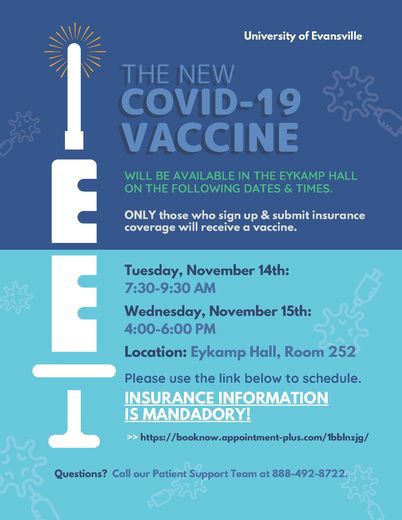 COVID Vaccines will be available for employees & students in the Eykamp Hall (Room 252) on the following dates & times. Multiple appointments will be available per 15-minute time slot.
-- Tuesday, November 14th: 7:30-9:30 am
-- Wednesday, November 15th: 4:00-6:00 pm
ONLY those who sign up & submit insurance coverage will receive a vaccine. INSURANCE INFORMATION IS MANDATORY AT SIGN-UP! Sign-ups will close on November 8th.
Please be sure to download, print, and complete the vaccine consent form: LINK TO FORM ON ACELINK
Use this link to schedule: https://booknow.appointment-plus.com/1bblnzjg/
Submitted by Taylor Kollak tk148@evansville.edu
We want YOU to be an Ace of UE
Students and faculty,
The Office of Marketing is looking to add new profiles to our Aces of UE webpage. You may also notice this section on our homepage. Aces of UE is a collection of stories from current students, alumni, and faculty members from across all majors. In these profiles, students and alumni share why they chose UE, what has made their experience so unique, and more.
If you are interested in sharing your UE story please visit the link and fill out our Aces of UE questions! We look forward to learning about your Ace experience.
https://uesurvey.evansville.edu/TakeSurvey.aspx?SurveyID=86LK7n6K#
Submitted by Abigail Perry ap445@evansville.edu
Proposal for Summer Camps 2024
If you are interested in having a camp during Summer 2024, please complete the proposal form. All proposals are due by Tuesday, November 21, and will then be reviewed by the Camp Proposal Committee. After review, the Committee will contact you with the next steps. Compensation is available.
If you have any questions or inquiries, please contact the Office of Youth Programs at 812.488.3440 or youthprograms@evansville.edu.
Submitted by Rachel Roscoe rr209@evansville.edu
Apply for Harlaxton Summer and Fall 2024
Applications are open now for Harlaxton for the Fall 2024 semester and Summer 1 and 2 2024 terms! If you have worked with your advisor on planning for one of these upcoming terms at our amazing manor, now is the time to get your application in. The application process is simple and all online, and you can find details on the Harlaxton website: https://college.harlaxton.co.uk/programs. Feel free to contact the team if you have any questions at harlaxton@evansville.edu!
Submitted by Kaylynn McCalister kc205@evansville.edu
Save the date: Harlaxton is coming to Ridgway
Save the date: Harlaxton is coming to Ridgway!
On November 16 from 2:00 - 4:00 p.m. the Dean of Harlaxton, Holly Carter, will be on campus.
She will be showing students and staff Harlaxton's new brand and handing out stickers (while supplies last)!
Mark your calendars so you don't miss this exciting event!
Submitted by Abigail Perry ap445@evansville.edu
Phillip and Hernandez earn postseason All-MVC honors
Two members of the University of Evansville men's soccer team have been honored with postseason awards by Missouri Valley Conference Head Coaches.

Senior forward Kai Phillip and freshman midfielder David Hernandez were recognized for their play in the 2023 season for the Purple Aces by the MVC. Leading UE on offense, Phillip earned a spot on the All-Conference First Team after being named to the Second Team only a year ago. Hernandez finished his first season with Evansville as a consistent starter and stalwart for the middle four while being the Aces go-to for corner kicks on the right side.

This season, Phillip led UE in most statistical categories including goals (10), points (21), shots (36), shots on goal (17), and games started (16). At the end of the season, the forward ranked 28th in the nation in goals per game and 3rd in the Missouri Valley Conference, averaging 0.62 goals a game. He also was top of the Valley in goals and points, sitting third behind MVC Player of the Year Dylan Sing and All-Conference First Team selection Charlie Sharp. Phillip was also only one of six players in the Valley to have multiple braces during the season. Phillip scored two goals in a match against both Southern Indiana and Northern Illinois.
Hernandez in his first season with the Purple Aces played in all but one game and started 73% of the time. For the season, the midfielder recorded one goal against UIC and tallied three assists over the course of 15 games. Hernandez was sixth in minutes played for Evansville with 1,000 minutes on the pitch and led all freshmen and newcomers on UE's roster.
Submitted by Athletics
Aces women's basketball drops first game to Lipscomb 77-58
The University of Evansville women's basketball team faced a tough test in its first game of the season in a 77-58 loss to the Lipscomb Bison.

Competing against a team that returned all its leading scorers, the Purple Aces held the Bison below their 2022-23 average in the first half on Tuesday night. UE's standout player was sophomore guard Kynidi Mason Striverson scoring 13 points with four rebounds, four assists, and six fouls drawn. Graduate student center Barbora Tomancova also made it to double figures with 10 points and led Evansville in rebounds with six.

"I thought in the first half especially we got good shots but we just didn't make them," said Head Coach Robyn Scherr-Wells following the game. "We had opportunities and we were getting more looks, we just didn't quite capitalize on them. There were some things defensively that we didn't do well that were part of our game plan. We knew some of the things that they were going to do and we just didn't execute well enough on the defensive end of the floor.

"So you put together not making enough shots when getting good looks with a few too many easy buckets down the middle of the floor. It just made for a tough night. We just need to clean some things up. But there are still enough positives for us to take from that game. I think we grew in our offensive chemistry and flow. We just didn't make enough shots but I still think we had some positives on offense."

It was a back-and-forth game early between the Aces and Lipscomb with three buckets in the first minute. The lead changed four times in the first eight minutes with UE having their largest lead out of the media timeout with under three minutes to go. Evansville took the lead on a jump shot from forward Celine DuPont while Tomancova made a jump shot off a turnover two minutes later. But a six-point run gave the Bison the lead for the rest of the quarter. Mason Striverson ended the first on offense for the Aces making two free throws for only a four-point deficit.

UE struggled early in the second as Lipscomb made the first two baskets in two minutes. An early timeout for Evansville provided some life with a quick second-chance layup from Tomancova. But brief interruptions from the Bison made it difficult for Evansville to get a rally going. The Aces excelled at the line in the second quarter making four shots in two trips early to keep Lipscomb within single digits. But eight points from the Bison to close out the first half had UE down by 14 after 20 minutes.

Evansville's defense began to click in the second half, keeping Lipscomb from making any sort of run down the stretch of the third quarter. With a double-digit deficit, the Aces tried to match the Bisons shots but couldn't get more than a four-point run going at any one time. UE did close out the quarter on a run, making it only a 14 point game with 10 minutes left on the clock.

In the final frame, Evansville had its best offensive quarter of the night making eight of its 14 shots. This included a six-point run early in the quarter from the Aces posts players. But Lipscomb responded with a six-point run of their own, making it an almost 20 point game. Another brief run from the Bison put the game out of reach for UE, ending the game in a 77-58 loss.

Overall the Aces were 22 of 26 from the floor for 34.9% shooting while excelling at the charity stripe missing only one free throw. Evansville saw plenty of production from its bench with non-starters scoring 21 of UE's 58 points. On defense, the Aces pulled down 36 boards with six steals and three blocks while having nine assists on the offensive side of the ball.
Evansville faces its first true road test of the season this weekend. The Aces make the trip over the border to Edwardsville, Ill. to take on the SIUE Cougars. Tip-off from First Community Arena is set for 1 p.m. on Saturday, Nov. 12.
Submitted by Athletics
Aces women's basketball begins the 2023-24 season against Lipscomb
Evansville kicks off the 2023-24 season with an opponent it hasn't seen in over a decade. UE welcomes Lipscomb to Evansville for the first time since 2008 for the opening game of the season. The Aces have a new-look team going into 2023-24. With 10 newcomers, Head Coach Robyn Scherr-Wells has multiple options in her rotations on the floor. Starters for the exhibition game on Thursday included returners Kynidi Mason Striverson and Celine Dupont along with newcomers Nevaeh Thomas, Julia Palomo, and Alana Stiverson.
The Aces were able to hold on for a gritty exhibition game win against RV Oakland City on Thursday. In Evansville's tune-up for the regular season, newcomer Nevaeh Thomas exploded for a 27-point and 15-rebound stat line to lead UE. The Aces also had a double-digit performance from Mason Striverson with 15 points and two steals.

UE last faced the Lipscomb Bison in 2009 at their home arena in Nashville. Evansville has not lost a game to the Bison in their short four-game series. UE will look to defend their perfect record against Lipscomb on Tuesday night in a very different world of college basketball.
The Bison come into Tuesday's opener after one of their best seasons in program history. During the 2022-23 season, Lipscomb tied the program record for wins at 20. The Bison were picked to finish second in the ASUN Preseason Coaches and Media Poll while three players earned themselves a spot on the Preseason All-ASUN Team.
Submitted by Athletics
Humrichous' 21 points lifts Aces past RedHawks in opener
Ben Humrichous led the way with 21 points as the University of Evansville men's basketball team opened the season with a 72-64 victory over Miami Ohio at the Ford Center.
Limited to just three points in the first half, Humrichous erupted for 18 points in the second half. He connected on four of his six outside tries while adding eight rebounds and three assists. Joshua Hughes started his freshman campaign with 12 points and seven rebounds. Yacine Toumi was third Purple Aces player to reach double figures, scoring 10 on a 5-of-9 shooting game. Darweshi Hunter tied for the top scoring total with 21 points. He drained six of his eight 3-point tries.
"It comes down to getting stops. We went through a stretch where we got some big stops and turned them into points," UE head coach David Ragland said after the win. "Our depth, size and conditioning caught up to Miami and really helped us. Forcing 19 turnovers and getting to the free throw line 30 times were big for us. We are happy to be 1-0."
Cam Haffner connected from downtown in the first possession before converting a layup to make it a 5-0 lead for the Aces. Miami came right back with five in a row to tie it up before taking their first lead of 8-7 just over four minutes into the game. Yacine Toumi's first basket of the night gave the lead back to UE on the ensuing possession.
Over the course of the first half, the squads exchanged the lead on nine occasions. Neither team led by more than one possession until the late moments of the period. After Joshua Hughes converted three free throws to put Evansville in front by a 23-22 score at the 7-minute mark, the RedHawks scored seven in a row to open a 29-23 edge with 4:42 remaining.
Antonio Thomas ended the Miami run before Haffner forced a steal and found Toumi on the outlet pass to make it a 1-possession game once again less than a minute later. MU overcame the rally by Evansville and held a 34-32 lead at the break. Darweshi Hunter hit four triples in the opening stanza to lead all scorers with 13 points. The RedHawks shot 61.9% in the half with UE finishing at 43.5%.
Kenny Strawbridge Jr. grabbed a loose ball and nailed a 3-pointer to get his squad within one at 38-37 in the opening moments of the second half, but the hot shooting for Miami continued with back-to-back triples giving them their largest lead of seven points just over a minute later. Ben Humrichous ended the stretch with a 3-point play and Haffner once again connected with Toumi on a dunk to cut the deficit to two inside of the 16-minute mark.
Two more triples by MU extended their lead to a game-high eight points at 52-44 with 12:47 remaining in the game. Facing its largest deficit of the night, the Aces stormed back with Ben Humrichous doing the damage. Back-to-back triples along with a pair from inside the arc highlighted a 12-0 run over the next four minutes as UE went back up by four.
Miami got back within one on two occasions, but Evansville kept up the pressure. Joshua Hughes connected on a layup to open a 7-0 run to push the advantage to 65-57 with 4:14 remaining. UE led by as many as nine in the final minutes and clinched the win by a final score of 72-64.
"Our scout team really made us ready to win tonight," Ben Humrichous exclaimed. "The group that we have is a tough group but a very connected group. We knew we had plenty of time to come back and we were able to put it together and work as a team."
Evansville's defensive effort was crucial in the final 20 minutes. Miami hit 7 of its opening 11 attempts in the period before the Aces defense held them to just 5-of-20 in the final 12 minutes. MU finished with the night at 48.1% while the Aces shot 45.1%.
On Thursday, the Aces return to the floor to face UHSP at 7 p.m. inside the Ford Center.
Submitted by Athletics
Contribute to AceNotes
To have content considered for inclusion in AceNotes, please submit a Marketing Request Form. Deadline for submission to AceNotes is 10:00 a.m. on the requested date of publication. Only articles concerning UE related/sponsored activities will be accepted. Articles submitted to AceNotes may be edited for length and clarity. Submitter contact information is at the end of each article.