| | |
| --- | --- |
| PurplePulse | Monday, November 6, 2023 |
2023 Holiday Schedule
The University of Evansville will be closed during the holidays to allow our employees to enjoy this special time with their families.
The following November – December holiday schedule will be observed:
Thanksgiving Holiday
Closed Wednesday, November 22 through Friday, November 24
Offices reopen on Monday, November 27
Winter Holiday Break
Closed Thursday, December 21 through Tuesday, January 2
Offices reopen on Wednesday, January 3
Submitted by Noah Alatza na122@evansville.edu
Award-Winning Author to Speak on Campus November 13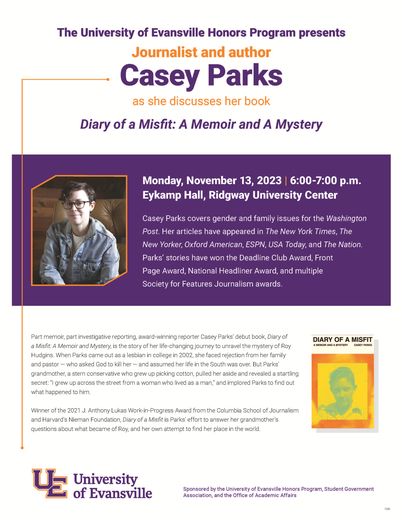 The campus community is invited to attend the Honors Program common read speaking event, a presentation by author Casey Parks, on Monday, November 13 at 6:00pm in Eykamp Hall. Ms. Parks will be discussing her book, Diary of a Misfit: A Memoir and a Mystery, which was the common read for Honors Program freshmen this year.
We hope you will join us for this enlightening presentation. If you'd like to read Diary of a Misfit in advance, copies are on reserve at the library.
Submitted by Jayme Williams jw504@evansville.edu
TIAA Employee Retirement Counseling Sessions
The TIAA representative will be back on campus two more dates this semester for individual counseling sessions. To schedule an appointment for November 16 or December 6, please register for a session at www.tiaa.org/schedulenow or call 1-800-732-8353.
Submitted by Lori A LeDuc ll138@evansville.edu
Faculty Recital - Steinsultz and Zifer
November 7, 2023
7:30 p.m.
Wheeler Concert Hall
The UE Music Conservatory presents a faculty recital featuring Professor of Music Ken Steinsultz on euphonium and Professor of Music Timothy Zifer on trumpet. The concert will feature works by Steven Shewan, Donald H. White and Eduardo Boccalari. They will be joined on stage by Professor Anne Fiedler on piano, Consortium Instructor Ross Erickson on percussion, Consortium Instructor Rebecca Salo on horn and Adjunct Instructor Kristin Jones on piano.
Submitted by Mary Beth Deig md334@evansville.edu
Pulitzer Prize Winner to Deliver Fiddick Lecture Friday
Pulitzer Prize-winning Harvard University Historian Fredrik Legevall will mark the 60th Anniversary of the JFK Assassination by delivering the 2023 Fiddick Lecture on "John F. Kennedy and the Promise of Democracy" The Lecture will be in Eykamp Hall in the Ridgway University Center at UE on Friday November 10 at 7pm. The event is free and open to the public.
Dr Fredrik Logevall is the Laurence D. Belfer Professor of International Affairs and Professor of History at Harvard University. He is a specialist in U.S. politics and foreign policy. He won the 2013 Pulitzer Prize for History for his book Embers of War: The Fall of an Empire and the Making of America's Vietnam. His most recent book, JFK: Coming of Age in the American Century, 1917-1956 (2020), was a New York Times Notable Book of the Year. It has been called "An utterly incandescent study of one of the most consequential figures of the twentieth century" and "a powerful, provocative, and above all compelling book."
"For over twenty years, the Fiddick Lecture has been one of the best events of the year, as we get to celebrate the career of a truly outstanding faculty member here at UE," said Dr James MacLeod, Director of the Lecture Series. "Tom Fiddick was a brilliant scholar and an incredible teacher who made a life-transforming impact on generations of students."
Submitted by James MacLeod jm224@evansville.edu
Save the Date for MLK Day Events – Join Us in Commemorating Dr. Martin Luther King, Jr.
As we approach the commemoration of Dr. Martin Luther King, Jr.'s legacy, we are excited to announce several significant events that honor his contributions to civil rights, justice, and equality. Please save the dates and mark your calendars to join us in these meaningful activities.
UE MLK Day of Service on Saturday, January 13
Faith-based Service: Monday, January 15, 2024
MLK Day Rally and Symbolic March: Monday, January 15, 2024
The 2024 William G. and Rose M. Mays Lectureship and Luncheon: Wednesday, January 17, 2024
Unity Conference: Saturday, January 20, 2024
Additional details will be provided as we get closer to the date
Submitted by Noah Alatza na122@evansville.edu
2023 Advent Candlelight Vespers Service
It's the Most Wonderful Time of the Year!
In conjunction with the Winter On Walnut event, the Office of Religious Life, the Music Conservatory, and the Center for Diversity, Equity, and Inclusion are hosting the 75th Advent Candlelight Vespers service.
Here are some of the details:
Day/Date: Friday, December 1, 2023
Time: 7:00 p.m.
Location: Neu Chapel
Let us know if you want to serve as a door greeter, reader, or usher for the program by responding to Center4DEI@evanville.edu.
Submitted by Kaylee LeDuc kl170@evansville.edu
Jonpaul Smith Exhibit Opens October 30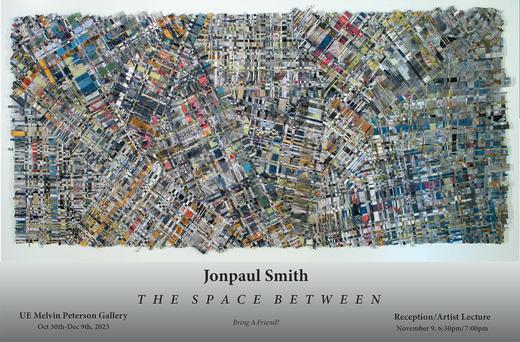 Efroymson Artist in Residence, Jonpaul Smith, and the UE Department of Art present THE SPACE BETWEEN from October 30 - December 9. Please join us for a public reception and artist lecture on Thursday, November 9 at 6:30pm in the Melvin Peterson Gallery.
Gallery hours are Mon, Tue, Fri & Sat 12:00pm - 3:00pm; Wed & Thu 12:00pm - 6:00pm.
Submitted by Carol McCraney cm177@evansville.edu
University of Evansville Theatre Presents RENT
The University of Evansville Theatre announces the second installment of the 2023–2024 season with RENT, book, music and lyrics by Jonathan Larson. This production opens at 7:30 p.m., Friday, Nov. 10, in Shanklin Theatre. Additional performances are at 7:30 p.m., on Nov. 11, 16, 17, 18 and at 2:00 p.m., on Nov. 19. Winner of the Pulitzer Prize for Drama, an Obie Award, and the Tony Award for Best Musical in 1996, this iconic rock musical shaped a generation of audiences and is being performed for the first time in Shanklin Theatre. Loosely based on Puccini's La Boheme and set in New York's Lower East Side, this fast-paced musical follows a year in the life of a group of destitute young artists struggling to survive and stay true to their creative ambitions, all under the daunting shadow of the HIV/AIDS epidemic. This exuberant American rock opera is a pop-cultural phenomenon not to be missed!
RENT is directed by Assistant Professor Wes Grantom '03. Tyler Simpson, guest artist, serves as the music director; Avery Finn, a senior theatre studies major from Terre Haute, Ind., is the choreographer and costume designer; Jason Simms, guest artist, serves as the scenic designer; Avery Reagan '17, guest artist, is the lighting designer; Jon Robertson, guest artist, serves as the sound designer; Morgan Bailey, a senior stage management major from Keller, Texas, is the stage manager, and Lily Rehberg, a senior design and technology major from Dalton, Ga., is the technical director.
The cast features Landry Barker, a sophomore performance major from Fort Worth, Texas, as Roger; Antonio Cortés Román, a sophomore performance major from Metepec, Mexico, as Angel; Tomi Akinwande, a sophomore performance major from Houston, Texas, as Mimi; Spencer Marfy, a senior performance major from Tallmadge, Ohio, as Mark; Drake J. Susuras, a senior performance major from Broomfield, Colo., as Tom; Alijah J. Roberson, a sophomore performance major from Marietta, Ga., as Benny; Alyssa Meadows, a sophomore performance major from Louisville, Ky., as Maureen; Brynna Waters, a junior performance major from Brownsburg, Ind., as Joanne; The ensemble includes: Dinarri Cox, a first-year performance major from Woodstock, Ga.; Bailey Crawford, a first-year performance major from Frisco, Texas; Ben Lodge, a first-year performance major from ­Overland Park, Kan.; Quinn McGaugh, a first-year performance major from McAlester, Okla.; Mason Norton, a sophomore performance major from Bremen, Ind.; Kennedy Olson, a sophomore performance major from Porter, Texas; Lindsay Perr, a junior performance major from Medford, NJ.; Umbra Person, a sophomore performance major from Jonesboro, Ga.; Rylie Sudduth, a first-year performance major from Versailles, Ky.; Andrea Vargas, sophomore performance major from Missouri City, Texas; and Owen White, a first-year performance major from Valley Center, Kan.
Adult ticket prices are $20 and $18 for senior adults, UE employees, and non-UE students. UE students may obtain one free student rush ticket beginning at 12 p.m. on the day of the performance they wish to attend. In addition, UE Theatre is excited to continue their "Pay What You Will" initiative again this second season. Every Thursday evening performance in Shanklin Theatre is available for any person to pay any price that best fits their budget. Single tickets may be purchased online at theatre.evansville.edu or by calling the ticket office at 812.488.2031, Monday through Friday, 12:00 to 5:00 p.m.
Submitted by Sharla Cowden sc75@evansville.edu
Celebrate First-Generation Day at Ace Scholars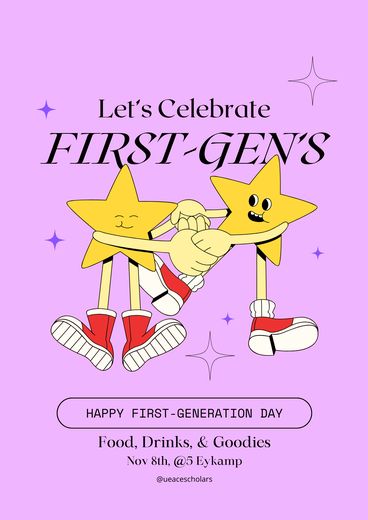 Ace Scholars welcomes students, professors, staff, and administrators to celebrate National First-Generation College Day on November 8, 2023! The event will occur on November 8, 2023, at 5 p.m. in Eykamp. This is a wonderful chance to network with other first-generation college students, faculty, and staff. There will be free food, music, and games present at this event, so bring a friend and have a good time!
Submitted by Trinitie Terrell tt141@evansville.edu
Basham - Allaire Exhibit in Krannert Gallery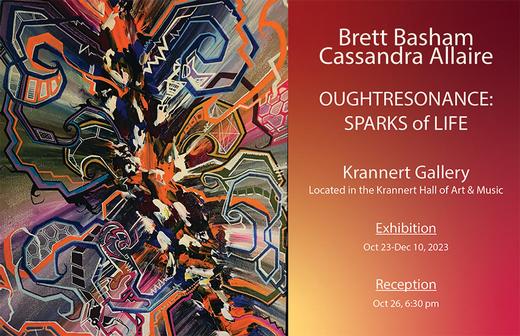 OUGHTRESONANCE: SPARKS of LIFE, a collaboration by artists Brett Basham and Cassandra Allaire, will be exhibited in the Krannert Gallery from October 23 through December 10.
Please join us for the artists reception on Thursday, October 26 at 6:30 p.m. in the Krannert Gallery.
Submitted by Carol McCraney cm177@evansville.edu
We the People Volunteers Needed
UE is once again proud to host the Southern Regional Competition for We the People: The Citizen & the Constitution. On Wednesday, 11/8, we will welcome 8 schools (both high school and middle school) to campus as they work to earn a place at Indiana's State Finals. We need volunteers for the following shifts. If interested and available, email Dina Willming at dw285@evansville.edu. No experience needed for any shift!
Shift 1: 8:30am - 9:45am - Greeter (4 needed): Stand outside SOBA on the circle and Rotherwood sides, welcome the teams as they arrive and help them get to their classrooms. Purple UE scarf provided (must be returned), UE casual attire.
Shift 2: 8:45am - noon. Judges' Facilitator (6 needed): Serve as a guide for a panel of judges, getting them from room to room on time. Business casual attire recommended.
Shift 3: 11:30am - 12:00pm (8 needed): Lunch guide. Stand outside their hearing rooms as they finish their rounds, then guide them to Eykamp Hall, Ridgway University Center for lunch. Serving as an Ambassador for UE on the way. UE casual attire.
Submitted by Andrew Carter ac116@evansville.edu
Spring Meal Plan Changes
Students can adjust meal plans for the Spring semester until Friday, January 12, 2024 at 5:00 p.m.
Submitted by Brian Conner bc32@evansville.edu
Connect with Nonprofit Organizations in SOBA
All students are invited to attend two upcoming events to connect with area nonprofit organizations: a panel of nonprofit leaders happening on Tuesday, November 14 at 12:20 - 1:10 in SB170 and a nonprofit fair happening on Thursday, November 16, 12:20 - 1:10 in the SOBA Atrium.
Panel Discussion: Are you driven by a desire to create positive change and make a lasting impact on the world? If you've ever considered a career in the nonprofit sector, this panel discussion is the perfect opportunity to gain valuable insights and inspiration from seasoned professionals who have turned their passion into action. Join us for an engaging and enlightening panel discussion featuring distinguished individuals with extensive experience in various nonprofit organizations. Our panelists come from diverse backgrounds and have successfully channeled their passion for social causes into meaningful careers. They will share their personal journeys, challenges, and triumphs, offering an authentic glimpse into the rewarding world of nonprofit work.Whether you're already passionate about a particular cause or are simply curious about the potential of nonprofit work, this event will provide you with the guidance and motivation to take the first step toward transforming your passion into a fulfilling career. Lunch will be provided for those who register in advance; please RSVP by November 10 by emailing Megan Conapinski at mt263@evansville.edu. Tuesday, November 14 at 12:20 - 1:10 in SB170
Nonprofit Fair: This career fair style event is the perfect opportunity to connect with nonprofit organizations and learn about volunteer, internship, and job opportunities in the Evansville area. Lunch will be provided for those who register in advance; please RSVP by November 10 by emailing Megan Conapinski at mt263@evansville.edu. Thursday, November 16, 12:20 - 1:10 in the SOBA Atrium.
Submitted by Megan Conapinski mt263@evansville.edu
Staff and Administrators Assembly Book Club read for November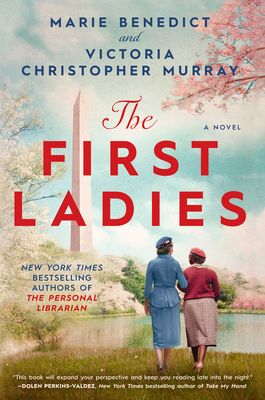 SAA Book Club Read for November
The First Ladies by Marie Benedict and Victoria Christopher Murray
This is a historical fiction novel about the extraordinary partnership between First Lady Eleanor Roosevelt and civil rights activist Mary McLeod Bethune - an unlikely friendship that changed the world, from the New York Times bestselling authors of the Good Morning America Book Club pick the Personal Librarian.
Book Club will meet the Wednesday after Thanksgiving (Nov 29th) in the Phillips Alcove at 12noon to discuss the book. Feel free to bring your lunch and join in the discussion.
Submitted by Katherine Taylor ks6@evansville.edu
Important Updates to Stationery Orders
Effective immediately, the Office of Marketing is shifting from Marcom to Lytho for all stationery requests (e.g., letterhead, business cards, envelopes). Lytho offers a more streamlined and user-friendly experience, and UE has been using this service for over one year now. To make a request, simply log in with your University credentials, navigate to "Requests" from the left-hand menu, select "Add Request" in the upper-right corner, and follow the prompts. If you need any assistance, please contact Abigail Perry at ap445@evansville.edu.
Submitted by Abigail Perry ap445@evansville.edu
2023-24 Student Consumer Information
The U.S. Department of Education requires universities to disclose consumer information to prospective and enrolled students, parents, and employees. This information is available on the University of Evansville website at https://www.evansville.edu/student-financial-services/student-consumer-information.cfm.
Questions may be directed to the Office of Student Financial Services at 800-424-8634, 812-488-2364, or studentfinancialservices@evansville.edu. A paper copy of this information is available upon request. Information included on the Consumer Information page:
Academic Programs
Accrediting and Licensing Agencies
Alcohol and Drug Policy/Prevention Programs
Athletics Program Participation Rates and Financial Support Data
Code of Conduct
Copyright Infringement Policy and Peer to Peer File Sharing Information
Cost of Attendance
Diversity – Student Body Diversity by Gender, Ethnicity, and Pell Grant Status
Emergency Response and Evacuation Information
Employment and Graduate School Information for Recent UE Graduates
Family Educational Rights and Privacy Act (FERPA)
Federal Student Financial Aid Penalties for Drug Law Violations
Financial Aid Credit Balance Refund Policy
Financial Aid Information
General Information
Graduation Rates by gender, race and ethnicity, and selected financial aid groups
Graduation Rates for General Student Body
Graduation Rates for Student-Athletes
Grievance and Complaint Procedures
Health Insurance Portability and Accountability Act (HIPAA)
Missing Person Protocol
Net Price Calculator
Program Closure Policy
Refund Policy and Return of Title IV Funds
Retention and Graduation Rates of Degree-Seeking, First-Time, Undergraduate Students
Satisfactory Academic Progress Policy
Security and Fire Safety Report
Services and Facilities for Students with Disabilities
Student Loan Forgiveness, Cancellation, and Discharge
Study Abroad
Teacher Preparation Accountability
Textbook Information
Transfer Policies on Credits that Transfer to UE
Transfer Articulation Agreement Partner Colleges
Vaccination Policies
Verification Policy
Veteran Information
Voter Registration Information
Submitted by Amy Sowders as560@evansville.edu
UE Participates in JobSpark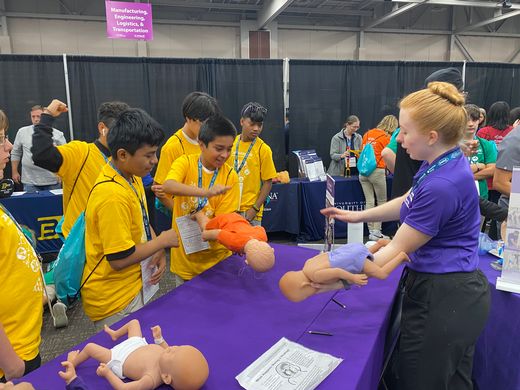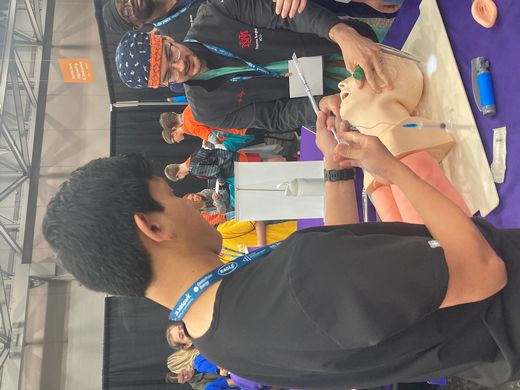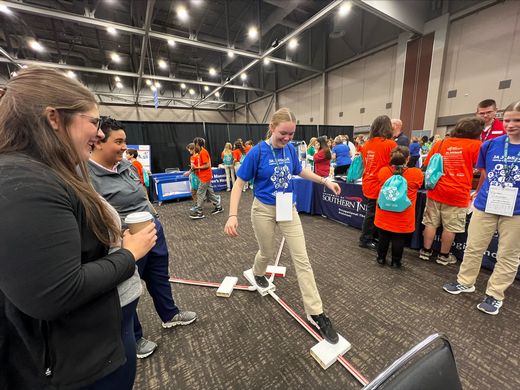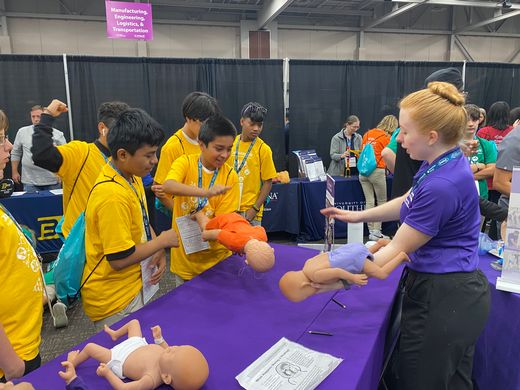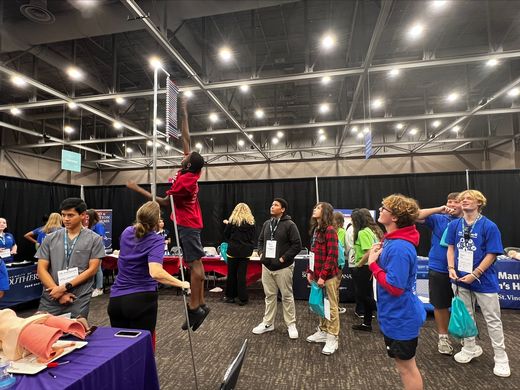 Junior Achievement of Southwestern Indiana sponsored JobSpark for eighth grade students from southwest Indiana and southeast Illinois on Tuesday and Wednesday, October 24 and 25. The event was held at the Old National Events Plaza. Over 4,100 students attended and took part in hands-on experiential activities designed to "spark" an interest in future career paths. UE was represented by over 20 faculty, staff, and administrators along with about 20 students from the Mathematics Department, Music Conservatory, Creative Technologies Major, School of Health Sciences, Doctor of Nurse Anesthesia Practice, Dunigan Family School of Nursing, Doctor of Physical Therapy, School of Engineering and Computer Science, and the Schroeder Family School of Business.
Thanks to everyone who took part to help "spark" an interest in the opportunities at UE!
Submitted by Paula Heldt ph28@evansville.edu
On-Site COVID Vaccine Appointment Registration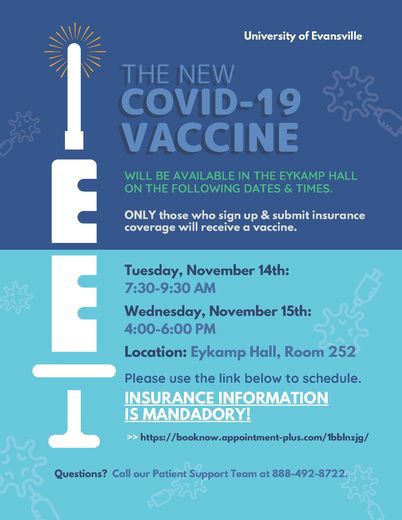 COVID Vaccines will be available for employees & students in the Eykamp Hall (Room 252) on the following dates & times. Multiple appointments will be available per 15-minute time slot.
-- Tuesday, November 14th: 7:30-9:30 am
-- Wednesday, November 15th: 4:00-6:00 pm
ONLY those who sign up & submit insurance coverage will receive a vaccine. INSURANCE INFORMATION IS MANDATORY AT SIGN-UP! Sign-ups will close on November 8th.
Please be sure to download, print, and complete the vaccine consent form: LINK TO FORM ON ACELINK
Use this link to schedule: https://booknow.appointment-plus.com/1bblnzjg/
Submitted by Taylor Kollak tk148@evansville.edu
We want YOU to be an Ace of UE
Students and faculty,
The Office of Marketing is looking to add new profiles to our Aces of UE webpage. You may also notice this section on our homepage. Aces of UE is a collection of stories from current students, alumni, and faculty members from across all majors. In these profiles, students and alumni share why they chose UE, what has made their experience so unique, and more.
If you are interested in sharing your UE story please visit the link and fill out our Aces of UE questions! We look forward to learning about your Ace experience.
https://uesurvey.evansville.edu/TakeSurvey.aspx?SurveyID=86LK7n6K#
Submitted by Abigail Perry ap445@evansville.edu
It's Not Too Late to Register for Winter Intersession Courses
Get ahead by taking Winter Intersession online courses. Complete a missing required course, lighten your spirng load, and take advantage of winter break. Classes are held from December 15, 2023 through January 5, 2024. Students may take one class and register when registering for spring classes starting October 30, 2023.
Learn more about Winter Intersession.
Winter Intersession Course List

| | | | | |
| --- | --- | --- | --- | --- |
| Subject | Number | Cr Hrs | Course Title | Instructor |
| ART | 105 | 3 | Introduction to the Visual Arts | Larmann |
| AT | 180 | 3 | Introduction to Athletic Training | Tilly |
| CHEM | 103 | 3 | Chemistry of Adult Beverages | Miller K. |
| EXSS | 150 | 3 | Introduction to Health Sciences | Laughbaum |
| EXSS | 320 | 3 | Nutrition for Performance Health | Miller W. |
| EXSS | 417 | 3 | Advanced Exercise Science | Miller W. |
| EXSS | 453 | 2 | Motor Learning | Wilson |
| EXSS | 488 | 1 to 4 | Internship | Miller W. |
| EXSS | 488 | 1 to 4 | Internship | Wilson |
| FIN | 280 | 3 | Introduction to Personal Finance | Brockman |
| HIST | 112 | 3 | World History 1500 - Present | MacLeod |
| MUS | 156 | 3 | Music in America | Strandberg |
| NEUR | 125 | 3 | Introduction to Neuroscience | Campese |
| PH | 190 | 3 | Introduction to Public Health | Patel-Dovlatabadi |
| PSYC | 121 | 3 | Introduction to Psychology | Campese |
| PSYC | 226 | 3 | Child and Adolescent Psychology | Hennon |
| PSYC | 229 | 3 | Social Psychology | McCracken |
| PSYC | 450 | 3 | Learning | Campese |
| QM | 227 | 3 | Introduction to Statistics | Khormali |
| SOC | 105 | 3 | Introduction to Sociology | Plikuhn |
| SOC | 230 | 3 | Social Problems in the Modern World | Plikuhn |
Submitted by Paula Heldt ph28@evansville.edu
Aces fall to conference leaders in weekend finale
Extended runs in each set proved to be the difference with Northern Iowa picking up a 3-0 win over the University of Evansville volleyball team on Saturday evening at the McLeod Center.
Giulia Cardona and Melanie Feliciano recorded 9 and 7 kills, respectively, to lead the Purple Aces. Kora Ruff tallied 16 assists while Ainoah Cruz picked up 11 digs. Kira Fallert was the top performer for the Panthers, finishing with 14 kills.
Game 1 – UNI 25, UE 12
Chloe Cline picked up a kill for the first point of the night and the Aces took a 2-0 lead. Northern Iowa countered with a 7-0 run to take their first advantage of the night at 7-2. Melanie Feliciano pitched in a kill with UE picking up the next two tallies.
Evansville stayed within a handful of points with a Giulia Cardona kill cutting the Evansville deficit to 15-11. The Panthers responded with a 9-0 run to go up 24-11 before picking up the set win.
Game 2 – UNI 25, UE 13
Once again, things were close in the early moments. Madisyn Steele and Kora Ruff combined on a block as part of a 3-0 run to open the set. UNI came back to take a 6-4 lead before a Cardona ace tie the score at 8-8. Evansville retook the lead at 9-8 on a Panther error.
Another big run by Northern Iowa saw them take control. Scoring eight in a row, the Panthers went up 16-10. Following a point by UE, UNI pulled away even more as they took a 2-0 match lead with a 25-13 win.
Game 3 – UNI 25, UE 13
Cardona registered an early kill with the Aces taking a 3-2 advantage. Four in a row for the Panthers gave them a 6-3 edge before Cardona put a temporary halt to the run with her second kill of the frame. Northern Iowa got right back to business, adding six in a row to extend the lead to 12-4.
From there, the Panthers clinched the match with a 25-13 victory. UE returns to Meeks Family Fieldhouse next weekend for its final two home matches of 2023 against Murray State and Belmont.
Submitted by Athletics
Men's basketball opens regular season on Monday
Game one of the 2023-24 University of Evansville men's basketball season is set for Monday evening when the Purple Aces welcome Miami Ohio to the Ford Center. Tip is set for 7 p.m. with ESPN+ and the Purple Aces Radio Network covering the action.
Setting the Scene
- With one exhibition contest under their belts, the Aces square off against the RedHawks in the season opener for the second year in a row
- Last year in Oxford, UE hung on for a 78-74 victory with Kenny Strawbridge Jr. and Yacine Toumi leading the way
- Strawbridge opened his UE career with 23 points on 9-of-17 shooting while Toumi recorded 15 points
- Sekou Kalle played a pivotal role in the game, hauling in 10 rebounds
- The victory marked the first for David Ragland as a Division I head coach
- It marked the first time Evansville won a season-opening game on the road since a 63-51 win over Western Michigan in 1994
Coaching Link
- Aces head coach David Ragland has a connection to Miami assistant Khristian Smith from their days at Indiana State
- Ragland was an assistant coach for the Sycamores in Smith's first two seasons - 2012-13 and 2013-14
- In those two seasons, ISU was 41-26 with two berths in the Postseason NIT
Season Openers
- Monday will tip off the 105th season of Aces basketball
- In 104 previous season openers, the Aces are 68-36
- This marks the seventh time UE has opened the season at the Ford Center since the building opened in 2011 - the Aces are a perfect 6-0 when playing their season opener at the arena
Last Time Out
- On Oct. 28, Evansville outlasted Wabash for a 76-66 exhibition victory
- The Little Giants opened the game on a 16-5 run and held a 40-39 lead at the break before UE clamped down and finished the game on an 8-0 run to seal the win
- Chuck Bailey III led the way with 16 points on 8-of-11 shooting while Tanner Cuff added 14 points including two triples
- Yacine Toumi had an excellent all-around performance as he totaled 9 points, 3 rebounds, 3 steals and 3 assists
- Kenny Strawbridge Jr. added 10 points
Scouting the Opponent
- Miami is coming off a 12-20 campaign that included a 6-12 mark in the Mid-American Conference
- Despite losing its top two scorers from last year (Mekhi Lairy and Morgan Safford), the RedHawks have reason for optimism with the return of Anderson Mirambeaux
- The senior earned a spot on the Preseason All-MAC Second Team following a season that saw him post 14.2 points and 5.7 rebounds per game
- Sophomore Ryan Mabrey recorded 8.4 PPG last season
Submitted by Athletics
Volleyball puts up strong performance in 5-set match at Drake
Following a 25-8 loss in the first set, the University of Evansville volleyball team took two of the ensuing three sets before coming up just short in the fifth as Drake took a 3-2 win on Friday at the Knapp Center.
Melanie Feliciano recorded a match-high 23 kills while Giulia Cardona added 21. Both picked up double-doubles with Cardona totaling 17 digs and Feliciano finishing with 10. Ainoah Cruz finished the evening with 15 digs. Kora Ruff totaled 36 assists with Madisyn Steele and Cardona picking up two blocks each. Leading Drake was Haley Bush with 21 kills.
Game 1 – Drake 25, UE 8
Holding a 5-3 lead, Drake scored four in a row, which would be the start of a 14-2 stretch that put them up 19-5. The Bulldogs would cruise to the 17-point victory in the opening frame.
Game 2 – UE 25, Drake 22
Evansville did an excellent job of putting the first set behind them. Three early Melanie Feliciano kills led to a 5-3 lead. The Bulldogs tied it up at 6-6 before the Aces wrestled away a 13-11 edge with Feliciano and Giulia Cardona picking up kills.
Drake took three subsequent leads, but a 3-0 run was a big turning point for the Purple Aces. Down 18-16, a pair of Feliciano points put her team back in front. After Drake tied it at 19-19, it was Feliciano putting her team in front for good. Two more kills made it a 21-19 game. DU got back within one before a Feliciano ace and Cardona kill finished off the set.
Game 3 – Drake 25, UE 14
Ainoah Cruz picked up an early ace with Evansville taking a 2-0 lead. Cardona picked up a kill to put her team back up by a 5-3 score and it looked as if the teams would have another battle to the finish. The Bulldogs had other ideas. A 9-0 run turned the deficit into a 12-5 lead. UE was unable to overcome the rally as the Bulldogs took a 2-1 match lead with the 25-14 decision.
Game 4 – UE 25, Drake 22
It was the Aces who had the lead throughout the majority of the fourth set. Two more aces from Cruz put her team up by a 5-1 score. Feliciano was credited with her second ace of the match to solidify an 11-5 lead.
The lead for UE grew even more when an error by the Bulldogs gave UE an 18-11 advantage. Capped off by a pair of service aces, the Bulldogs reeled off six in a row to get within one point before eventually tying it up at 21-21. Evansville forced two errors to retake the lead while Feliciano finished off the 25-22 win with a kill.
Game 5 – Drake 15, UE 8
A quick start by the Bulldogs saw them take a 4-1 lead. Evansville did its best to come back, getting within one at 7-6. The Bulldogs countered with five in a row and would clinch the match with the 15-8 win in the fifth game.
Tomorrow, the Aces will be in Cedar Falls to face Northern Iowa at 6 p.m.
Submitted by Athletics
Contribute to AceNotes
To have content considered for inclusion in AceNotes, please submit a Marketing Request Form. Deadline for submission to AceNotes is 10:00 a.m. on the requested date of publication. Only articles concerning UE related/sponsored activities will be accepted. Articles submitted to AceNotes may be edited for length and clarity. Submitter contact information is at the end of each article.