| | |
| --- | --- |
| PurplePulse | Friday, November 3, 2023 |
Jonpaul Smith Exhibit Opens October 30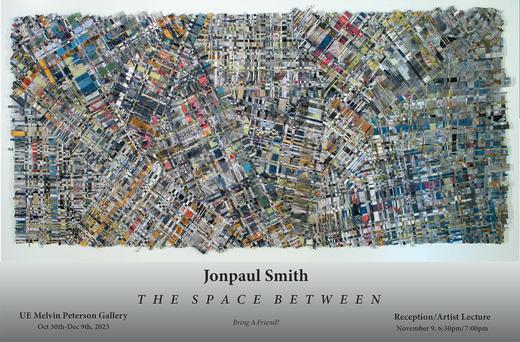 Efroymson Artist in Residence, Jonpaul Smith, and the UE Department of Art present THE SPACE BETWEEN from October 30 - December 9. Please join us for a public reception and artist lecture on Thursday, November 9 at 6:30pm in the Melvin Peterson Gallery.
Gallery hours are Mon, Tue, Fri & Sat 12:00pm - 3:00pm; Wed & Thu 12:00pm - 6:00pm.
Submitted by Carol McCraney cm177@evansville.edu
Diary of a Misfit Author to Speak on Campus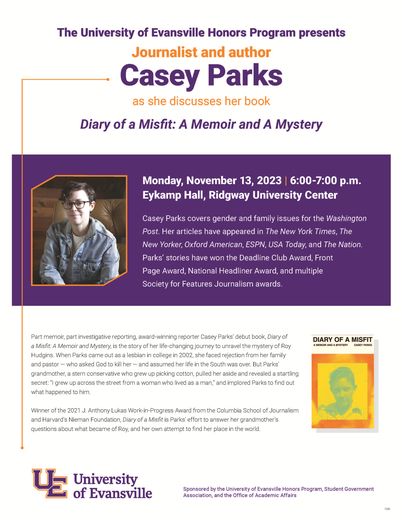 The campus community is invited to attend the Honors Program common read speaking event, a presentation by author Casey Parks, on Monday, November 13 at 6:00pm in Eykamp Hall. Ms. Parks will be discussing her book, Diary of a Misfit: A Memoir and a Mystery, which was the common read for Honors Program freshmen this year.
We hope you will join us for this enlightening presentation. If you'd like to read Diary of a Misfit in advance, copies are on reserve at the library.
Submitted by Jayme Williams jw504@evansville.edu
International Bazaar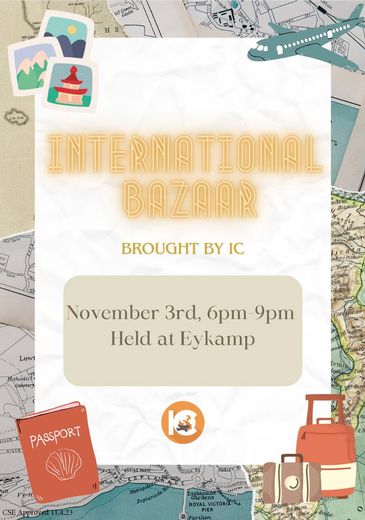 You are all invited to a night of fun!
International bazaar will be Friday, Nov. 3rd in Eykamp Hall beginning at 6:00pm.
Don't know what International Bazaar is? No worries! International Bazaar is one of the BIGGEST on-campus events in the Fall Semester. During Bazaar, faculty, students, staff and community members from all over the world showcase their cultures either through performance or a booth set up!
Join for a night filled with performances, dance lessons, and learning about other cultures from around the world!
Submitted by Abagail Christine Catania ac532@evansville.edu
Corliss Chastain Exhibition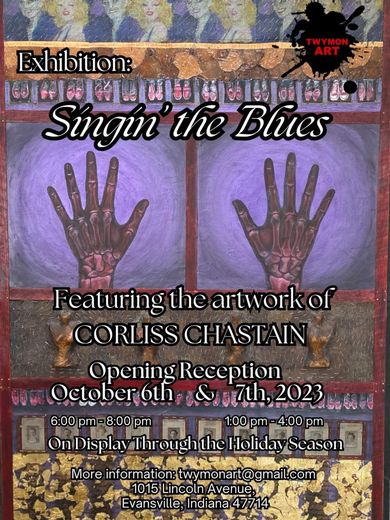 UE Art Gallery Director and Art Instructor, Corliss Chastain, currently has an exhibition of her mixed-media drawings at the Twymon Art Gallery. The exhibition, "Singin' the Blues", will run through December 2023.
Submitted by Carol McCraney cm177@evansville.edu
UEclipse Coming April 2024
UE is thrilled to announce a speaker ahead of the upcoming solar eclipse on Monday, April 8. Maria Weber '08, PhD, a distinguished alumna of the University of Evansville (UE) and a leading astrophysicist, will be delivering a captivating presentation on the mysteries of solar magnetism titled "From Eclipses to Magnetism: The Secret Life of the Sun."
Event Details:
Title: From Eclipses to Magnetism: The Secret Life of the Sun
Presenter: Dr. Maria Weber '08, PhD
Date: Sunday, April 7
Time: 2:00 p.m.
Location: Eykamp Hall, UE Campus
Weber received her bachelor's degree with majors in physics and philosophy from UE and furthered her education by obtaining a PhD in Physics from Colorado State University. Her extensive research on solar magnetism, particularly magnetic flux emergence, has established her as a renowned authority in the field.
This exclusive presentation by Weber offers a unique opportunity for the Evansville community to delve into the fascinating world of solar magnetism and its significance in our universe. We extend a warm invitation to all interested parties to join us on Sunday, April 7, for this enlightening event.
To register and access further event details, please complete this form by clicking here.
Additionally, we encourage residents near the UE campus to witness the solar eclipse alongside our community on Monday, April 8. For more information, please visit https://www.evansville.edu/ueclipse.
Submitted by Noah Alatza na122@evansville.edu
We the People Volunteers Needed
UE is once again proud to host the Southern Regional Competition for We the People: The Citizen & the Constitution. On Wednesday, 11/8, we will welcome 8 schools (both high school and middle school) to campus as they work to earn a place at Indiana's State Finals. We need volunteers for the following shifts. If interested and available, email Dina Willming at dw285@evansville.edu. No experience needed for any shift!
Shift 1: 8:30am - 9:45am - Greeter (4 needed): Stand outside SOBA on the circle and Rotherwood sides, welcome the teams as they arrive and help them get to their classrooms. Purple UE scarf provided (must be returned), UE casual attire.
Shift 2: 8:45am - noon. Judges' Facilitator (6 needed): Serve as a guide for a panel of judges, getting them from room to room on time. Business casual attire recommended.
Shift 3: 11:30am - 12:00pm (8 needed): Lunch guide. Stand outside their hearing rooms as they finish their rounds, then guide them to Eykamp Hall, Ridgway University Center for lunch. Serving as an Ambassador for UE on the way. UE casual attire.
Submitted by Andrew Carter ac116@evansville.edu
Living Room Conversations: Race and Ethnicity
Join the Multi-Racial Student Union for a living room conversation around Race and Ethnicity, facilitated by the Diversity and Inclusion Training ChangeLab! Living room conversations work to heal society by connecting people across divides - politics, age, gender, race, nationality, and more – through guided conversations proven to build understanding and transform communities. We hope this conversation will help to nurture a sense of empathy and understanding here on campus.
This event is at 5:00 pm at the Multicultural Student Commons.
Submitted by Kalea Reeves kr282@evansville.edu
Staff and Administrators Assembly Book Club read for November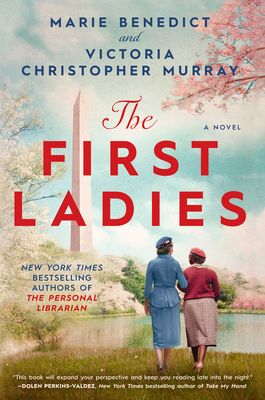 SAA Book Club Read for November
The First Ladies by Marie Benedict and Victoria Christopher Murray
This is a historical fiction novel about the extraordinary partnership between First Lady Eleanor Roosevelt and civil rights activist Mary McLeod Bethune - an unlikely friendship that changed the world, from the New York Times bestselling authors of the Good Morning America Book Club pick the Personal Librarian.
Book Club will meet the Wednesday after Thanksgiving (Nov 29th) in the Phillips Alcove at 12noon to discuss the book. Feel free to bring your lunch and join in the discussion.
Submitted by Katherine Taylor ks6@evansville.edu
Important Updates to Stationery Orders
Effective immediately, the Office of Marketing is shifting from Marcom to Lytho for all stationery requests (e.g., letterhead, business cards, envelopes). Lytho offers a more streamlined and user-friendly experience, and UE has been using this service for over one year now. To make a request, simply log in with your University credentials, navigate to "Requests" from the left-hand menu, select "Add Request" in the upper-right corner, and follow the prompts. If you need any assistance, please contact Abigail Perry at ap445@evansville.edu.
Submitted by Abigail Perry ap445@evansville.edu
2023-24 Student Consumer Information
The U.S. Department of Education requires universities to disclose consumer information to prospective and enrolled students, parents, and employees. This information is available on the University of Evansville website at https://www.evansville.edu/student-financial-services/student-consumer-information.cfm.
Questions may be directed to the Office of Student Financial Services at 800-424-8634, 812-488-2364, or studentfinancialservices@evansville.edu. A paper copy of this information is available upon request. Information included on the Consumer Information page:
Academic Programs
Accrediting and Licensing Agencies
Alcohol and Drug Policy/Prevention Programs
Athletics Program Participation Rates and Financial Support Data
Code of Conduct
Copyright Infringement Policy and Peer to Peer File Sharing Information
Cost of Attendance
Diversity – Student Body Diversity by Gender, Ethnicity, and Pell Grant Status
Emergency Response and Evacuation Information
Employment and Graduate School Information for Recent UE Graduates
Family Educational Rights and Privacy Act (FERPA)
Federal Student Financial Aid Penalties for Drug Law Violations
Financial Aid Credit Balance Refund Policy
Financial Aid Information
General Information
Graduation Rates by gender, race and ethnicity, and selected financial aid groups
Graduation Rates for General Student Body
Graduation Rates for Student-Athletes
Grievance and Complaint Procedures
Health Insurance Portability and Accountability Act (HIPAA)
Missing Person Protocol
Net Price Calculator
Program Closure Policy
Refund Policy and Return of Title IV Funds
Retention and Graduation Rates of Degree-Seeking, First-Time, Undergraduate Students
Satisfactory Academic Progress Policy
Security and Fire Safety Report
Services and Facilities for Students with Disabilities
Student Loan Forgiveness, Cancellation, and Discharge
Study Abroad
Teacher Preparation Accountability
Textbook Information
Transfer Policies on Credits that Transfer to UE
Transfer Articulation Agreement Partner Colleges
Vaccination Policies
Verification Policy
Veteran Information
Voter Registration Information
Submitted by Amy Sowders as560@evansville.edu
UE Participates in JobSpark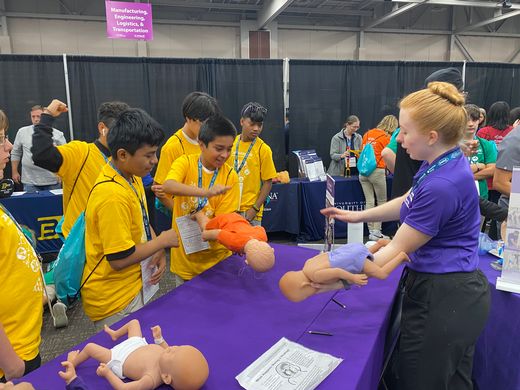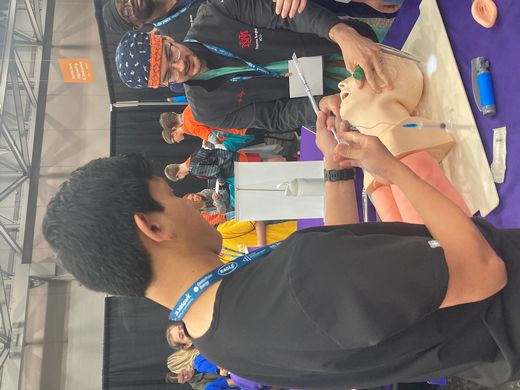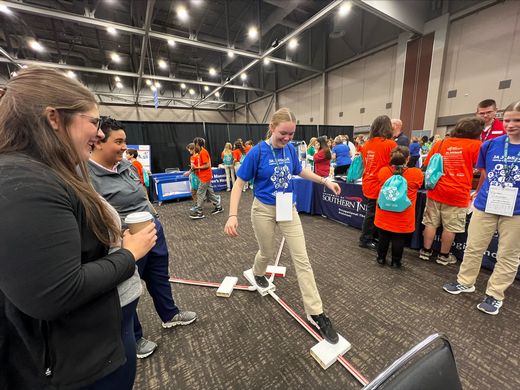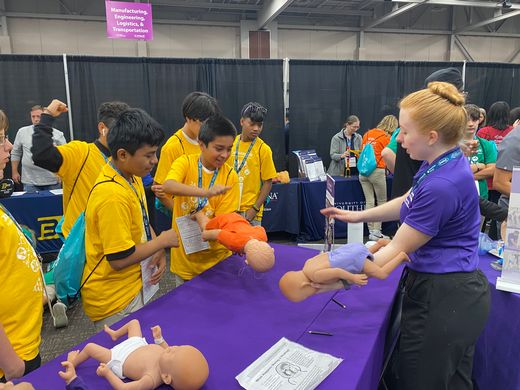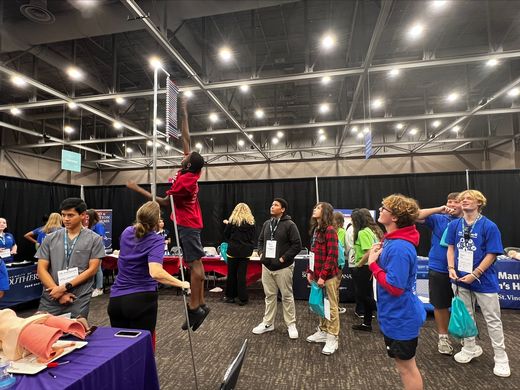 Junior Achievement of Southwestern Indiana sponsored JobSpark for eighth grade students from southwest Indiana and southeast Illinois on Tuesday and Wednesday, October 24 and 25. The event was held at the Old National Events Plaza. Over 4,100 students attended and took part in hands-on experiential activities designed to "spark" an interest in future career paths. UE was represented by over 20 faculty, staff, and administrators along with about 20 students from the Mathematics Department, Music Conservatory, Creative Technologies Major, School of Health Sciences, Doctor of Nurse Anesthesia Practice, Dunigan Family School of Nursing, Doctor of Physical Therapy, School of Engineering and Computer Science, and the Schroeder Family School of Business.
Thanks to everyone who took part to help "spark" an interest in the opportunities at UE!
Submitted by Paula Heldt ph28@evansville.edu
On-Site COVID Vaccine Appointment Registration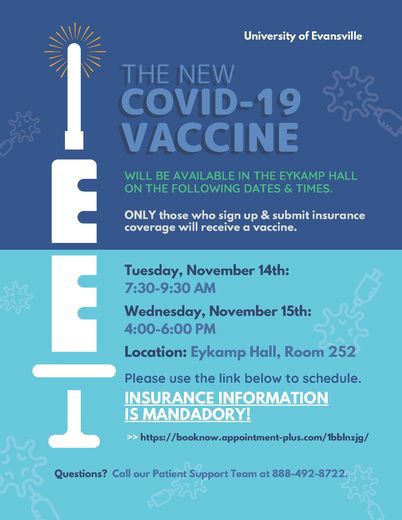 COVID Vaccines will be available for employees & students in the Eykamp Hall (Room 252) on the following dates & times. Multiple appointments will be available per 15-minute time slot.
-- Tuesday, November 14th: 7:30-9:30 am
-- Wednesday, November 15th: 4:00-6:00 pm
ONLY those who sign up & submit insurance coverage will receive a vaccine. INSURANCE INFORMATION IS MANDATORY AT SIGN-UP! Sign-ups will close on November 8th.
Please be sure to download, print, and complete the vaccine consent form: LINK TO FORM ON ACELINK
Use this link to schedule: https://booknow.appointment-plus.com/1bblnzjg/
Submitted by Taylor Kollak tk148@evansville.edu
Share your story! First-Generation College Celebration
Each year on November 8, colleges and universities across the nation highlight the First-Generation College Celebration. At UE, we plan to celebrate the first-generation students, faculty, and staff on our campus and all they have achieved! More importantly, we want to share the stories of our first-generation community to showcase the importance of college education and accessibility.
As a first-gen student, would you be willing to share your story with us? The UE Office of Marketing & Communications would like to ask you a few simple questions and allow you to share your college experience.
Visit the link to share your story!
Submitted by Abigail Perry ap445@evansville.edu
We want YOU to be an Ace of UE
Students and faculty,
The Office of Marketing is looking to add new profiles to our Aces of UE webpage. You may also notice this section on our homepage. Aces of UE is a collection of stories from current students, alumni, and faculty members from across all majors. In these profiles, students and alumni share why they chose UE, what has made their experience so unique, and more.
If you are interested in sharing your UE story please visit the link and fill out our Aces of UE questions! We look forward to learning about your Ace experience.
https://uesurvey.evansville.edu/TakeSurvey.aspx?SurveyID=86LK7n6K#
Submitted by Abigail Perry ap445@evansville.edu
It's Not Too Late to Register for Winter Intersession Courses
Get ahead by taking Winter Intersession online courses. Complete a missing required course, lighten your spirng load, and take advantage of winter break. Classes are held from December 15, 2023 through January 5, 2024. Students may take one class and register when registering for spring classes starting October 30, 2023.
Learn more about Winter Intersession.
Winter Intersession Course List

| | | | | |
| --- | --- | --- | --- | --- |
| Subject | Number | Cr Hrs | Course Title | Instructor |
| ART | 105 | 3 | Introduction to the Visual Arts | Larmann |
| AT | 180 | 3 | Introduction to Athletic Training | Tilly |
| CHEM | 103 | 3 | Chemistry of Adult Beverages | Miller K. |
| EXSS | 150 | 3 | Introduction to Health Sciences | Laughbaum |
| EXSS | 320 | 3 | Nutrition for Performance Health | Miller W. |
| EXSS | 417 | 3 | Advanced Exercise Science | Miller W. |
| EXSS | 453 | 2 | Motor Learning | Wilson |
| EXSS | 488 | 1 to 4 | Internship | Miller W. |
| EXSS | 488 | 1 to 4 | Internship | Wilson |
| FIN | 280 | 3 | Introduction to Personal Finance | Brockman |
| HIST | 112 | 3 | World History 1500 - Present | MacLeod |
| MUS | 156 | 3 | Music in America | Strandberg |
| NEUR | 125 | 3 | Introduction to Neuroscience | Campese |
| PH | 190 | 3 | Introduction to Public Health | Patel-Dovlatabadi |
| PSYC | 121 | 3 | Introduction to Psychology | Campese |
| PSYC | 226 | 3 | Child and Adolescent Psychology | Hennon |
| PSYC | 229 | 3 | Social Psychology | McCracken |
| PSYC | 450 | 3 | Learning | Campese |
| QM | 227 | 3 | Introduction to Statistics | Khormali |
| SOC | 105 | 3 | Introduction to Sociology | Plikuhn |
| SOC | 230 | 3 | Social Problems in the Modern World | Plikuhn |
Submitted by Paula Heldt ph28@evansville.edu
Daugherty from FYS to present at Taylor Swift themed academic conference
Kristie Daugherty, adjunct in First Year Seminar, will be presenting her paper titled "You Should Find Another: Swift's Deconstruction of the Self in 'Midnights'" at the first academic conference "examining the career, discography, legacy and cultural impact of [singer] Taylor Swift." According to their website, "[t]his year, Taylor Swift embarked on her record-breaking Eras Tour, which sold over 2.4 million tickets in a single day. As the tour title signals, this moment provides an opportunity to not only reflect on, but also re-imagine Swift's extensive impact. Scholars and fans alike see this as a critical time to discuss and analyze Taylor Swift's impact during yet another peak in her extensive and iconic career." The conference will take place in Bloomington, Indiana on November 3rd and 4th and is hosted by the Indiana University Arts & Humanities Council. They received hundreds of submissions from around the globe; approximately 30 were selected. Congratulations, Kristie!
Submitted by Kristina Groves kg76@evansville.edu
Apply for Harlaxton Summer and Fall 2024
Applications are open now for Harlaxton for the Fall 2024 semester and Summer 1 and 2 2024 terms! If you have worked with your advisor on planning for one of these upcoming terms at our amazing manor, now is the time to get your application in. The application process is simple and all online, and you can find details on the Harlaxton website: https://college.harlaxton.co.uk/programs. Feel free to contact the team if you have any questions at harlaxton@evansville.edu!
Submitted by Kaylynn McCalister kc205@evansville.edu
UE women's basketball earns exhibition win against Oakland City
The University of Evansville women's basketball team earned a gritty 81-77 preseason victory on Thursday night against the Oakland City Mighty Oaks.

In her first game at the collegiate level, forward Nevaeh Thomas led the Purple Aces in scoring and rebounds with a 27-point, 15-rebound stat line. Sophomore guard Kynidi Mason Striverson was UE's other double-digit scorer with 15 points and led the team in steals with two swipes. Evansville controlled possession time and second-chance points in its first taste of action against the Mighty Oaks.

"I'm proud of us for handling everything we could handle tonight," said Head Coach Robyn Scherr-Wells following the game. "Oakland City did a great job. They came in here very confident. And I'm proud of our girls for fighting through.

"We're pretty short-handed at the guard spot right now. So I'm proud of some kids for stepping up. We got some good minutes from some of our young players, including Nevaeh. Overall it was a great game for us. Oakland City did a great job and it helps us learn some things and prepare for the next one,".

It was a slow start for the Aces as Oakland City jumped out to a five-point lead and controlled through most of the first quarter. UE kept the Mighty Oaks from breaking out on any major runs finding jump shots in the paint. But at the halfway mark of the first, Evansville trailed by eight going into the media timeout. Out of the timeout, the Aces put together a six-point run giving them room to take their first lead with under two to go in the quarter. An eight-point run for UE closed out the quarter, giving the team a four-point lead going into the second.

Both offenses struggled in the second quarter with only two made baskets in the first three minutes. The two teams traded makes to keep things close until the Mighty Oaks had an 8-2 run to retake the lead by four points. The Aces brought the deficit down to only one but two free throw attempts in the final 15 seconds had Oakland City with the slight edge.

UE had its best offensive quarter in the third, outscoring the Mighty Oaks 30 to 20. The quarter began with more back-and-forth play but Evansville was able to break out on a 12-point run in the final five minutes. The run was highlighted by the Aces first three-pointer of the game from guard Alana Striverson. Stiverson made her second trey of the quarter as time expired in the third on a turnover to give Evansville a seven-point lead heading into the final quarter.

Despite Oakland City getting the first basket of the fourth, UE had a 9-2 run early for its largest lead of the game. The 12-point lead for the Aces with 6:33 left in the game helped to fend off a late-game surge from the Mighty Oaks. Evansville had a double-digit lead with just over three minutes to go, but Oakland City strung together four shots including a three to make it a three-point game. A pivotal foul drawn in the final 20 seconds from guard Lexie Sinclair sealed the win for the Aces as she made both tries to end the game at 81-77.
UE begins the regular season next week at Meeks Family Fieldhouse. Evansville will welcome Lipscomb to town on Tuesday, Nov. 7 to kick off the 2023-24 non-conference slate. Tipoff from Meeks is set for 6 p.m. on Tuesday.
Submitted by Athletics
VB: Volleyball travels to Drake and UNI this weekend
The month of November opens with the longest road trip of the season for the University of Evansville volleyball team, who travels to Northern Iowa and Drake this weekend. UE opens in Des Moines on Friday versus the Bulldogs before trekking to Cedar Falls to face UNI on Saturday; both matches are set for 6 p.m. start times on ESPN+.
Bringing the Defense
- As her freshman season has progressed, Ainoah Cruz has seen her defensive numbers on the rise
- Over the last five matches, Cruz as averaged 5.53 digs per set while raising her season average to 4.47/set - 8th in the MVC
- She has recorded two 30-dig matches with her top mark of 32 coming against UIC and 30 in the road match at Bradley
- Her numbers in MVC outings is even better with 4.85 digs against league opponents
Career Defensive Effort
- With a season average of 10.44 assists per set, Kora Ruff ranks second in the MVC and 28th nationally
- Ruff had the first 60-assist match of her career against UIC, surpassing her previous UE high of 58 helpers as a freshman
- Her defense has also been on the rise, culminating in a career-best 22 digs in the home match against the Salukis; it was the first 20-dig contest for Ruff, breaking her previous mark of 18 against North Alabama
- She ranks 19th in the league with 2.76 digs/set and has seen her average rise to 3.00/game in Valley matches
Top of the Charts
- Three of the most important offensive statistics in the sport of volleyball see Giulia Cardona's name at the top
- Evansville's junior continues to lead the nation in kills (5.30/set), points (6.09/set) and attacks (15.03/set)
- One of the top servers in the nation is on one of the most impressive streaks of her career as Cardona is averaging 1.00 aces per set over the last six matches
- Her season average of 0.54 per game paces the MVC and is 14th nationally
- Cardona's defense has also been stellar - while her season average is 2.79 digs, she has seen that rise to 3.13 per set in MVC matches with a career high of 20 coming against SIU
Close to a Record
- Madisyn Steele is a career .337 hitter throughout her 2 1/2 seasons with the Purple Aces and she is set to smash the program career hitting percentage list
- Steele opens the weekend with 995 attacks in her career, just five away from becoming eligible to join the list
- Her current hitting mark of .337 is 60 points higher than the UE record of .277
- Steele set the single-season hitting record for Evansville last season, finishing at .346 (25 points higher than the previous record)
Scouting the Opposition
- Drake is second in the conference with an 11-2 mark and stand at 18-7 overall
- Taylor Oberpriller leads the Bulldogs with 3.84 kills per set, which puts her fourth in the MVC
- Northern Iowa is 19-6 in 2023 and has started its Valley slate with 13 consecutive wins
- Layanna Green is the #2 hitter in the Valley at .404 while Emily Holterhaus' 3.77 kills per game is 5th
Submitted by Athletics
WSOC: UE's Rosborough Named To All-MVC Second Team
University of Evansville senior defender Rachel Rosborough (Mt. Brydges, Ontario/Strathroy District CI) earned a place on the Missouri Valley Conference's all-conference second team on Wednesday evening, as the league announced the 2023 Women's Soccer all-conference teams at the MVC Tournament banquet in Des Moines, Iowa.
Rosborough was voted to the league's all-conference second team in a vote of the league's head coaches. Rosborough started all 17 matches this year along UE's backline, and helped the Purple Aces record five shutouts this season. She finished the year fourth on the team in shots and recorded an assist in 1,445 minutes played this year.
For Rosborough, it marked the fourth-straight year in which she was honored in the league's post-season awards for her hard work in defense for UE. She earned MVC All-Freshman team honors in the COVID Spring season of 2021, before earning honorable mention all-Valley honors as a sophomore later that fall, and third-team all-MVC honors last season.
Drake forward Emma Nagel earned MVC Player of the Year honors, while Missouri State's Carly Raunig captured Defensive Player of the Year accolades. Missouri State's Camielle Day was named the MVC's Goalkeeper of the Year, while Drake's Angela Gutierrez was voted the Valley's Freshman of the Year.
Submitted by Athletics
Aces men's soccer earns a result in 2023 season finale at Belmont
The University of Evansville men's soccer team ended its 2023 campaign with a hard-fought 2-2 draw against the Belmont Bruins.

Two goals, with one in the waning minutes of the match, made for an exciting conclusion to the Purple Aces season. Senior forward Kai Phillip and freshman winger Auden Engen Vik scored for UE in the 23rd and 89th minute respectively. Evansville had three separate players record assists on the two goals including midfielder Carlos Barcia, midfielder Jose Vivas, and defender Tobias Bak.

"We haven't been leading at half very much this season. But I thought we played pretty well and got a nice goal early," said Head Coach Robbe Tarver following the match. "With the way the results were in other games, we knew Belmont was going to come out and press to take the game to us to advance to the tournament.

"Those first 15 minutes of the second half they put us under a lot of pressure, and it ended up with a goal. But we couldn't have asked more from our guys to get us back into the game and make it 2-2. It was a good game overall, but unfortunately, the results didn't go our way in other matches. And that's on us for not taking care of business earlier in the season,".

The Aces found the net early and often in the Music City on a chilly night. Engen Vik recorded the team's first shot in the second minute. UE's aggressive offensive attack netted the first goal in the 23rd minute from Phillip. Bak made a cross through the penalty box to Phillip who was right in front of the goal on the right side. Phillip was able to tap the ball past Belmont's goalkeeper with his right foot into the center of the net. Evansville kept the one-goal lead through the first 45 minutes, not getting another opportunity in the half.

To start the second half, the Aces played a more conservative game looking to keep the ball away from the Bruins with the slim lead. But Belmont was able to capitalize in the 54th minute after a flurry of shots at UE goalkeeper Jacob Madden to make it a 1-1 game. Evansville continued to struggle to contain the Bruins as the third goal of the match was Belmont's in the 85th minute. Staring down a loss that would take them out of Missouri Valley Conference Tournament contention, the Aces returned to its high-volume offense.

In the final 10 minutes of the match, UE had five shot attempts with two going on net. One of those included the game-tying goal from Engen Vik in the 89th minute. With a large group of players in the top of the penalty area, Barcia took advantage of a little space to find Engen Vik in front of the middle of the net. Challenging the Bruins keeper, Engen Vik won with a sliding right-footed shot to the bottom left corner.
Ending the game in a draw kept Evansville's postseason hopes alive for a brief moment as they waited for the result of the Northern Illinois and Bowling Green game. But a win from NIU officially ended the Aces season as the Huskies moved two points ahead of UE for the final tournament spot. Evansville ends the season with an overall record of 4-8-4 and an MVC record of 2-4-2.
Submitted by Athletics
Aces women's basketball gets preseason test against Oakland City
The University of Evansville women's basketball will have its lone exhibition game against the Oakland City Mighty Oaks.
The Purple Aces women's basketball team will host Oakland City on Thursday night in their first action before the 2023-24 season. It will be a new look team for UE in the 2023-24 women's basketball season. With 10 new players on the roster for the upcoming season, the Aces have recruited talent with championship experience at all levels. Among UE's 10 new players, three come from winning junior college programs, three from winning high school programs, and one with national team experience. Evansville will look to improve on their best season record in six years with their 2023-24 roster.

Along with several new players to the team, the Aces welcome back four returners in sophomore Kynidi Mason Striverson, graduate student Barbora Tomancova, redshirt senior Celine Dupont, and junior Lexie Sinclair. Tomancova and Mason Striverson return as the team's points leaders after being in the 2022-23 Top 5 in scoring. A consistent starter, Tomancova brings experience in big situations to the young team, while Mason Striverson and Dupont were key bench players looking to make the move to the starting five.

Going into her third year leading the Aces, Head Coach Robyn Scherr-Wells has seen consistent improvement from her team and will continue that growth with a retooled staff, promoting two and bringing in three new faces to the bench. Assistant Coach Tori Jarosz was raised to the Aces recruiting coordinator while Caleb Poston was elevated from the Aces Director of Basketball Operations to an Assistant Coach. Former UIC assistant Dodie Dunson was named UE's Associate Head Women's Basketball Coach in May while Van Klohmann was brought on as a new Assistant Coach and Director of Basketball Operations from Division II Missouri S&T. Rounding out Scherr-Wells coaching staff for the season is graduate assistant Dominique McBryde, returning to the states after three years playing abroad.

Oakland City is a Division III school 40 minutes down Indiana 57 from Evansville. The Aces have played the Mighty Oaks 24 times in the team's series since UE began sponsoring women's basketball in 1971. In that time span, Evansville has won 19 games with their last loss coming in 1981. The Aces only recently resumed games with Oakland City in the mid 2010s including their last meeting in the winter of 2021.
Thursday evening's game will not be broadcast on ESPN+. Aces fans who can't make it to Meeks Family Fieldhouse can follow along online with live stats at gopurpleaces.com
Submitted by Athletics
Contribute to AceNotes
To have content considered for inclusion in AceNotes, please submit a Marketing Request Form. Deadline for submission to AceNotes is 10:00 a.m. on the requested date of publication. Only articles concerning UE related/sponsored activities will be accepted. Articles submitted to AceNotes may be edited for length and clarity. Submitter contact information is at the end of each article.