| | |
| --- | --- |
| PurplePulse | Wednesday, November 1, 2023 |
2023 Holiday Schedule
The University of Evansville will be closed during the holidays to allow our employees to enjoy this special time with their families.
The following November – December holiday schedule will be observed:
Thanksgiving Holiday
Closed Wednesday, November 22 through Friday, November 24
Offices reopen on Monday, November 27
Winter Holiday Break
Closed Thursday, December 21 through Tuesday, January 2
Offices reopen on Wednesday, January 3
Submitted by Noah Alatza na122@evansville.edu
Diary of a Misfit Author to Speak on Campus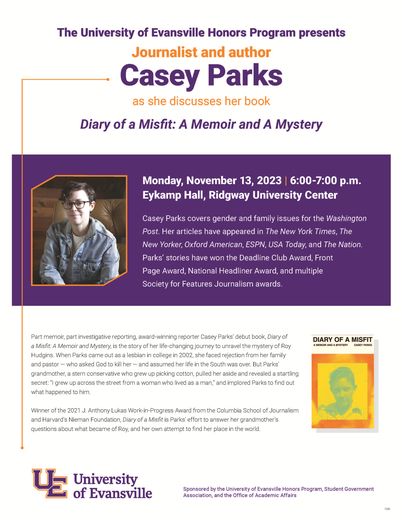 The campus community is invited to attend the Honors Program common read speaking event, a presentation by author Casey Parks, on Monday, November 13 at 6:00pm in Eykamp Hall. Ms. Parks will be discussing her book, Diary of a Misfit: A Memoir and a Mystery, which was the common read for Honors Program freshmen this year.
We hope you will join us for this enlightening presentation. If you'd like to read Diary of a Misfit in advance, copies are on reserve at the library.
Submitted by Jayme Williams jw504@evansville.edu
This Week in Music
October 31, 2023
7:30 p.m.
Victory Theatre in Downtown Evansville
Come celebrate Halloween with the UE Symphony Orchestra and Wind Ensemble at the Victory Theatre. This evocative program will include recently composed works Mary Shelley Meets Frankenstein by Erika Svanoe, October by Eric Whitacre, classical works The Noon Witch by Antonín Dvo?ák, Dance of the Furies by Christoph Willibald Gluck, and other fun and frightening works for the day.
Admission is free and open to the public. Costumes are welcome and encouraged (there will be a costume competition between performances!)
Submitted by Mary Beth Deig md334@evansville.edu
International Bazaar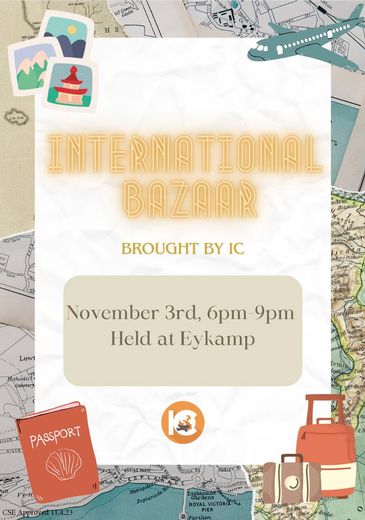 You are all invited to a night of fun!
International bazaar will be Friday, Nov. 3rd in Eykamp Hall beginning at 6:00pm.
Don't know what International Bazaar is? No worries! International Bazaar is one of the BIGGEST on-campus events in the Fall Semester. During Bazaar, faculty, students, staff and community members from all over the world showcase their cultures either through performance or a booth set up!
Join for a night filled with performances, dance lessons, and learning about other cultures from around the world!
Submitted by Abagail Christine Catania ac532@evansville.edu
Celebrate First-Generation Day at Ace Scholars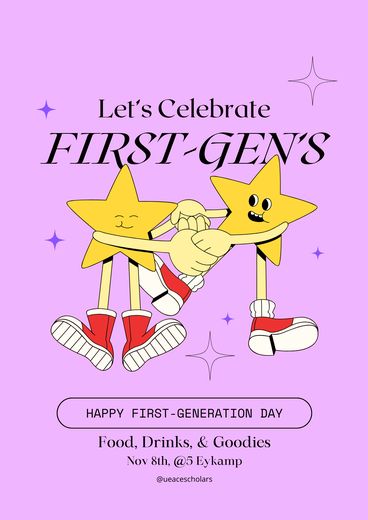 Ace Scholars welcomes students, professors, staff, and administrators to celebrate National First-Generation College Day on November 8, 2023! The event will occur on November 8, 2023, at 5 p.m. in Eykamp. This is a wonderful chance to network with other first-generation college students, faculty, and staff. There will be free food, music, and games present at this event, so bring a friend and have a good time!
Submitted by Trinitie Terrell tt141@evansville.edu
Basham - Allaire Exhibit in Krannert Gallery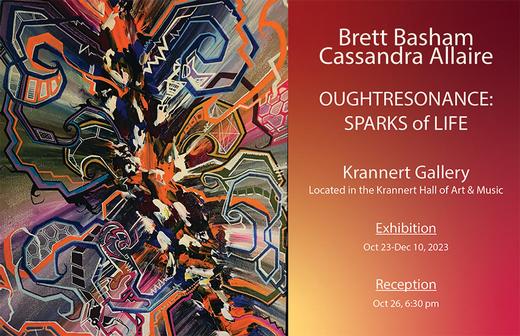 OUGHTRESONANCE: SPARKS of LIFE, a collaboration by artists Brett Basham and Cassandra Allaire, will be exhibited in the Krannert Gallery from October 23 through December 10.
Please join us for the artists reception on Thursday, October 26 at 6:30 p.m. in the Krannert Gallery.
Submitted by Carol McCraney cm177@evansville.edu
Important Updates to Stationery Orders
Effective immediately, the Office of Marketing is shifting from Marcom to Lytho for all stationery requests (e.g., letterhead, business cards, envelopes). Lytho offers a more streamlined and user-friendly experience, and UE has been using this service for over one year now. To make a request, simply log in with your University credentials, navigate to "Requests" from the left-hand menu, select "Add Request" in the upper-right corner, and follow the prompts. If you need any assistance, please contact Abigail Perry at ap445@evansville.edu.
Submitted by Abigail Perry ap445@evansville.edu
Solution Station Wednesday: Registration Issues?
Registration is here! Is it going well? This week we'll have an Academic Advisor at the Solution Station to take your questions and help you navigate registration issues you might be facing. Need instructor permission or advice about a waitlist? Do you want a meeting with an Academic Advisor to help you revise your schedule? Come by the Solution Station table in Ridgway today from 11:00 a.m to 1:00 p.m. We're here to help you find solutions to issues you're facing. Let us help.
As a reminder, Academic Services (116 Olmsted Hall) is here to help you!
Questions? Contact Chad Hart at ch299@evansville.edu.
Solution Station Wednesday
11:00 a.m. - 1:00 p.m.
Ridgway University Center
Submitted by Chad Hart ch299@evansville.edu
2023-24 Student Consumer Information
The U.S. Department of Education requires universities to disclose consumer information to prospective and enrolled students, parents, and employees. This information is available on the University of Evansville website at https://www.evansville.edu/student-financial-services/student-consumer-information.cfm.
Questions may be directed to the Office of Student Financial Services at 800-424-8634, 812-488-2364, or studentfinancialservices@evansville.edu. A paper copy of this information is available upon request. Information included on the Consumer Information page:
Academic Programs
Accrediting and Licensing Agencies
Alcohol and Drug Policy/Prevention Programs
Athletics Program Participation Rates and Financial Support Data
Code of Conduct
Copyright Infringement Policy and Peer to Peer File Sharing Information
Cost of Attendance
Diversity – Student Body Diversity by Gender, Ethnicity, and Pell Grant Status
Emergency Response and Evacuation Information
Employment and Graduate School Information for Recent UE Graduates
Family Educational Rights and Privacy Act (FERPA)
Federal Student Financial Aid Penalties for Drug Law Violations
Financial Aid Credit Balance Refund Policy
Financial Aid Information
General Information
Graduation Rates by gender, race and ethnicity, and selected financial aid groups
Graduation Rates for General Student Body
Graduation Rates for Student-Athletes
Grievance and Complaint Procedures
Health Insurance Portability and Accountability Act (HIPAA)
Missing Person Protocol
Net Price Calculator
Program Closure Policy
Refund Policy and Return of Title IV Funds
Retention and Graduation Rates of Degree-Seeking, First-Time, Undergraduate Students
Satisfactory Academic Progress Policy
Security and Fire Safety Report
Services and Facilities for Students with Disabilities
Student Loan Forgiveness, Cancellation, and Discharge
Study Abroad
Teacher Preparation Accountability
Textbook Information
Transfer Policies on Credits that Transfer to UE
Transfer Articulation Agreement Partner Colleges
Vaccination Policies
Verification Policy
Veteran Information
Voter Registration Information
Submitted by Amy Sowders as560@evansville.edu
On-Site COVID Vaccine Appointment Registration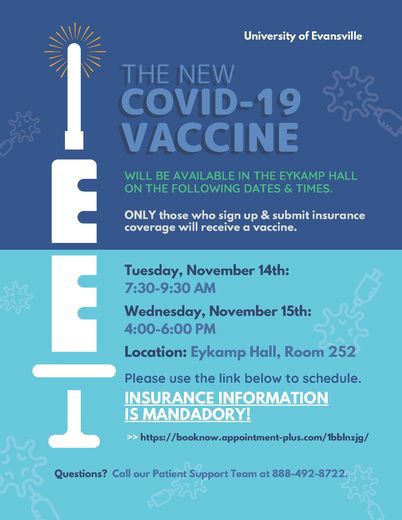 COVID Vaccines will be available for employees & students in the Eykamp Hall (Room 252) on the following dates & times. Multiple appointments will be available per 15-minute time slot.
-- Tuesday, November 14th: 7:30-9:30 am
-- Wednesday, November 15th: 4:00-6:00 pm
ONLY those who sign up & submit insurance coverage will receive a vaccine. INSURANCE INFORMATION IS MANDATORY AT SIGN-UP! Sign-ups will close on November 8th.
Please be sure to download, print, and complete the vaccine consent form: LINK TO FORM ON ACELINK
Use this link to schedule: https://booknow.appointment-plus.com/1bblnzjg/
Submitted by Taylor Kollak tk148@evansville.edu
Daugherty from FYS to present at Taylor Swift themed academic conference
Kristie Daugherty, adjunct in First Year Seminar, will be presenting her paper titled "You Should Find Another: Swift's Deconstruction of the Self in 'Midnights'" at the first academic conference "examining the career, discography, legacy and cultural impact of [singer] Taylor Swift." According to their website, "[t]his year, Taylor Swift embarked on her record-breaking Eras Tour, which sold over 2.4 million tickets in a single day. As the tour title signals, this moment provides an opportunity to not only reflect on, but also re-imagine Swift's extensive impact. Scholars and fans alike see this as a critical time to discuss and analyze Taylor Swift's impact during yet another peak in her extensive and iconic career." The conference will take place in Bloomington, Indiana on November 3rd and 4th and is hosted by the Indiana University Arts & Humanities Council. They received hundreds of submissions from around the globe; approximately 30 were selected. Congratulations, Kristie!
Submitted by Kristina Groves kg76@evansville.edu
Apply for Harlaxton Summer and Fall 2024
Applications are open now for Harlaxton for the Fall 2024 semester and Summer 1 and 2 2024 terms! If you have worked with your advisor on planning for one of these upcoming terms at our amazing manor, now is the time to get your application in. The application process is simple and all online, and you can find details on the Harlaxton website: https://college.harlaxton.co.uk/programs. Feel free to contact the team if you have any questions at harlaxton@evansville.edu!
Submitted by Kaylynn McCalister kc205@evansville.edu
Men's soccer to play at Belmont in final match of the season
The University of Evansville men's soccer team will play its final regular season match of 2023 on Wednesday night.
Evansville earned a crucial three points in the Missouri Valley Conference postseason race on Friday night against the Bradley Braves. The Aces earned their second conference win and second shutout of the MVC season on their senior night. Senior forward Kai Phillip added his ninth goal of the season in UE's 1-0 win while graduate goalkeeper Jacob Madden had his third clean sheet of the year.

Evansville hopes to get their first road win in Valley play this week as they travel to Belmont for the final game of the season. The Aces last played the Bruins in Nashville during the 2021 fall season prior to Belmont joining the Missouri Valley Conference. In the two team's 15-game series, UE holds the edge with 12 wins and last won in Tennessee in 2016. Evansville won the team's final meeting in 2022 in the MVC Tournament Semifinals, posing a 1-0 shutout against the Bruins at Missouri State.

Belmont comes into Wednesday's game with an 8-6-2 overall record and a 3-4 conference record. The Bruins are coming off a tough 5-0 loss to the winners of the MVC Regular Season, Western Michigan. The 5-0 loss was the most goals conceded by Belmont since a similar defeat at UNC Wilmington on Oct. 13, 2019. The Bruins are led by sophomore forward Brock Kiper and graduate midfielder Jansen Wilson. Kiper leads the team in goals with 5 along with 4 assists while Wilson has 5 assists and 4 goals on the season.
The Aces are in a multiple-tie scenario heading into Wednesday. With seven points, the Aces are tied with Northern Illinois for the final spot in the tournament. A win against the Bruins would secure a spot in the tournament for UE. A result against Belmont could also secure Evansville the final seed of the tournament if NIU either ties or loses to Bowling Green.
Submitted by Athletics
Contribute to AceNotes
To have content considered for inclusion in AceNotes, please submit a Marketing Request Form. Deadline for submission to AceNotes is 10:00 a.m. on the requested date of publication. Only articles concerning UE related/sponsored activities will be accepted. Articles submitted to AceNotes may be edited for length and clarity. Submitter contact information is at the end of each article.