| | |
| --- | --- |
| PurplePulse | Monday, October 30, 2023 |
2023 Holiday Schedule
The University of Evansville will be closed during the holidays to allow our employees to enjoy this special time with their families.
The following November – December holiday schedule will be observed:
Thanksgiving Holiday
Closed Wednesday, November 22 through Friday, November 24
Offices reopen on Monday, November 27
Winter Holiday Break
Closed Thursday, December 21 through Tuesday, January 2
Offices reopen on Wednesday, January 3
Submitted by Noah Alatza na122@evansville.edu
Lane Closure at Walnut and S. Frederick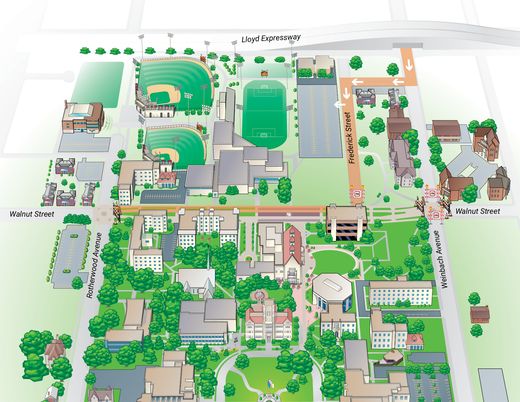 In light of recent developments, the University in coordination with the City of Evansville have made the decision to close Walnut Street at S. Frederick Street. The closure will be effective Monday, October 23, and will coincide with the work being done as part of the Walnut-Weinbach construction project.
UE community members will no longer be able to go west on Walnut from S. Frederick Street for the duration of the project.
Median Turnaround: Bollards on Walnut between Ridgway and Carson Center will be removed by Facilities to allow a turnaround in the median for delivery vehicles to exit through the westbound lane of Walnut. A stop sign will be placed at the turnaround to control the traffic entering the westbound lane.
Alternative Parking for Team Buses: Team buses can use Lot O during this time.
Additional questions can be sent to Facilities@evansville.edu.
Submitted by University Communications na122@evansville.edu
This Week in Music
October 31, 2023
7:30 p.m.
Victory Theatre in Downtown Evansville
Come celebrate Halloween with the UE Symphony Orchestra and Wind Ensemble at the Victory Theatre. This evocative program will include recently composed works Mary Shelley Meets Frankenstein by Erika Svanoe, October by Eric Whitacre, classical works The Noon Witch by Antonín Dvo?ák, Dance of the Furies by Christoph Willibald Gluck, and other fun and frightening works for the day.
Admission is free and open to the public. Costumes are welcome and encouraged (there will be a costume competition between performances!)
Submitted by Mary Beth Deig md334@evansville.edu
International Bazaar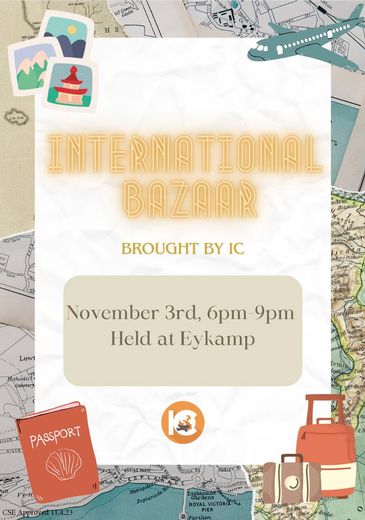 You are all invited to a night of fun!
International bazaar will be Friday, Nov. 3rd in Eykamp Hall beginning at 6:00pm.
Don't know what International Bazaar is? No worries! International Bazaar is one of the BIGGEST on-campus events in the Fall Semester. During Bazaar, faculty, students, staff and community members from all over the world showcase their cultures either through performance or a booth set up!
Join for a night filled with performances, dance lessons, and learning about other cultures from around the world!
Submitted by Abagail Christine Catania ac532@evansville.edu
It's Time For The Chili Bowl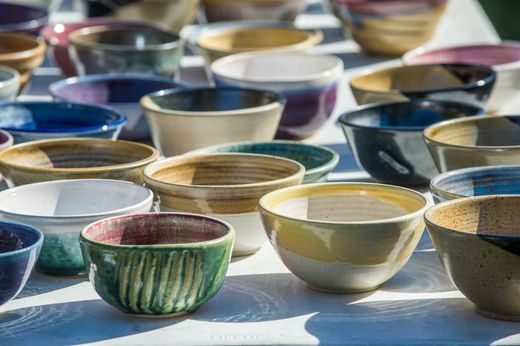 The Chili Bowl will be held on Tuesday, October 31 from 11:30 a.m. - 1:30 p.m. on the East Terrace Lawn. The rain location is Eykamp Hall, University Center.
For $10, you can buy a one-of-a-kind bowl and fill it with chili. There is a purchase limit of 8 bowls per person. Containers will be available for those who prefer not to put chili in their new chili bowls.
The UE Clay Club and the UE Department of Art appreciate your support! Proceeds will be donated to a local food organization and to support Clay Club events.
Submitted by Carol McCraney cm177@evansville.edu
We the People Volunteers Needed
UE is once again proud to host the Southern Regional Competition for We the People: The Citizen & the Constitution. On Wednesday, 11/8, we will welcome 8 schools (both high school and middle school) to campus as they work to earn a place at Indiana's State Finals. We need volunteers for the following shifts. If interested and available, email Dina Willming at dw285@evansville.edu. No experience needed for any shift!
Shift 1: 8:30am - 9:45am - Greeter (4 needed): Stand outside SOBA on the circle and Rotherwood sides, welcome the teams as they arrive and help them get to their classrooms. Purple UE scarf provided (must be returned), UE casual attire.
Shift 2: 8:45am - noon. Judges' Facilitator (6 needed): Serve as a guide for a panel of judges, getting them from room to room on time. Business casual attire recommended.
Shift 3: 11:30am - 12:00pm (8 needed): Lunch guide. Stand outside their hearing rooms as they finish their rounds, then guide them to Eykamp Hall, Ridgway University Center for lunch. Serving as an Ambassador for UE on the way. UE casual attire.
Submitted by Andrew Carter ac116@evansville.edu
UE Participates in JobSpark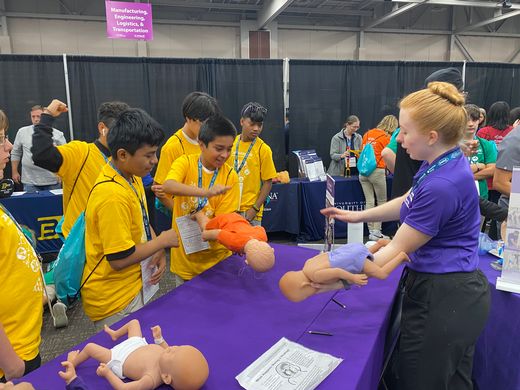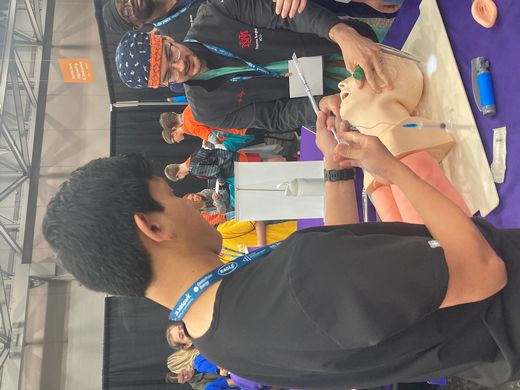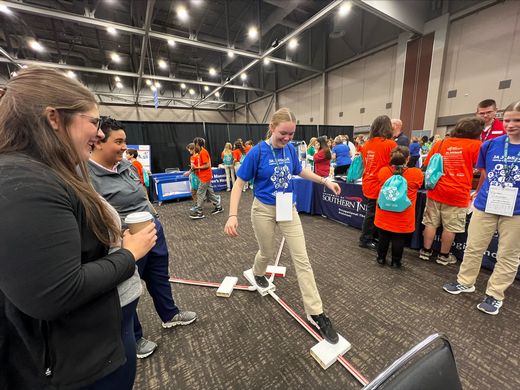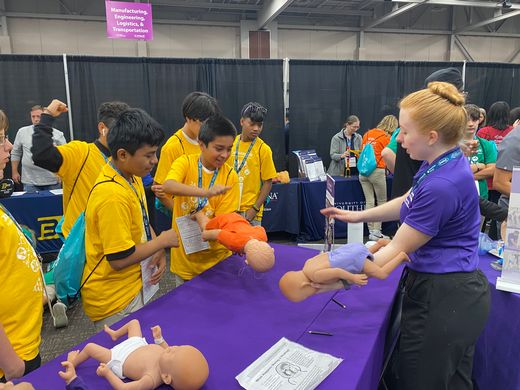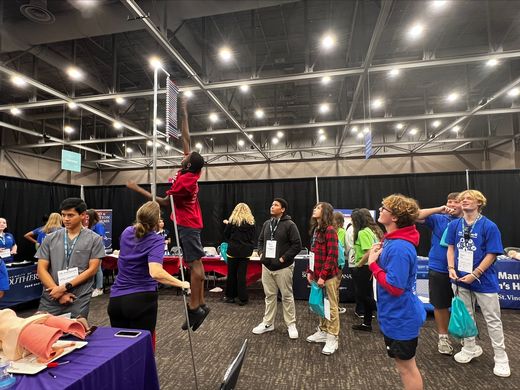 Junior Achievement of Southwestern Indiana sponsored JobSpark for eighth grade students from southwest Indiana and southeast Illinois on Tuesday and Wednesday, October 24 and 25. The event was held at the Old National Events Plaza. Over 4,100 students attended and took part in hands-on experiential activities designed to "spark" an interest in future career paths. UE was represented by over 20 faculty, staff, and administrators along with about 20 students from the Mathematics Department, Music Conservatory, Creative Technologies Major, School of Health Sciences, Doctor of Nurse Anesthesia Practice, Dunigan Family School of Nursing, Doctor of Physical Therapy, School of Engineering and Computer Science, and the Schroeder Family School of Business.
Thanks to everyone who took part to help "spark" an interest in the opportunities at UE!
Submitted by Paula Heldt ph28@evansville.edu
Bookstore student accounts CLOSED
Recently, we have had an influx of last minute textbook orders placed on student accounts.
1. Student accounts close around the same time as midterms.
2. Most textbooks, excluding late start classes, are sent back to the publishers around midterms as well.
If you still need a book, we are more than happy to try to locate an eBook for you and charge it to a valid debit or credit card.
Please stop by the bookstore if you have any questions!
Submitted by Niamh Steffens ss837@evansville.edu
On-Site COVID Vaccine Appointment Registration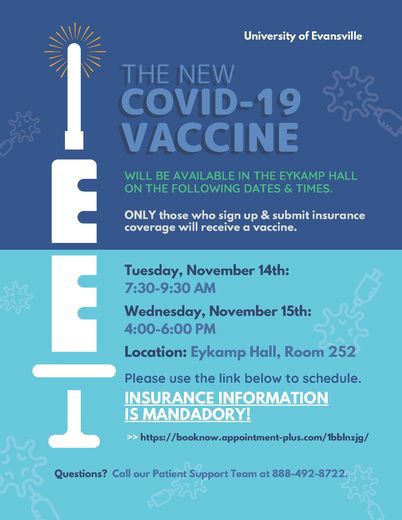 COVID Vaccines will be available for employees & students in the Eykamp Hall (Room 252) on the following dates & times. Multiple appointments will be available per 15-minute time slot.
-- Tuesday, November 14th: 7:30-9:30 am
-- Wednesday, November 15th: 4:00-6:00 pm
ONLY those who sign up & submit insurance coverage will receive a vaccine. INSURANCE INFORMATION IS MANDATORY AT SIGN-UP! Sign-ups will close on November 8th.
Please be sure to download, print, and complete the vaccine consent form: LINK TO FORM ON ACELINK
Use this link to schedule: https://booknow.appointment-plus.com/1bblnzjg/
Submitted by Taylor Kollak tk148@evansville.edu
RSVP Today for "Racing to Respond" Documentary Viewing - FREE FOOD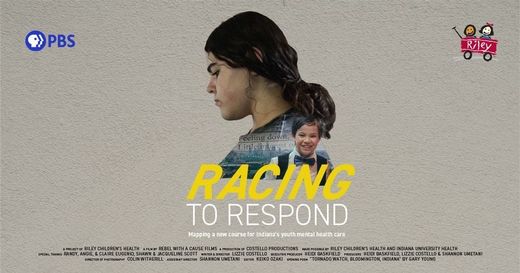 The PsyD program in Clinical Psychology and the Office of Counseling Services will be cohosting a viewing of "Racing to Respond", a documentary about the youth mental health crisis in Indiana produced by Riley Children's Hospital on Monday, October 30th at 4:00 pm. This event held in Eykamp is open to all of campus, including faculty, staff, and administrators and is free to attend. Registration/RSVP in UEngage is recommended to ensure there is enough food following the presentation for all who plan to attend.
See below for a preview of the film.
Submitted by Liz McCormick em232@evansville.edu
Share your story! First-Generation College Celebration
Each year on November 8, colleges and universities across the nation highlight the First-Generation College Celebration. At UE, we plan to celebrate the first-generation students, faculty, and staff on our campus and all they have achieved! More importantly, we want to share the stories of our first-generation community to showcase the importance of college education and accessibility.
As a first-gen student, would you be willing to share your story with us? The UE Office of Marketing & Communications would like to ask you a few simple questions and allow you to share your college experience.
Visit the link to share your story!
Submitted by Abigail Perry ap445@evansville.edu
We want YOU to be an Ace of UE
Students and faculty,
The Office of Marketing is looking to add new profiles to our Aces of UE webpage. You may also notice this section on our homepage. Aces of UE is a collection of stories from current students, alumni, and faculty members from across all majors. In these profiles, students and alumni share why they chose UE, what has made their experience so unique, and more.
If you are interested in sharing your UE story please visit the link and fill out our Aces of UE questions! We look forward to learning about your Ace experience.
https://uesurvey.evansville.edu/TakeSurvey.aspx?SurveyID=86LK7n6K#
Submitted by Abigail Perry ap445@evansville.edu
Tell Us What You Think for a Chance to Win $25 in Ace Bucks
You can win $25 in Ace Bucks just by completing the Voice to Vision survey. We are selecting 3 winners!! Be sure to follow the instructions on the flyer.
Before you start the survey, there are a few important items to note:
It's confidential. We do not release individual data to anyone; survey answers are entirely anonymous.
It's quick. The survey should take 8 to 10 minutes to complete.
Take it before it closes. The deadline for completing the survey is October 31st. However, please take it at your earliest convenience.
After you have completed the Voice to Vision survey, register to win $25 in Ace Bucks.
If you have questions about the survey process, email kabria.carr@compass-usa.com or call 812-488-2400.
On behalf of Chartwells, we thank you for taking the time to participate in this very important initiative and sharing your valuable insights!
Submitted by KaBria Carr kc403@evansville.edu
It's Not Too Late to Register for Winter Intersession Courses
Get ahead by taking Winter Intersession online courses. Complete a missing required course, lighten your spirng load, and take advantage of winter break. Classes are held from December 15, 2023 through January 5, 2024. Students may take one class and register when registering for spring classes starting October 30, 2023.
Learn more about Winter Intersession.
Winter Intersession Course List

| | | | | |
| --- | --- | --- | --- | --- |
| Subject | Number | Cr Hrs | Course Title | Instructor |
| ART | 105 | 3 | Introduction to the Visual Arts | Larmann |
| AT | 180 | 3 | Introduction to Athletic Training | Tilly |
| CHEM | 103 | 3 | Chemistry of Adult Beverages | Miller K. |
| EXSS | 150 | 3 | Introduction to Health Sciences | Laughbaum |
| EXSS | 320 | 3 | Nutrition for Performance Health | Miller W. |
| EXSS | 417 | 3 | Advanced Exercise Science | Miller W. |
| EXSS | 453 | 2 | Motor Learning | Wilson |
| EXSS | 488 | 1 to 4 | Internship | Miller W. |
| EXSS | 488 | 1 to 4 | Internship | Wilson |
| FIN | 280 | 3 | Introduction to Personal Finance | Brockman |
| HIST | 112 | 3 | World History 1500 - Present | MacLeod |
| MUS | 156 | 3 | Music in America | Strandberg |
| NEUR | 125 | 3 | Introduction to Neuroscience | Campese |
| PH | 190 | 3 | Introduction to Public Health | Patel-Dovlatabadi |
| PSYC | 121 | 3 | Introduction to Psychology | Campese |
| PSYC | 226 | 3 | Child and Adolescent Psychology | Hennon |
| PSYC | 229 | 3 | Social Psychology | McCracken |
| PSYC | 450 | 3 | Learning | Campese |
| QM | 227 | 3 | Introduction to Statistics | Khormali |
| SOC | 105 | 3 | Introduction to Sociology | Plikuhn |
| SOC | 230 | 3 | Social Problems in the Modern World | Plikuhn |
Submitted by Paula Heldt ph28@evansville.edu
Proposal for Summer Camps 2024
If you are interested in having a camp during Summer 2024, please complete the proposal form. All proposals are due by Tuesday, November 21, and will then be reviewed by the Camp Proposal Committee. After review, the Committee will contact you with the next steps. Compensation is available.
If you have any questions or inquiries, please contact the Office of Youth Programs at 812.488.3440 or youthprograms@evansville.edu.
Submitted by Rachel Roscoe rr209@evansville.edu
Free HIV Testing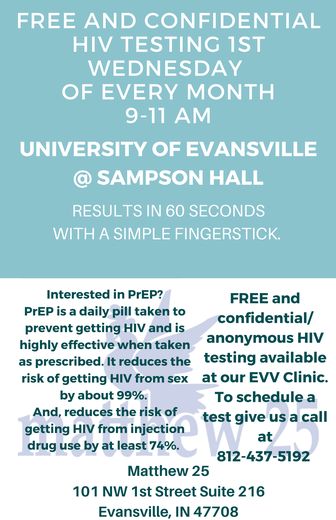 Free, HIV testing at the Student Center first Wednesday of every month from 9-11am. No appointment necessary.
Submitted by Tara Ulrich tu19@evansville.edu
UE Men's Basketball Sport Science Internship
UE Men's Basketball is looking for students at either the professional, graduate, or undergrad level with a background in Microsoft Office, statistics, and programming (R, Python, etc.), as well as students with experience in kinesiology and biomechanics to assist with data collection, processing, analysis, and report building for sport science initiatives and projects here at UE.
Students will be immersed in the day-to-day operations of the basketball team and sports performance.

If any student is interested, please email a resume to Jeremy Portillo (jp450@evansville.edu). Interviews will be conducted immediately.
Submitted by Jeremy Portillo jp450@evansville.edu
Daugherty from FYS to present at Taylor Swift themed academic conference
Kristie Daugherty, adjunct in First Year Seminar, will be presenting her paper titled "You Should Find Another: Swift's Deconstruction of the Self in 'Midnights'" at the first academic conference "examining the career, discography, legacy and cultural impact of [singer] Taylor Swift." According to their website, "[t]his year, Taylor Swift embarked on her record-breaking Eras Tour, which sold over 2.4 million tickets in a single day. As the tour title signals, this moment provides an opportunity to not only reflect on, but also re-imagine Swift's extensive impact. Scholars and fans alike see this as a critical time to discuss and analyze Taylor Swift's impact during yet another peak in her extensive and iconic career." The conference will take place in Bloomington, Indiana on November 3rd and 4th and is hosted by the Indiana University Arts & Humanities Council. They received hundreds of submissions from around the globe; approximately 30 were selected. Congratulations, Kristie!
Submitted by Kristina Groves kg76@evansville.edu
Show Harlaxton Support on Purple Fridays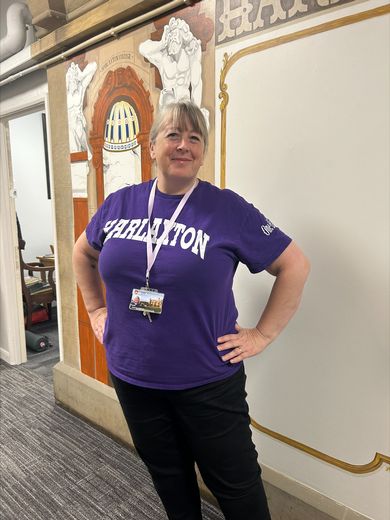 Harlaxton College is hosting a pop-up shop! We have several items available for sale, but we wanted to draw the campus community's attention to the purple Harlaxton t-shirt available for purchase. Staff at Harlaxton wear this purple shirt every Friday to show their support for UE, so now you have the chance to also show your support for Harlaxton by wearing your very own purple Harlaxton shirt for Purple Fridays!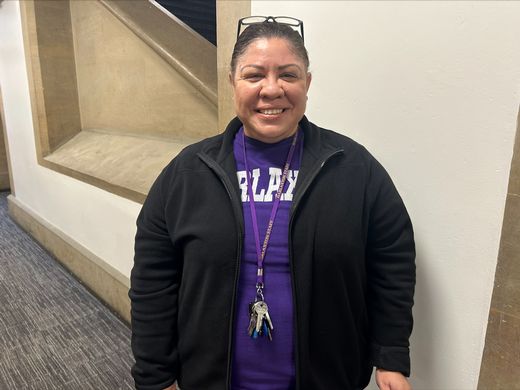 The unisex t-shirt is available in sizes from XS to 4XL for $22.75. To purchase your purple Harlaxton shirt or any of our other options, please visit: https://harlaxtonshop.ccbrands.com/
Submitted by Victoria Cartal vr35@evansville.edu
Salukis stage late rally to defeat volleyball
Late rallies in the third and fourth set saw Southern Illinois clinch a 3-1 victory over the University of Evansville volleyball team on Saturday evening inside Meeks Family Fieldhouse.
Giulia Cardona recorded a match-high 23 kills while Melanie Feliciano picked up 17 kills while hitting a strong .312. Kora Ruff and Ainoah Cruz anchored the defense with 22 and 20 digs, respectively. Ruff added 41 assists. Madisyn Steele led the way with six total blocks while Brooke Springer finished the night with five. Southern Illinois was led by Nataly Garcia's 20 kills and 20 digs.
Game 1 – SIU 25, UE 21
Opening the contest scoring three of the first four points, the Salukis had the early momentum, but the Purple Aces grabbed a 7-5 lead thanks to a pair of Giulia Cardona kills, followed by two Melanie Feliciano aces. Madisyn Steele and Emilee Scheumann assisted on a block that pushed the lead to 11-8 before SIU countered.
Four in a row put the Salukis back in front and the squads exchanged the lead multiple times, resulting in a 20-20 score. Southern Illinois broke the tie with two in a row and would take a 25-21 decision.
Game 2 – UE 25, SIU 17
Seeing her first action of the night, Angelica Maltes Gonzalez recorded a pair of kills to cap off a 7-2 rally to open the second set. Feliciano kept things going with three kills in a row to extend the lead to 15-7. Over the remainder of the set, the Salukis never got closer than six points as the Aces tied the match with the 8-point victory.
Game 3 – SIU 28, UE 26
Both teams spent time in the lead throughout the opening sequence of game three. With things tied at 7-7, Evansville jumped in front when Angelica Gonzalez Maltes began a 4-0 run with a pair of kills. Steele recorded a block before Cardona capped off the stretch with an ace. UE extended its lead to as many as five points when a Feliciano kill stabilized a 16-11 advantage.
Southern Illinois slowly closed the deficit, but the Aces remained in a solid position, holding a 23-21 edge. Unfortunately, three in a row by the Salukis put them in front before they wrestled away a 28-26 win.
Game 4 – SIU 25, UE 20
Things could not have started better in the fourth set as the Aces scored the opening six points. Brooke Springer had a solo block in the early run. SIU made its way back, chopping the deficit to just one at 14-13. Maddie Hawkins helped the Aces retake an 18-14 lead with her first service ace of the match.
Just when it looked like UE had retaken control, SIU countered with a huge run to finish off the match. They outscored the Aces by an 11-2 margin to clinch the match. The Aces are back on the road next weekend to face Drake and UNI.
Submitted by Athletics
Late rally comes up just short for UE volleyball
In a close match throughout the evening, the University of Evansville volleyball team fell to Missouri State by a 3-1 final inside Meeks Family Fieldhouse on Friday evening.
Giulia Cardona and Melanie Feliciano led all players in kills with 22 and 20, respectively. Ainoah Cruz continued her strong streak on the defensive side with a match-high 28 digs while Kora Ruff picked up 43 assists. Ruff and Blakeley Freeman added 10 digs each. Cardona finished the night with six service aces while Freeman added three of her own.
Game 1 – MSU 25, UE 23
Both teams had their chances in the opening frame. Giulia Cardona picked up a kill to help the Aces take a 10-8 advantage before an error by the Bears pushed the Evansville lead to 13-10. Missouri State fought back to tie it at 16-16 before utilizing a 3-0 run to go up 21-20.
Kills by Brooke Springer and Melanie Feliciano along with a solo block from Madisyn Steele put UE back in front at 23-21. The Bears grabbed the momentum right back, posting the final four points to take the set.
Game 2 – MSU 26, UE 24
Three in a row by the Bears saw them take an early 9-6 lead with UE tying it right back up with a pair of Giulia Cardona service aces. Blakeley Freeman followed up with consecutive aces of her own to put her team in front – 14-11.
Evansville extended the lead to as many as four points as Feliciano picked up two more kills to push the advantage to 17-13. The Aces continued to lead until the Bears staged another late rally. Trailing 24-22, MSU reeled off the final four tallies to win the set and take a 2-0 lead.
Game 3 – UE 25, MSU 20
Following a back-and-forth battle early in the frame, the Aces went on a 13-4 run to turn a 5-5 game into an 18-9 advantage. Evansville started by scoring five in a row with Cardona picking up two kills and an ace. Emilee Scheumann and Feliciano added kills during the run to add to the lead.
MSU made a late run to cut the deficit to as few as three points (21-18), but the Aces held strong to take the set by a 25-20 score.
Game 4 – MSU 25, UE 23
MSU opened the fourth on a 3-0 run with a Scheumann kill getting the Aces within one at 9-8. The Bears would extend lead back to as many as four points with UE staying within a handful of points. An error by MSU allowed UE to cut the deficit back to one at 22-21 but the rally came up just short with UE falling by a 25-23 final.
Southern Illinois is on the slate Saturday with the match beginning at 5 p.m.
Submitted by Athletics
UE men's soccer snaps three-game skid with 1-0 win over Bradley
The University of Evansville men's soccer picked up three crucial points in its 1-0 win over Bradley on Friday night.

A goal in the 39th minute from senior Kai Phillip gave the Purple Aces a much-needed win during their Senior Night game against the Bradley Braves. UE's defense helped keep the game a clean sheet by only allowing two shots on goal while graduate goalkeeper Jacob Madden made both saves for his second shutout of the season. Winger Nkosi Graham and midfielder Ola Arntsen each gained a point with assists on Phillip's goal in the first half.

Friday night's match began slowly with the Aces getting the first shot on goal of the night from Phillip. Only three more shots were added in the first half before Evansville broke through in the 38th minute. Following a corner kick for UE, Arntsen found the ball near the right corner of the penalty area and sent a cross to the other side for Graham. Graham got a head on the ball, placing it in front of Phillip for a quick right-footed release into the upper right corner of the net. The Aces kept the Braves from registering another shot in the half, heading into the second half with a lead for the first time since September 23rd.

UE wouldn't relinquish its one-goal lead in the second half either. As the game got more intense, Evansville was able to keep their defense strong, limiting Bradley to only four shots through 45 minutes. The Aces also had two close opportunities in the final frame, both from Graham. In the 59th minute, Graham made a run towards the right side of the goal but shot just high. His second opportunity of the half came in the 89th minute as Graham found the goal open on the right side. Graham's shot went into the net but was later called offside as he was in front of the goalkeeper on the shot. Even with the disallowed goal, UE picked up a much-needed three points in conference play.

Evansville is currently in a multiple-tie scenario heading into the final game of the season for the Missouri Valley Conference tournament. With seven points, the Aces are tied with Northern Illinois for the final spot in the tournament with a game on Wednesday against the Belmont Bruins. A win against the Bruins would secure a spot in the tournament for UE. A result against Belmont could also secure Evansville the final seed of the tournament if Northern Illinois either ties or loses to Bowling Green. There is a slight chance the Aces could secure the final seed in the tournament with a loss to the Bruins if Northern Illinois doesn't have a result against the Falcons and Drake does not win its match against Missouri State.
UE's final game of the regular season is set for Wednesday, Nov. 1. Evansville will travel to Nashville to take on the Belmont Bruins in the 2023 regular-season finale. Kick-off from E.S. Rose Park is set for 6:30 p.m.
Submitted by Athletics
Bailey and Cuff lead the way as Aces outlast Wabash
In their first game wearing the Purple Aces uniform, Chuck Bailey III and Tanner Cuff led the way for the University of Evansville men's basketball team in Saturday's 76-66 win over Wabash College at the Ford Center.
Bailey connected on eight of his 11 field goal tries and finished with a team-best 16 points. Cuff was 5-for-9 from the field and 2-of-4 from long range on his way to 14 points. Kenny Strawbridge Jr. also reached double figures with 10 points. Yacine Toumi scored nine points while tying Strawbridge for the team lead with three assists. On the glass, Ben Humrichous led all players with eight rebounds.
Ahmoni Jones led the Little Giants with a game-high 17 points while Vinny Buccilla scored 14. Noah Hupmann, the son of former UE great Sascha Hupmann, saw seven minutes of playing time.
Wabash opened the game on a 16-5 run and would lead for nearly 19 minutes throughout the first half. The Little Giants knocked down triples on their first two offensive possessions of the day to take a 6-0 lead before another trey pushed the lead to 9-1 less than two minutes in. Kenny Strawbridge Jr. converted the first field goal of the game at the 17:52 mark before Wabash continued to scorch the nets with the fourth 3-pointer of the game capping off the 16-5 start over the first five minutes. They opened the game 6-of-9 from the field.
Evansville made its way back with Sekou Kalle posting six consecutive points to chop the lead down to five. Chuck Bailey III added a pair of field goals to cap off a 14-3 stretch that tied the game at 19-19 with 10:10 remaining in the half. Just when it looked like the Aces were in business, the Little Giants bounced back with a 9-0 run that turned a 24-23 edge into a 33-23 lead with exactly six minutes showing on the clock.
Once again, UE responded and this time, they would take their first lead of the game. A second-chance basket from Ben Humrichous finished off a 16-5 stretch that put Evansville on top – 39-38 – with 2:13 left in the period. Highlighting the run was a pair of triples from Tanner Cuff. Wabash knocked down the last field goal of the half to retake a 40-39 lead heading into the locker room. They shot 44.4% in the half but the defense for UE held them to 37.0% shooting following their big start.
Cam Haffner drained his first triple of the contest in the first possession of the second half to put his squad back on top, but Wabash continued to rally each time with seven lead changes taking place in the final period. Neither team led by more than a possession over the first seven minutes of the half until a field goal by Gage Bobe put the Aces up 55-51 with 12:33 remaining.
From that point on, Wabash would tie the game on multiple occasions but would not retake the lead. Inside the final four minutes, Evansville was able to slowly pull away to secure the victory. After a free throw by the Little Giants cut the UE lead to 68-66 with 4:10 remaining, the Aces finished the game on an 8-0 run to finish with the 76-66 triumph.
Shooting 54.5% in the second half, UE outshot Wabash by a 49.2%-41.9% margin while finishing with a 38-32 edge on the glass.
With preseason action complete, the Aces have their sights set on the Nov. 6 season opener against Miami Ohio. Tip is set for 7 p.m. at the Ford Center.
Submitted by Athletics
UE Cross Country finishes 11th at MVC Championships
The University of Evansville cross country teams both finished in 11th place at the post-season meet.
Hosted by the Belmont Bruins in Nashville, the Purple Aces competed in the MVC Championships on Friday morning. UE's women's team outperformed their pre-championship poll selection finishing 11th out of 12 teams with four runners setting PRs while the men's team finished 11 of 11 teams. The women's side was led by freshman runner Sonja Inzinger (Mautern an der Donau, Austria) with a 38th-place finish while the men's side was led by freshman Samuel Lea (Wooster, England) with a 59th-place finish.
"Today was a big step in the right direction for the women's team," said Head Coach Brook LeCompte following Friday's race. "What doesn't show on the results sheet is the adversity this team has faced all year. It was a team of mostly freshmen who dealt with illness for a majority of the season and only got to race as a full team for the first time today. We had some solid performances, but we know there is still plenty of room for improvement. This is the beginning of a team that will continue to move up in the MVC standings over the next handful of years."
"On the men's side, they did not race as well as we expected. We lost some of our runners to injury but overall, I think we underperformed today. Cross country is a big adjustment for middle-distance runners on the men's side. And I think this team still has a lot to learn in regard to long-distance racing. But this is a young team and we will figure it out over time,".
It was a big morning race for Evansville's women as four runners set a personal best time for a 6K race. Inzinger finished Friday's race with a time of 22:24.1, a new PR after setting her first at Angel Mounds two weeks prior. Nicole Prauchner (Neuhofen an der Ybbs, Austria) raced her first 6K and was second for the Aces placing 43rd with a time of 22:36.3.
Also setting PRs in Nashville were freshman Nayla Martin (Vaudreuil-Dorion, Quebec) placing 55th with a time of 22:55.6 and freshman Shelby Bastin (Versailles, Ind.) with a time of 25:19.0. UE had two other runners place on the women's side in Sarah Vanderhoof-Dossett (Franklin, Tenn.) finishing 81st with a time of 24:51.9 and Kyndall Anthis (Pakota, Ind.) placing 82nd with a time of 25:08.6.
For the men's team, Samuel Lea finished with a time of 23:37.6, followed by Rafael Rodriguez (Segovia, Spain) placing 62nd with a time of 27:24.6. Woody Burrell (Ceaderburg, Wis.) was the Aces next finisher in 70th place with a time of 27:57.8. Rounding out finishes for the men were Owen Cuplin (Hampshire, Ill.) in 73rd with a time of 28:36.5, Cedrik Flipo (Beloeil, Quebec) in 75th with a time of 29:07.8 and Tommaso Losma in 76th with a time of 29:22.3.
Evansville ended its cross country season on Friday morning. UE will take some time to rest before turning their eyes to the indoor track and field season. The Aces will begin the indoor season in mid-January.
Submitted by Athletics
Men's basketball faces Wabash in Saturday exhibition game
Basketball season officially opens on Saturday when the University of Evansville men's basketball team welcomes Wabash College to the Ford Center for an exhibition contest. Tip is set for 1 p.m. inside the Ford Center.
Setting the Scene
- Saturday's game will be the lone exhibition game for the Purple Aces as they prepare for the 2023-24 season
- UE has five returners from last season while bringing in 12 newcomers
- Head coach David Ragland balanced the experience of the incoming players with eight being freshmen, one sophomore, a junior, senior and 5th-year senior
Scouting the Opponent
- Wabash is coming off a strong 21-8 campaign in 2022-23
- The Little Giants return a wealth of experience as 10 of their top 11 scorers from last season are back
- Ahmoni Jones led Wabash in both scoring (16.2 PPG) and rebounding (6.3 RPG) last year
Approaching 1,000
- Returning for his fifth season of college basketball is Kenny Strawbridge Jr.
- Following two seasons at Alabama State, Strawbridge joined the Aces last season and led the squad with 14.4 points per game
- He opens this season with 973 points in his career, just 27 away from reaching the 1,000-point mark
- Strawbridge was named to the MVC Preseason Second Team on October 17
- His top scoring output of last season saw him register 25 points on 11-of-18 shooting versus Fairfield
Best in the Valley
- Completing the 20-game MVC slate with a 44.0% showing from 3-point range, Gage Bobe led the way in the league last year
- He was 2-for-5 from outside in the finale versus Illinois State after going 4-of-7 in the final home game against UIC
- His top career game came at Valpo as he scored 22 points while draining six of his 11 3-point tries and seeing 36:49 of work
- Bobe enters his fifth season with the Aces
Back in the MVC
- Antonio Thomas embarks on his fifth season of college basketball right where it all started - in the MVC
- Thomas opened his career at Bradley where he was part of the 2020 MVC Championship team as a freshman
- Following two seasons with the Braves, Thomas transferred to Kentucky Wesleyan where he spent the last two seasons
- In 2022-23, Thomas averaged 9.8 points and 3.0 rebounds for KWC
Submitted by Athletics
Contribute to AceNotes
To have content considered for inclusion in AceNotes, please submit a Marketing Request Form. Deadline for submission to AceNotes is 10:00 a.m. on the requested date of publication. Only articles concerning UE related/sponsored activities will be accepted. Articles submitted to AceNotes may be edited for length and clarity. Submitter contact information is at the end of each article.