| | |
| --- | --- |
| PurplePulse | Friday, October 27, 2023 |
Lane Closure at Walnut and S. Frederick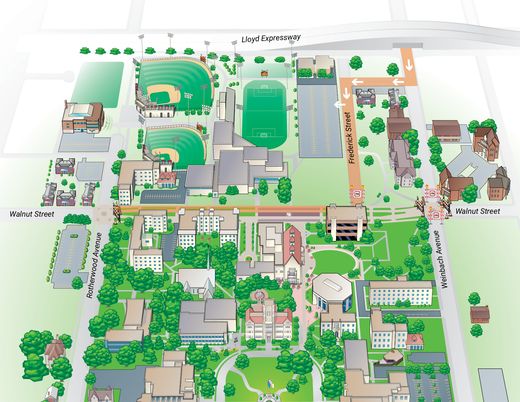 In light of recent developments, the University in coordination with the City of Evansville have made the decision to close Walnut Street at S. Frederick Street. The closure will be effective Monday, October 23, and will coincide with the work being done as part of the Walnut-Weinbach construction project.
UE community members will no longer be able to go west on Walnut from S. Frederick Street for the duration of the project.
Median Turnaround: Bollards on Walnut between Ridgway and Carson Center will be removed by Facilities to allow a turnaround in the median for delivery vehicles to exit through the westbound lane of Walnut. A stop sign will be placed at the turnaround to control the traffic entering the westbound lane.
Alternative Parking for Team Buses: Team buses can use Lot O during this time.
Additional questions can be sent to Facilities@evansville.edu.
Submitted by University Communications na122@evansville.edu
Cast of UE Theatre's RENT to perform at UE Men's Basketball Game This Saturday
The cast of RENT will preview the second installment of the 2023–2024 season with a performance of the iconic song "Seasons of Love," at halftime during the Men's basketball exhibition game this Saturday against Wabash College. The game will take place at the Ford Center starting at 1 p.m.
RENT opens at 7:30 p.m., Friday, Nov. 10, in Shanklin Theatre. Additional performances are at 7:30 p.m., on Nov. 11, 16, 17, 18 and at 2:00 p.m., on Nov. 19. Tickets to the upcoming musical can be purchased online at theatre.evansville.edu or by calling the ticket office at 812.488.2031, Monday through Friday, 12:00 to 5:00 p.m. UE students may obtain one free ticket to each production online or in person at the ticket office in Hyde Hall.
Submitted by Sharla Cowden sc75@evansville.edu
Celebrate First-Generation Day at Ace Scholars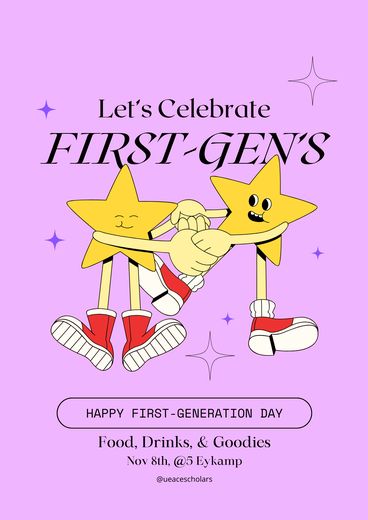 Ace Scholars welcomes students, professors, staff, and administrators to celebrate National First-Generation College Day on November 8, 2023! The event will occur on November 8, 2023, at 5 p.m. in Eykamp. This is a wonderful chance to network with other first-generation college students, faculty, and staff. There will be free food, music, and games present at this event, so bring a friend and have a good time!
Submitted by Trinitie Terrell tt141@evansville.edu
It's Time For The Chili Bowl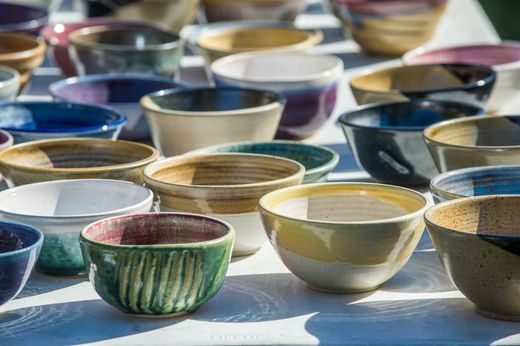 The Chili Bowl will be held on Tuesday, October 31 from 11:30 a.m. - 1:30 p.m. on the East Terrace Lawn. The rain location is Eykamp Hall, University Center.
For $10, you can buy a one-of-a-kind bowl and fill it with chili. There is a purchase limit of 8 bowls per person. Containers will be available for those who prefer not to put chili in their new chili bowls.
The UE Clay Club and the UE Department of Art appreciate your support! Proceeds will be donated to a local food organization and to support Clay Club events.
Submitted by Carol McCraney cm177@evansville.edu
Basham - Allaire Exhibit in Krannert Gallery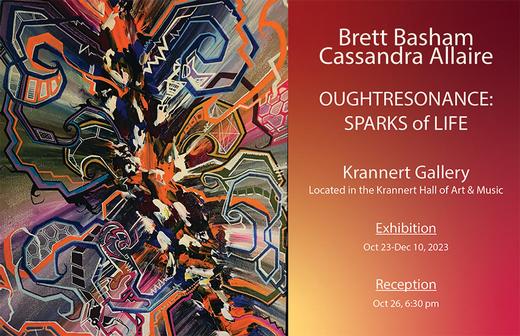 OUGHTRESONANCE: SPARKS of LIFE, a collaboration by artists Brett Basham and Cassandra Allaire, will be exhibited in the Krannert Gallery from October 23 through December 10.
Please join us for the artists reception on Thursday, October 26 at 6:30 p.m. in the Krannert Gallery.
Submitted by Carol McCraney cm177@evansville.edu
BSU Trunk or Treat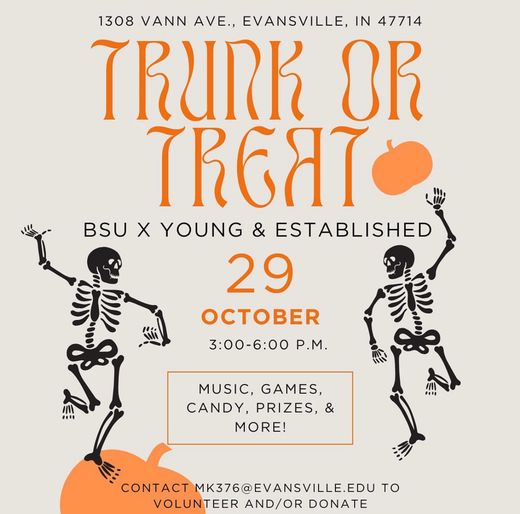 The Black Student Union is hosting our annual Trunk or Treat with Young & Established on Sunday, October 29th from 3 pm - 6 pm. This family-friendly event will be held at Young & Established and will feature a safe and fun Halloween experience for all ages. We are looking for volunteers and donations to help us put on this event! Please visit the link below to sign up for our event, help with tabling to raise funds, and/or donate. Donations will go towards purchasing candy, decorations, and other necessary items for the event. We hope to see you all there!
Sign up and/or donate: https://superlink.io/ueblackstudentunion
Submitted by Trinitie Terrell tt141@evansville.edu
UE Participates in JobSpark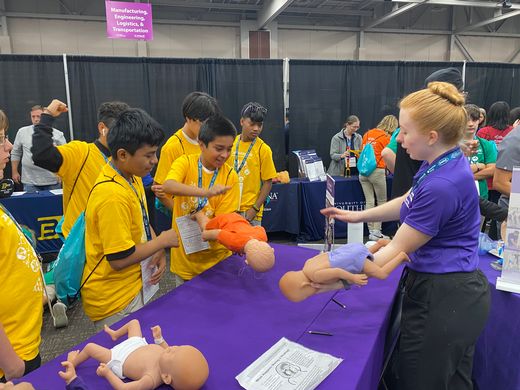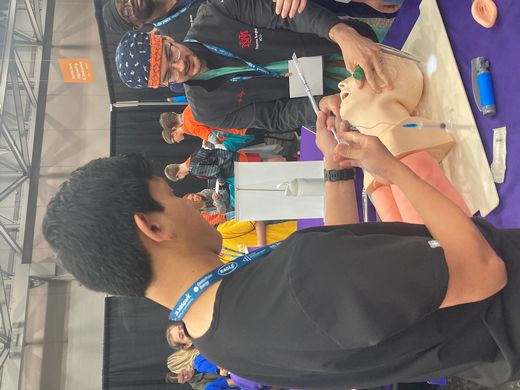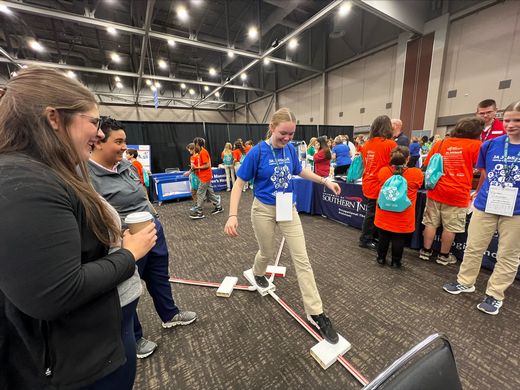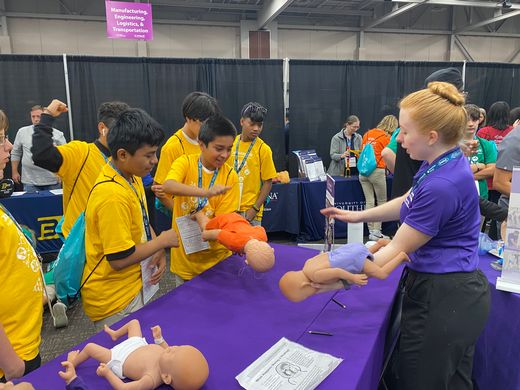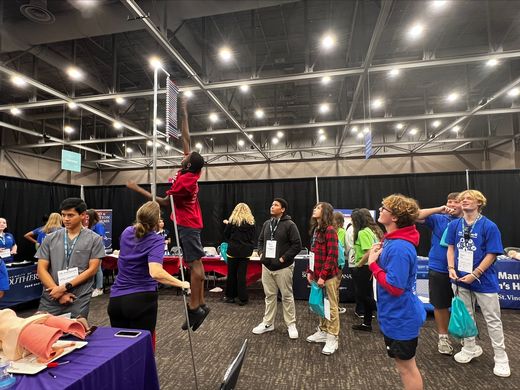 Junior Achievement of Southwestern Indiana sponsored JobSpark for eighth grade students from southwest Indiana and southeast Illinois on Tuesday and Wednesday, October 24 and 25. The event was held at the Old National Events Plaza. Over 4,100 students attended and took part in hands-on experiential activities designed to "spark" an interest in future career paths. UE was represented by over 20 faculty, staff, and administrators along with about 20 students from the Mathematics Department, Music Conservatory, Creative Technologies Major, School of Health Sciences, Doctor of Nurse Anesthesia Practice, Dunigan Family School of Nursing, Doctor of Physical Therapy, School of Engineering and Computer Science, and the Schroeder Family School of Business.
Thanks to everyone who took part to help "spark" an interest in the opportunities at UE!
Submitted by Paula Heldt ph28@evansville.edu
Bookstore student accounts CLOSED
Recently, we have had an influx of last minute textbook orders placed on student accounts.
1. Student accounts close around the same time as midterms.
2. Most textbooks, excluding late start classes, are sent back to the publishers around midterms as well.
If you still need a book, we are more than happy to try to locate an eBook for you and charge it to a valid debit or credit card.
Please stop by the bookstore if you have any questions!
Submitted by Niamh Steffens ss837@evansville.edu
On-Site COVID Vaccine Appointment Registration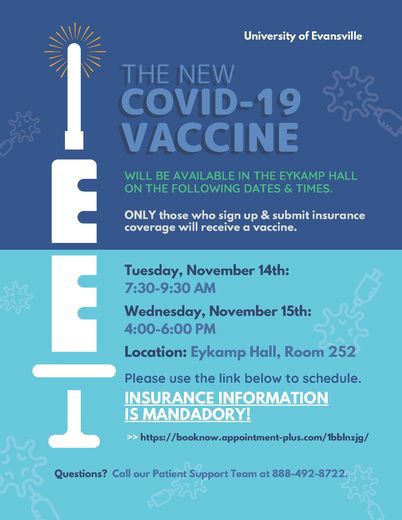 COVID Vaccines will be available for employees & students in the Eykamp Hall (Room 252) on the following dates & times. Multiple appointments will be available per 15-minute time slot.
-- Tuesday, November 14th: 7:30-9:30 am
-- Wednesday, November 15th: 4:00-6:00 pm
ONLY those who sign up & submit insurance coverage will receive a vaccine. INSURANCE INFORMATION IS MANDATORY AT SIGN-UP! Sign-ups will close on November 8th.
Please be sure to download, print, and complete the vaccine consent form: LINK TO FORM ON ACELINK
Use this link to schedule: https://booknow.appointment-plus.com/1bblnzjg/
Submitted by Taylor Kollak tk148@evansville.edu
RSVP Today for "Racing to Respond" Documentary Viewing - FREE FOOD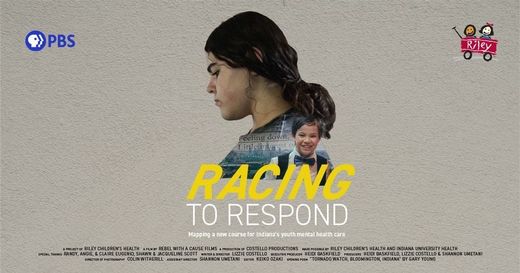 The PsyD program in Clinical Psychology and the Office of Counseling Services will be cohosting a viewing of "Racing to Respond", a documentary about the youth mental health crisis in Indiana produced by Riley Children's Hospital on Monday, October 30th at 4:00 pm. This event held in Eykamp is open to all of campus, including faculty, staff, and administrators and is free to attend. Registration/RSVP in UEngage is recommended to ensure there is enough food following the presentation for all who plan to attend.
See below for a preview of the film.
Submitted by Liz McCormick em232@evansville.edu
Welcoming New Coordinator for International Student Engagement & Services
The Center for Student Engagement is extremely excited to announce that Stacie Miller will be joining our office as the new Coordinator for International Student Engagement & Services. Stacie's first day is this Monday, October 23rd and she will be located in office 224 within Student Affairs. Stop by and share some words of welcome during Stacie's first week! Stacie's bio can be found below!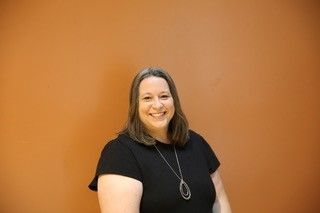 My name is Stacie Miller, and I am starting my new role as Coordinator for International Student Engagement and Services. Learning about and meeting people of different cultures has always been a passion of mine. Although starting my career in chiropractic, I couldn't ignore the call to help others of different cultures. I shifted my focus by becoming a certified ESL instructor and International Student Liaison with Illinois Eastern Community Colleges.

My journey has brought me to the University of Evansville, and I couldn't be more excited for the opportunities afforded to me here. I look forward to being a bridge between the international students, the faculty, the staff, and the city of Evansville at large. The University of Evansville has the unique ability to have a small community feel while also offering a wide variety of arts, culture, and sports- all of which I plan to share with the international students.
Submitted by Abagail Christine Catania ac532@evansville.edu
We want YOU to be an Ace of UE
Students and faculty,
The Office of Marketing is looking to add new profiles to our Aces of UE webpage. You may also notice this section on our homepage. Aces of UE is a collection of stories from current students, alumni, and faculty members from across all majors. In these profiles, students and alumni share why they chose UE, what has made their experience so unique, and more.
If you are interested in sharing your UE story please visit the link and fill out our Aces of UE questions! We look forward to learning about your Ace experience.
https://uesurvey.evansville.edu/TakeSurvey.aspx?SurveyID=86LK7n6K#
Submitted by Abigail Perry ap445@evansville.edu
Walnut Road Closure for Ace Race 5K
Walnut Street will be closed from 7:00am-1:00pm on Saturday, October 28th. The closure is to ensure the safety of the AceCare Skelefun Run 5K participants. In addition to the road closure, sections of campus will be used for the race course. Please use caution when in the area of the event.
Submitted by Molly Watson mw362@evansville.edu
Proposal for Summer Camps 2024
If you are interested in having a camp during Summer 2024, please complete the proposal form. All proposals are due by Tuesday, November 21, and will then be reviewed by the Camp Proposal Committee. After review, the Committee will contact you with the next steps. Compensation is available.
If you have any questions or inquiries, please contact the Office of Youth Programs at 812.488.3440 or youthprograms@evansville.edu.
Submitted by Rachel Roscoe rr209@evansville.edu
Apply to Graduate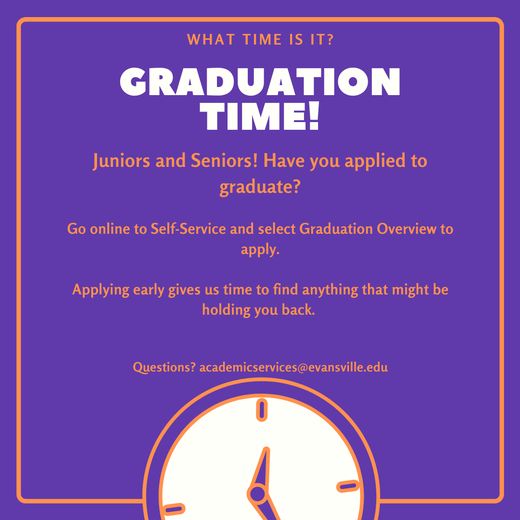 It's that time! Be sure to apply now to graduate via Self-Service.
Submitted by Kelsey Gordon kg302@evansville.edu
UE Men's Basketball Sport Science Internship
UE Men's Basketball is looking for students at either the professional, graduate, or undergrad level with a background in Microsoft Office, statistics, and programming (R, Python, etc.), as well as students with experience in kinesiology and biomechanics to assist with data collection, processing, analysis, and report building for sport science initiatives and projects here at UE.
Students will be immersed in the day-to-day operations of the basketball team and sports performance.

If any student is interested, please email a resume to Jeremy Portillo (jp450@evansville.edu). Interviews will be conducted immediately.
Submitted by Jeremy Portillo jp450@evansville.edu
Harlaxton Pop-Up Shop
For a limited time Harlaxton is hosting an online pop-up shop with four specialty items. On there you can find a fleece, hoodie, t-shirt and 500pc puzzle!
The shop closes on October 30th so make your selections soon!
Submitted by Jordan Hall jh590@evansville.edu
Show Harlaxton Support on Purple Fridays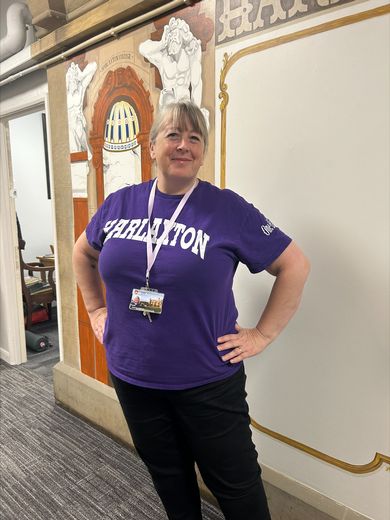 Harlaxton College is hosting a pop-up shop! We have several items available for sale, but we wanted to draw the campus community's attention to the purple Harlaxton t-shirt available for purchase. Staff at Harlaxton wear this purple shirt every Friday to show their support for UE, so now you have the chance to also show your support for Harlaxton by wearing your very own purple Harlaxton shirt for Purple Fridays!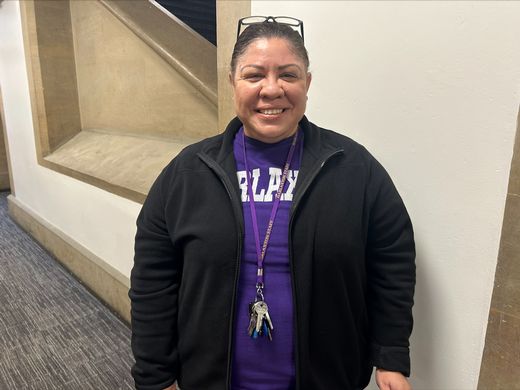 The unisex t-shirt is available in sizes from XS to 4XL for $22.75. To purchase your purple Harlaxton shirt or any of our other options, please visit: https://harlaxtonshop.ccbrands.com/
Submitted by Victoria Cartal vr35@evansville.edu
UE men's soccer to celebrate Senior Day against Bradley
The University of Evansville men's soccer team hosts its final home game of the 2023 season on Friday night.
Evansville will celebrate its six graduating players and one manager on Friday night in its home finale of the season. The Aces will host Senior Day celebrations prior to Friday's game for midfielder Carlos Barcia, defender Francesco Brunetti, winger Nkosi Graham, goalkeeper Jacob Madden, goalkeeper Aidan Montoure, midfielder Porter Pomykal, and student manager Kyler West.
UE comes into Friday's game after completing its bye weekend from conference play. The Aces were last on the pitch at Arad McCutchan Stadium over a week ago in their close 2-1 loss to then No. 10 Missouri State. Senior forward Kai Phillip was Evansville's hero in the final minute of the match on the 18th as he scored UE's lone goal of the game on an assist from midfielder Ola Arntsen. With almost a week and a half of rest, Evansville is looking to close out the final stretch of Valley play with two wins.

To get that first win, the Aces will have to break the red-hot Bradley Braves. The Braves come into Friday's match with a two-game unbeaten streak after a 1-1 tie with UIC and a 2-1 win over Drake. Overall Bradley has a 5-4-6 record and a 1-4-1 conference record. All five of the Braves wins have come on the road including a four-game stretch to begin the season in August and September. Bradley has also benefited from having players return from injuries down the stretch as Pepe Mellado had a free kick goal against Drake and Claudel Ngongang, who found the net within 15 minutes of his comeback against UIC.
A win on Friday evening is crucial for the Aces who are fighting for a spot in the Missouri Valley Conference Tournament. Currently, Evansville can either grab the 5th or 6th seed with wins against Bradley and Belmont. UE could also make the tournament with a win and a draw if Drake and Bradley both end the season with losses.
Friday's game will not be carried on ESPN+. Aces fans who cannot make it to Arad McCutchan Stadium can follow along with all of the action on Senior Day through live stats on gopurpleaces.com. Kick-off is set for 7 p.m. at McCutchan Stadium.
Submitted by Athletics
WSOC: UE Women's Soccer Falls To Murray State, 1-0, In MVC Tournament Match
The fifth-seeded Murray State women's soccer team scored a goal in the first 38 seconds of Thursday's Missouri Valley Conference Tournament match against the eighth-seeded University of Evansville, and then held off the Purple Aces for a 1-0 victory at Flames Field in Chicago, Illinois.
The Racers sent a ball into the six-yard box in the opening seconds of the match, and UE goalkeeper Myia Danek was able to deny MSU's Hailey Cole of a would-be goal with a sliding kick-save that bounced off the side goal post right to a wide-open Mary Hardy of Murray State. Hardy quickly fired a shot into the back of the net for her eighth goal of the year, and sixth goal in the last seven matches for the Racers.
Evansville would out-shoot Murray State, 7-5, the remainder of the half, but could not find the back of the net, as MSU goalkeeper Griselda Revolorio came up with three saves to keep UE off the scoreboard.
In the second half, Evansville would once again out-shoot Murray State 7-5 for the half, but Revolorio recorded three more saves to keep Evansville scoreless. Evansville best opportunity to equalize came beyond the 70th minute, as freshman forward Brooklyn Robinson had a shot blocked inside the penalty area in the 75th minute, while junior midfielder Reese Simmons was denied on a blast from the top of the penalty box by a diving save by Revolorio.
Evansville would out-shoot Murray State for the match, 14-12, with Robinson and sophomore defender Kaylee Woosley firing four shots each. Simmons also recorded two shots, with both on-target. Danek finished with three saves in goal to move into tenth place on UE's career saves chart, as she has 105 career saves now.
With the loss, Evansville sees its 2023 season end with a 1-7-9 overall record. Murray State, meanwhile, will advance on to the MVC quarter-finals to battle host UIC on Sunday afternoon at 12 p.m. Evansville is scheduled to return 22 players from this year's team next season, including 13 of the 17 players who saw action in Thursday's MVC Tournament match.
Submitted by Athletics
UE returns home to face Missouri State and SIU
Two home matches are on the docket this weekend as the University of Evansville volleyball team welcomes Missouri state and Southern Illinois to Meeks Family Fieldhouse. UE faces the Bears on Friday with the Salukis coming to town on Saturday; both matches are set for 5 p.m. start times with ESPN+ having both broadcasts.
On a Roll
- Giulia Cardona earned her third MVC Player of the Week honor on Oct. 16 as she averaged 6.62 kills in matches versus Indiana State, UIC and Valparaiso
- Highlighting the week was her 40-kill performance versus UIC that tied the league's single-match record that was set by UNI's Bobbi (Becker) Petersen in 1989
- Along with her 40 kills, Cardona had 94 attempts, tying for the second-highest total in league history; teammate Melanie Feliciano holds the MVC record with 95 in 2019
- Cardona remains the national leader in kills (5.27/set), points (6.00/set) and attacks (14.90/set)
- With seven aces over the weekend, Cardona has retaken the MVC lead with 0.48 per set (33rd in the nation)
30 for 30
- Ainoah Cruz has put together an excellent streak over the last five matches, picking up her first two 30-dig performances
- With 32 digs against UIC, Cruz put forth the top performance of her young career; her previous high of 27 digs came in the road win at Samford
- On Oct. 21 at Bradley, Cruz added 30 digs and has averaged 5.60 per set over the last five matches
- Cruz checks in with an average of 4.40 digs per set, which is 8th in the MVC
- Her numbers in MVC matches is even better at 4.78/frame
Scouting the Opposition
- Missouri State enters Friday's match with a 10-13 overall mark while going 4-7 in MVC matches
- Teagan Polcovich paces the defense with 4.90 digs per set, which ranks 6th in the conference
- Southern Illinois is 12-10 on the season but opens the weekend tied with the Bears at a 4-7 MVC mark
- Imani Hartfield is one of the most efficient hitters in the league, ranking third with a season tally of .381
Submitted by Athletics
WSOC: UE Women's Soccer Battles Murray State Thursday In MVC Tournament
After a brief hiatus from last year's conference tournament, the University of Evansville women's soccer team returns to the Missouri Valley Conference Tournament on Thursday afternoon, as the Purple Aces will battle the fifth-seeded Murray State Racers in the MVC Tournament first round at Flames Field in Chicago, Illinois. Kick-off is set for 2 p.m. and every match in the MVC Tournament can be seen live on ESPN+.
Evansville will be making its 24th all-time MVC Tournament appearance on Thursday, with the Purple Aces holding a 21-14-9 all-time record in tournament play. Evansville has advanced to the MVC Tournament final in 12 of its 24 trips to the Valley Tournament, including in its last appearance in 2021. Overall, UE has seven MVC Tournament titles.
Evansville finished eighth in the MVC regular-season standings with nine total points thanks to a 1-3-6 conference record. After not scoring in non-conference play, Evansville scored in seven of its 10 MVC regular-season matches, with eight different Purple Aces recording a goal. The only teams UE did not score against this year were the league's top two seeds - #1 Drake (L, 1-0) and #2 Missouri State (L, 3-0) – and its opponent in the first round, Murray State.
Evansville and Murray State played to a 0-0 tie on September 24 in Murray, Kentucky, as senior goalkeeper Myia Danek recorded six saves on her way to one of her five shutouts on the year. Danek's five shutouts are tied for the eighth-best mark in UE single-season history, and she eclipsed the 100 save mark in her UE career last time out against Missouri State. In fact, Danek will enter Thursday's match needing just two saves to tie former Ace Liz Haines (2001-04) for tenth on the UE career saves chart with 104 career saves.
Murray State finished fifth in the MVC standings with a 5-8-5 overall record and 3-2-5 record in MVC play. The Racers offensively are led by sophomore midfielder Mary Hardy, who finished the regular-season tied for third in the MVC with seven goals, and she scored a goal in five of Murray State's final six matches. Defensively, freshman goalkeeper Griselda Revolorio has anchored the Murray State defense for most of the year, posting a 0.73 goals-against average and an .846 save percentage in 14 matches.
All-time, Evansville leads the series over Murray State, 7-2-2. The two MVC matches between UE and Murray have ended in 0-0 ties the last two years.
Submitted by Athletics
Contribute to AceNotes
To have content considered for inclusion in AceNotes, please submit a Marketing Request Form. Deadline for submission to AceNotes is 10:00 a.m. on the requested date of publication. Only articles concerning UE related/sponsored activities will be accepted. Articles submitted to AceNotes may be edited for length and clarity. Submitter contact information is at the end of each article.