| | |
| --- | --- |
| PurplePulse | Wednesday, October 25, 2023 |
Lane Closure at Walnut and S. Frederick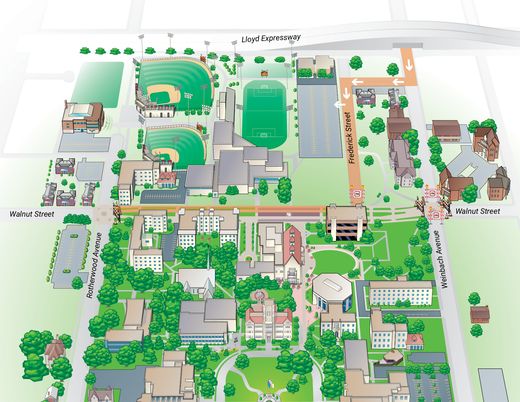 In light of recent developments, the University in coordination with the City of Evansville have made the decision to close Walnut Street at S. Frederick Street. The closure will be effective Monday, October 23, and will coincide with the work being done as part of the Walnut-Weinbach construction project.
UE community members will no longer be able to go west on Walnut from S. Frederick Street for the duration of the project.
Median Turnaround: Bollards on Walnut between Ridgway and Carson Center will be removed by Facilities to allow a turnaround in the median for delivery vehicles to exit through the westbound lane of Walnut. A stop sign will be placed at the turnaround to control the traffic entering the westbound lane.
Alternative Parking for Team Buses: Team buses can use Lot O during this time.
Additional questions can be sent to Facilities@evansville.edu.
Submitted by University Communications na122@evansville.edu
A Finance Scholar will talk to UE Students
The Finance Club is pleased to announce that Aswath Damodaran Professor of Finance at New York University Stern School of Business will have a video conference with UE students at 4.00.P.M. on October 26 in SOBA 273. The event is open for all.
Professor Damodaran holds the Kerschner Family Chair in Finance Education. His contributions to the field of Finance over 30 years have been recognized many times over as an outstanding teacher, researcher, and the author. In addition to myriad publications in academic journals, Professor Damodaran is the author of several highly regarded and widely used academic texts on Valuation, Corporate Finance, and Investment Management. He is also widely known for providing u-tube presentations on various investment and finance topics which are regarded as a valuable source for learning for students, academics, as well as practitioners.
Submitted by Landon Stoll ls353@evansville.edu
Music Conservatory Hosting Choir Palooza on Wednesday
The UE Music Conservatory will host Choir Palooza this Wednesday, October 25. This extraordinary event will unite middle school and high school students from EVSC on the UE campus for a full day of enriching workshops led by three distinguished experts in middle and high school choral music.
Approximately 500 EVSC students will be on campus for the day with UE students assisting with the event and learning from guest teachers. UE students will also do a brief performance for the EVSC students to promote vocal music opportunities at the university.
The activities of the day will unfold across Wheeler Concert Hall, Neu Chapel, and Eykamp Hall. The culmination of this immersive experience will occur on the East Terrace Lawn, where all participants will join together for a grand finale performance, celebrating the power of choral music and the extraordinary talent fostered by EVSC and UE.
Submitted by Julie Beer / jb855@evansville.edu
This Week in Music
October 24, 2023
7:30 p.m.
Wheeler Concert Hall
The UE Music Conservatory presents a faculty recital featuring Consortium Instructor of Music Rebecca Salo on horn and Consortium Instructor of Music Elizabeth Robertson on oboe. The concert will feature works by William Grant Still, W.A. Mozart, Madeleine Dring, Vitaly Bujanovsky, and Robert Kahn. They will be joined by Professor of Music Anne Fiedler and Adjunct Instructor of Music Kristin Jones on piano.
Admission is free and open to the public.
Submitted by Mary Beth Deig md334@evansville.edu
Peabody Recruiting ON CAMPUS
A represetntative from Peabody will be on campus Wednesday, October 25th from 11am-1pm at a table in Ridgway. Peabody is a leading coal producer, providing essential products for the production of affordable, reliable energy and steel. They will be on campus recruiting for full time and internship postions in electrical, mechanical, envirnmental and civil engineering. Stop by Ridgway for more information.
Submitted by Amanda Wood aw505@evansville.edu
College of Business and Engineering Speaker Series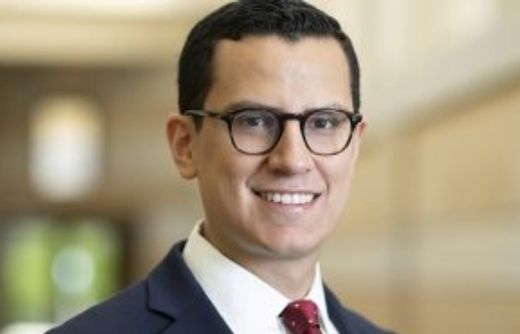 Please join us for the next installment of the College of Business and Engineering Lecture Series. Dr. Alejandro Estefan, Assistant Professor of Development Economics at Notre Dame's Keough School of Global Affairs, will be presenting Digital Training in Developing Countries: The Case for Female Micro-Entrepreneurs and Sustainable Agriculture on October 26, 2023 at 6:00 p.m. in Eykamp Hall. Reception to follow. Dr. Estefan will discuss how remote areas in economic need are benefiting from technological advances in teaching. See more information and register to attend in-person or virtually here.
For virtual attendees, the meeting link will be provided via email the day before the event. In order to receive the virtual invitation, please register at the link above. Contact Megan Conapinski at mt263@evansville.edu with any questions.
Submitted by Megan Conapinski mt263@evansville.edu
UEclipse Coming April 2024
UE is thrilled to announce a speaker ahead of the upcoming solar eclipse on Monday, April 8. Maria Weber '08, PhD, a distinguished alumna of the University of Evansville (UE) and a leading astrophysicist, will be delivering a captivating presentation on the mysteries of solar magnetism titled "From Eclipses to Magnetism: The Secret Life of the Sun."
Event Details:
Title: From Eclipses to Magnetism: The Secret Life of the Sun
Presenter: Dr. Maria Weber '08, PhD
Date: Sunday, April 7
Time: 2:00 p.m.
Location: Eykamp Hall, UE Campus
Weber received her bachelor's degree with majors in physics and philosophy from UE and furthered her education by obtaining a PhD in Physics from Colorado State University. Her extensive research on solar magnetism, particularly magnetic flux emergence, has established her as a renowned authority in the field.
This exclusive presentation by Weber offers a unique opportunity for the Evansville community to delve into the fascinating world of solar magnetism and its significance in our universe. We extend a warm invitation to all interested parties to join us on Sunday, April 7, for this enlightening event.
To register and access further event details, please complete this form by clicking here.
Additionally, we encourage residents near the UE campus to witness the solar eclipse alongside our community on Monday, April 8. For more information, please visit https://www.evansville.edu/ueclipse.
Submitted by Noah Alatza na122@evansville.edu
We the People Volunteers Needed
UE is once again proud to host the Southern Regional Competition for We the People: The Citizen & the Constitution. On Wednesday, 11/8, we will welcome 8 schools (both high school and middle school) to campus as they work to earn a place at Indiana's State Finals. We need volunteers for the following shifts. If interested and available, email Dina Willming at dw285@evansville.edu. No experience needed for any shift!
Shift 1: 8:30am - 9:45am - Greeter (4 needed): Stand outside SOBA on the circle and Rotherwood sides, welcome the teams as they arrive and help them get to their classrooms. Purple UE scarf provided (must be returned), UE casual attire.
Shift 2: 8:45am - noon. Judges' Facilitator (6 needed): Serve as a guide for a panel of judges, getting them from room to room on time. Business casual attire recommended.
Shift 3: 11:30am - 12:00pm (8 needed): Lunch guide. Stand outside their hearing rooms as they finish their rounds, then guide them to Eykamp Hall, Ridgway University Center for lunch. Serving as an Ambassador for UE on the way. UE casual attire.
Submitted by Andrew Carter ac116@evansville.edu
RSVP Today for "Racing to Respond" Documentary Viewing - FREE FOOD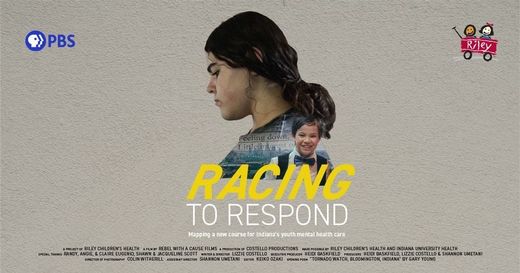 The PsyD program in Clinical Psychology and the Office of Counseling Services will be cohosting a viewing of "Racing to Respond", a documentary about the youth mental health crisis in Indiana produced by Riley Children's Hospital on Monday, October 30th at 4:00 pm. This event held in Eykamp is open to all of campus, including faculty, staff, and administrators and is free to attend. Registration/RSVP in UEngage is recommended to ensure there is enough food following the presentation for all who plan to attend.
See below for a preview of the film.
Submitted by Liz McCormick em232@evansville.edu
Donate Your Used Clothes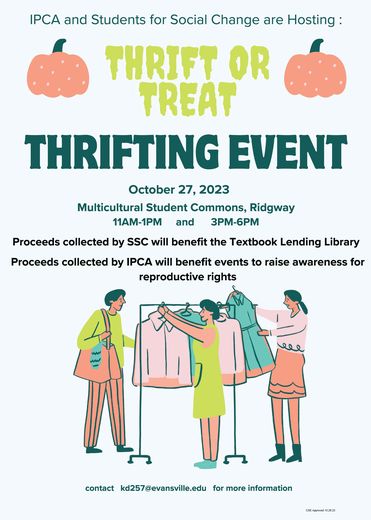 If you have any used, wearable clothes taking up space in your closet, please consider donating them to Students for Social Change! We are hosting a Thrift or Treat event on October 27th to provide students and faculty with a fun, affordable way to access second hand clothes. All proceeds from clothing sales will be used to fund the UE Textbook Lending Library, which is a student led initiative that offers free textbooks for an entire semseter! The donation box for used clothes is in the Multicultural Student Commons, which is located upstairs in Ridgway. The donation box for used textbooks is located at the library front desk. Any donations of new, unused clothes should be made to Ace's Haven! Thank you!!
Submitted by Micah Doty kd257@evansville.edu
Share your story! First-Generation College Celebration
Each year on November 8, colleges and universities across the nation highlight the First-Generation College Celebration. At UE, we plan to celebrate the first-generation students, faculty, and staff on our campus and all they have achieved! More importantly, we want to share the stories of our first-generation community to showcase the importance of college education and accessibility.
As a first-gen student, would you be willing to share your story with us? The UE Office of Marketing & Communications would like to ask you a few simple questions and allow you to share your college experience.
Visit the link to share your story!
Submitted by Abigail Perry ap445@evansville.edu
Welcoming New Coordinator for International Student Engagement & Services
The Center for Student Engagement is extremely excited to announce that Stacie Miller will be joining our office as the new Coordinator for International Student Engagement & Services. Stacie's first day is this Monday, October 23rd and she will be located in office 224 within Student Affairs. Stop by and share some words of welcome during Stacie's first week! Stacie's bio can be found below!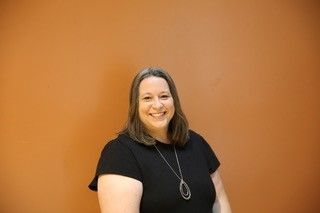 My name is Stacie Miller, and I am starting my new role as Coordinator for International Student Engagement and Services. Learning about and meeting people of different cultures has always been a passion of mine. Although starting my career in chiropractic, I couldn't ignore the call to help others of different cultures. I shifted my focus by becoming a certified ESL instructor and International Student Liaison with Illinois Eastern Community Colleges.

My journey has brought me to the University of Evansville, and I couldn't be more excited for the opportunities afforded to me here. I look forward to being a bridge between the international students, the faculty, the staff, and the city of Evansville at large. The University of Evansville has the unique ability to have a small community feel while also offering a wide variety of arts, culture, and sports- all of which I plan to share with the international students.
Submitted by Abagail Christine Catania ac532@evansville.edu
Walnut Road Closure for Ace Race 5K
Walnut Street will be closed from 7:00am-1:00pm on Saturday, October 28th. The closure is to ensure the safety of the AceCare Skelefun Run 5K participants. In addition to the road closure, sections of campus will be used for the race course. Please use caution when in the area of the event.
Submitted by Molly Watson mw362@evansville.edu
Tell Us What You Think for a Chance to Win $25 in Ace Bucks
You can win $25 in Ace Bucks just by completing the Voice to Vision survey. We are selecting 3 winners!! Be sure to follow the instructions on the flyer.
Before you start the survey, there are a few important items to note:
It's confidential. We do not release individual data to anyone; survey answers are entirely anonymous.
It's quick. The survey should take 8 to 10 minutes to complete.
Take it before it closes. The deadline for completing the survey is October 31st. However, please take it at your earliest convenience.
After you have completed the Voice to Vision survey, register to win $25 in Ace Bucks.
If you have questions about the survey process, email kabria.carr@compass-usa.com or call 812-488-2400.
On behalf of Chartwells, we thank you for taking the time to participate in this very important initiative and sharing your valuable insights!
Submitted by KaBria Carr kc403@evansville.edu
It's Not Too Late to Register for Winter Intersession Courses
Get ahead by taking Winter Intersession online courses. Complete a missing required course, lighten your spirng load, and take advantage of winter break. Classes are held from December 15, 2023 through January 5, 2024. Students may take one class and register when registering for spring classes starting October 30, 2023.
Learn more about Winter Intersession.
Winter Intersession Course List

| | | | | |
| --- | --- | --- | --- | --- |
| Subject | Number | Cr Hrs | Course Title | Instructor |
| ART | 105 | 3 | Introduction to the Visual Arts | Larmann |
| AT | 180 | 3 | Introduction to Athletic Training | Tilly |
| CHEM | 103 | 3 | Chemistry of Adult Beverages | Miller K. |
| EXSS | 150 | 3 | Introduction to Health Sciences | Laughbaum |
| EXSS | 320 | 3 | Nutrition for Performance Health | Miller W. |
| EXSS | 417 | 3 | Advanced Exercise Science | Miller W. |
| EXSS | 453 | 2 | Motor Learning | Wilson |
| EXSS | 488 | 1 to 4 | Internship | Miller W. |
| EXSS | 488 | 1 to 4 | Internship | Wilson |
| FIN | 280 | 3 | Introduction to Personal Finance | Brockman |
| HIST | 112 | 3 | World History 1500 - Present | MacLeod |
| MUS | 156 | 3 | Music in America | Strandberg |
| NEUR | 125 | 3 | Introduction to Neuroscience | Campese |
| PH | 190 | 3 | Introduction to Public Health | Patel-Dovlatabadi |
| PSYC | 121 | 3 | Introduction to Psychology | Campese |
| PSYC | 226 | 3 | Child and Adolescent Psychology | Hennon |
| PSYC | 229 | 3 | Social Psychology | McCracken |
| PSYC | 450 | 3 | Learning | Campese |
| QM | 227 | 3 | Introduction to Statistics | Khormali |
| SOC | 105 | 3 | Introduction to Sociology | Plikuhn |
| SOC | 230 | 3 | Social Problems in the Modern World | Plikuhn |
Submitted by Paula Heldt ph28@evansville.edu
Free HIV Testing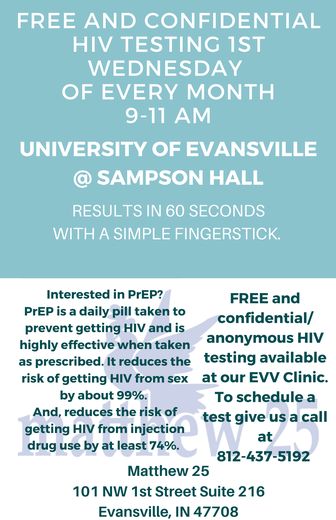 Free, HIV testing at the Student Center first Wednesday of every month from 9-11am. No appointment necessary.
Submitted by Tara Ulrich tu19@evansville.edu
Apply to Graduate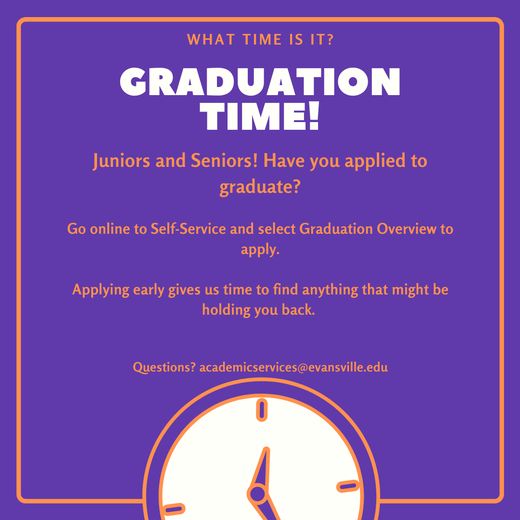 It's that time! Be sure to apply now to graduate via Self-Service.
Submitted by Kelsey Gordon kg302@evansville.edu
Billy Twymon Exhibit Opens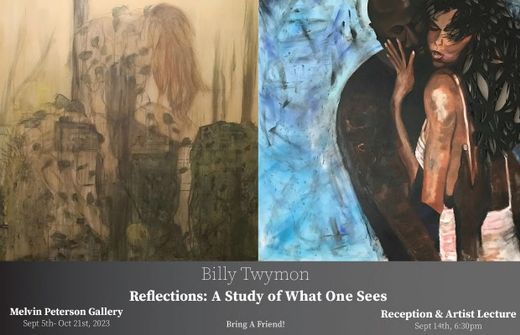 The UE Friends of Art and the UE Department of Art present Billy Twymon's exhibit "Reflections: A Study of What One Sees" in the Melvin Peterson Gallery from Sept 5 through October 21, 2023.
Please join us for a reception and artist lecture in the Gallery on Thursday, September 14 at 6:30PM.
Gallery hours are Mon, Tues, Fri, & Sat 12:00pm - 3:00pm and Wed & Thurs 12:00pm - 6:00 pm.
Submitted by Carol L McCraney cm177@evansville.edu
Harlaxton Pop-Up Shop
For a limited time Harlaxton is hosting an online pop-up shop with four specialty items. On there you can find a fleece, hoodie, t-shirt and 500pc puzzle!
The shop closes on October 30th so make your selections soon!
Submitted by Jordan Hall jh590@evansville.edu
Jane Grankina leads women's golf in final day at Oak Meadow
Jane Grankina posted the low round of the day for the University of Evansville women's golf team while Kate Petrova earned the top finish for UE at the Braun Intercollegiate.
Grankina completed the second round at Oak Meadow Country Club with a 5-over 77. Combined with her opening round score of 90, she wrapped up the tournament tied for 46th with a 167. Earning the top finish for the Purple Aces was Kate Petrova. After sitting in a tie for the lead following the first round, Petrova carded a 78 on Tuesday to earn a tie for 5th place with a 152.
Second for UE was Allison Enchelmayer. Her rounds finished at 83 and 82 as she tied for 38th place. Enchelmayer was followed by Grankina and Magdalena Borisova. Grankina finished with a 167 with Borisova one spot behind her in a tie for 50th. Borisova made a nice improvement, lowering her score from an 88 on Monday to an 80 in the final 18 holes.
Destynie Sheridan checked in with a 171. Her scores finished at 84 and 87. Two behind her was Trinity Dubbs. Rounds of 83 and 90 gave her a final tally of 173. Adeline Wittmer and Carly Frazier completed the tournament with scores of 186 and 187, respectively.
Evansville finished in sixth place with a score of 646. Northern Iowa and Indiana State tied for the top spot and advanced to a playoff immediately following the completion of the second round.
Top individual honors went to Teresa Diez Dorta of Alabama State. An even 72 on Tuesday gave her a 149, one better than her nearest competition. Molly Lee (Indiana State) and Adrianne Rohwedder (PFW) tied for second with scores of 150.
Submitted by Athletics
Strong start not enough in loss at Chicago State
A quick start saw the University of Evansville volleyball team saw them earn a win in the first set before Chicago State rallied to take the final three games to take a 3-1 win over the Purple Aces on Monday evening.
Melanie Feliciano added nine kills while Madisyn Steele finished the evening with six. Lexi Owen paced the team with 25 assists while Ainoah Cruz tallied 19 digs. Yanlis Feliz was one of three Cougars to post double-digit kills, finishing with 11.
Game 1 – UE 25, CSU 21
Blakely Freeman got the night started with an ace before Giulia Cardona added two of her own to give Evansville an 11-7 lead. Luana Gazda Kuhn recorded a kill to give the Aces a game-high 20-13 lead. Chloe Cline, Melanie Feliciano and Madisyn Steele all picked up late kills to seal the set and give UE a 1-0 lead.
Game 2 – CSU 25, UE 21
Chicago State had a quick start, scoring the opening three points before extending the advantage to 9-4. Another kill by the Cougars saw them double up on UE, taking a 14-7 lead. Led by a Feliciano kill and a Lexi Owen ace, Evansville stormed back to make it a 15-12 game.
Following a time out, the Cougars pushed the lead back up to six points (21-15), but the Aces clawed their way back once again. Two Feliciano kills, another ace from Freeman and a block by Steele and Cline comprised a 6-0 run that knotted the set at 21-21. CSU overcame the rally and scored the final four points to tie the match.
Game 3 – CSU 25, UE 20
Freeman's third ace of the night helped Evansville take a 2-0 lead. Chicago State came back with an 8-2 run to hold an 8-4 edge, but the Aces went on the attack once again. Madisyn Steele's solo block capped off a an 11-6 run that put the Aces on top at 15-14.
Things turned the Cougar's way as a 3-0 run turned a 17-17 tie into a 20-17 lead and they would complete the set with a 25-20 win to open a 2-1 match lead.
Game 4 – CSU 25, UE 16
After scoring the first five points of the set, the Cougars opened a 19-5 lead. While Evansville would significantly cut into the deficit, Chicago State clinched the match with a 25-16 win.
Evansville returns to Meeks Family Fieldhouse this weekend to face Missouri State and Southern Illinois.
Submitted by Athletics
Contribute to AceNotes
To have content considered for inclusion in AceNotes, please submit a Marketing Request Form. Deadline for submission to AceNotes is 10:00 a.m. on the requested date of publication. Only articles concerning UE related/sponsored activities will be accepted. Articles submitted to AceNotes may be edited for length and clarity. Submitter contact information is at the end of each article.