| | |
| --- | --- |
| PurplePulse | Monday, October 23, 2023 |
Lane Closure at Walnut and S. Frederick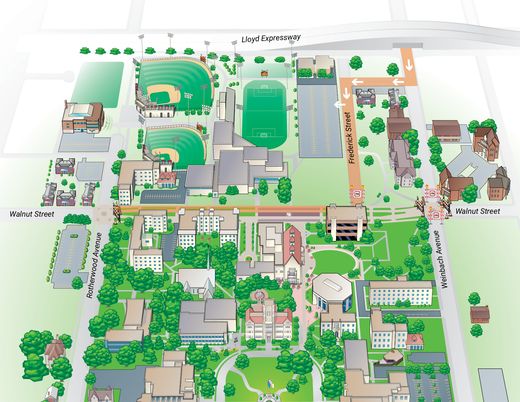 In light of recent developments, the University in coordination with the City of Evansville have made the decision to close Walnut Street at S. Frederick Street. The closure will be effective Monday, October 23, and will coincide with the work being done as part of the Walnut-Weinbach construction project.
UE community members will no longer be able to go west on Walnut from S. Frederick Street for the duration of the project.
Median Turnaround: Bollards on Walnut between Ridgway and Carson Center will be removed by Facilities to allow a turnaround in the median for delivery vehicles to exit through the westbound lane of Walnut. A stop sign will be placed at the turnaround to control the traffic entering the westbound lane.
Alternative Parking for Team Buses: Team buses can use Lot O during this time.
Additional questions can be sent to Facilities@evansville.edu.
Submitted by University Communications na122@evansville.edu
This Week in Music
October 24, 2023
7:30 p.m.
Wheeler Concert Hall
The UE Music Conservatory presents a faculty recital featuring Consortium Instructor of Music Rebecca Salo on horn and Consortium Instructor of Music Elizabeth Robertson on oboe. The concert will feature works by William Grant Still, W.A. Mozart, Madeleine Dring, Vitaly Bujanovsky, and Robert Kahn. They will be joined by Professor of Music Anne Fiedler and Adjunct Instructor of Music Kristin Jones on piano.
Admission is free and open to the public.
Submitted by Mary Beth Deig md334@evansville.edu
Peabody Recruiting ON CAMPUS
A represetntative from Peabody will be on campus Wednesday, October 25th from 11am-1pm at a table in Ridgway. Peabody is a leading coal producer, providing essential products for the production of affordable, reliable energy and steel. They will be on campus recruiting for full time and internship postions in electrical, mechanical, envirnmental and civil engineering. Stop by Ridgway for more information.
Submitted by Amanda Wood aw505@evansville.edu
Celebrate First-Generation Day at Ace Scholars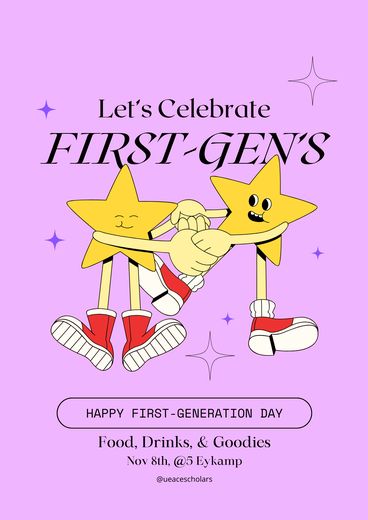 Ace Scholars welcomes students, professors, staff, and administrators to celebrate National First-Generation College Day on November 8, 2023! The event will occur on November 8, 2023, at 5 p.m. in Eykamp. This is a wonderful chance to network with other first-generation college students, faculty, and staff. There will be free food, music, and games present at this event, so bring a friend and have a good time!
Submitted by Trinitie Terrell tt141@evansville.edu
Basham - Allaire Exhibit in Krannert Gallery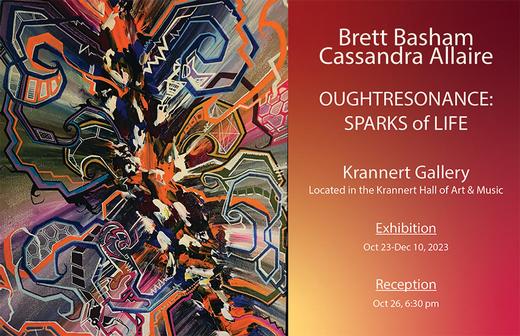 OUGHTRESONANCE: SPARKS of LIFE, a collaboration by artists Brett Basham and Cassandra Allaire, will be exhibited in the Krannert Gallery from October 23 through December 10.
Please join us for the artists reception on Thursday, October 26 at 6:30 p.m. in the Krannert Gallery.
Submitted by Carol McCraney cm177@evansville.edu
College of Business and Engineering Speaker Series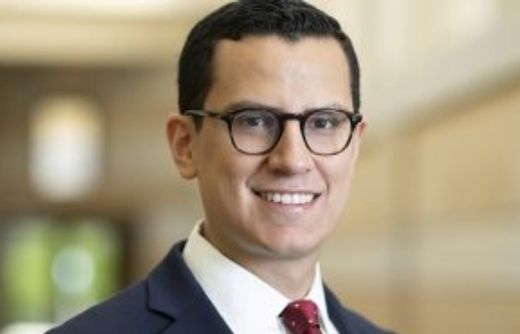 Please join us for the next installment of the College of Business and Engineering Lecture Series. Dr. Alejandro Estefan, Assistant Professor of Development Economics at Notre Dame's Keough School of Global Affairs, will be presenting Digital Training in Developing Countries: The Case for Female Micro-Entrepreneurs and Sustainable Agriculture on October 26, 2023 at 6:00 p.m. in Eykamp Hall. Reception to follow. Dr. Estefan will discuss how remote areas in economic need are benefiting from technological advances in teaching. See more information and register to attend in-person or virtually here.
For virtual attendees, the meeting link will be provided via email the day before the event. In order to receive the virtual invitation, please register at the link above. Contact Megan Conapinski at mt263@evansville.edu with any questions.
Submitted by Megan Conapinski mt263@evansville.edu
Caregiver Fatigue Event-UE Nursing Seniors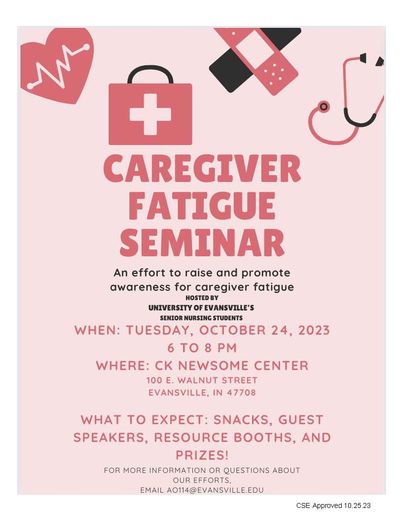 Come supprt UE Nursing Seniors! This health promotion project aims to give caregivers in the community the resources to combat caregiver fatigue and prevent abuse. The target population includes anyone who is taking care of another person, especially those with a condition or illness such autism or dementia. To educate caregivers, we will host an event on October 24th at the CK Newsome center that has speakers and vendors to provide resources about adult day care, self-care, and more. We will have snacks and raffle prizes! We hope to see you there!
Submitted by Elspeth Nelson en55@evansville.edu
BSU Trunk or Treat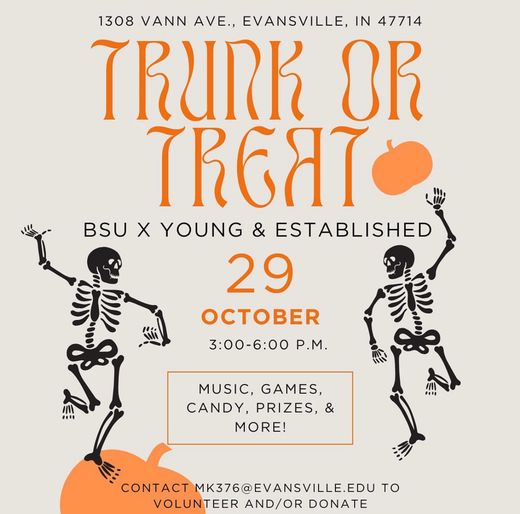 The Black Student Union is hosting our annual Trunk or Treat with Young & Established on Sunday, October 29th from 3 pm - 6 pm. This family-friendly event will be held at Young & Established and will feature a safe and fun Halloween experience for all ages. We are looking for volunteers and donations to help us put on this event! Please visit the link below to sign up for our event, help with tabling to raise funds, and/or donate. Donations will go towards purchasing candy, decorations, and other necessary items for the event. We hope to see you all there!
Sign up and/or donate: https://superlink.io/ueblackstudentunion
Submitted by Trinitie Terrell tt141@evansville.edu
Donate Your Used Clothes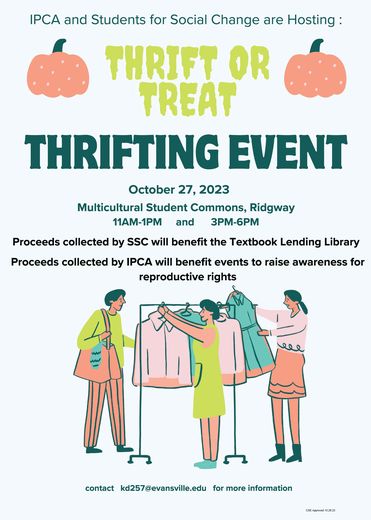 If you have any used, wearable clothes taking up space in your closet, please consider donating them to Students for Social Change! We are hosting a Thrift or Treat event on October 27th to provide students and faculty with a fun, affordable way to access second hand clothes. All proceeds from clothing sales will be used to fund the UE Textbook Lending Library, which is a student led initiative that offers free textbooks for an entire semseter! The donation box for used clothes is in the Multicultural Student Commons, which is located upstairs in Ridgway. The donation box for used textbooks is located at the library front desk. Any donations of new, unused clothes should be made to Ace's Haven! Thank you!!
Submitted by Micah Doty kd257@evansville.edu
Welcoming New Coordinator for International Student Engagement & Services
The Center for Student Engagement is extremely excited to announce that Stacie Miller will be joining our office as the new Coordinator for International Student Engagement & Services. Stacie's first day is this Monday, October 23rd and she will be located in office 224 within Student Affairs. Stop by and share some words of welcome during Stacie's first week! Stacie's bio can be found below!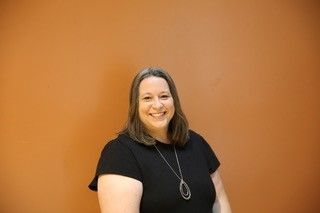 My name is Stacie Miller, and I am starting my new role as Coordinator for International Student Engagement and Services. Learning about and meeting people of different cultures has always been a passion of mine. Although starting my career in chiropractic, I couldn't ignore the call to help others of different cultures. I shifted my focus by becoming a certified ESL instructor and International Student Liaison with Illinois Eastern Community Colleges.

My journey has brought me to the University of Evansville, and I couldn't be more excited for the opportunities afforded to me here. I look forward to being a bridge between the international students, the faculty, the staff, and the city of Evansville at large. The University of Evansville has the unique ability to have a small community feel while also offering a wide variety of arts, culture, and sports- all of which I plan to share with the international students.
Submitted by Abagail Christine Catania ac532@evansville.edu
We want YOU to be an Ace of UE
Students and faculty,
The Office of Marketing is looking to add new profiles to our Aces of UE webpage. You may also notice this section on our homepage. Aces of UE is a collection of stories from current students, alumni, and faculty members from across all majors. In these profiles, students and alumni share why they chose UE, what has made their experience so unique, and more.
If you are interested in sharing your UE story please visit the link and fill out our Aces of UE questions! We look forward to learning about your Ace experience.
https://uesurvey.evansville.edu/TakeSurvey.aspx?SurveyID=86LK7n6K#
Submitted by Abigail Perry ap445@evansville.edu
Walnut Road Closure for Ace Race 5K
Walnut Street will be closed from 7:00am-1:00pm on Saturday, October 28th. The closure is to ensure the safety of the AceCare Skelefun Run 5K participants. In addition to the road closure, sections of campus will be used for the race course. Please use caution when in the area of the event.
Submitted by Molly Watson mw362@evansville.edu
Free HIV Testing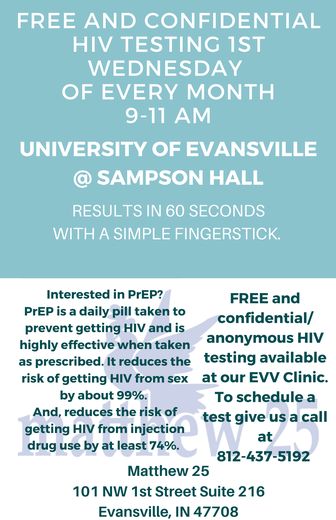 Free, HIV testing at the Student Center first Wednesday of every month from 9-11am. No appointment necessary.
Submitted by Tara Ulrich tu19@evansville.edu
UE Men's Basketball Sport Science Internship
UE Men's Basketball is looking for students at either the professional, graduate, or undergrad level with a background in Microsoft Office, statistics, and programming (R, Python, etc.), as well as students with experience in kinesiology and biomechanics to assist with data collection, processing, analysis, and report building for sport science initiatives and projects here at UE.
Students will be immersed in the day-to-day operations of the basketball team and sports performance.

If any student is interested, please email a resume to Jeremy Portillo (jp450@evansville.edu). Interviews will be conducted immediately.
Submitted by Jeremy Portillo jp450@evansville.edu
Harlaxton Pop-Up Shop
For a limited time Harlaxton is hosting an online pop-up shop with four specialty items. On there you can find a fleece, hoodie, t-shirt and 500pc puzzle!
The shop closes on October 30th so make your selections soon!
Submitted by Jordan Hall jh590@evansville.edu
Show Harlaxton Support on Purple Fridays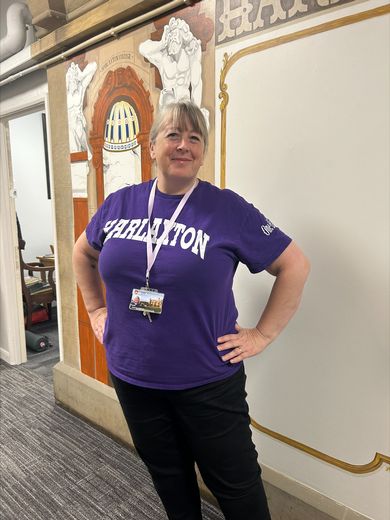 Harlaxton College is hosting a pop-up shop! We have several items available for sale, but we wanted to draw the campus community's attention to the purple Harlaxton t-shirt available for purchase. Staff at Harlaxton wear this purple shirt every Friday to show their support for UE, so now you have the chance to also show your support for Harlaxton by wearing your very own purple Harlaxton shirt for Purple Fridays!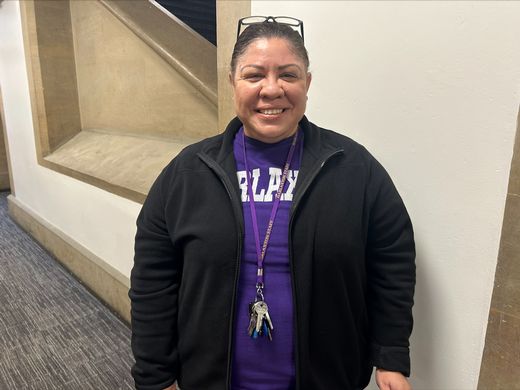 The unisex t-shirt is available in sizes from XS to 4XL for $22.75. To purchase your purple Harlaxton shirt or any of our other options, please visit: https://harlaxtonshop.ccbrands.com/
Submitted by Victoria Cartal vr35@evansville.edu
SWIM/DIVE: UE Women's Swimming & Diving Has Strong Showing At Indiana State Quad Meet
University of Evansville senior diver Madison Rollett (Evansville, Ind./Reitz) and freshman swimmer Evelyn Chin (Kuala Lumpur, Malaysia) both posted second-place finishes on Friday evening to lead the Purple Aces' women's swimming & diving team in a quad meet against Indiana State, UIC, and USI at the Vigo County Aquatic Center in Terre Haute, Indiana.
Rollett finished second in the women's three-meter diving competition, posting a score of 249.05 to finish just over 20 points behind UIC's Kerry-Leigh Morrison, the reigning MVC Freshman Diver of the Year, for the individual title. Chin, meanwhile, cracked UE's career top 10 in the 100-Yard Butterfly event by finishing second with a time of 57.70. The feat was even more impressive considering Friday's meet was UE's second in the last six days, and Chin and the Purple Aces have not yet begun their fall taper.
"I thought that the ladies did a fantastic job tonight," said UE head swimming and diving coach Stuart Wilson. "We were facing some very good competition, but the ladies went out and competed really well, and I am proud of them for their effort tonight!"
Rollett also posted a fourth-place finish in the one-meter competition, posting a score of 237.20 to finish behind three divers who earned all-Missouri Valley Conference honors a year ago. Chin, meanwhile, not only placed second in the 100 Fly, but also lowered her time from last Saturday in the 50-Yard Freestyle to 24.93 to place fifth overall, while also helping the 400-Yard Freestyle Relay team of freshman Ane Madina Garate (Onati, Spain), junior Sveva Brugnoli (Rome, Italy) and freshman Rebecca Lago (Tezze sul Brenta, Italy) to a fourth-place finish with a time of 3:35.26.
Junior Mari Müller (Zurich, Switzerland) posted a third-place finish in the 200-Yard Breaststroke with a time of 2:23.59, while teaming up with Garate, Brugnoli and Lago in the 200-Yard Medley Relay to post a third-place finish with a time of 1:48.35.
Garate added a fourth-place finish in the 100-Yard Backstroke with a time of 58.88, which also just missed placing in UE's career top 10 by half a second. Lago, meanwhile, added a fifth-place finish in the 100-Yard Freestyle with a time of 53.91.
Team-wise, Evansville held off crosstown USI for the second-straight week, beating the Screaming Eagles, 146-140. Indiana State, which was projected to finish second in the MVC's preseason poll, swept the meet with wins over all three other teams. UIC also knocked off UE, 182-98.
Evansville will now get over two weeks off to recover from back-to-back meets, competing next on November 9-11 at the A3 Performance Invitational in Carbondale, Illinois, hosted by Southern Illinois.
Submitted by Athletics
Romashkin earns top finish for men's golf
Sophomore Daniil Romashkim carded a 4-over 76 as the University of Evansville men's golf team completed its fall season at the Lehigh University Invitational at Saucon Valley Country Club.
Following an even 72 in Friday's opening round, Romashkin finished the tournament with a 148 to take 11th. Andres Rodriguez wrapped up the event one behind Romashkin with a 149. He recorded UE's low round of the weekend with a 71 in the first 18 holes on his way to a tie for 12th.
Nicholas Gushrowski and Caleb Wasmmer came home in a tie for 35th. Both shot the exact same score in both rounds after opening with a 76 before recording a 78 in Saturday's final round. Carson Parker rounded out the team scoring with a 161. His rounds finished at 80 and 81.
David Hurly of Lehigh took top individual honors with a 142. His 2-under 70 on Saturday clinched the win over Siena's Noal Crowley. Lehigh also took the team victory with a 587, defeating Siena by nine strokes.
Evansville took sixth place with a score of 605, just one outside of the top five.
Submitted by Athletics
Aces drop road contest at Bradley
The duo of Giulia Cardona and Melanie Feliciano combined for 31 kills on Saturday with the University of Evansville volleyball team falling at Bradley by a 3-1 final inside Renaissance Coliseum on Saturday.
Cardona recorded a match-high 16 kills while Feliciano added 15. Lexi Owen tallied 33 assists while Ainoah Cruz picked up 30 digs. Bradley was led by Abby Johnson's 11 kills.
Game 1 – BU 25, UE 18
Evansville had things going early in the first set. Three kills from Melanie Feliciano put the Aces in front at 7-3. The Braves fought back to tie the score at 10-10 and the squads battled to a 17-17 mark. At that point, Bradley took control, outscoring the Aces by an 8-1 margin to take the first set.
Game 2 – UE 25, BU 20
Emilee Scheumann picked up back-to-back kills to cap off a 9-3 start by Evansville. Madisyn Steele added a kill that helped the Aces go up by a 14-7 margin. The Braves stormed right back with eight in a row to jump in front at 15-14.
UE quickly regrouped and posted the next five points. Two more Feliciano kills and an ace from Ainoah Cruz put the Aces up 19-15 and they would go on to tie the match with a 25-20 win.
Game 3 – BU 25, UE 14
This time, it was Bradley with the big start, opening with seven of the first nine points to take a 7-2 advantage. The Aces got back within four points on a few occasions including 14-10 before the Braves would finish the set on an 11-4 run to win by a final of 25-14.
Game 4 – BU 25, UE 17
Looking to keep the match going, the Aces jumped out to a 6-1 lead in the fourth frame. Feliciano provided the offense with three kills. Evansville continued to hold the lead until the Braves fought back to tie it at 11-11.
With the score knotted at 13-13, Bradley scored three in a row and would complete the set on a 12-4 run to clinch the match with a 25-17 decision.
The Aces will look to pick up a victory on Monday when they will be at Chicago State for a 6 p.m. contest.
Submitted by Athletics
WSOC: UE Women's Soccer Falls To Bears, But Advances To MVC Tournament
The University of Evansville women's soccer team did not get the result it wanted on the field on Sunday, but thanks to another result around the Missouri Valley Conference, the Purple Aces will advance on to the 2023 MVC Tournament. UE will face fifth-seeded Murray State on Thursday afternoon at 2 p.m. in Chicago, Illinois in the first round.
Missouri State, which finished second in the MVC regular-season standings, used a 24th minute goal by Gracie English on Sunday to grab control of the match at Evansville, and the Bears tacked on two goals in the second half to spoil UE's 'Senior Day.' Evansville honored squad members Maria Alexopoulos, Nicole Benati, Myia Danek, Jasmine Hauser, Georgia Katsonouri, Josie Kremzar, Abbi Lenk, Rachel Rosborough and Emily Wiebe in pre-game festivities prior to Sunday's match.
The Purple Aces were still able to finish in the eighth and final playoff spot on Sunday, thanks to a 1-1 draw between Indiana State and Murray State in Terre Haute. With both results, Evansville finished the regular-season with nine points in the Valley standings, while Indiana State finished with eight.
Evansville will now face a Murray State squad on Thursday which it played to a 0-0 draw against in Murray, Kentucky on September 24. In that match, Murray State held a slight 12-10 advantage in shots on Evansville, but Danek recorded six saves to help Evansville post one of its five shutouts on the season. The winner of Thursday's match between Evansville and Murray State will advance on to face fourth-seeded UIC in Chicago on Sunday for the right to advance on to the MVC semifinals.
All matches of the 2023 MVC Tournament can be seen live on ESPN+.
Submitted by Athletics
Braun Intercollegiate completes fall schedule for UE women
In its annual home tournament, the University of Evansville women's golf team will be hosting the Braun Intercollegiate on Monday and Tuesday at Oak Meadow Country Club.
Both days will consist of a 10 a.m. shotgun start. The tournament consists of a total of 36 holes with 18 played each day. Par is 72 and the total yardage is 6,195.
This year's field includes Alabama State, Bellarmine, Eastern Illinois, Evansville, Indiana State, Lindenwood, Northern Iowa, Purdue Fort Wayne, Southern Illinois, Southern Indiana, and Tennessee State.
UE was last on the course on Oct. 8 at the Coyote Creek Classic in Peoria, Ill. Leading the way for the Purple Aces was Kate Petrova. A 3-round score of 231 saw her finish in 11th place, just two strokes outside of the top ten. Allison Enchelmayer posted Evansville's low round in the final day as her even 72 put her in a tie for 19th with a 235.
Jane Grankina (248-T34th), Magdalena Borisova (255-T39th) and Trinity Dubbs (269-46th) rounded out the team scores for UE. Destynie Sheridan played as an individual and tied for 32nd overall.
Submitted by Athletics
Aces fall to Illinois State in weekend opener
Giulia Cardona posted a team-best 8 kills while tying to the Ainoah Cruz' high of 14 digs in Friday evening's match at Illinois State that saw the University of Evansville volleyball team fall by a 3-0 final inside Redbird Arena.
Just behind Cardona was Melanie Feliciano with 7 kills. Lexi Owen recorded a team-high 16 assists and contributed 8 digs. Aida Shadewald led all players with 10 kills for ISU.
Game 1 – ISU 25, UE 23
Early in the opening frame, it was the serving that had UE on top. An ace from Melanie Feliciano saw the Purple Aces take a 5-3 lead before consecutive aces by Giulia Cardona put Evansville on top by a 9-7 tally. Cardona would later add a kill that gave UE a 13-12 edge.
Illinois State took its first multi-point advantage at 17-15 before the Aces rallied to tie it up at 21-21 on a Feliciano kill. The Redbirds countered with three in a row to have set point but UE bounced back with a pair to get within one before ISU scored the clinching point.
Game 2 – ISU 25, UE 17
Ainoah Cruz picked up an ace that saw UE tie the second set at 3-3 but Illinois State changed the course of the evening with a 7-2 run to go up by a 10-5 tally. Evansville trailed by a manageable 17-12 tally before ISU scored four in a row and would take a 2-0 lead with a 25-17 decision.
Game 3 – ISU 25, UE 12
With the set tied at 3-3, Illinois State reeled off four in a row to take the lead for good. Up by a 12-7 margin, the Redbirds posted five in a row and would pull away for a 25-12 win to clinch the match.
On Saturday, the Aces will be in Peoria, Ill. to face Bradley at 5 p.m.
Submitted by Athletics
Rodriguez and Romashkin in top five at Lehigh
At the midway point of the Lehigh University Invitational, the University of Evansville men's golf team is in second place at Saucon Valley Country Club.
Andres Rodriguez set the pace for the Purple Aces, carding a 1-under 71 to wrap up the day in a tie for third place. Shooting an even 72 was Daniil Romashkin. He is tied for 5th entering the final round.
Nicholas Gushrowski and Caleb Wassmer recorded scores of 76 and are tied for 28th while Carson Parker shot an 80 on Friday and is tied for 58th.
As a team, the Purple Aces are right in the mix with a score of 295. UE is just two behind leader Lehigh while Monmouth is in third place with a 297. Evan Sitts of Binghamton and Harry Dessel from Lafayette are tied atop the individual standings with opening round scores of 68, 4 under par.
Saturday will mark the final 18 holes.
Submitted by Athletics
WSOC: UE Women's Soccer Shoots For MVC Tournament Bid Sunday On 'Senior Day'
The University of Evansville women's soccer team will try to lock up a bid in next week's 2023 Missouri Valley Conference Tournament on Sunday when the Purple Aces host Missouri State on "Senior Day" at Arad McCutchan Stadium. Kick-off is set for 12 p.m.
Evansville will enter Sunday's match in eighth place in the MVC standings with nine total points on the strength of a 1-2-6 conference record. Only the top eight teams will advance to the MVC Tournament, with UE sitting two points ahead of ninth-place Indiana State and two points behind seventh-place Belmont. Evansville can finish anywhere from seventh through ninth in the conference standings, thanks to the below scenarios:
-A UE win and a Belmont win: Evansville will finish in eighth place
-A UE win and a Belmont loss or tie: Evansville will finish in seventh place (UE would win the MVC's "composite record" tiebreaker 8 points to 6 points over Belmont if they finish tied)
-A UE tie: Evansville will finish eighth place (UE would win the MVC's "composite record" tiebreaker 7 points to 5 points if UE ties and Indiana State wins to force a tie in the standings)
-A UE loss and Indiana State loss or tie: Evansville will finish eighth place
-A UE loss and Indiana State win: Evansville will finish ninth place
Evansville will honor nine seniors on Sunday, as Maria Alexopoulos, Nicole Benati, Myia Danek, Jasmine Hauser, Georgia Katsonouri, Josie Kremzar, Abbi Lenk, Rachel Rosborough and Emily Wiebe will be honored in pre-match ceremonies.
Missouri State will enter Sunday's match with a chance to win the MVC regular-season title, and a chance to host the MVC Tournament's final four as the league's top seed. The Bears currently stand in second place in the league with 21 points with an 11-1-5 overall record and 6-0-3 mark. Missouri State can finish first overall with a win and a Drake loss or tie, or a tie and a Drake loss at Belmont.
Evansville will enter Sunday's match off of Thursday night's 2-2 tie against Indiana State. UE has scored in seven of its nine MVC matches this year, with eight different Purple Aces finding the back of the net. Missouri State, meanwhile, is coming off of Thursday's 2-0 victory at Southern Illinois. The Bears have not allowed a goal in seven-straight matches, and Illinois State is the only MVC team to score against Missouri State this year.
All-time, Evansville leads the series against Missouri State, 15-11-8, including an 8-4-3 record all-time in Evansville. Missouri State is unbeaten in the last seven matches against UE, including a 1-0 victory over Evansville last September in Springfield, Missouri. The one-goal match is not uncommon in the series, as the last 14 series meetings have been decided by one goal or less. The UE-Missouri State series is one of the most-played in MVC history, as the 34 all-time meetings is second behind only the Missouri State-Illinois State series (39 meetings).
Sunday's match can be seen live on ESPN+.
Submitted by Athletics
Contribute to AceNotes
To have content considered for inclusion in AceNotes, please submit a Marketing Request Form. Deadline for submission to AceNotes is 10:00 a.m. on the requested date of publication. Only articles concerning UE related/sponsored activities will be accepted. Articles submitted to AceNotes may be edited for length and clarity. Submitter contact information is at the end of each article.