| | |
| --- | --- |
| PurplePulse | Friday, October 20, 2023 |
Lane Closure at Walnut and S. Frederick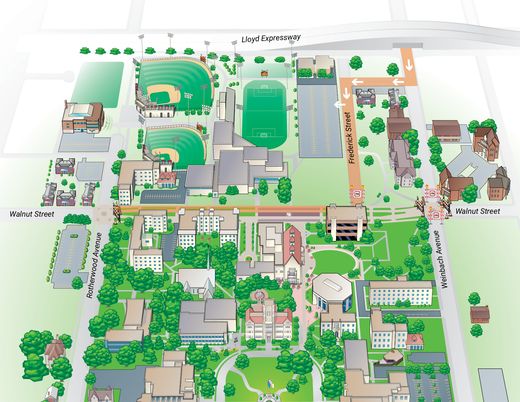 In light of recent developments, the University in coordination with the City of Evansville have made the decision to close Walnut Street at S. Frederick Street. The closure will be effective Monday, October 23, and will coincide with the work being done as part of the Walnut-Weinbach construction project.
UE community members will no longer be able to go west on Walnut from S. Frederick Street for the duration of the project.
Median Turnaround: Bollards on Walnut between Ridgway and Carson Center will be removed by Facilities to allow a turnaround in the median for delivery vehicles to exit through the westbound lane of Walnut. A stop sign will be placed at the turnaround to control the traffic entering the westbound lane.
Alternative Parking for Team Buses: Team buses can use Lot O during this time.
Additional questions can be sent to Facilities@evansville.edu.
Submitted by University Communications na122@evansville.edu
Celebrate First-Generation Day at Ace Scholars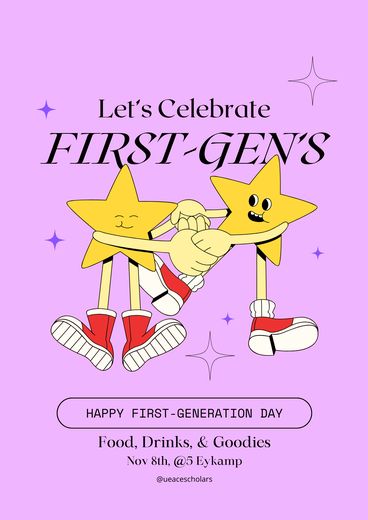 Ace Scholars welcomes students, professors, staff, and administrators to celebrate National First-Generation College Day on November 8, 2023! The event will occur on November 8, 2023, at 5 p.m. in Eykamp. This is a wonderful chance to network with other first-generation college students, faculty, and staff. There will be free food, music, and games present at this event, so bring a friend and have a good time!
Submitted by Trinitie Terrell tt141@evansville.edu
Oct 23, 6PM: Professor Katie Darby Mullins to Read at Bluestocking
Professor Katie Darby Mullins, whose most recent book, "Me & Phil" (Kelsay Books) will be doing her inaugural reading at Bluestocking Social on Monday, October 23rd at 6PM. The book is tongue-in-cheek: despite heavy, biographical material, Katie has some magical adventures with a pixelated, imagined Dr. Phil while they work through her housefire and brain-stem stroke-- and sometimes take detours like singing David Bowie at karaoke. She will be signing books and will have extra copies to sell that evening, as well as copies of her first book.
Submitted by Katie Mullins kd60@evansville.edu
Barbie Movie Screening and Talkback this Friday at 7 PM on Grassy Knoll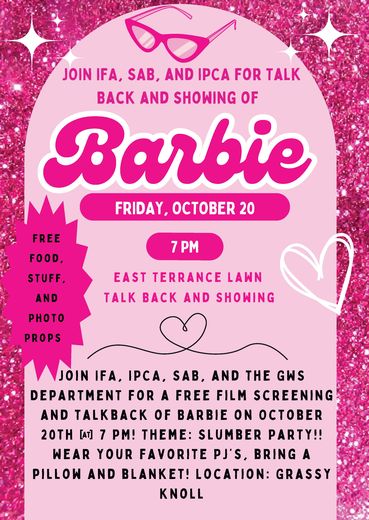 Come join the Intersectional Feminist Alliance, SAB, the Gender Women Studies Department, and the Intersectional Pro-Choice Assembly for a free viewing and talkback of the new Barbie movie on Friday, October 20th at 7:00 PM! Theme: Slumber Party - Wear your favorite PJ's or pink attire! Photo Booth and popcorn will be provided. Location: Grassy Knoll
Submitted by Claire Franzman cf205@evansville.edu
Basham - Allaire Exhibit in Krannert Gallery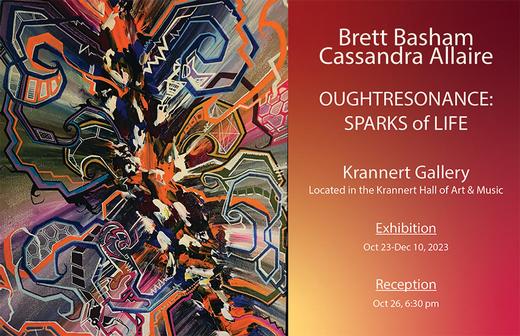 OUGHTRESONANCE: SPARKS of LIFE, a collaboration by artists Brett Basham and Cassandra Allaire, will be exhibited in the Krannert Gallery from October 23 through December 10.
Please join us for the artists reception on Thursday, October 26 at 6:30 p.m. in the Krannert Gallery.
Submitted by Carol McCraney cm177@evansville.edu
Chili Bowl - Save The Date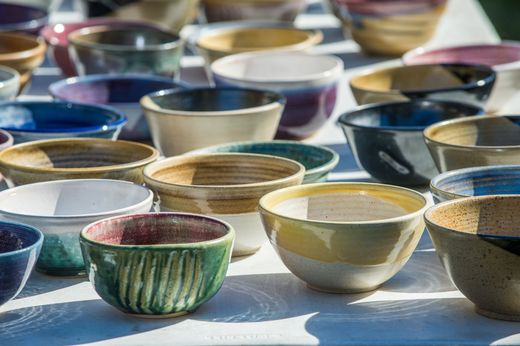 The annual Chili Bowl sale will be held on Tuesday, October 31 from 11:30 a.m. - 1:30 p.m. on the East Terrace Lawn. The rain location is Eykamp Hall, University Center.
For $10, customers can buy a one-of-a-kind ceramic bowl and fill it with chili. Lidded containers will be available for those who prefer not to put chili in their newly purchased bowls.
Larger bowls ranging from $15 - $100 will also be for sale during the event.
Part of the proceeds from the sale will be donated to a local food organization to assist with fighting hunger. The rest will go to the UE Clay Club to be used to fund attendance at conferences, visiting artists, and studio/gallery visits.
Submitted by Carol McCraney cm177@evansville.edu
We the People Volunteers Needed
UE is once again proud to host the Southern Regional Competition for We the People: The Citizen & the Constitution. On Wednesday, 11/8, we will welcome 8 schools (both high school and middle school) to campus as they work to earn a place at Indiana's State Finals. We need volunteers for the following shifts. If interested and available, email Dina Willming at dw285@evansville.edu. No experience needed for any shift!
Shift 1: 8:30am - 9:45am - Greeter (4 needed): Stand outside SOBA on the circle and Rotherwood sides, welcome the teams as they arrive and help them get to their classrooms. Purple UE scarf provided (must be returned), UE casual attire.
Shift 2: 8:45am - noon. Judges' Facilitator (6 needed): Serve as a guide for a panel of judges, getting them from room to room on time. Business casual attire recommended.
Shift 3: 11:30am - 12:00pm (8 needed): Lunch guide. Stand outside their hearing rooms as they finish their rounds, then guide them to Eykamp Hall, Ridgway University Center for lunch. Serving as an Ambassador for UE on the way. UE casual attire.
Submitted by Andrew Carter ac116@evansville.edu
Donate Your Used Clothes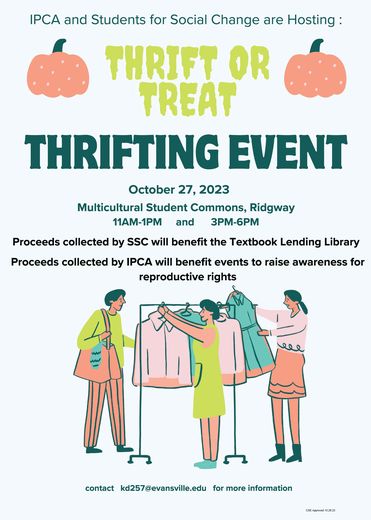 If you have any used, wearable clothes taking up space in your closet, please consider donating them to Students for Social Change! We are hosting a Thrift or Treat event on October 27th to provide students and faculty with a fun, affordable way to access second hand clothes. All proceeds from clothing sales will be used to fund the UE Textbook Lending Library, which is a student led initiative that offers free textbooks for an entire semseter! The donation box for used clothes is in the Multicultural Student Commons, which is located upstairs in Ridgway. The donation box for used textbooks is located at the library front desk. Any donations of new, unused clothes should be made to Ace's Haven! Thank you!!
Submitted by Micah Doty kd257@evansville.edu
Share your story! First-Generation College Celebration
Each year on November 8, colleges and universities across the nation highlight the First-Generation College Celebration. At UE, we plan to celebrate the first-generation students, faculty, and staff on our campus and all they have achieved! More importantly, we want to share the stories of our first-generation community to showcase the importance of college education and accessibility.
As a first-gen student, would you be willing to share your story with us? The UE Office of Marketing & Communications would like to ask you a few simple questions and allow you to share your college experience.
Visit the link to share your story!
Submitted by Abigail Perry ap445@evansville.edu
We want YOU to be an Ace of UE
Students and faculty,
The Office of Marketing is looking to add new profiles to our Aces of UE webpage. You may also notice this section on our homepage. Aces of UE is a collection of stories from current students, alumni, and faculty members from across all majors. In these profiles, students and alumni share why they chose UE, what has made their experience so unique, and more.
If you are interested in sharing your UE story please visit the link and fill out our Aces of UE questions! We look forward to learning about your Ace experience.
https://uesurvey.evansville.edu/TakeSurvey.aspx?SurveyID=86LK7n6K#
Submitted by Abigail Perry ap445@evansville.edu
Sign-Up for International Bazaar
SIGN UP TODAY!!!
International bazaar will be Nov. 3rd this year in Eykamp from 6-9pm.
Don't know what International Bazaar is? No worries! International Bazaar is one of the BIGGEST on-campus events in the Fall Semester. During Bazaar, faculty, students, staff and community members from all over the world are invited to host a booth and showcase some aspect of their culture BUT that is not all! During Bazaar individuals also have the opportunity to perform something meaningful to them. In the past performances have included original songs sang in native languages, traditional dances such as Bhangra or dance routines choreographed to K-Pop, and so much more!
Soooo, what are you waiting for?! Sign up today so you don't miss being part of this amaaazing event!
Join the Bazaar as a booth leader, a performer, or a volunteer. As a plus for registering, you will get free bubble tea and a bazaar t-shirt!
Here's the link to sign up as the volunteer, booth leader and performance leader for International bazaar: https://linktr.ee/ue_internationalclub.
The last day to sign up is October 20th!
If you have any questions, please email Sylvia at ll148@evansville.edu
Thank you,
International Club Exec
Submitted by Abagail Christine Catania ac532@evansville.edu
Tell Us What You Think for a Chance to Win $25 in Ace Bucks
You can win $25 in Ace Bucks just by completing the Voice to Vision survey. We are selecting 3 winners!! Be sure to follow the instructions on the flyer.
Before you start the survey, there are a few important items to note:
It's confidential. We do not release individual data to anyone; survey answers are entirely anonymous.
It's quick. The survey should take 8 to 10 minutes to complete.
Take it before it closes. The deadline for completing the survey is October 31st. However, please take it at your earliest convenience.
After you have completed the Voice to Vision survey, register to win $25 in Ace Bucks.
If you have questions about the survey process, email kabria.carr@compass-usa.com or call 812-488-2400.
On behalf of Chartwells, we thank you for taking the time to participate in this very important initiative and sharing your valuable insights!
Submitted by KaBria Carr kc403@evansville.edu
UE Gives Back (Student Volunteers Needed)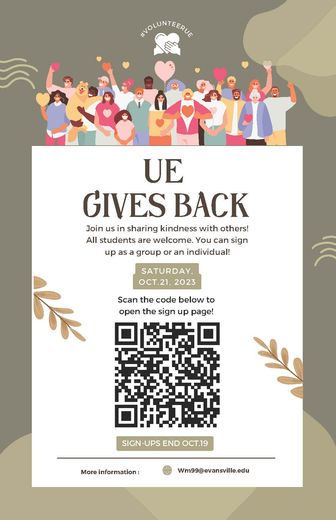 Looking for service work? Want to make a difference in Evansville?
Sign up for UE Gives Back today! This day of service is in partnership with community groups all across Evansville.
Sign up using the QR code attached to the flyer below. Please contact Will McDonner at wm99@evansville.edu with questions.
Submitted by Will McDonner wm99@evansville.edu
Clark Kimberling's art history research
UE Professor of Mathematics Clark Kimberling gave an invited presentation at the 50th annual conference of the Communal Studies Association, October 3-7 in New Harmony, Indiana. In a session on early 19th century New Harmony, Kimberling used his recently published website, CORNELIUS TIEBOUT ENGRAVINGS as a basis for describing the life and work of one of America's foremost copperplate engravers. While still a teenager, Tiebout engraved a map of Manhattan in the New York City Directory for 1789, as well as 47 engravings in The New York Magazine and Literary Repository. During 1793-1796, Tiebout worked in London, and in 1800, he and his bride Esther moved from New York to Philadelphia, where hundreds of his engravings were published. In 1826 he (with daughter Caroline, 23, and son Henry, 5), moved to New Harmony, where he joined other famous Philadelphians (William Maclure, Thomas Say, Charles-Alexandre Lesueur, and Marie Fretageot). There he continued engraving, and he was a teacher in Maclure's School of Industry until his death in 1832. Dr. Kimberling also recently expanded his website New Harmony Scientists, Educators, Writers & Artists and contributed to Wikipedia its article on Cornelius Tiebout.
Submitted by Clark Kimberling ck6@evansville.edu
Multi-Racial Student Union Launched
UE students have launched the Multi-Racial Student Union (MSU), with a mission to foster an inclusive and welcoming environment for students of diverse racial and cultural backgrounds.
The MSU's inception is rooted in the recognition of a unique need. As Derek Fudge III, the MSU President, eloquently explains, "I created the MSU because I found that, despite the presence of the BSU and other inclusion-oriented clubs, people of mixed race, backgrounds, and cultures found themselves caught in a gray area between all groups. Because of this, most Bi-Racial students are often questioned about their racial identity almost as much as they question it themselves. So, when I saw that there was a need and an audience for a Multi-Racial Student Union, I thought 'this is a step forward that needs to be taken,' whether for the betterment and progress of inter-racial relations at UE or for the increased understanding of ourselves as people."
MSU's aspirations are rooted in building a nurturing and inclusive space where multi-racial students can share their experiences and find common ground. All individuals, irrespective of race, religion, sexual orientation, gender identity, and more, are welcomed with open arms.
A supportive community is created for those who may feel adrift in a society that often forces limiting labels and boxes upon us.
Regular meetings:
When: 1st Tuesday of every month
Where: Diversity House (436 Weinbach Ave)
Time: 7:00 p.m.
Submitted by Kalea Reeves kr282@evansville.edu
It's Not Too Late to Register for Winter Intersession Courses
Get ahead by taking Winter Intersession online courses. Complete a missing required course, lighten your spirng load, and take advantage of winter break. Classes are held from December 15, 2023 through January 5, 2024. Students may take one class and register when registering for spring classes starting October 30, 2023.
Learn more about Winter Intersession.
Winter Intersession Course List

| | | | | |
| --- | --- | --- | --- | --- |
| Subject | Number | Cr Hrs | Course Title | Instructor |
| ART | 105 | 3 | Introduction to the Visual Arts | Larmann |
| AT | 180 | 3 | Introduction to Athletic Training | Tilly |
| CHEM | 103 | 3 | Chemistry of Adult Beverages | Miller K. |
| EXSS | 150 | 3 | Introduction to Health Sciences | Laughbaum |
| EXSS | 320 | 3 | Nutrition for Performance Health | Miller W. |
| EXSS | 417 | 3 | Advanced Exercise Science | Miller W. |
| EXSS | 453 | 2 | Motor Learning | Wilson |
| EXSS | 488 | 1 to 4 | Internship | Miller W. |
| EXSS | 488 | 1 to 4 | Internship | Wilson |
| FIN | 280 | 3 | Introduction to Personal Finance | Brockman |
| HIST | 112 | 3 | World History 1500 - Present | MacLeod |
| MUS | 156 | 3 | Music in America | Strandberg |
| NEUR | 125 | 3 | Introduction to Neuroscience | Campese |
| PH | 190 | 3 | Introduction to Public Health | Patel-Dovlatabadi |
| PSYC | 121 | 3 | Introduction to Psychology | Campese |
| PSYC | 226 | 3 | Child and Adolescent Psychology | Hennon |
| PSYC | 229 | 3 | Social Psychology | McCracken |
| PSYC | 450 | 3 | Learning | Campese |
| QM | 227 | 3 | Introduction to Statistics | Khormali |
| SOC | 105 | 3 | Introduction to Sociology | Plikuhn |
| SOC | 230 | 3 | Social Problems in the Modern World | Plikuhn |
Submitted by Paula Heldt ph28@evansville.edu
Pop Up Shop Orders are In
If you ordered an item during the Pop Up Shop sale, please stop by the University Bookstore and pick up your order. You must present an ID for the Bookstore to release your order to you.
Bookstore hours are:
Monday - Thursday from 9 a.m. – 5 p.m.
Friday from 9 a.m.– 4 p.m.
Saturday from 10 a.m.– 2 p.m.
We so appreciate your support and hope that you enjoy your new UE Swag!
Submitted by Noah Alatza na122@evansville.edu
Apply to Graduate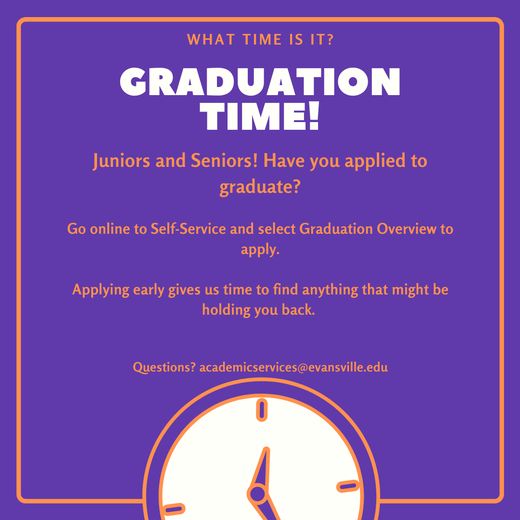 It's that time! Be sure to apply now to graduate via Self-Service.
Submitted by Kelsey Gordon kg302@evansville.edu
Billy Twymon Exhibit Opens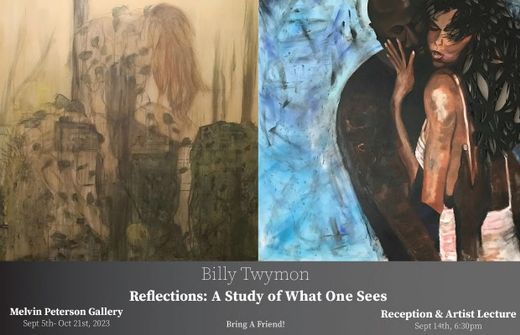 The UE Friends of Art and the UE Department of Art present Billy Twymon's exhibit "Reflections: A Study of What One Sees" in the Melvin Peterson Gallery from Sept 5 through October 21, 2023.
Please join us for a reception and artist lecture in the Gallery on Thursday, September 14 at 6:30PM.
Gallery hours are Mon, Tues, Fri, & Sat 12:00pm - 3:00pm and Wed & Thurs 12:00pm - 6:00 pm.
Submitted by Carol L McCraney cm177@evansville.edu
WSOC: UE Women's Soccer Draws With Indiana State To Inch Closer To MVC Tournament Bid
The University of Evansville women's soccer team rallied for second-half goals from freshman Taylor Johnson (Evansville, Ind./Reitz) and sophomore Chrysta Vasquez (Las Vegas, Nev./Coronado) on Thursday night to earn a 2-2 tie against visiting Indiana State at Arad McCutchan Stadium in Evansville. With the draw, Evansville moved closer to clinching a spot in the 2023 Missouri Valley Conference Tournament field.
After Indiana State struck in the first half for a goal off a corner kick by Isabella Hunter in the 17th minute, Evansville rallied in the second half behind an offensive onslaught which saw UE out-shoot the Sycamores, 10-4, after halftime. The Purple Aces would finally earn the equalizer in the 70th minute on a strike by Johnson, who trapped down a cross from senior defender Rachel Rosborough (Mt. Brydges, Ontario) inside the penalty area and blasted a ball off the underside of the crossbar that just barely finished bouncing over the goal line for Johnson's first career goal.
UE would then take a lead in the 81st minute after a tremendous run by junior midfielder Hailey Autenrieb, who battled numerous Indiana State defenders down the left-side before making it into the six-yard box and slotting a ball to a wide-open Vasquez at the penalty spot, who buried a shot to the lower-right corner for her second goal of the season.
Indiana State would answer back with another goal off of a corner kick just minutes later to knot the game at 2-2. The match would remain tied, despite UE out-shooting Indiana State 17-5 overall in the match, including holding a 10-3 edge in shots on goal.
With the draw, Evansville improved to nine points in the MVC standings with a 1-2-6 conference record to remain in eighth place in the Valley. Indiana State, meanwhile, moved to seven points with a 1-4-4 conference mark. Only the top eight teams make the MVC Tournament field, and Evansville can punch its ticket to the conference tournament with either a win or a draw against Missouri State on Sunday afternoon at McCutchan Stadium on "Senior Day" at UE. UE can also qualify for the tournament with a loss, as long as Indiana State does not defeat Murray State on Sunday. All five matches around the MVC will kick-off at noon on Sunday, and every match can be seen live on ESPN+.
Submitted by Athletics
Busy weekend ahead for UE volleyball
Another busy weekend is upcoming for the University of Evansville volleyball team with three road matches in four days. The Purple Aces open at Illinois State on Friday, Bradley on Saturday and complete the trip with a Monday evening match at Chicago State. ESPN+ will have the coverage of the two MVC matches while the CSU contest will be carried on YouTube.
NCAA'S Longest Match
- On October 13, Evansville and UIC squared off in what was the longest match in the history of the NCAA
- The 5-set contest took 3 hours and 44 minutes to complete, surpassing the previous record of 3 hours and 38 minutes, which took place between Hawaii and BYU in 1998
National Accolade
- Giulia Cardona became just the second player in Missouri Valley Conference history to earn AVCA Division I National Player of the Week honors when she earned the accolade on Oct. 17
- Lily Johnson of Missouri State was the first league player to do so in 2017
- The recognition came on the heels of a 40-kill performance versus the Flames as Cardona tied the MVC single-match record while setting the UE program record
On a Roll
- Giulia Cardona earned her third MVC Player of the Week honor on Oct. 16 as she averaged 6.62 kills in matches versus Indiana State, UIC and Valparaiso
- Highlighting the week was her 40-kill performance versus UIC that tied the league's single-match record that was set by UNI's Bobbi (Becker) Petersen in 1989
- Along with her 40 kills, Cardona had 94 attempts, tying for the second-highest total in league history; teammate Melanie Feliciano holds the MVC record with 95 in 2019
- Cardona remains the national leader in kills (5.58/set), points (6.28/set) and attacks (14.81/set)
- The 3-time MVC Player of the Week honoree in 2023 earned the honor on Aug. 28, Sept. 25 and Oct. 16
- The 40-kill match by Cardona was the first that the NCAA had seen since the fall of 2019 when it happened on three occasions
- She currently holds the NCAA lead for kills this season in a 3-set (26), 4-set (36) and 5-set (40) match
Scouting the Opposition
- While they are 9-12 overall, Illinois State sits at 7-2 in MVC matches and has won seven in a row entering the weekend
- Aida Shadewald paces the team with 3.53 kills/set, which is 6th in the Valley
- After going 7-6 in non-conference play, Bradley has dropped its opening nine MVC matches to fall to 7-15
- Kendall Minta has proven to be one of the top defensive players in the MVC as she ranks 4th in the conference with 1.00 blocks per set
- Chicago State will be the third opponent of the weekend and stands at 10-5 with two wins coming over the Purple Aces
- Yanlis Feliz paces the Cougars with an average of 4.37 kills
Running the Offense
- Just four days after totaling 57 assists against Indiana State, Kora Ruff reset her career mark with 64 in the victory over UIC
- Ruff has been on an absolute roll over the last few matches, averaging 12.6 assists per set while improving her season mark to 10.58, which is second in the league
- It marked the first 60-assist performance of Ruff's UE career surpassing her previous high of 58, which came as a freshman
- Her average is 20th in the nation while her total of 751 assists is 23rd nationally
- Over the course of the season, Ruff has posted 2.66 digs per set but has seen that rise to 2.85/frame in MVC contests
First Over 30
- With 32 digs against UIC, Ainoah Cruz put forth the top performance of her young career; her previous high of 27 digs came in the road win at Samford
- Cruz checks in with an average of 4.19 digs per set, which is 9th in the MVC
- Her numbers in MVC matches is even better at 4.45/frame
Submitted by Athletics
Parker named MVC Men's Golfer of the Week as Aces travel to PA
Following a runner-up finish at The Buddy this week, University of Evansville men's golfer Carson Parker has been named the Missouri Valley Conference Men's Golfer of the Week. He shares the honor with Felix van Dijk of Illinois State.
Parker shot a 4-under 67 in the final round of the tournament on Tuesday to take home a second-place finish while leading the Purple Aces to a #2 finish on the team side. After opening the tournament with a 73, Parker scored a 4-under 67 in each of the final two rounds to finish just one stroke behind the winner.
Evansville is set to complete its fall slate this weekend with a trip to Bethlehem, Pennsylvania for the Lehigh Men's Golf Invitational. The Grace Course at Saucon Valley Country Club will be the host course with par set for 72 and the yardage from the black tees coming in at 7,091.
Teams will play a total of 36 holes with 18 set for Friday and the final round taking place Saturday. Joining the Purple Aces in the event will be Binghamton, Bryant, Fairfield, Hofstra, Iona, Lafayette, Lehigh, Monmouth, Rider, Siena and Towson.
Submitted by Athletics
BASE: Evansville To Battle USI Saturday In West Side Nut Club #CureFA Exhibition
The University of Evansville baseball team will take on the crosstown University of Southern Indiana baseball team on Saturday at historic Bosse Field in downtown Evansville to help raise funds for the fight against Friedreich's Ataxia (FA) in the annual USI/West Side Nut Club #CureFA exhibition game. First-pitch is set for 2 p.m. and tickets are still available at all Banterra Bank Evansville and Newburgh locations, as well as on-line at curefa.org/USIBaseball. Tickets are $10 for adults and $5 for students.
"The University of Evansville baseball program is thrilled to be a part of the FARA Charity game hosted by USI," said UE head coach Wes Carroll. "This community has two great baseball teams competing at the Division I level, and to be able to come together for a great cause is amazing. It should be a great day at historic Bosse Field to bring awareness to FA and to showcase our talented teams."
Friedreich's Ataxia is a degenerative neuro-muscular disorder that affects one in 50,000 people in the United States. Most individuals have onset of symptoms of FA between the ages of 5 and 18, but it can occur anything during adulthood. The Friedreich's Ataxia Research Alliance (FARA) is supporting research that will improve the quality and length of life for those diagnosed with FA and will hopefully lead to treatments that eliminate its symptoms. More information about FA can be found at CureFA.org.
Evansville finished last year with a 37-24 overall record and the Purple Aces advanced to the finals of the Missouri Valley Conference Tournament. USI posted a 17-38 overall record in its first year of transition to the NCAA Division I level.
Submitted by Athletics
UE men's soccer almost steals a point from No. 10 Missouri State
The University of Evansville men's soccer team ended up just shy of a point in a 2-1 loss to the No. 10 Missouri State Bears.

Senior forward Kai Phillip put together a Herculean effort in the final minute of the Purple Aces match against the Missouri Valley Conference leaders on Wednesday night. It was another slow start for UE as Missouri State scored early on broken coverage in only the third minute of the match. Evansville was able to take the ball back and get a shot off but the Bears quickly found their way back into the attacking fourth. Missouri State scored it's second and final goal of the game in the 21st minute on a long shot to the top right corner of the net.

The team's played keep away for the first 15 minutes of the second half. The Bears offense picked up where it left off in the 60th minute but the tide soon turned the Aces way for the final 20 minutes of action. UE took five of its six shots during the final 20, including two major chances from Phillip. In the final 10 minutes of the match Evansville peppered Missouri State goalkeeper Harry Townsend with shot after shot.
The Aces broke through with 46 seconds left on the clock as midfielder Ola Arntsen booted the ball down the center of the field following a throw in. The ball found Phillip just outside the penalty arc and with a high right-footed kick, Phillip scored his eighth goal of the season as it sailed over Townsend's head into the net. And Phillip wasn't done yet. Looking for his third brace of the season, the senior forward got another cross from Arntsen, this time right in front of the goal area. Phillip used his head to redirect the ball towards the net, but Townsend was able to make the save on the right side with two seconds left on the clock ending UE's offensive onslaught.
Evansville gets nine days off before its next match on Friday, Oct. 27. The Aces will host the Bradley Braves for Senior Night at Arad McCutchan Stadium following their bye week. Kick-off for Senior Night is set for 7 p.m. on the 27th.
Submitted by Athletics
SWIM/DIVE: UE's McKinney Named MAC Diver Of The Week
University of Evansville sophomore diver Levi McKinney (Boonville, Ind./Boonville) earned Mid-American Conference Diver of the Week honors on Wednesday afternoon, after posting the first NCAA Zone qualifying mark of his Purple Aces' career over the weekend in a double-dual meet against Valparaiso and USI.
McKinney posted a career-best score of 303.23 on his way to winning the one-meter competition on Saturday in his first meet of his sophomore season. McKinney scored three points higher than the NCAA Zone qualifying standard of 300 in the one-meter competition. He also cruised to the individual title in the three-meter competition, falling just 35 points shy of a Zone qualifying mark on the higher board.
For McKinney, it is his first MAC Diver of the Week honor in his career at UE.
The UE men are currently in training for their next meet, which will take place November 9-11 at Southern Illinois' A3 Performance Invitational in Carbondale, Illinois.
Submitted by Athletics
Contribute to AceNotes
To have content considered for inclusion in AceNotes, please submit a Marketing Request Form. Deadline for submission to AceNotes is 10:00 a.m. on the requested date of publication. Only articles concerning UE related/sponsored activities will be accepted. Articles submitted to AceNotes may be edited for length and clarity. Submitter contact information is at the end of each article.