| | |
| --- | --- |
| PurplePulse | Wednesday, October 18, 2023 |
Oct 23, 6PM: Professor Katie Darby Mullins to Read at Bluestocking
Professor Katie Darby Mullins, whose most recent book, "Me & Phil" (Kelsay Books) will be doing her inaugural reading at Bluestocking Social on Monday, October 23rd at 6PM. The book is tongue-in-cheek: despite heavy, biographical material, Katie has some magical adventures with a pixelated, imagined Dr. Phil while they work through her housefire and brain-stem stroke-- and sometimes take detours like singing David Bowie at karaoke. She will be signing books and will have extra copies to sell that evening, as well as copies of her first book.
Submitted by Katie Mullins kd60@evansville.edu
Barbie Movie Screening and Talkback this Friday at 7 PM on Grassy Knoll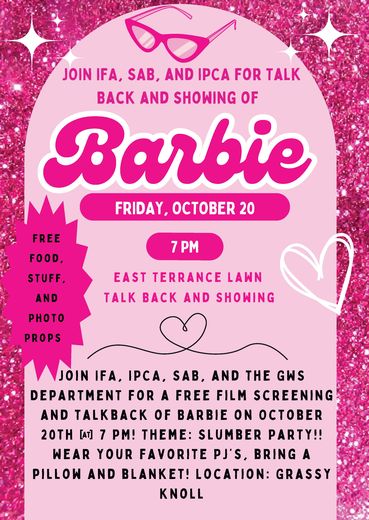 Come join the Intersectional Feminist Alliance, SAB, the Gender Women Studies Department, and the Intersectional Pro-Choice Assembly for a free viewing and talkback of the new Barbie movie on Friday, October 20th at 7:00 PM! Theme: Slumber Party - Wear your favorite PJ's or pink attire! Photo Booth and popcorn will be provided. Location: Grassy Knoll
Submitted by Claire Franzman cf205@evansville.edu
National Collegiate Alcohol Awareness Week Speaker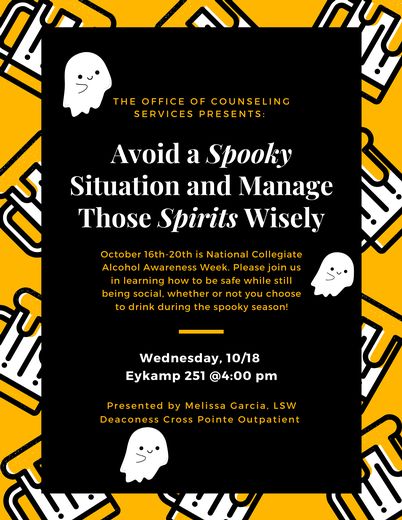 For National Collegiate Alcohol Awareness Week, the office of Counseling Services is proud to host Melissa Garcia, LSW to speak on risk management when using alcohol and ways to remain sober. Please join us in Eykamp 251 on Wednesday 10/18 at 4:00 for the speech and refreshments.
Submitted by Isaac Memmer im71@evansville.edu
FREE UE Employee Workshop - October 26
The Center for the Advancement of Learning invites all faculty, staff, and administrators to join Dr. Tad Dickel for the upcoming workshop "Navigating Difficult Conversations for Leaders". The workshop will take place on Thursday, October 26, from 11:30 a.m. – 1:00 p.m. in Eykamp Hall, Room 252.
During this workshop, Dr. Dickel will explore why effective leaders are skilled at handling difficult conversations.
Attendees will learn:
Why certain conversations are so difficult
Ways to prepare for challenging conversations
How to speak persuasively
Techniques for staying calm
This workshop is free for UE employees and lunch is available for $10. To register and pay for lunch, visit the link below by Thursday, October 19. REGISTER EARLY – SPACE IS LIMITED!
If you would like to attend the workshop and bring your own lunch, email cal@evansville.edu by Thursday, October 19.
About the presenter:
Dr. Timothy A. (Tad) Dickel serves as the Executive in Residence in Leadership and is the interim faculty director of the Master of Science in Leadership program at the University of Evansville. In addition, he is the President of T.A. Dickel Group, LLC and serves as a leadership and strategy consultant for businesses, universities, and nonprofits.
Submitted by Cindy Felts cf128@evansville.edu
College of Business and Engineering Speaker Series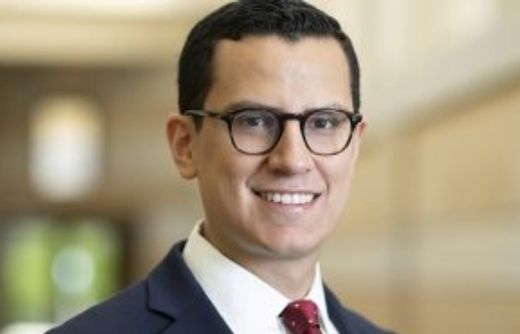 Please join us for the next installment of the College of Business and Engineering Lecture Series. Dr. Alejandro Estefan, Assistant Professor of Development Economics at Notre Dame's Keough School of Global Affairs, will be presenting Digital Training in Developing Countries: The Case for Female Micro-Entrepreneurs and Sustainable Agriculture on October 26, 2023 at 6:00 p.m. in Eykamp Hall. Reception to follow. Dr. Estefan will discuss how remote areas in economic need are benefiting from technological advances in teaching. See more information and register to attend in-person or virtually here.
For virtual attendees, the meeting link will be provided via email the day before the event. In order to receive the virtual invitation, please register at the link above. Contact Megan Conapinski at mt263@evansville.edu with any questions.
Submitted by Megan Conapinski mt263@evansville.edu
Chili Bowl - Save The Date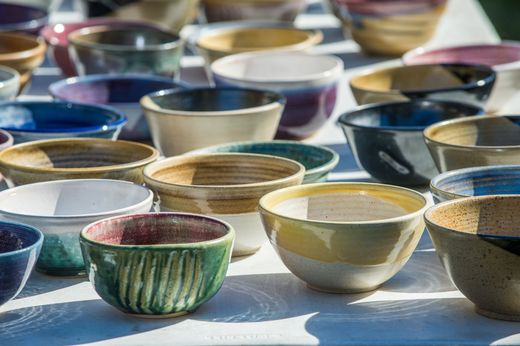 The annual Chili Bowl sale will be held on Tuesday, October 31 from 11:30 a.m. - 1:30 p.m. on the East Terrace Lawn. The rain location is Eykamp Hall, University Center.
For $10, customers can buy a one-of-a-kind ceramic bowl and fill it with chili. Lidded containers will be available for those who prefer not to put chili in their newly purchased bowls.
Larger bowls ranging from $15 - $100 will also be for sale during the event.
Part of the proceeds from the sale will be donated to a local food organization to assist with fighting hunger. The rest will go to the UE Clay Club to be used to fund attendance at conferences, visiting artists, and studio/gallery visits.
Submitted by Carol McCraney cm177@evansville.edu
Caregiver Fatigue Event-UE Nursing Seniors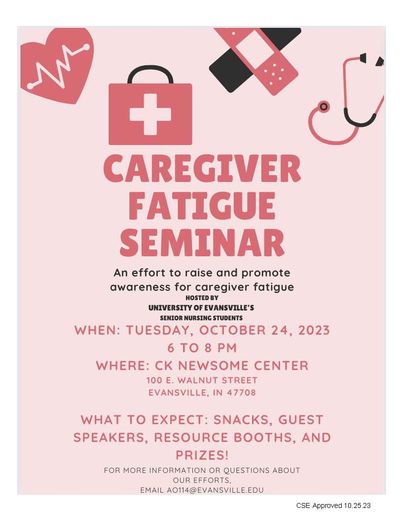 Come supprt UE Nursing Seniors! This health promotion project aims to give caregivers in the community the resources to combat caregiver fatigue and prevent abuse. The target population includes anyone who is taking care of another person, especially those with a condition or illness such autism or dementia. To educate caregivers, we will host an event on October 24th at the CK Newsome center that has speakers and vendors to provide resources about adult day care, self-care, and more. We will have snacks and raffle prizes! We hope to see you there!
Submitted by Elspeth Nelson en55@evansville.edu
BSU Trunk or Treat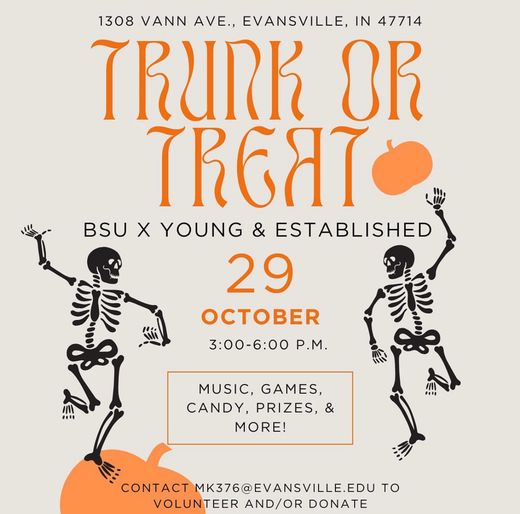 The Black Student Union is hosting our annual Trunk or Treat with Young & Established on Sunday, October 29th from 3 pm - 6 pm. This family-friendly event will be held at Young & Established and will feature a safe and fun Halloween experience for all ages. We are looking for volunteers and donations to help us put on this event! Please visit the link below to sign up for our event, help with tabling to raise funds, and/or donate. Donations will go towards purchasing candy, decorations, and other necessary items for the event. We hope to see you all there!
Sign up and/or donate: https://superlink.io/ueblackstudentunion
Submitted by Trinitie Terrell tt141@evansville.edu
UE Employee and Student Flu Shot Event
The wellness team with the UE onsite Tri State Clinics will be onsite in Eykamp during the following dates and times below in October to offer flu shots! These events are for insured employees and their covered dependents, non-insured employees and students.
Onsite Flu Shot Event Dates:
October 18th: 7:30am - 9:30am
October 19th: 4:00pm - 6:00pm
Please note the cost for non-insured employees and students is $20.00.
Non-insured employees should make this payment to their HR deparment as CASH ONLY.
Students should make this payment to the student health center. Cash or debit/credit is accepted.
Submitted by Haley Karges hw164@evansville.edu
ChangeLab Fair THIS THURSDAY
What to make a difference AND earn academic credit?
Come to the ChangeLab Fair to find out about ChangeLab courses offered for Spring 2024! You can also talk about how to create your own future ChangeLab if you have an idea for making a difference in your community or the world.
Thursday, October 19
4:30 - 5:30 P.M.
Multicultural Student Commons, 2nd Floor, Ridgway University Center
Submitted by Andrew Carter ac116@evansville.edu
Sign-Up for International Bazaar
SIGN UP TODAY!!!
International bazaar will be Nov. 3rd this year in Eykamp from 6-9pm.
Don't know what International Bazaar is? No worries! International Bazaar is one of the BIGGEST on-campus events in the Fall Semester. During Bazaar, faculty, students, staff and community members from all over the world are invited to host a booth and showcase some aspect of their culture BUT that is not all! During Bazaar individuals also have the opportunity to perform something meaningful to them. In the past performances have included original songs sang in native languages, traditional dances such as Bhangra or dance routines choreographed to K-Pop, and so much more!
Soooo, what are you waiting for?! Sign up today so you don't miss being part of this amaaazing event!
Join the Bazaar as a booth leader, a performer, or a volunteer. As a plus for registering, you will get free bubble tea and a bazaar t-shirt!
Here's the link to sign up as the volunteer, booth leader and performance leader for International bazaar: https://linktr.ee/ue_internationalclub.
The last day to sign up is October 20th!
If you have any questions, please email Sylvia at ll148@evansville.edu
Thank you,
International Club Exec
Submitted by Abagail Christine Catania ac532@evansville.edu
Tell Us What You Think for a Chance to Win $25 in Ace Bucks
You can win $25 in Ace Bucks just by completing the Voice to Vision survey. We are selecting 3 winners!! Be sure to follow the instructions on the flyer.
Before you start the survey, there are a few important items to note:
It's confidential. We do not release individual data to anyone; survey answers are entirely anonymous.
It's quick. The survey should take 8 to 10 minutes to complete.
Take it before it closes. The deadline for completing the survey is October 31st. However, please take it at your earliest convenience.
After you have completed the Voice to Vision survey, register to win $25 in Ace Bucks.
If you have questions about the survey process, email kabria.carr@compass-usa.com or call 812-488-2400.
On behalf of Chartwells, we thank you for taking the time to participate in this very important initiative and sharing your valuable insights!
Submitted by KaBria Carr kc403@evansville.edu
Solution Station Wednesday: Thinking About Graduation?
Your graduation might be here before you know it, so be ready! If you have questions about what happens next, make sure you come to the Solution Station table in Ridgway this Wednesday. Juniors and seniors are encouraged to come by – staying on track for degree completion is important!

Assistant Registrar Kelsey Gordon will be available to answer questions and talk through your next steps. If you have questions about applying to graduate, unresolved degree deficiencies, substitutions, or what to expect as you approach this next part of your college journey, please come by! We don't want any surprises to get in the way of you getting your degree. Juniors - it's time to apply to graduate!

Solution Station
Wednesday, October 18
11:00 a.m. - 1:00 p.m.
Ridgway University Center

Can't make it? Make a Graduation/Degree Audit Consultation appointment or contact Kelsey Gordon directly at kg302@evansville.edu.
Submitted by Chad Hart ch299@evansville.edu
Professor Larmann publishes Digital Museum Guide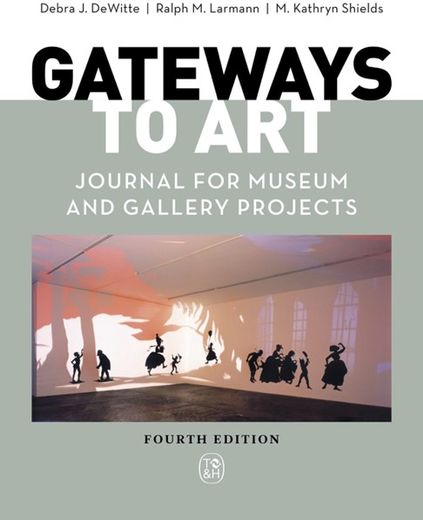 Art Department faculty, Professor Ralph Larmann, has coauthored a new digital edition of Gateways to Art Journal for Museum and Gallery Projects. The fourth edition of this spinoff text was released on July 1, 2023 as a digital-only resource for students. This journal provides students a tool for effective analysis of artwork when visiting a museum. This ebook originated as a supplement to Gateways to Art, but was later published separately to accommodate faculty requests. The digital journal features examples of great works in American museums, provides ways for students to analyze an artwork, and writing/sketching space for students to input their own responses as they visit a museum or gallery.
Submitted by Carol McCraney cm177@evansville.edu
UE Gives Back (Student Volunteers Needed)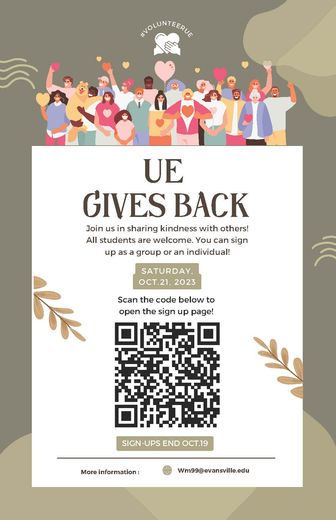 Looking for service work? Want to make a difference in Evansville?
Sign up for UE Gives Back today! This day of service is in partnership with community groups all across Evansville.
Sign up using the QR code attached to the flyer below. Please contact Will McDonner at wm99@evansville.edu with questions.
Submitted by Will McDonner wm99@evansville.edu
Table/Chair Reservations for Campus Events
On a first-come-first-served basis, Facilities Management has 8' rectangular tables and white folding chairs for University use. We do not have round tables available for use outside of Ridgway Center (these are exclusively for that area). These items will be dropped off and picked up, set-up is only provided when specifically requested with details of the setup request.
If you are planning a University event, please complete the following to ensure setup occurs as desired.
Submit a work order request and include attention movers. Include the drop-off location, date, contact person, # of tables and chairs, event setup details (location of tables), time of the event, and pick-up date and time.
Location, sprinklers/irrigation, and electrical needs should be considered in scheduling an event.
Moving Services requires at least 10 working days of advanced notification so we can schedule accordingly. If request is submitted less than 10 working days, it is less likely we will be able to provide you with items needed.
Reserve space in Resource Scheduler.
Please note, if you desire a different length or shape of folding table, arrangements will need to be made with an outside rental company. Facilities Management can make these arrangements on your behalf. Please allow for a longer lead time. Once notified of your request, we will contact a rental a company to obtain a quote. The rental order will not be placed until you approve the amount and provide an account number for the charge.
Please let us know if you have any questions or concerns.
Mike Averett
Executive Director, Facilities Management and Planning
Submitted by Michael Averett ma479@evansville.edu
Clark Kimberling's art history research
UE Professor of Mathematics Clark Kimberling gave an invited presentation at the 50th annual conference of the Communal Studies Association, October 3-7 in New Harmony, Indiana. In a session on early 19th century New Harmony, Kimberling used his recently published website, CORNELIUS TIEBOUT ENGRAVINGS as a basis for describing the life and work of one of America's foremost copperplate engravers. While still a teenager, Tiebout engraved a map of Manhattan in the New York City Directory for 1789, as well as 47 engravings in The New York Magazine and Literary Repository. During 1793-1796, Tiebout worked in London, and in 1800, he and his bride Esther moved from New York to Philadelphia, where hundreds of his engravings were published. In 1826 he (with daughter Caroline, 23, and son Henry, 5), moved to New Harmony, where he joined other famous Philadelphians (William Maclure, Thomas Say, Charles-Alexandre Lesueur, and Marie Fretageot). There he continued engraving, and he was a teacher in Maclure's School of Industry until his death in 1832. Dr. Kimberling also recently expanded his website New Harmony Scientists, Educators, Writers & Artists and contributed to Wikipedia its article on Cornelius Tiebout.
Submitted by Clark Kimberling ck6@evansville.edu
Multi-Racial Student Union Launched
UE students have launched the Multi-Racial Student Union (MSU), with a mission to foster an inclusive and welcoming environment for students of diverse racial and cultural backgrounds.
The MSU's inception is rooted in the recognition of a unique need. As Derek Fudge III, the MSU President, eloquently explains, "I created the MSU because I found that, despite the presence of the BSU and other inclusion-oriented clubs, people of mixed race, backgrounds, and cultures found themselves caught in a gray area between all groups. Because of this, most Bi-Racial students are often questioned about their racial identity almost as much as they question it themselves. So, when I saw that there was a need and an audience for a Multi-Racial Student Union, I thought 'this is a step forward that needs to be taken,' whether for the betterment and progress of inter-racial relations at UE or for the increased understanding of ourselves as people."
MSU's aspirations are rooted in building a nurturing and inclusive space where multi-racial students can share their experiences and find common ground. All individuals, irrespective of race, religion, sexual orientation, gender identity, and more, are welcomed with open arms.
A supportive community is created for those who may feel adrift in a society that often forces limiting labels and boxes upon us.
Regular meetings:
When: 1st Tuesday of every month
Where: Diversity House (436 Weinbach Ave)
Time: 7:00 p.m.
Submitted by Kalea Reeves kr282@evansville.edu
Proposal for Summer Camps 2024
If you are interested in having a camp during Summer 2024, please complete the proposal form. All proposals are due by Tuesday, November 21, and will then be reviewed by the Camp Proposal Committee. After review, the Committee will contact you with the next steps. Compensation is available.
If you have any questions or inquiries, please contact the Office of Youth Programs at 812.488.3440 or youthprograms@evansville.edu.
Submitted by Rachel Roscoe rr209@evansville.edu
Free HIV Testing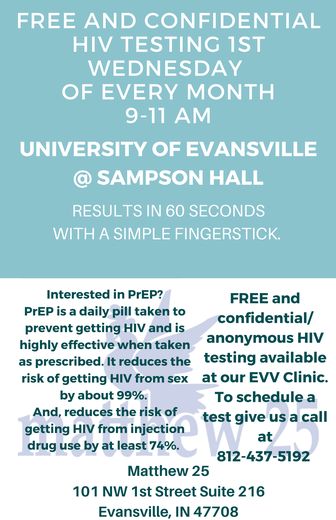 Free, HIV testing at the Student Center first Wednesday of every month from 9-11am. No appointment necessary.
Submitted by Tara Ulrich tu19@evansville.edu
Volunteers Needed | UE Gives Back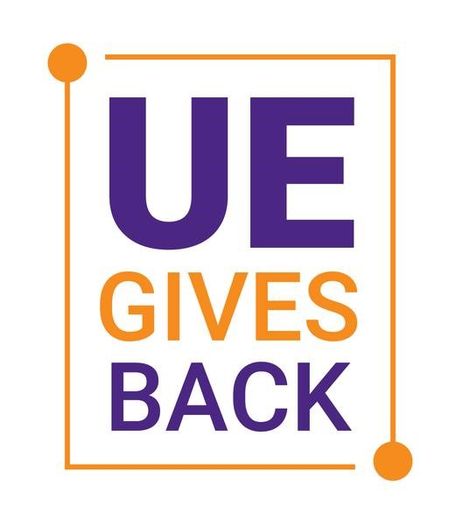 The University of Evansville is excited to announce the return of UE Gives Back for employees! Mark your calendars for Friday, October 20, and sign up today with the UE Gives Back Registration Form. With the approval of immediate supervisors and as schedules permit, employees may choose to volunteer on UE's campus without scheduling a day of vacation.
If you have any questions or need clarification, please contact Rachel Roscoe at 812.488.5004 or rr209@evansville.edu.
Submitted by Rachel Roscoe rr209@evansville.edu
UE Men's Basketball Sport Science Internship
UE Men's Basketball is looking for students at either the professional, graduate, or undergrad level with a background in Microsoft Office, statistics, and programming (R, Python, etc.), as well as students with experience in kinesiology and biomechanics to assist with data collection, processing, analysis, and report building for sport science initiatives and projects here at UE.
Students will be immersed in the day-to-day operations of the basketball team and sports performance.

If any student is interested, please email a resume to Jeremy Portillo (jp450@evansville.edu). Interviews will be conducted immediately.
Submitted by Jeremy Portillo jp450@evansville.edu
Volunteers needed for Balance Assessments 10/24/2023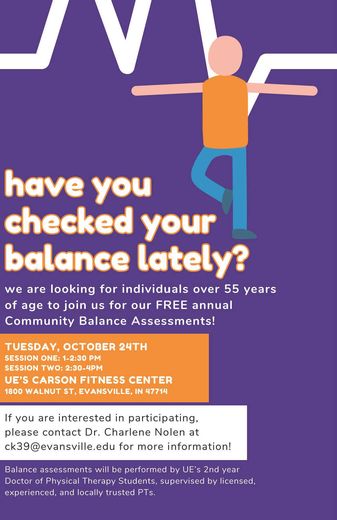 The Exercise Science and second year DPT students will be conducting community balance assessments as part of the Bronstein Geriatric Wellness Program. We are looking for 24 participants who are 55 years or older to take part in these assessments. Faculty will be present to assist the students throughout the assessments. Please share this opportunity with anyone you think might be interested and able to participate. The participant does not need to be able to walk but should at least be able to stand for the assessments.

Who: Exercise Science and 2nd year DPT students
What: DPT students will complete testing of your balance, educate you on the findings during the testing, and provide you with a home exercise program
When: 10/24/2023 Session 1 from 1:00-2:30 or Session 2 from 2:30-4:00
Where: Carson Center, Maikranz Gym
Why: To improve the balance and mobility of the community through the Bronstein Geriatric Wellness Program initiative

Participants can contact Dr. Charlene Nolen at ck39@evansville.edu to sign up or seek further information.
Submitted by Charlene Nolen ck39@evansville.edu
Show Harlaxton Support on Purple Fridays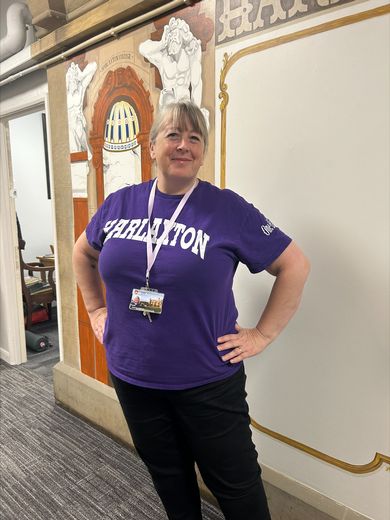 Harlaxton College is hosting a pop-up shop! We have several items available for sale, but we wanted to draw the campus community's attention to the purple Harlaxton t-shirt available for purchase. Staff at Harlaxton wear this purple shirt every Friday to show their support for UE, so now you have the chance to also show your support for Harlaxton by wearing your very own purple Harlaxton shirt for Purple Fridays!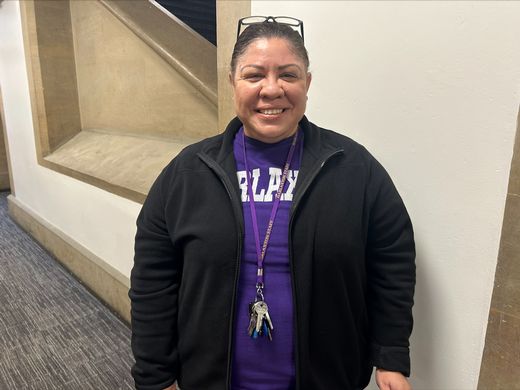 The unisex t-shirt is available in sizes from XS to 4XL for $22.75. To purchase your purple Harlaxton shirt or any of our other options, please visit: https://harlaxtonshop.ccbrands.com/
Submitted by Victoria Cartal vr35@evansville.edu
WSOC: UE Can Clinch MVC Tournament Spot Thursday At Home Against Indiana State
Only eight teams will advance on to the 2023 Missouri Valley Conference Women's Soccer Tournament next week. The University of Evansville women's soccer team can punch its ticket to the conference tournament Thursday night at home when UE hosts Indiana State at Arad McCutchan Stadium. Kick-off is set for 6 p.m.
Evansville currently sits in eighth place in the MVC standings with eight points, based off a 1-2-5 conference record. UE is currently two points ahead of both Indiana State (2-6-8, 1-4-3 MVC) and Illinois State (3-7-4, 1-4-3 MVC) for the eighth and final spot in the MVC Tournament field with two matches remaining. A UE victory on Thursday night against Indiana State and a loss or tie by Illinois State in its match against UIC on Thursday would guarantee a spot for the Purple Aces in the MVC Tournament field.
Seeding is so tight in the MVC that UE can finish as high as fourth in the league standings and potentially host opening-round and second-round matches, but in order to do so, Evansville would need two victories this week and some things to fall its way around the league. Thursday's match features a pair of sides that rely on defense, but whose offenses have picked things up of late.
Evansville saw a seven-match unbeaten streak snapped last week with a 3-2 loss at UNI in which sixth-year midfielder Nicole Benati and freshman forward Brooklyn Robinson both recorded their first goals of the year. UE also dropped a 1-0 decision at league-leading Drake on Sunday. The Purple Aces had multiple chances to equalize in the second half at Drake, only to come up empty. Evansville has scored in six of its eight MVC matches so far this year, while also ranking third overall in the MVC in fewest goals allowed at 14.
Indiana State, meanwhile, enters Thursday's match off of its best performance of the year with a 2-0 win over Illinois State. Like Evansville, Indiana State relies on its defense, which has allowed just 15 goals this season. Both teams have played to eight ties overall this year, which equals an MVC single-season record and are tied for the most in NCAA Division I women's soccer this season. The NCAA record for ties in a single-season is 10, set by two schools last year.
All-time, Evansville leads the series over Indiana State, 14-11-3, including holding a 10-2-0 advantage at home. Thursday's match can be seen live on ESPN+.
Submitted by Athletics
Parker leads UE to second place finish at The Buddy
Led by Carson Parker's 4-under 71, the University of Evansville men's golf team earned a second-place finish at "The Buddy" at Miller Memorial Golf Course.
Evansville's purple team posted a team score of 291 in Tuesday's final round to complete the tournament with an 856. USI took the team championship with a 3-round tally of 844.
Carson Parker scored a 4-under 67 in round three to rally for second place in the final standings. His 207 was one shot behind medalist Jace Day from the Screaming Eagles. Parker matched his second-round score on his way to the runner-up finish.
Tying for fourth was Caleb Wassmer. One day after tying the Purple Aces school record with a 64, Wassmer tallied a 75 on Tuesday to finish with a 209. Third for the purple squad was Nicholas Gushrowski. He tied for 27th with a score of 217. Rounding out the team was Isaac Rohleder (T47-223) and Michael Ikejiani (59-235).
Daniil Romashkin was the top finisher for Evansville's orange squad. He enjoyed his lowest round of the weekend with a 1-under 70. He completed the tournament with a 215 to tie for 22nd. Next up was Andres Rodriguez. His round three score of 76 gave him a 220 for the weekend, earning him a tie for 36th.
Masatoyo Kato and Luke Schneider tied for 41st place with totals of 221 while Mason Taylor tied for 53rd with a 227.
UE continues on the road as they head to Bethlehem, Pa. for the Lehigh University 2023 Invitational.
Submitted by Athletics
Giulia Cardona earns AVCA National Player of the Week honors
Giulia Cardona has been named the AVCA GameChanger Division I National Player of the Week in an announcement by the American Volleyball Coaches Association on Tuesday.
This marks the first such honor in Purple Aces volleyball history and comes on the heels of Cardona earning her third Missouri Valley Conference Player of the Week accolade on Monday.
"I am so proud of Giulia, she keeps impressing us every week. When we think she played her best volleyball she comes back and have a better week," UE head volleyball coach Fernando Morales said. "This is just evidence of the hard works she puts in and how much she cares about the team the program and winning. I can't even express how proud of her I am and of her teammates that helped her be in this position."
Highlighting the week for Cardona was one of the best offensive performances in MVC history and the top efforts collegiate volleyball has seen in close to four years. In Friday's win over UIC, Cardona tied the MVC single match kills record with 40. She became the first player in the national to record 40 kills since 2019 when it happened on three occasions.
The last instance came when Khalia Lanier of USC had 40 against Utah on Nov. 7, 2019. Earlier that season, Jordan Thompson of Cincinnati did so on two occasions. Both went on to spent time playing for the US National Team.
Cardona's 40-kill contest against UIC tied the league record of Bobbi Becker (Petersen) with 40 kills in what was the longest match in NCAA history. UE and UIC battled for 3 hours and 44 minutes, topping the longest match ever by six minutes. Hawaii and BYU played a 3 hour and 38-minute game in 1998.
She opened the week with 27 kills against Indiana State while hitting .396. She added nine digs, two blocks and an ace. Her efforts against the Flames included 94 attempts, tying her for the second-highest total in Valley history. On top of that, she posted 16 digs, a block, ace and assist. The weekend finale saw her add 19 kills, 11 digs, four total blocks and three aces against Valpo. For the week, she tallied 6.62 kills per set, totaling 86 in 13 sets. Cardona averaged 2.77 digs, 0.54 blocks and 0.38 aces per frame.
Cardona becomes the first MVC player to earn the honor since Lily Johnson of Missouri State did so in 2017.
Submitted by Athletics
Kenny Strawbridge Jr. named to Preseason MVC Second Team
Kenny Strawbridge Jr. made an immediate impact with the University of Evansville men's basketball team and looks for even more this year as he was named to the Missouri Valley Conference Preseason Second Team on Tuesday.
A member of the All-MVC Third Team in the spring, Strawbridge enters his second season with the Purple Aces. In his first year at UE, Strawbridge led the squad with an average of 14.4 points per game.
Prior to Evansville, Strawbridge spent two seasons with the Alabama State program. A prolific scorer throughout his career, Strawbridge opens the 2023-23 campaign with 973 career points, just 27 shy of reaching 1,000.
The announcement came on Tuesday as the annual MVC Basketball Tipoff took place inside Enterprise Center. UE was picked to finish 11th in the preseason poll. Aces head coach David Ragland along with Gage Bobe, Antonio Thomas and Strawbridge were in St. Louis representing the program.
Submitted by Athletics
Giulia Cardona earns third MVC Player of the Week Award of 2023
For the third time this season and fourth instance in her career, University of Evansville junior Giulia Cardona was recognized as the Missouri Valley Conference Player of the Week.
Cardona put forth one of the best performances in Missouri Valley Conference history as she tied the league's single-match kills record against UIC. Cardona tied the league record of Bobbi Becker (Petersen) with 40 kills on Friday versus UIC in what was the longest match in NCAA history.
In the opener for the week against Indiana State, she tallied 27 kills and an unreal .396 hitting mark. She added nine digs, two blocks and an ace. Her efforts against the Flames included 94 attempts, tying her for the second-highest total in Valley history. On top of that, she posted 16 digs, a block, ace and assist. The weekend finale saw her add 19 kills, 11 digs, four total blocks and three aces against Valpo.
For the week, she tallied 6.62 kills per set, totaling 86 in 13 sets. Cardona averaged 2.77 digs, 0.54 blocks and 0.38 aces per frame.
Submitted by Athletics
Contribute to AceNotes
To have content considered for inclusion in AceNotes, please submit a Marketing Request Form. Deadline for submission to AceNotes is 10:00 a.m. on the requested date of publication. Only articles concerning UE related/sponsored activities will be accepted. Articles submitted to AceNotes may be edited for length and clarity. Submitter contact information is at the end of each article.