| | |
| --- | --- |
| PurplePulse | Friday, October 13, 2023 |
NOTICE: Campus Facilities Update
Walnut-Weinbach intersection construction project updates
The closure at Weinbach and Walnut has started. The closure will last for 30 calendar days with the possibility of going up to 45 calendar days if there are weather issues or unforeseen delays. The project is expected to last through at least December 1.
*City to Shut Off Water to Portions of Campus as part of the Walnut-Weinbach intersection construction project.*
The City of Evansville has informed UE that certain areas of campus will experience a water shutoff as part of the Walnut-Weinbach intersection construction project. The outage is expected to begin on Monday, October 16, and will be turned back on within 8 hours. Communication updates will be provided if shutoff requires extension past October 16.
The shutoff will affect approximately 150 students living in Fraternities, Apartments and Townhouses located in the affected area. This includes students living in Sig Ep, Lambda Chi, Jones Hall, the Weinbach Townhouses, and the Weinbach Apartments. This outage will affect water for kitchens, laundry, and bathrooms.
Students can remain in their apartment/room using bottled water for food prep and cleaning. The Fitness Center will be open from 6:30 a.m. to 10 p.m. for bathroom and shower facilities. Towels and locker facilities are available. Other campus academic and administrative buildings, not listed above, are available for bathroom use throughout the day.
Affected students can also request access to the Hale laundry room – to do so, contact residencelife@evansville.edu (include name and student ID in this request).
During the week of October 16-20, dining services will provide a discounted meal cost at the Eatery ($9.00 per meal) for students who do not have a meal plan. There will also be discounted pricing in Aces Place for bottled water.
If desired, students can sign up for a meal plan at half the cost for the rest of the semester (Ace bucks adjusted to 50%). Details on these discounted plans can be found here: https://forms.office.com/r/HdADmdn0Mx
Other Facilities Updates:
Lincoln Commons
The four-story apartment complex for junior and senior students is currently 30% completed with the first two floors completed entirely and the elevator shaft construction completed, up to the 3rd floor. Asphalt, striping, and signs in the South parking lot are complete. The parking lot is open and available for use.
The next steps include completing the structural steel work while continuing the construction of the elevator shaft.
Submitted by University Communications na122@evansville.edu
REMINDER: Volunteers Needed | UE Gives Back
The University of Evansville is excited to announce the return of UE Gives Back for employees! Mark your calendars for Friday, October 20, and sign up today with the UE Gives Back Registration Form. With the approval of immediate supervisors and as schedules permit, employees may choose to volunteer on UE's campus without scheduling a day of vacation.
If you have any questions or need clarification, please contact Rachel Roscoe at 812.488.5004 or rr209@evansville.edu.
Submitted by Rachel Roscoe rr209@evansville.edu
Employee Headshots on 10/16 and 10/17
Are you a new employee or in need of an updated headshot? There are two time slots coming up in October that are currently open:
Monday, October 16, from 8:30-8:50AM
Tuesday, October 17, from 11-11:15AM
Additional time will be added if spots fill up. There will be three slots open per 5-minute increment, and you can sign up to reserve your spot.
Headshots will be taken on the southwest corner of the front oval lawn (on the brick sidewalk close to the concrete sign). In the event of rain, headshots will be moved indoors. For questions, please contact Julie Beer at jb855@evansville.edu.
Submitted by Julie Beer / jb855@evansville.edu
Corliss Chastain Exhibition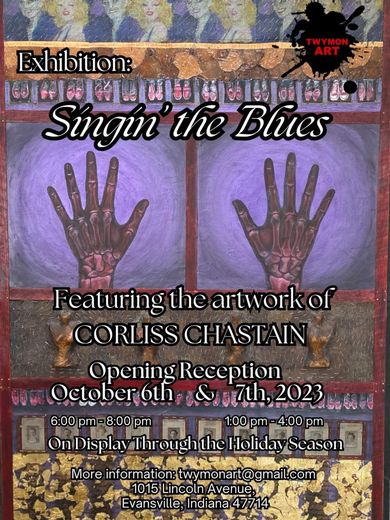 UE Art Gallery Director and Art Instructor, Corliss Chastain, currently has an exhibition of her mixed-media drawings at the Twymon Art Gallery. The exhibition, "Singin' the Blues", will run through December 2023.
Submitted by Carol McCraney cm177@evansville.edu
Say "Thanks" and get some swag
Help us thank UE's wonderful donors by having a non-speaking role in our video. Wear purple and meet us in the front oval on Monday, October 16th at 3:30 p.m. Participants will receive UE swag for their help! For questions, please contact Taylor Houchin at 812-488-1013.
Submitted by Taylor Houchin tb90@evansville.edu
FREE UE Employee Workshop - October 26
The Center for the Advancement of Learning invites all faculty, staff, and administrators to join Dr. Tad Dickel for the upcoming workshop "Navigating Difficult Conversations for Leaders". The workshop will take place on Thursday, October 26, from 11:30 a.m. – 1:00 p.m. in Eykamp Hall, Room 252.
During this workshop, Dr. Dickel will explore why effective leaders are skilled at handling difficult conversations.
Attendees will learn:
Why certain conversations are so difficult
Ways to prepare for challenging conversations
How to speak persuasively
Techniques for staying calm
This workshop is free for UE employees and lunch is available for $10. To register and pay for lunch, visit the link below by Thursday, October 19. REGISTER EARLY – SPACE IS LIMITED!
If you would like to attend the workshop and bring your own lunch, email cal@evansville.edu by Thursday, October 19.
About the presenter:
Dr. Timothy A. (Tad) Dickel serves as the Executive in Residence in Leadership and is the interim faculty director of the Master of Science in Leadership program at the University of Evansville. In addition, he is the President of T.A. Dickel Group, LLC and serves as a leadership and strategy consultant for businesses, universities, and nonprofits.
Submitted by Cindy Felts cf128@evansville.edu
University of Evansville Theatre Continues Performances of THE SEAGULL
UE Theatre is back for the final weekend of Anton Chekhov's THE SEAGULL, translated by Tom Stoppard. Performances resume at 7:30 p.m. on Oct. 12. Additional performances are at 7:30 p.m., on Oct.13, 14, and at 2:00 p.m., on Oct. 15. This achingly beautiful story of unrequited love is as timeless today as in the 1890s Russian countryside in which it is set. Stoppard's masterful translation remains faithful to the humor that Chekhov intended to convey amid all the pathos. Diving into the psychological minefields between mothers, sons, lovers, and familial relations, the passionate lives of these characters are all on full display as they make decisions that are often paradoxical, sometimes destructive, but always recognizably human. A vast emotive masterpiece with music in its words, this play will sear itself into your memory!
THE SEAGULL is directed by Assistant Professor Amelia McClain '03. Ethan Henry, a sophomore theatre performance major from Salina, Kan., serves as the associate director; Associate Professor Eric Renschler '83, serves as the scenic designer; Violet Nassri, a senior design and technology major from Dallas, Texas, is the costume designer; Ethan Santiago, a sophomore design and technology major from Belton, Texas, is the lighting designer; Jonathan Roth, a sophomore design and technology major from Brookfield, Wis., serves as the sound designer; Katie Lawhorn, a junior stage management major from Louisville, Ky., is the stage manager, and Visiting Assistant Professor Scott Carpenter '05 serves as the technical director.
The cast features Lillian Grace Carlson, a senior performance major from Minneapolis, Minn., as Masha; Trace Levens, a junior performance major from Bryan, Texas, as Medvedenko; Kurt Sparks, a first-year performance major from Millville, N.J., as Sorin; Arturo Quepóns, a sophomore performance major from San Antonio, Texas, as Konstantin; Beverley Buchanan, a senior performance major from Tomball, Texas, as Nina; Folarin Oyeleye, a first-year performance major from Richmond, Texas, as Dorn; Christina Tinde Jesenski, a senior performance major from Rancho Santa Margarita, Calif., as Polina; Amoren Newton, a first-year performance major from Denton, Texas, as Shamraev; Ashly Chalico, a junior performance major from Magnolia, Texas, as Arkadina; Caden Sevier, a senior performance major from Humble, Texas, as Trigorin; Ethan Henry, a sophomore performance major from Salina, Kan., as Yakov; Daphne Wheeler, a first-year performance major from Star, Idaho, as Maid; and Brayden Havard, a first-year performance major from Montgomery, Texas, as Cook.
Adult ticket prices are $20 and $18 for senior adults, UE employees, and non-UE students. UE students may obtain one free student to each production online or in person at the ticket office in Hyde Hall. In addition, UE Theatre is excited to continue their "Pay What You Will" initiative again this second season. Every Thursday evening performance in Shanklin Theatre is available for any person to pay any price that best fits their budget.
Season subscriptions for the 2023–2024 Shanklin Theatre season are also available and are $50 for an adult subscription and $44 for a discount subscription for senior adults, UE employees, and non-UE students. This three-play season includes THE SEAGULL, the smash–hit musical RENT, and the powerful WAITING FOR LEFTY. A May Studio Theatre Discovery Package can be purchased for $18 and includes A BRIGHT NEW BOISE and POTUS OR, BEHIND EVERY GREAT DUMBASS ARE SEVEN WOMEN TRYING TO KEEP HIM ALIVE. Subscriptions may be purchased by calling the ticket office at 812.488.2031, Monday through Friday, 12:00 to 5:00 p.m. Single tickets may be purchased online at theatre.evansville.edu or by calling the ticket office.
Submitted by Sharla Cowden sc75@evansville.edu
College of Business and Engineering Speaker Series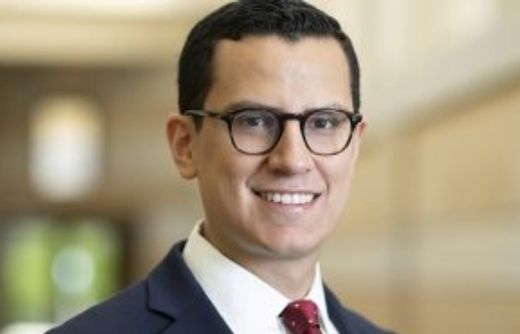 Please join us for the next installment of the College of Business and Engineering Lecture Series. Dr. Alejandro Estefan, Assistant Professor of Development Economics at Notre Dame's Keough School of Global Affairs, will be presenting Digital Training in Developing Countries: The Case for Female Micro-Entrepreneurs and Sustainable Agriculture on October 26, 2023 at 6:00 p.m. in Eykamp Hall. Reception to follow. Dr. Estefan will discuss how remote areas in economic need are benefiting from technological advances in teaching. See more information and register to attend in-person or virtually here.
For virtual attendees, the meeting link will be provided via email the day before the event. In order to receive the virtual invitation, please register at the link above. Contact Megan Conapinski at mt263@evansville.edu with any questions.
Submitted by Megan Conapinski mt263@evansville.edu
Chili Bowl - Save The Date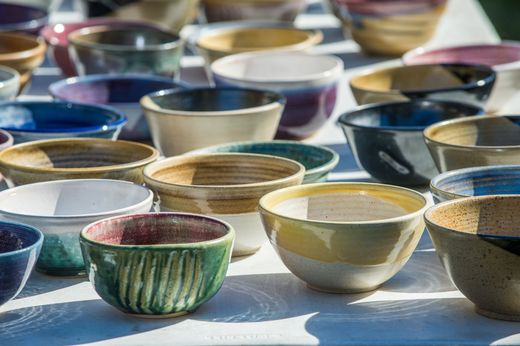 The annual Chili Bowl sale will be held on Tuesday, October 31 from 11:30 a.m. - 1:30 p.m. on the East Terrace Lawn. The rain location is Eykamp Hall, University Center.
For $10, customers can buy a one-of-a-kind ceramic bowl and fill it with chili. Lidded containers will be available for those who prefer not to put chili in their newly purchased bowls.
Larger bowls ranging from $15 - $100 will also be for sale during the event.
Part of the proceeds from the sale will be donated to a local food organization to assist with fighting hunger. The rest will go to the UE Clay Club to be used to fund attendance at conferences, visiting artists, and studio/gallery visits.
Submitted by Carol McCraney cm177@evansville.edu
Caregiver Fatigue Event-UE Nursing Seniors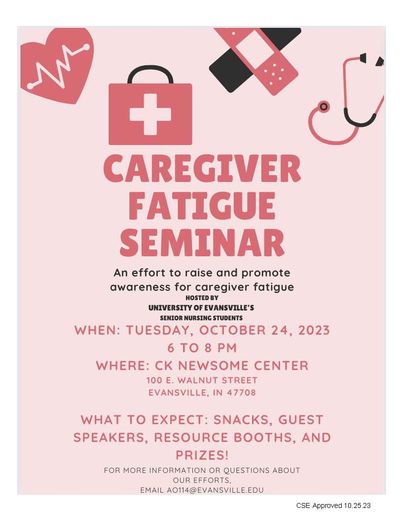 Come supprt UE Nursing Seniors! This health promotion project aims to give caregivers in the community the resources to combat caregiver fatigue and prevent abuse. The target population includes anyone who is taking care of another person, especially those with a condition or illness such autism or dementia. To educate caregivers, we will host an event on October 24th at the CK Newsome center that has speakers and vendors to provide resources about adult day care, self-care, and more. We will have snacks and raffle prizes! We hope to see you there!
Submitted by Elspeth Nelson en55@evansville.edu
BSU Trunk or Treat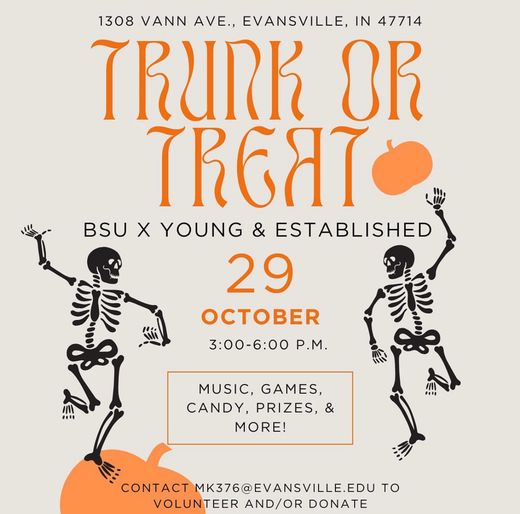 The Black Student Union is hosting our annual Trunk or Treat with Young & Established on Sunday, October 29th from 3 pm - 6 pm. This family-friendly event will be held at Young & Established and will feature a safe and fun Halloween experience for all ages. We are looking for volunteers and donations to help us put on this event! Please visit the link below to sign up for our event, help with tabling to raise funds, and/or donate. Donations will go towards purchasing candy, decorations, and other necessary items for the event. We hope to see you all there!
Sign up and/or donate: https://superlink.io/ueblackstudentunion
Submitted by Trinitie Terrell tt141@evansville.edu
UE Majors and Minors Fair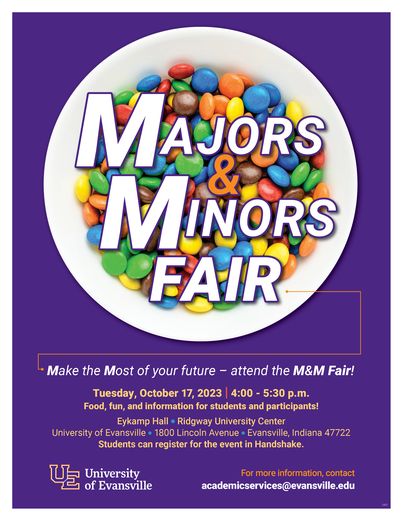 The Majors and Minors Fair is open to all students on Tuesday, Ocotber 17, from 4:00 to 5:30 p.m. in Eykamp Hall.
Thinking about changing or adding a major or minor? This is your chance to network with faculty, current students, and alumni from academic departments as well as various student support services. Learn more about the classes, research opportunities, internships, and career possilities.
For more information, contact academicservices@evansville.edu.
Submitted by Paula Heldt ph28@evansville.edu
Farewell Reception for Fred Wilson
The Office of Facilities Management and Planning wishes to congratulate Fred Wilson on his upcoming retirement from the University of Evansville. Fred has proudly served the University in multiple roles within Facilities Management during his 25 years with the University. Fred leaves his position as Building Services Manager and the Immediate Past President of the Staff and Administrators Assembly. Fred received his bachelor's degree in Global Leadership and his master's degree in Public Service Administration from UE. Please join us Friday, October 13th as we celebrate Fred's contributions with a farewell reception, details shown below. We hope to see you there!
Friday, October 13th
1 pm – 2 pm
Class of '59 Gallery, Ridgway University Center
Submitted by Karen McDonald km598@evansville.edu
UE Employee and Student Flu Shot Event
The wellness team with the UE onsite Tri State Clinics will be onsite in Eykamp during the following dates and times below in October to offer flu shots! These events are for insured employees and their covered dependents, non-insured employees and students.
Onsite Flu Shot Event Dates:
October 18th: 7:30am - 9:30am
October 19th: 4:00pm - 6:00pm
Please note the cost for non-insured employees and students is $20.00.
Non-insured employees should make this payment to their HR deparment as CASH ONLY.
Students should make this payment to the student health center. Cash or debit/credit is accepted.
Submitted by Haley Karges hw164@evansville.edu
Professor Larmann publishes Digital Museum Guide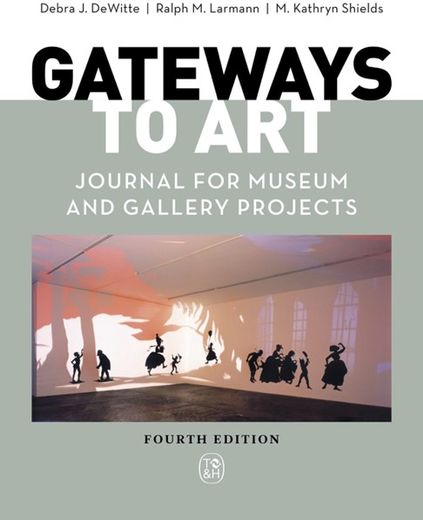 Art Department faculty, Professor Ralph Larmann, has coauthored a new digital edition of Gateways to Art Journal for Museum and Gallery Projects. The fourth edition of this spinoff text was released on July 1, 2023 as a digital-only resource for students. This journal provides students a tool for effective analysis of artwork when visiting a museum. This ebook originated as a supplement to Gateways to Art, but was later published separately to accommodate faculty requests. The digital journal features examples of great works in American museums, provides ways for students to analyze an artwork, and writing/sketching space for students to input their own responses as they visit a museum or gallery.
Submitted by Carol McCraney cm177@evansville.edu
UE Gives Back (Student Volunteers Needed)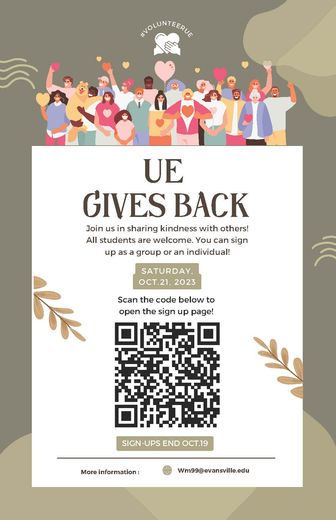 Looking for service work? Want to make a difference in Evansville?
Sign up for UE Gives Back today! This day of service is in partnership with community groups all across Evansville.
Sign up using the QR code attached to the flyer below. Please contact Will McDonner at wm99@evansville.edu with questions.
Submitted by Will McDonner wm99@evansville.edu
Clark Kimberling's art history research
UE Professor of Mathematics Clark Kimberling gave an invited presentation at the 50th annual conference of the Communal Studies Association, October 3-7 in New Harmony, Indiana. In a session on early 19th century New Harmony, Kimberling used his recently published website, CORNELIUS TIEBOUT ENGRAVINGS as a basis for describing the life and work of one of America's foremost copperplate engravers. While still a teenager, Tiebout engraved a map of Manhattan in the New York City Directory for 1789, as well as 47 engravings in The New York Magazine and Literary Repository. During 1793-1796, Tiebout worked in London, and in 1800, he and his bride Esther moved from New York to Philadelphia, where hundreds of his engravings were published. In 1826 he (with daughter Caroline, 23, and son Henry, 5), moved to New Harmony, where he joined other famous Philadelphians (William Maclure, Thomas Say, Charles-Alexandre Lesueur, and Marie Fretageot). There he continued engraving, and he was a teacher in Maclure's School of Industry until his death in 1832. Dr. Kimberling also recently expanded his website New Harmony Scientists, Educators, Writers & Artists and contributed to Wikipedia its article on Cornelius Tiebout.
Submitted by Clark Kimberling ck6@evansville.edu
Multi-Racial Student Union Launched
UE students have launched the Multi-Racial Student Union (MSU), with a mission to foster an inclusive and welcoming environment for students of diverse racial and cultural backgrounds.
The MSU's inception is rooted in the recognition of a unique need. As Derek Fudge III, the MSU President, eloquently explains, "I created the MSU because I found that, despite the presence of the BSU and other inclusion-oriented clubs, people of mixed race, backgrounds, and cultures found themselves caught in a gray area between all groups. Because of this, most Bi-Racial students are often questioned about their racial identity almost as much as they question it themselves. So, when I saw that there was a need and an audience for a Multi-Racial Student Union, I thought 'this is a step forward that needs to be taken,' whether for the betterment and progress of inter-racial relations at UE or for the increased understanding of ourselves as people."
MSU's aspirations are rooted in building a nurturing and inclusive space where multi-racial students can share their experiences and find common ground. All individuals, irrespective of race, religion, sexual orientation, gender identity, and more, are welcomed with open arms.
A supportive community is created for those who may feel adrift in a society that often forces limiting labels and boxes upon us.
Regular meetings:
When: 1st Tuesday of every month
Where: Diversity House (436 Weinbach Ave)
Time: 7:00 p.m.
Submitted by Kalea Reeves kr282@evansville.edu
Work-Study Information Moving to Self-Service
Work-study information previously found on WebAdvisor can now be found in Self-Service by clicking on the UE symbol in the banner on the far left-hand side of the page. Job postings and required employment documents can be found under the Student Employment link. Timecards should still be accessed via WebAdvisor unless you have already accessed your timecard via Self-Service! Access through WebAdvisor will be discontinued on October 13th. Further questions can be directed to Emily Jagielo in the Office of Student Financial Services.
Submitted by Emily Jagielo ej137@evansville.edu
Pop Up Shop Orders are In
If you ordered an item during the Pop Up Shop sale, please stop by the University Bookstore and pick up your order. You must present an ID for the Bookstore to release your order to you.
Bookstore hours are:
Monday - Thursday from 9 a.m. – 5 p.m.
Friday from 9 a.m.– 4 p.m.
Saturday from 10 a.m.– 2 p.m.
We so appreciate your support and hope that you enjoy your new UE Swag!
Submitted by Noah Alatza na122@evansville.edu
UE Men's Basketball Sport Science Internship
UE Men's Basketball is looking for students at either the professional, graduate, or undergrad level with a background in Microsoft Office, statistics, and programming (R, Python, etc.), as well as students with experience in kinesiology and biomechanics to assist with data collection, processing, analysis, and report building for sport science initiatives and projects here at UE.
Students will be immersed in the day-to-day operations of the basketball team and sports performance.

If any student is interested, please email a resume to Jeremy Portillo (jp450@evansville.edu). Interviews will be conducted immediately.
Submitted by Jeremy Portillo jp450@evansville.edu
Sympathies to the Koehler Family
The UE family mourns the loss of John Keith Koehler, 90, of Evansville, Indiana. Koehler passed away peacefully, surrounded by family, on Saturday, October 7, 2023. Koehler earned a music scholarship to Evansville College and was president of Phi Mu Alpha.
A celebration of Koehler's life will be held at 9:00 a.m. on Friday, October 13, 2023 at Browning Funeral Home, 738 Diamond Ave., Evansville, IN 47711 with Pastor Randy Moore officiating. Burial will follow at Oak Hill Cemetery where the Retired Veterans Memorial Club will conduct military rites.
Friends may visit from 4:00 pm until 8:00 pm on Thursday, October 12, 2023 at Browning Funeral Home and again from 8:00 a.m. until service time on Friday at the funeral home.
Memorial contributions may be made to the John and Carol Koehler Endowment Scholarship, c/o University of Evansville, 1800 Lincoln Ave., Evansville, IN 47714.
A link to the full obituary is included here: https://www.legacy.com/us/obituaries/name/john-koehler-obituary?id=53300947
Submitted by University Communications na122@evansville.edu
Reception for visitors from Harlaxton on Oct 17
We are excited to welcome Harlaxton's Ria Bourne, Student Experience Manager, and Rachel Wellborn, Academic Programs Manager, to the UE campus next week! Please come say hello and visit with Ria and Rachel at a reception with coffee, tea, and snacks, on Tuesday, October 17, 1-3pm in the Multicultural Student Commons area.
Submitted by Kaylynn McCalister kc205@evansville.edu
Show Harlaxton Support on Purple Fridays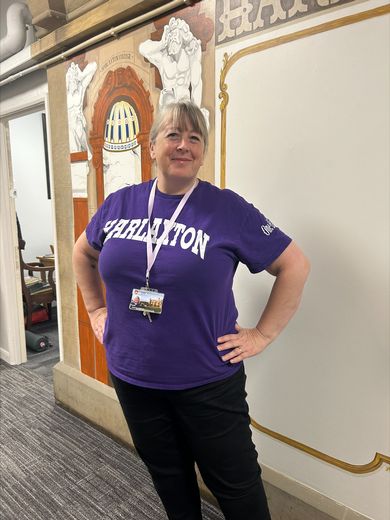 Harlaxton College is hosting a pop-up shop! We have several items available for sale, but we wanted to draw the campus community's attention to the purple Harlaxton t-shirt available for purchase. Staff at Harlaxton wear this purple shirt every Friday to show their support for UE, so now you have the chance to also show your support for Harlaxton by wearing your very own purple Harlaxton shirt for Purple Fridays!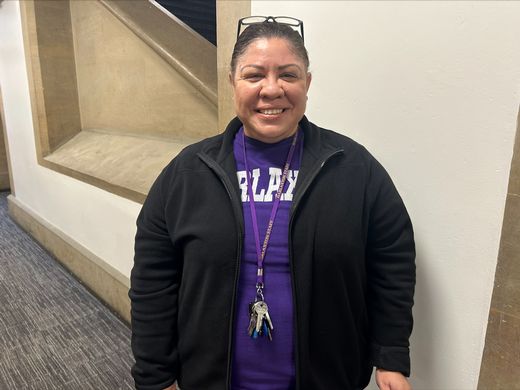 The unisex t-shirt is available in sizes from XS to 4XL for $22.75. To purchase your purple Harlaxton shirt or any of our other options, please visit: https://harlaxtonshop.ccbrands.com/
Submitted by Victoria Cartal vr35@evansville.edu
WSOC: UNI Rallies Past UE Women's Soccer, 3-2
The University of Northern Iowa women's soccer team scored a goal with just seven seconds remaining in the first half Thursday to tie the match and rallied for a second-half goal to top the visiting University of Evansville Purple Aces, 3-2, on a windy and rain-soaked day at the UNI Soccer Complex in Cedar Falls, Iowa.
The Panthers struck first in the opening minutes of the match, as UNI forward Lauren Heinsch took advantage of a howling wind to score on a cross that snuck inside the far post in the second minute to give UNI a 1-0 lead.
Going into the wind in the first half, the Purple Aces were able to answer back just over 20 minutes later, as sixth-year midfielder Nicole Benati curled a shot underneath the crossbar from 17 yards out to tie the match at 1-1 in the 24th minute. Freshman forward Brooklyn Robinson then buried a beautiful cross from fellow freshman Taylor Johnson into the upper-right corner in the 42nd minute to give UE a 2-1 advantage.
It looked like UE would take a 2-1 lead into the halftime locker room, but a failed clearance by UE got caught in the wind and blew back towards goal, and UNI's Ashley Harrington was able to score with seven seconds left in the half to tie the match at 2-2.
In the second half, UE maintained a majority of the possession with the wind at its back, but the Panthers were able to strike in the 62nd minute on a well-crafted shot by midfielder Olivia Knoepfle to grab a 3-2 lead. Evansville would out-shoot UNI, 6-2, in the second half, with freshman midfielder Ella Hamner nearly tying the match in the 76th minute on a shot off the underside of the crossbar, but the Panthers would hold on to remain undefeated at 9-0-0 on their home field this year.
UNI out-shot Evansville for the match, 17-10, with 15 of those coming in the first half in a driving rain. UE senior goalkeeper Myia Danek recorded big save after big save in the match to keep Evansville within striking distance, as she equaled a career-high with 10 saves.
With the victory, UNI remains near the top in the Missouri Valley Conference standings, as they improve to 12-2-1 overall and 5-2 in the Valley. Evansville, meanwhile, sees its seven-match unbeaten streak snapped while falling to 1-4-8 and 1-1-5 in the Valley with the loss. Evansville will continue on its two-match road trip through Iowa on Sunday, as the Purple Aces will travel to Des Moines to battle the Drake Bulldogs (8-3-3, 4-1-1 MVC). The match will be the first-ever women's soccer match at Drake's new Mediacom Stadium, with kick-off set for 1 p.m. on ESPN+.
Submitted by Athletics
Hispanic Heritage Month Celebration highlights UE volleyball weekend
A 5-match homestand comes to a close for the University of Evansville volleyball team this weekend when the Purple Aces play host to UIC and Valparaiso. UE welcome the Flames on Friday at 6 p.m. before facing the Beacons on Saturday at 5 p.m. inside Meeks Family Fieldhouse. Both matches will be carried by ESPN+.
To celebrate the final days of Hispanic Heritage Month, the University of Evansville athletic department and UE Volleyball are hosting a Hispanic/Latinx Heritage Celebration for Saturday's volleyball match.
The celebration begins at 3 PM in front of the Carson Center with a block party, featuring Hispanic/Latinx music, food truck, and a photo booth. At 5 PM, the party will move inside Meeks Family Fieldhouse for the Aces match with Valparaiso. The first 100 fans inside the fieldhouse will receive a Vamos Aces t-shirt.
Help support our Hispanic/Latinx community by coming out and cheering on the Aces!
Last Time Out
- Hitting .372 as a team, the Aces overcame a 1-0 deficit on Monday to defeat Indiana State by a 3-1 final at Meeks Family Fieldhouse
- Giulia Cardona led all players with 27 kills while Melanie Feliciano added 20 and Brooke Springer set her career high with 7
- Kora Ruff picked up 57 assists, just one short of her top collegiate tally
Putting it all Together
- Brooke Springer had what may have been the top match of her Purple Aces career against Indiana State
- Springer set her career mark with 7 kills while adding two solo blocks and four block assists
- She continues to pace the team with 1.02 blocks/set and is third in the MVC
- Springer opened the DePaul Invite with a solo block and three block assists versus St. Thomas before adding five block assists in the triumph over NIU
- Aside from her 28 block assists, Springer has contributed 9 solo blocks in 2023
Efficient Operation
- Kora Ruff's efficiency on the offensive side was pivotal in Evansville's home win over Indiana State where she registered a season-high 57 helpers
- The total was just one shy of her top collegiate mark of 58, which came in 2022
- Ruff stands third in the MVC with her average of 10.39 assists and is 27th nationally
- While her season average of 2.66 digs is 18th in the league, that average has risen to 2.92/set through seven MVC matches
She's #1
- Giulia Cardona's impressive season continues as she paces the NCAA in three of the top offensive categories
- Cardona leads the nation in kills (5.44/set), points (6.13/set) and attacks (14.59/set)
- After completing the opening MVC weekend with a mark of 8.86 kills, she earned her second MVC Player of the Week award of 2023
- She finished with 26 at Murray State before resetting her career high with 36 at Belmont on Sept. 23
- Her 36 kills was the most in the NCAA in a 4-set match this season and tied for the highest tally in any match of the 2023 season while her 26-kill performance against the Racers was the most this season by any NCAA player in a 3-set contest
Scouting the Opposition
- UIC comes into Friday's weekend opener sporting a 13-7 record and a 4-3 mark through their opening seven conference contests
- Martina Delucchi is 4th in the conference with 3.74 kills per set while Becca Oldendorf is the league's most accurate hitter at .433
- Valparaiso is currently 11-9 overall and 3-4 in Valley play
- Emma Hickey is stellar on the defensive side, ranking 4th in the conference with 5.13 digs per frame
Submitted by Athletics
UE men's soccer drops final non-conference match to Indiana
The University of Evansville men's soccer team struggled to find its offensive touch in a 2-0 loss to the Indiana Hoosiers.
The Aces couldn't find the net in Bloomington as UE recorded five shots in a physical 90 minutes. Forward Kai Phillip led UE with three shots, all of which came in the second half. Winger Nkosi Graham and defender Kylian Behem also recorded a shot for Evansville. Aces goalkeeper Aidan Montoure made six saves in the loss for a season-high performance.
UE found themselves down early at Bill Armstrong Stadium as Indiana struck first in the 6th minute. The Hoosiers added to their lead in the 27th minute after drawing goalkeeper Aidan Montoure out to the right side of the penalty area. Freshman defender Kylian Behem had Evansville's lone chance in the first half during the 20th minute that was blocked by Indiana.
The Aces offense found its spark to begin the second half, putting up three shots in under three minutes. But right before the 60th minute the game went into a weather delay due to lighting strikes in the Bloomington area. The game remained in a weather delay for just over an hour before the players returned to the pitch. The final 30 of the game became a back-and-forth affair between the two sides through the midfield. But Montoure made a diving save to the right in the 81st minute on the Hoosiers second to last shot to keep the final result a 2-0 loss.
Evansville returns to Missouri Valley Conference action on Saturday evening at UIC. UE will kick-off against the Flames at 7 p.m. from Flames Field.
Submitted by Athletics
WSOC: UE Women's Soccer Begins Important Road Trip Thursday At UNI
The University of Evansville women's soccer team will kick off an important two-game road trip to Iowa on Thursday afternoon when the Purple Aces travel to Cedar Falls, Iowa to battle the University of Northern Iowa Panthers. Kick-off is set for 3 p.m. and Thursday's game can be seen live on ESPN+.
Evansville will enter Thursday's match in sixth place in the Missouri Valley Conference standings with a 1-0-5 conference mark and 1-3-8 overall record. The Purple Aces have been unbeaten in the last seven matches to remain one of two unbeaten teams in the Valley, alongside preseason favorite Missouri State. While UE is in sixth, the Purple Aces are just five points behind the league-leader, and just two points out of fourth place entering Thursday's action.
The Purple Aces extended their unbeaten streak to seven matches on Sunday with a 1-0 victory over UIC. Sophomore defender Kaylee Woosley (Evansville, Ind./North) scored on a free kick in the 86th minute, and the Purple Aces' defense combined with senior goalkeeper Myia Danek (Laingsburg, Mich./Laingsburg) to post UE's fifth shutout of the season for the win. Woosley was named the MVC's Defensive Player of the Week on Tuesday, and has recorded a point in three-straight matches, as she assisted on UE's match-tying goals against Southern Illinois and Belmont.
UNI will enter Thursday's match in second place in the MVC with a 4-2 conference record and 11-2-1 overall mark. The Panthers entered the week ranked tenth in the United Soccer Coaches' Midwest Ranking. UNI bounced back from a 4-1 loss at Murray State on Sunday with a 1-0 victory at Belmont thanks to redshirt sophomore Olivia Knoepfle's sixth goal of the season in the tenth minute. Knoepfle leads the MVC in scoring this year with 17 points (six goals, five assists), and she is tied with teammate Macy Smith for the team-lead with six goals. Overall, the Panthers lead the MVC in scoring at 2.43 goals per match.
All-time, Evansville has controlled the series against UNI, 16-5-4, and the Purple Aces are currently unbeaten in the last five series meetings with UNI. UE rallied for a 2-2 tie against UNI last year at home, as former Purple Ace Emily Ormson scored in the 88th minute to secure the final score line.
Submitted by Athletics
Contribute to AceNotes
To have content considered for inclusion in AceNotes, please submit a Marketing Request Form. Deadline for submission to AceNotes is 10:00 a.m. on the requested date of publication. Only articles concerning UE related/sponsored activities will be accepted. Articles submitted to AceNotes may be edited for length and clarity. Submitter contact information is at the end of each article.