| | |
| --- | --- |
| PurplePulse | Wednesday, October 11, 2023 |
Employee Headshots on 10/16 and 10/17
Are you a new employee or in need of an updated headshot? There are two time slots coming up in October that are currently open:
Monday, October 16, from 8:30-8:50AM
Tuesday, October 17, from 11-11:15AM
Additional time will be added if spots fill up. There will be three slots open per 5-minute increment, and you can sign up to reserve your spot.
Headshots will be taken on the southwest corner of the front oval lawn (on the brick sidewalk close to the concrete sign). In the event of rain, headshots will be moved indoors. For questions, please contact Julie Beer at jb855@evansville.edu.
Submitted by Julie Beer / jb855@evansville.edu
Update on the Weinbach and Walnut Closure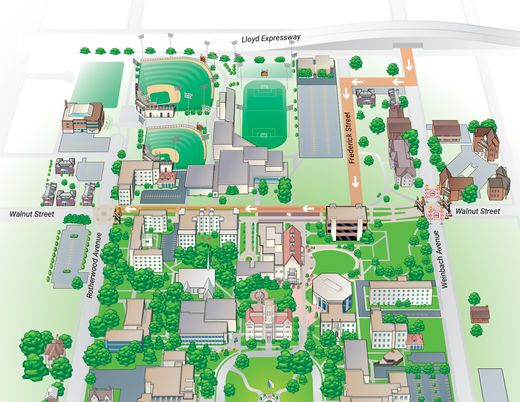 The closure at Weinbach and Walnut has started. The closure will last for 30 calendar days with the possibility of going up to 45 calendar days if there are weather issues or unforeseen delays.
Additional information and tips:
Parking Enforcement: We want to emphasize that the restrictions will be strictly enforced. Towing will only occur if a parked car creates a critical safety issue or blocks other vehicles from using the designated route. Our goal is to ensure safety and minimize disruptions during the construction period without unnecessary towing.
Traffic Flow: Signage will be placed at the entrance to the lot, directing traffic to make a right turn into the lot using the north lane. Additionally, signage on Walnut west of Rotherwood will indicate "No Thru Traffic Allowed." A barricade will be placed in the straight eastbound lane at the Rotherwood/Walnut intersection. Delivery vehicles will have a route around the barricade using the left turn lane.
Median Turnaround: Bollards on Walnut between Ridgway and Carson Center will be removed by Facilities to allow a turnaround in the median for delivery vehicles to exit through the westbound lane of Walnut. A stop sign will be placed at the turnaround to control the traffic entering the westbound lane.
Walking Safety Tips: Be predictable and ensure you follow the rules of the road and obey signs and signals and plan to walk on sidewalks whenever they are available. If there is no sidewalk, walk facing traffic and as far from traffic as possible. Keep alert at all times; don't be distracted by electronic devices that take your eyes (and ears) off the road. Whenever possible, cross streets at crosswalks or intersections, where drivers expect pedestrians. Look for cars in all directions, including those turning left or right. If a crosswalk or intersection is not available, locate a well-lit area where you have the best view of traffic. Wait for a gap in traffic that allows enough time to cross safely; continue watching for traffic as you cross. Never assume a driver sees you. Make eye contact with drivers as they approach to make sure you are seen. Be visible at all times by wearing bright clothing during the day and wear reflective materials or use a flashlight at night. Watch for cars entering or exiting driveways or backing up in parking lots. Avoid alcohol and drugs when walking; they impair your abilities and your judgment.
Alternative Parking for Team Buses: Team buses can use Lot H or Lot O during this time.
Submitted by Noah Alatza na122@evansville.edu
ECTE: Lunch Bunch
The Eykamp Center for Teaching Excellence (ECTE) invites all faculty and staff to Lunch Bunch this Thursday, October 12th from 12:00 p.m. to 1:00 p.m. in the Philips Alcove (Ridgway 2nd floor). Bring your lunch and join us for mini-cupcakes and cookies! Come to enjoy the company of colleagues and co-workers! No need to RSVP. Stay as little or as long as your schedule allows. There is no agenda or presentation for these gatherings. Lunch Bunch is a way to offer faculty and staff a common place to get together. We hope to see you on Thursday! ECTE Team: Julie, Stephanie & Diana
Submitted by Diana Rodriguez Quevedo dr130@evansville.edu
University of Evansville Theatre Continues Performances of THE SEAGULL
UE Theatre is back for the final weekend of Anton Chekhov's THE SEAGULL, translated by Tom Stoppard. Performances resume at 7:30 p.m. on Oct. 12. Additional performances are at 7:30 p.m., on Oct.13, 14, and at 2:00 p.m., on Oct. 15. This achingly beautiful story of unrequited love is as timeless today as in the 1890s Russian countryside in which it is set. Stoppard's masterful translation remains faithful to the humor that Chekhov intended to convey amid all the pathos. Diving into the psychological minefields between mothers, sons, lovers, and familial relations, the passionate lives of these characters are all on full display as they make decisions that are often paradoxical, sometimes destructive, but always recognizably human. A vast emotive masterpiece with music in its words, this play will sear itself into your memory!
THE SEAGULL is directed by Assistant Professor Amelia McClain '03. Ethan Henry, a sophomore theatre performance major from Salina, Kan., serves as the associate director; Associate Professor Eric Renschler '83, serves as the scenic designer; Violet Nassri, a senior design and technology major from Dallas, Texas, is the costume designer; Ethan Santiago, a sophomore design and technology major from Belton, Texas, is the lighting designer; Jonathan Roth, a sophomore design and technology major from Brookfield, Wis., serves as the sound designer; Katie Lawhorn, a junior stage management major from Louisville, Ky., is the stage manager, and Visiting Assistant Professor Scott Carpenter '05 serves as the technical director.
The cast features Lillian Grace Carlson, a senior performance major from Minneapolis, Minn., as Masha; Trace Levens, a junior performance major from Bryan, Texas, as Medvedenko; Kurt Sparks, a first-year performance major from Millville, N.J., as Sorin; Arturo Quepóns, a sophomore performance major from San Antonio, Texas, as Konstantin; Beverley Buchanan, a senior performance major from Tomball, Texas, as Nina; Folarin Oyeleye, a first-year performance major from Richmond, Texas, as Dorn; Christina Tinde Jesenski, a senior performance major from Rancho Santa Margarita, Calif., as Polina; Amoren Newton, a first-year performance major from Denton, Texas, as Shamraev; Ashly Chalico, a junior performance major from Magnolia, Texas, as Arkadina; Caden Sevier, a senior performance major from Humble, Texas, as Trigorin; Ethan Henry, a sophomore performance major from Salina, Kan., as Yakov; Daphne Wheeler, a first-year performance major from Star, Idaho, as Maid; and Brayden Havard, a first-year performance major from Montgomery, Texas, as Cook.
Adult ticket prices are $20 and $18 for senior adults, UE employees, and non-UE students. UE students may obtain one free student to each production online or in person at the ticket office in Hyde Hall. In addition, UE Theatre is excited to continue their "Pay What You Will" initiative again this second season. Every Thursday evening performance in Shanklin Theatre is available for any person to pay any price that best fits their budget.
Season subscriptions for the 2023–2024 Shanklin Theatre season are also available and are $50 for an adult subscription and $44 for a discount subscription for senior adults, UE employees, and non-UE students. This three-play season includes THE SEAGULL, the smash–hit musical RENT, and the powerful WAITING FOR LEFTY. A May Studio Theatre Discovery Package can be purchased for $18 and includes A BRIGHT NEW BOISE and POTUS OR, BEHIND EVERY GREAT DUMBASS ARE SEVEN WOMEN TRYING TO KEEP HIM ALIVE. Subscriptions may be purchased by calling the ticket office at 812.488.2031, Monday through Friday, 12:00 to 5:00 p.m. Single tickets may be purchased online at theatre.evansville.edu or by calling the ticket office.
Submitted by Sharla Cowden sc75@evansville.edu
Honors Program Students Attend Annual Banquet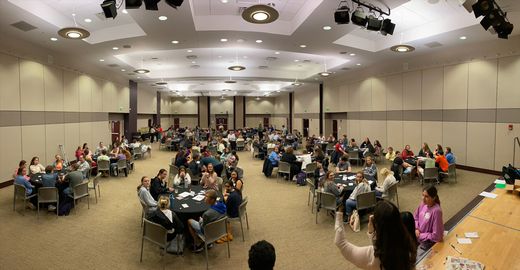 Honors students attended the annual Honors Program Banquet on Thursday, October 5 in Eykamp Hall. Over 170 honors students enjoyed an evening of fun, food, and community. Highlights included a taco buffet and a Name that Tune contest. Special thanks to the students on the Honors Activity Board for planning a great night!
The Honors Program invites the campus community to stay tuned for more info about these upcoming events:
Honors Program Common Read Speaker – Casey Parks, author of Diary of a Misfit: A Memoir and a Mystery, will speak on campus on Monday, November 13. This event will be free and open to the public. Copies of the book are on reserve in the library.
Nerd Wars – One of the Honors Program's favorite traditions returns this spring! Continue to watch PurplePulse for the date and more info. You won't want to miss this evening of trivia, prizes, pizza, and more!
Submitted by Jayme Williams jw504@evansville.edu
College of Business and Engineering Speaker Series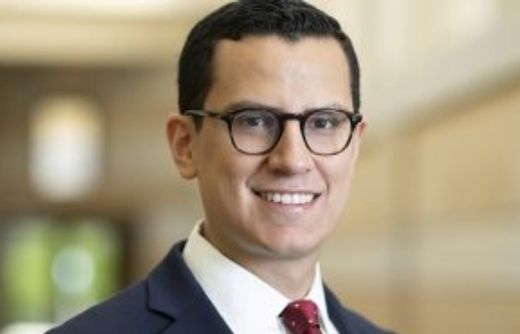 Please join us for the next installment of the College of Business and Engineering Lecture Series. Dr. Alejandro Estefan, Assistant Professor of Development Economics at Notre Dame's Keough School of Global Affairs, will be presenting Digital Training in Developing Countries: The Case for Female Micro-Entrepreneurs and Sustainable Agriculture on October 26, 2023 at 6:00 p.m. in Eykamp Hall. Reception to follow. Dr. Estefan will discuss how remote areas in economic need are benefiting from technological advances in teaching. See more information and register to attend in-person or virtually here.
For virtual attendees, the meeting link will be provided via email the day before the event. In order to receive the virtual invitation, please register at the link above. Contact Megan Conapinski at mt263@evansville.edu with any questions.
Submitted by Megan Conapinski mt263@evansville.edu
Chili Bowl - Save The Date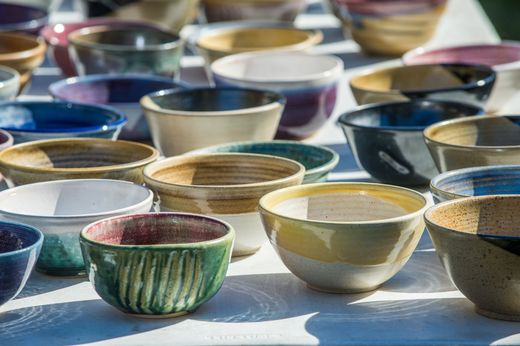 The annual Chili Bowl sale will be held on Tuesday, October 31 from 11:30 a.m. - 1:30 p.m. on the East Terrace Lawn. The rain location is Eykamp Hall, University Center.
For $10, customers can buy a one-of-a-kind ceramic bowl and fill it with chili. Lidded containers will be available for those who prefer not to put chili in their newly purchased bowls.
Larger bowls ranging from $15 - $100 will also be for sale during the event.
Part of the proceeds from the sale will be donated to a local food organization to assist with fighting hunger. The rest will go to the UE Clay Club to be used to fund attendance at conferences, visiting artists, and studio/gallery visits.
Submitted by Carol McCraney cm177@evansville.edu
Azzip Giveback-UE Nursing Seniors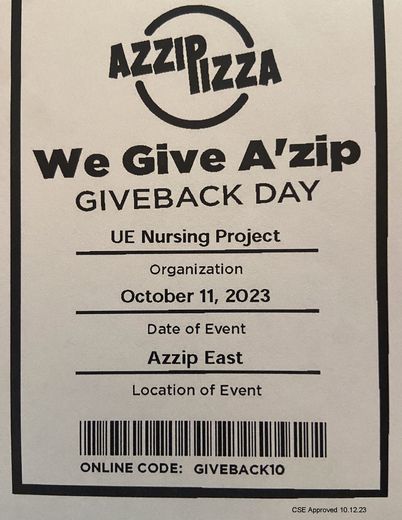 Come support UE Nursing Seniors on October 11th by getting Azzip with your friends and family! The event will be at Azzip East on N Green River Rd. If you want to make an order to-go, use the online code "GIVEBACK0". Proceeds will go to the "Caregiver Fatigue" event. We hope to see you there!
Submitted by Elspeth Nelson en55@evansville.edu
UE Majors and Minors Fair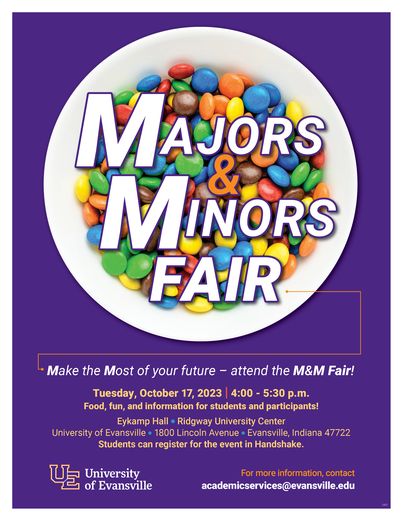 The Majors and Minors Fair is open to all students on Tuesday, Ocotber 17, from 4:00 to 5:30 p.m. in Eykamp Hall.
Thinking about changing or adding a major or minor? This is your chance to network with faculty, current students, and alumni from academic departments as well as various student support services. Learn more about the classes, research opportunities, internships, and career possilities.
For more information, contact academicservices@evansville.edu.
Submitted by Paula Heldt ph28@evansville.edu
Farewell Reception for Fred Wilson
The Office of Facilities Management and Planning wishes to congratulate Fred Wilson on his upcoming retirement from the University of Evansville. Fred has proudly served the University in multiple roles within Facilities Management during his 25 years with the University. Fred leaves his position as Building Services Manager and the Immediate Past President of the Staff and Administrators Assembly. Fred received his bachelor's degree in Global Leadership and his master's degree in Public Service Administration from UE. Please join us Friday, October 13th as we celebrate Fred's contributions with a farewell reception, details shown below. We hope to see you there!
Friday, October 13th
1 pm – 2 pm
Class of '59 Gallery, Ridgway University Center
Submitted by Karen McDonald km598@evansville.edu
Your Opinions are Needed
SASAKI is one of the world's leading landscape architecture and urban planning firms, and they are leading the Ohio River Vision and Strategic Plan - which includes a redesign of Evansville's Riverfront area. And they need students' opinions on those plans!
Come to Rademacher's Lounge in Ridgway University Center on Thursday for a brief presentation and a chance to cast YOUR vote.
Thursday, October 12
5:00-6:00 p.m.
Rademacher's Loung, first floor, Ridgway University Center
Submitted by Andrew Carter ac116@evansville.edu
We the People Volunteers Needed
UE is once again proud to host the Southern Regional Competition for We the People: The Citizen & the Constitution. On Wednesday, 11/8, we will welcome 8 schools (both high school and middle school) to campus as they work to earn a place at Indiana's State Finals. We need volunteers for the following shifts. If interested and available, email Dina Willming at dw285@evansville.edu. No experience needed for any shift!
Shift 1: 8:30am - 9:45am - Greeter (4 needed): Stand outside SOBA on the circle and Rotherwood sides, welcome the teams as they arrive and help them get to their classrooms. Purple UE scarf provided (must be returned), UE casual attire.
Shift 2: 8:45am - noon. Judges' Facilitator (6 needed): Serve as a guide for a panel of judges, getting them from room to room on time. Business casual attire recommended.
Shift 3: 11:30am - 12:00pm (8 needed): Lunch guide. Stand outside their hearing rooms as they finish their rounds, then guide them to Eykamp Hall, Ridgway University Center for lunch. Serving as an Ambassador for UE on the way. UE casual attire.
Submitted by Andrew Carter ac116@evansville.edu
Solution Station Wednesday: Thinking About Transfer Credits?
As registration is getting closer, you might be wondering about the transfer credits you think you should have, or you might be planning some credits you could transfer in.
If you have questions about how take classes elsewhere over the summer, or how to make sure classes you took as dual-credit transfer in properly, please come by the Solution Station! We don't want you to miss out the value of your transfer credits - and we don't want you to take a class that won't count toward your degree! Lori Johnson, Transfer Academic Advisor/Student Support Services Specialist, will be there to talk with you to get you headed in the right direction.
Solution Station Wednesday
11:00 a.m. - 1:00 p.m.
Ridgway University Center
Can't make it? Come and see us in Academic Services (Olmsted 116).
Submitted by Chad Hart ch299@evansville.edu
Multi-Racial Student Union Launched
UE students have launched the Multi-Racial Student Union (MSU), with a mission to foster an inclusive and welcoming environment for students of diverse racial and cultural backgrounds.
The MSU's inception is rooted in the recognition of a unique need. As Derek Fudge III, the MSU President, eloquently explains, "I created the MSU because I found that, despite the presence of the BSU and other inclusion-oriented clubs, people of mixed race, backgrounds, and cultures found themselves caught in a gray area between all groups. Because of this, most Bi-Racial students are often questioned about their racial identity almost as much as they question it themselves. So, when I saw that there was a need and an audience for a Multi-Racial Student Union, I thought 'this is a step forward that needs to be taken,' whether for the betterment and progress of inter-racial relations at UE or for the increased understanding of ourselves as people."
MSU's aspirations are rooted in building a nurturing and inclusive space where multi-racial students can share their experiences and find common ground. All individuals, irrespective of race, religion, sexual orientation, gender identity, and more, are welcomed with open arms.
A supportive community is created for those who may feel adrift in a society that often forces limiting labels and boxes upon us.
Regular meetings:
When: 1st Tuesday of every month
Where: Diversity House (436 Weinbach Ave)
Time: 7:00 p.m.
Submitted by Kalea Reeves kr282@evansville.edu
It's Not Too Late to Register for Winter Intersession Courses
Get ahead by taking Winter Intersession online courses. Complete a missing required course, lighten your spirng load, and take advantage of winter break. Classes are held from December 15, 2023 through January 5, 2024. Students may take one class and register when registering for spring classes starting October 30, 2023.
Learn more about Winter Intersession.
Winter Intersession Course List

| | | | | |
| --- | --- | --- | --- | --- |
| Subject | Number | Cr Hrs | Course Title | Instructor |
| ART | 105 | 3 | Introduction to the Visual Arts | Larmann |
| AT | 180 | 3 | Introduction to Athletic Training | Tilly |
| CHEM | 103 | 3 | Chemistry of Adult Beverages | Miller K. |
| EXSS | 150 | 3 | Introduction to Health Sciences | Laughbaum |
| EXSS | 320 | 3 | Nutrition for Performance Health | Miller W. |
| EXSS | 417 | 3 | Advanced Exercise Science | Miller W. |
| EXSS | 453 | 2 | Motor Learning | Wilson |
| EXSS | 488 | 1 to 4 | Internship | Miller W. |
| EXSS | 488 | 1 to 4 | Internship | Wilson |
| FIN | 280 | 3 | Introduction to Personal Finance | Brockman |
| HIST | 112 | 3 | World History 1500 - Present | MacLeod |
| MUS | 156 | 3 | Music in America | Strandberg |
| NEUR | 125 | 3 | Introduction to Neuroscience | Campese |
| PH | 190 | 3 | Introduction to Public Health | Patel-Dovlatabadi |
| PSYC | 121 | 3 | Introduction to Psychology | Campese |
| PSYC | 226 | 3 | Child and Adolescent Psychology | Hennon |
| PSYC | 229 | 3 | Social Psychology | McCracken |
| PSYC | 450 | 3 | Learning | Campese |
| QM | 227 | 3 | Introduction to Statistics | Khormali |
| SOC | 105 | 3 | Introduction to Sociology | Plikuhn |
| SOC | 230 | 3 | Social Problems in the Modern World | Plikuhn |
Submitted by Paula Heldt ph28@evansville.edu
Longest Table Volunteers Needed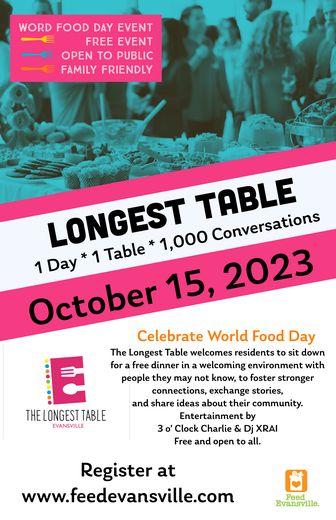 Looking for volunteer hours? Consider volunteering with Feed Evansville on October 15th!
Contact Will McDonner at wm99@evansville.edu or 812-488-5226 to register.
Submitted by Will McDonner wm99@evansville.edu
Work-Study Information Moving to Self-Service
Work-study information previously found on WebAdvisor can now be found in Self-Service by clicking on the UE symbol in the banner on the far left-hand side of the page. Job postings and required employment documents can be found under the Student Employment link. Timecards should still be accessed via WebAdvisor unless you have already accessed your timecard via Self-Service! Access through WebAdvisor will be discontinued on October 13th. Further questions can be directed to Emily Jagielo in the Office of Student Financial Services.
Submitted by Emily Jagielo ej137@evansville.edu
Free HIV Testing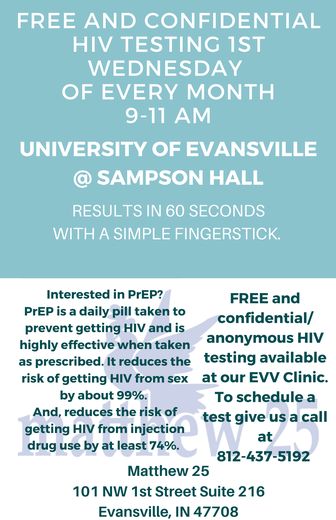 Free, HIV testing at the Student Center first Wednesday of every month from 9-11am. No appointment necessary.
Submitted by Tara Ulrich tu19@evansville.edu
Volunteers Needed | UE Gives Back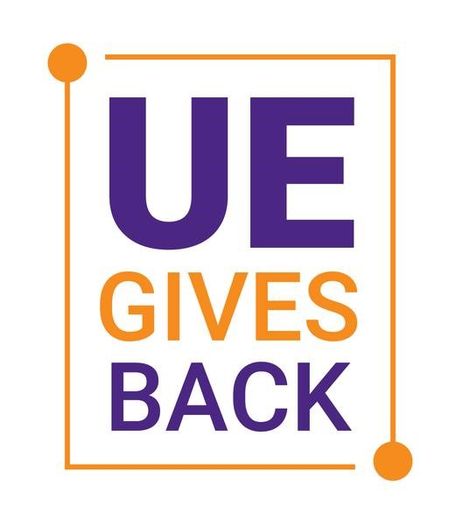 The University of Evansville is excited to announce the return of UE Gives Back for employees! Mark your calendars for Friday, October 20, and sign up today with the UE Gives Back Registration Form. With the approval of immediate supervisors and as schedules permit, employees may choose to volunteer on UE's campus without scheduling a day of vacation.
If you have any questions or need clarification, please contact Rachel Roscoe at 812.488.5004 or rr209@evansville.edu.
Submitted by Rachel Roscoe rr209@evansville.edu
Apply to Graduate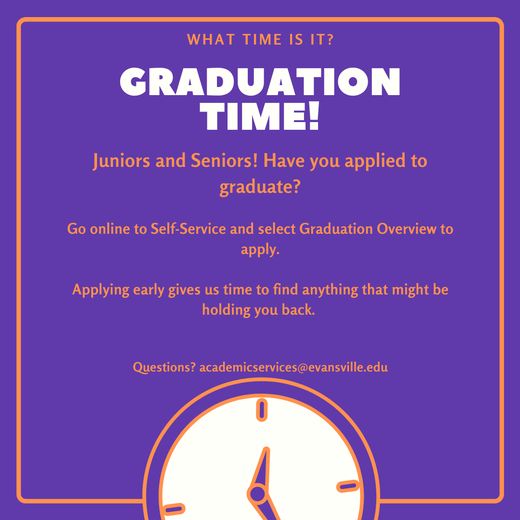 It's that time! Be sure to apply now to graduate via Self-Service.
Submitted by Kelsey Gordon kg302@evansville.edu
Volunteers needed for Balance Assessments 10/24/2023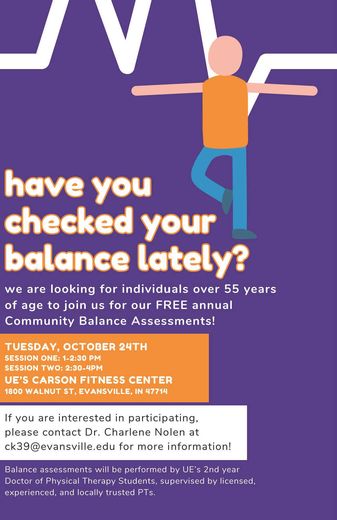 The Exercise Science and second year DPT students will be conducting community balance assessments as part of the Bronstein Geriatric Wellness Program. We are looking for 24 participants who are 55 years or older to take part in these assessments. Faculty will be present to assist the students throughout the assessments. Please share this opportunity with anyone you think might be interested and able to participate. The participant does not need to be able to walk but should at least be able to stand for the assessments.

Who: Exercise Science and 2nd year DPT students
What: DPT students will complete testing of your balance, educate you on the findings during the testing, and provide you with a home exercise program
When: 10/24/2023 Session 1 from 1:00-2:30 or Session 2 from 2:30-4:00
Where: Carson Center, Maikranz Gym
Why: To improve the balance and mobility of the community through the Bronstein Geriatric Wellness Program initiative

Participants can contact Dr. Charlene Nolen at ck39@evansville.edu to sign up or seek further information.
Submitted by Charlene Nolen ck39@evansville.edu
Hannah Evelyn Jones Exhibit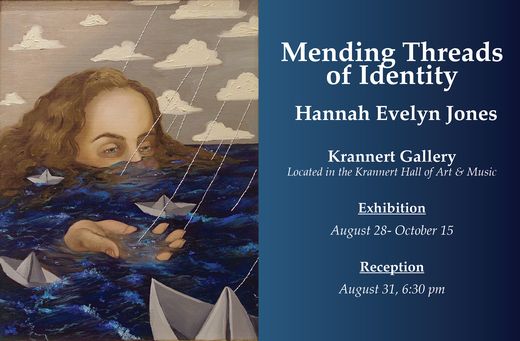 The Department of Art presents Hannah Evelyn Jone's exhibit "Mending Threads of Identity" in the Krannert Gallery through October 15, 2023. Gallery hours are Mon - Sat 8:00am-8:00pm and Sun noon - 8:00pm.
Submitted by Carol L McCraney cm177@evansville.edu
Billy Twymon Exhibit Opens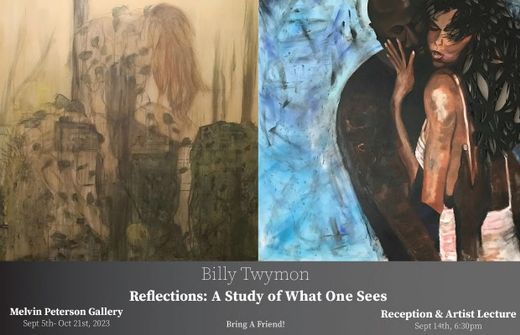 The UE Friends of Art and the UE Department of Art present Billy Twymon's exhibit "Reflections: A Study of What One Sees" in the Melvin Peterson Gallery from Sept 5 through October 21, 2023.
Please join us for a reception and artist lecture in the Gallery on Thursday, September 14 at 6:30PM.
Gallery hours are Mon, Tues, Fri, & Sat 12:00pm - 3:00pm and Wed & Thurs 12:00pm - 6:00 pm.
Submitted by Carol L McCraney cm177@evansville.edu
Sympathies to the Koehler Family
The UE family mourns the loss of John Keith Koehler, 90, of Evansville, Indiana. Koehler passed away peacefully, surrounded by family, on Saturday, October 7, 2023. Koehler earned a music scholarship to Evansville College and was president of Phi Mu Alpha.
A celebration of Koehler's life will be held at 9:00 a.m. on Friday, October 13, 2023 at Browning Funeral Home, 738 Diamond Ave., Evansville, IN 47711 with Pastor Randy Moore officiating. Burial will follow at Oak Hill Cemetery where the Retired Veterans Memorial Club will conduct military rites.
Friends may visit from 4:00 pm until 8:00 pm on Thursday, October 12, 2023 at Browning Funeral Home and again from 8:00 a.m. until service time on Friday at the funeral home.
Memorial contributions may be made to the John and Carol Koehler Endowment Scholarship, c/o University of Evansville, 1800 Lincoln Ave., Evansville, IN 47714.
A link to the full obituary is included here: https://www.legacy.com/us/obituaries/name/john-koehler-obituary?id=53300947
Submitted by University Communications na122@evansville.edu
UE men's soccer heads up to Indiana for a mid-week match
The Purple Aces come into Wednesday having earned a result against the Western Michigan Broncos on Saturday, Oct. 7. Winger Nkosi Graham scored in the 88th minute to give UE a point in Valley play against a Top 30 team in the nation. The draw result on Saturday, helped Evansville to remain unbeaten against Western Michigan in their series. It was UE's first match against the Broncos as Missouri Valley Conference opponents and the team's first since 2009.
Wednesday will be the Aces final non-conference game of the season against a perennial powerhouse. UE heads to Bloomington for a game against the Indiana Hoosiers to continue their multi-decade series. Evansville is looking for its first win against the Hoosiers since the 1990s on Wednesday night. Indiana comes into Wednesday's match after a big 2-1 win against No. 19 Penn State. Both of the Hoosiers goals were scored by junior forward Samuel Sarver, IU's offensive leader with six goals on the season. Sarver was named the Big Ten Offensive Player of the Week for his efforts against the Nittany Lions.
The interim tag has been removed from Head Coach Robbe Tarver's title as of Monday afternoon. Tarver has been with the Aces program since the 2020 season, first as an Assistant Coach and Associate Head Coach under Marshall Ray, and then as Interim Head Coach since mid-March. Along with handling recruiting duties as an Assistant, Tarver's impact on the Aces program has been undeniable. Over the past four seasons, Evansville has made back-to-back Missouri Valley Conference (MVC) Tournament Championship games, had three players named MVC Freshman of the Year, six All-MVC selections, and four All-West Region honorees.
Wednesday's game will be broadcast on Big Ten Network Plus and does require a subscription. Aces fans can also follow along with tomorrow night's match on StatBroadcast to view live stats.
Submitted by Athletics
Missouri Valley Conference announces conference women's basketball schedule
The University of Evansville women's basketball team has its full schedule for the 2023-24 season in place.
After their best season in Valley play in four years, the Purple Aces look to continue their growth in conference play. UE's conference schedule is highlighted by a three-game home stand at Meeks Family Fieldhouse to end January and begin February and a four-game road swing during the back half of the conference season.
"It's always exciting to receive the MVC schedule and plan for home games and how to make those special for our players and fans, said Head Coach Robyn Scherr-Wells. "I can't wait to see Meeks packed with fans this season! The MVC is one of the best mid-major conferences in the country and we will spend our non-conference schedule making sure we are building towards being successful in MVC play!"
Evansville gets to begin conference play at home in Meeks Family Fieldhouse against in-state rivals Indiana State on Saturday, Dec. 30. The Aces then get the New Year's holiday off before hitting the road for its longest geographic road trip of the year, making its way to Iowa for the first week of January. The Aces will start their Iowa swing with the UNI Panthers on Thursday, Jan. 4. UE ends the trip by playing the reigning MVC Tournament Championship Drake Bulldogs on Saturday, Jan. 6.
Evansville gets to return home the following week to host the Belmont Bruins on Friday, Jan. 12. The Aces finish off the weekend with a Hoops in the Heartland rematch against Murray State on Sunday, Jan. 14, their closest out-of-state rival. UE gets its other long road trip done during January when visiting Springfield, Mo. on Friday, Jan. 19 to play the Missouri State Lady Bears. Evansville completes the trip with a stop in Carbondale for a game with Southern Illinois on Sunday, Jan. 21.
The Aces return home to Meeks Family Fieldhouse for their longest homestand of the season on Friday, Jan. 26. UE will host games against UIC, Valparaiso, and Bradley in the three-game stretch that lasts over a week from late January to early February. Evansville's first game of the homestand comes against the Flames on January 26 and is followed by a Sunday afternoon contest with the Valparaiso Beacons on January 28. The final game of the three is the Aces only game of the season against the Bradley Braves on Saturday, Feb. 3.
UE gets almost a week off before its next game on the road in Chicago. After seeing UIC only two weeks prior, the two teams get another chance at each other on Friday, Feb. 9. Evansville then completes the road trip up north with a game in Valparaiso on Sunday, Feb. 11. The Aces get another two games at home following Valentine's Day with an evening contest against Southern Illinois Thursday, Feb. 15. UE rounds out the weekend with another home game on Saturday, Feb. 17 as Missouri State comes to the River City.
Evansville's longest amount of time away from Meeks Family Fieldhouse begins on Thursday, Feb. 22 with a quick stop in Terre Haute. The Aces then head to Normal, Ill. for their lone game against Illinois State on Sunday, Feb. 25 at CEFCU Arena. UE remains on the road the following weekend with stops in Murray on Friday, March 1, and Nashville on Sunday, March 3 for its second games against Murray State and Belmont.
The Aces then finish the regular season with a two-game home stand against two teams they saw to begin the season. Drake will begin the final week of regular season play for Evansville on Thursday, March 7. UE then closes out the regular season with a game against the UNI Panthers on Saturday, March 9. Evansville then heads to the Quad Cities for Hoops in the Heartland from March 14 to March 17 for postseason play.
Season tickets are available for the upcoming season. Season tickets start as low as $50 with floor seats priced at $100 with limited availability. Order your season tickets today by calling Logan Belz at (812) 488-2623.
2023-24 Missouri Valley Conference Season (Times CT)
Saturday Dec. 30, 2024 INDIANA STATE – 2 p.m.
Thursday Jan. 4, 2024 @ UNI – 6 p.m.
Saturday Jan. 6, 2024 @ Drake – 2 p.m.
Friday Jan. 12, 2024 BELMONT – 6 p.m.
Sunday Jan. 14, 2024 MURRAY STATE – 1 p.m.
Friday Jan. 19, 2024 @ Missouri State – 6:30 p.m.
Sunday Jan. 21, 2024 @ Southern Illinois - TBA
Friday Jan. 26, 2024 UIC – 6 p.m.
Sunday Jan. 28, 2024 VALPARAISO – 2 p.m.
Saturday, Feb. 3, 2024 BRADLEY – 2 p.m.
Friday Feb. 9, 2024 @ UIC - TBA
Sunday Feb. 11, 2024 @ Valparaiso – 1 p.m.
Thursday Feb. 15, 2024 SOUTHERN ILLINOIS – 6 p.m.
Saturday Feb. 17, 2024 MISSOURI STATE – 2 p.m.
Thursday Feb. 22, 2024 @ Indiana State - TBA
Sunday Feb. 25, 2024 @ Illinois State - TBA
Friday March 1, 2024 @ Murray State – 6 p.m.
Sunday March 3, 2024 @ Belmont - TBA
Thursday March 7, 2024 DRAKE – 6 p.m.
Saturday March 9, 2024 UNI – 2 p.m.
March 14-17 Hoops in the Heartland
Submitted by Athletics
WSOC: UE's Woosley Named MVC Defensive Player Of The Week, UE Goalkeepers Nationally-Ranked
University of Evansville sophomore defender Kaylee Woosley (Evansville, Ind./North) captured Missouri Valley Conference Defensive Player of the Week honors on Tuesday, after playing a pivotal role in UE's 1-0 victory over UIC on both ends of the pitch.
Woosley played all 90 minutes for UE once again in her center-back role, and helped the Purple Aces post their fifth shutout of the year defensively. Woosley also stepped up big in the 86th minute offensively, and drilled a free kick from about 20 yards out through the UIC wall and into the back of the net for her first career goal as a Purple Ace. With the goal, Woosley has now scored a point in three-straight matches, as she leads UE with two assists this season.
Woosley has played every minute of MVC play at center-back this year, and she has played a key role in Evansville ranking second in the Valley in goals-against average at 0.83. She has also played in front of a goalkeeping group which has been one of the best in the country this year. UE's goalkeeping trio of fifth-year member Georgia Katsonouri (Paphos, Cyprus), senior Myia Danek (Laingsburg, Mich./Laingsburg) and freshman Elke Travis (Henderson, Nev./Faith Lutheran) have combined to post a .853 save percentage this year, which ranks 24th nationally in the latest NCAA statistical rankings. Overall, UE's 10 total goals allowed rank 44th-fewest in the country.
With the victory over UIC on Sunday, Evansville ran its unbeaten streak to seven-straight matches, which is tied for the fourth-best unbeaten streak in program history. UE, currently 1-3-8 overall and 1-0-5 in the MVC, will now travel west to Iowa this week for two key MVC matches against league front-runners Drake and UNI. The two-game road trip begins on Thursday afternoon at 3 p.m. at second-place UNI (11-2-1, 4-2-0 MVC). Thursday's match can be seen live on ESPN+.
Submitted by Athletics
Huge rally lifts Aces past Indiana State
Giulia Cardona and Melanie Feliciano recorded 27 and 20 kills, respectively, to push the University of Evansville volleyball team to a 3-1 win over Indiana State inside Meeks Family Fieldhouse on Monday evening.
As a team, the Purple Aces hit .372 with Brooke Springer putting forth the most impressive statistical showing. Springer hit .875 with seven kills in eight attempts. Kora Ruff posted a season-high 57 assists in the contest, just one short of her career mark. Ainoah Cruz and Ruff paced the defense with 13 and 12 kills apiece. Springer picked up two solo blocks and four block assists.
Game 1 – Indiana State 26, UE 24
Brooke Springer and Melanie Feliciano picked up early kills to send the Purple Aces out to a 4-0 lead. Feliciano and Madisyn Steele combined on a block that extended the advantage to five points at 8-3. The Sycamores battled back to make it an 11-10 game before the Aces pushed the lead back out to four (16-12) with Feliciano picking up two more kills.
Once again, Indiana State battled back to tie the score at 19-19 before taking their first lead of the game at 21-19. Following a time out, the Aces tied it right back up at 21-all. With the score knotted at 24-24, ISU scored the final two points to clinch the win.
Game 2 – UE 25, Indiana State 21
Indiana State had the big start in game two, opening a 6-3 lead before seeing their advantage rise to five points at 13-8. Evansville used a time out and a refocused group would finish the set on a 17-8 run.
Immediately following the stoppage, the Aces went on an 8-1 stretch to take a 16-14 lead. Brooke Springer had a solo block and a block assist. Over the final moments of the set, UE opened a 4-point lead and would win by that deficit to tie the match at 1-1.
Game 3 – UE 25, Indiana State 23
Another early run saw the Aces go up by a 7-3 margin with Kora Ruff picking up an ace. Madisyn Steele picked up a solo block in the middle stages of the frame to set UE up with a 5-point lead at 13-8. Evansville continued to hold a multipoint lead at 17-13 when the Sycamores stormed back.
Scoring four in a row, ISU tied the set at 17-17. Neither squad gave an inch down the stretch with each point being tied, leading to a 23-23 score. One important part for the Aces is that they took the lead each time. Their persistence finally paid off as they tallied the final two points with an ace by Cardona clinching the set.
Game 4 – UE 25, Indiana State 12
Riding the momentum of taking the second and third sets, the Aces put together their best performance of the evening in game four. Cardona broke a 4-4 tie in a huge way as she posted four kills in a row to double up the Sycamores.
Feliciano and Steele added kills to make it a 16-7 game and UE continued to add to its lead as they clinched the match with a 25-12 victory. Evansville looks to continue its success this weekend with UIC and Valparaiso coming to Meeks Family Fieldhouse.
Submitted by Athletics
University of Evansville names Robbe Tarver Head Men's Soccer Coach
Robbe Tarver has been named the 7th head men's soccer coach in University of Evansville history. The announcement was made by Director of Athletics Dr. Kenneth "Ziggy" Siegfried.
"Robbe has consistently impressed me since I arrived at UE in 2022," said Athletics Director Ziggy Siegfried. "He impressed me with his work ethic and recruiting ability when he was an assistant coach under Marshall Ray. He has also impressed me as the Interim Head Coach with his strong leadership, his genuine relationship building skills, and his ability to respond to adversity.
"Our University, our community, and all Purple Aces around the world are getting a Coach who knows what it means to be a Purple Ace. He is someone who will wake up every morning and go to sleep every night thinking about how to achieve excellence in all aspects of our Men's Soccer program. There is nobody I would rather have leading our men's soccer student-athletes!"
Tarver has been with the Evansville program for four seasons, initially coming to UE as an Assistant Coach before the COVID-19 impacted 2020 fall campaign. While an assistant for former Head Coach Marshall Ray, Tarver handled recruiting duties, leading training sessions, and academic performance. Tarver was successful in all three areas, bringing in players from around the globe and helping Evansville to a 3.3 or better GPA over the past three years. Tarver was elevated to Interim Head Coach in March of 2023 following Ray's resignation from collegiate soccer. Along with handling recruiting duties as an Assistant, Tarver's impact on the Aces program has been undeniable. Over the past four seasons, Evansville has made back-to-back Missouri Valley Conference (MVC) Tournament Championship games, had three players named MVC Freshman of the Year, six All-MVC selections, and four All-West Region honorees.
"I want to thank Dr. Ziggy Siegfried and President Pietruszkiewicz for the opportunity to lead this program and their belief in me and our staff," said Head Coach Robbe Tarver. "Over my 3 plus years here, I have learned Evansville's unique history as a prominent program in the NCAA soccer landscape and the deep impact of our alumni and fan base on the program's success. I'm honored to follow in the footsteps of Coach Vieth, Coach Gaudin, Coach Schmalz, and Coach Ray.
"I look forward to upholding their standards of success here at UE. I enjoyed working under the leadership of Coach Ray, and I am excited to continue building on the foundation we have laid over the past 3 seasons and get the program back to competing for MVC Championships and NCAA tournament wins."
Prior to his time with UE, Tarver spent three years as a volunteer assistant for the Louisville Cardinals. While in Louisville, Tarver assisted in opposition scouting, daily operations of training, recruiting organization and travel coordination. The Cardinals saw plenty of success in the three years Tarver helped the team, as Louisville won their first ACC Tournament Championship in 2018. The Cardinals also made the NCAA Elite Eight the year prior in 2017 and returned to the Sweet Sixteen round of the NCAA Tournament in 2019. In the three years Tarver was with Louisville, the team won at least one NCAA Tournament game each year.
Tarver began his coaching career at his alma mater – Division III Centre College, serving as the assistant coach for three seasons. During his tenure at Centre, Tarver was the recruiting coordinator and helped the Colonels capture their first Southern Athletic Association (SAA) Tournament Championship and the program's sixth conference championship crown in 2016.
As a collegiate player, Tarver was a 2x captain for the Colonels, achieving all-conference and all-region honors from 2010-2013. He was invited to the USL Combine in 2014 and spent a season playing in Costa Rica for Juventud Escazuceña.
What They Are Saying…
"Robbe joined our staff in 2020 on the recommendation of alumni and friends. Since that time I have gotten to know him both professionally and personally as he became a part of the Aces family. Robbe cares immensely about the University of Evansville and the student-athlete experience that we as Aces value. He has already made at tremendous impact on our program as both an assistant coach and interim head coach. I am delighted he will be leading us into our next chapter of Purple Aces men's soccer. Our student-athletes will be champions on and off the field under the leadership and guidance of Robbe."
Marshall Ray, Former Head Coach, University of Evansville
"Robbe has a very good soccer mind. We had countless discussions on all aspects of the game when we worked together, and I know Evansville will play a great brand of soccer with him. More importantly, Robbe is a genuine person that truly cares about his student-athletes. He will be a great mentor for everyone that is fortunate enough to be a part of the Evansville Soccer program and they will undoubtedly grow as soccer players and people during their time in Evansville. As a program, Robbe will constantly have Evansville competing at the top of the Missouri Valley Conference."
Bryan Green, Head Coach, Temple University
"The University of Evansville has made a great hire in Robbe Tarver! Robbe is an extremely hard worker that will give everything to his team to make them successful both on and off the field. Robbe also is a tremendous coach who knows the game inside and out but what I believe separates him is his genuine interest in people. He has a real ability to connect with individuals on a personal level and each student athlete that he mentors will benefit tremendously from his leadership"
John Michael Hayden, Head Coach, University of Louisville
"Robbe's high school state championship in Texas was also for the national championship. Playing for Centre, he Captained our team that took down the defending national champions in the NCAA tournament. As an assistant coach with us, we won a conference championship, and he was quickly scooped up by UofL. I am an Aces fan and have enjoyed watching their growth since Robbe's arrival. It is no surprise to me that Robbe has found success all along his soccer journey and I am popping popcorn as we speak, looking forward to UE's next MVC championship under Robbe's leadership."
Jeb Burch, Head Coach, Centre College
"I am so happy for Robbe and the Evansville athletics department. Robbe is prepared for this opportunity and has so many qualities that make him a great leader of young men. He is very intelligent, forward-thinking, a high soccer IQ, and great communicator. Most importantly, he is a person of high integrity and strong values. I look forward to watching the success of the Purple Aces this upcoming fall and beyond."
Donovan Dowling, Head Coach, University of Nebraska Omaha
Submitted by Athletics
Contribute to AceNotes
To have content considered for inclusion in AceNotes, please submit a Marketing Request Form. Deadline for submission to AceNotes is 10:00 a.m. on the requested date of publication. Only articles concerning UE related/sponsored activities will be accepted. Articles submitted to AceNotes may be edited for length and clarity. Submitter contact information is at the end of each article.