| | |
| --- | --- |
| PurplePulse | Monday, October 9, 2023 |
Reminder: Unveiling of Hydration Station Happening This Morning
The campus community is invited to attend the unveiling of Hydration Station - the nation's first outdoor-rated, contactless, automated, water dispensing system.
The unveiling will take place outside of the Bower-Suhrheinrich Library today, October 9, at 10:00 a.m. with a reception to follow in Ridgway University Center.
Guest speakers include Mayor Lloyd Winnecke, Evansville Water Sewer Utility Deputy Director and Public Information Officer Ella Johnson-Watson, UE Executive Director for the Center for Innovation & Change Erin Lewis, and Jack Deig, CEO and founder of Hydration Station.
Submitted by University Communications
Employee Headshots on 10/16 and 10/17
Are you a new employee or in need of an updated headshot? There are two time slots coming up in October that are currently open:
Monday, October 16, from 8:30-8:50AM
Tuesday, October 17, from 11-11:15AM
Additional time will be added if spots fill up. There will be three slots open per 5-minute increment, and you can sign up to reserve your spot.
Headshots will be taken on the southwest corner of the front oval lawn (on the brick sidewalk close to the concrete sign). In the event of rain, headshots will be moved indoors. For questions, please contact Julie Beer at jb855@evansville.edu.
Submitted by Julie Beer / jb855@evansville.edu
Update on the Weinbach and Walnut Closure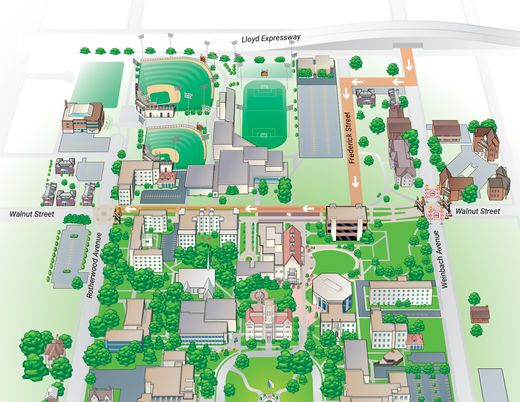 The closure at Weinbach and Walnut has started. The closure will last for 30 calendar days with the possibility of going up to 45 calendar days if there are weather issues or unforeseen delays.
Additional information and tips:
Parking Enforcement: We want to emphasize that the restrictions will be strictly enforced. Towing will only occur if a parked car creates a critical safety issue or blocks other vehicles from using the designated route. Our goal is to ensure safety and minimize disruptions during the construction period without unnecessary towing.
Traffic Flow: Signage will be placed at the entrance to the lot, directing traffic to make a right turn into the lot using the north lane. Additionally, signage on Walnut west of Rotherwood will indicate "No Thru Traffic Allowed." A barricade will be placed in the straight eastbound lane at the Rotherwood/Walnut intersection. Delivery vehicles will have a route around the barricade using the left turn lane.
Median Turnaround: Bollards on Walnut between Ridgway and Carson Center will be removed by Facilities to allow a turnaround in the median for delivery vehicles to exit through the westbound lane of Walnut. A stop sign will be placed at the turnaround to control the traffic entering the westbound lane.
Walking Safety Tips: Be predictable and ensure you follow the rules of the road and obey signs and signals and plan to walk on sidewalks whenever they are available. If there is no sidewalk, walk facing traffic and as far from traffic as possible. Keep alert at all times; don't be distracted by electronic devices that take your eyes (and ears) off the road. Whenever possible, cross streets at crosswalks or intersections, where drivers expect pedestrians. Look for cars in all directions, including those turning left or right. If a crosswalk or intersection is not available, locate a well-lit area where you have the best view of traffic. Wait for a gap in traffic that allows enough time to cross safely; continue watching for traffic as you cross. Never assume a driver sees you. Make eye contact with drivers as they approach to make sure you are seen. Be visible at all times by wearing bright clothing during the day and wear reflective materials or use a flashlight at night. Watch for cars entering or exiting driveways or backing up in parking lots. Avoid alcohol and drugs when walking; they impair your abilities and your judgment.
Alternative Parking for Team Buses: Team buses can use Lot H or Lot O during this time.
Submitted by Noah Alatza na122@evansville.edu
Chili Bowl - Save The Date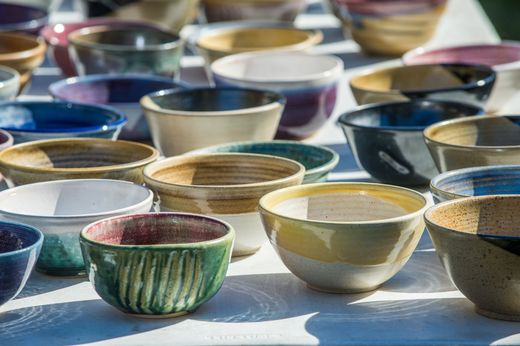 The annual Chili Bowl sale will be held on Tuesday, October 31 from 11:30 a.m. - 1:30 p.m. on the East Terrace Lawn. The rain location is Eykamp Hall, University Center.
For $10, customers can buy a one-of-a-kind ceramic bowl and fill it with chili. Lidded containers will be available for those who prefer not to put chili in their newly purchased bowls.
Larger bowls ranging from $15 - $100 will also be for sale during the event.
Part of the proceeds from the sale will be donated to a local food organization to assist with fighting hunger. The rest will go to the UE Clay Club to be used to fund attendance at conferences, visiting artists, and studio/gallery visits.
Submitted by Carol McCraney cm177@evansville.edu
Azzip Giveback-UE Nursing Seniors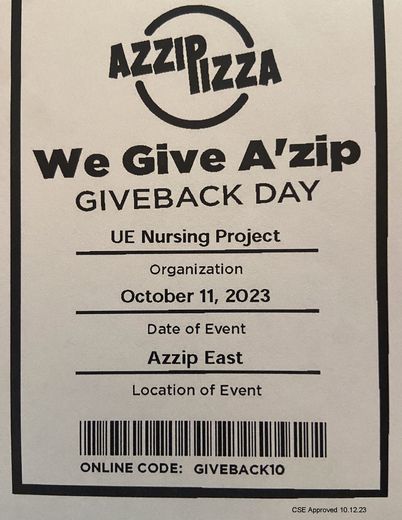 Come support UE Nursing Seniors on October 11th by getting Azzip with your friends and family! The event will be at Azzip East on N Green River Rd. If you want to make an order to-go, use the online code "GIVEBACK0". Proceeds will go to the "Caregiver Fatigue" event. We hope to see you there!
Submitted by Elspeth Nelson en55@evansville.edu
Caregiver Fatigue Event-UE Nursing Seniors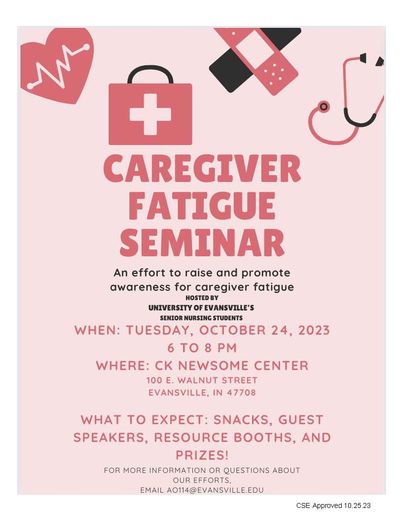 Come supprt UE Nursing Seniors! This health promotion project aims to give caregivers in the community the resources to combat caregiver fatigue and prevent abuse. The target population includes anyone who is taking care of another person, especially those with a condition or illness such autism or dementia. To educate caregivers, we will host an event on October 24th at the CK Newsome center that has speakers and vendors to provide resources about adult day care, self-care, and more. We will have snacks and raffle prizes! We hope to see you there!
Submitted by Elspeth Nelson en55@evansville.edu
BSU Trunk or Treat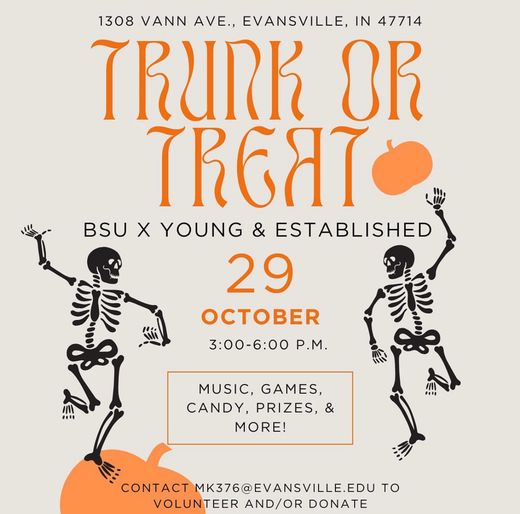 The Black Student Union is hosting our annual Trunk or Treat with Young & Established on Sunday, October 29th from 3 pm - 6 pm. This family-friendly event will be held at Young & Established and will feature a safe and fun Halloween experience for all ages. We are looking for volunteers and donations to help us put on this event! Please visit the link below to sign up for our event, help with tabling to raise funds, and/or donate. Donations will go towards purchasing candy, decorations, and other necessary items for the event. We hope to see you all there!
Sign up and/or donate: https://superlink.io/ueblackstudentunion
Submitted by Trinitie Terrell tt141@evansville.edu
Hacienda Giveback - UE Senior Nursing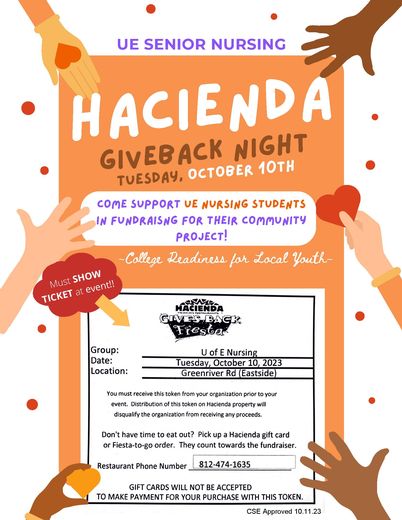 On Tuesday, October 10th, please come and support UE senior nursing students for their community project, "College Readiness Outreach", by having some Hacienda! When you come, make sure you HAVE A TICKET though, to let Hacienda know that you are coming to support the fundraiser!
For a ticket: contact Ianglen Sung (is62@evansville.edu) to get a physical ticket, or to get email of the ticket you can show at the door!
If you can't make it, you can buy a GIFT CARD! If you would like to purchase a gift card, you can do so by visiting www.haciendafiesta.com, on the day of the event (Tuesday, Oct, 10th), and include the location of the event, Greenriver Rd (Eastside), and put U of E Nursing in the "message box"
Thank you for your support!
Submitted by Joey Shreve js942@evansville.edu
UEclipse Coming April 2024
UE is thrilled to announce a speaker ahead of the upcoming solar eclipse on Monday, April 8. Maria Weber '08, PhD, a distinguished alumna of the University of Evansville (UE) and a leading astrophysicist, will be delivering a captivating presentation on the mysteries of solar magnetism titled "From Eclipses to Magnetism: The Secret Life of the Sun."
Event Details:
Title: From Eclipses to Magnetism: The Secret Life of the Sun
Presenter: Dr. Maria Weber '08, PhD
Date: Sunday, April 7
Time: 2:00 p.m.
Location: Eykamp Hall, UE Campus
Weber received her bachelor's degree with majors in physics and philosophy from UE and furthered her education by obtaining a PhD in Physics from Colorado State University. Her extensive research on solar magnetism, particularly magnetic flux emergence, has established her as a renowned authority in the field.
This exclusive presentation by Weber offers a unique opportunity for the Evansville community to delve into the fascinating world of solar magnetism and its significance in our universe. We extend a warm invitation to all interested parties to join us on Sunday, April 7, for this enlightening event.
To register and access further event details, please complete this form by clicking here.
Additionally, we encourage residents near the UE campus to witness the solar eclipse alongside our community on Monday, April 8. For more information, please visit https://www.evansville.edu/ueclipse.
Submitted by Noah Alatza na122@evansville.edu
UE Employee and Student Flu Shot Event
The wellness team with the UE onsite Tri State Clinics will be onsite in Eykamp during the following dates and times below in October to offer flu shots! These events are for insured employees and their covered dependents, non-insured employees and students.
Onsite Flu Shot Event Dates:
October 18th: 7:30am - 9:30am
October 19th: 4:00pm - 6:00pm
Please note the cost for non-insured employees and students is $20.00.
Non-insured employees should make this payment to their HR deparment as CASH ONLY.
Students should make this payment to the student health center. Cash or debit/credit is accepted.
Submitted by Haley Karges hw164@evansville.edu
Multi-Racial Student Union Launched
UE students have launched the Multi-Racial Student Union (MSU), with a mission to foster an inclusive and welcoming environment for students of diverse racial and cultural backgrounds.
The MSU's inception is rooted in the recognition of a unique need. As Derek Fudge III, the MSU President, eloquently explains, "I created the MSU because I found that, despite the presence of the BSU and other inclusion-oriented clubs, people of mixed race, backgrounds, and cultures found themselves caught in a gray area between all groups. Because of this, most Bi-Racial students are often questioned about their racial identity almost as much as they question it themselves. So, when I saw that there was a need and an audience for a Multi-Racial Student Union, I thought 'this is a step forward that needs to be taken,' whether for the betterment and progress of inter-racial relations at UE or for the increased understanding of ourselves as people."
MSU's aspirations are rooted in building a nurturing and inclusive space where multi-racial students can share their experiences and find common ground. All individuals, irrespective of race, religion, sexual orientation, gender identity, and more, are welcomed with open arms.
A supportive community is created for those who may feel adrift in a society that often forces limiting labels and boxes upon us.
Regular meetings:
When: 1st Tuesday of every month
Where: Diversity House (436 Weinbach Ave)
Time: 7:00 p.m.
Submitted by Kalea Reeves kr282@evansville.edu
Longest Table Volunteers Needed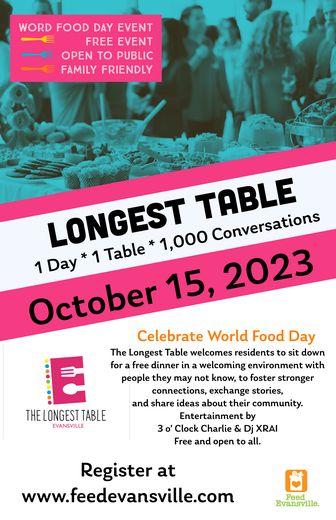 Looking for volunteer hours? Consider volunteering with Feed Evansville on October 15th!
Contact Will McDonner at wm99@evansville.edu or 812-488-5226 to register.
Submitted by Will McDonner wm99@evansville.edu
Proposal for Summer Camps 2024
If you are interested in having a camp during Summer 2024, please complete the proposal form. All proposals are due by Tuesday, November 21, and will then be reviewed by the Camp Proposal Committee. After review, the Committee will contact you with the next steps. Compensation is available.
If you have any questions or inquiries, please contact the Office of Youth Programs at 812.488.3440 or youthprograms@evansville.edu.
Submitted by Rachel Roscoe rr209@evansville.edu
Free HIV Testing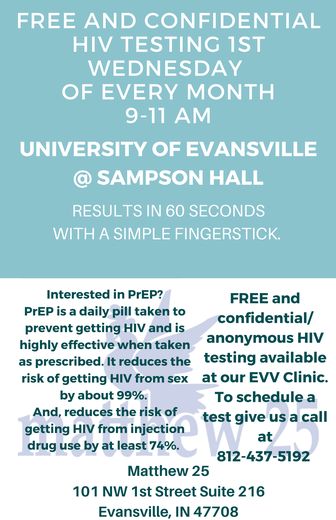 Free, HIV testing at the Student Center first Wednesday of every month from 9-11am. No appointment necessary.
Submitted by Tara Ulrich tu19@evansville.edu
Pop Up Shop Orders are In
If you ordered an item during the Pop Up Shop sale, please stop by the University Bookstore and pick up your order. You must present an ID for the Bookstore to release your order to you.
Bookstore hours are:
Monday - Thursday from 9 a.m. – 5 p.m.
Friday from 9 a.m.– 4 p.m.
Saturday from 10 a.m.– 2 p.m.
We so appreciate your support and hope that you enjoy your new UE Swag!
Submitted by Noah Alatza na122@evansville.edu
UE Men's Basketball Sport Science Internship
UE Men's Basketball is looking for students at either the professional, graduate, or undergrad level with a background in Microsoft Office, statistics, and programming (R, Python, etc.), as well as students with experience in kinesiology and biomechanics to assist with data collection, processing, analysis, and report building for sport science initiatives and projects here at UE.
Students will be immersed in the day-to-day operations of the basketball team and sports performance.

If any student is interested, please email a resume to Jeremy Portillo (jp450@evansville.edu). Interviews will be conducted immediately.
Submitted by Jeremy Portillo jp450@evansville.edu
Kyle Darnell Publishes Book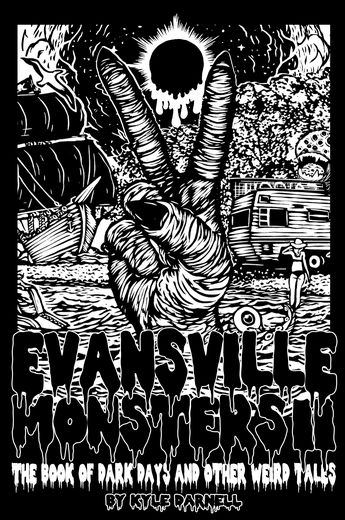 Join the Department of Art in congratulating Kyle Darnell on the publication of his book "Evansville Monsters II: The Book of Dark Days and Other Weird Tales."
Delve into the haunted heart of Evansville through a tapestry of fiction brilliantly woven in this new book. Within its pages lie ten linoleum illustrated short stories and poems, each resonating with the echoes of the town's whispered urban legends, entrancing folklore, and those inexplicable events that make your skin crawl.
In addition to teaching Printmaking (Art 330) at UE, Kyle is an award-winning author, artist, educator, chef, and music producer. His book can be purchased on Amazon.
Submitted by Carol L McCraney cm177@evansville.edu
Sympathy to Dr. Mari Plikuhn
Our sympathy goes out to Mari Plikuhn, Professor of Sociology, on the death of her father, John Gallas, on October 2, 2023. John is survived by his lifelong sweetheart and wife of 67 years, Patricia (nee Nondorf) and their 9 children: Pattijo (Roger) Porter, Karen (Jim) Frevert, John III (Christine) Gallas, Pegi (Tim Mannion) Davis, Barbara (Daniel Riffe) Deavers, Thomas (Karyn) Gallas, Gregory (Doreen) Gallas, Brian (Shannon) Gallas, and Mari (Eric) Plikuhn, as well as 28 grandchildren and 17 great-grandchildren. Visitation will be Sunday, October 8, 2023 at Hillside Funeral Home & Cremation Center, in Highland, IN and a Mass of Christian Burial will be at St. Michael the Archangel Church on Monday, October 9, 2023.
Submitted by Carol McCraney cm177@evansville.edu
WSOC: Woosley's Late Goal Sends UE Women's Soccer Past UIC, 1-0
University of Evansville sophomore defender Kaylee Woosley's (Evansville, Ind./North) free-kick goal in the 86th minute on Sunday helped power the Purple Aces to a 1-0 victory over the visiting UIC Flames at Evansville's Arad McCutchan Stadium to push UE's unbeaten streak to seven-straight matches.
Woosley blasted a ball through the UIC wall from about 20 yards out and into the lower-left corner of the goal to give UE the 1-0 victory. The goal was Woosley's first career goal at UE for the Evansville native.
Defensively, Evansville posted its fifth shutout of the season thanks to a strong effort in goal from senior goalkeeper Myia Danek (Laingsburg, Mich./Laingsburg). Danek recorded eight saves in the match, including five saves in the first half to help Evansville keep the match scoreless through the first half. Danek came up with a clutch save in the 44th minute, punching a shot by UIC's Sara Jacobs over the crossbar to keep the match scoreless.
"I thought that Myia really saved us in the first half," said UE head coach Chris Pfau. "She was really on top of her game in the first half, and she made some huge saves to keep the match scoreless.
"I also thought our backline did a tremendous job of slowing down a very good UIC team. Even though UIC got eight shots on goal today, I thought our defense did a good job of not allowing them easy looks at goal, and I give a lot of credit to our defense for this win today."
UIC out-shot Evansville 15-9 overall, including holding an 8-5 edge in shots on goal, but the two teams were even shots-wise in the second half. Freshman Brooklyn Robinson (West Haven, Utah/Fremont) led Evansville with three shots, with Woosley chipping in two, including the match-winner. Sophia Jaime paced UIC's attack with five shots, including three on target on the afternoon.
With the victory, Evansville improves to 1-3-8 overall and 1-0-5 in the MVC. UIC, meanwhile, sees its record move to 4-7-3 and 3-3-1 in the Valley with the loss. Unbeaten in its last seven matches, Evansville will now travel west to Iowa this week for two matches on the road against MVC-leading Drake and UNI. The road trip will begin Thursday afternoon with a 3 p.m. contest at second-place UNI (11-2-1, 4-2-0). Thursday's match can be seen live on ESPN+.
Submitted by Athletics
Women's golf takes 6th at Coyote Creek Classic
Wrapping up the third round with a 5-over 77, Kate Petrova earned an 11th place finish at the Coyote Creek Classic at Coyote Creek Golf Club.
Petrova's round on Sunday saw her finish with a 3-round tally of 231. She completed the event two strokes outside of the top ten. Evansville's low round of the day belonged to Allison Enchelmayer. An even 72 was tied for the second-lowest round by any player in the final round. Her effort in round three saw her jump into a tie for 19th place with a 235.
Next up for the Purple Aces was Jane Grankina. An 8-over 80 in the last 18 holes gave her a 248 for the weekend, which tied her for 34th. Tying for 39th was Magdalena Borisova. Her final round score of 88 gave her a total of 255. Trinity Dubbs carded an 89 on Sunday and finished 46th with a 269. Destynie Sheridan continued her solid weekend as an individual. She posted an 82 and tied for 32nd.
Evansville jumped to 6th place in the final standings with a 969. UE was eight shots behind 5th-place Northern Iowa while coming in three ahead of Western Illinois. Bradley clinched the team championship with an 897. They defeated Illinois State by eight strokes.
Jinyoung Yun of Illinois State registered a 2-under 70 in the final round to score a 216 in the tournament. She defeated Bradley's Grace Aromando by two shots.
Fall action will be completed on Oct. 23-24 when the ladies host the annual Braun Intercollegiate at Oak Meadow Country Club.
Submitted by Athletics
Aces fall to Panthers in weekend opener
Following an opening set that saw the University of Evansville volleyball team give Northern Iowa everything it could handle, the Panthers fended off the challenge to take a 3-0 win on Friday evening inside Meeks Family Fieldhouse.
Melanie Feliciano and Giulia Cardona were each held to a season-low six kills apiece. Angelica Gonzalez Maltes picked up the first two kills of her career while Chloe Cline tied her season mark with three. Lexi Owen also added her first collegiate kill while Holland Morris was on the floor for the first time as an Ace.
The Panthers were led by Emily Holterhaus' 18 kills.
Game 1 – UNI 25, UE 21
After Northern Iowa started the evening with a 6-2 lead, Evansville called a time out and immediately responded. Helped by two Emilee Scheumann kills and an ace from Cardona, the Aces tied the score at 6-6. The Panthers wrestled the lead away and would push their advantage to 14-11.
Once again, the Aces countered as a 5-1 run saw UE take its first lead of the match. Scheumann added another kill while Chloe Cline recorded one of her own. A pair of kills from Feliciano helped UE take its largest lead at 20-16 as the Aces looked to open the night with a win. Unfortunately, UNI had the answer in the form of a 9-1 rally to end the set and take a 25-21 decision.
Game 2 – UNI 25, UE 17
Evansville performed extremely well in the opening moments of the seconds frame as they turned a 6-3 deficit into an 11-8 lead. Another ace from Cardona highlighted the stretch while the Aces forced three Panther errors.
UNI quickly responded with six in a row to retake a 14-11 lead. From there, they would pull away to take a 25-17 victory and a 2-0 match lead. In total, they completed the set on a 17-6 run.
Game 3 – UNI 25, UE 8
Already up 2-0 in the match, the Panthers scored 11 of the first 13 points and would not look back as they clinched the match win with a 25-8 decision in the set.
On Saturday, the Aces welcome Drake for a 5 p.m. contest inside Meeks Family Fieldhouse.
Submitted by Athletics
Volleyball drops Saturday match to Bulldogs
Giulia Cardona recorded a match-high 19 points, however, a balanced Drake attack saw them hit .336 as they took a 3-0 win over the University of Evansville volleyball team on Saturday at Meeks Family Fieldhouse.
Cardona was the lone player to record double figure kills for the Purple Aces. Melanie Feliciano recorded five while Angelica Gonzalez Maltes finished with four. Kora Ruff led all players with 27 assists while Ainoah Cruz tallied 16 digs.
Haley Bush and Taylor Oberpriller paced the Bulldogs with 15 and 13 kills, respectively. Oberpriller also completed the contest with a match-high 20 digs.
Game 1 – Drake 25, UE 10
Drake set the early tone as they scored the first four points of the night. Evansville rallied to tie it right up with Giulia Cardona picking up a pair of kills. The Bulldogs slowly regained their edge. After a Cardona kill made it a 13-8 game, they outscored the Aces by a 12-2 tally to open the night with a 25-10 decision.
Game 2 – Drake 25, UE 14
Another big start saw the Bulldogs reel off the first four points of the set once again. An error by DU saw the Aces get within one at 5-4 before they pulled back out to an 11-7 advantage. Two Cardona kills made it a 2-point UE deficit and that is when the Bulldogs took over.
Four in a row pushed their lead to six and they would post another late rally to open a commanding 2-0 match lead with a 25-14 victory.
Game 3 – Drake 25, UE 20
Evansville put forth its best performance in the third frame. Kills from Madisyn Steele and Cardona helped the Aces take a 3-1 lead. The Bulldogs took their first advantage of the set at 5-4 and things would remain within two points as another Cardona tally cut the UE deficit to 11-10.
Things turned for the Bulldogs at that point with a 6-0 run to take a 17-10 lead. Using it second time out of the game, the Aces came out reenergized and posted three in a row to make it a 4-point game. Drake used its first time out at that point and would rebound to fend off the Evansville challenge and clinch the match with a 25-20 win.
UE is back home on Monday night to take on Indiana State at 6 p.m.
Submitted by Athletics
Late goal from Graham keeps Evansville unbeaten against RV Western Michigan
A goal in the 88th minute gave the University of Evansville men's soccer team a point on Saturday afternoon against RV Western Michigan.

Second half goals from wingers Auden Engen Vik and Nikosi Graham helped the Purple Aces to their first tie since September 13th in a 2-2 battle with the Western Michigan Broncos. Forward Kai Phillip and midfielder Carlos Barcia led the team on offense with two shots a piece while Phillip also added an assist to extend his point streak to three games. Goalkeeper Aidan Montoure made five saves, his best performance as a Purple Ace, against the Broncos in 90 minutes of action for a save percentage of 71.4%

"Because of the match I feel like we lost two points tonight instead of gaining one," said Interim Head Coach Robbe Tarver after the match. " The amount of time that we played up a man, it was disappointing to concede twice. But I think that's a testament to Western Michigan, well coached, hard working. They never quit, they kept creating chances and took the most of their opportunities that they had today.

"But at the end of the day we get a point in conference, which is crucial against a team that will probably be one of the top teams and maybe get a bye in the tournament. So I think getting a result at home is massive. Especially if you asked me at the start of the game after the red card, it would have been two points dropped, but after being down 2-1 with three minutes left, it's one point gained. We're not satisfied but we'll take it,".

It was a physical game from the get-go against the Broncos as Western Michigan lost its best scorer to a red card for violent behavior. It took the offenses a few minutes to find their footing with the first shot not coming until the ninth minute of the match. It would be the Broncos that had the early upper hand with the first goal of the game in the 23rd minute off an Aces player. Western Michigan's defense kept UE stifled in the first half as Evansville only had two shots, with just one going on goal.

But the Aces offense came to life early in the second half as freshman winger Auden Engen Vik scored his first collegiate goal in the 47th minute. Forward Kai Phillip shook off two Bronco players coming down the left side of the pitch and placed the ball right in front of Engen Vik outside the penalty area. Engen took it through the box, placing the ball in the bottom right corner pass Western Micighan's goalkeeper.

UE had a flurry of shots in the 55th and 56th minutes but would go quiet again until the 73rd minute. With just over five minutes left in the match, the Broncos launched a goal into the bottom right corner. But Evansville didn't let the late goal get to them, as they immediately countered with an offensive break down the field. Winger Nkosi Graham got a long outlet cross from midfielder David Hernandez on the left side of the penalty area. Graham was placed right in front of the goal and headed the ball into the bottom left corner, helping the Aces earn a point in conference play.

Evansville has the final non-conference game on its schedule up next. UE will travel up to Bloomington, Indiana for an early evening match with the Indiana Hoosiers. Kick-off from Armstrong Stadium is set for 6 p.m. CT on Wednesday, Oct. 11.
Submitted by Athletics
Petrova and Enchelmayer lead UE women in Peoria
With two rounds of the Coyote Creek Classic in the books, Kate Petrova and Allison Enchelmayer lead the way for the University of Evansville women's golf team.
Petrova is tied for 12th place with a score of 154. After opening the day with a 1-over 73, she carded an 81 in the second round. Enchelmayer was second on the team, completing the day with a 163. She began the event with an 84 before lowering her score by five strokes in the second round, finishing with a 79. Enchelmayer is tied for 31st.
Just behind her was Magdalena Borisova. With scores of 83 and 84, she ranks in 35th with a 167. One behind her in a tie for 36th is Jane Grankina. She made one of the largest jumps of the day. Grankina started the tournament with a 91 before improving by 14 strokes to a 77 in round two. Her 168 is tied for 36th. Trinity Dubbs also saw a nice jump between rounds. She opened play with a 94 before registering an 86 in the second 18 holes.
Individual Destynie Sheridan had a solid day and stands in a tie for 33rd. She posted rounds of 83 and 82.
Evansville is in 7th place in the team standings with a 652. UE holds a 14-stroke lead over Chicago State and is just 10 shots outside of the top five entering Sunday's final round. Bradley holds the lead with a 596. The Braves are three in front of Illinois State.
Grace Aromando of Bradley is the individual leader. Her even score of 144 is two in front of the Redbirds' Jinyoung Yun.
Submitted by Athletics
UE men's soccer returns home for match with RV Western Michigan
After a tough loss to the Bowling Green Falcons last week, the Purple Aces return to Arad McCutchan Stadium will be against another tough opponent. UE will face one of the three Valley teams receiving votes in the United Soccer Coaches Poll in the Broncos for the team's first matchup since 2009. Evansville has the advantage of having a full week to prepare for Western Michigan for the visitor's first match at McCutchan Stadium.

Despite having their comeback fall short last week, it was a record game for several Aces players against Bowling Green. Defender Nacho Diaz-Caneja scored his first collegiate goal against Bowling Green in the 64th minute with an assist from freshman winger Auden Engen Vik for his first collegiate point. Engen Vik also recorded multiple assists on Saturday, having a helper on both goals in Ohio. Senior forward Kai Phillip also set a career-high in Evansville's game against the Falcons by taking six shots in the match.

The Broncos come into Saturday's match with an unbeaten streak of nine matches. Western Michigan is a game away from matching last year's best unbeaten streak of 10 games, in which they recorded nine wins and one tie for a program record. On offense, the Broncos are led by Dylan Sing and Charlie Sharp. The duo has combined for 14 of WMU's 19 goals. Sharp is second on the WMU all-time scoring list with 30 goals and Sing is in a three-player tie with Tom Oatly (2004-07) and Mosen Khani (1979-82) for the fourth most goals scored in program history with 24 goals scored.
UE put 11 shots on goal against Bowling Green, making them the best team in the Valley for shots on goal per game. UE is currently averaging 6.9 shots on goal over 90 minutes, which puts them at 10th in the nation among Division I teams. The Aces are also Top Ten in the nation in shot accuracy at no. seven with a 52.7% shot accuracy.
Submitted by Athletics
Contribute to AceNotes
To have content considered for inclusion in AceNotes, please submit a Marketing Request Form. Deadline for submission to AceNotes is 10:00 a.m. on the requested date of publication. Only articles concerning UE related/sponsored activities will be accepted. Articles submitted to AceNotes may be edited for length and clarity. Submitter contact information is at the end of each article.