| | |
| --- | --- |
| PurplePulse | Friday, October 6, 2023 |
Employee Headshots on 10/16 and 10/17
Are you a new employee or in need of an updated headshot? There are two time slots coming up in October that are currently open:
Monday, October 16, from 8:30-8:50AM
Tuesday, October 17, from 11-11:15AM
Additional time will be added if spots fill up. There will be three slots open per 5-minute increment, and you can sign up to reserve your spot.
Headshots will be taken on the southwest corner of the front oval lawn (on the brick sidewalk close to the concrete sign). In the event of rain, headshots will be moved indoors. For questions, please contact Julie Beer at jb855@evansville.edu.
Submitted by Julie Beer / jb855@evansville.edu
Update on the Weinbach and Walnut Closure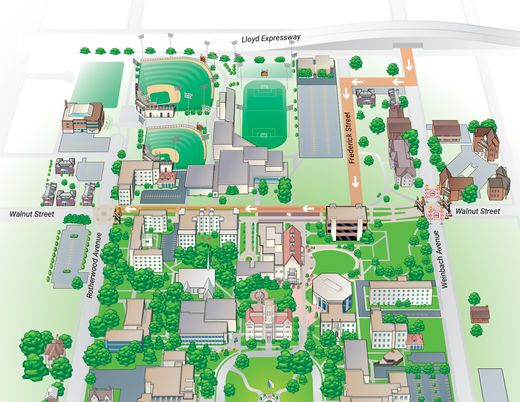 The closure at Weinbach and Walnut has started. The closure will last for 30 calendar days with the possibility of going up to 45 calendar days if there are weather issues or unforeseen delays.
Additional information and tips:
Parking Enforcement: We want to emphasize that the restrictions will be strictly enforced. Towing will only occur if a parked car creates a critical safety issue or blocks other vehicles from using the designated route. Our goal is to ensure safety and minimize disruptions during the construction period without unnecessary towing.
Traffic Flow: Signage will be placed at the entrance to the lot, directing traffic to make a right turn into the lot using the north lane. Additionally, signage on Walnut west of Rotherwood will indicate "No Thru Traffic Allowed." A barricade will be placed in the straight eastbound lane at the Rotherwood/Walnut intersection. Delivery vehicles will have a route around the barricade using the left turn lane.
Median Turnaround: Bollards on Walnut between Ridgway and Carson Center will be removed by Facilities to allow a turnaround in the median for delivery vehicles to exit through the westbound lane of Walnut. A stop sign will be placed at the turnaround to control the traffic entering the westbound lane.
Walking Safety Tips: Be predictable and ensure you follow the rules of the road and obey signs and signals and plan to walk on sidewalks whenever they are available. If there is no sidewalk, walk facing traffic and as far from traffic as possible. Keep alert at all times; don't be distracted by electronic devices that take your eyes (and ears) off the road. Whenever possible, cross streets at crosswalks or intersections, where drivers expect pedestrians. Look for cars in all directions, including those turning left or right. If a crosswalk or intersection is not available, locate a well-lit area where you have the best view of traffic. Wait for a gap in traffic that allows enough time to cross safely; continue watching for traffic as you cross. Never assume a driver sees you. Make eye contact with drivers as they approach to make sure you are seen. Be visible at all times by wearing bright clothing during the day and wear reflective materials or use a flashlight at night. Watch for cars entering or exiting driveways or backing up in parking lots. Avoid alcohol and drugs when walking; they impair your abilities and your judgment.
Alternative Parking for Team Buses: Team buses can use Lot H or Lot O during this time.
Submitted by Noah Alatza na122@evansville.edu
Caregiver Fatigue Event-UE Nursing Seniors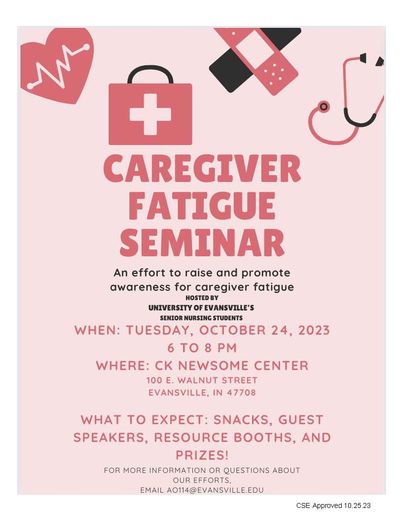 Come supprt UE Nursing Seniors! This health promotion project aims to give caregivers in the community the resources to combat caregiver fatigue and prevent abuse. The target population includes anyone who is taking care of another person, especially those with a condition or illness such autism or dementia. To educate caregivers, we will host an event on October 24th at the CK Newsome center that has speakers and vendors to provide resources about adult day care, self-care, and more. We will have snacks and raffle prizes! We hope to see you there!
Submitted by Elspeth Nelson en55@evansville.edu
Corliss Chastain Opening Reception Tonight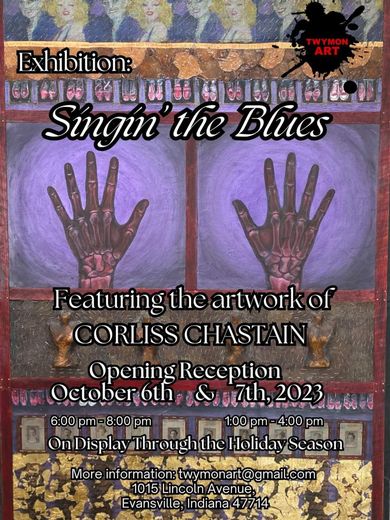 Congratulations to Corliss Chastain, UE Gallery Director and Art instructor, on her current exhibition at the Twymon Art Gallery. The exhibition opens with a reception tonight (Friday 10/6/23) from 6:00 p.m. - 8:00 p.m. There is also a reception on Saturday, October 7 from 1:00p.m. - 4:00 p.m. The Twymon Art Gallery is located at 1015 Lincoln Avenue.
The exhibition features mixed-media drawings and will run through December 2023.
Submitted by Carol McCraney cm177@evansville.edu
Campus Community Invited to Hydration Station Unveiling - Oct 9
The campus community is invited to attend the unveiling of Hydration Station - the nation's first outdoor-rated, contactless, automated, water dispensing system.
The unveiling will take place outside of the Bower-Suhrheinrich Library on Monday, October 9, at 10:00 a.m. with a reception to follow in Ridgway University Center.
Guest speakers include Mayor Lloyd Winnecke, Evansville Water Sewer Utility Deputy Director and Public Information Officer Ella Johnson-Watson, UE Executive Director for the Center for Innovation & Change Erin Lewis, and Jack Deig, CEO and founder of Hydration Station.
Jack is a sophomore at UE, earning a marketing major and psychology minor. He originally submitted the concept for Hydration Station at the 2022 High School Changemaker Challenge. Deig's journey began with a simple realization: access to clean water is a pervasive global issue that needs immediate attention. As a UE student, Jack has continued to grow the project in ChangeLab.
Originally a solo endeavor, Deig tirelessly sought funding and sponsors to bring his vision to life. Today, Hydration Station has grown into a formidable team of five individuals, with their inaugural indoor station now operational inside Patchwork Central and an additional station in the works along the downtown Evansville riverfront in partnership with the EWSU.
These stations are equipped to provide unlimited refills to anyone with a reusable bottle, aligning with Deig's philosophy that "you can't abuse a Hydration Station." While this project is not profit-driven for Deig, it is undoubtedly a labor of love, reflecting his deep-rooted connection to the Evansville community where he grew up.
Since launching Hydration Station in 2022, the project has made significant strides. Deig envisions expansion throughout the city and potentially even across the nation in the coming years. He is inviting individuals to join him on this transformative mission and explore the message and impact of Hydration Station.
Submitted by Andrew Carter ac116@evansville.edu
Hacienda Giveback - UE Senior Nursing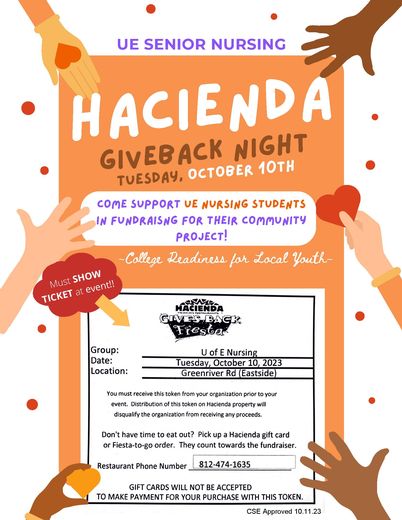 On Tuesday, October 10th, please come and support UE senior nursing students for their community project, "College Readiness Outreach", by having some Hacienda! When you come, make sure you HAVE A TICKET though, to let Hacienda know that you are coming to support the fundraiser!
For a ticket: contact Ianglen Sung (is62@evansville.edu) to get a physical ticket, or to get email of the ticket you can show at the door!
If you can't make it, you can buy a GIFT CARD! If you would like to purchase a gift card, you can do so by visiting www.haciendafiesta.com, on the day of the event (Tuesday, Oct, 10th), and include the location of the event, Greenriver Rd (Eastside), and put U of E Nursing in the "message box"
Thank you for your support!
Submitted by Joey Shreve js942@evansville.edu
8th Annual Ace Race Skele-Fun Run 5K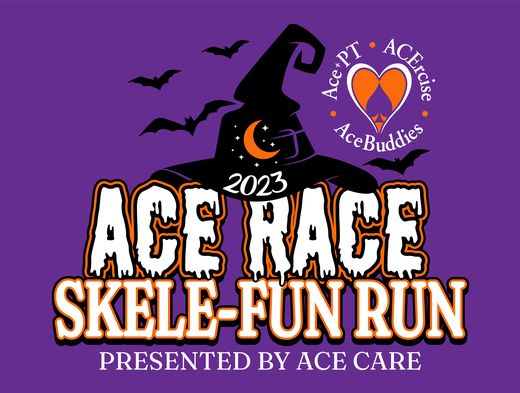 On behalf of Ace CARE, we would like to invite you to the 8th annual Ace Race Skele-fun Run 5K!
The mission of Ace CARE is to connect the unmet health care needs of the Tri-State community with the educational experience of our Doctor of Physical Therapy, Physician Assistant, and Athletic Training students. We do this by providing free physical therapy care and group exercise programs to the uninsured, underinsured, homeless, and vulnerable members of our community to improve the quality of life in our surrounding area. Last year, our students volunteered over 1,700 hours of their time, and we were able to treat over 170 patients. Ace CARE operates solely on community philanthropy, and we work tirelessly to keep our doors open to those we serve.
Ace CARE is hosting our largest fundraiser, the Ace Race 5K, on October 28, 2023. We are asking for support from our alumni, community members, and campus community so that we may continue to provide care to our most vulnerable neighbors. We welcome you to join us for the race in-person, to support our organization.
EARLY REGISTRATION ENDS MONDAY, OCTOBER 2. BEGINNING OCTOBER 3, THE REGISTRATION FEE WILL BE $30 AND WE CANNOT GUARANTEE YOU A T-SHIRT. NO SHIPPING OPTION AFTER OCTOBER 2. Registration will be open until the day of the race!
You can also follow along for updates leading up to the race, and on race day, via our Ace CARE Facebook page found here: https://www.facebook.com/acecareue/
The Ace CARE organization would like to thank you in advance for your continued support, and we hope to see you on October 28!
If you are unable to attend the race, but would like to support Ace CARE, please go to Support Ace CARE.
Submitted by Molly Watson mw362@evansville.edu
UE Majors and Minors Fair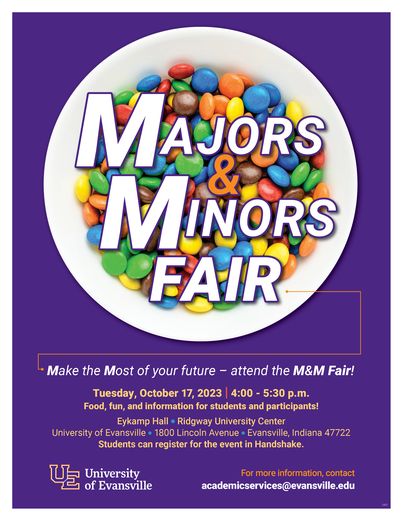 The Majors and Minors Fair is open to all students on Tuesday, Ocotber 17, from 4:00 to 5:30 p.m. in Eykamp Hall.
Thinking about changing or adding a major or minor? This is your chance to network with faculty, current students, and alumni from academic departments as well as various student support services. Learn more about the classes, research opportunities, internships, and career possilities.
For more information, contact academicservices@evansville.edu.
Submitted by Paula Heldt ph28@evansville.edu
It's Not Too Late to Register for Winter Intersession Courses
Get ahead by taking Winter Intersession online courses. Complete a missing required course, lighten your spirng load, and take advantage of winter break. Classes are held from December 15, 2023 through January 5, 2024. Students may take one class and register when registering for spring classes starting October 30, 2023.
Learn more about Winter Intersession.
Winter Intersession Course List

| | | | | |
| --- | --- | --- | --- | --- |
| Subject | Number | Cr Hrs | Course Title | Instructor |
| ART | 105 | 3 | Introduction to the Visual Arts | Larmann |
| AT | 180 | 3 | Introduction to Athletic Training | Tilly |
| CHEM | 103 | 3 | Chemistry of Adult Beverages | Miller K. |
| EXSS | 150 | 3 | Introduction to Health Sciences | Laughbaum |
| EXSS | 320 | 3 | Nutrition for Performance Health | Miller W. |
| EXSS | 417 | 3 | Advanced Exercise Science | Miller W. |
| EXSS | 453 | 2 | Motor Learning | Wilson |
| EXSS | 488 | 1 to 4 | Internship | Miller W. |
| EXSS | 488 | 1 to 4 | Internship | Wilson |
| FIN | 280 | 3 | Introduction to Personal Finance | Brockman |
| HIST | 112 | 3 | World History 1500 - Present | MacLeod |
| MUS | 156 | 3 | Music in America | Strandberg |
| NEUR | 125 | 3 | Introduction to Neuroscience | Campese |
| PH | 190 | 3 | Introduction to Public Health | Patel-Dovlatabadi |
| PSYC | 121 | 3 | Introduction to Psychology | Campese |
| PSYC | 226 | 3 | Child and Adolescent Psychology | Hennon |
| PSYC | 229 | 3 | Social Psychology | McCracken |
| PSYC | 450 | 3 | Learning | Campese |
| QM | 227 | 3 | Introduction to Statistics | Khormali |
| SOC | 105 | 3 | Introduction to Sociology | Plikuhn |
| SOC | 230 | 3 | Social Problems in the Modern World | Plikuhn |
Submitted by Paula Heldt ph28@evansville.edu
Longest Table Volunteers Needed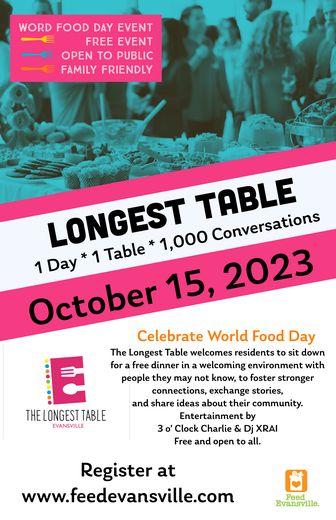 Looking for volunteer hours? Consider volunteering with Feed Evansville on October 15th!
Contact Will McDonner at wm99@evansville.edu or 812-488-5226 to register.
Submitted by Will McDonner wm99@evansville.edu
Work-Study Information Moving to Self-Service
Work-study information previously found on WebAdvisor can now be found in Self-Service by clicking on the UE symbol in the banner on the far left-hand side of the page. Job postings and required employment documents can be found under the Student Employment link. Timecards should still be accessed via WebAdvisor unless you have already accessed your timecard via Self-Service! Access through WebAdvisor will be discontinued on October 13th. Further questions can be directed to Emily Jagielo in the Office of Student Financial Services.
Submitted by Emily Jagielo ej137@evansville.edu
Bookstore Limited Hours
During fall break, the University Bookstore will have limited hours.
We will be closed this coming Saturday and Sunday, with limited hours on Monday and Tuesday of 10AM-3PM.
We will resume regular hours next Wednesday. Please keep this in mind when shopping the bookstore!
Submitted by Niamh N Steffens ss837@evansville.edu
Pop Up Shop Orders are In
If you ordered an item during the Pop Up Shop sale, please stop by the University Bookstore and pick up your order. You must present an ID for the Bookstore to release your order to you.
Bookstore hours are:
Monday - Thursday from 9 a.m. – 5 p.m.
Friday from 9 a.m.– 4 p.m.
Saturday from 10 a.m.– 2 p.m.
We so appreciate your support and hope that you enjoy your new UE Swag!
Submitted by Noah Alatza na122@evansville.edu
Volunteers Needed | UE Gives Back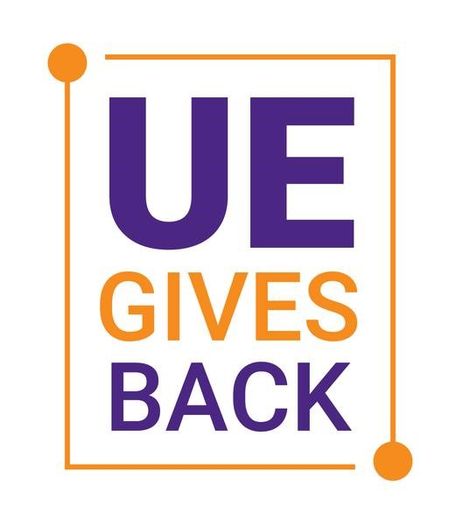 The University of Evansville is excited to announce the return of UE Gives Back for employees! Mark your calendars for Friday, October 20, and sign up today with the UE Gives Back Registration Form. With the approval of immediate supervisors and as schedules permit, employees may choose to volunteer on UE's campus without scheduling a day of vacation.
If you have any questions or need clarification, please contact Rachel Roscoe at 812.488.5004 or rr209@evansville.edu.
Submitted by Rachel Roscoe rr209@evansville.edu
Faculty Interest Group (FIG) Sign-ups
Faculty are welcome and encouraged to sign up for Faculty Interest Groups (FIGs) for Fall 2024. These groups are faculty-led and will cover a wide range of topics. The goal is to stay engaged with your colleagues and grow in your pedagogical development!
Please sign up using the link provided by the end of the day on Friday, October 6. FIGs will start meeting after Fall Break: https://forms.office.com/r/0HbW5fibbU.
Submitted by Julie Merkle jm757@evansville.edu
Apply to Graduate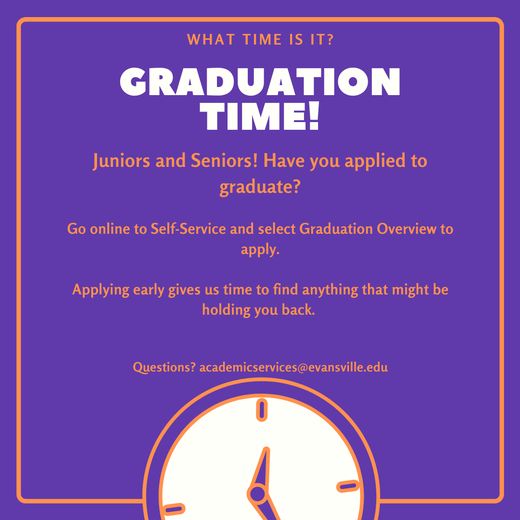 It's that time! Be sure to apply now to graduate via Self-Service.
Submitted by Kelsey Gordon kg302@evansville.edu
Volunteers needed for Balance Assessments 10/24/2023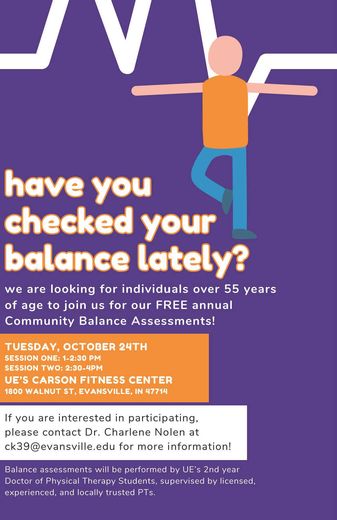 The Exercise Science and second year DPT students will be conducting community balance assessments as part of the Bronstein Geriatric Wellness Program. We are looking for 24 participants who are 55 years or older to take part in these assessments. Faculty will be present to assist the students throughout the assessments. Please share this opportunity with anyone you think might be interested and able to participate. The participant does not need to be able to walk but should at least be able to stand for the assessments.

Who: Exercise Science and 2nd year DPT students
What: DPT students will complete testing of your balance, educate you on the findings during the testing, and provide you with a home exercise program
When: 10/24/2023 Session 1 from 1:00-2:30 or Session 2 from 2:30-4:00
Where: Carson Center, Maikranz Gym
Why: To improve the balance and mobility of the community through the Bronstein Geriatric Wellness Program initiative

Participants can contact Dr. Charlene Nolen at ck39@evansville.edu to sign up or seek further information.
Submitted by Charlene Nolen ck39@evansville.edu
Hannah Evelyn Jones Exhibit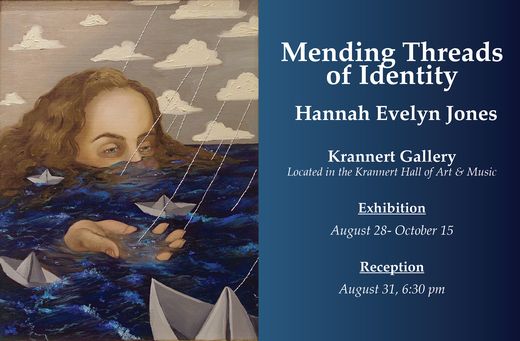 The Department of Art presents Hannah Evelyn Jone's exhibit "Mending Threads of Identity" in the Krannert Gallery through October 15, 2023. Gallery hours are Mon - Sat 8:00am-8:00pm and Sun noon - 8:00pm.
Submitted by Carol L McCraney cm177@evansville.edu
Billy Twymon Exhibit Opens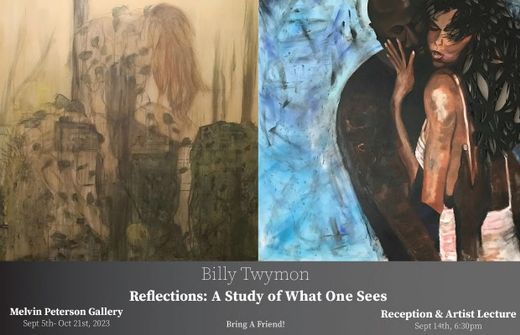 The UE Friends of Art and the UE Department of Art present Billy Twymon's exhibit "Reflections: A Study of What One Sees" in the Melvin Peterson Gallery from Sept 5 through October 21, 2023.
Please join us for a reception and artist lecture in the Gallery on Thursday, September 14 at 6:30PM.
Gallery hours are Mon, Tues, Fri, & Sat 12:00pm - 3:00pm and Wed & Thurs 12:00pm - 6:00 pm.
Submitted by Carol L McCraney cm177@evansville.edu
Kyle Darnell Publishes Book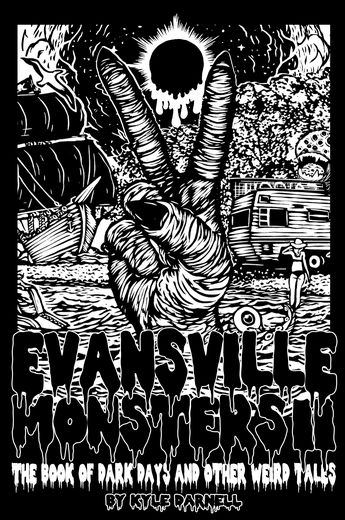 Join the Department of Art in congratulating Kyle Darnell on the publication of his book "Evansville Monsters II: The Book of Dark Days and Other Weird Tales."
Delve into the haunted heart of Evansville through a tapestry of fiction brilliantly woven in this new book. Within its pages lie ten linoleum illustrated short stories and poems, each resonating with the echoes of the town's whispered urban legends, entrancing folklore, and those inexplicable events that make your skin crawl.
In addition to teaching Printmaking (Art 330) at UE, Kyle is an award-winning author, artist, educator, chef, and music producer. His book can be purchased on Amazon.
Submitted by Carol L McCraney cm177@evansville.edu
Sympathy to Dr. Mari Plikuhn
Our sympathy goes out to Mari Plikuhn, Professor of Sociology, on the death of her father, John Gallas, on October 2, 2023. John is survived by his lifelong sweetheart and wife of 67 years, Patricia (nee Nondorf) and their 9 children: Pattijo (Roger) Porter, Karen (Jim) Frevert, John III (Christine) Gallas, Pegi (Tim Mannion) Davis, Barbara (Daniel Riffe) Deavers, Thomas (Karyn) Gallas, Gregory (Doreen) Gallas, Brian (Shannon) Gallas, and Mari (Eric) Plikuhn, as well as 28 grandchildren and 17 great-grandchildren. Visitation will be Sunday, October 8, 2023 at Hillside Funeral Home & Cremation Center, in Highland, IN and a Mass of Christian Burial will be at St. Michael the Archangel Church on Monday, October 9, 2023.
Submitted by Carol McCraney cm177@evansville.edu
WSOC: UE Women's Soccer Returns To Action Sunday Against UIC
After a week off from competition, the University of Evansville women's soccer team will return to action on Sunday afternoon, as the Purple Aces will put a six-match unbeaten streak on the line against the Flames of UIC. Kick-off is set for 1 p.m. and Sunday's match can be seen live on ESPN+.
Evansville rallied for its sixth-straight tie last Sunday, as junior forward Hailey Autenrieb's 67th-minute strike off a free-kick from sophomore defender Kaylee Woosley helped the Purple Aces rally for a 1-1 tie against Belmont. UE's six-straight ties are the most in Missouri Valley Conference history, and the Purple Aces' six-match unbeaten streak is currently the second-longest active streak in the Valley, behind Valparaiso's current seven-match streak.
Evansville is currently 0-3-8 overall and 0-0-5 in the MVC. The Purple Aces' defense continues to rank among the Valley's best in goals-against average at 0.91, while the offense has picked it up of late, scoring in four of UE's last five Valley matches. Evansville's goalkeeping corps of senior Myia Danek, fifth-year member Georgia Katsonouri, and freshman Elke Travis continue to rank among the nation's best in save percentage, as UE will enter the weekend ranked 41st nationally with a .833 save percentage.
UIC will enter Sunday's match at 4-6-3 overall and 3-2-1 in the MVC after playing to a 0-0 tie at Indiana State on Thursday night. The Flames are not far behind UE defensively in the Valley rankings, allowing just 1.00 goals per game. Offensively, sophomore midfielder Makenna Maloy leads a balanced UIC attack with three goals and four assists. Overall, nine different Flames have scored this season, including freshman midfielder Emmy Higgins, who is from the Tri-State area and is a former Castle Knight.
Sunday's match will be the second all-time meeting between UE and UIC. The only other meeting in the all-time series came last year in Chicago, when the Flames scored in the 81st minute to collect a 1-0 victory.
Submitted by Athletics
Volleyball set for three home matches in four days
Looking to make a major statement, the University of Evansville volleyball team welcomes two of the top teams in the Missouri Valley Conference this weekend with Northern Iowa and Drake heading to Meeks Family Fieldhouse. The Purple Aces are set for three matches in four nights as they face the Panthers on Friday and the Bulldogs on Saturday before playing host to Indiana State on Monday. ESPN+ will have the coverage of the Northern Iowa and Indiana State contests.
Last Time Out
- Three-point losses in the second and third sets saw the Aces drop a 3-0 match last Saturday at Missouri State
- Melanie Feliciano and Giulia Cardona registered 13 kills apiece and each posted a double-double with 13 and 11 digs, respectively
- Ainoah Cruz paced the defense with 17 digs while Kora Ruff added 32 assists
She's #1
- Giulia Cardona finished the first conference weekend with an unreal average of 8.86 kills per set and has continued to add to her numbers since that time
- After finishing with 26 at Murray State, Cardona reset her career-high with 36 at Belmont on Saturday
- Her 36 kills was the most in the NCAA in a 4-set match this season and tied for the highest tally in any match of the 2023 season while her 26-kill performance against the Racers was the most this season by any NCAA player in a 3-set contest
Double Figures
- Melanie Feliciano had her top MVC contest of the season at Missouri State, recording 13 kills along with 11 digs
- She continues to rank in the top 20 in the Valley in both stats, standing 11th with 3.26 kills/set and 18th with 2.74 digs/game
- She put together her best weekend of the season at the DePaul Invitational, setting her season high with 22 kills and has at least 9 kills in 12 of Evansville's 15 matches
- Defensively, Feliciano has chipped in 11 digs in 7 of the last 11 matches
Making Her Mark
- As the season has progressed, freshman Luana Gazda Kuhn has seen her numbers improve as she navigates her first collegiate season
- Her defense has been stellar through four Valley matches as she has contributed 2.33 digs/set, up from her season tally of 1.74
- On the offensive side, she set her season high with 9 kills at Southern Illinois
Scouting the Opposition
- Northern Iowa enters Friday's match with a 10-6 mark while winning their first four MVC contests
- Kira Fallert (3.44/set) and Emily Holterhaus (3.33/set) rank 5th and 8th, respectively, in the MVC with their kill averages
- Drake opens the weekend with a 10-6 overall record and are 3-1 in Valley action
- The Bulldogs are led by Taylor Oberpriller, whose 4.00 kills per game is third in the conference
Submitted by Athletics
Contribute to AceNotes
To have content considered for inclusion in AceNotes, please submit a Marketing Request Form. Deadline for submission to AceNotes is 10:00 a.m. on the requested date of publication. Only articles concerning UE related/sponsored activities will be accepted. Articles submitted to AceNotes may be edited for length and clarity. Submitter contact information is at the end of each article.