| | |
| --- | --- |
| PurplePulse | Wednesday, October 4, 2023 |
Update on the Weinbach and Walnut Closure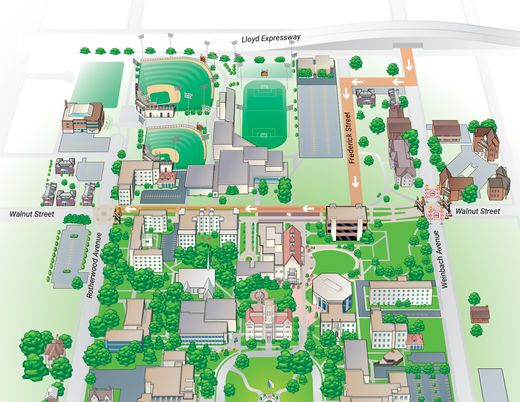 The closure at Weinbach and Walnut has started. The closure will last for 30 calendar days with the possibility of going up to 45 calendar days if there are weather issues or unforeseen delays.
Additional information and tips:
Parking Enforcement: We want to emphasize that the restrictions will be strictly enforced. Towing will only occur if a parked car creates a critical safety issue or blocks other vehicles from using the designated route. Our goal is to ensure safety and minimize disruptions during the construction period without unnecessary towing.
Traffic Flow: Signage will be placed at the entrance to the lot, directing traffic to make a right turn into the lot using the north lane. Additionally, signage on Walnut west of Rotherwood will indicate "No Thru Traffic Allowed." A barricade will be placed in the straight eastbound lane at the Rotherwood/Walnut intersection. Delivery vehicles will have a route around the barricade using the left turn lane.
Median Turnaround: Bollards on Walnut between Ridgway and Carson Center will be removed by Facilities to allow a turnaround in the median for delivery vehicles to exit through the westbound lane of Walnut. A stop sign will be placed at the turnaround to control the traffic entering the westbound lane.
Walking Safety Tips: Be predictable and ensure you follow the rules of the road and obey signs and signals and plan to walk on sidewalks whenever they are available. If there is no sidewalk, walk facing traffic and as far from traffic as possible. Keep alert at all times; don't be distracted by electronic devices that take your eyes (and ears) off the road. Whenever possible, cross streets at crosswalks or intersections, where drivers expect pedestrians. Look for cars in all directions, including those turning left or right. If a crosswalk or intersection is not available, locate a well-lit area where you have the best view of traffic. Wait for a gap in traffic that allows enough time to cross safely; continue watching for traffic as you cross. Never assume a driver sees you. Make eye contact with drivers as they approach to make sure you are seen. Be visible at all times by wearing bright clothing during the day and wear reflective materials or use a flashlight at night. Watch for cars entering or exiting driveways or backing up in parking lots. Avoid alcohol and drugs when walking; they impair your abilities and your judgment.
Alternative Parking for Team Buses: Team buses can use Lot H or Lot O during this time.
Submitted by Noah Alatza na122@evansville.edu
Campus Community Invited to Hydration Station Unveiling - Oct 9
The campus community is invited to attend the unveiling of Hydration Station - the nation's first outdoor-rated, contactless, automated, water dispensing system.
The unveiling will take place outside of the Bower-Suhrheinrich Library on Monday, October 9, at 10:00 a.m. with a reception to follow in Ridgway University Center.
Guest speakers include Mayor Lloyd Winnecke, Evansville Water Sewer Utility Deputy Director and Public Information Officer Ella Johnson-Watson, UE Executive Director for the Center for Innovation & Change Erin Lewis, and Jack Deig, CEO and founder of Hydration Station.
Jack is a sophomore at UE, earning a marketing major and psychology minor. He originally submitted the concept for Hydration Station at the 2022 High School Changemaker Challenge. Deig's journey began with a simple realization: access to clean water is a pervasive global issue that needs immediate attention. As a UE student, Jack has continued to grow the project in ChangeLab.
Originally a solo endeavor, Deig tirelessly sought funding and sponsors to bring his vision to life. Today, Hydration Station has grown into a formidable team of five individuals, with their inaugural indoor station now operational inside Patchwork Central and an additional station in the works along the downtown Evansville riverfront in partnership with the EWSU.
These stations are equipped to provide unlimited refills to anyone with a reusable bottle, aligning with Deig's philosophy that "you can't abuse a Hydration Station." While this project is not profit-driven for Deig, it is undoubtedly a labor of love, reflecting his deep-rooted connection to the Evansville community where he grew up.
Since launching Hydration Station in 2022, the project has made significant strides. Deig envisions expansion throughout the city and potentially even across the nation in the coming years. He is inviting individuals to join him on this transformative mission and explore the message and impact of Hydration Station.
Submitted by Andrew Carter ac116@evansville.edu
BSU Trunk or Treat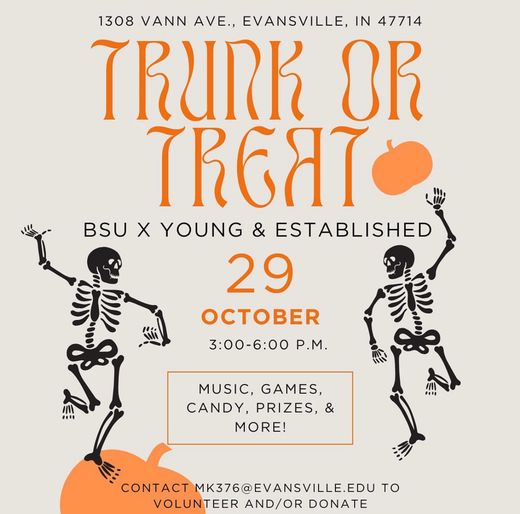 The Black Student Union is hosting our annual Trunk or Treat with Young & Established on Sunday, October 29th from 3 pm - 6 pm. This family-friendly event will be held at Young & Established and will feature a safe and fun Halloween experience for all ages. We are looking for volunteers and donations to help us put on this event! Please visit the link below to sign up for our event, help with tabling to raise funds, and/or donate. Donations will go towards purchasing candy, decorations, and other necessary items for the event. We hope to see you all there!
Sign up and/or donate: https://superlink.io/ueblackstudentunion
Submitted by Trinitie Terrell tt141@evansville.edu
Hacienda Giveback - UE Senior Nursing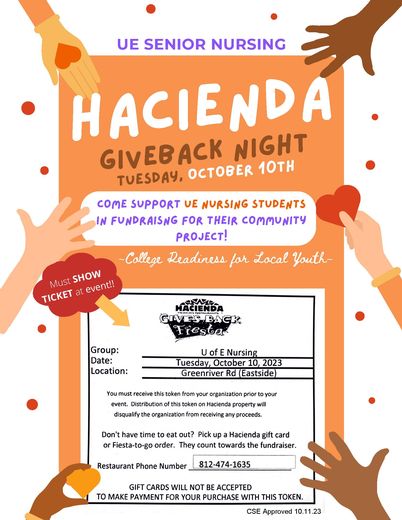 On Tuesday, October 10th, please come and support UE senior nursing students for their community project, "College Readiness Outreach", by having some Hacienda! When you come, make sure you HAVE A TICKET though, to let Hacienda know that you are coming to support the fundraiser!
For a ticket: contact Ianglen Sung (is62@evansville.edu) to get a physical ticket, or to get email of the ticket you can show at the door!
If you can't make it, you can buy a GIFT CARD! If you would like to purchase a gift card, you can do so by visiting www.haciendafiesta.com, on the day of the event (Tuesday, Oct, 10th), and include the location of the event, Greenriver Rd (Eastside), and put U of E Nursing in the "message box"
Thank you for your support!
Submitted by Joey Shreve js942@evansville.edu
Orange Leaf Giveback - UE Senior Nursing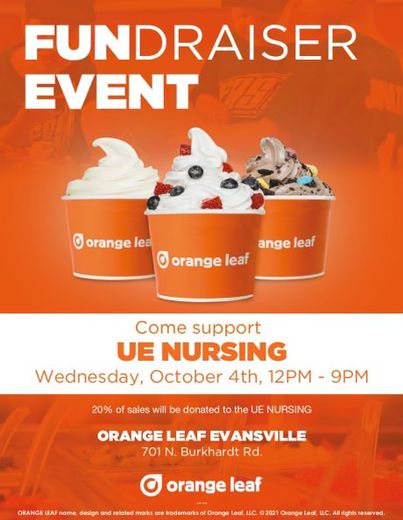 On Wednesday, October 4th from 12-9pm, please come support UE nursing senior project, "College Readiness Outreach," by getting some frozen yogurt on no-weight Wednesday!
Submitted by Ianglen Sung is62@evansville.edu
Staff and Administrators Assembly Book Club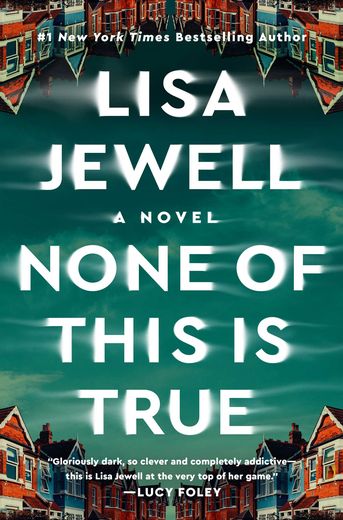 SAA Book Club Read for October
None of This is True by Lisa Jewell
Lisa Jewell returns with a scintillating new psychological thriller about a woman who finds herself the subject of her own popular true crime podcast. Celebrating her forty-fifth birthday at her local pub, popular podcaster Alix Summers crosses paths with an unassuming woman called Josie Fair. Josie, it turns out, is also celebrating her forty-fifth birthday. They are, in fact, birthday twins. A few days later, Alix and Josie bump into each other again, this time outside Alix's children's school. Josie has been listening to Alix's podcasts and thinks she might be an interesting subject for her series. She is, she tells Alix, on the cusp of great changes in her life. Josie's life appears to be strange and complicated, and although Alix finds her unsettling, she can't quite resist the temptation to keep making the podcast. Slowly she starts to realize that Josie has been hiding some very dark secrets, and before she knows it, Josie has inveigled her way into Alix's life—and into her home. But, as quickly as she arrived, Josie disappears. Only then does Alix discover that Josie has left a terrible and terrifying legacy in her wake, and that Alix has become the subject of her own true crime podcast, with her life and her family's lives under mortal threat. Who is Josie Fair? And what has she done? (from Goodreads.com)
We will meet on Wednesday October 25th at 12 noon in the Phillips Alcove located in the Multicultural Student Commons (on the second floor of Ridgway) to discuss the book. Everyone is invited. Feel free to bring your lunch.
If you would like to be added to the SAA Book Club list please contact Kathy Taylor at ks6
Submitted by Katherine Taylor ks6@evansville.edu
8th Annual Ace Race Skele-Fun Run 5K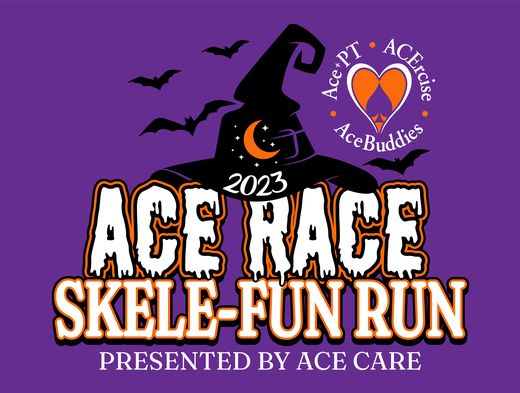 On behalf of Ace CARE, we would like to invite you to the 8th annual Ace Race Skele-fun Run 5K!
The mission of Ace CARE is to connect the unmet health care needs of the Tri-State community with the educational experience of our Doctor of Physical Therapy, Physician Assistant, and Athletic Training students. We do this by providing free physical therapy care and group exercise programs to the uninsured, underinsured, homeless, and vulnerable members of our community to improve the quality of life in our surrounding area. Last year, our students volunteered over 1,700 hours of their time, and we were able to treat over 170 patients. Ace CARE operates solely on community philanthropy, and we work tirelessly to keep our doors open to those we serve.
Ace CARE is hosting our largest fundraiser, the Ace Race 5K, on October 28, 2023. We are asking for support from our alumni, community members, and campus community so that we may continue to provide care to our most vulnerable neighbors. We welcome you to join us for the race in-person, to support our organization.
EARLY REGISTRATION ENDS MONDAY, OCTOBER 2. BEGINNING OCTOBER 3, THE REGISTRATION FEE WILL BE $30 AND WE CANNOT GUARANTEE YOU A T-SHIRT. NO SHIPPING OPTION AFTER OCTOBER 2. Registration will be open until the day of the race!
You can also follow along for updates leading up to the race, and on race day, via our Ace CARE Facebook page found here: https://www.facebook.com/acecareue/
The Ace CARE organization would like to thank you in advance for your continued support, and we hope to see you on October 28!
If you are unable to attend the race, but would like to support Ace CARE, please go to Support Ace CARE.
Submitted by Molly Watson mw362@evansville.edu
White water rafting over Fall Break
Looking for an adventure over Fall Break?
Join the UE Venturing Crew as we tackle the White Waters of the Ocoee River.
Spending evenings around a campfire playing games.
Hiking some of the Appalachian Mountains' most scenic trails while looking at waterfalls.
Paddle boarding on the Parkville Lake.
You can find out more information and sign up in Ridgway today thru Wednesday from 11am till 1pm.
The cost for the trip would be $100.
If you're unable to sign up at the table, email Emily Schwartz (es345) to make arrangements.
Submitted by Fred Wilson fw2@evansville.edu
Farewell Reception for Fred Wilson
The Office of Facilities Management and Planning wishes to congratulate Fred Wilson on his upcoming retirement from the University of Evansville. Fred has proudly served the University in multiple roles within Facilities Management during his 25 years with the University. Fred leaves his position as Building Services Manager and the Immediate Past President of the Staff and Administrators Assembly. Fred received his bachelor's degree in Global Leadership and his master's degree in Public Service Administration from UE. Please join us Friday, October 13th as we celebrate Fred's contributions with a farewell reception, details shown below. We hope to see you there!
Friday, October 13th
1 pm – 2 pm
Class of '59 Gallery, Ridgway University Center
Submitted by Karen McDonald km598@evansville.edu
UE Employee and Student Flu Shot Event
The wellness team with the UE onsite Tri State Clinics will be onsite in Eykamp during the following dates and times below in October to offer flu shots! These events are for insured employees and their covered dependents, non-insured employees and students.
Onsite Flu Shot Event Dates:
October 18th: 7:30am - 9:30am
October 19th: 4:00pm - 6:00pm
Please note the cost for non-insured employees and students is $20.00.
Non-insured employees should make this payment to their HR deparment as CASH ONLY.
Students should make this payment to the student health center. Cash or debit/credit is accepted.
Submitted by Haley Karges hw164@evansville.edu
Longest Table Volunteers Needed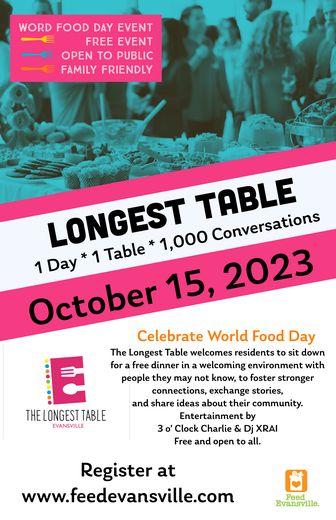 Looking for volunteer hours? Consider volunteering with Feed Evansville on October 15th!
Contact Will McDonner at wm99@evansville.edu or 812-488-5226 to register.
Submitted by Will McDonner wm99@evansville.edu
Work-Study Information Moving to Self-Service
Work-study information previously found on WebAdvisor can now be found in Self-Service by clicking on the UE symbol in the banner on the far left-hand side of the page. Job postings and required employment documents can be found under the Student Employment link. Timecards should still be accessed via WebAdvisor unless you have already accessed your timecard via Self-Service! Access through WebAdvisor will be discontinued on October 13th. Further questions can be directed to Emily Jagielo in the Office of Student Financial Services.
Submitted by Emily Jagielo ej137@evansville.edu
Bookstore Limited Hours
During fall break, the University Bookstore will have limited hours.
We will be closed this coming Saturday and Sunday, with limited hours on Monday and Tuesday of 10AM-3PM.
We will resume regular hours next Wednesday. Please keep this in mind when shopping the bookstore!
Submitted by Niamh N Steffens ss837@evansville.edu
Proposal for Summer Camps 2024
If you are interested in having a camp during Summer 2024, please complete the proposal form. All proposals are due by Tuesday, November 21, and will then be reviewed by the Camp Proposal Committee. After review, the Committee will contact you with the next steps. Compensation is available.
If you have any questions or inquiries, please contact the Office of Youth Programs at 812.488.3440 or youthprograms@evansville.edu.
Submitted by Rachel Roscoe rr209@evansville.edu
Free HIV Testing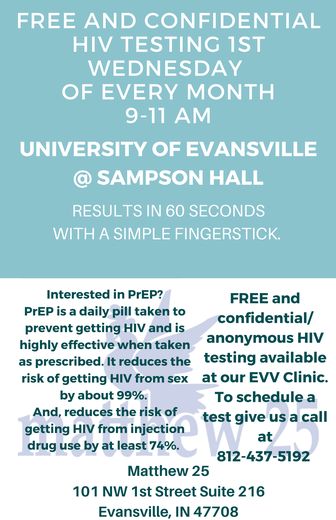 Free, HIV testing at the Student Center first Wednesday of every month from 9-11am. No appointment necessary.
Submitted by Tara Ulrich tu19@evansville.edu
Pop Up Shop Orders are In
If you ordered an item during the Pop Up Shop sale, please stop by the University Bookstore and pick up your order. You must present an ID for the Bookstore to release your order to you.
Bookstore hours are:
Monday - Thursday from 9 a.m. – 5 p.m.
Friday from 9 a.m.– 4 p.m.
Saturday from 10 a.m.– 2 p.m.
We so appreciate your support and hope that you enjoy your new UE Swag!
Submitted by Noah Alatza na122@evansville.edu
Volunteers Needed | UE Gives Back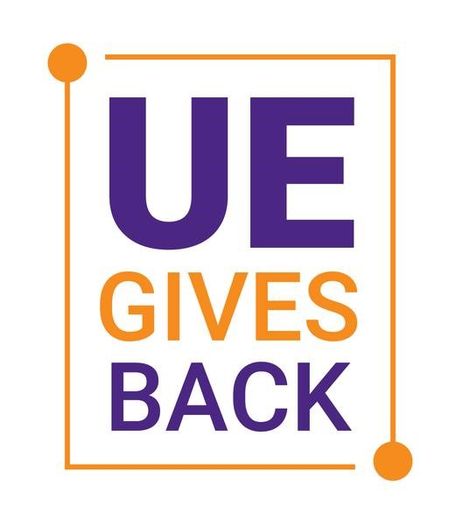 The University of Evansville is excited to announce the return of UE Gives Back for employees! Mark your calendars for Friday, October 20, and sign up today with the UE Gives Back Registration Form. With the approval of immediate supervisors and as schedules permit, employees may choose to volunteer on UE's campus without scheduling a day of vacation.
If you have any questions or need clarification, please contact Rachel Roscoe at 812.488.5004 or rr209@evansville.edu.
Submitted by Rachel Roscoe rr209@evansville.edu
Faculty Interest Group (FIG) Sign-ups
Faculty are welcome and encouraged to sign up for Faculty Interest Groups (FIGs) for Fall 2024. These groups are faculty-led and will cover a wide range of topics. The goal is to stay engaged with your colleagues and grow in your pedagogical development!
Please sign up using the link provided by the end of the day on Friday, October 6. FIGs will start meeting after Fall Break: https://forms.office.com/r/0HbW5fibbU.
Submitted by Julie Merkle jm757@evansville.edu
Employee Mobile Mammography Services
Employees - Ascension St. Vincent is providing mobile mammography services for the University of Evansville. The mobile mammography bus will be located next to the Krannert Building on October 5th from 9:00AM - 2:00PM. Please click the link below to sign up for an appointment time! An Ascension Breast Center representative will call you prior to your appointment date to verify all necessary registration information.
AceLink : Mobile Mammography Appointment Registration (evansville.edu)
Submitted by Taylor Kollak tk148@evansville.edu
UE Men's Basketball Sport Science Internship
UE Men's Basketball is looking for students at either the professional, graduate, or undergrad level with a background in Microsoft Office, statistics, and programming (R, Python, etc.), as well as students with experience in kinesiology and biomechanics to assist with data collection, processing, analysis, and report building for sport science initiatives and projects here at UE.
Students will be immersed in the day-to-day operations of the basketball team and sports performance.

If any student is interested, please email a resume to Jeremy Portillo (jp450@evansville.edu). Interviews will be conducted immediately.
Submitted by Jeremy Portillo jp450@evansville.edu
Kyle Darnell Publishes Book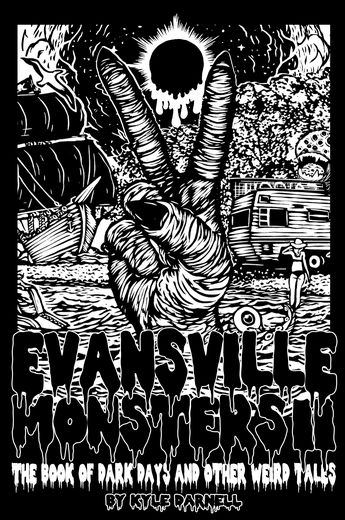 Join the Department of Art in congratulating Kyle Darnell on the publication of his book "Evansville Monsters II: The Book of Dark Days and Other Weird Tales."
Delve into the haunted heart of Evansville through a tapestry of fiction brilliantly woven in this new book. Within its pages lie ten linoleum illustrated short stories and poems, each resonating with the echoes of the town's whispered urban legends, entrancing folklore, and those inexplicable events that make your skin crawl.
In addition to teaching Printmaking (Art 330) at UE, Kyle is an award-winning author, artist, educator, chef, and music producer. His book can be purchased on Amazon.
Submitted by Carol L McCraney cm177@evansville.edu
Rodriguez and Romashkin post scores of 68 in final round
Led by Daniil Romashkin and Andres Rodriguez, the University of Evansville men's golf team posted one of the lowest teams scores of the day in the final round of the Bubba Barnett Intercollegiate.
Completing the final day at RidgePointe Country Club with a 284, the Purple Aces had the 6th-best team score of the round. Romashkin and Rodriguez each posted rounds at 4-under 68. Romashkin's round saw him earn a tie for 9th place with a total of 209 strokes. Rodriguez improved in each round, culminating in a final score of 218. He tied for 47th.
Nicholas Gushrowski recorded his low round of the tournament on Tuesday. An even 72 saw him tie for 64th with a 223. Caleb Wassmer also had his best performance of the weekend. His 76 gave him a 3-round tally of 233. Carson Parker carded an 80 in the final 18 holes to wrap up the event with a 238.
Evansville came home in 15th place, just two behind Texas A&M-Commerce and four behind Southeastern Louisiana. Arkansas State earned the team win. Their final score of 817 bested second-place Memphis by 13 strokes. Erik Jansson of Jacksonville State was the medalist. Each of his rounds came in at least four strokes under par with his 200 finishing one ahead of second place.
The men are back in action on Oct. 16-17 at "The Buddy", which will take place in Murray, Ky.
Submitted by Athletics
Women's golf wraps up Saluki Invitational
Three University of Evansville women's golfers posted their low rounds of the tournament as the Purple Aces wrapped up the Saluki Invitational in 7th place on Tuesday.
Kate Petrova, Jane Grankina and Trinity Dubbs each posted their lowest scores at Dalhousie Golf Club. Petrova was the top finisher for the Aces, tying for 7th place. After identical rounds of 76 in the first day of action, Petrova carded a 2-over 74 in the final 18. Her 226 earned the top 10 finish.
Magdalena Borisova and Grankina were next up for Evansville, tying for 28th with 3-round tallies of 242. Grankina registered her lowest score of the tournament with a 76 while Borisova completed the day with an 83. Finishing two strokes behind the duo was Trinity Dubbs. Improving in each round of the tournament, she scored a 75 on Tuesday to finish in 32nd.
Destynie Sheridan completed the three rounds with a 252. She checked in with an 84 in the final round. Adeline Wittmer scored a 98 in the last 18 on her way to a final score of 290.
Evansville did its best to rally in the final standings, coming just three strokes shy of 6th-place Lindenwood. Austin Peay continued their dominant effort, winning the team championship by 41 strokes over Stephen F. Austin. The Governors finished the weekend with an 882. Erica Scutt of APSU was the medalist with a 212. She defeated teammate Maggie Glass by four shots.
Fall action continues on Oct. 7-8 when a trip to Peoria, Ill. for the Coyote Creek Classic.
Submitted by Athletics
Petrova and Borisova lead UE women at Saluki Invitational
Identical rounds of 76 had Kate Petrova in the top ten with two out of three rounds complete in the Saluki Invitational at Dalhousie Golf Club.
Petrova's rounds have her tied for 8th place with a score of 152. She is just one shot outside of the top five. Second on the University of Evansville women's golf team was Magdalena Borisova. She made the Purple Aces' largest jump of the day. After carding an 83 in the first round, Borisova posted a 4-over 76 in the second round. Her 159 is tied for 23rd place.
Jane Grankina is third for UE. Scores of 84 and 82 have her tied for 33rd. Destynia Sheridan and Trinity Dubbs completed Monday with scores of 168 and 169, respectively. Both opened play with an 86 while Sheridan posted an 82 in the second 18 while Dubbs finished with an 83.
Adeline Wittmer played as an individual and tallied scores of 92 and 100. Evansville is in 7th place with a 645 and is just eight behind Lindenwood for the 6th spot.
With a 2-round team score of 586, Austin Peay holds a commanding lead at the top spot with Stephen F. Austin in second, 32 shots behind. Erica Scutt of APSU leads the individuals with a 139. She is five in front of a second place tie. The third and final round is set for Tuesday morning.
Submitted by Athletics
Romashkin posts third-lowest round in school history
Daniil Romashkin completed the second round of the Bubba Barnett Intercollegiate with the third-lowest score in program history to pace the University of Evansville men's golf team at RidgePointe Country Club.
Romashkin's 6-under round of 66 in the second 18 holes on Monday has him in a tie for the 21st position. His opening round score finished at a 3-over 75. The 66 in round two ties the third-lowest score in Purple Aces history and had been done on seven occasions by six different players. The last instance came in 2019 when Matthew Ladd accomplished the feat. Chris Bouchard holds the lowest mark in school history with a 64 in 2007.
Second for UE was Andres Rodriguez. Following a 78 to open the tournament, he carded an even 72 and has a 150 entering Tuesday's final round. He is tied for 70th. One stroke behind him was Nicholas Gushrowski. He wrapped up the day with rounds of 76 and 73.
Caleb Wassmer was fourth for the Aces. Rounds of 77 and 80 gave him a 157 while Carson Parker posted totals of 81 and 77. With a team score of 596, Evansville is in 15th place in the team standings. UE is eight behind Houston Christian.
Arkansas State holds the team lead with a 541. They are 12 in front of Jacksonville State and 14 on top of 3rd place Murray State. Erik Jansson of Jacksonville State is the individual leader. A 7-under 65 in the first 18 holes, coupled with a 68, have him one shot in front of ASU's Thomas Schmidt.
Submitted by Athletics
Contribute to AceNotes
To have content considered for inclusion in AceNotes, please submit a Marketing Request Form. Deadline for submission to AceNotes is 10:00 a.m. on the requested date of publication. Only articles concerning UE related/sponsored activities will be accepted. Articles submitted to AceNotes may be edited for length and clarity. Submitter contact information is at the end of each article.