| | |
| --- | --- |
| PurplePulse | Monday, October 2, 2023 |
Business Majors Fair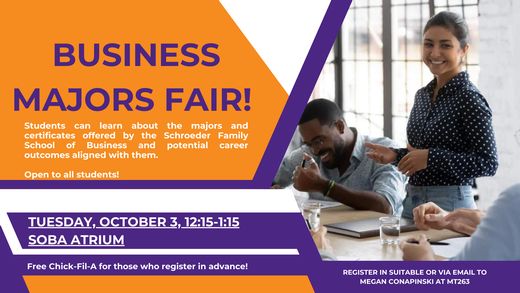 The Schroeder Family School of Business Administration is hosting a Business Majors & Certificates Fair on Tuesday, October 3 from 12:15 - 1:15pm in the SOBA Atrium.
This event is a great opportunity for you to learn more about the majors and certificates offered in SOBA, connect with faculty, and learn more about career pathways related to different majors.
Chick-Fil-A will be provided while supplies last. In order to ensure enough lunch is ordered, please RSVP to Megan Conapinski (mt263) by 10/2/23 .
Submitted by Megan Conapinski mt263@evansville.edu
Hacienda Giveback - UE Senior Nursing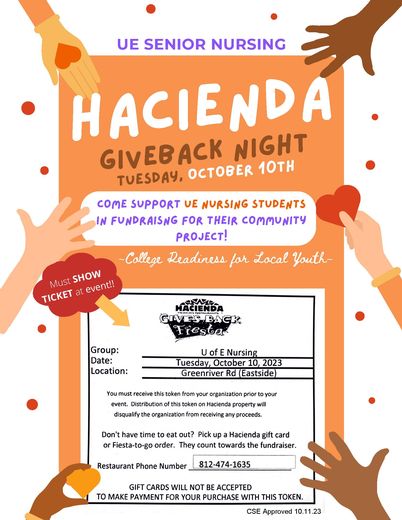 On Tuesday, October 10th, please come and support UE senior nursing students for their community project, "College Readiness Outreach", by having some Hacienda! When you come, make sure you HAVE A TICKET though, to let Hacienda know that you are coming to support the fundraiser!
For a ticket: contact Ianglen Sung (is62@evansville.edu) to get a physical ticket, or to get email of the ticket you can show at the door!
If you can't make it, you can buy a GIFT CARD! If you would like to purchase a gift card, you can do so by visiting www.haciendafiesta.com, on the day of the event (Tuesday, Oct, 10th), and include the location of the event, Greenriver Rd (Eastside), and put U of E Nursing in the "message box"
Thank you for your support!
Submitted by Joey Shreve js942@evansville.edu
Orange Leaf Giveback - UE Senior Nursing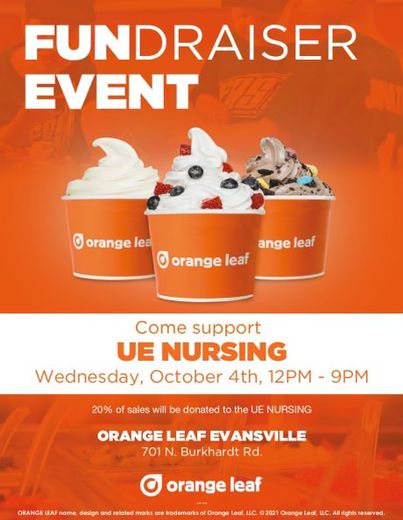 On Wednesday, October 4th from 12-9pm, please come support UE nursing senior project, "College Readiness Outreach," by getting some frozen yogurt on no-weight Wednesday!
Submitted by Ianglen Sung is62@evansville.edu
Staff and Administrators Assembly Book Club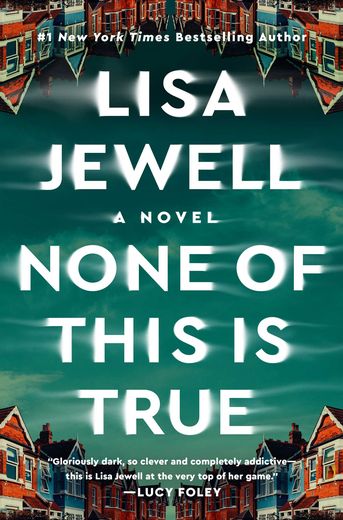 SAA Book Club Read for October
None of This is True by Lisa Jewell
Lisa Jewell returns with a scintillating new psychological thriller about a woman who finds herself the subject of her own popular true crime podcast. Celebrating her forty-fifth birthday at her local pub, popular podcaster Alix Summers crosses paths with an unassuming woman called Josie Fair. Josie, it turns out, is also celebrating her forty-fifth birthday. They are, in fact, birthday twins. A few days later, Alix and Josie bump into each other again, this time outside Alix's children's school. Josie has been listening to Alix's podcasts and thinks she might be an interesting subject for her series. She is, she tells Alix, on the cusp of great changes in her life. Josie's life appears to be strange and complicated, and although Alix finds her unsettling, she can't quite resist the temptation to keep making the podcast. Slowly she starts to realize that Josie has been hiding some very dark secrets, and before she knows it, Josie has inveigled her way into Alix's life—and into her home. But, as quickly as she arrived, Josie disappears. Only then does Alix discover that Josie has left a terrible and terrifying legacy in her wake, and that Alix has become the subject of her own true crime podcast, with her life and her family's lives under mortal threat. Who is Josie Fair? And what has she done? (from Goodreads.com)
We will meet on Wednesday October 25th at 12 noon in the Phillips Alcove located in the Multicultural Student Commons (on the second floor of Ridgway) to discuss the book. Everyone is invited. Feel free to bring your lunch.
If you would like to be added to the SAA Book Club list please contact Kathy Taylor at ks6
Submitted by Katherine Taylor ks6@evansville.edu
8th Annual Ace Race Skele-Fun Run 5K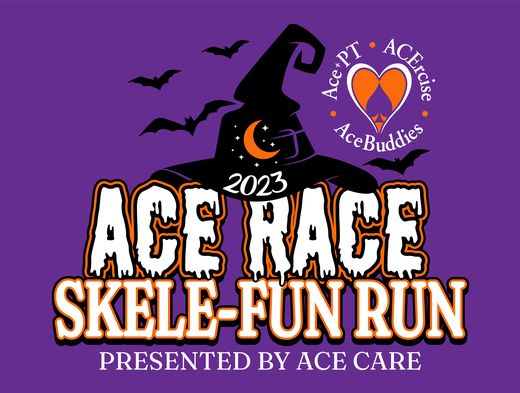 On behalf of Ace CARE, we would like to invite you to the 8th annual Ace Race Skele-fun Run 5K!
The mission of Ace CARE is to connect the unmet health care needs of the Tri-State community with the educational experience of our Doctor of Physical Therapy, Physician Assistant, and Athletic Training students. We do this by providing free physical therapy care and group exercise programs to the uninsured, underinsured, homeless, and vulnerable members of our community to improve the quality of life in our surrounding area. Last year, our students volunteered over 1,700 hours of their time, and we were able to treat over 170 patients. Ace CARE operates solely on community philanthropy, and we work tirelessly to keep our doors open to those we serve.
Ace CARE is hosting our largest fundraiser, the Ace Race 5K, on October 28, 2023. We are asking for support from our alumni, community members, and campus community so that we may continue to provide care to our most vulnerable neighbors. We welcome you to join us for the race in-person, to support our organization.
EARLY REGISTRATION ENDS MONDAY, OCTOBER 2. BEGINNING OCTOBER 3, THE REGISTRATION FEE WILL BE $30 AND WE CANNOT GUARANTEE YOU A T-SHIRT. NO SHIPPING OPTION AFTER OCTOBER 2. Registration will be open until the day of the race!
You can also follow along for updates leading up to the race, and on race day, via our Ace CARE Facebook page found here: https://www.facebook.com/acecareue/
The Ace CARE organization would like to thank you in advance for your continued support, and we hope to see you on October 28!
If you are unable to attend the race, but would like to support Ace CARE, please go to Support Ace CARE.
Submitted by Molly Watson mw362@evansville.edu
White water rafting over Fall Break
Looking for an adventure over Fall Break?
Join the UE Venturing Crew as we tackle the White Waters of the Ocoee River.
Spending evenings around a campfire playing games.
Hiking some of the Appalachian Mountains' most scenic trails while looking at waterfalls.
Paddle boarding on the Parkville Lake.
You can find out more information and sign up in Ridgway today thru Wednesday from 11am till 1pm.
The cost for the trip would be $100.
If you're unable to sign up at the table, email Emily Schwartz (es345) to make arrangements.
Submitted by Fred Wilson fw2@evansville.edu
UE Majors and Minors Fair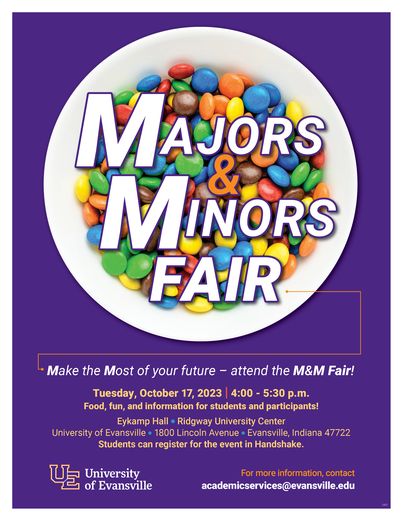 The Majors and Minors Fair is open to all students on Tuesday, Ocotber 17, from 4:00 to 5:30 p.m. in Eykamp Hall.
Thinking about changing or adding a major or minor? This is your chance to network with faculty, current students, and alumni from academic departments as well as various student support services. Learn more about the classes, research opportunities, internships, and career possilities.
For more information, contact academicservices@evansville.edu.
Submitted by Paula Heldt ph28@evansville.edu
Hispanic Heritage Month-Eduardo Chavez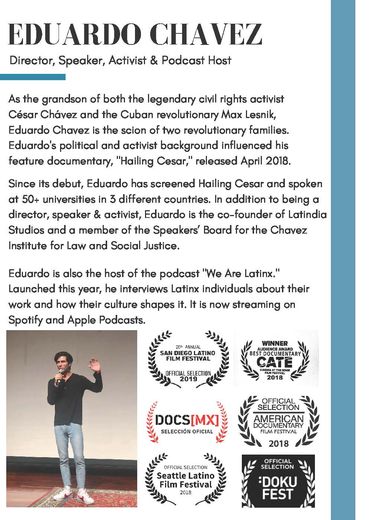 Eduardo Chavez, director, speaker, podcast host and grandson of legendary civil rights activist Cesar Chavez will be on the campus of University of Evansville on Monday, October 2nd, as part of the university's honoring National Hispanic Heritage Month.
"Hailing Cesar," a documentary directed by and featuring Chavez, will be shown at 5pm in the Eykamp Hall on the campus of the University of Evansville.
There will be a question and answer session with Chavez after the documentary.
Admission is free and open to the public.
Submitted by Melissa Moore mm350@evansville.edu
Faculty Interest Group (FIG) Sign-ups
Faculty are welcome and encouraged to sign up for Faculty Interest Groups (FIGs) for Fall 2024. These groups are faculty-led and will cover a wide range of topics. The goal is to stay engaged with your colleagues and grow in your pedagogical development!
Please sign up using the link provided by the end of the day on Friday, October 6. FIGs will start meeting after Fall Break: https://forms.office.com/r/0HbW5fibbU.
Submitted by Julie Merkle jm757@evansville.edu
Employee Mobile Mammography Services
Employees - Ascension St. Vincent is providing mobile mammography services for the University of Evansville. The mobile mammography bus will be located next to the Krannert Building on October 5th from 9:00AM - 2:00PM. Please click the link below to sign up for an appointment time! An Ascension Breast Center representative will call you prior to your appointment date to verify all necessary registration information.
AceLink : Mobile Mammography Appointment Registration (evansville.edu)
Submitted by Taylor Kollak tk148@evansville.edu
Volunteers needed for Balance Assessments 10/24/2023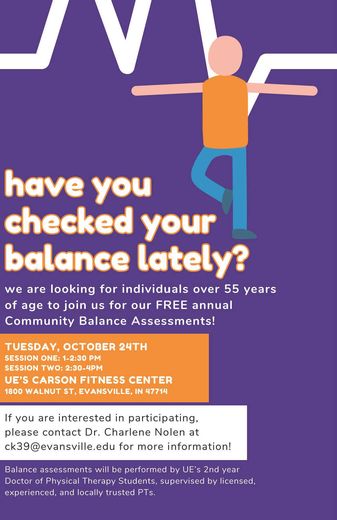 The Exercise Science and second year DPT students will be conducting community balance assessments as part of the Bronstein Geriatric Wellness Program. We are looking for 24 participants who are 55 years or older to take part in these assessments. Faculty will be present to assist the students throughout the assessments. Please share this opportunity with anyone you think might be interested and able to participate. The participant does not need to be able to walk but should at least be able to stand for the assessments.

Who: Exercise Science and 2nd year DPT students
What: DPT students will complete testing of your balance, educate you on the findings during the testing, and provide you with a home exercise program
When: 10/24/2023 Session 1 from 1:00-2:30 or Session 2 from 2:30-4:00
Where: Carson Center, Maikranz Gym
Why: To improve the balance and mobility of the community through the Bronstein Geriatric Wellness Program initiative

Participants can contact Dr. Charlene Nolen at ck39@evansville.edu to sign up or seek further information.
Submitted by Charlene Nolen ck39@evansville.edu
Hannah Evelyn Jones Exhibit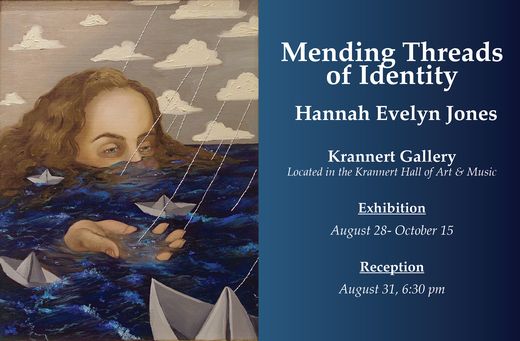 The Department of Art presents Hannah Evelyn Jone's exhibit "Mending Threads of Identity" in the Krannert Gallery through October 15, 2023. Gallery hours are Mon - Sat 8:00am-8:00pm and Sun noon - 8:00pm.
Submitted by Carol L McCraney cm177@evansville.edu
Billy Twymon Exhibit Opens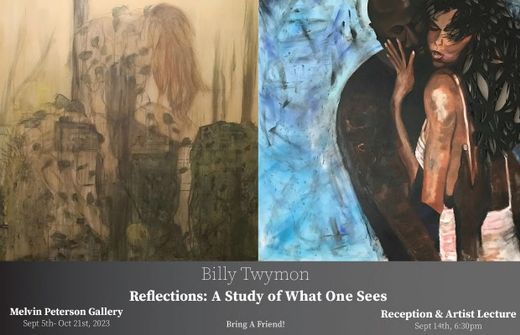 The UE Friends of Art and the UE Department of Art present Billy Twymon's exhibit "Reflections: A Study of What One Sees" in the Melvin Peterson Gallery from Sept 5 through October 21, 2023.
Please join us for a reception and artist lecture in the Gallery on Thursday, September 14 at 6:30PM.
Gallery hours are Mon, Tues, Fri, & Sat 12:00pm - 3:00pm and Wed & Thurs 12:00pm - 6:00 pm.
Submitted by Carol L McCraney cm177@evansville.edu
UE women travel to Saluki Invitational
Dalhousie Golf Club in Cape Girardeau will be the scene of the Saluki Invitational where the University of Evansville women's golf team will be competing on Monday and Tuesday,
Thirty-six holes comprise the action on Monday with the final 18 holes being played on Tuesday.
Postings scores of 78 in the final round of "The Velvet", Allison Enchelmayer and Kate Petrova helped the Purple Aces earn a 6th place finish at The Country Club of Paducah in their last event. Enchelmayer earned the top finish for the Aces, tying for the 11th spot. Her 78 in the final round gave her a final score of 233. Petrova finished in 18th place with a 236. She registered a 76 in the final 18 holes, marking her low round of the event.
Tying for 33rd on the final leaderboard was Jane Grankina. After carding an 82 in the last round, she finished with a 243. Magdalena Borisova and Trinity Dubbs were fourth and fifth on the squad, respectively. Borisova's 3-round total finished at 251 following a score of 79 on Tuesday. Dubbs wrapped up the weekend with a 263.
Destynie Sheridan and Carly Frazier completed the tournament as individuals. Sheridan posted a 251 over the three rounds while Frazier scored a 270.
Submitted by Athletics
WSOC: Unbeaten Streak At Six, As UE Women's Soccer Ties Belmont Behind Autenrieb Goal
The University of Evansville women's soccer team ran its unbeaten streak to six-straight matches on Sunday afternoon at Arad McCutchan Stadium in Evansville, as the Purple Aces got a 67th-minute goal from junior midfielder Hailey Autenrieb (Cincinnati, Ohio/Seton) to secure a 1-1 tie against the visiting Belmont Bruins.
After conceding a penalty-kick goal in the 55th minute following a hand-ball in the penalty area, the Purple Aces responded with a set piece of their own to tie the match at 1-1. Sophomore defender Kaylee Woosley drilled a free-kick into the box from the right side, and Autenrieb ran on and volleyed the ball inside the right goal post for her first goal of the year.
"It's tough to give up a penalty-kick goal," said UE head coach Chris Pfau. "But, to show character and fight and get that goal back is outstanding. I told the team after the match that the character they show for each other is miles ahead of where I thought it would be with so many new faces this year, and I am really proud of how this group has battled for each other this year."
Evansville had multiple chances to take the lead earlier in the match, but Belmont goalkeeper Sarah Doyle forced a miss on a breakaway in the first half and stopped back-to-back chances from 18-yards out at the start of the second half to keep the match scoreless.
Belmont would score first in the 55th minute, as forward Maci Pekmezian found the lower-right corner on a penalty kick to record her fourth goal of the season. UE would battle back to find the equalizer thanks to Autenrieb, and the two sides would play to the 1-1 draw.
Evansville out-shot Belmont, 12-10, for the match, as the Purple Aces have out-shot the last two Valley opponents. Both teams recorded five shots on goal, with Doyle and UE goalkeeper Myia Danek (Laingsburg, Mich./Laingsburg) recording four saves each. Autenrieb led all players with three shots, including two on target.
With the tie, Evansville ties the Missouri Valley Conference record for ties in a single-season, as the Purple Aces' record moves to 0-3-8 and 0-0-5 in the MVC. Belmont's record moves to 1-6-6 and 0-1-4 in the Valley with the result. Evansville will return home next Sunday to host UIC (4-6-2, 3-2-0 MVC). Kick-off is set for 1 p.m. and Sunday's match can be seen live on ESPN+.
Submitted by Athletics
Aces drop hard-fought road contest
Melanie Feliciano and Giulia Cardona registered 13 kills apiece in a 3-0 road loss at Missouri State on Saturday.
Both Feliciano and Cardona were equally efficient on the defensive side, posting 11 and 13 digs, respectively. Ainoah Cruz led the way with 17 digs and Kora Ruff picked up another double-double with 32 assists and 13 digs. Breanah Rives had 12 kills to lead the Bears.
Game 1 – MSU 25, UE 16
Missouri State took control from the start, scoring the first five points before extending the lead to 8-1. Their lead would reach double figures at 13-3. Trailing by a 15-6 margin, Evansville worked its way back into the mix. Consecutive kills from Melanie Feliciano were part of a 7-2 run that saw UE get within four at 17-13. The Bears fended off the challenge to take the set by a 25-16 final.
Game 2 – MSU 25, UE 22
It was the Purple Aces who had the upper hand in the early moments of game two. Kora Ruff picked up an ace to help her team go up 3-0. An error by the Bears doubled the UE lead to six points at 9-3. At that point, MSU stormed back with an 8-1 rally to take their first advantage at 11-10.
With the Bears up 18-16, the Aces made their run as two more Feliciano kills highlighted a 4-0 run that put UE back on top at 20-18. It was the home team who would make the final run as the Bears scored four in a row and would go on to win the set and take a 2-0 lead in the match.
Game 3 – SIU 25, UE 12
The lead swapped multiple times in the early portion of the set, leading to a tie score of 8-8. Three in a row by Missouri State gave them the edge before Evansville made a 3-0 run of its own with Madisyn Steele, Giulia Cardona and Feliciano each picking up a kill.
After the Bears wrestled away a 16-13 advantage, the Aces rebounded to retake an 18-17 advantage. In a set that went down to the wire, it was Missouri State who made the final run, scoring the final three points to break a 22-22 tie and clinch the match.
UE is back home next weekend to face Northern Iowa and Drake.
Submitted by Athletics
UE men's soccer comeback falls short against Bowling Green
The University of Evansville men's soccer team fought to the very last second in a 4-2 loss against the Bowling Green Falcons.

Defender Nacho Diaz-Caneja scored his first collegiate goal in the Purple Aces' second road Missouri Valley Conference game of the season. Forward Kai Phillip continued his momentous offensive season with his seventh goal of the year and six shots to lead the team. Junior forward Jose Vivas also had a big offensive game with five shots and three on-goal, just shy of a career-high game.

Bowling Green opened the scoring early with two goals in the first 15 minutes of the match. Most of the first half was in the Falcons' favor, but UE put more shots on goal in the first 45 minutes with five opportunities. The Aces began to find their offensive momentum in the last 15 minutes of the half, forcing two saves from Bowling Green's goalkeeper, including a penalty attempt for midfielder Carlos Barcia in the 27th minute.

Evansville carried its momentum into the second half with an early shot. But the Falcons found the net again with a header goal off a corner kick in the 57th minute. It didn't take long for UE to respond as 50 seconds later Phillip broke the Aces shutout with a header of his own from Diaz-Caneja. The flurry of offense continued as Bowling Green scored its fourth goal in the first second of the 64th minute.

Evansville again found the net themselves in under a minute as Diaz-Caneja scored his first goal as an Ace. Freshman winger Auden Engen Vik also added his first collegiate point with an assist on the score. UE continued to press, outshooting the Falcons seven to four in the final 19 minutes of the match. In the last five minutes, Vivas kicked it into overdrive, putting two shots on goal and outletting a shot to Phillip for another on-target chance. But the Aces couldn't quite crack Bowling Green's goalkeeper again for the 4-2 loss.

UE returns to Arad McCutchan Stadium next week for a mid-afternoon matchup with Western Michigan. The Broncos have only had a loss on the season so far which came on the road. Kick-off from McCutchan Stadium is set for 3 p.m. on Saturday, Oct. 7.
Submitted by Athletics
Volleyball drops weekend opener in Carbondale
After taking the opening set by a decisive 25-15 final, the University of Evansville volleyball team dropped the final three sets to Southern Illinois in a 3-1 loss on Friday evening.
Giulia Cardona had a match-high 17 kills while Luana Gazda Kuhn set a new career mark with nine kills. She also posted her top dig total with 10. Kora Ruff totaled 31 assists while tying AInoah Cruz for the team lead with 11 digs.
Game 1 – UE 25, SIU 15
Things could not have gone better in the opening game as the Aces pulled away for a 10-point win. With the score tied at 5-5, UE scored six in a row with Cardona picking up two kills and an ace.
Gazda Kuhn recorded a kill that extended the lead to 17-10. From there, the Aces pulled away to take the set by a score of 25-15. Evansville wrapped up the frame on a 20-10 run.
Game 2 – SIU 25, UE 17
Things remained close throughout the opening half of the second set. Gazda Kuhn put Evansville in front by a 7-5 tally while SIU posted four in a row to go up 9-7. Tied at 10-10, the Salukis scored five in a row to take control.
The Aces would get within three points when a kill from Madisyn Steele made it an 18-15 score, but SIU would fend off the challenge and utilize a 7-2 run to take the set by a 25-17 score.
Game 3 – SIU 25, UE 12
SIU jumped out to a 3-0 lead to open the third set and would never give up the lead. UE got as close as one point at 5-4 before SIU embarked on a 10-2 run. They would go on to win the set by a final of 25-12.
Game 4 – SIU 25, UE 22
Looking to force a decisive fifth set, the Purple Aces were in control to open the set. Melanie Feliciano picked up three kills to set her team up with a 6-1 lead. Southern Illinois quickly fought back to tie it up at 7-7. Evansville responded to go back in front at 11-8 and 15-13, but the Salukis answered on both occasions.
With SIU up 19-18, the Aces put forth their most important run of the game. Two kills by Cardona helped UE retake a 21-19 lead. Unfortunately, SIU responded once again, scoring six of the final seven points to clinch the match.
UE looks to split the weekend road trip on Saturday with a 4 p.m. match at Missouri State.
Submitted by Athletics
WSOC: UE Women's Soccer Looks To Remain Unbeaten In MVC Play Sunday vs. Belmont
The University of Evansville women's soccer team will try to remain unbeaten in Missouri Valley Conference play on Sunday afternoon, as the Purple Aces will host the Belmont Bruins at Arad McCutchan Stadium. Kick-off is set for 1 p.m. and the match can be seen live on ESPN+.
As the calendar changes to October, only three teams are currently unbeaten in Missouri Valley Conference play – preseason favorite Missouri State (2-0-2), reigning regular-season champion Valparaiso (1-0-2) and Evansville (0-0-4). Evansville pushed its unbeaten streak to five matches in dramatic fashion on Thursday night, as junior forward Ryleigh Anslinger (Evansville, Ind./Memorial) scored in the 86th minute to help the Purple Aces earn a 1-1 draw at Southern Illinois. UE (0-3-7 overall, 0-0-4 MVC) has played five-straight draws for the first time in program history, and UE's seven ties overall are tied for the most in program history.
Defensively, Evansville will enter Sunday's match ranked third in the Valley in goals-against average at 0.90. The UE goalkeeping corps of senior Myia Danek (Laingsburg, Mich./Laingsburg), fifth-year Georgia Katsonouri (Paphos, Cyprus) and freshman Elke Travis (Henderson, Nev./Faith Lutheran) have combined to post a .836 save percentage, which entered the weekend ranked 44th nationally.
Belmont will bring a 1-6-5 overall record and 0-1-3 MVC record into Sunday's contest. The Bruins are anchored defensively by graduate goalkeeper Sarah Doyle, a third team all-MVC selection a year ago. Doyle currently ranks fifth in NCAA Division I women's soccer in total saves with 76, while ranking 11th overall in saves per game at 6.33. Senior forward Maci Pekmezian leads the Belmont offense with seven total points, as she has accounted for three of Belmont's six goals on the season.
All-time, Evansville leads the series against Belmont, 7-4-1, including holding a 6-0-1 advantage in matches played in Evansville. In fact, UE has outscored Belmont by a total of 19-1 in the seven all-time meetings in Evansville.
Submitted by Athletics
Praucher places third with PR for UE Cross Country at Live in Lou Classic
The University of Evansville cross country teams finished eighth and 13th at the second-largest college cross country meet in the United States on Saturday.

Competing with over 100 teams among three different race categories at the Live in Lou Classic, the Purple Aces saw top 20 finishes for multiple athletes. Freshman runner Nicole Prauchner (Neuhofen an der Ybbs, Austria) led all UE runners in her first collegiate meet with a time of 18:41.6 for third place in the women's silver 5K. Evansville also had two other Top 20 finishes with Samuel Lea (Wooster, England) placing 18th in the men's silver 8K race with a time of 26:22.6 and Nayla Martin (Vaudreuil-Dorion, Quebec, Canada) placing 20th in the women's 5K with a time of 19:28.9.

The men's team ran the first race of the afternoon for the Silver 8K at E.P. "Tom" Sawyer State Park on Saturday. The Aces finished the race in 13th as a team with Top 50 finishes from Lea and Rafael Rodriguez (Segovia, Spain), finishing at 48th with a time of 26:57.5. Rounding out the men's results for UE was Woody Burrell at 115th with a time of 27:49.0, Alvaro Monfort (Castile Y Leon, Spain) at 145th with a time of 28:11.5, and Owen Culpin (Hampshire, Ill.) at 154th with a time of 28:21.7.

Evansville's women's team had the best results of the afternoon with a team finish of eighth. Running with 400 total runners, all Ace runners were in the top 40% of finishers including the Top 20 finishes for Prauchner and Martin. UE had six runners on Saturday afternoon in the women's 5K, with three finishing in the top 100 as Kyndall Anthis (Patkoa, Ind.) finished 98th with a time of 20:55.2. Shelby Bastin (Versailles, Ind.) finished 104th with a time of 20:58.8, Avery Stephens (Newburgh, Ind.) placed 130th with a time of 21:19.3, and Sarah Vanderhoof-Dossett (Franklin, Tenn.) placed 147th with a time of 21:34.1.

The Aces return home to Angel Mounds for their next meet in two weeks. Evansville will host the Angel Mounds Invitational on Friday, Oct. 13 for the final regular season meet of the season before MVC Championships in Nashville.

MEN: 13th of 48 teams (18, 48, 115, 145, 154) - 480 points
18 Samuel Lea - 26:22.6
48 Rafael Rodriguez - 26:57.5
115 Woody Burrell - 27:49.0
145 Alvaro Monfort - 28:11.5
154 Owen Culpin - 28:21.7

WOMEN: 8th of 50 teams (3, 20, 98, 104, 130, 147) - 355 points
3 Nicole Prauchner - 18:41.6
20 Nayla Martin - 19:28.9
98 Kyndall Anthis - 20:55.2
104 Shelby Bastin - 20:58.8
130 Avery Stephens - 21:19.3
147 Sarah Vanderhoof-Dossett - 21:34.1
Submitted by Athletics
Men's Golf travels to Bubba Barnett Intercollegiate
Next up for the University of Evansville men's golf team is a trip to the Bubba Barnett Intercollegiate in Arkansas.
RidgePointe Country Club is the host for the tournament that features two rounds on Monday and the final 18 holes on Tuesday. Both days open with an 8 a.m. shotgun start. Joining the Purple Aces in the event are Arkansas State, Belmont, Central Michigan, Houston Christian, Incarnate Word, Jacksonville State, Kansas City, Memphis, Murray State, New Orleans, Nicholls State, Oklahoma Christian, SE Louisiana, UT Martin and Texas A&M Commerce.
UE is coming off a stellar performance at the Valpo Fall Invitational where the team came home in second place. Nicholas Gushrowski and Daniil Romashkin led the way for UE, tying for third on the individual side with 3-round totals of 219. Both carded even scores of 72 in the final round to finish just two strokes behind second place finisher Artemiy Yalovenko of DePaul.
Andres Rodriguez finished in 11th place. Posting a 73 in the third round, Rodriguez matched his low score of the weekend and completed the tournament with a 224. Just two behind him was Caleb Wassmer. He improved in each of the three rounds. After opening the contest with an 80, Wassmer recorded a 74 in round two and had his best round of the weekend on Tuesday. An even 72 gave him a 226, earning a tie for 14th.
Submitted by Athletics
Contribute to AceNotes
To have content considered for inclusion in AceNotes, please submit a Marketing Request Form. Deadline for submission to AceNotes is 10:00 a.m. on the requested date of publication. Only articles concerning UE related/sponsored activities will be accepted. Articles submitted to AceNotes may be edited for length and clarity. Submitter contact information is at the end of each article.