| | |
| --- | --- |
| PurplePulse | Friday, September 29, 2023 |
CORRECTION: Living Room Conversations
The CDEI is hosting a series of Living Room Conversations for employees. These guided conversations are designed to help us dialogue across difference in order to create a more inclusive campus culture. Most UE students, faculty, and staff who have participated in a Living Room Conversation say they want to participate again, so come give them a try! Conversations work best in groups of 4-7 people, so registration is required. Each conversation last 60-90 minutes. Living Room Conversations are open to all UE staff, administrators, and faculty and can be used towards fulfilling requirements for the Passport to Inclusion.
To register to attend one of the conversations this semester or for more information, email center4dei@evansville.edu.
Social Identity: Wednesday, September 27 at 10:00 am
Disability & Ableism: Friday, September 29 at 12:00 pm
Status & Privilege: Wednesday, October 4 at 10:00 am
Gender: Thursday, October 5 at 1:30 pm
American Culture: Melting Pot or Salad Bowl: Wednesday, October 18 at 1:00 pm
Social Identity: Tuesday, October 24 at 2:00 pm
Political Stereotypes: Friday, October 27 at 12:00 pm
Submitted by Valerie Stein vs9@evansville.edu
8th Annual Ace Race Skele-Fun Run 5K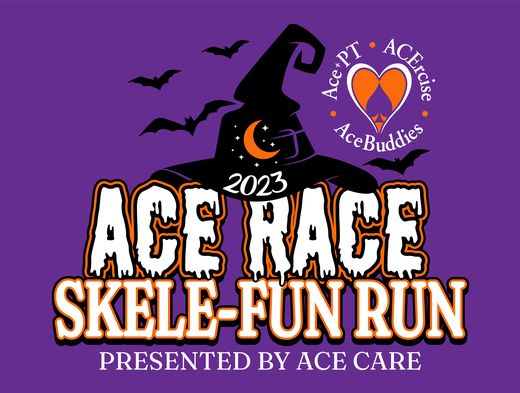 On behalf of Ace CARE, we would like to invite you to the 8th annual Ace Race Skele-fun Run 5K!
The mission of Ace CARE is to connect the unmet health care needs of the Tri-State community with the educational experience of our Doctor of Physical Therapy, Physician Assistant, and Athletic Training students. We do this by providing free physical therapy care and group exercise programs to the uninsured, underinsured, homeless, and vulnerable members of our community to improve the quality of life in our surrounding area. Last year, our students volunteered over 1,700 hours of their time, and we were able to treat over 170 patients. Ace CARE operates solely on community philanthropy, and we work tirelessly to keep our doors open to those we serve.
Ace CARE is hosting our largest fundraiser, the Ace Race 5K, on October 28, 2023. We are asking for support from our alumni, community members, and campus community so that we may continue to provide care to our most vulnerable neighbors. We welcome you to join us for the race in-person, to support our organization.
EARLY REGISTRATION ENDS MONDAY, OCTOBER 2. BEGINNING OCTOBER 3, THE REGISTRATION FEE WILL BE $30 AND WE CANNOT GUARANTEE YOU A T-SHIRT. NO SHIPPING OPTION AFTER OCTOBER 2. Registration will be open until the day of the race!
You can also follow along for updates leading up to the race, and on race day, via our Ace CARE Facebook page found here: https://www.facebook.com/acecareue/
The Ace CARE organization would like to thank you in advance for your continued support, and we hope to see you on October 28!
If you are unable to attend the race, but would like to support Ace CARE, please go to Support Ace CARE.
Submitted by Molly Watson mw362@evansville.edu
White water rafting over Fall Break
Looking for an adventure over Fall Break?
Join the UE Venturing Crew as we tackle the White Waters of the Ocoee River.
Spending evenings around a campfire playing games.
Hiking some of the Appalachian Mountains' most scenic trails while looking at waterfalls.
Paddle boarding on the Parkville Lake.
You can find out more information and sign up in Ridgway today thru Wednesday from 11am till 1pm.
The cost for the trip would be $100.
If you're unable to sign up at the table, email Emily Schwartz (es345) to make arrangements.
Submitted by Fred Wilson fw2@evansville.edu
UE Majors and Minors Fair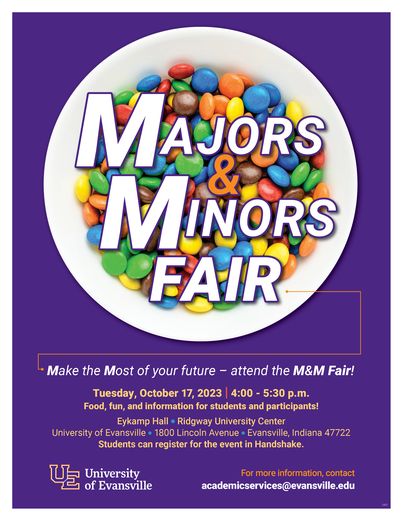 The Majors and Minors Fair is open to all students on Tuesday, Ocotber 17, from 4:00 to 5:30 p.m. in Eykamp Hall.
Thinking about changing or adding a major or minor? This is your chance to network with faculty, current students, and alumni from academic departments as well as various student support services. Learn more about the classes, research opportunities, internships, and career possilities.
For more information, contact academicservices@evansville.edu.
Submitted by Paula Heldt ph28@evansville.edu
Lunch Bunch
Faculty and staff, come join us for some chips and salsa at Lunch Bunch this Thursday, September 28th from 12:00 p.m. to 1:00 p.m. in the Philips Alcove (Ridgway 2nd floor).
No need to RSVP. Stay as little or as long as your schedule allows. There is no agenda or presentation for these gatherings. Lunch Bunch is a way to offer faculty and staff a common place to get together. We hope to see you this Thursday!
ECTE Team: Julie, Stephanie, and Diana
Submitted by Diana Rodriguez Quevedo dr130@evansville.edu
University of Evansville Theatre presents THE SEAGULL
The University of Evansville Theatre opens their 2023–2024 season with Anton Chekhov's THE SEAGULL, translated by Tom Stoppard. This production opens at 7:30 pm, Friday, Sept. 29, in Shanklin Theatre. Additional performances are at 7:30 p.m., on Sept. 30, Oct. 12, 13, 14, and at 2:00 p.m., on Oct. 15. This achingly beautiful story of unrequited love is as timeless today as in the 1890s Russian countryside in which it is set. Stoppard's masterful translation remains faithful to the humor that Chekhov intended to convey amid all the pathos. Diving into the psychological minefields between mothers, sons, lovers, and familial relations, the passionate lives of these characters are all on full display as they make decisions that are often paradoxical, sometimes destructive, but always recognizably human. A vast emotive masterpiece with music in its words, this play will sear itself into your memory!
THE SEAGULL is directed by Assistant Professor Amelia McClain '03. Ethan Henry, a sophomore theatre performance major from Salina, Kan., serves as the associate director; Associate Professor Eric Renschler '83, serves as the scenic designer; Violet Nassri, a senior design and technology major from Dallas, Texas, is the costume designer; Ethan Santiago, a sophomore design and technology major from Belton, Texas, is the lighting designer; Jonathan Roth, a sophomore design and technology major from Brookfield, Wis., serves as the sound designer; Katie Lawhorn, a junior stage management major from Louisville, Ky., is the stage manager, and Visiting Assistant Professor Scott Carpenter '05 serves as the technical director.
The cast features Lillian Grace Carlson, a senior performance major from Minneapolis, Minn., as Masha; Trace Levens, a junior performance major from Bryan, Texas, as Medvedenko; Kurt Sparks, a first-year performance major from Millville, N.J., as Sorin; Arturo Quepóns, a sophomore performance major from San Antonio, Texas, as Konstantin; Beverley Buchanan, a senior performance major from Tomball, Texas, as Nina; Folarin Oyeleye, a first-year performance major from Richmond, Texas, as Dorn; Christina Tinde Jesenski, a senior performance major from Rancho Santa Margarita, Calif., as Polina; Amoren Newton, a first-year performance major from Denton, Texas, as Shamraev; Ashly Chalico, a junior performance major from Magnolia, Texas, as Arkadina; Caden Sevier, a senior performance major from Humble, Texas, as Trigorin; Ethan Henry, a sophomore performance major from Salina, Kan., as Yakov; Daphne Wheeler, a first-year performance major from Star, Idaho, as Maid; and Brayden Havard, a first-year performance major from Montgomery, Texas, as Cook.
Adult ticket prices are $20 and $18 for senior adults, UE employees, and non-UE students. UE students may obtain one free student rush ticket beginning at 12 p.m. on the day of the performance they wish to attend. In addition, UE Theatre is excited to continue their "Pay What You Will" initiative again this second season. Every Thursday evening performance in Shanklin Theatre is available for any person to pay any price that best fits their budget.
Season subscriptions for the 2023–2024 Shanklin Theatre season are also available and are $50 for an adult subscription and $44 for a discount subscription for senior adults, UE employees, and non-UE students. This three-play season includes THE SEAGULL, the smash–hit musical RENT, and the powerful WAITING FOR LEFTY. A May Studio Theatre Discovery Package can be purchased for $18 and includes A BRIGHT NEW BOISE and POTUS OR, BEHIND EVERY GREAT DUMBASS ARE SEVEN WOMEN TRYING TO KEEP HIM ALIVE. Subscriptions may be purchased by calling the ticket office at 812.488.2031, Monday through Friday, 12:00 to 5:00 p.m. Single tickets may be purchased online at theatre.evansville.edu or by calling the ticket office.
Submitted by Sharla Cowden sc75@evansville.edu
UE Employee and Student Flu Shot Event
The wellness team with the UE onsite Tri State Clinics will be onsite in Eykamp during the following dates and times below in October to offer flu shots! These events are for insured employees and their covered dependents, non-insured employees and students.
Onsite Flu Shot Event Dates:
October 18th: 7:30am - 9:30am
October 19th: 4:00pm - 6:00pm
Please note the cost for non-insured employees and students is $20.00.
Non-insured employees should make this payment to their HR deparment as CASH ONLY.
Students should make this payment to the student health center. Cash or debit/credit is accepted.
Submitted by Haley Karges hw164@evansville.edu
Hispanic Heritage Month-Eduardo Chavez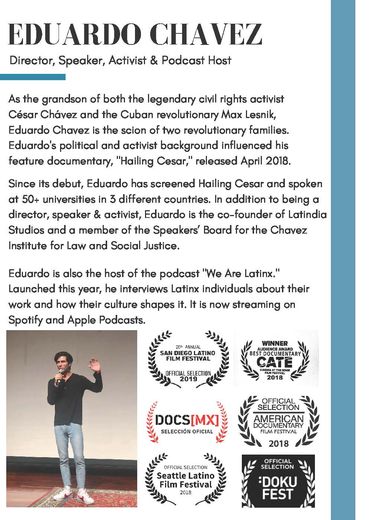 Eduardo Chavez, director, speaker, podcast host and grandson of legendary civil rights activist Cesar Chavez will be on the campus of University of Evansville on Monday, October 2nd, as part of the university's honoring National Hispanic Heritage Month.
"Hailing Cesar," a documentary directed by and featuring Chavez, will be shown at 5pm in the Eykamp Hall on the campus of the University of Evansville.
There will be a question and answer session with Chavez after the documentary.
Admission is free and open to the public.
Submitted by Melissa Moore mm350@evansville.edu
Fall Healthy Behavior Challenge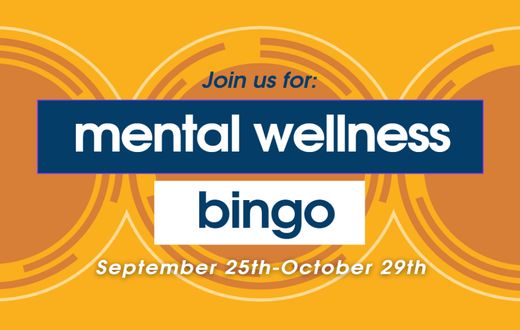 Welcome to the Mental Wellness Bingo, your Fall Healthy Behavior Challenge! This challenge will run from September 25th - October 29th.
Mental health plays a big role in your overall well-being. The goal of this 5-week challenge is to take on a holistic approach to nurturing your overall mental health.
Each day, you will find a mental wellness activity on your bingo card that will touch on either:
Nutrition
Physical health
Social health
Connection
Boundaries & Mindset
You do not have to go in order of the bingo card! Each day, choose an activity that best serves you in the moment. This will give you the chance to reflect on what you're in-need of during that time. We will also share some weekly mental wellness resources to give tips, tricks, and information to better your mental health.
Those who get a "blackout" and complete all of the daily activities will be entered into a gift card drawing. There will be 8 chances to win a $25 gift card! Earn a one-time $150 in HRA credits for successfully completing the challenge!!
Interested in signing up?
Click the link here to get your name on the list: https://forms.gle/Z6daq3eD8hPVbi2ZA
**We will email you a bingo card at the start of the challenge!
Email Taylor at taylor.kollak@ascension.org for more information or questions.
Submitted by Taylor Kollak tk148@evansville.edu
Employee Mobile Mammography Services
Employees - Ascension St. Vincent is providing mobile mammography services for the University of Evansville. The mobile mammography bus will be located next to the Krannert Building on October 5th from 9:00AM - 2:00PM. Please click the link below to sign up for an appointment time! An Ascension Breast Center representative will call you prior to your appointment date to verify all necessary registration information.
AceLink : Mobile Mammography Appointment Registration (evansville.edu)
Submitted by Taylor Kollak tk148@evansville.edu
Apply to Graduate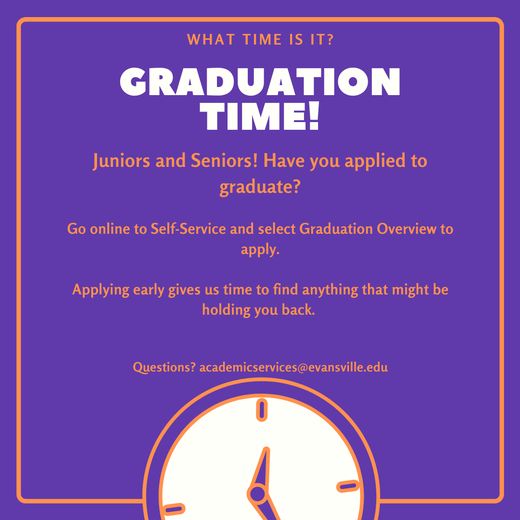 It's that time! Be sure to apply now to graduate via Self-Service.
Submitted by Kelsey Gordon kg302@evansville.edu
Textbook Orders Not Picked Up: CANCELLED
If you have a textbook web order for class, you have until next Friday (10/6/2023) to pick it up before your order is cancelled.
Please stop into the University Bookstore before then with your student I.D. to collect your order for the fall semester, thank you!
Submitted by Niamh Steffens ss837@evansville.edu
University of Evansville Theatre Introduces Online Student Ticket Sales
The University of Evansville Theatre is thrilled to introduce online student ticket sales for this season. UE students may obtain one free student ticket to each production at theatre.evansville.edu or by visiting purplepass.com/UETheatre. Students should select a STUDENT COMP ticket on the seating map and enter their full UE email address into the code box. In addition, students may still opt to pick up their free ticket at the Ticket Office in Hyde Hall Monday through Friday, 12:00 p.m. to 5:00 p.m. or at the window prior to curtain.
THE SEAGULL, by Anton Chekhov, translated by Tom Stoppard, opens at 7:30 p.m., Friday, Sept. 29, in Shanklin Theatre. Additional performances are at 7:30 p.m., on Sept. 30, Oct. 12, 13, 14, and at 2:00 p.m., on Oct. 15.
Submitted by Sharla Cowden sc75@evansville.edu
UE Men's Basketball Sport Science Internship
UE Men's Basketball is looking for students at either the professional, graduate, or undergrad level with a background in Microsoft Office, statistics, and programming (R, Python, etc.), as well as students with experience in kinesiology and biomechanics to assist with data collection, processing, analysis, and report building for sport science initiatives and projects here at UE.
Students will be immersed in the day-to-day operations of the basketball team and sports performance.

If any student is interested, please email a resume to Jeremy Portillo (jp450@evansville.edu). Interviews will be conducted immediately.
Submitted by Jeremy Portillo jp450@evansville.edu
WSOC: Anslinger's Late Goal Pushes UE Unbeaten Streak To Five With Tie At SIU
Evansville natives Ryleigh Anslinger (Evansville, Ind./Memorial) and Kaylee Woosley (Evansville, Ind./North) teamed up when it mattered the most on Thursday night to help the University of Evansville women's soccer team keep its unbeaten streak alive with a 1-1 tie at Southern Illinois.
Anslinger took a feed from Woosley in the 86th minute on Thursday night and buried a shot into the bottom-right corner of the goal to knot the match at 1-1. For Anslinger, it marked her first goal of the season, and second in her second season as a Purple Ace. For Woosley, the assist marked her first career point as a Purple Ace.
The late goal was needed to keep the unbeaten streak alive, after the Salukis scored a goal early in the 12th minute. SIU forward Emma Spotak, who netted an 89th minute goal last season to beat Evansville, found the back of the net again in the 12th minute with a right-footed shot to give the Salukis a 1-0 lead.
SIU maintained a majority of possession for the first half, until the final five minutes, when Evansville caught fire, and nearly tied the match on a shot by sixth-year midfielder Nicole Benati in the 43rd minute. UE out-shot SIU, 3-0, in the final five minutes of the first half, but it would just be the start of the attack for the Purple Aces.
In the second half, Evansville pressed forward, beginning the half firing seven shots in the first 15 minutes to put the Salukis under constant pressure. SIU would find its footing over the next 15 minutes, before Evansville would once again put pressure on and finally break through with Anslinger's goal in the 86th minute. Overall, Evansville held an 18-11 advantage in shots for the night, including a 15-4 edge from the 40th minute on.
With the draw, Evansville's record moves to 0-3-7 and 0-0-4 in the MVC. UE's seven ties equal the most in program history, and is the second-highest mark in MVC history. SIU, meanwhile, now stands at 1-6-4 overall and 0-3-1 in the MVC with the tie. The Purple Aces will return home on Sunday afternoon to host Belmont (1-6-5, 0-1-3 MVC) at Arad McCutchan Stadium. Kick-off is set for 1 p.m. and Sunday's match can be seen live on ESPN+.
Submitted by Athletics
MVC schedule continues for UE volleyball
Week two of Missouri Valley Conference play will see the University of Evansville volleyball team travel to Southern Illinois and Missouri State. UE opens the weekend on Friday evening in Carbondale at 6 p.m. before traveling to Springfield, Mo. for a 4 p.m. contest on Saturday; the match against the Bears will be carried on ESPN+.
Last Time Out
- In its second home match of the season, the Purple Aces welcomed Chicago State on Monday evening
- Hitting .329 in the contest, the Cougars earned a 3-0 win over UE
- Giulia Cardona and Melanie Feliciano finished with 10 kills each
She's #1
- Giulia Cardona finished the first conference weekend with an unreal average of 8.86 kills per set
- After finishing with 26 at Murray State, Cardona reset her career-high with 36 at Belmont on Saturday
- Her 36 kills was the most in the NCAA in a 4-set match this season and tied for the highest tally in any match of the 2023 season
- For her efforts, Cardona was recognized as the MVC Player of the Week for the second time this season and third instance in her career
- She continues to lead the nation with 5.67 kills and 6.46 points per set while her 14.78 attacks per game is second nationally
Scouting the Opposition
- After splitting their first two MVC matches of 2023, Southern Illinois enters Friday's match with a 9-4 overall record
- The Salukis defeated UIC last weekend by a 3-1 final before falling to Valpo in straight sets on Saturday
- One of the most accurate hitters in the MVC is Imani Hartfield, who is third in the league with a season tally of .394
- Missouri State dropped to 6-8 on the season with a pair of conference losses to Valparaiso and UIC
- Deja Bickers paces the Bears with 3.11 kills per frame
Setting up the Offense
- Averaging 11.86 assists over the first two MVC matches, Kora Ruff improved her season average to 10.71/set, which is third in the conference
- Ruff's average is 15th in the nation
- Defensively, she has chipped an average of 2.62 digs, which is 20th in the league
- In the final two contests of the DePaul Invitational, Ruff averaged an unreal 14.57 assists including a season-high of 54 against Northern Illinois
Submitted by Athletics
Contribute to AceNotes
To have content considered for inclusion in AceNotes, please submit a Marketing Request Form. Deadline for submission to AceNotes is 10:00 a.m. on the requested date of publication. Only articles concerning UE related/sponsored activities will be accepted. Articles submitted to AceNotes may be edited for length and clarity. Submitter contact information is at the end of each article.