| | |
| --- | --- |
| PurplePulse | Wednesday, September 27, 2023 |
CORRECTION: Living Room Conversations
The CDEI is hosting a series of Living Room Conversations for employees. These guided conversations are designed to help us dialogue across difference in order to create a more inclusive campus culture. Most UE students, faculty, and staff who have participated in a Living Room Conversation say they want to participate again, so come give them a try! Conversations work best in groups of 4-7 people, so registration is required. Each conversation last 60-90 minutes. Living Room Conversations are open to all UE staff, administrators, and faculty and can be used towards fulfilling requirements for the Passport to Inclusion.
To register to attend one of the conversations this semester or for more information, email center4dei@evansville.edu.
Social Identity: Wednesday, September 27 at 10:00 am
Disability & Ableism: Friday, September 29 at 12:00 pm
Status & Privilege: Wednesday, October 4 at 10:00 am
Gender: Thursday, October 5 at 1:30 pm
American Culture: Melting Pot or Salad Bowl: Wednesday, October 18 at 1:00 pm
Social Identity: Tuesday, October 24 at 2:00 pm
Political Stereotypes: Friday, October 27 at 12:00 pm
Submitted by Valerie Stein vs9@evansville.edu
Upcoming Road Closure at Walnut and Weinbach
Beginning on or after September 26, the intersection of Walnut and Weinbach will be completely closed as part of the City of Evansville's Refresh project. The closure is expected to last for 30 to 45 days due to potential complications with the water force main connection. Work will not take place on holidays or weekends and the timing could also be impacted by weather.
Construction Work: The construction work will involve a complete rebuild of the intersection. This includes the connection of a new force water main, installation of storm sewers, updating traffic signals, creating ADA-compliant curbs, and constructing a concrete intersection.
Parking Changes: Parking in lot Q will be restricted to the south spaces near the curb along the Townhouses. All middle and north side spaces will be closed off, and orange barrels will be placed to facilitate safe delivery vehicle access to Central Receiving.
Parking Enforcement: We want to emphasize that the restrictions will be strictly enforced. Towing will only occur if a parked car creates a critical safety issue or blocks other vehicles from using the designated route. Our goal is to ensure safety and minimize disruptions during the construction period without unnecessary towing.
Traffic Flow: Signage will be placed at the entrance to the lot, directing traffic to make a right turn into the lot using the north lane. Additionally, signage on Walnut west of Rotherwood will indicate "No Thru Traffic Allowed." A barricade will be placed in the straight eastbound lane at the Rotherwood/Walnut intersection. Delivery vehicles will have a route around the barricade using the left turn lane.
Median Turnaround: Bollards on Walnut between Ridgway and Carson Center will be removed by Facilities to allow a turnaround in the median for delivery vehicles to exit through the westbound lane of Walnut. A stop sign will be placed at the turnaround to control the traffic entering the westbound lane.
Walking Safety Tips: Be predictable and ensure you follow the rules of the road and obey signs and signals and plan to walk on sidewalks whenever they are available. If there is no sidewalk, walk facing traffic and as far from traffic as possible. Keep alert at all times; don't be distracted by electronic devices that take your eyes (and ears) off the road. Whenever possible, cross streets at crosswalks or intersections, where drivers expect pedestrians. Look for cars in all directions, including those turning left or right. If a crosswalk or intersection is not available, locate a well-lit area where you have the best view of traffic. Wait for a gap in traffic that allows enough time to cross safely; continue watching for traffic as you cross. Never assume a driver sees you. Make eye contact with drivers as they approach to make sure you are seen. Be visible at all times by wearing bright clothing during the day and wear reflective materials or use a flashlight at night. Watch for cars entering or exiting driveways or backing up in parking lots. Avoid alcohol and drugs when walking; they impair your abilities and your judgment.
Alternative Parking for Team Buses: Team buses can use Lot H or Lot O during this time.
Submitted by Noah Alatza na122@evansville.edu
Lunch Bunch
Faculty and staff, come join us for some chips and salsa at Lunch Bunch this Thursday, September 28th from 12:00 p.m. to 1:00 p.m. in the Philips Alcove (Ridgway 2nd floor).
No need to RSVP. Stay as little or as long as your schedule allows. There is no agenda or presentation for these gatherings. Lunch Bunch is a way to offer faculty and staff a common place to get together. We hope to see you this Thursday!
ECTE Team: Julie, Stephanie, and Diana
Submitted by Diana Rodriguez Quevedo dr130@evansville.edu
University of Evansville Theatre presents THE SEAGULL
The University of Evansville Theatre opens their 2023–2024 season with Anton Chekhov's THE SEAGULL, translated by Tom Stoppard. This production opens at 7:30 pm, Friday, Sept. 29, in Shanklin Theatre. Additional performances are at 7:30 p.m., on Sept. 30, Oct. 12, 13, 14, and at 2:00 p.m., on Oct. 15. This achingly beautiful story of unrequited love is as timeless today as in the 1890s Russian countryside in which it is set. Stoppard's masterful translation remains faithful to the humor that Chekhov intended to convey amid all the pathos. Diving into the psychological minefields between mothers, sons, lovers, and familial relations, the passionate lives of these characters are all on full display as they make decisions that are often paradoxical, sometimes destructive, but always recognizably human. A vast emotive masterpiece with music in its words, this play will sear itself into your memory!
THE SEAGULL is directed by Assistant Professor Amelia McClain '03. Ethan Henry, a sophomore theatre performance major from Salina, Kan., serves as the associate director; Associate Professor Eric Renschler '83, serves as the scenic designer; Violet Nassri, a senior design and technology major from Dallas, Texas, is the costume designer; Ethan Santiago, a sophomore design and technology major from Belton, Texas, is the lighting designer; Jonathan Roth, a sophomore design and technology major from Brookfield, Wis., serves as the sound designer; Katie Lawhorn, a junior stage management major from Louisville, Ky., is the stage manager, and Visiting Assistant Professor Scott Carpenter '05 serves as the technical director.
The cast features Lillian Grace Carlson, a senior performance major from Minneapolis, Minn., as Masha; Trace Levens, a junior performance major from Bryan, Texas, as Medvedenko; Kurt Sparks, a first-year performance major from Millville, N.J., as Sorin; Arturo Quepóns, a sophomore performance major from San Antonio, Texas, as Konstantin; Beverley Buchanan, a senior performance major from Tomball, Texas, as Nina; Folarin Oyeleye, a first-year performance major from Richmond, Texas, as Dorn; Christina Tinde Jesenski, a senior performance major from Rancho Santa Margarita, Calif., as Polina; Amoren Newton, a first-year performance major from Denton, Texas, as Shamraev; Ashly Chalico, a junior performance major from Magnolia, Texas, as Arkadina; Caden Sevier, a senior performance major from Humble, Texas, as Trigorin; Ethan Henry, a sophomore performance major from Salina, Kan., as Yakov; Daphne Wheeler, a first-year performance major from Star, Idaho, as Maid; and Brayden Havard, a first-year performance major from Montgomery, Texas, as Cook.
Adult ticket prices are $20 and $18 for senior adults, UE employees, and non-UE students. UE students may obtain one free student rush ticket beginning at 12 p.m. on the day of the performance they wish to attend. In addition, UE Theatre is excited to continue their "Pay What You Will" initiative again this second season. Every Thursday evening performance in Shanklin Theatre is available for any person to pay any price that best fits their budget.
Season subscriptions for the 2023–2024 Shanklin Theatre season are also available and are $50 for an adult subscription and $44 for a discount subscription for senior adults, UE employees, and non-UE students. This three-play season includes THE SEAGULL, the smash–hit musical RENT, and the powerful WAITING FOR LEFTY. A May Studio Theatre Discovery Package can be purchased for $18 and includes A BRIGHT NEW BOISE and POTUS OR, BEHIND EVERY GREAT DUMBASS ARE SEVEN WOMEN TRYING TO KEEP HIM ALIVE. Subscriptions may be purchased by calling the ticket office at 812.488.2031, Monday through Friday, 12:00 to 5:00 p.m. Single tickets may be purchased online at theatre.evansville.edu or by calling the ticket office.
Submitted by Sharla Cowden sc75@evansville.edu
Chili Cook Off: Battle of the Chefs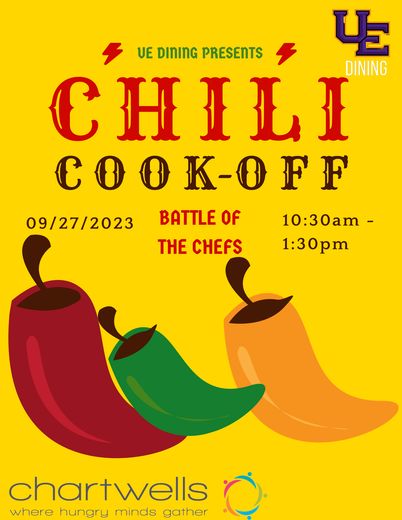 It's time once again for our annual CHILI COOK OFF!! Come to the Eatery on September 27, 10:30 AM - 1:30 PM, and vote for this year's CHILI CHAMPION!! Updates on our socials @foodatue!
Submitted by Ka'Bria Carr kc403@evansville.edu
Hispanic Heritage Month-Eduardo Chavez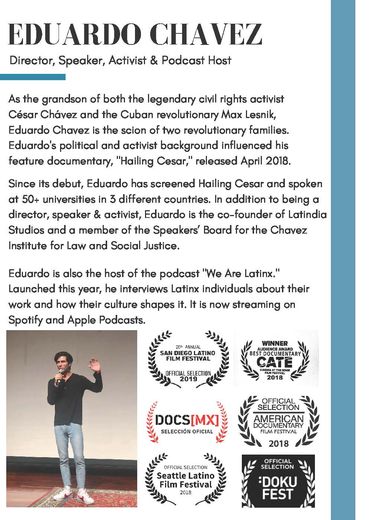 Eduardo Chavez, director, speaker, podcast host and grandson of legendary civil rights activist Cesar Chavez will be on the campus of University of Evansville on Monday, October 2nd, as part of the university's honoring National Hispanic Heritage Month.
"Hailing Cesar," a documentary directed by and featuring Chavez, will be shown at 5pm in the Eykamp Hall on the campus of the University of Evansville.
There will be a question and answer session with Chavez after the documentary.
Admission is free and open to the public.
Submitted by Melissa Moore mm350@evansville.edu
Textbook Orders Not Picked Up: CANCELLED
If you have a textbook web order for class, you have until next Friday (10/6/2023) to pick it up before your order is cancelled.
Please stop into the University Bookstore before then with your student I.D. to collect your order for the fall semester, thank you!
Submitted by Niamh Steffens ss837@evansville.edu
University of Evansville Theatre Introduces Online Student Ticket Sales
The University of Evansville Theatre is thrilled to introduce online student ticket sales for this season. UE students may obtain one free student ticket to each production at theatre.evansville.edu or by visiting purplepass.com/UETheatre. Students should select a STUDENT COMP ticket on the seating map and enter their full UE email address into the code box. In addition, students may still opt to pick up their free ticket at the Ticket Office in Hyde Hall Monday through Friday, 12:00 p.m. to 5:00 p.m. or at the window prior to curtain.
THE SEAGULL, by Anton Chekhov, translated by Tom Stoppard, opens at 7:30 p.m., Friday, Sept. 29, in Shanklin Theatre. Additional performances are at 7:30 p.m., on Sept. 30, Oct. 12, 13, 14, and at 2:00 p.m., on Oct. 15.
Submitted by Sharla Cowden sc75@evansville.edu
Maxient Emails
The Offices of Public Safety, Residence Life, and Institutional Equity have begun utilizing a new student conduct software called Maxient. This system will assist offices in their duties. One of the features of Maxient is the sending of emails through the Maxient system to a university email address. If you receive an email from "notfications@maxient.com", this is likely an important email outreach from a University Official. The email will indicate that you have a letter and prompt you to log into the system using your UE credentials using the provided link. Logging in will allow you to view the letter.
If you have any questions, you may reach out to the Office of Institutional Equity at titleix@evansville.edu.
Submitted by Annie Sills cs175@evansville.edu
Volunteers needed for Balance Assessments 10/24/2023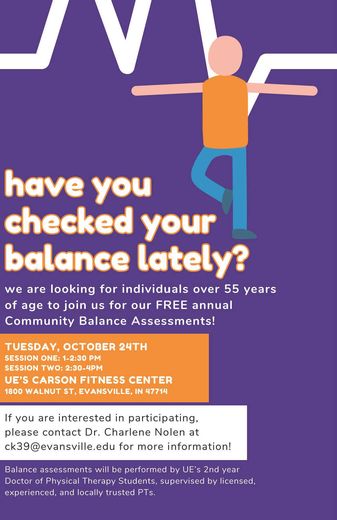 The Exercise Science and second year DPT students will be conducting community balance assessments as part of the Bronstein Geriatric Wellness Program. We are looking for 24 participants who are 55 years or older to take part in these assessments. Faculty will be present to assist the students throughout the assessments. Please share this opportunity with anyone you think might be interested and able to participate. The participant does not need to be able to walk but should at least be able to stand for the assessments.

Who: Exercise Science and 2nd year DPT students
What: DPT students will complete testing of your balance, educate you on the findings during the testing, and provide you with a home exercise program
When: 10/24/2023 Session 1 from 1:00-2:30 or Session 2 from 2:30-4:00
Where: Carson Center, Maikranz Gym
Why: To improve the balance and mobility of the community through the Bronstein Geriatric Wellness Program initiative

Participants can contact Dr. Charlene Nolen at ck39@evansville.edu to sign up or seek further information.
Submitted by Charlene Nolen ck39@evansville.edu
Hannah Evelyn Jones Exhibit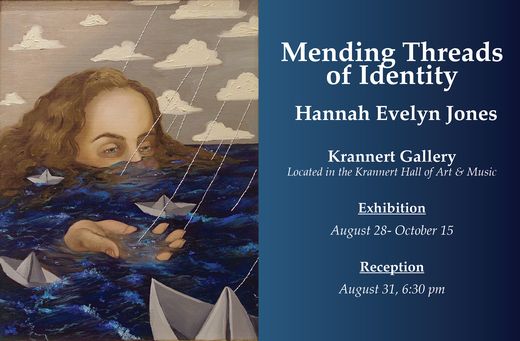 The Department of Art presents Hannah Evelyn Jone's exhibit "Mending Threads of Identity" in the Krannert Gallery through October 15, 2023. Gallery hours are Mon - Sat 8:00am-8:00pm and Sun noon - 8:00pm.
Submitted by Carol L McCraney cm177@evansville.edu
Billy Twymon Exhibit Opens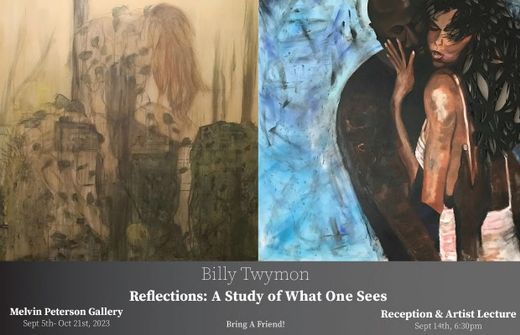 The UE Friends of Art and the UE Department of Art present Billy Twymon's exhibit "Reflections: A Study of What One Sees" in the Melvin Peterson Gallery from Sept 5 through October 21, 2023.
Please join us for a reception and artist lecture in the Gallery on Thursday, September 14 at 6:30PM.
Gallery hours are Mon, Tues, Fri, & Sat 12:00pm - 3:00pm and Wed & Thurs 12:00pm - 6:00 pm.
Submitted by Carol L McCraney cm177@evansville.edu
Giulia Cardona earns second Player of the Week Award of 2023
For the second time this season and third instance in her career, University of Evansville junior Giulia Cardona was named the Missouri Valley Conference Player of the Week on Monday.
Cardona had an unbelievable weekend that saw her average an unfathomable 8.86 kills per set while hitting .329 as the Purple Aces opened their league slate. Cardona had 62 kills in seven sets, including a new career-high of 36 at Belmont.
Her 36-kill performance versus the Bruins was the most in a 4-set match in 2023 and tied for the most in a match this season in the NCAA. She added 2.71 digs per set along with two blocks and an ace. In the weekend opener at Murray State, Cardona recorded 26 kills while hitting .277. She picked up eight digs and a block.
On Saturday, she took things to a new level, setting her career mark with 36 kills at Belmont while finishing the match hitting .370. Cardona picked up 11 more digs and a block.
Averaging an unfathomable 8.86 kills in the last two matches, Cardona improved her season average to a NCAA-best 5.84 kills per set. With 6.63 points per set, Cardona is also tops in the nation.
Submitted by Athletics
Aces drop Monday contest to Chicago State
Led by Yanlis Feliz' 18 kills, Chicago State picked up 3-0 victory over the University of Evansville volleyball team on Monday evening at Meeks Family Fieldhouse.
Melanie Feliciano and Giulia Cardona led UE with 10 kills apiece. Cardona and Luana Gazda Kuhn led the way with five digs while Kora Ruff totaled 22 assists. The Cougars finished the night hitting .329 while the Aces were held to .116.
Game 1 – Chicago State 25, UE 17
Looking to set a tone from the first serve of the evening, Chicago State jumped out to a 4-1 lead and would extend it to 9-3 following a time out by the Purple Aces. UE made its way back within four points (16-12), but the Cougars continued to roll as they earned a 25-17 win in the first set.
Game 2 – Chicago State 25, UE 16
Once again, it was the Cougars with the early momentum, opening a 4-0 lead. Trailing by a 9-5 score, the Aces fought back. Consecutive aces from Giulia Cardona began a 5-0 run that gave Evansville its first lead of the night at 10-9.
Chicago State got back on track, countering with a 5-0 run of their own to go up 14-10. Evansville got back within three tallies, but it was all Cougars as they took a 2-0 lead on the strength of a 25-16 decision.
Game 3 – Chicago State 25, UE 18
With their backs against the wall, the Aces jumped out to a 3-1 lead to open the third set. Luana Gazda Kuhn added a kill to her tally to push the lead to 7-4. The Cougars quickly tied it up at 7-7 before jumping in front at 10-8.
Maddie Hawkins' second ace of the night tied the score at 14-14 as the Aces looked to rally, but the Cougars regained control and completed the set on an 11-4 run to clinch the match.
UE looks to get back on track when MVC play resumes this weekend at Southern Illinois and Missouri State.
Submitted by Athletics
Contribute to AceNotes
To have content considered for inclusion in AceNotes, please submit a Marketing Request Form. Deadline for submission to AceNotes is 10:00 a.m. on the requested date of publication. Only articles concerning UE related/sponsored activities will be accepted. Articles submitted to AceNotes may be edited for length and clarity. Submitter contact information is at the end of each article.