| | |
| --- | --- |
| PurplePulse | Friday, September 15, 2023 |
Engineering, Business & Technology Career Fair- Register TODAY
Engineering, Business & Technology Career Fair
Tuesday, September 19th
12:30pm-3pm
Eykamp Hall, RUC
Register in Handshake TODAY!! Join us as we welcome nearly 50 employer to campus, all recruting for internships, full time and part time positions. Not looking for position right now? You will still not want to miss a chance to network with employers in your field.
Questions? Contact the Center for Career Development at career@evansville.edu.
Submitted by Amanda Wood aw505@evansville.edu
Vanderburgh County Tox-Away Day
UE's environmental, health and safety manager would like to let the UE Community know about the 2023 Tox Away Day planned for Saturday, September 16. The event is from 9:00 a.m.-1:00 p.m. at the Civic Center parking lot (Ninth and Walnut). This program is for Vanderburgh County households only. Help dispose of hazardous materials properly, so they don't end up entering local streams and rivers.
Items accepted include oil-based paint, solvents & thinners, pesticides, herbicides, household chemicals, motor oil, antifreeze, gasoline, auto batteries and fluids, smoke detectors, fluorescent tube lights, fire extinguishers and pharmaceuticals at this free disposal program. (No latex paint.)
Please load items into your trunk or truck bed for safe unloading.
For a complete list, and for items not accepted, see the Vanderburgh County website: https://www.evansvillegov.org/city/department/index.php?structureid=115
Submitted by Amber Elkins ae152@evansville.edu
Fitness Classes Offered
Come check out what is happening at the fitness center, located in the back of Carson Center! Here is our Fall 2023 class schedule for the semester. Our classes include pickleball, insanity (high intensity bodyweight workout), total body fitness (weighttraining workout), WERQ (dance fitness class), mediation, open swim, and yoga. Be on the lookout for other classes added throughout the semester. These classes are free of charge to all students, faculty, and staff. UE members may also bring a guest with them for a $3 fee. There is something for everyone to do to get involved and be active! We can't wait to see you there Aces!
2023 Fall Class Schedule
Time
Monday
Tuesday
Wednesday
Thursday
Friday
6:45am-7:30am
Insanity
Insanity
Insanity
Insanity
Insanity
12pm-1pm
Pickleball
X
Pickleball
X
Pickleball
12pm-1pm
X
Total Body
Fitness
X
Total Body
Fitness
X
4pm-5pm
Insanity
Insanity
Insanity
Insanity
Insanity
6pm-7pm
Yoga
Meditation
X
WERQ
X
7pm-9pm
Open Swim
Open Swim
Open Swim
Open Swim
Open Swim
*Meditation will begin September 19th, 2023*
*All other classes will begin September 11th , 2023*
**Saturday & Sunday – Open Swim 3 pm-5 pm**
*Open Swim will begin pending lifeguard availability*
Classes are free for enrolled students, faculty, and staff.
For further information, please contact the Fitness Center at 488-2397 or check www.imleagues.com (Fitness/Classes) and follow the UE Fitness Center on Facebook and Instagram @uefitness_center.
Submitted by Jeff Chestnut jc56@evansville.edu
Farewell Address for Dr. Michael Austin
Please join us for UE's first "Farewell Address," a captivating lecture delivered by Dr. Michael Austin, outgoing Executive Vice President for Academic Affairs and Provost.
Event Details:
Dr. Michael Austin's Farewell Address
Date: Friday, September 15, 2023
Location: Eykamp Hall Room 251
Time: 3:30-4:15 pm
Reception:
Location: Class of '59 Gallery
Time: immediately following the speaking event.
Light hors d'oeuvres will be served.
Submitted by Noah Alatza na122@evansville.edu
Ace Scholars First-Generation Luncheon
Come join Ace Scholars in celebrating first-generation students and the 2023-2024 school year! There will be free food, gifts, and music. Bring a friend and have a good time.
The luncheon will be hosted in Eykamp on September 17 at 1:30 p.m., so mark your calendars!
If you have any questions contact the president of Ace Scholars at tt141@evansville.edu or their Instagram at @UE.AceScholars.
Submitted by Trinitie Terrell tt141@evansville.edu
Engineering, Business & Technology Fair- coming SOON
Our first career fair of this academic year is fast approaching! Mark your calendar!
Engineering, Business & Technology Career Fair
Tuesday, September 19th
12:30pm-3pm
Eykamp Hall, Ridgway University Center
Register in Handshake.
We encourage you to bring your resume to this event. If you need to create a resume or update your existing one, we can help! Scheduling an appointment with our office is easy- do it online in Handshake or by calling 812-488-1083.
Any questions? Let us know! career@evansville.edu
Submitted by Amanda Wood aw505@evansville.edu
Suggest a Faculty Interest Group
Attention Faculty Colleagues! ECTE welcomes proposals and suggestions for Faculty Interest Groups (FIGs) to be offered in the Fall 2023 semester. These groups are faculty-led and can cover a wide range of interests. The goal is to stay engaged with your colleagues and grow in your pedagogical development!
FIG proposal form: https://forms.office.com/r/u48ite0WQh
Please complete the form by the end of the day on Wednesday, September 20th. After ECTE has collected your responses, we will reach out to possible FIG leaders and then send another form to all faculty to sign up for the FIGs planned this semester.
Contact ecte@evansville.edu for more information.
Submitted by Julie Merkle jm757@evansville.edu
University of Evansville partners with Ascend Indiana to help students with career and internship searches while providing one-on-one support
The University of Evansville (UE) has formed a partnership with Ascend Indiana to connect more students to good and promising career opportunities in Indiana. Through the Ascend Network, the initiative's online job matching platform, UE students will be able to connect with Indiana jobs and internships that match their skill sets and interests and will receive increased one-on-one career guidance and job search support. In addition, this partnership provides Indiana's leading employers with a unique platform for hiring UE students.
Since its inception in 2017, Ascend has connected more than 4,000 Hoosiers with jobs and training opportunities in all sectors across the state. Nearly 700 employers are currently using the Network.
"We are thrilled to embark on this transformative partnership with Ascend Indiana, which will provide our University of Evansville students with enhanced career opportunities and invaluable one-on-one support," said Dianna Cundiff, director of the Center for Career Development. "This collaboration goes beyond the exceptional career assistance we already provide, offering our students a direct pathway to meaningful internships and jobs that align with their passions and skills. By connecting our students to Indiana's leading employers through the Ascend Network, we are reinforcing our commitment to their professional success and the continued growth of our community."
The Network adds a robust resource to the school's efforts to help students find jobs and internships that align with their career goals and provides a lens into the variety of companies and opportunities here in the Hoosier state.
"It is critical for Indiana to retain more college students with relevant skills and abilities to meet employer demand for talent," said Jason Kloth, president and CEO of Ascend Indiana. "Partnering with educational institutions such as the University of Evansville is essential to equipping students with the necessary tools to get their career started here through an internship or early-in-career job, as well as to helping employers connect to the talent they need."
The Ascend Network is a resource offered through the Center for Career Development and at no cost to students. Through the Network, students receive personalized job and internship recommendations that lead to meaningful careers in Indiana. During the job search, application and interview process, the Center for Career Development, will continue to provide individualized support and educational resources, in partnership with Ascend. Students can find out more information here: https://ascendindiana.com/.
About Ascend Indiana
An initiative of the Central Indiana Corporate Partnership (CICP), Ascend Indiana is committed to making Indiana a place of economic opportunity for all. Ascend connects job seekers to good and promising career opportunities through an innovative job matching platform, the Ascend Network; catalyzes partnerships and provides consulting services to meet high-demand workforce needs through Ascend Services; and conducts research through Ascend Insights to enable systems-level change that positively impacts individuals throughout the state. To learn more, visit ascendindiana.com.
Submitted by Noah Alatza na122@evansville.edu
Join Aces Pep Band
Do play a brass, woodwind, or percussion instrument? If so, come join the Aces Pep Band. An organizational meeting will be held on Monday, September 18 at 4:00pm in room 110 of the Krannert Fine Arts building. Rehearsals will begin Monday, September 25. For more information contact Dr. Kenneth Steinsultz at ks306@evansville.edu
Submitted by Kenneth Steinsultz ks306@evansville.edu
Hispanic Heritage Month-We Really Don't Celebrate Cinco de Mayo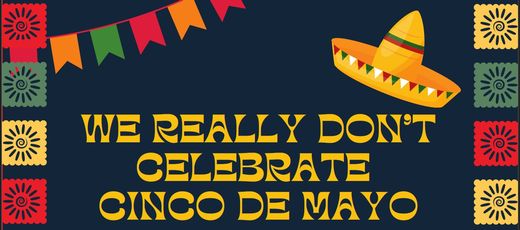 It is important to know why we celebrate....and how!
Join HLSU and CEDI as they celebrate Hispanic Heritage Month with a student led panel as they dismantle the myth of the celebration of Cinco de Mayo!
STUDENT LED PANEL DISCUSSION
EYKAMP HALL ROOM 252
20 SEP 2023
STARTS 11 AM
#HLSU
#UEDIVERSITY
Submitted by Melissa Moore mm350@evansville.edu
Payroll Deductions
As part of our commitment to fostering academic excellence and enriching educational experiences at UE, we are excited to announce the launch of our annual Campus Giving Campaign as a part of FORWARD>> The Campaign for the University. Gifts to the university—no matter the size of the contribution—send powerful messages to our students about the importance of philanthropy in private education and about paying it forward. Thank you for your leadership in demonstrating this generosity.
New this year is an online workflow payroll deduction form, located at workflow.evansville.edu. Hover over the Advancement tab and select Giving Deduction to complete your payroll deduction selection. After submission, you will receive an email once it is processed by Payroll and University Advancement.
You have a special view of how philanthropy affects the university in diverse ways. We encourage you to choose how your support will make an impact inside the university. Your support has the power to shape lives, drive innovation, and build a stronger campus.
Payroll deduction also lends itself to becoming a President's Club member, which is our gift society of donors who contribute at least $1,000 in combined gifts per fiscal year. One benefit of becoming a President's Club member is receiving a campus parking hangtag which allows you to park anywhere on campus (except for the Admissions' purple parking in front oval and handicap spots).
Every year, we come together as a community to make a collective impact that transcends the boundaries of our campus. This year is no different, and we invite you to join us in empowering the future generation of leaders, thinkers, and changemakers.
To learn more about FORWARD>> The Campaign for the University of Evansville, visit forward.evansvlle.edu.
If you have questions about giving, please contact University Advancement at x2586 or alumni@evansville.edu.
Thank you and go Aces!
"95% of your restricted gift will directly support that area of campus while 100% of your unrestricted giving will support the University's greatest needs operationally.
Submitted by Noah Alatza na122@evansville.edu
Women's Basketball Managers Needed
The University of Evansville Women's Basketball program is currently searching for students who are interested in joining the program as student managers for the 2023-2024 academic year. Any full-time UE student, undergraduate or graduate, is welcome to apply. A good attitude and a strong work ethic are required.
Students interested in a manager position must be available for both practices and games. Practice is typically held in the afternoon or early evening during the week, as well as many weekends. Managers should also be available to help with small group workouts during the fall and spring, in addition to accomplishing other tasks as needed.
Managers will get the opportunity to work at the Division 1 level and in the Missouri Valley Conference, one of the nation's premier mid-major conferences. Managers will also get hands-on experience in collegiate athletics working with coaches, players, support staff, and administration. This position offers valuable real-world experience for any student who is interested in pursuing a career in sports administration, coaching, or a related field. Lastly, managers will experience an exciting, family-oriented environment that will positively impact their college experience.
In addition, managers will receive team gear, and an opportunity to work their way up to traveling to away competition.
Any students interested in being a student-manager or who have any questions about the position should contact Van Klohmann at vk41@evansville.edu.
Submitted by Van Klohmann vk41@evansville.edu
Professor Larmann Painting Published in Color Textbook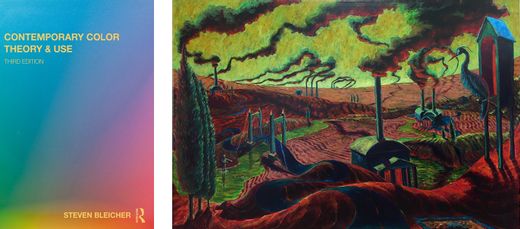 Art Department faculty, Professor Ralph Larmann's artwork Suspension Valley was included as an example of "Color as a Means of Expression" in Steven Bleicher's art text Contemporary Color: Theory and Use Third edition published by Routledge. Larmann's work was singled out as an example of how heightened color can be used to evoke an emotional response from a viewer. The author writes, "Larmann uses a color palette with strong intense hues to visually illustrate the toxic nature of the polluted environment. As with earlier expressionist movements, color is used for its emotional content with little regard for the natural world."
Suspension Valley, completed in 2016, is an acrylic painting measuring 40 inches high by 60 inches wide, and has been exhibited at the Evansville Museum of Arts, History, and Science, and the University of Southern Indiana Kenneth P. McCutcheon Art Center/Palmina F. and Stephen S. Pace Galleries.
Submitted by Carol McCraney cm177@evansville.edu
Honors Program Students Volunteer at Cardio for Canines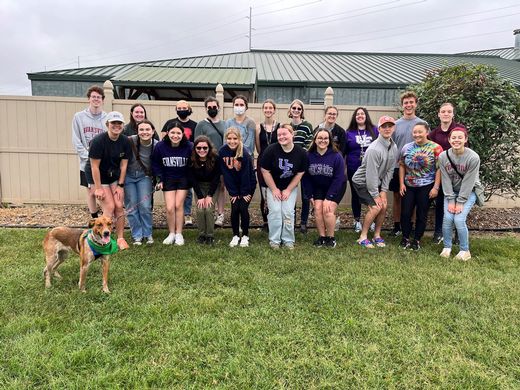 On Saturday, September 9, students from UE's Honors Program spent a beautiful morning walking dogs with the Cardio for Canines program at the Vanderburgh Humane Society. The volunteer efforts were coordinated by HACER, the community service branch of the Honors Program. Thank you to the 26 students who volunteered!
Submitted by Jayme Williams jw504@evansville.edu
Men's golf set for Valpo Fall Invitational
Week #2 of the season will see the University of Evansville men's golf team in Chesterton, Ind. for the Valpo Fall Invitational.
Sand Creek Country Club will be the site of the tournament and the par-72 course checks in at 7,082 yards. Two rounds will take place on Monday with an 8 a.m. shotgun start before Tuesday's final round will have tee times running from 7:30-9 a.m.
Joining the Purple Aces in the event will be Bradley, Green Bay, Detroit Mercy, DePaul, Western Illinois, Central Michigan, Chicago State and Valparaiso.
Last weekend, UE opened the 2023-24 season at the Earl Yestingsmeier Invitational in Muncie where Michael Ikejiani led the way, finishing in a tie for 13th. He completed the weekend with an even 70 in the last round. His 3-round total was a 220.
Second on the squad was Caleb Wassmer. After leading the Aces following the opening day of the tournament, he earned a 44th-place finish with a 228. Carson Parker was third for UE with a 237. Masatoyo Kato and Nicholas Gushrowski were tied in the final standings with a score of 239.
Submitted by Athletics
UE Women's Soccer Opens MVC Play Friday At Illinois State
The University of Evansville women's soccer team will open up Missouri Valley Conference play on Friday night, as the Purple Aces will travel to Normal, Illinois to battle long-time rival Illinois State. Kick-off is set for 6 p.m. at ISU's Adelaide Street Field and Friday's match can be seen live on ESPN+.
Friday night's match will feature the current MVC Offensive and Defensive Players of the Week, as ISU forward Haley Glover and UE senior defender Rachel Rosborough (Mt. Brydges, Ontario/Strathroy District CI) took home the Valley's weekly awards this week. Glover scored four goals on Sunday in the Redbirds' 4-1 victory over Western Illinois to capture Offensive Player of the Week honors. Rosborough, meanwhile, allowed just one shot in a full 90 minutes of work to help Evansville record its third shutout of the 2023 season in a 0-0 draw with Western Kentucky last Thursday.
Overall, Illinois State will enter Friday's match with a 2-3-1 record, and ISU has been unbeaten in its last three matches. Evansville, meanwhile, stands at 0-3-3 entering Valley play, and the Purple Aces rank second in the Valley in fewest goals allowed this year, conceding just six goals so far this year.
All-time, Illinois State leads the series over UE, 20-9-4. However, Evansville posted a 3-1 victory over Illinois State last October at home in the teams' last match-up. Friday's match will mark the seventh time in which UE and Illinois State have opened Valley play against one another, with UE holding a 4-1-1 all-time record in Valley season-openers against Illinois State.
Submitted by Athletics
Volleyball travels to Knoxville for Friday matches
Set for its final weekend non-conference trip, the University of Evansville volleyball team heads to Knoxville, Tennessee for a pair of matches on Friday. The Purple Aces open at 10 a.m. CT against Chicago State before facing the 15th-ranked Volunteers at 5:30 p.m. CT.
Last Time Out
- Saturday was one of those matches where the final score was not indicative of how the team played as the Aces fell at DePaul by a final of 3-0
- All three sets came down to the wire including a 25-23 score in the first set and a 34-32 final in the second game
- Giulia Cardona and Melanie Feliciano finished the day with 23 and 22 kills, respectively
- Kora Ruff added 48 assists while Ainoah Cruz led the way with 15 digs
#1 in the NCAA
- With another spectacular weekend of action, Giulia Cardona is now the national leader in three major statistics
- She paces the NCAA in kills (5.63/set), points (6.67/set) and attacks (14.30/set) while ranking 5th nationally with 0.70 aces per set
- In the final two matches of the DePaul Invitational, Cardona averaged 6.7 kills per frame as she recorded 24 against Northern Illinois and 23 versus DePaul
- Cardona put together one of the most efficient performances you will ever see in the win over North Alabama, finishing with a career-high 32 kills while hitting 459 in the victory...she added 12 digs and 6 block assists
Top of the Valley
- Sophomore Kora Ruff is now the conference leader with a season average of 11.24 assists per set
- On the national level, Ruff's assist average is 11th
- In the final two contests of the DePaul Invitational, Ruff averaged an unreal 14.57 assists including a season-high of 54 against Northern Illinois
- Additionally, Ruff is 5th in the MVC in service aces (0.48/set) and 19th in digs (2.72/set)
- On the defensive side, Ruff set a new career mark with 18 digs against UNA
Scouting the Opposition
- Friday's opener pits the Aces against Chicago State in a unique series of meetings this season; it will be the first of three contests between the squads who will also meet in Evansville and in Chicago later in the season
- The Cougars have opened the year with a 6-2 record and have two wins over Northern Illinois and one over Southeast Missouri State
- Patrycja Lagida holds the team lead with 4.32 kills per set
- Tennessee opens the weekend ranked 15th in the nation and hold a 7-1 record
- Their only setback of 2023 was a 5-set loss to Wisconsin, who is currently the top ranked team in the nation
- On Tuesday, Morgahn Fingall was named the AVCA Division I National Player of the Week as she averaged 6.57 points and 5.71 kills per set while defeating #24 Marquette and Loyola
Building Blocks
- Evansville's block leader is Brooke Springer as her average of 1.14 per set puts her third in the MVC
- Springer opened the DePaul Invite with a solo block and three block assists versus St. Thomas before adding five block assists in the triumph over NIU
- Springer's eight solo blocks is tied for the second-highest tally in the league
- Her top offensive performance of 2023 came against USI where she tallied six kills
Submitted by Athletics
UE men's soccer earns a point in draw against Lindenwood
The University of Evansville men's soccer team was able to come back from an early second-half deficit to tie the Lindenwood Lions 2-2.

Forward Kai Phillip and winger Nkosi Graham gave the Purple Aces their two goals to earn a point against Lindenwood in a chaotic Wednesday evening matchup. Forward Nacho Diaz Barragan and midfielder David Hernandez led UE in shots with three apiece, while Barragan and midfielder Carlos Barcia put two shots on goal each. Goalkeeper Jacob Madden made two saves while allowing two goals through 90 minutes.

"As opposed to our last game, after Kai scored [the first goal] we kind of took off and tonight we took it for granted in our effort which started to lack a little bit," said Interim Head Coach Robbe Tarver post-match. "We gave a team like Lindenwood some hope with a soft goal we don't want to concede ever. But credit to them because they started creating chances and putting pressure on us. And I don't think we handled that well, which is disappointing because we talk a lot about responding to moments in the game. And we didn't do that tonight."

The Aces found themselves up early in the 18th minute as Phillip scored his fourth goal in three games. On a cross from Hernandez, Phillip pulled a turn around a Lions player just outside the penalty arc sending the ball into the top right corner of the net. Evansville had the offensive momentum for a shot Barcia in the 26th minute. But Lindenwood found an opportunity nine minutes later on a broken defensive play from UE, tying the game in the 35th minute. The teams headed into the half break with a goal each and three on-target shots.

The second half began with a trio of corner kicks for the Aces, but it would the Lions who made the next move. Lindenwood made its second goal in the 55th minute, beating Madden on the far right side. Evansville responded quickly with two shots on goal in the following four minutes. Momentum swung between the two teams until UE tied the game back up in the 74th minute. Graham scored his first goal of the year on a header in the goal area thanks to a long cross down in the left corner from defender Nacho Diaz-Carneja. The Aces used the goal to spur four more chances, but couldn't quite find the net again, earning a point in the 2-2 draw.

Evansville begins Missouri Valley Conference play on Saturday evening. UE heads to Des Moines, Iowa to face the Drake Bulldogs for the first MVC game of 2023. Kick-off from Cownie Soccer Complex is set for 7 p.m. and will be broadcast on ESPN+
Submitted by Athletics
Contribute to AceNotes
To have content considered for inclusion in AceNotes, please submit a Marketing Request Form. Deadline for submission to AceNotes is 10:00 a.m. on the requested date of publication. Only articles concerning UE related/sponsored activities will be accepted. Articles submitted to AceNotes may be edited for length and clarity. Submitter contact information is at the end of each article.