| | |
| --- | --- |
| PurplePulse | Wednesday, September 13, 2023 |
Employee Headshots on Thursday
Employees in need of a new or updated headshot can have theirs taken on Thursday, September 14. Photographer Chris Berneking will be set up on the southwest corner of the front oval lawn beginning at 9:00 a.m.
If you would like to have your headshot taken, please contact Julie Beer at jb855 to be added to the list.
Submitted by Julie Beer / jb855@evansville.edu
Archery Club Callout Meeting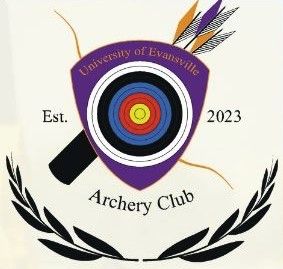 Come and join us in Hyde Hall 117 from 6:30-7:30 pm on Thursday, September 14, 2023 and see what Archery Club has planned for this semester and how you can become more involved. Pizza will be provided and free stickers will be given out.
Submitted by Peighton Brown pb136@evansville.edu
Hispanic Heritage Month-Eduardo Chavez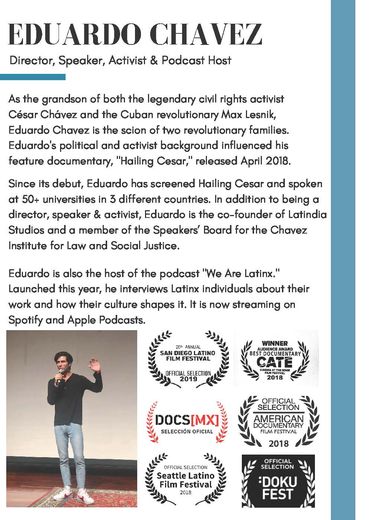 Eduardo Chavez, director, speaker, podcast host and grandson of legendary civil rights activist Cesar Chavez will be on the campus of University of Evansville on Monday, October 2nd, as part of the university's honoring National Hispanic Heritage Month.
"Hailing Cesar," a documentary directed by and featuring Chavez, will be shown at 5pm in the Eykamp Hall on the campus of the University of Evansville.
There will be a question and answer session with Chavez after the documentary.
Admission is free and open to the public.
Submitted by Melissa Moore mm350@evansville.edu
Vanderburgh County Tox-Away Day
UE's environmental, health and safety manager would like to let the UE Community know about the 2023 Tox Away Day planned for Saturday, September 16. The event is from 9:00 a.m.-1:00 p.m. at the Civic Center parking lot (Ninth and Walnut). This program is for Vanderburgh County households only. Help dispose of hazardous materials properly, so they don't end up entering local streams and rivers.
Items accepted include oil-based paint, solvents & thinners, pesticides, herbicides, household chemicals, motor oil, antifreeze, gasoline, auto batteries and fluids, smoke detectors, fluorescent tube lights, fire extinguishers and pharmaceuticals at this free disposal program. (No latex paint.)
Please load items into your trunk or truck bed for safe unloading.
For a complete list, and for items not accepted, see the Vanderburgh County website: https://www.evansvillegov.org/city/department/index.php?structureid=115
Submitted by Amber Elkins ae152@evansville.edu
Fitness Classes Offered
Come check out what is happening at the fitness center, located in the back of Carson Center! Here is our Fall 2023 class schedule for the semester. Our classes include pickleball, insanity (high intensity bodyweight workout), total body fitness (weighttraining workout), WERQ (dance fitness class), mediation, open swim, and yoga. Be on the lookout for other classes added throughout the semester. These classes are free of charge to all students, faculty, and staff. UE members may also bring a guest with them for a $3 fee. There is something for everyone to do to get involved and be active! We can't wait to see you there Aces!
2023 Fall Class Schedule
Time
Monday
Tuesday
Wednesday
Thursday
Friday
6:45am-7:30am
Insanity
Insanity
Insanity
Insanity
Insanity
12pm-1pm
Pickleball
X
Pickleball
X
Pickleball
12pm-1pm
X
Total Body
Fitness
X
Total Body
Fitness
X
4pm-5pm
Insanity
Insanity
Insanity
Insanity
Insanity
6pm-7pm
Yoga
Meditation
X
WERQ
X
7pm-9pm
Open Swim
Open Swim
Open Swim
Open Swim
Open Swim
*Meditation will begin September 19th, 2023*
*All other classes will begin September 11th , 2023*
**Saturday & Sunday – Open Swim 3 pm-5 pm**
*Open Swim will begin pending lifeguard availability*
Classes are free for enrolled students, faculty, and staff.
For further information, please contact the Fitness Center at 488-2397 or check www.imleagues.com (Fitness/Classes) and follow the UE Fitness Center on Facebook and Instagram @uefitness_center.
Submitted by Jeff Chestnut jc56@evansville.edu
Red Cross Blood Drive September 26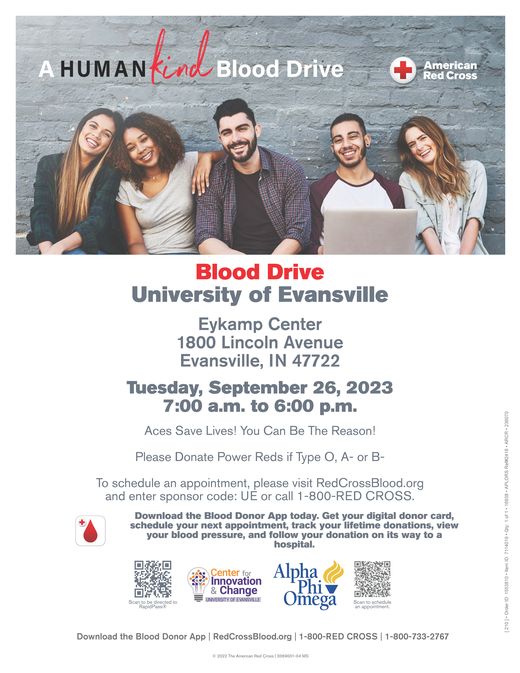 UE's Center for Innovation & Change has partnered with the Red Cross and Alpha Phi Omega, our Co-Ed Service Fraternity, to help meet desperate need for blood in our community. Make plans now to donate blood on Tuesday, September 26, anytime between 7:00 a.m. and 6:00 p.m.!
To make your appointment, go to https://www.redcrossblood.org/ and type "UE" in the code or call 1-800-RED CROSS.
Submitted by Dina C Willming dw285@evansville.edu
Farewell Address for Dr. Michael Austin
Please join us for UE's first "Farewell Address," a captivating lecture delivered by Dr. Michael Austin, outgoing Executive Vice President for Academic Affairs and Provost.
Event Details:
Dr. Michael Austin's Farewell Address
Date: Friday, September 15, 2023
Location: Eykamp Hall Room 251
Time: 3:30-4:15 pm
Reception:
Location: Class of '59 Gallery
Time: immediately following the speaking event.
Light hors d'oeuvres will be served.
Submitted by Noah Alatza na122@evansville.edu
Ace Scholars First-Generation Luncheon
Come join Ace Scholars in celebrating first-generation students and the 2023-2024 school year! There will be free food, gifts, and music. Bring a friend and have a good time.
The luncheon will be hosted in Eykamp on September 17 at 1:30 p.m., so mark your calendars!
If you have any questions contact the president of Ace Scholars at tt141@evansville.edu or their Instagram at @UE.AceScholars.
Submitted by Trinitie Terrell tt141@evansville.edu
Engineering, Business & Technology Fair- coming SOON
Our first career fair of this academic year is fast approaching! Mark your calendar!
Engineering, Business & Technology Career Fair
Tuesday, September 19th
12:30pm-3pm
Eykamp Hall, Ridgway University Center
Register in Handshake.
We encourage you to bring your resume to this event. If you need to create a resume or update your existing one, we can help! Scheduling an appointment with our office is easy- do it online in Handshake or by calling 812-488-1083.
Any questions? Let us know! career@evansville.edu
Submitted by Amanda Wood aw505@evansville.edu
Introduction to Pre-Professional Health Professions
Are you considering a career in medicine, dentistry, optometry, pharmacy or veterinary medicine? If so, please plan to attend a 30-minute information session on "How to be a Successful Pre-professional Health Student" at UE. 5:30 PM on Wednesday, September 13 Koch 100
Contact the Pre-professional Health Advisor, Francie Renschler, with any questions. fr25@evansville.edu
Submitted by Francie Renschler fr25@evansville.edu
Fall Healthy Behavior Challenge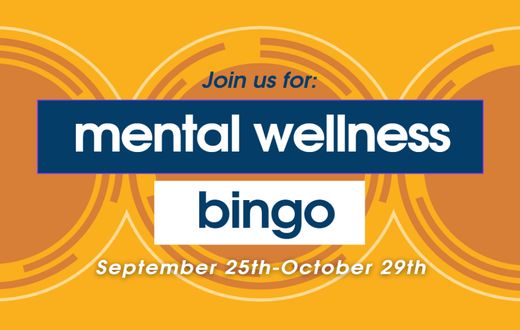 Welcome to the Mental Wellness Bingo, your Fall Healthy Behavior Challenge! This challenge will run from September 25th - October 29th.
Mental health plays a big role in your overall well-being. The goal of this 5-week challenge is to take on a holistic approach to nurturing your overall mental health.
Each day, you will find a mental wellness activity on your bingo card that will touch on either:
Nutrition
Physical health
Social health
Connection
Boundaries & Mindset
You do not have to go in order of the bingo card! Each day, choose an activity that best serves you in the moment. This will give you the chance to reflect on what you're in-need of during that time. We will also share some weekly mental wellness resources to give tips, tricks, and information to better your mental health.
Those who get a "blackout" and complete all of the daily activities will be entered into a gift card drawing. There will be 8 chances to win a $25 gift card! Earn a one-time $150 in HRA credits for successfully completing the challenge!!
Interested in signing up?
Click the link here to get your name on the list: https://forms.gle/Z6daq3eD8hPVbi2ZA
**We will email you a bingo card at the start of the challenge!
Email Taylor at taylor.kollak@ascension.org for more information or questions.
Submitted by Taylor Kollak tk148@evansville.edu
Public Safety Awareness Week Active Aggressor Town hall Events
As recent events have shown us, acts of aggression can happen in all environments, including college campuses. To ensure we are prepared to respond to such an event, Public Safety Director Jason Cullum will host two Active Aggressor town hall sessions to discuss topics ranging from situational awareness, emergency communications, and response to an Active Aggressor.
The town hall sessions will occur during Public Safety Awareness Week, which will be held from September 11-15. The first town hall will be held on September 11 at 4:00 p.m. in SOBA, room 170 and the second town hall will be held on September 13 at 4:00 p.m. in Graves Hall, room 100.
These sessions are for students, faculty, and staff. Additional sessions may be held based on the needs of the community.
Submitted by Jason Cullum jc647@evansville.edu
FREE Suicide Awareness and Prevention Training - Coming Soon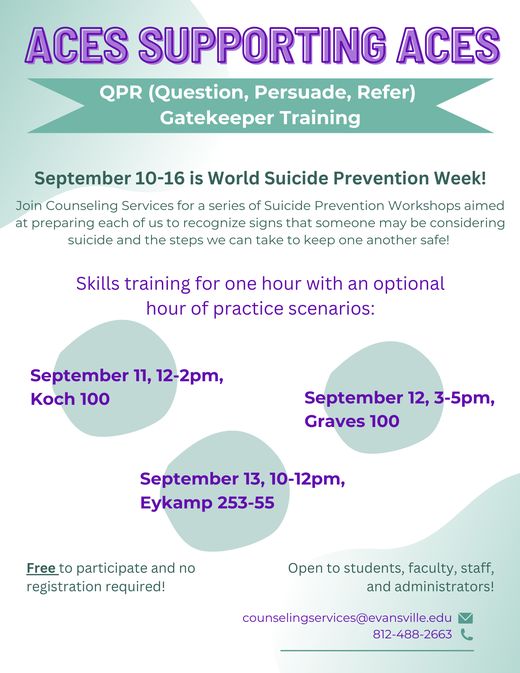 Please join the Office of Counseling Services for our series of FREE Suicide Prevention Workshops during World Suicide Prevention Week, September 10-16. QPR (Question, Persuade, Refer) is an evidenced-based training program aimed at preparing each of us to recognize signs that someone may be considering suicide and the steps we can take to keep one another safe! For each session, there will be one hour of skills training with an optional hour of practice scenarios and group work immediately following. To receive a certificate, attendance for the first hour is all that is required.
These sessions are FREE, and there is no registration required. Room capacity will be considered for safety reasons, and a sign indicating the session is full will be placed on the door as needed. Open to students, staff, faculty, and administrators!
September 11, 12-2pm in Koch 100
September 12, 3-5pm in Graves 100
September 13, 10-12pm in Eykamp 253-55
Please feel free to print and/or share the image below. We hope to see you there!
Submitted by Liz McCormick em232@evansville.edu
Women's Basketball in Search of Male Practice Players
The University of Evansville Women's Basketball program is currently searching for male students who are interested in joining the program as practice players for the 2023-2024 academic year. Any full-time UE student, undergraduate or graduate, is welcome to apply. A good attitude, strong work ethic and previous basketball playing exeperince at the high school or a requisite level are required.
Students interested in being practice players must be available for multiple practices a week. Practice is typically held in the afternoon or early evening during the week, as well as multiple weekends.
Practice players will participate in day to day practice which include scrimmages versus the team, practice drills, opponent scouting and simulations designed by the coaching staff. Participants will also get hands-on experience in collegiate athletics working with coaches, players, support staff, and administration. This position offers valuable real-world experience for any student who is interested in pursuing a career in sports administration, coaching, or a related field. Lastly, practice players will experience an exciting, family-oriented environment that will positively impact their college experience.
In addition, participants will receive authentic team gear and occasional team meals.
Any students interested in being a practice player or who have any questions about the position should contact Van Klohmann at vk41@evansville.edu.
Submitted by Van Klohmann vk41@evansville.edu
Payroll Deductions
As part of our commitment to fostering academic excellence and enriching educational experiences at UE, we are excited to announce the launch of our annual Campus Giving Campaign as a part of FORWARD>> The Campaign for the University. Gifts to the university—no matter the size of the contribution—send powerful messages to our students about the importance of philanthropy in private education and about paying it forward. Thank you for your leadership in demonstrating this generosity.
New this year is an online workflow payroll deduction form, located at workflow.evansville.edu. Hover over the Advancement tab and select Giving Deduction to complete your payroll deduction selection. After submission, you will receive an email once it is processed by Payroll and University Advancement.
You have a special view of how philanthropy affects the university in diverse ways. We encourage you to choose how your support will make an impact inside the university. Your support has the power to shape lives, drive innovation, and build a stronger campus.
Payroll deduction also lends itself to becoming a President's Club member, which is our gift society of donors who contribute at least $1,000 in combined gifts per fiscal year. One benefit of becoming a President's Club member is receiving a campus parking hangtag which allows you to park anywhere on campus (except for the Admissions' purple parking in front oval and handicap spots).
Every year, we come together as a community to make a collective impact that transcends the boundaries of our campus. This year is no different, and we invite you to join us in empowering the future generation of leaders, thinkers, and changemakers.
To learn more about FORWARD>> The Campaign for the University of Evansville, visit forward.evansvlle.edu.
If you have questions about giving, please contact University Advancement at x2586 or alumni@evansville.edu.
Thank you and go Aces!
"95% of your restricted gift will directly support that area of campus while 100% of your unrestricted giving will support the University's greatest needs operationally.
Submitted by Noah Alatza na122@evansville.edu
Hannah Evelyn Jones Exhibit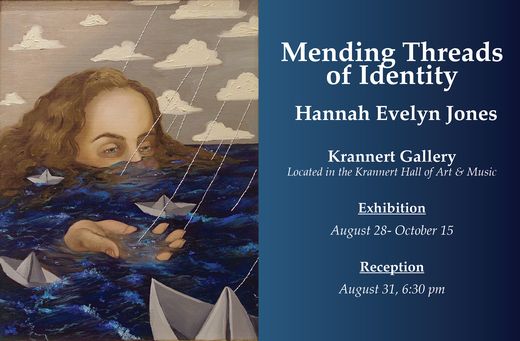 The Department of Art presents Hannah Evelyn Jone's exhibit "Mending Threads of Identity" in the Krannert Gallery through October 15, 2023. Gallery hours are Mon - Sat 8:00am-8:00pm and Sun noon - 8:00pm.
Submitted by Carol L McCraney cm177@evansville.edu
Billy Twymon Exhibit Opens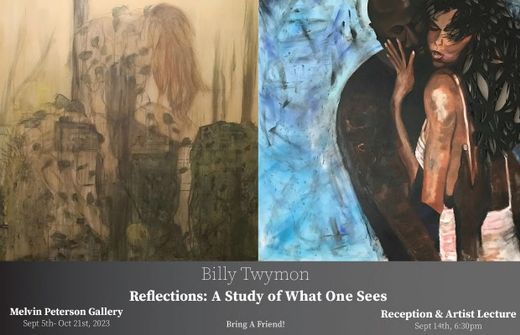 The UE Friends of Art and the UE Department of Art present Billy Twymon's exhibit "Reflections: A Study of What One Sees" in the Melvin Peterson Gallery from Sept 5 through October 21, 2023.
Please join us for a reception and artist lecture in the Gallery on Thursday, September 14 at 6:30PM.
Gallery hours are Mon, Tues, Fri, & Sat 12:00pm - 3:00pm and Wed & Thurs 12:00pm - 6:00 pm.
Submitted by Carol L McCraney cm177@evansville.edu
Floor Cleaning Notice for Multiple Buildings
Floor Cleaning Notice for Multiple Buildings (See Impact Below)
Questions or Concerns Regarding this Work: Bob Dale, bd22@evansville.edu
Description of Work:
A contractor will conduct annual floor cleaning per the schedule listed below. If your building is not listed, it has already been cleaned or will be completed during Christmas Break. Facilities Maintenance Services technicians will move trash containers, recycling bins, chairs, and floor mats. A blue sticker will be placed on the office doorknob when work is finished.
Affected Dates and Buildings:
Sunday, August 6 through Thursday, September 14, 2023
Week of August 6 through August 10: Krannert Hall
Week of August 13 through August 17: Igleheart Building
Week of August 20 through August 24: Sampson Hall
Week of August 27 through August 31: Libraries
Week of September 3 through September 7: Neu Chapel
Week of September 10 through September 14: General Services Building
Impact for Occupants:
There will be intermittent noise, vibrations, and non-toxic odors associated with this work.
Action(s) Required:
Remove any paper, boxes, and personal belongings from your office floor prior to the scheduled cleaning date.
Please allow time for the floor to dry prior to placing objects on the floor.
To have your research lab floors cleaned, contact the Facilities Service Center at 812-488-2775 prior to the scheduled cleaning date.
Thank you for your patience as we maintain our beautiful campus.
To report a facilities emergency, call (812) 488-2775
Submitted by Karen McDonald km598@evansville.edu
Professor Larmann Painting Published in Color Textbook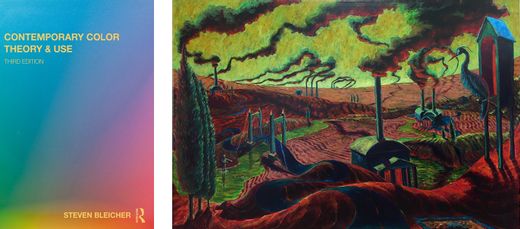 Art Department faculty, Professor Ralph Larmann's artwork Suspension Valley was included as an example of "Color as a Means of Expression" in Steven Bleicher's art text Contemporary Color: Theory and Use Third edition published by Routledge. Larmann's work was singled out as an example of how heightened color can be used to evoke an emotional response from a viewer. The author writes, "Larmann uses a color palette with strong intense hues to visually illustrate the toxic nature of the polluted environment. As with earlier expressionist movements, color is used for its emotional content with little regard for the natural world."
Suspension Valley, completed in 2016, is an acrylic painting measuring 40 inches high by 60 inches wide, and has been exhibited at the Evansville Museum of Arts, History, and Science, and the University of Southern Indiana Kenneth P. McCutcheon Art Center/Palmina F. and Stephen S. Pace Galleries.
Submitted by Carol McCraney cm177@evansville.edu
Remembering Mrs. Virginia "Ginny" Schroeder
The University of Evansville is saddened to learn of the passing of Mrs. Virginia "Ginny" Schroeder. Ginny served as an Honorary member of the University of Evansville's Board of Trustees since 2011, but her friendship with the University spans many decades. Gifting so much of her time, talents, and treasures, Ginny served on the Harlaxton Society Board and was a member of the John Collins Moore Society. She was also a member of the President's Club, having served on the President's Club Executive Committee throughout three University presidencies. Ginny and her late husband, John H. Schroeder, generously supported the University, and their spirit of philanthropy can be seen and felt around the University campus and at Harlaxton College. The Schroeder Family School of Business Administration, Schroeder Hall and the J. Henry Schroeder Boardroom are all named in the family's honor for their philanthropic giving.
Notably, Ginny was responsible for purchasing and donating two pieces of artwork for former Presidents' Stephen Jennings and Tom Kazee. One of the pieces, titled "There'll Always Be An England," portrayed the scenic view from Room 328 on the Blue Corridor at Harlaxton College. It was presented to Jennings in recognition of his contributions to the University. She later purchased Carpe Diem, a painting that featured a view of Harlaxton from the Gatehouse and given in celebration of the service to Kazee. In 2021, Ginny later commissioned a painting Note to Ginny for President Pietruszkiewicz and the First Family, which hangs in the President's Conference room. It showcases the view of the Sesquicentennial Oval from the President's office.
Ginny also made it her life's work to help others in our community. She provided her support to the EVSC Foundation, Koch Family Children's Museum (Honorary Cabinet Member), the Evansville Museum (Lifetime Trustee), St. Mary's Health, YWCA of Evansville, United Way, Ladies of the Social Literary Circle, Willard Library, Wabash College, USI-Historic New Harmony, and St. Vincent de Paul. In 2017, Ginny established the Virginia G. Schroeder Endowed Scholarship Fund for Women to support women studying at the Schroeder Family School of Business Administration at UE.
We are incredibly grateful for Ginny's many contributions to the University and will miss her, though, her legacy will live on in the hearts and minds of those whose lives she enriched.
University President Christopher Pietruszkiewicz issued the following statement:
"The legacy of Virginia 'Ginny' Schroeder is woven into the fabric of the University of Evansville. Her boundless generosity and unwavering dedication to our institution is a testament to her enduring commitment to education, philanthropy, and community," said President Pietruszkiewicz. "Ginny's spirit will forever resonate across campus, in the halls of academia, and in the lives of countless individuals she touched. As we mourn her passing, we also celebrate the indelible mark she has left on our hearts and the timeless legacy that will continue to inspire and uplift generations to come."
A full obituary will be forthcoming.
Submitted by Noah Alatza na122@evansville.edu
Honors Program Students Volunteer at Cardio for Canines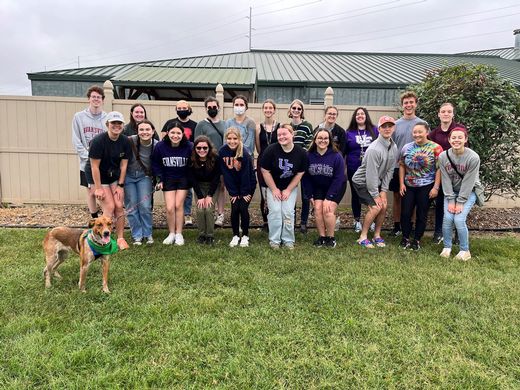 On Saturday, September 9, students from UE's Honors Program spent a beautiful morning walking dogs with the Cardio for Canines program at the Vanderburgh Humane Society. The volunteer efforts were coordinated by HACER, the community service branch of the Honors Program. Thank you to the 26 students who volunteered!
Submitted by Jayme Williams jw504@evansville.edu
Men's soccer returns home for midweek game with Lindenwood
The University of Evansville men's soccer team will try to build a win streak on Wednesday evening against the Lindenwood Lions.
Evansville made a splash in its return to the Hoosier state on Saturday evening. The Aces had their highest offensive output of the season with four goals against the Southern Indiana Screaming Eagles where UE scored the first goal of the game for the first time this season. Senior forward Kai Phillip's second goal of the season came in the 29th minute of the game unassisted after a breakaway down the left side. Phillip has become an offensive firestorm for Evansville in its past two games. Over 98 minutes, the senior forward scored three goals, recorded six points, and put four shots on goal. Phillip is now second in the Missouri Valley Conference in goals per game, averaging 0.60.

The Aces will face the Lindenwood Lions in only the second game in program history. UE won the first meeting last season at Arad McCutchan Stadium with goals from Phillip and midfielder Carlos Barcia. Wednesday's match will welcome fans and their furry friends for the first-ever Pups at the Pitch. Fans are invited to bring their pets to the match and can get free photos taken with Ace Purple at the match!

Lindenwood comes into Wednesday's game off a 3-0 loss to Utah Tech. The Lions are led by Cole Hutson on offense as he leads the team in shots on goal with three, and is one of three players to score this On defense, Lindenwood is led by Noe Bijou with 443 minutes played and is one of four Lions to start all five matches. Lindenwood is also led by a new head coach this year in Kris Bertsch who joins the program after five seasons as an assistant coach at Saint Louis University.
Wednesday's game will be broadcast on ESPN+ at 7 p.m. CT.
Submitted by Athletics
Petrova posts low score for UE in final round
Finishing the final round with a 2-over 74, Kate Petrova paced the University of Evansville women's golf team with a tie for 25th place finish at the Redbird Invitational.
Combined with her rounds of 75 on Sunday, Petrova finished the tournament at Weibring Golf Club with a 224 to lead the Purple Aces. Second on the team but playing as an individual, Trinity Dubbs wrapped up the contest three strokes behind Petrova. Her 227 tied her for 38th. She had a 78 in the third round.
Allison Enchelmayer was next for the Aces. Wrapping up play one stroke behind Dubbs, Enchelmayer scored a 77 in the final round on her way to a tie for 41st. Jane Grankina had a consistent showing, posting an 81 in all three rounds. She registered a 243.
Magdalena Borisova and Carly Frazier rounded out the scoring. Borisova carded an 83 in the last round and finished with a 247 while Frazier recorded an 85 and shot a 257 in the opening tournament.
Evansville came home in 14th place with a 942. UE made a late run at Indiana State, outscoring the Sycamores by eight strokes on the final day before falling short by seven. Bradley took top team honors with an 865. They defeated Illinois State by one. Grace Aromando from the Braves continued her stellar tournament. After back-to-back rounds of 67 on Sunday, she posted a 6-under 66 on Monday to score a 200. She defeated Illinois State's Jinyoung Yun by four.
Next up for the women is "The Velvet", which is hosted by Murray State. It will take place Sept. 18-19 in Paducah, Ky.
Submitted by Athletics
Contribute to AceNotes
To have content considered for inclusion in AceNotes, please submit a Marketing Request Form. Deadline for submission to AceNotes is 10:00 a.m. on the requested date of publication. Only articles concerning UE related/sponsored activities will be accepted. Articles submitted to AceNotes may be edited for length and clarity. Submitter contact information is at the end of each article.