| | |
| --- | --- |
| PurplePulse | Monday, September 11, 2023 |
REMINDER: Public Safety hosting Active Aggressor Town Hall
As recent events have shown us, acts of aggression can happen in all environments, including college campuses. To ensure we are prepared to respond to such an event, Public Safety Director Jason Cullum will host two Active Aggressor town hall sessions to discuss topics ranging from situational awareness, emergency communications, and response to an Active Aggressor.
Public Safety Awareness Week starts today and runs through Friday. The first town hall will be held today, September 11 at 4:00 p.m. in SOBA, room 170 and the second town hall will be held on September 13 at 4:00 p.m. in Graves Hall, room 100.
These sessions are for students, faculty, and staff. Additional sessions may be held based on the needs of the community.
Submitted by University Communications
Employee Headshots on Thursday
Employees in need of a new or updated headshot can have theirs taken on Thursday, September 14. Photographer Chris Berneking will be set up on the southwest corner of the front oval lawn beginning at 9:00 a.m.
If you would like to have your headshot taken, please contact Julie Beer at jb855 to be added to the list.
Submitted by Julie Beer / jb855@evansville.edu
Celebration of Life for Dean Beverly Brockman
Please join the campus community in celebrating the life and legacy of Dean Beverly Brockman on Tuesday, September 12th, at 10:00 a.m. in Neu Chapel.
Submitted by Noah Alatza na122@evansville.edu
This Week in Music
As we continue to mark the reopening of Wheeler Concert Hall,
The UE Music Conservatory is proud to present the New Orleans style jazz sensation,
"Tuba Skinny"
Tuesday, September 12, 2023
7:30 p.m.
Wheeler Concert Hall
Free Admission
Learn more about Tuba Skinny here: http://tubaskinny.com/
Submitted by Dennis Malfatti dm155@evansville.edu
Farewell Address for Dr. Michael Austin
Please join us for UE's first "Farewell Address," a captivating lecture delivered by Dr. Michael Austin, outgoing Executive Vice President for Academic Affairs and Provost.
Event Details:
Dr. Michael Austin's Farewell Address
Date: Friday, September 15, 2023
Location: Eykamp Hall Room 251
Time: 3:30-4:15 pm
Reception:
Location: Class of '59 Gallery
Time: immediately following the speaking event.
Light hors d'oeuvres will be served.
Submitted by Noah Alatza na122@evansville.edu
Ace Scholars First-Generation Luncheon
Come join Ace Scholars in celebrating first-generation students and the 2023-2024 school year! There will be free food, gifts, and music. Bring a friend and have a good time.
The luncheon will be hosted in Eykamp on September 17 at 1:30 p.m., so mark your calendars!
If you have any questions contact the president of Ace Scholars at tt141@evansville.edu or their Instagram at @UE.AceScholars.
Submitted by Trinitie Terrell tt141@evansville.edu
Introduction to Pre-Professional Health Professions
Are you considering a career in medicine, dentistry, optometry, pharmacy or veterinary medicine? If so, please plan to attend a 30-minute information session on "How to be a Successful Pre-professional Health Student" at UE. 5:30 PM on Wednesday, September 13 Koch 100
Contact the Pre-professional Health Advisor, Francie Renschler, with any questions. fr25@evansville.edu
Submitted by Francie Renschler fr25@evansville.edu
SAA Book Club Read for September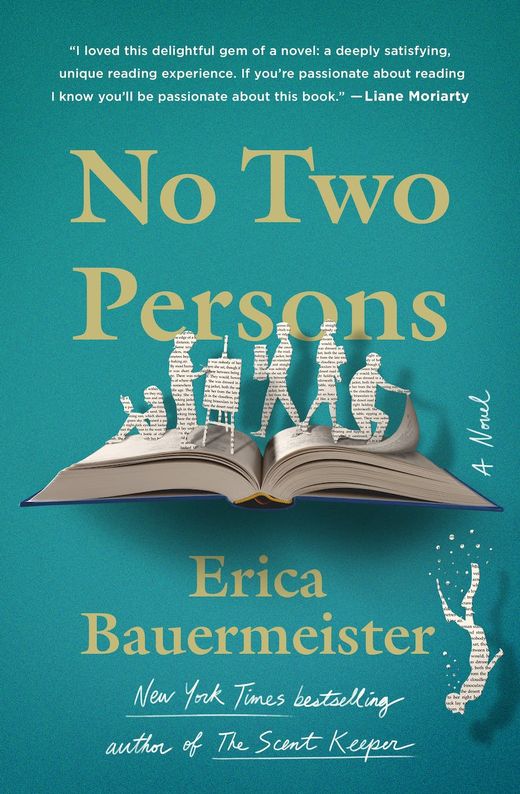 September Book Selection:
No Two Persons -by Erica Bauermeister
One book. Nine readers. Ten changed lives. New York Times bestselling author Erica Bauermeister's No Two Persons is "a gloriously original celebration of fiction, and the ways it deepens our lives." That was the beauty of books, wasn't it? They took you places you didn't know you needed to go…
Alice has always wanted to be a writer. Her talent is innate, but her stories remain safe and detached, until a devastating event breaks her heart open, and she creates a stunning debut novel. Her words, in turn, find their way to readers, from a teenager hiding her homelessness, to a free diver pushing himself beyond endurance, an artist furious at the world around her, a bookseller in search of love, a widower rent by grief. Each one is drawn into Alice's novel; each one discovers something different that alters their per-spective, and presents new pathways forward for their lives. Together, their stories reveal how books can affect us in the most beautiful and unexpected of ways—and how we are all more closely connected to one another than we might think. - Book summary from goodreads.com
We will meet on Wednesday September 27th at 12 noon in Multicultural Student Commons (Phillips Alcove) on the second floor of Ridgway to discuss the book. Everyone is invited. Feel free to bring your lunch if needed.

If you would like to be added to the Book club email list please contact Kathy Taylor at ks6.
Submitted by Katherine Taylo ks6@evansville.edu
Library Open House Tues, 9/12
Stop by the library lobby between 3 and 5pm on Tuesday, September 12 to learn more about what the library can do for you. There will be lots of useful information, along with library tours, snacks, and games!
Submitted by Kristen Strandberg ks532@evansville.edu
Public Safety Awareness Week Active Aggressor Town hall Events
As recent events have shown us, acts of aggression can happen in all environments, including college campuses. To ensure we are prepared to respond to such an event, Public Safety Director Jason Cullum will host two Active Aggressor town hall sessions to discuss topics ranging from situational awareness, emergency communications, and response to an Active Aggressor.
The town hall sessions will occur during Public Safety Awareness Week, which will be held from September 11-15. The first town hall will be held on September 11 at 4:00 p.m. in SOBA, room 170 and the second town hall will be held on September 13 at 4:00 p.m. in Graves Hall, room 100.
These sessions are for students, faculty, and staff. Additional sessions may be held based on the needs of the community.
Submitted by Jason Cullum jc647@evansville.edu
FREE Suicide Awareness and Prevention Training - Coming Soon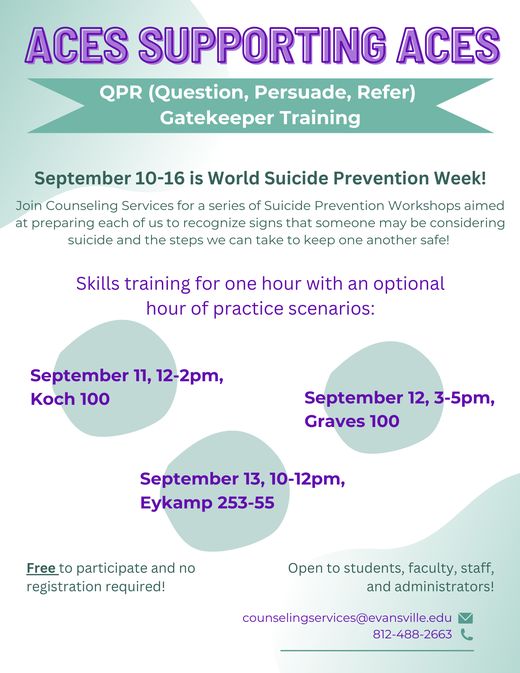 Please join the Office of Counseling Services for our series of FREE Suicide Prevention Workshops during World Suicide Prevention Week, September 10-16. QPR (Question, Persuade, Refer) is an evidenced-based training program aimed at preparing each of us to recognize signs that someone may be considering suicide and the steps we can take to keep one another safe! For each session, there will be one hour of skills training with an optional hour of practice scenarios and group work immediately following. To receive a certificate, attendance for the first hour is all that is required.
These sessions are FREE, and there is no registration required. Room capacity will be considered for safety reasons, and a sign indicating the session is full will be placed on the door as needed. Open to students, staff, faculty, and administrators!
September 11, 12-2pm in Koch 100
September 12, 3-5pm in Graves 100
September 13, 10-12pm in Eykamp 253-55
Please feel free to print and/or share the image below. We hope to see you there!
Submitted by Liz McCormick em232@evansville.edu
Hispanic Heritage Month-We Really Don't Celebrate Cinco de Mayo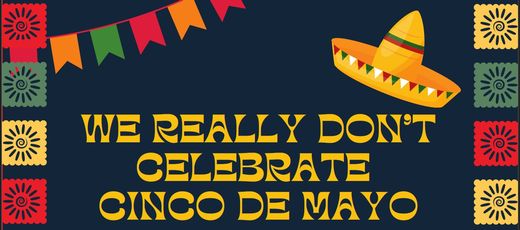 It is important to know why we celebrate....and how!
Join HLSU and CEDI as they celebrate Hispanic Heritage Month with a student led panel as they dismantle the myth of the celebration of Cinco de Mayo!
STUDENT LED PANEL DISCUSSION
EYKAMP HALL ROOM 252
20 SEP 2023
STARTS 11 AM
#HLSU
#UEDIVERSITY
Submitted by Melissa Moore mm350@evansville.edu
Payroll Deductions
As part of our commitment to fostering academic excellence and enriching educational experiences at UE, we are excited to announce the launch of our annual Campus Giving Campaign as a part of FORWARD>> The Campaign for the University. Gifts to the university—no matter the size of the contribution—send powerful messages to our students about the importance of philanthropy in private education and about paying it forward. Thank you for your leadership in demonstrating this generosity.
New this year is an online workflow payroll deduction form, located at workflow.evansville.edu. Hover over the Advancement tab and select Giving Deduction to complete your payroll deduction selection. After submission, you will receive an email once it is processed by Payroll and University Advancement.
You have a special view of how philanthropy affects the university in diverse ways. We encourage you to choose how your support will make an impact inside the university. Your support has the power to shape lives, drive innovation, and build a stronger campus.
Payroll deduction also lends itself to becoming a President's Club member, which is our gift society of donors who contribute at least $1,000 in combined gifts per fiscal year. One benefit of becoming a President's Club member is receiving a campus parking hangtag which allows you to park anywhere on campus (except for the Admissions' purple parking in front oval and handicap spots).
Every year, we come together as a community to make a collective impact that transcends the boundaries of our campus. This year is no different, and we invite you to join us in empowering the future generation of leaders, thinkers, and changemakers.
To learn more about FORWARD>> The Campaign for the University of Evansville, visit forward.evansvlle.edu.
If you have questions about giving, please contact University Advancement at x2586 or alumni@evansville.edu.
Thank you and go Aces!
"95% of your restricted gift will directly support that area of campus while 100% of your unrestricted giving will support the University's greatest needs operationally.
Submitted by Noah Alatza na122@evansville.edu
Women's Basketball Managers Needed
The University of Evansville Women's Basketball program is currently searching for students who are interested in joining the program as student managers for the 2023-2024 academic year. Any full-time UE student, undergraduate or graduate, is welcome to apply. A good attitude and a strong work ethic are required.
Students interested in a manager position must be available for both practices and games. Practice is typically held in the afternoon or early evening during the week, as well as many weekends. Managers should also be available to help with small group workouts during the fall and spring, in addition to accomplishing other tasks as needed.
Managers will get the opportunity to work at the Division 1 level and in the Missouri Valley Conference, one of the nation's premier mid-major conferences. Managers will also get hands-on experience in collegiate athletics working with coaches, players, support staff, and administration. This position offers valuable real-world experience for any student who is interested in pursuing a career in sports administration, coaching, or a related field. Lastly, managers will experience an exciting, family-oriented environment that will positively impact their college experience.
In addition, managers will receive team gear, and an opportunity to work their way up to traveling to away competition.
Any students interested in being a student-manager or who have any questions about the position should contact Van Klohmann at vk41@evansville.edu.
Submitted by Van Klohmann vk41@evansville.edu
Fall Tutoring Is Live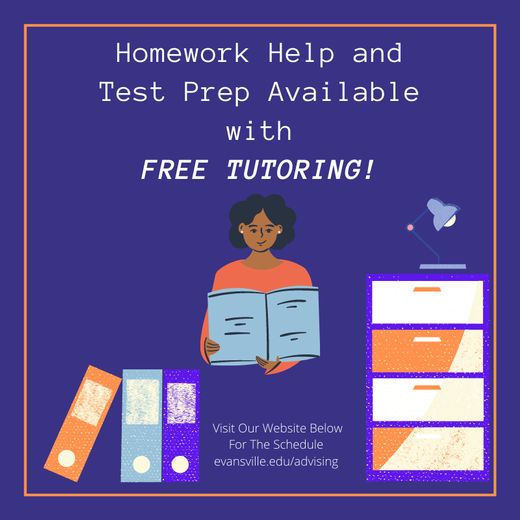 Tutoring for the Fall semester has begun! The tutoring schedule can be found by visiting https://www.evansville.edu/advising/ and navigating to the "Academic Peer Tutoring" tab.

Peer tutoring is a free service managed by Academic Services that is open to all current UE students. Each session is run by peer tutors—fellow students—who are familiar with the course material, having gone through it all themselves before. This is a great resource for if you have questions, want to refresh yourself on information, or even if you need a space that will help you focus on studying and other work.

If you have any questions regarding peer tutoring, please contact Laci Rowe at lr152@evansville.edu / 812-488-5170 or by stopping into Academic Services (Olmsted 116)!
Submitted by Laci Rowe lr152@evansville.edu
Professor Todd Matteson pulls a trifecta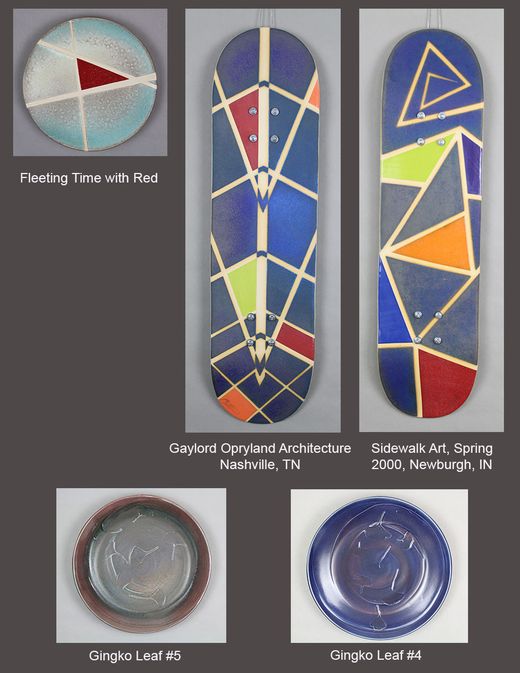 Professor Todd Matteson, Chairperson, Department of Art, has artwork in three exhibitions simultaneously. Two are National Juried Exhibitions and one was a Member's Exhibition. The first one is State of Clay in Indiana III, at the Grunwald Gallery, Indiana University. The piece is one in his new series called Fleeting Time with Red. The Juror for this exhibition was Dick Lehman, Artist from Goshen, Indiana. The exhibition is open now through October 8, 2023.
The second exhibition is Wall to Table, sponsored by the Arts Council of Southwestern Indiana. Professor Matteson had two pieces accepted into this unique exhibition: Gaylord Opryland Architecture, Nashville, TN and Sidewalk Art, Spring 2000, Newburgh, IN. These two pieces are from his new hand-built series using a skateboard as inspiration for travels. The Jurors for this National Exhibition were Alisa Holen and Brett Anderson, Professors at University of Southern Indiana. The exhibition is open for viewing until September 8, 2023.
Lastly, Todd submitted two wall platters to the Hoosier Salon Member's Exhibition in New Harmony, IN. This was his first time submitting artwork to this exhibition and one of his pieces received a Merit Award, Gingko Leaf #5. The other was Gingko Leaf #4, from his Gingko Leaf Series. The exhibition has ended.
Submitted by Carol McCraney cm177@evansville.edu
Remembering Mrs. Virginia "Ginny" Schroeder
The University of Evansville is saddened to learn of the passing of Mrs. Virginia "Ginny" Schroeder. Ginny served as an Honorary member of the University of Evansville's Board of Trustees since 2011, but her friendship with the University spans many decades. Gifting so much of her time, talents, and treasures, Ginny served on the Harlaxton Society Board and was a member of the John Collins Moore Society. She was also a member of the President's Club, having served on the President's Club Executive Committee throughout three University presidencies. Ginny and her late husband, John H. Schroeder, generously supported the University, and their spirit of philanthropy can be seen and felt around the University campus and at Harlaxton College. The Schroeder Family School of Business Administration, Schroeder Hall and the J. Henry Schroeder Boardroom are all named in the family's honor for their philanthropic giving.
Notably, Ginny was responsible for purchasing and donating two pieces of artwork for former Presidents' Stephen Jennings and Tom Kazee. One of the pieces, titled "There'll Always Be An England," portrayed the scenic view from Room 328 on the Blue Corridor at Harlaxton College. It was presented to Jennings in recognition of his contributions to the University. She later purchased Carpe Diem, a painting that featured a view of Harlaxton from the Gatehouse and given in celebration of the service to Kazee. In 2021, Ginny later commissioned a painting Note to Ginny for President Pietruszkiewicz and the First Family, which hangs in the President's Conference room. It showcases the view of the Sesquicentennial Oval from the President's office.
Ginny also made it her life's work to help others in our community. She provided her support to the EVSC Foundation, Koch Family Children's Museum (Honorary Cabinet Member), the Evansville Museum (Lifetime Trustee), St. Mary's Health, YWCA of Evansville, United Way, Ladies of the Social Literary Circle, Willard Library, Wabash College, USI-Historic New Harmony, and St. Vincent de Paul. In 2017, Ginny established the Virginia G. Schroeder Endowed Scholarship Fund for Women to support women studying at the Schroeder Family School of Business Administration at UE.
We are incredibly grateful for Ginny's many contributions to the University and will miss her, though, her legacy will live on in the hearts and minds of those whose lives she enriched.
University President Christopher Pietruszkiewicz issued the following statement:
"The legacy of Virginia 'Ginny' Schroeder is woven into the fabric of the University of Evansville. Her boundless generosity and unwavering dedication to our institution is a testament to her enduring commitment to education, philanthropy, and community," said President Pietruszkiewicz. "Ginny's spirit will forever resonate across campus, in the halls of academia, and in the lives of countless individuals she touched. As we mourn her passing, we also celebrate the indelible mark she has left on our hearts and the timeless legacy that will continue to inspire and uplift generations to come."
A full obituary will be forthcoming.
Submitted by Noah Alatza na122@evansville.edu
Caleb Wassmer leads UE men on opening day
Saturday's opening two rounds of the Earl Yestingsmeier Invitational saw Caleb Wassmer lead the University of Evansville men's golf team at Delaware Country Club.
Following a 7-over 77 in the first round of the day, Wassmer excelled in the second 18. An even score of 70 has Wassmer in a tie for 16th place with a 147. Michael Ikejiani is second for the Purple Aces. He also improved as the day moved along. He opened with a 76 while carding a 74 in the second round. His 150 is tied for 28th.
Carson Parker is third for the Aces and tied for 47th with a 153. His scored checked in at 79 and 74. Nicholas Gushrowski made a nice improvement on day one. He posted a first-round score of 83 before lowering his score by seven strokes in round two. He currently has a 159. Just behind him is Masatoyo Kato with a 161. His rounds finished at 77 and 84.
Luke Schneider rounded out the squad with a 167. His rounds finished at 83 and 84.
Butler holds the lead in the team standings with a 576. They are six in front of Ball State and 12 on top of Bowling Green heading into Sunday's final round. Evansville ranks in 9th while Earlham rounds out the top ten.
Carter Smith of Ball State paces the individual standings with a 140. He is two in front of a second-place tie.
Submitted by Athletics
UE men's soccer takes the Mayor's Cup in 4-0 win over Southern Indiana
It was an offensive explosion on Saturday night for the University of Evansville men's soccer in their first Mayor's Cup win of the series.
In an emotional night for senior forward Kai Phillip, he led the Purple Aces offense with two goals and four shots in their 4-0 route of the Southern Indiana Screaming Eagles. Midfielders Ola Arntsen and Carlos Barcia added goals to the score sheet while defender Tobias Bak had his second assist of the year. Freshman midfielder David Hernandez had his first collegiate point in an assist on Phillip's final goal of the evening.
"It's always nice to beat a crosstown rival," said Head Coach Robbe Tarver following the win. "Especially on the back of a tough week to get the momentum back and get us back in the win column was huge. It's only 15 minutes down the road, but its still a road win, which we talk a lot about being good on the road. I thought we were better in the bigger moments of the game when we needed to score and when we needed to defend our box. We did that well obviously scoring four goals and having a shutout But at the same time I think the scoreline is not really indicative of the game. I think it was a little bit closer than that and they had a couple of good chances that we were able to stop. And we were able to capitalize on a couple of mistakes."
It was a close battle early on in the first half as the two teams found their footing in front of a record-setting crowd at Strassweg Field. The tide turned in UE's favor in the 29th minute as Phillip found the net for the first time on a lone break down the left side of the field. The senior buried the ball in the bottom center of the goal, sparking an offensive surge for Evansville. In the first half, the Aces launched seven shots and added a second goal in the 34th minute from Arntsen off a corner kick rebound.
The offensive rush continued in the second half with nine additional shots and two more goals. Barcia scored his first goal of the season in the 52nd minute off a cross from Bak on the right side. The graduate midfielder positioned himself in the center of the penalty arc, putting the ball right in the bottom left corner. The Aces final goal of the game was Phillip's second in the 61st minute on a corner kick from Hernandez. Phillip got his head on the corner feed, sealing the win for UE.
Evansville returns home to Arad McCutchan Stadium for a midweek matchup with the Lindenwood Lions. The Aces hope to build their first win streak of 2023 in the second meeting between the two programs. Kick-off for the match on Wednesday, Sept. 13 is set for 7 p.m.
Submitted by Athletics
Michael Ikejiani earns top 15 finish at Ball State
Posting the low round of the day for the University of Evansville men's golf team was Michael Ikejiani as he earned a top 15 finish at the Earl Yestingsmeier Invitational.
Sunday's final round at Delaware Country Club saw Ikejiani record an even 70. His best round of the weekend put him in a tie for the 13th position in the final individual standings with a 220.
Caleb Wassmer was the second finisher for the Purple Aces. His final-round tally of 81 saw him tie for 44th with a 3-round score of 228. Next up was Carson Parker, who placed 63rd. An 84 in round three gave him a score of 237.
Two behind Parker was the duo of Masatoyo Kato and Nicholas Gushrowski. Kato recorded a 78 in the final 18 while Gushrowski notched an 80. Both had final scores of 239. Luke Schneider had his best round of the weekend, carding a 79 to complete the event with a 246.
Evansville took 9th in the team standings with a score of 919. UE finished 11 strokes behind 8th-place finisher Detroit. Ball State made a huge rally on Sunday to take the team championship. Their team score of 277 was the lowest for any squad over the duration of the tournament. The Cardinals finished with an 859, defeating Butler by 16 shots.
BSU took the top two individuals spots. Carter Smith shot a 2-under 68 in the third round to take top honors with a 208. He bested teammate Kash Bellar by three strokes.
The Aces return to the course on Sept. 18 at the Valpo Fall Invitational.
Submitted by Athletics
Trinity Dubbs leads UE women on Sunday
Trinity Dubbs was the top performers for the University of Evansville women's golf team in Sunday's opening two rounds of the Redbird Invitational.
Playing as an individual, Dubbs wrapped up Sunday's rounds with tallies of 75 and 74. Her 149 is tied for 24th. Kate Petrova scored identical rounds of 75 at Weibring Golf Club. Her 3-over rounds gave her a 150, which is tied for 29th on the leaderboard. Just one behind Petrova was Allison Enchelmayer. After opening the day with a 78, she carded a 1-over 73 in the second 18 holes. With a 151, she is tied for 34th.
Jane Grankina was third for the Purple Aces on Sunday. She carded a pair of 81's on her way to a 162, which is tied for 81st. Rounding out the team was Magdalena Borisova and Carly Frazier. Borisova opened with an 83 before registering an 81. She finished with a 164. Frazier posted scores of 89 and 83 and completed the day with a 172.
As a team, Evansville ranks in 14th place with a 627. They are 15 behind Indiana State and 15 shots ahead of Eastern Illinois. Illinois State holds a slim 1-shot lead over Bradley. The Redbirds sit with a 577 with the Braves standing with a 578.
Grace Aromando of Bradley holds a 3-shot lead on the individual side. She posted identical 5-under rounds of 67 to shoot a 134. Jinyoung Yun of ISU is second with a 137. The final round of 18 will take place on Monday morning.
Submitted by Athletics
UE men's soccer returns to Evansville for the Mayor's Cup showdown
After a tough week on the road, the University of Evansville men's soccer team looks to get back to it's winning ways in the state of Indiana.
Evansville returns to Indiana in its weekend match up with crosstown rival Southern Indiana. This will be the Purple Aces first match at Strassweg Field in a Division I contest after the Screaming Eagles transitioned to the highest level of college sports last season. UE has traditionally played USI in the spring as a part of the Mayor's Cup series when the teams were in separate Divisions. In the new iteration of the Mayor's Cup, either team is looking for the series advantage as last year's game ended in a 1-1 draw at Arad McCutchan Stadium.
The Aces looking to bounce back from a tough first stretch on the road in their return to the River City. UE couldn't find their first road win in contests against High Point or UNC Asheville despite each being a one-goal game. But Evansville was able to welcome back its longest tenured goalkeeper to the pitch this past week. Graduate student Jacob Madden played his first match in over a year in goal after tearing his ACL in the summer of 2022. Madden made five saves in his return to action for Evansville. Along with senior Aidan Montoure the Aces goalkeepers are averaging 5 saves a game, good for 22nd in the country. Montoure leads the two with an average of 4.67 saves.
The Eagles come into Saturday's match looking for their first win of the season after losses to IUPUI, Mercer, Wisconsin-Green Bay, and Akron. Over the past week USI struggled in a 7-0 defeat at the University of Wisconsin-Green Bay but had a much closer game against #9 University of Akron in a 1-0 loss. UE will look to take advantage of the tough week on the road to get their first win against a Division I level Southern Indiana.
Tickets for the Mayor's Cup can be purchased on site at Strassweg Field for $10 each. Fans that can't make it to Strassweg will be able to follow along with the game on ESPN+ and Live Stats.
Submitted by Athletics
Volleyball splits first day in Chicago
Giulia Cardona recorded a match-high 24 kills while Madisyn Steele added a season-high of 10 kills as the University of Evansville volleyball team defeated Northern Illinois to split the opening day of the DePaul Invitational.
Along with the duo of Cardona and Steele, Melanie Feliciano completed the 3-1 win over NIU with 16 kills. In Friday's opener, St. Thomas won by a final of 3-0. On Saturday, the Aces completed the weekend with a 5 p.m. game versus DePaul.
MATCH #1 – St. Thomas 3, UE 0
Melanie Feliciano and Giulia Cardona recorded 11 kills apiece in a 3-0 loss to St. Thomas on Friday morning. Ainoah Cruz picked up 20 digs while Brooke Springer had 40 blocks. Kora Ruff totaled 28 assists and three aces. Megan Wetter finished with a match-high 12 kills.
Game 1 – St. Thomas 25, UE 22
St. Thomas set the early tone, going on a 5-2 run. Cardona brought the Aces back into it with two of her four service aces in the match to knot the score at 6-6. After UST took an 8-6 lead, Evansville countered with five in a row. Blakeley Freeman opened a 5-0 stretch with a kill as the Aces jumped in front by an 11-8 margin.
After the Tommies forced multiple ties, including a 16-16 score, another ace and kill from Cardona along with two Emilee Scheumann kills comprised a 4-0 run as the Aces looked to be in control. Unfortunately, St. Thomas had other ideas, scoring the next seven points on their way to a 25-22 victory.
Game 2 – St. Thomas 25, UE 18
Kora Ruff opened the second set with consecutive service aces to give her squad the early lead. After St. Thomas tied the score, Madisyn Steele and Luana Gazda Kuhn picked up kills to give Evansville its largest lead at 10-7.
Just as they did in the first set, the Tommies stormed back as they reeled off five in a row to jump back in front – 12-10. Evansville cut the deficit to one point (14-13) before St. Thomas put forth another big run to finish off the set. Outscoring the Aces by an 11-5 margin, UST took the second set, 25-18.
Game 3 – St. Thomas 27, UE 25
Looking to extend the match, the Aces kept the pressure on for the duration of the third set. St. Thomas went up by a 9-7 score at the start before UE fought back, scoring four of the next five points to take an 11-10 edge.
After the Tommies matched their largest lead of three points (15-12), Evansville responded to tie the score at 17-17 before retaking the lead at 24-23. The Aces had another chance to win the set, holding a 25-24 lead, but St. Thomas scored the final three points to clinch the match.
MATCH #2 – UE 3, NIU 1
Performances up and down the roster helped the Purple Aces defeat Northern Illinois by a 3-1 final in Friday's finale. Led by Cardona's 24 kills, the Aces rebounded following a morning defeat to St. Thomas. Feliciano and Steele tallied 16 and 10 kills, respectively. Kora Ruff wrapped up the contest with 54 assists while Feliciano paced the defense with 16 digs.
Brooke Springer put forth another strong performance with five block assists. Leading the Huskies was Emily Dykes who had 14 kills.
Game 1 – UE 25, NIU 22
Six kills from Melanie Feliciano saw the Purple Aces fend off the Huskies for a 25-22 win. Northern Illinois turned a 4-4 tie into a 15-11 lead as they looked to open with a win. Giulia Cardona had other ideas, notching two kills and an ace to tie the game at 15-15.
With the score still tied up at 22-22, Madisyn Steele came through with a pair of clutch kills in the final three points to give UE the win.
Game 2 – UE 25, NIU 20
Service aces from Feliciano and Ainoah Cruz put UE in front by a 5-2 score to open the second set. Northern Illinois made their way back, eventually taking a 14-13 edge. At that point, Steele came through once again with three kills in the next four points as UE went on an 8-1 run to take their largest lead at 22-15.
After NIU cut the gap to three points, Evansville got back on track as two late kills from Cardona sealed the 25-20 decision.
Game 3 – NIU 25, UE 22
Early in the set, things remained close as the score was tied up at 10-10. That is when the Huskies made their run, scoring five in a row. Their lead would reach as many as six tallies before the Aces attempted a comeback.
Feliciano compiled two more kills as UE cut the deficit to a single point at 23-22. NIU was able to halt Evansville's momentum, scoring the final two points to take the 25-22 decision and force a fourth set.
Game 4 – UE 25, NIU 22
For the second time in as many matches on Friday, Kora Ruff opened a set with consecutive aces as UE jumped out of the gate to take a 6-2 advantage. The Aces pushed the lead to five points when a Steele kill extended the lead to 11-6. Northern Illinois rallied back with a 9-2 run to take their first lead of the set at 15-13.
The teams battled it out over the next sequence before Evansville scored two in a row to break a 19-19 tie before Cardona had the match-winner. Her 24th kill of the evening solidified a 25-22 win in the set and a 3-1 triumph in the match.
Submitted by Athletics
Women's golf travels to Redbird Invitational to open season
Looking to ride the momentum of an impressive spring season, the University of Evansville women's golf team is ready to open the 2023-24 season at the Redbird Invitational.
Weibring Golf Club in Normal, Ill. will host the tournament, which is slated for Sunday and Monday. Day one features 36 holes before the final 18 are set for Monday. A shotgun start opens play at 8:30 a.m. each day.
This year's field includes Illinois State, Bowling Green, Bradley, Drake, Eastern Illinois, Evansville, Illinois Wesleyan, Indiana State, IUPUI, Northern Illinois, Northern Iowa, South Dakota, South Dakota State, St. Thomas and Valparaiso.
As last season progressed, the Purple Aces played better and better. The team finished no worse than second place in four of the final five tournaments while earning a third or better finish in six of the final seven events. Completing the season at the Missouri Valley Conference Championship, UE tied for second place while freshman Kate Petrova was the individual conference champion.
Petrova, the 2023 MVC Freshman of the Year, completed the season with a stroke average of 76.86. She finished in the top eight in five of the six spring tournaments while finishing no lower than 19th. Petrova earned her first victory at the Indiana State Invitational before earning the MVC crown in a 2-hole playoff.
Mallory Russell wrapped up last year second on the team with a 78.30 average. Her top finish was a second place at the Nevel Mead Collegiate in the spring. That followed a tie for 7th at the Bright Creek Invite where she posted a season-low round of 72.
Back for her fifth year with the program is Allison Enchelmayer. She played a large role in the success of the team down the stretch last season, earning top ten finishes in five of the last seven tournaments. Enchelmayer posted a season-low 72 in the opening round of the Nevel Meade Collegiate and finished in a tie for fifth.
Submitted by Athletics
Aces drop hard-fought contest at DePaul
The duo of Giulia Cardona and Melanie Feliciano combined for 45 kills, but it was not enough as the University of Evansville volleyball team dropped a hard-fought road match at DePaul on Saturday evening.
Cardona had a match-high 23 kills while Feliciano added 22. Ainoah Cruz led the Purple Aces with 15 digs while Kora Ruff added 48 assists. Aside from Cardona and Feliciano, no UE player had more than two kills. Audrey Klemp tallied 15 kills to lead the Blue Demons.
Game 1 – DePaul 25, UE 23
Back-and-forth action saw both teams look to be in control throughout portions of the opening set. A big start from the Blue Demons saw them take a 5-2 advantage while Evansville responded with five in a row as Giulia Cardona had two kills and an ace to give UE its first lead. Six in a row by DePaul put the lead right back in their hands as they went up 11-7.
Kora Ruff got the Aces back on track as her kill was the first of four points in a row that knotted the score at 11-11. Consecutive errors by DePaul put UE back in front at 16-14 and the squads continued to battle it out down the stretch. Two kills from Melanie Feliciano had the Aces in good shape with a 23-21 edge but the Blue Demons stormed back as they recorded the final four tallies to take the set.
Game 2 – DePaul 34, UE 32
In the longest set of the season thus far, the Aces and Blue Demons duked it out once again. After opening the game on a 3-1 run, DePaul extended the lead to five points – 13-8. Evansville clawed its way back and was finally able to tie the score at 18-18 on a service ace by Ruff.
Feliciano registered a kill to give UE set point, up 24-23, before DePaul tied it up. Both teams had chances to end the set, but it was DU who would clinch with a service ace, taking a 2-0 lead with a 34-32 win.
Game 3 – DePaul 25, UE 20
Looking to keep the match going, the Purple Aces had the early momentum, scoring the opening three tallies before solidifying a 7-4 lead. Ainoah Cruz capped off the early run with an ace. The Blue Demons countered with three in a row as a larger 8-1 rally put them back in front – 12-8.
Unfortunately, the Aces were unable to close the gap as DePaul padded its lead and clinched the match with a 25-20 win.
Submitted by Athletics
Contribute to AceNotes
To have content considered for inclusion in AceNotes, please submit a Marketing Request Form. Deadline for submission to AceNotes is 10:00 a.m. on the requested date of publication. Only articles concerning UE related/sponsored activities will be accepted. Articles submitted to AceNotes may be edited for length and clarity. Submitter contact information is at the end of each article.