| | |
| --- | --- |
| PurplePulse | Wednesday, September 6, 2023 |
Fall Healthy Behavior Challenge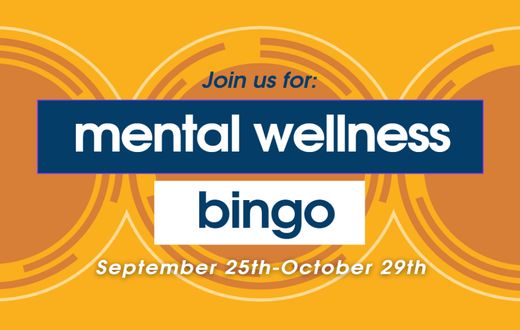 Welcome to the Mental Wellness Bingo, your Fall Healthy Behavior Challenge! This challenge will run from September 25th - October 29th.
Mental health plays a big role in your overall well-being. The goal of this 5-week challenge is to take on a holistic approach to nurturing your overall mental health.
Each day, you will find a mental wellness activity on your bingo card that will touch on either:
Nutrition
Physical health
Social health
Connection
Boundaries & Mindset
You do not have to go in order of the bingo card! Each day, choose an activity that best serves you in the moment. This will give you the chance to reflect on what you're in-need of during that time. We will also share some weekly mental wellness resources to give tips, tricks, and information to better your mental health.
Those who get a "blackout" and complete all of the daily activities will be entered into a gift card drawing. There will be 8 chances to win a $25 gift card! Earn a one-time $150 in HRA credits for successfully completing the challenge!!
Interested in signing up?
Click the link here to get your name on the list: https://forms.gle/Z6daq3eD8hPVbi2ZA
**We will email you a bingo card at the start of the challenge!
Email Taylor at taylor.kollak@ascension.org for more information or questions.
Submitted by Taylor Kollak tk148@evansville.edu
Public Safety Awareness Week Active Aggressor Town hall Events
As recent events have shown us, acts of aggression can happen in all environments, including college campuses. To ensure we are prepared to respond to such an event, Public Safety Director Jason Cullum will host two Active Aggressor town hall sessions to discuss topics ranging from situational awareness, emergency communications, and response to an Active Aggressor.
The town hall sessions will occur during Public Safety Awareness Week, which will be held from September 11-15. The first town hall will be held on September 11 at 4:00 p.m. in SOBA, room 170 and the second town hall will be held on September 13 at 4:00 p.m. in Graves Hall, room 100.
These sessions are for students, faculty, and staff. Additional sessions may be held based on the needs of the community.
Submitted by Jason Cullum jc647@evansville.edu
FREE Suicide Awareness and Prevention Training - Coming Soon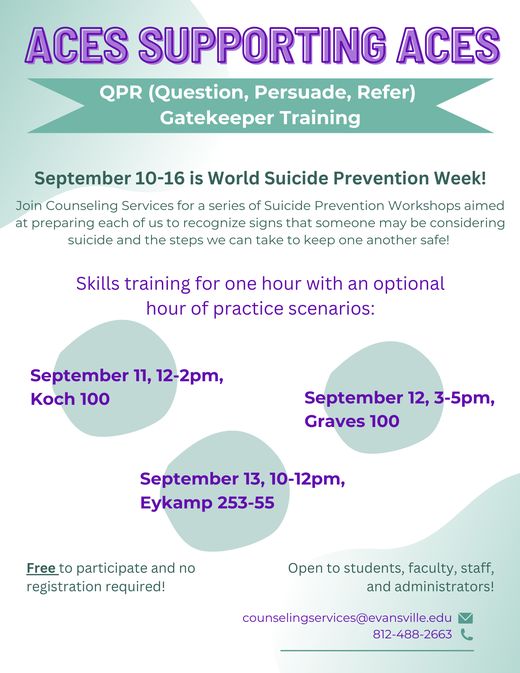 Please join the Office of Counseling Services for our series of FREE Suicide Prevention Workshops during World Suicide Prevention Week, September 10-16. QPR (Question, Persuade, Refer) is an evidenced-based training program aimed at preparing each of us to recognize signs that someone may be considering suicide and the steps we can take to keep one another safe! For each session, there will be one hour of skills training with an optional hour of practice scenarios and group work immediately following. To receive a certificate, attendance for the first hour is all that is required.
These sessions are FREE, and there is no registration required. Room capacity will be considered for safety reasons, and a sign indicating the session is full will be placed on the door as needed. Open to students, staff, faculty, and administrators!
September 11, 12-2pm in Koch 100
September 12, 3-5pm in Graves 100
September 13, 10-12pm in Eykamp 253-55
Please feel free to print and/or share the image below. We hope to see you there!
Submitted by Liz McCormick em232@evansville.edu
Indiana National Guard- on campus TODAY
Interested in joining the Indiana National Guard? Just want to learn more about the opportunities they offer? A represenative from our Indiana National Guard will be on campus today. Stop by their table in Ridgway today, September 6th, from 11am-1pm for more information.
Submitted by Amanda Wood aw505@evansville.edu
Fall Tutoring Is Live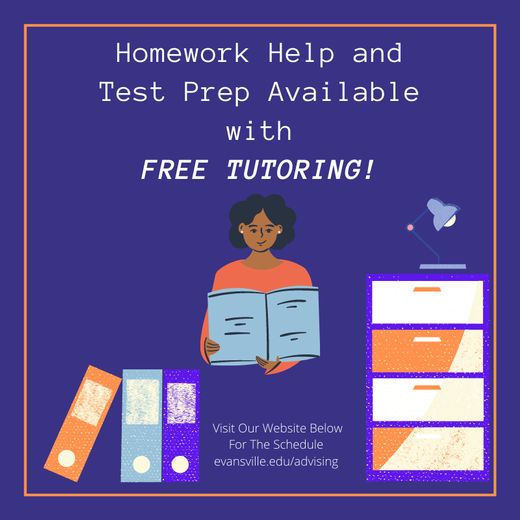 Tutoring for the Fall semester has begun! The tutoring schedule can be found by visiting https://www.evansville.edu/advising/ and navigating to the "Academic Peer Tutoring" tab.

Peer tutoring is a free service managed by Academic Services that is open to all current UE students. Each session is run by peer tutors—fellow students—who are familiar with the course material, having gone through it all themselves before. This is a great resource for if you have questions, want to refresh yourself on information, or even if you need a space that will help you focus on studying and other work.

If you have any questions regarding peer tutoring, please contact Laci Rowe at lr152@evansville.edu / 812-488-5170 or by stopping into Academic Services (Olmsted 116)!
Submitted by Laci Rowe lr152@evansville.edu
SOBA Furniture Delivery on the Circle Drive - Thursday, Sept. 7
Due to a scheduled furniture delivery in SOBA on Thursday, September 7, there will be 4-5 parking spaces blocked by the Office of Public Safety in front of SOBA glass/slate entrance on the circle drive effective the evening of September 6. Your patience and assistance in keeping these spaces clear for furniture delivery trucks is greatly appreciated.
Submitted by Kim Winsett kw83@evansville.edu
Admission Ambassador Application Open
The Office of Admission is excited to announce that the Admission Ambassador Application is now open! Admission Ambassadors assit the Office of Admission with recrutiment events, campus tours, Road Trip, and more. If you are interested in becoming and Admission Ambassador and help make a difference in the college search process of a prospective student, please complete the application at https://apply2.evansville.edu/register/AmbassadorAppFall23 or by scanning the QR code.
Applications are due on September 8th. With quesitons about the appliciaton, please contact Catie Taylor - ct37@evansville.edu or Benton Simpson - bs361@evansville.edu.
Submitted by Catie Taylor ct37@evansville.edu
Work Requests
As faculty, students, and staff return to campus, Facilities Management experiences a high volume of work requests. Please know that each request is important to us. Each work request is prioritized. Protecting individuals and building safety is our number one priority. Examples of critical/emergency issues include roof leaks, water leaks, and air conditioning/heating issues (outside of 68-76 degrees).
We strive to fulfill general work requests within 30-45 days of submission. General work requests include painting, ceiling tile replacement, and picture/bulletin board hanging. As we work through requests, we ask for your patience and understanding that we do value your request and will complete it as expediently as possible.
The best way to stay informed on progress is to submit your own work request. As the originator, the work order system will automatically email you as your request progresses through to completion.
Thank you.
Submitted by Karen McDonald km598@evansville.edu
UE Men's Basketball Seeks Student Managers for 23-24 Season
The University of Evansville Men's Basketball program is currently searching for students who are interested in joining the program as student managers for the 2023-2024 academic year. Any full-time UE student, undergraduate or graduate, is welcome to apply. A good attitude and a strong work ethic are required.
Students interested in a manager position must be available for both practices and games. Practice is typically held in the afternoon during the week, as well as often on weekends. Managers should also be available to help with small group workouts during the fall and spring, in addition to accomplishing other tasks as needed.
Managers will get the opportunity to work at the Division 1 level and in the Missouri Valley Conference, of the nation's premier mid-major conferences. Managers will also get hands-on experience in collegiate athletics working with coaches, players, support staff, and administration. This position offers valuable real-world experience for any student who is interested in pursuing a career in sports administration, coaching, or a related field. Lastly, managers will experience an exciting, family-oriented environment that will positively impact their college experience.
In addition, managers will receive authentic team Nike Gear, and an opportunity to work their way up to traveling to away competition.
Any students interested in being a student-manager or who have any questions about the position should contact Peter Funk at pf66@evansville.edu.
Submitted by Peter Funk pf66@evansville.edu
Employee Fall Health Risk Assessment
Employee & Spouse Fall Health Risk Assessments will take place September 11th -13th from 7:00am -10:45am each day in Eykamp Room 251. Complete your health risk assessment and earn HRA credits. This health risk assessment is available for UE employees and their spouses on the UE medical insurance plan. Please remember, fasting 8-10 hours is recommended. Water and Black coffee are allowed. Please take maintenance medications as prescribed, as long as they are not required to be taken with food. Please click the link below to sign up today!
https://acelink.evansville.edu/areas/medicalclinic/appointments/Index.cfm
Submitted by Haley Karges hw164@evansville.edu
Floor Cleaning Notice for Multiple Buildings
Floor Cleaning Notice for Multiple Buildings (See Impact Below)
Questions or Concerns Regarding this Work: Bob Dale, bd22@evansville.edu
Description of Work:
A contractor will conduct annual floor cleaning per the schedule listed below. If your building is not listed, it has already been cleaned or will be completed during Christmas Break. Facilities Maintenance Services technicians will move trash containers, recycling bins, chairs, and floor mats. A blue sticker will be placed on the office doorknob when work is finished.
Affected Dates and Buildings:
Sunday, August 6 through Thursday, September 14, 2023
Week of August 6 through August 10: Krannert Hall
Week of August 13 through August 17: Igleheart Building
Week of August 20 through August 24: Sampson Hall
Week of August 27 through August 31: Libraries
Week of September 3 through September 7: Neu Chapel
Week of September 10 through September 14: General Services Building
Impact for Occupants:
There will be intermittent noise, vibrations, and non-toxic odors associated with this work.
Action(s) Required:
Remove any paper, boxes, and personal belongings from your office floor prior to the scheduled cleaning date.
Please allow time for the floor to dry prior to placing objects on the floor.
To have your research lab floors cleaned, contact the Facilities Service Center at 812-488-2775 prior to the scheduled cleaning date.
Thank you for your patience as we maintain our beautiful campus.
To report a facilities emergency, call (812) 488-2775
Submitted by Karen McDonald km598@evansville.edu
Dr. Su Jin Jeong and Young & Established awarded additional $50,000 grant
Dr. Jeong, along with Young & Established (Y&E), was able to secure an additional $50,000 in funding fromThe Epidemiology Laboratory Capacity (ELC) grant through the Indiana Department of Health (IDOH) to further support their work regarding food insecurity and food equity in the greater Evansville area. This funding would provide additional means to address the problems related to food deserts and child hunger among the population that Y&E serves daily. This grant, in addition to the previous Health Issues and Challenges grant, would allow Y&E to utilized $500,000 to help the community. Dr. Jeong, as the Director for the Institute for Public Health, serves as the technical grant assistant on this project.
Submitted by Su Jin Jeong sj117@evansville.edu
Inaugural Lecture for Professor David Green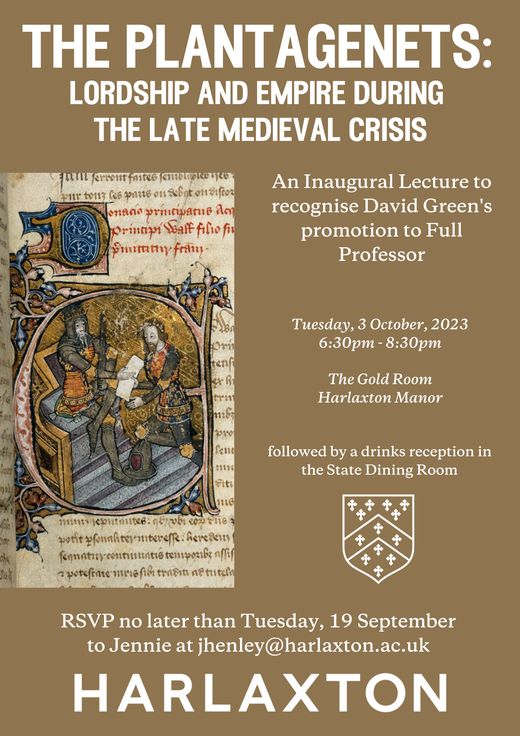 Please join us on zoom for the Inaugural Lecture in recognition of David Green's promotion to Professor. The lecture, The Plantagenets: Lordship and Empire during the Late Medieval Crisis, on Tuesday October 3rd at 12:30pm central time. Please RSVP to jhenley@harlaxton.ac.uk to receive the zoom link.
Submitted by Holly Carter hc110@evansville.edu
Ainoah Cruz named MVC Freshman of the Week
In a week that was highlighted by a career-best 27 digs against Samford, University of Evansville libero Ainoah Cruz was named the Missouri Valley Conference Freshman of the Week on Tuesday.
With two weeks in the books, Cruz continues to pace the defense for the Purple Aces. Cruz posted 5.08 digs per set in a perfect 3-0 week along with 11 assists and 5 service aces. She picked up 20 digs, 2 aces and 2 assists in the home-opening win over USI before starting the Samford Invite with the top performance of her young career.
Cruz set another career mark with 27 digs and 4 assists. Saturday's win over North Alabama saw her total 14 digs,5 assists and 3 more aces to complete the week.
Submitted by Athletics
Hot Start Powers Lipscomb Past UE Women's Soccer, 3-0
The red-hot Lipscomb University women's soccer team scored three first-half goals Sunday night to power past the visiting University of Evansville Purple Aces, 3-0, at Lipscomb Soccer Complex in Nashville, Tennessee.
The Bisons, which have scored 10 goals in the last three matches, took control of the match early, scoring on their first two shots of the night in the ninth and 12th minutes. Graduate student Kelli Beiler recorded her fourth goal of the year in the ninth minute off a feed from Shelby Craft to give Lipscomb a 1-0 lead. Then, three minutes later, sophomore midfielder Kiara Pralle netted her fourth goal of the season off a pass from Lucy Ream to push the lead to 2-0.
The match would even out over the next 20 minutes, with both teams recording three shots each, including two from UE freshman midfielder Ella Hamner (Evansville, Ind./Memorial). Lipscomb would finish the half strong, though, with Marcella Cash scoring in the 40th minute to give the Bisons a 3-0 halftime advantage.
In the second half, the two teams would play even through the first 20 minutes. Fifth-year goalkeeper Georgia Katsonouri came on for UE to record four second-half saves over the final 45 minutes, as the Bisons pushed forward towards the tail-end of the stanza.
With the victory, Lipscomb extended its winning streak to three matches in a row, while evening its record at 3-3. Evansville, meanwhile, suffered its third loss in a row, while falling to 0-3-2 on the season. The Purple Aces will return home to Arad McCutchan Stadium on Thursday night to close out the non-conference portion of its schedule against the Western Kentucky Hilltoppers. Thursday night's match will kick off at 6:05 p.m. and can be seen live on ESPN+.
Submitted by Athletics
Phillip nets first goal in men's soccer 2-1 loss to UNC Asheville
Different offensive players emerged for the University of Evansville men's soccer team in its 2-1 loss against the UNC Asheville Bulldogs.
Senior forward Kai Phillip scored his first goal of the 2023 season in the 16th minute of Monday's match, along with three total shots. But the Purple Aces couldn't find the back of the net over the next 74 minutes with six other on-goal opportunities. With an assist on Phillip's goal, junior forward Nacho Diaz Barragan became the points leader for Evansville with five in four games. While graduate midfielder Carlos Barcia led the team statistically on Monday with three shots and two on goal.
Scoring in the Labor Day matchup began early as UNC Asheville scored in the 11th minute on graduate goalkeeper Jacob Madden. Monday's game was Madden's first for the Aces since tearing his ACL in the summer of 2022. In 90 minutes, Madden made five saves in his return to the net and gave UE the opportunity to tie the game up just a few moments later.
Evansville's lone goal of the contest came in the 16th minute when Diaz Barragan found Phillip open in front of the box while coming down the right side. Once the ball found Phillip's foot, it took only a second to fake out the Bulldogs goalkeeper and place the ball in the bottom right corner. Phillip had almost an identical chance less than a minute later, but the shot went wide, spurring on a fast and furious Aces attack. UE took eight shots over the next 22 minutes of the half, forcing two saves and two blocks.
The momentum of the first half carried into the second for Evansville with three corner kicks and three shots over the first 10 minutes. But a heavy press from the Bulldogs resulted in a second goal in the 72nd minute for UNC Asheville. The Aces offense became stifled until the final five minutes when Phillip put another shot on goal, forcing a jumping save from the Bulldogs. Barcia made the last shot in the 89th minute but was blocked, keeping UE from earning a point on the road.
Evansville returns to Indiana this week for a rivalry matchup on Saturday. The Aces will head across town to USI Soccer Field to take on Southern Indiana in the Mayor's Cup on Saturday, Sept. 9. Kick-off at USI is set for 7 p.m.
Submitted by Athletics
Cardona's 32 kills helps volleyball win fourth in a row
Junior Giulia Cardona set another career mark with 32 kills to help the University of Evansville volleyball team win its fourth match in a row, taking down North Alabama by a 3-1 final in Birmingham.
Just as impressive as her 32 kills was Cardona's hitting mark, which finished at .459. She added 12 digs and 6 blocks. Melanie Feliciano posted 13 kills and 11 digs. Kora Ruff had a stellar contest with 52 assists and a career-best 18 digs. Ainoah Cruz checked in with 14 digs. Katy Floyd wrapped up the match with 12 kills to lead the Lions.
Game 1 – UE 25, North Alabama 16
Giulia Cardona took control from the start. Three kills in a row and a total of six in the first 10 UE points put the Aces in front, 10-2. North Alabama made a run to get as close as three points (13-10) before Evansville responded with five in a row. Efficient serving by Kora Ruff and another block by Brooke Springer extended the lead.
Two late Cardona kills set up Melanie Feliciano for the winning kill in a 25-16 decision.
Game 2 – UE 25, North Alabama 18
Another early run saw the Aces score the opening three tallies in the second set. The Lions came back to tie it at 4-4 before the Aces wrestled the lead away for good. Emilee Scheumann recorded a kill, which began a 6-1 run to put Evansville in front, 10-5.
Two more kills by Cardona and solid serving from Ruff saw Evansville push the lead to eight points at 15-8. North Alabama got as close as four points (21-17) but UE fended off the challenge to take the win, 25-18.
Game 3 – Nprth Alabama 25, UE 21
Looking to put things away early, Evansville jumped out to an 8-2 advantage. Madisyn Steele and Cardona combined for three blocks during the rally. North Alabama never gave up and fought back with a 13-4 run that turned an 8-2 deficit into a 15-12 lead.
UE forced a 16-16 tie but was unable to retake the lead with the Lions clinching a 25-21 win in the third set.
Game 4 – UE 25, North Alabama 18
After taking a win in game three, North Alabama looked to keep the momentum going as they kept it close in the early portion of game four. The Aces had other ideas and, with the score knotted at 6-6, UE scored four in a row and never looked back. Maddie Hawkins got things going with an ace in a 4-0 run.
Three more Cardona kills in the next stretch pushed the lead to 17-10. UNA got as close as 21-17 with the Aces countering to clinch the match on the strength of a 25-18 win.
Non-conference action continues next weekend with a trip to the DePaul Invitational. UE is set to face St. Thomas, Northern Illinois and DePaul on Friday and Saturday in Chicago.
Submitted by Athletics
UE men's soccer looking for road split against UNC Asheville
A goal in the final five minutes of Friday's contest ended the Purple Aces unbeaten streak to begin the 2023 season. With a holiday game on Labor Day, UE renews a series with UNC Asheville that has been on and off over the past 25 years. Monday morning's match will be Evansville's first visit to Asheville since 2001 where they suffered their only loss of the series. The two teams last met in 2019 at Arad McCutchan Stadium where Evansville posted a 1-0 shutout performance. Graduate student Nkosi Graham provided an assist on the Aces lone goal in 2019.
On Friday night, UE fought back to a 1-1 draw in the final minute of the first half thanks to a goal by junior midfielder Jose Vivas. The goal was Vivas' second of the season, and his fifth shot on goal good enough to lead the Aces in shots. Vivas and junior forward Nacho Diaz Barragan have emerged as the early offensive leaders for Evansville with four points each and 50% or better in shot on goal percentage.
The Bulldogs come into Monday morning's game with a 2-1 record after wins against Navy and Queens (N.C.) UNC Asheville's lone loss of the season came against Georgia Southern where the Bulldogs were shut out by the Eagles' defense. With two wins already under their belt, Asheville has matched their 2022 season win total after less than two weeks of season action.
Monday's game from North Carolina is set for an 11 a.m. CT kick-off time. The match will be streamed on ESPN+ with live stats from UNC Asheville.
Submitted by Athletics
Volleyball defeats Samford for third win in a row
Significant contributions up and down the roster saw the University of Evansville volleyball team earn its third victory in a row on Friday night, defeating Samford by a 3-1 final at the Pete Hanna Center.
Evansville's duo of Giulia Cardona and Melanie Feliciano paced the offense with 18 and 17 kills, respectively. Feliciano hit a team-high .390. Coming off a 10-kill effort on Tuesday against USI, Emilee Scheumann set a new career high with 12 kills on Friday. Kora Ruff recorded a double-double with 39 assists and 10 digs while Ainoah Cruz set another career mark with 27 digs.
Two of the top blockers in the Missouri Valley Conference added to their totals on Friday. Madisyn Steele picked up three solo blocks and one block assists while Brooke Springer notched one solo and two block assists. Gracie Lynn Butler was the top performer for the Bulldogs, finishing with a match-high 19 kills.
Game 1 – Samford 25, UE 22
Melanie Feliciano recorded three early kills as the Purple Aces took the early 9-7 lead. Her fourth of the night broke a 9-9 tie but the Bulldogs posted their first large rally of the contest. Scoring six of the next seven points, Samford opened a 15-11 lead.
With Samford opening a 23-18 lead, UE battled back as Feliciano, Giulia Cardona and Emilee Scheumann posted kills in a 4-0 run that made it a 1-point game before the Bulldogs scored the final two points to take the set.
Game 2 – UE 25, Samford 21
Samford scored the opening five points of the second frame as they looked to take a commanding 2-0 match lead. Feliciano helped the Aces break through, notching the first point of the set as her team made a furious rally. Scoring 11 out of 14 points following the slow start, Evansville went in front by a score of 11-8.
Blakeley Freeman played a pivotal role during the sequence, posting an ace along with efficient serving over six points. Samford got as closer as one point (12-11) before a 4-0 run by the Aces stretched the lead back out to five. Feliciano registered two more kills late in the set as the Aces tied the match on the strength of a 25-21 decision.
Game 3 – UE 25, Samford 20
In the early moments of the third set, it was Brooke Springer coming through to give UE a comfortable lead. Three blocks in the first six points put her squad up by a 5-1 score. Evansville took multiple leads of six points before a Scheumann kill made it a 15-8 game.
Evansville continued to add to the lead as Scheumann picked up three more kills as the advantage grew to nine points (22-13). The Bulldogs closed the gap late as UE cruised to the 25-20 win to take their first match lead of the evening.
Game 4 – UE 25, Samford 20
Looking to finish the match, Evansville had another strong start, jumping out to a 4-0 lead. Scheumann picked up three more kills to extend the advantage to 9-2. Later in the set, the Aces continued to hold a 7-point lead as consecutive solo blocks from Madisyn Steele made it a 19-12 game.
Four in a row by the Bulldogs cut the lead to four, but following a time out, Scheumann registered a kill to halt the Samford run. From there, the Aces regrouped to clinch the match by a final of 25-20 in the fourth set.
Next up for UE is a 2 p.m. match on Saturday against North Alabama.
Submitted by Athletics
UE men's soccer suffers first loss in road match at High Point
A goal in the final five minutes of Friday evening's match ended the University of Evansville men's soccer team's unbeaten streak to open the 2023 season.
The Purple Aces played an aggressive game on Friday night against the High Point Panthers, but couldn't find the equalizer in the last four and a half minutes in their 2-1 loss. Midfielder Jose Vivas scored his second goal of the season in the final two minutes of the first half off a misplayed Panther header. UE tried to find its late-game magic again in the second half after High Point's second goal but came just short of the draw.
Evansville found themselves down early as the Panthers scored in the ninth minute of the game. After the goal, High Point kept the pressure on the Aces with three corner kicks in three minutes. UE turned to a more aggressive play style to match the Panthers intensity, as the two teams traded fouls midway through the opening period. As the first half came to a close, the Aces spent more time in the offensive zone, eventually being rewarded with their only goal of the game in the 43rd minute. Vivas second goal came off a High Point error as the junior used his right foot to launch the ball into the top left corner of the net.
It was a match of wills for much of the second half as the intensity picked up at Vert Stadium. Having to spend much of the frame either in the midfield or on the defensive, Evansville only recorded a single shot in the half. The shot came in the 61st minute as Nacho Diaz-Caneja found some open space in front of the net after a group of substitutions for the Aces. Diaz-Caneja's shot was saved by Panther goalkeeper Justin Stewart. UE looked to be just mere minutes from their second draw of the season, but a shot from the middle of the net off a throw-in in the 85th-minute beat Aces keeper Aidan Montoure and into the right side of the net.
Evansville will look to split their trip in North Carolina on Monday morning in Asheville. The Purple Aces will take on the UNC Asheville Bulldogs at Greenwood Soccer Field on Sept. 4. Monday's kickoff from Asheville is set for 11 a.m. CT and will be streamed on ESPN+.
Submitted by Athletics
Inzinger, Martin, and Urbaniak make Top FIve at Stegemoller Classic
In their first meet as Purple Aces, three University of Evansville cross country runners placed in the Top Five at the Stegemoller Classic in Evansville, Indiana on Friday night.
Freshman runners Sonja Inzinger (Mautern an der Donau, Austria), Nayla Martin (Vaudreuil-Dorion, Quebec, Canada), and Kalina Urbaniak (Suchy Las, Poland) finished third, fourth, and fifth in the women's 4K at the Stegemoller Classic. With three Top Five finishes, the Evansville women's team placed second out of three participating teams, while the UE men placed third out of four teams.
"I was pleased with the way both teams raced today," said UE Director of Cross Country/Track & Field Brooks LeCompte. "Most of our rosters are freshman and many are still adjusting to living in this area and being in college with their teammates. A more low-key meet like today was the perfect way to start our season.
"I'm proud of how our women pushed the pace early in the 4K and wanted the most out of themselves despite the hot conditions. I was extremely pleased to see our teams get out there and show others what we are building at UE. Today's meet was a good step in the right direction for everyone!"
Evansville's runners at the Stegemoller Classic ran a slightly shorter course than usual at Angel Mounds, with the women running a 4K and the men running a 6K. Inzinger paced the pack among all Ace runners, finishing the women's 4K in 14:35 in her first collegiate meet. While Inzinger led the women, newcomer Samuel Lea (Worcester, United Kingdom) was UE's fastest male runner, finishing the 6K in 19:26. Evansville's only returning runner in Friday's meet, junior Adam Oulgout (St. Paul, Minn) finished 12th among all runners and just behind Lea with a time of 19:64.
Rounding out the rest of the women's side was Martin with the fourth fastest time of the day at 14:34, Urbaniak at fifth with a time of 14:41, freshman Kyndall Anthis in 11th with a time of 15:44, and graduate runner Sarah Vanderhoof-Dossett in 12th with a time of 16:08. On the men's side after Lea and Oulgout, the Aces had freshman Raphael Rodriguez place 13th with a time of 19:37, freshman Owen Cuplin in 18th with a time of 20:35, and freshman Tommaso Losma in 20th with a time of 20:57.
Evansville will have two weeks off before its next meet on Sept. 15 in the annual John McNichols Invitational hosted by Indiana State. The meet on Saturday the 15th will begin with the men's 8K at 8 a.m. and the women's 6K at 8:45 a.m.
Submitted by Athletics
Contribute to AceNotes
To have content considered for inclusion in AceNotes, please submit a Marketing Request Form. Deadline for submission to AceNotes is 10:00 a.m. on the requested date of publication. Only articles concerning UE related/sponsored activities will be accepted. Articles submitted to AceNotes may be edited for length and clarity. Submitter contact information is at the end of each article.