| | |
| --- | --- |
| PurplePulse | Friday, September 1, 2023 |
Hannah Evelyn Jones Exhibit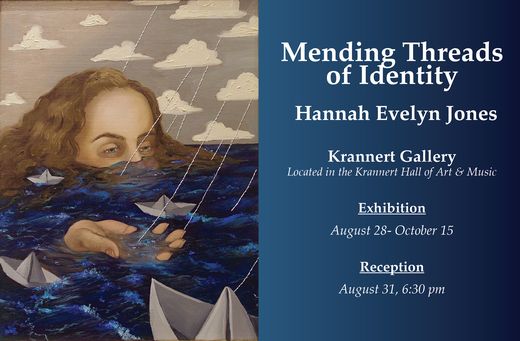 Please join us at a reception for artist Hannah Evelyn Jones on Thursday August 31 at 6:30p.m. in the Krannert Gallery. The exhibit will open on August 28 and run through October 15, 2023.
Submitted by Carol McCraney cm177@evansville.edu
Pop Up Boutique Returning
The University of Evansville's Pop Up Boutique is making a comeback now through September 5.

This is your chance to snag some stylish and sophisticated UE branded professional wear that showcases your pride in being part of our institution.

Placing your order is a breeze! Simply visit the UE Pop Up Boutique website at the following link: https://universityofevansville.ccbrands.com/
Submitted by Noah Alatza na122@evansville.edu
Admission Ambassador Application Open
The Office of Admission is excited to announce that the Admission Ambassador Application is now open! Admission Ambassadors assit the Office of Admission with recrutiment events, campus tours, Road Trip, and more. If you are interested in becoming and Admission Ambassador and help make a difference in the college search process of a prospective student, please complete the application at https://apply2.evansville.edu/register/AmbassadorAppFall23 or by scanning the QR code.
Applications are due on September 8th. With quesitons about the appliciaton, please contact Catie Taylor - ct37@evansville.edu or Benton Simpson - bs361@evansville.edu.
Submitted by Catie Taylor ct37@evansville.edu
Work Requests
As faculty, students, and staff return to campus, Facilities Management experiences a high volume of work requests. Please know that each request is important to us. Each work request is prioritized. Protecting individuals and building safety is our number one priority. Examples of critical/emergency issues include roof leaks, water leaks, and air conditioning/heating issues (outside of 68-76 degrees).
We strive to fulfill general work requests within 30-45 days of submission. General work requests include painting, ceiling tile replacement, and picture/bulletin board hanging. As we work through requests, we ask for your patience and understanding that we do value your request and will complete it as expediently as possible.
The best way to stay informed on progress is to submit your own work request. As the originator, the work order system will automatically email you as your request progresses through to completion.
Thank you.
Submitted by Karen McDonald km598@evansville.edu
Loan Textbooks for Free at the UE Lending Library
Last year, Students for Social Change ran a book drive to collect used textbooks, which are now available to be loaned out for the Fall 2023 semester! These books are organized through the UE library and are free to check out for an entire semester. To view the Lending Library's catalog, click on the link below! And if you would like to make a donation for future UE students, a box will be available at the library front desk.
Submitted by Micah Doty kd257@evansville.edu
Reminder: UE Department Shipments/Deliveries
Departments having package shipments sent to UE should use the Shipping Address:
University of Evansville,
Department Name/Contact Name,
1 S Frederick St.,
Evansville, IN 47714.
This Shipping Address is Central Receiving's location. Using this address will help to avoid delays and loss shipment.
Please do not use UE's Mailing Address, 1800 Lincoln Ave., Evansville, IN 47722, for package shipments.
Submitted by Kim Winsett kw83@evansville.edu
Dr. Su Jin Jeong and Young & Established awarded additional $50,000 grant
Dr. Jeong, along with Young & Established (Y&E), was able to secure an additional $50,000 in funding fromThe Epidemiology Laboratory Capacity (ELC) grant through the Indiana Department of Health (IDOH) to further support their work regarding food insecurity and food equity in the greater Evansville area. This funding would provide additional means to address the problems related to food deserts and child hunger among the population that Y&E serves daily. This grant, in addition to the previous Health Issues and Challenges grant, would allow Y&E to utilized $500,000 to help the community. Dr. Jeong, as the Director for the Institute for Public Health, serves as the technical grant assistant on this project.
Submitted by Su Jin Jeong sj117@evansville.edu
Professor Larmann Publishes Art Textbook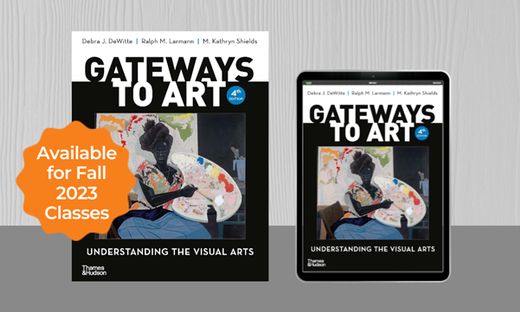 Art Department faculty, Professor Ralph Larmann, has coauthored a new edition of Gateways to Art, Understanding the Visual Arts an introductory art college textbook. The fourth edition was released on July 1, 2023 with a full array of digital support materials, including 10 videos by Larmann, a test bank, interactive exercises, flash cards, an instructor support manual, and other online resources. The fourth edition also includes exclusive videos produced by the Metropolitan Museum of Art in New York and the Museum of Modern Art. Available in paperback, loose leaf, and ebook, with access codes for other resources, it is published by Thames & Hudson.

The first edition was published in 2011 and quickly became the best-selling art appreciation text in the United States. Over 400,000 copies representing paperback, loose leaf, and digital versions have been adopted by approximately 450 colleges and universities. Larmann also provided line art, design, and other visual support materials in the production of the text. Gateways to Art, Understanding the Visual Arts 4th edition by Ralph M. Larmann, Debra J. DeWitte, and M. Kathryn Shields is available at the UE Bookstore"
Submitted by Carol McCraney cm177@evansville.edu
Sympathy to Dr. Kenneth Steinsultz
We extend sympathy to Dr. Kenneth Steinsultz and his family on the death of Ken's father, LeRoy D. Steinsultz who passed away on Saturday, August 26. The obituary can be found here: https://www.stricklinfuneralhome.com/obituary/LeRoy-Steinsultz?fbclid=IwAR1vS4eR7WhJJsciDiHp3aQwpLvaNX894Krtd8nfDGHGUdERhET0k3NcWQE
Please keep Ken and his family in your thoughts and prayers.
Submitted by Dennis Malfatti dm155@evansville.edu
UE Women's Soccer Falls To Bellarmine, 2-0
Bellarmine University goalkeepers Cambria Kingman and Natalie Schutte combined to turn away nine University of Evansville shots on Thursday night, and the Knights scored late goals in each half to hand the UE women's soccer team a 2-0 defeat at Evansville's Arad McCutchan Stadium.
Kingman recorded four saves in the first half, while Schutte registered five second-half saves to stymie a UE attack which produced a season-high 16 shots, including nine on goal. Evansville out-shot Bellarmine, 16-11, including posting a 9-3 edge in shots on goal, but the Knights made the most of their opportunities to win their second-straight match.
In the first half, midfielder Brielle Heuglin was able to give Bellarmine a 1-0 lead in the 32nd minute, as she curled a ball from the left side of the penalty area to just inside the far post for her third goal of the year. Evansville produced multiple chances in the first half, including a pair of breakaways, but was unable to find the back of the net.
In the second half, Evansville pressed forward, maintaining possession for much of the second stanza while producing an 8-4 edge in shots. But, with Evansville pressing forward in the 72nd minute, the Knights were able to counter-attack and get a breakaway goal from reserve Lauren Bingham to produce the final scoreline.
Evansville freshmen Ella Hamner and Taylor Johnson each produced four shots, with Hamner placing three on goal, to lead the UE attack. Midfielder Emma Nicholson produced three of Bellarmine's 11 shots on the evening.
With the victory, Bellarmine improves to 2-1-1 overall. Evansville, meanwhile, drops to 0-2-2 with the loss. The Purple Aces will hit the road this weekend, as UE will travel south to Nashville, Tennessee to take on the Lipscomb Bisons on Sunday night at 6 p.m. Sunday's match can be seen live on ESPN+.
Submitted by Athletics
Samford Invite next up for UE Volleyball
Up next for the University of Evansville volleyball team is a trip south to Birmingham, Alabama for the Samford Invite. The Purple Aces open against host Samford on Friday at 7 p.m. before playing North Alabama on Saturday at 2 p.m.
Last Time Out
- Tuesday's home opener against the Aces defeat crosstown squad USI by a 3-1 final inside Meeks Family Fieldhouse
- Giulia Cardona registered a match-high 19 kills with Emilee Scheumann contributing 11
- Freshman Ainoah Cruz has led UE in digs in all three matches and posted her top tally of 20 in the win over the Screaming Eagles
- Evansville won the first two sets (25-22, 25-19) before USI was victorious in the third game by a 25-23 final
- In the fourth game, the Aces fended off a late challenge to clinch the match with a 25-23 decision
Player of the Week
- Highlighted by a career-best 28 kills against Central Michigan, Giulia Cardona was named the Missouri Valley Conference Player of the Week on Monday
- It was the second time Cardona has earned the accolade
- After recording 19 kills versus USI, Cardona continues to pace the MVC with 5.08 kills per set; her average is 11th in the country
- She is second in the league and 10th nationally with 0.92 service aces per game
Clutch Performance
- Providing the leadership that is needed from a senior, Emilee Scheumann played a pivotal role in the home-opening win over USI
- Scheumann came off the bench to finish with 10 kills while hitting .421
- The effort was one short of her career kills mark of 11
- Her efforts helped the Aces stave off multiple rallies from the Screaming Eagles
Three-for-three
- With the matches complete in 2023, freshman Ainoah Cruz has anchored the defense for the Purple Aces
- Highlighted by her top total of 20 digs against USI, Cruz has led UE in that category in each match thus far
- After opening the season with 11 digs against SEMO, Cruz registered 15 in the win over the Chippewas
- Her season average of 3.83 leads the team and is 9th in the Valley
- She has also added a total of five service aces
Racking up the Blocks
- Brooke Springer is currently ranked 6th in the conference with a season average of 1.25 blocks per set
- With five solo blocks, Springer is tied for second in the league
- She is coming off her top offensive performance of the season as she tallied 6 kills against USI
Scouting the Opposition
- On Friday, the Aces open the weekend against reigning Southern Conference Tournament Champion Samford
- The Bulldogs were 19-13 last season and swept Furman in the SoCon Championship Match to advance to the NCAA Tournament
- Last weekend, Samford earned sweeps over Miami Ohio and Alcorn State while dropping a 3-2 contest at Memphis
- Gracie Lynn Butler paces Samford with 5.00 kills per set
- Following a 13-15 campaign in 2022, North Alabama opened the season with a 2-1 mark at last weekend's A-State Invitational
- UNA defeated Louisiana Tech (3-2) and Little Rock (3-0) before falling to Arkansas State in five sets
- Brenna Tietz leads the Lions with an average of 2.62 kills
Submitted by Athletics
Contribute to AceNotes
To have content considered for inclusion in AceNotes, please submit a Marketing Request Form. Deadline for submission to AceNotes is 10:00 a.m. on the requested date of publication. Only articles concerning UE related/sponsored activities will be accepted. Articles submitted to AceNotes may be edited for length and clarity. Submitter contact information is at the end of each article.