| | |
| --- | --- |
| PurplePulse | Wednesday, August 30, 2023 |
Remembering Dean Beverly Brockman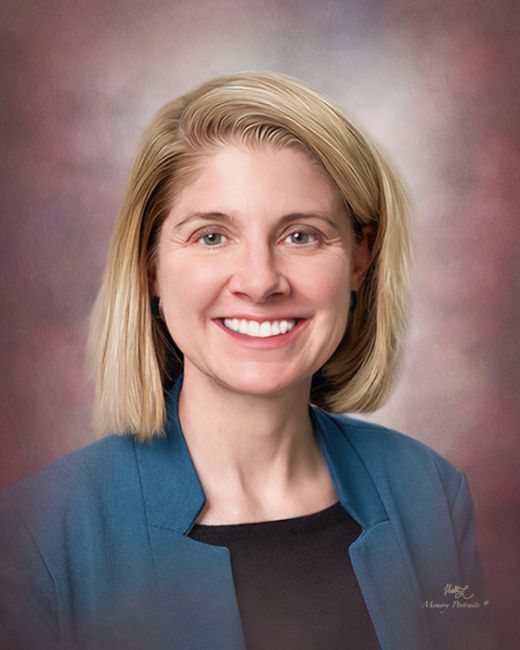 The UE community continues to mourn the loss of Dr. Beverly Brockman. During her tenure as Dean of the College of Business and Engineering, Dean Brockman demonstrated an unwavering commitment to academic excellence, student success, and fostering a vibrant and inclusive learning environment. Her vision and tireless efforts played a pivotal role in shaping UE into what it is today—a center of innovation and learning.
Please continue to keep the Brockman family in your thoughts. A full obituary for Dean Brockman can be viewed here: https://www.boonefuneralhome.net/obituary/DrBeverly-Brockman
Submitted by Noah Alatza na122@evansville.edu
Organization Fair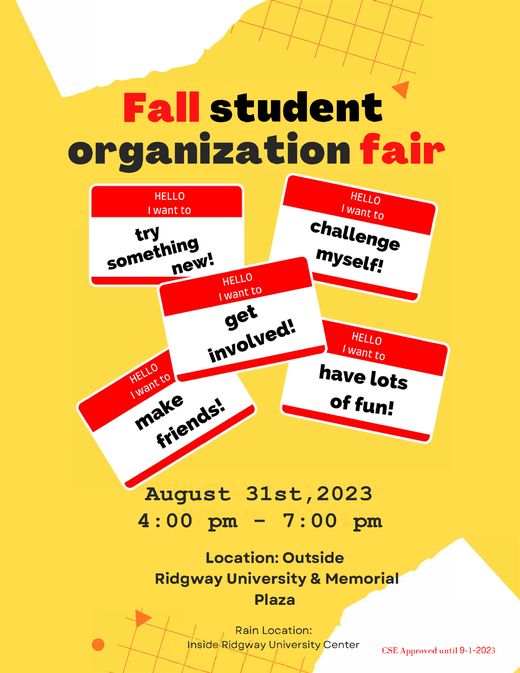 Please join the Center for Student Engagement for the annual Student Organization Fair on Thursday, August 31, from 4-7 pm located outside of Ridgway University Center! Representatives from student organizations across campus will be available to introduce you to their organizations' mission, vision, and values!
This is a time for all students to see exactly how you can be involved outside of the classroom during your time at UE!
Orgs will be sectioned based on their overarching theme/ topic.
Sections include:
Section 1: Greek Life,
Section 2: Academic,
Section 3: Cultural,
Section 4: Religious,
Section 5: Special Interests,
Section 6: Civic Engagement,
Section 7: Governmental,
Section 8: Departmental,
We look forward to seeing everyone there!
Submitted by Amy Harmon ah747@evansville.edu
Trial Meditation Class
Interested in a meditation class, but aren't sure what's all about? Jeff Chestnut has a scheduled a trial meditation class for anyone interested. It will be in the fitness center Thursday, August 31st at noon. Please email Jeff (jc56) if you plan to attend. Jeff will use this trial class as a gauge for if there is enough interest to offer a regular noon time option.
Submitted by Amanda Wood aw505@evansville.edu
Hannah Evelyn Jones Exhibit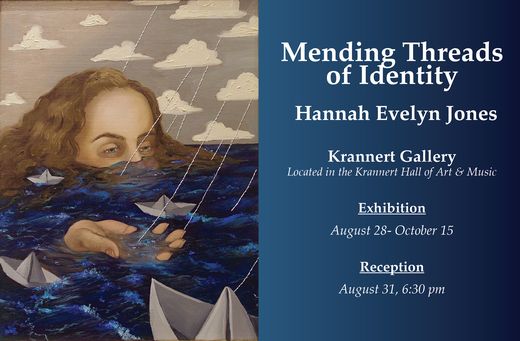 Please join us at a reception for artist Hannah Evelyn Jones on Thursday August 31 at 6:30p.m. in the Krannert Gallery. The exhibit will open on August 28 and run through October 15, 2023.
Submitted by Carol McCraney cm177@evansville.edu
Work Requests
As faculty, students, and staff return to campus, Facilities Management experiences a high volume of work requests. Please know that each request is important to us. Each work request is prioritized. Protecting individuals and building safety is our number one priority. Examples of critical/emergency issues include roof leaks, water leaks, and air conditioning/heating issues (outside of 68-76 degrees).
We strive to fulfill general work requests within 30-45 days of submission. General work requests include painting, ceiling tile replacement, and picture/bulletin board hanging. As we work through requests, we ask for your patience and understanding that we do value your request and will complete it as expediently as possible.
The best way to stay informed on progress is to submit your own work request. As the originator, the work order system will automatically email you as your request progresses through to completion.
Thank you.
Submitted by Karen McDonald km598@evansville.edu
Loan Textbooks for Free at the UE Lending Library
Last year, Students for Social Change ran a book drive to collect used textbooks, which are now available to be loaned out for the Fall 2023 semester! These books are organized through the UE library and are free to check out for an entire semester. To view the Lending Library's catalog, click on the link below! And if you would like to make a donation for future UE students, a box will be available at the library front desk.
Submitted by Micah Doty kd257@evansville.edu
Hotworx recruiting for part time help
HOTWORX will have a recruiting representative on campus Wednesday, August 30th from 11am-1pm. Their Evansville location has employment opportunities with flexible scheduling options. Stop by their table on the first floor in Ridgway for more information.
Join the HOTWORX Team! We are a 24-Hour Infrared Fitness Studio…. the first ever implementation of 3-dimensional training. We combine Heat (dimension 1), Infrared Energy (dimension 2) & Exercise (dimension 3) to help members flush toxins, tone up, and torch calories. Our studio offers 24-hour access to unlimited sessions ranging from HOT Yoga, to Hot Cycle, Hot Buns and more. Our exclusive workouts are led by a virtual instructor in a semi private environment, suitable for all fitness levels to give members MORE WORKOUT IN LESS TIME!
Submitted by Amanda Wood aw505@evansville.edu
Welcome the Evansville Promise Neighborhood Team
The University of Evansville (UE) recently hired five talented individuals who will be joining the Evansville Promise Neighborhood (EPN) team. This significant step forward is a result of UE's commitment to the EPN initiative and our continuous efforts to foster positive change in our community.
As you may recall, in March, UE proudly announced the receipt of a $30 million federal grant program from the United States Department of Education (DOE) to establish Evansville's Promise Neighborhood. This esteemed grant places UE as one of only three neighborhoods in the nation to be awarded this honor in 2023. Our involvement in the new cohort founded this year signifies the tremendous impact we aim to make on education, growth, and prosperity within the neighborhood.
Over the past few months, the Center for Innovation & Change, where the Promise employees will be housed, together with the Promise Neighborhood partners, diligently worked to source applications, and conduct thorough interviews to ensure we select the most qualified candidates for these crucial roles. Today, we extend a warm welcome to the following new members who have now become part of the UE family:
Director – Derek McKillop: Derek brings invaluable experience as the immediate past Director of Community Learning Centers for the Evansville Vanderburgh School Corporation. His expertise in leveraging federal grant opportunities for youth, resource management, and empowering the communities he serves will undoubtedly contribute to the success of the Evansville Promise Neighborhood. Derek holds a bachelor's degree in business from the University of Strathclyde in Scotland and has received graduate training from Harvard in building partnerships for equity, justice, and student success.
Program Coordinator – Lisa Allen: Lisa joins us with a wealth of experience and a service-oriented mindset. Previously serving as an Employment Specialist for Work One Southwest in Evansville, Lisa's well-connected nature and empathetic approach will be instrumental in coordinating programs and managing calendars. She has been actively involved in various neighborhood organizations such as Head Start, Catholic Charities, Job Works, and Youth Build. Lisa earned her bachelor's degree in early childhood education from the University of Southern Indiana.
Marketing Coordinator – Irais Ibarra: We are delighted to have Irais, a recent graduate of the University of Evansville, on our team. With a bachelor's degree in marketing, Irais brings a fresh perspective and innovative marketing techniques. Her leadership as the former Chief Executive Officer of Embrace Marketing Agency, a student-run ChangeLab at UE, has allowed her to work closely with Promise Neighborhood organizations and partners, fostering her passion for serving non-profits.
Data & Program Evaluation Manager – Dr. Stephanie Doneske: Dr. Doneske, a research scientist and PhD-trained chemical engineer, brings a unique blend of expertise to the team. Previously, she taught math and chemistry in the local school system while working at a biotech start-up in Houston. Driven by a passion for community improvement and a deep love for learning, we are confident she will be an exceptional partner for our data team at UE and with Diehl Consulting.
Grant Accountant – Renee Heil: Renee, previously the Finance and Operations Senior Manager for Junior Achievement, joins us as the Grant Accountant. With her Master's in Accountancy and proven ability to ask the right questions and develop effective solutions, Renee will be an invaluable asset in managing the funds necessary to complete the work of the Promise Neighborhood.
Submitted by Noah Alatza na122@evansville.edu
Reminder: UE Department Shipments/Deliveries
Departments having package shipments sent to UE should use the Shipping Address:
University of Evansville,
Department Name/Contact Name,
1 S Frederick St.,
Evansville, IN 47714.
This Shipping Address is Central Receiving's location. Using this address will help to avoid delays and loss shipment.
Please do not use UE's Mailing Address, 1800 Lincoln Ave., Evansville, IN 47722, for package shipments.
Submitted by Kim Winsett kw83@evansville.edu
Employee Fall Health Risk Assessment
Employee & Spouse Fall Health Risk Assessments will take place September 11th -13th from 7:00am -10:45am each day in Eykamp Room 251. Complete your health risk assessment and earn HRA credits. This health risk assessment is available for UE employees and their spouses on the UE medical insurance plan. Please remember, fasting 8-10 hours is recommended. Water and Black coffee are allowed. Please take maintenance medications as prescribed, as long as they are not required to be taken with food. Please click the link below to sign up today!
https://acelink.evansville.edu/areas/medicalclinic/appointments/Index.cfm
Submitted by Haley Karges hw164@evansville.edu
Lytho one on one lessons
The Office of Marketing and Communications is offering 1:1 learning sessions for Lytho, the University workflow system for marketing requests and materials. If you are still trying to navigate Lytho or want to learn more about its tricks and tools, the session can cover:
Submitting requests
Marking up changes to your proofs and leaving comments
Review statuses
Accessing deliverables (completed files)
And more
This is open to any faculty, staff, or administrator that has used Lytho or is planning to. For more information, please contact Abigail Perry at ap445@evansville.edu.
Submitted by Abigail Perry ap445@evansville.edu
Floor Cleaning Notice for Multiple Buildings
Floor Cleaning Notice for Multiple Buildings (See Impact Below)
Questions or Concerns Regarding this Work: Bob Dale, bd22@evansville.edu
Description of Work:
A contractor will conduct annual floor cleaning per the schedule listed below. If your building is not listed, it has already been cleaned or will be completed during Christmas Break. Facilities Maintenance Services technicians will move trash containers, recycling bins, chairs, and floor mats. A blue sticker will be placed on the office doorknob when work is finished.
Affected Dates and Buildings:
Sunday, August 6 through Thursday, September 14, 2023
Week of August 6 through August 10: Krannert Hall
Week of August 13 through August 17: Igleheart Building
Week of August 20 through August 24: Sampson Hall
Week of August 27 through August 31: Libraries
Week of September 3 through September 7: Neu Chapel
Week of September 10 through September 14: General Services Building
Impact for Occupants:
There will be intermittent noise, vibrations, and non-toxic odors associated with this work.
Action(s) Required:
Remove any paper, boxes, and personal belongings from your office floor prior to the scheduled cleaning date.
Please allow time for the floor to dry prior to placing objects on the floor.
To have your research lab floors cleaned, contact the Facilities Service Center at 812-488-2775 prior to the scheduled cleaning date.
Thank you for your patience as we maintain our beautiful campus.
To report a facilities emergency, call (812) 488-2775
Submitted by Karen McDonald km598@evansville.edu
Establish or Renew Your Payroll Deduction for 2023-24
We would like to express our sincere gratitude for your unwavering commitment to excellence in education. We are so fortunate that our campus community tirelessly gives their time, talents, and treasures.
As we move FORWARD>> into our next fiscal year, we want to be sure we provided you with the opportunity to establish or renew your payroll deduction. To establish a payroll deduction, please access the MyUE portal, and click on "Campus Campaign Pledge Form." When completed, please send the form to alumni@evansville.edu.
A gift via payroll deduction is an easy way to support our students and campus. It also lends itself to becoming a President's Club member, which is our gift society of donors who contribute at least $1,000 in combined gifts per fiscal year. One benefit of becoming a President's Club member is receiving a parking decal/hangtag which allows you to park anywhere on campus (except for the admissions' purple and handicap spots). Giving through payroll deduction will also count towards the goals for FORWARD>> The Campaign for the University of Evansville. To learn more, visit forward.evansvlle.edu.
We are stronger together, and when we support each other, we strengthen our ability to continue to live out the University of Evansville's mission to think critically, act bravely, serve responsibility, and live meaningfully in a changing world.
Thank you and go Aces!
Submitted by Jennifer J Calderone jj130@evansville.edu
Dr. Su Jin Jeong and Young & Established awarded additional $50,000 grant
Dr. Jeong, along with Young & Established (Y&E), was able to secure an additional $50,000 in funding fromThe Epidemiology Laboratory Capacity (ELC) grant through the Indiana Department of Health (IDOH) to further support their work regarding food insecurity and food equity in the greater Evansville area. This funding would provide additional means to address the problems related to food deserts and child hunger among the population that Y&E serves daily. This grant, in addition to the previous Health Issues and Challenges grant, would allow Y&E to utilized $500,000 to help the community. Dr. Jeong, as the Director for the Institute for Public Health, serves as the technical grant assistant on this project.
Submitted by Su Jin Jeong sj117@evansville.edu
Professor Larmann Publishes Art Textbook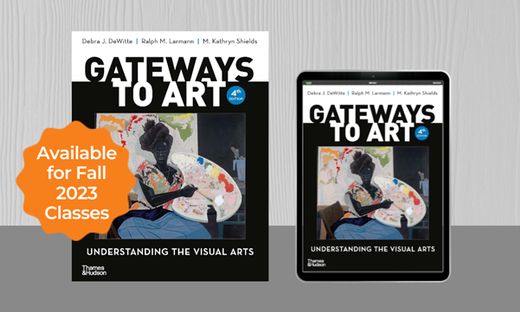 Art Department faculty, Professor Ralph Larmann, has coauthored a new edition of Gateways to Art, Understanding the Visual Arts an introductory art college textbook. The fourth edition was released on July 1, 2023 with a full array of digital support materials, including 10 videos by Larmann, a test bank, interactive exercises, flash cards, an instructor support manual, and other online resources. The fourth edition also includes exclusive videos produced by the Metropolitan Museum of Art in New York and the Museum of Modern Art. Available in paperback, loose leaf, and ebook, with access codes for other resources, it is published by Thames & Hudson.

The first edition was published in 2011 and quickly became the best-selling art appreciation text in the United States. Over 400,000 copies representing paperback, loose leaf, and digital versions have been adopted by approximately 450 colleges and universities. Larmann also provided line art, design, and other visual support materials in the production of the text. Gateways to Art, Understanding the Visual Arts 4th edition by Ralph M. Larmann, Debra J. DeWitte, and M. Kathryn Shields is available at the UE Bookstore"
Submitted by Carol McCraney cm177@evansville.edu
Honors Program Welcomes New Students at Annual Retreat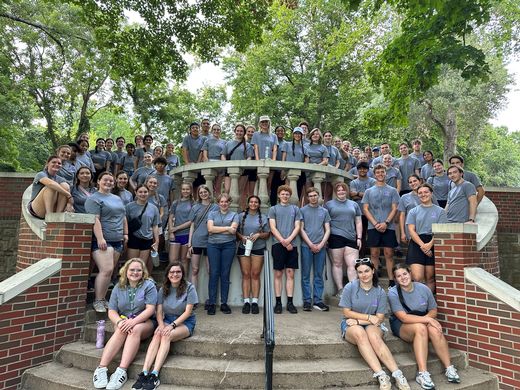 The Honors Program is excited to welcome 72 new freshmen and four transfer students to the program this fall. On Sunday, August 27, these students took part in the annual honors retreat at Audubon State Park. While at Audubon, the students completed a team-building challenge course, brainstormed ChangeLab ideas, and played a mini-version of the Nerd Wars trivia competition.
Students also participated in a book discussion of this year's honors common read, Diary of a Misfit: A Memoir and a Mystery by Casey Parks. Special thanks to the faculty who shared their expertise during the discussion – Dr. Evan McCracken, Dr. Julie Merkle, and Dr. Sara Petrosillo. The Honors Program invites the campus community to join in reading the book in advance of other events taking place this semester, including a campus visit and presentation by the author on November 13. Copies of the book are on reserve in the library.
Submitted by Jayme Williams jw504@evansville.edu
Faculty Members Presented Purple Tams at Academic Convocation
Each year, the University of Evansville holds a Purple Tam Ceremony, which is a significant moment during Academic Convocation. Purple tams are awarded to members of the faculty who have achieved the rank of full professor, which indicates their service to UE. The awarding of a purple tam is symbolic of UE's gratitude to these professors and their contributions to this institution. The purple velvet tams, which are seen at every official academic event, provide a visible sign of achievement.
Purple Tams were presented at Academic Convocation on Tuesday, August 22.
---
Omer Bayar, Department of Economics
Dr. Bayar received his B.A. degree in Management from Bogazici University in Istanbul, Turkey. He earned his Ph.D. in Economics with concentrations in monetary economics, international economics, and applied econometrics from the University of Tennessee, Knoxville, in 2010. He is the recipient of United Methodist Exemplary Teacher Award from the University of Evansville for 2015-2016, Class of 1961 Faculty Fellowship Award from the University of Evansville for 2014-2015, Dean's Research Award from the Schroeder School of Business at the University of Evansville for 2014-2015 and 2020-2021, Dean's Teaching Award from the Schroeder School of Business at the University of Evansville for 2012-2013 and 2015-2016, and J. Fred and Wilma A. Holly Fellowship from the University of Tennessee, Knoxville, for 2006-2010.
---
Stephen Boulmetis, Department of Theatre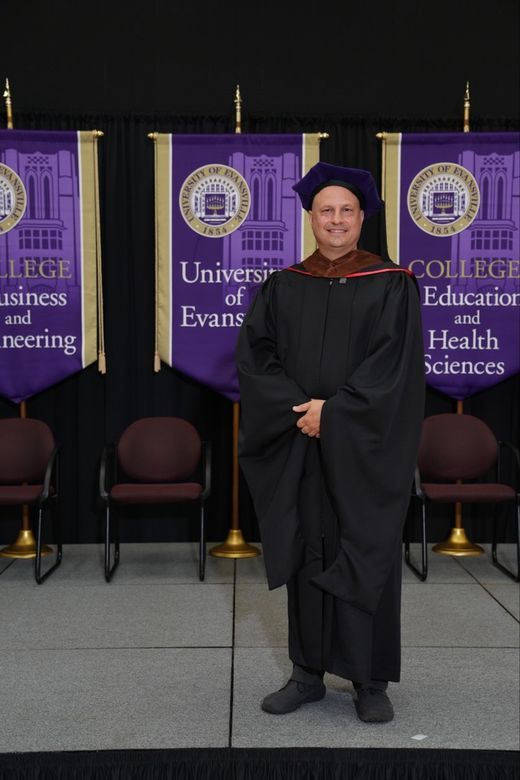 Professor Boulmetis received a B.F.A. from the University of Cincinnati College Conservatory of Music in 1996 and his M.F.A. from Boston University in 2002. He has been a member of the United Scenic Artists Local 829 since 2003 coinciding with his first Broadway show Six Dance Lessons in six weeks, as an Assistant Lighting Designer. Professor Boulmetis started teaching at U.E. in 2010 designing more than 25 productions for the campus community. His professional credits span the entertainment industry in television, fashion shows, cruise lines, theme parks, corporate events, various regional theatre and architectural projects. His additional Broadway credits include Associate Lighting Designer for The Drowsy Chaperone, Assistant Lighting Designer for Ring of Fire, Whoopi, Old Acquaintance, Butley, and Prymate.
---
Noah Gordon, Department of Biology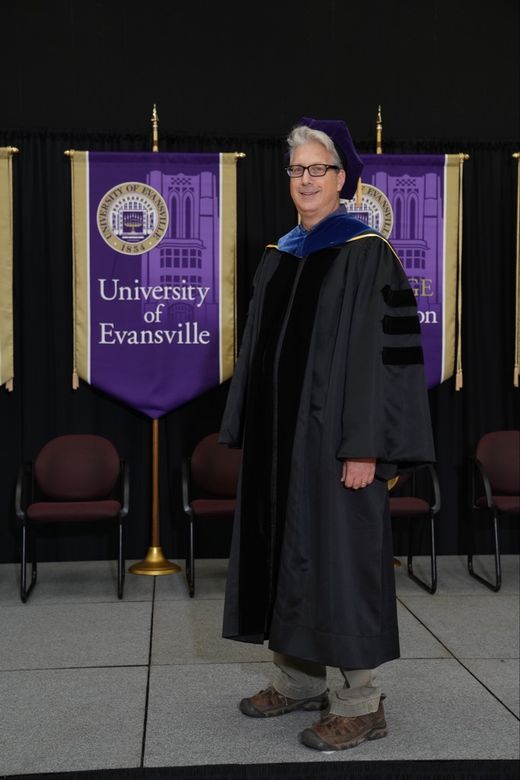 Dr. Gordon earned a Bachelor of General Studies degree from the University of Connecticut in 1998 and his M.S. in Zoology in 2001. He earned his Ph.D. in Biology from the University of Missouri in 2008. His research specializes in behavior and physiology of vertebrates. Much of his recent work has been exploring the climate change induced range expansion of green treefrogs (Hyla cinerea). He has received several grants and awards including the Biology Department Ivory Tower Award in 2022, the Sadelle & Sydney Berger Award for Scholarship in 2021, two Global Scholar Awards (2018 and 2021), one for exploring research and teaching opportunities for U.E. students in Namibia, and the other for facilitating student research experiences in Costa Rica. He has collaborated with over twenty students on over a dozen UExplore grants for summer research projects.
Dr. Gordon teaches a diverse array of biology courses for both majors and non-majors. His chair notes that what is especially noteworthy about Dr. Gordon's teaching pedagogy, regardless of the courses he teaches, is his commitment to student-centered learning. In particular, he implements a variety of participation-oriented experiences into each of his courses, allowing students to actively engage in the learning process. Recent student experiences have included practicing grant writing, monitoring animals in partnership with Mesker Zoo, and politely prodding government representatives. Service to UE and the surrounding community has been a cornerstone of Dr. Gordon's work. In the community some of his work has included volunteering for Wesselman Woods, the IN Department of Natural Resources technical advisory committee, and Ohio river cleanup efforts. At UE he has made numerous service contributions. He meets regularly with visiting students, he spearheaded the committee that revised student teaching evaluations, and, as his dean noted, Dr. Gordon "chaired the faculty senate at a particularly difficult time."
---
Kristina Hochwender, Department of English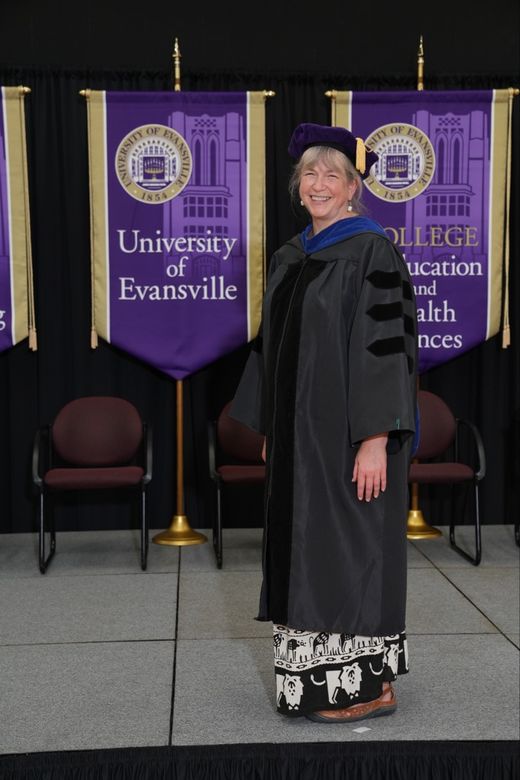 Dr. Hochwender received her B.A. from Cornell College, and her M.A. and Ph.D. from Washington University in St. Louis. Since 2007, she has taught literature at U.E. Alongside her interest in literature for children, her research centers on the Victorian clerical novel, and particularly the ways in which the clergyman--in the words of Samuel Butler, "a kind of human Sunday"--mediates national and religious identities and crises in novels that captured the Victorian imagination throughout the latter 19th century. She has published work in the Journal of Victorian Literature Online, The Victorian Web, and Religion and Literature. Dr. Hochwender teaches courses in Children's and Young Adult literature, as well as courses in the British Novel, the novels of Jane Austen, Eighteenth Century literature, and Victorian literature. She received the Dean's Teaching Award in 2017 and the Berger Award for Service in 2022.
---
Rania Mousa, Department of Accounting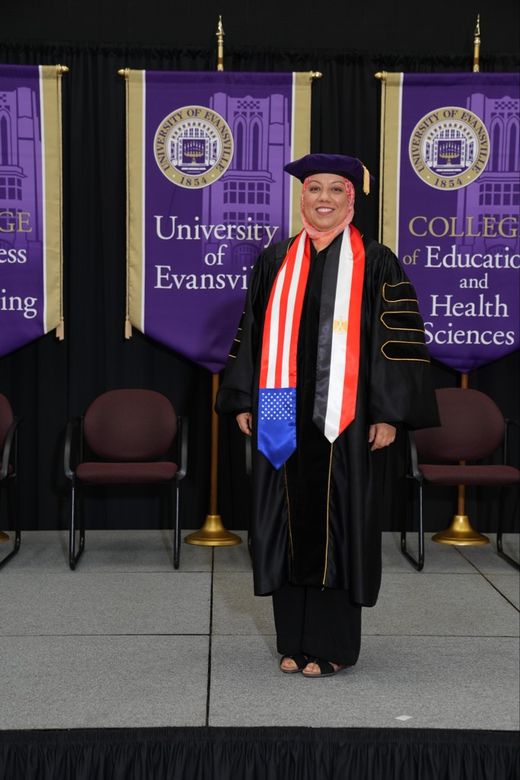 Dr. Mousa is the Mead Johnson Nutrition Endowed Chair in Business. She earned her B.A. in Accounting from the American University in Cairo, Egypt (2000). She received an M.B.A. degree from Illinois Institute of Technology (2002), and a Ph.D. in Accounting from the University of Birmingham, U.K. (2010). Dr. Mousa's main teaching interests are financial accounting, accounting information systems, computer accounting, and forensic accounting. Her research interests include accounting information systems, financial and non-financial reporting, forensic accounting, and accounting education.
---
Mari Plikuhn, Department of Sociology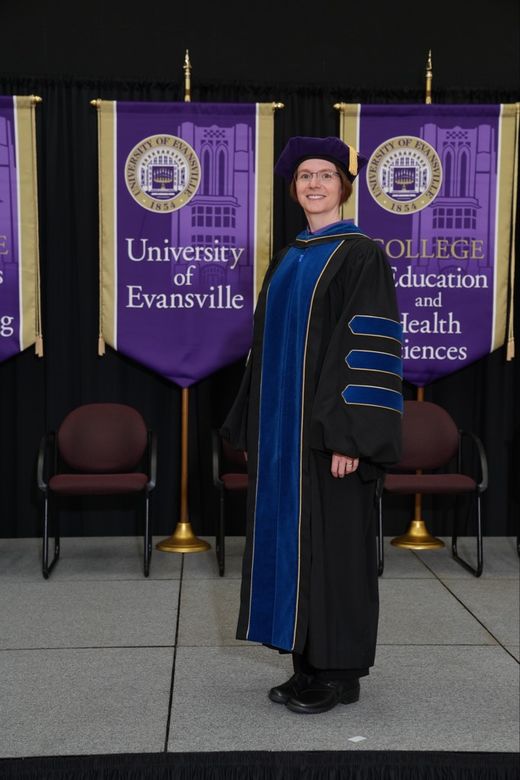 Dr. Plikuhn received from Purdue University Calumet a B.A. degree in Sociology and Clinical Psychology with a minor in English with Distinction in 2001, and she also received her M.S. degree in Child Development and Family Studies in 2004. From Purdue University, she received an M.S. degree in Sociology in 2005. Her Ph.D. was earned from Purdue University in 2010 in Sociology with a graduate minor in gerontology. Her area of research specialization is in family sociology, specifically in the success of first-generation college students. She was named U.E.'s Outstanding Teacher of the Year in 2012, presented the Berger Award for Service in 2016, and awarded the Eykamp Prize for Extraordinary Contributions to the University in 2022. Currently, she is the Director of the Gerontology Center at U.E., and serves as the Director of Sociology Programs.
---
Phil Plisky, Department of Physical Therapy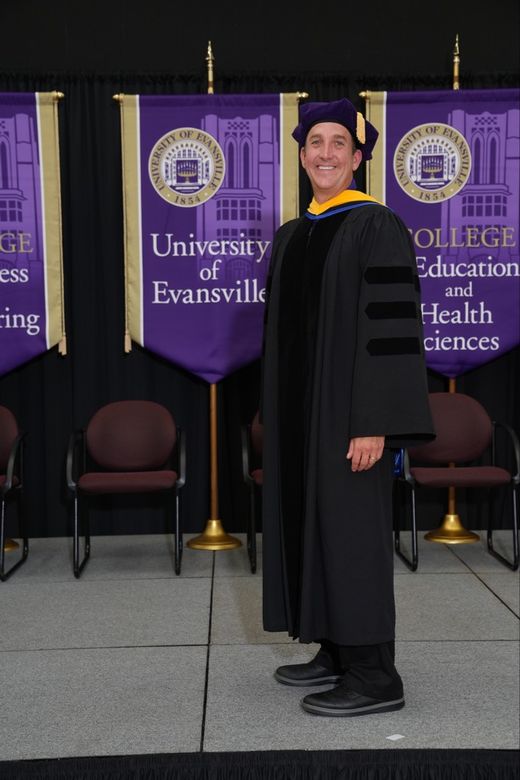 Dr. Plisky received his B.S. and Master of Physical Therapy degrees from U.E. He earned a Doctor of Science degree in Orthopedic Physical Therapy from Rocky Mountain University of Health Professions. He is a Certified Athletic Trainer and Certified Strength and Conditioning Specialist with over 25 years of experience and is a board-certified clinical specialist in orthopedics through the American Board of Physical Therapy Specialties. He teaches within the musculoskeletal and leadership/practice administration areas of the Doctor of Physical Therapy curriculum. He has published 35 original research articles in leading scientific journals, 60 peer-reviewed scientific presentations, several book chapters, and has lectured internationally on injury prevention and field expedient movement testing. Dr. Plisky has received multiple research grants totaling over three million dollars from federal and private agencies for performance and injury prevention studies. His current research is focused on comprehensive movement and performance testing and interventions in athletes and military personnel. He is a performance systems consultant with numerous collegiate and professional teams and the U.S. military. In addition, he serves as a manuscript reviewer for several scientific journals. He is actively engaged in patient care in his own private practice in Evansville, Indiana, and is the Director of U.E. Residency Programs.
Submitted by Noah Alatza na122@evansville.edu
Sympathy to Dr. Kenneth Steinsultz
We extend sympathy to Dr. Kenneth Steinsultz and his family on the death of Ken's father, LeRoy D. Steinsultz who passed away on Saturday, August 26. The obituary can be found here: https://www.stricklinfuneralhome.com/obituary/LeRoy-Steinsultz?fbclid=IwAR1vS4eR7WhJJsciDiHp3aQwpLvaNX894Krtd8nfDGHGUdERhET0k3NcWQE
Please keep Ken and his family in your thoughts and prayers.
Submitted by Dennis Malfatti dm155@evansville.edu
Cardona and Scheumann lead UE to win in home opener
Giulia Cardona posted 19 kills and Emilee Scheumann added 11 to pace the University of Evansville volleyball team to a 3-1 win over USI in Tuesday's home opener inside Meeks Family Fieldhouse.
Cardona recorded a match-high 19 kills along with 14 digs and three aces. Scheumann hit a solid .421 in the effort that saw her fall just one kill shy of her career mark. Melanie Feliciano added 9 kills and 17 digs. Kora Ruff paced all players with 42 assists while Ainoah Cruz posted a match-best 20 digs. USI was led by Abby Bednar, who tallied 15 kills.
Game 1 – UE 25, USI 22
Evansville broke a 4-4 tie and never looked back, opening the night with a 25-22 win. USI did not make it easy as a late rally made things interesting. Back-to-back service aces by Giulia Cardona put the Aces up 7-4 and consecutive kills from the junior made it a 14-8 UE lead.
Continuing to add to the lead, Madisyn Steele and Luana Gazda Kuhn registered kills that had the Aces in front by a 21-13 margin. The Screaming Eagles stormed back with a 9-3 run to cut the deficit to 24-22. Seeing the large advantage cut to just two, it was Brooke Springer who came through with the clinching point.
Game 2 – UE 25, USI 19
Gazda Kuhn posted a kill that broke a 2-2 tie and started the Aces on a 4-0 run in the early moments of the second game. Kills from Feliciano and Springer saw Evansville extend its lead to nine tallies – 14-5. Things continued to go the Aces was when Kora Ruff picked up a pair of aces to push the lead to a game-high 10 points at 19-9.
Once again, the Screaming Eagles made a late rally. USI cut the deficit to five points at 24-19 but Evansville held strong with Feliciano earning the final kill to clinch the set by a 25-19 final.
Game 3 – USI 25, UE 23
USI broke the third set open with a 13-5 run. It was the largest lead of the night for the Screaming Eagles. Following a time out, Evansville worked its way back. Two aces from Ainoah Cruz capped off a 6-0 run to make it a 2-point game. An error by USI got the Aces even closer at 14-13.
With their lead down to just a point, USI pushed its lead back out to five tallies (19-14). Just as they did earlier in the frame, the Aces rallied back as a 5-0 run tied things up at 19-19. Emilee Scheumann had two kills in the stretch. With the set tied at 20-20, the Screaming Eagles scored two in a row and would hang on for the 25-23 decision.
Game 4 – UE 25, USI 23
It was Emilee Scheumann taking control in the third set, recording four consecutive kills that turned a 2-2 tie into a 6-2 UE advantage. USI got as close as two points (10-8) before UE took a 14-8 lead on a Feliciano/Springer block. The next stretch belonged to the Screaming Eagles as they cut the UE lead back to a pair at 15-13.
USI continued to battle to the finish as a kill by Abby Bednar put the Screaming Eagles in front for the first time since holding a 2-1 lead in the set. That is when Giulia Cardona took over. A kill and ace put UE back in front but once again, USI rallied once again to tie it up at 23-23. It was Melanie Feliciano's turn to take control as consecutive kills put the finishing touches on the match and a 3-1 win.
This weekend, UE is in Birmingham, Alabama to face Samford and North Alabama.
Submitted by Athletics
UE women's basketball announces its non-conference schedule
After its most successful season in six years, the University of Evansville women's basketball team opens the 2023-24 season with an exciting non-conference slate.
"I feel we have a balanced non-conference schedule that will prepare us extremely well for MVC play," says Head Coach Robyn Scherr-Wells. "I am excited that our fans will have the opportunity to see us at home 6 times this fall. We play a very competitive slate of mid-major teams here in the Midwest and two tough Big 10 teams on the road. There will be plenty of opportunities for us to grow as a team heading into MVC play around the new year!"
The Purple Aces will face one of the top teams in the nation, travel to two Power Five arenas, and host several nearby schools in its first 12 games of the season. Evansville will host the Oakland City Mighty Oaks for an exhibition contest on Nov. 2 in Meeks Family Fieldhouse as a tune-up for the season. The Aces get to remain home for their opening game of the year, welcoming Lipscomb to Evansville on Nov. 7 for the first time since 2008.
UE's first road test of the season comes on Sunday, Nov. 12th as the Aces visit Edwardsville to take on the SIUE Cougars. Evansville last traveled to Edwardsville in the 2019-20 season and will be in Illinois as part of a multi-team event with Eastern Kentucky. The Colonels will come to Evansville on Nov. 15 for a rematch of last season's opener the Aces won 89-81.
Evansville has its longest road trip of the year on Sunday, Nov. 19 as the team travels to Lansing, Mich. to take on the Spartans. It will be only the second time that the Aces have played in Breslin Center and the first since 2007. UE then gets a week's break for the Thanksgiving holiday before returning to play in the Windy City against the Chicago State Panthers on Nov. 26. Last season Evansville beat the Panthers at home in their largest regular season win of the year, 82-57.
The Aces return home to Meeks Family Fieldhouse on Wednesday, Nov. 29 for a lone game against the Bellarmine Knights. To begin December, UE heads to Tennessee for a contest with UT-Martin. Evansville will look to even the series against the Skyhawks in Skyhawk Arena.
Once they return home, the Aces will host their final two home games of the non-conference slate. The first game on Dec. 6 renews a home-and-home series with the IUPUI Jaguars. The two teams last saw each other in 2015 in Evansville right before the end of the year. The Aces' last non-conference home game of the year will be on Saturday, Dec. 16 against Lindenwood. The Lions are Evansville's only new opponent of the 2023-24 season after Lindenwood made the move to NCAA Division I before the academic year.
UE ends the non-conference portion of the season on the road, starting the two-game swing with their toughest opponent of 2023. The Aces make their way to Assembly Hall to take on the 2022-23 No. 7 Indiana Hoosiers on Monday, Dec. 18. It will be the first time in 17 years that Evansville has played in Bloomington. UE ends the non-conference slate with a road game at Southeastern Missouri State (SEMO). The Aces played the Redhawks last season to a 64-53 win in Meeks.
Season tickets are available for the upcoming season. Season tickets start as low as $50 with floor seats priced at $100 with limited availability. Order your season tickets today by calling Logan Belz at (812) 488-2623.
2023-24 Non-Conference Season – Times TBD
Thursday Nov. 2, 2023 OAKLAND CITY (Exhibition)
Tuesday Nov. 7, 2023 LIPSCOMB
Sunday Nov. 12, 2023 @ SIUE (MTE)
Wednesday Nov. 15, 2023 EASTERN KENTUCKY (MTE)
Sunday Nov. 19, 2023 @ Michigan State
Sunday Nov. 26, 2023 @ Chicago State
Wednesday Nov. 29, 2023 BELLARMINE
Saturday Dec. 2, 2023 @ UT Martin
Wednesday Dec. 6, 2023 IUPUI
Saturday Dec. 16, 2023 LINDENWOOD
Monday Dec. 18, 2023 @ Indiana
Thursday Dec. 21, 2023 @ SEMO
Submitted by Athletics
Giulia Cardona named MVC Player of the Week
University of Evansville junior Giulia Cardona was named the Missouri Valley Player of the Week in an announcement by the league on Monday. This marks the second time Cardona has been recognized as the league's Player of the Week.
One of the top offensive players in the nation continued to impress in the first weekend of her junior season. Highlighted by a career-high 28 kills in the win over Central Michigan, Cardona paces the MVC with an average of 5.25 kills per set.
She added a total of eight service aces, putting her second in the league. Friday's opener against preseason Ohio Valley Conference favorite Southeast Missouri State saw Cardona register a match-high 14 kills along with 9 digs, 4 block assists and 2 aces. Facing a 20-win squad from last season in Central Michigan, Cardona erupted for a career-high 28 kills while hitting .311. Ten digs gave her a double-double while she added 6 more aces and two block assists.
Submitted by Athletics
Contribute to AceNotes
To have content considered for inclusion in AceNotes, please submit a Marketing Request Form. Deadline for submission to AceNotes is 10:00 a.m. on the requested date of publication. Only articles concerning UE related/sponsored activities will be accepted. Articles submitted to AceNotes may be edited for length and clarity. Submitter contact information is at the end of each article.