| | |
| --- | --- |
| PurplePulse | Monday, August 28, 2023 |
ChangeLab Fair
If you're curious about ChangeLab, think you might like to start one someday, or have general questions about how it works, join the CIC team on the 2nd floor of Ridgway today, between 4 and 6 p.m. in the Multicultural Student Commons.
Cookies and drinks provided, current faculty, staff and students will be around to answer questions, and the CIC suite will be open for visitors. Hope to see you there!
Submitted by Noah Alatza na122@evansville.edu
Remembering Dean Beverly Brockman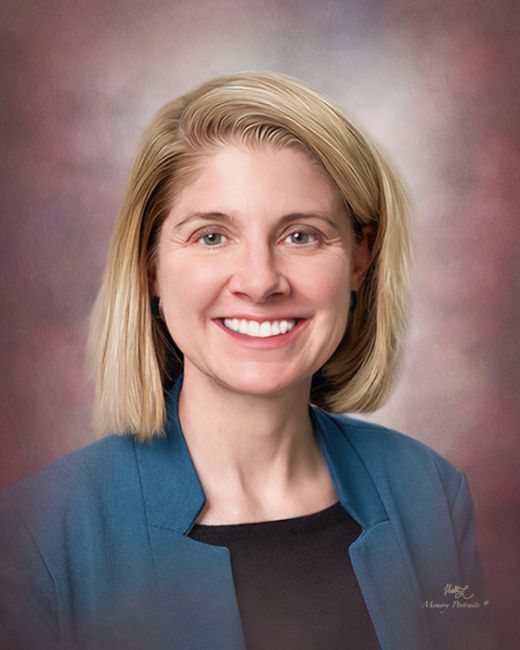 The UE community continues to mourn the loss of Dr. Beverly Brockman. During her tenure as Dean of the College of Business and Engineering, Dean Brockman demonstrated an unwavering commitment to academic excellence, student success, and fostering a vibrant and inclusive learning environment. Her vision and tireless efforts played a pivotal role in shaping UE into what it is today—a center of innovation and learning.
Please continue to keep the Brockman family in your thoughts. A full obituary for Dean Brockman can be viewed here: https://www.boonefuneralhome.net/obituary/DrBeverly-Brockman
Submitted by Noah Alatza na122@evansville.edu
Student Job Fair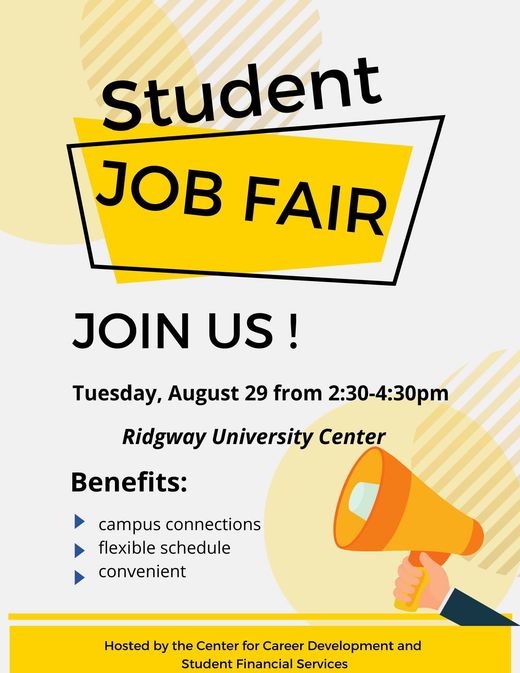 Looking for a part time job with a flexible schedule to accommodate your classes? Working on campus is a great option! Join us for our Student Job Fair where more than 20 different on campus employers will be looking for you!
Tuesday, August 29th
2:30pm-4:30pm
First floor of Ridgway University Center
Submitted by Amanda Wood aw505@evansville.edu
ChangeLab Fair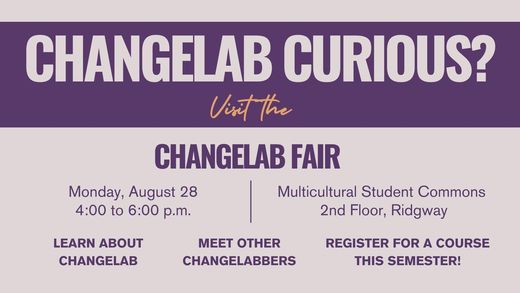 Learn about ChangeLab courses, meet other ChangeLabbers, and register for a course. Everyone is welcome.
Monday, August 28 4:00 to 6:00 in the Multicultural Student Commons, 2nd floor Ridgway.
Submitted by Dina Willming dw285@evansville.edu
Pop Up Boutique Returning
The University of Evansville's Pop Up Boutique is making a comeback now through September 5.

This is your chance to snag some stylish and sophisticated UE branded professional wear that showcases your pride in being part of our institution.

Placing your order is a breeze! Simply visit the UE Pop Up Boutique website at the following link: https://universityofevansville.ccbrands.com/
Submitted by Noah Alatza na122@evansville.edu
Loan Textbooks for Free at the UE Lending Library
Last year, Students for Social Change ran a book drive to collect used textbooks, which are now available to be loaned out for the Fall 2023 semester! These books are organized through the UE library and are free to check out for an entire semester. To view the Lending Library's catalog, click on the link below! And if you would like to make a donation for future UE students, a box will be available at the library front desk.
Submitted by Micah Doty kd257@evansville.edu
Hotworx recruiting for part time help
HOTWORX will have a recruiting representative on campus Wednesday, August 30th from 11am-1pm. Their Evansville location has employment opportunities with flexible scheduling options. Stop by their table on the first floor in Ridgway for more information.
Join the HOTWORX Team! We are a 24-Hour Infrared Fitness Studio…. the first ever implementation of 3-dimensional training. We combine Heat (dimension 1), Infrared Energy (dimension 2) & Exercise (dimension 3) to help members flush toxins, tone up, and torch calories. Our studio offers 24-hour access to unlimited sessions ranging from HOT Yoga, to Hot Cycle, Hot Buns and more. Our exclusive workouts are led by a virtual instructor in a semi private environment, suitable for all fitness levels to give members MORE WORKOUT IN LESS TIME!
Submitted by Amanda Wood aw505@evansville.edu
Welcome the Evansville Promise Neighborhood Team
The University of Evansville (UE) recently hired five talented individuals who will be joining the Evansville Promise Neighborhood (EPN) team. This significant step forward is a result of UE's commitment to the EPN initiative and our continuous efforts to foster positive change in our community.
As you may recall, in March, UE proudly announced the receipt of a $30 million federal grant program from the United States Department of Education (DOE) to establish Evansville's Promise Neighborhood. This esteemed grant places UE as one of only three neighborhoods in the nation to be awarded this honor in 2023. Our involvement in the new cohort founded this year signifies the tremendous impact we aim to make on education, growth, and prosperity within the neighborhood.
Over the past few months, the Center for Innovation & Change, where the Promise employees will be housed, together with the Promise Neighborhood partners, diligently worked to source applications, and conduct thorough interviews to ensure we select the most qualified candidates for these crucial roles. Today, we extend a warm welcome to the following new members who have now become part of the UE family:
Director – Derek McKillop: Derek brings invaluable experience as the immediate past Director of Community Learning Centers for the Evansville Vanderburgh School Corporation. His expertise in leveraging federal grant opportunities for youth, resource management, and empowering the communities he serves will undoubtedly contribute to the success of the Evansville Promise Neighborhood. Derek holds a bachelor's degree in business from the University of Strathclyde in Scotland and has received graduate training from Harvard in building partnerships for equity, justice, and student success.
Program Coordinator – Lisa Allen: Lisa joins us with a wealth of experience and a service-oriented mindset. Previously serving as an Employment Specialist for Work One Southwest in Evansville, Lisa's well-connected nature and empathetic approach will be instrumental in coordinating programs and managing calendars. She has been actively involved in various neighborhood organizations such as Head Start, Catholic Charities, Job Works, and Youth Build. Lisa earned her bachelor's degree in early childhood education from the University of Southern Indiana.
Marketing Coordinator – Irais Ibarra: We are delighted to have Irais, a recent graduate of the University of Evansville, on our team. With a bachelor's degree in marketing, Irais brings a fresh perspective and innovative marketing techniques. Her leadership as the former Chief Executive Officer of Embrace Marketing Agency, a student-run ChangeLab at UE, has allowed her to work closely with Promise Neighborhood organizations and partners, fostering her passion for serving non-profits.
Data & Program Evaluation Manager – Dr. Stephanie Doneske: Dr. Doneske, a research scientist and PhD-trained chemical engineer, brings a unique blend of expertise to the team. Previously, she taught math and chemistry in the local school system while working at a biotech start-up in Houston. Driven by a passion for community improvement and a deep love for learning, we are confident she will be an exceptional partner for our data team at UE and with Diehl Consulting.
Grant Accountant – Renee Heil: Renee, previously the Finance and Operations Senior Manager for Junior Achievement, joins us as the Grant Accountant. With her Master's in Accountancy and proven ability to ask the right questions and develop effective solutions, Renee will be an invaluable asset in managing the funds necessary to complete the work of the Promise Neighborhood.
Submitted by Noah Alatza na122@evansville.edu
UE Men's Basketball Seeks Student Managers for 23-24 Season
The University of Evansville Men's Basketball program is currently searching for students who are interested in joining the program as student managers for the 2023-2024 academic year. Any full-time UE student, undergraduate or graduate, is welcome to apply. A good attitude and a strong work ethic are required.
Students interested in a manager position must be available for both practices and games. Practice is typically held in the afternoon during the week, as well as often on weekends. Managers should also be available to help with small group workouts during the fall and spring, in addition to accomplishing other tasks as needed.
Managers will get the opportunity to work at the Division 1 level and in the Missouri Valley Conference, of the nation's premier mid-major conferences. Managers will also get hands-on experience in collegiate athletics working with coaches, players, support staff, and administration. This position offers valuable real-world experience for any student who is interested in pursuing a career in sports administration, coaching, or a related field. Lastly, managers will experience an exciting, family-oriented environment that will positively impact their college experience.
In addition, managers will receive authentic team Nike Gear, and an opportunity to work their way up to traveling to away competition.
Any students interested in being a student-manager or who have any questions about the position should contact Peter Funk at pf66@evansville.edu.
Submitted by Peter Funk pf66@evansville.edu
Lytho one on one lessons
The Office of Marketing and Communications is offering 1:1 learning sessions for Lytho, the University workflow system for marketing requests and materials. If you are still trying to navigate Lytho or want to learn more about its tricks and tools, the session can cover:
Submitting requests
Marking up changes to your proofs and leaving comments
Review statuses
Accessing deliverables (completed files)
And more
This is open to any faculty, staff, or administrator that has used Lytho or is planning to. For more information, please contact Abigail Perry at ap445@evansville.edu.
Submitted by Abigail Perry ap445@evansville.edu
Faculty Members Presented Purple Tams at Academic Convocation
Each year, the University of Evansville holds a Purple Tam Ceremony, which is a significant moment during Academic Convocation. Purple tams are awarded to members of the faculty who have achieved the rank of full professor, which indicates their service to UE. The awarding of a purple tam is symbolic of UE's gratitude to these professors and their contributions to this institution. The purple velvet tams, which are seen at every official academic event, provide a visible sign of achievement.
Purple Tams were presented at Academic Convocation on Tuesday, August 22.
---
Omer Bayar, Department of Economics
Dr. Bayar received his B.A. degree in Management from Bogazici University in Istanbul, Turkey. He earned his Ph.D. in Economics with concentrations in monetary economics, international economics, and applied econometrics from the University of Tennessee, Knoxville, in 2010. He is the recipient of United Methodist Exemplary Teacher Award from the University of Evansville for 2015-2016, Class of 1961 Faculty Fellowship Award from the University of Evansville for 2014-2015, Dean's Research Award from the Schroeder School of Business at the University of Evansville for 2014-2015 and 2020-2021, Dean's Teaching Award from the Schroeder School of Business at the University of Evansville for 2012-2013 and 2015-2016, and J. Fred and Wilma A. Holly Fellowship from the University of Tennessee, Knoxville, for 2006-2010.
---
Stephen Boulmetis, Department of Theatre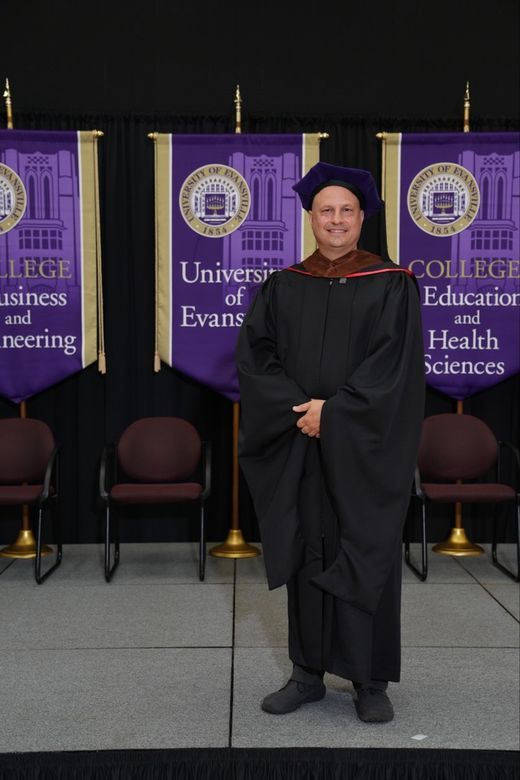 Professor Boulmetis received a B.F.A. from the University of Cincinnati College Conservatory of Music in 1996 and his M.F.A. from Boston University in 2002. He has been a member of the United Scenic Artists Local 829 since 2003 coinciding with his first Broadway show Six Dance Lessons in six weeks, as an Assistant Lighting Designer. Professor Boulmetis started teaching at U.E. in 2010 designing more than 25 productions for the campus community. His professional credits span the entertainment industry in television, fashion shows, cruise lines, theme parks, corporate events, various regional theatre and architectural projects. His additional Broadway credits include Associate Lighting Designer for The Drowsy Chaperone, Assistant Lighting Designer for Ring of Fire, Whoopi, Old Acquaintance, Butley, and Prymate.
---
Noah Gordon, Department of Biology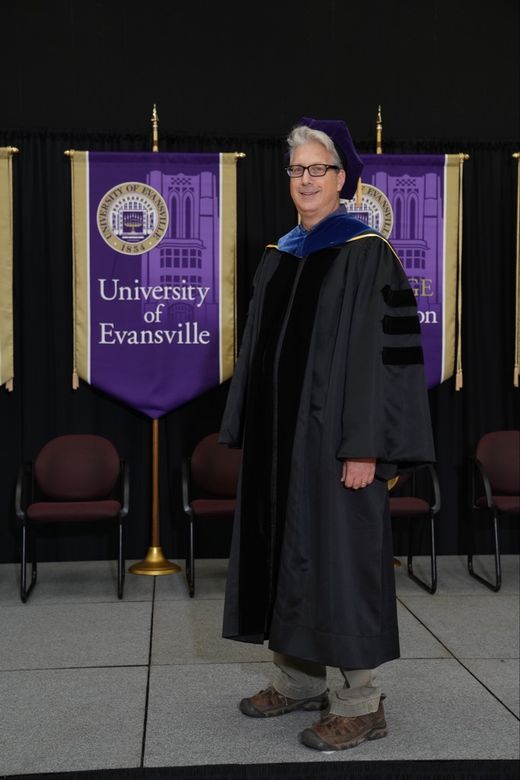 Dr. Gordon earned a Bachelor of General Studies degree from the University of Connecticut in 1998 and his M.S. in Zoology in 2001. He earned his Ph.D. in Biology from the University of Missouri in 2008. His research specializes in behavior and physiology of vertebrates. Much of his recent work has been exploring the climate change induced range expansion of green treefrogs (Hyla cinerea). He has received several grants and awards including the Biology Department Ivory Tower Award in 2022, the Sadelle & Sydney Berger Award for Scholarship in 2021, two Global Scholar Awards (2018 and 2021), one for exploring research and teaching opportunities for U.E. students in Namibia, and the other for facilitating student research experiences in Costa Rica. He has collaborated with over twenty students on over a dozen UExplore grants for summer research projects.
Dr. Gordon teaches a diverse array of biology courses for both majors and non-majors. His chair notes that what is especially noteworthy about Dr. Gordon's teaching pedagogy, regardless of the courses he teaches, is his commitment to student-centered learning. In particular, he implements a variety of participation-oriented experiences into each of his courses, allowing students to actively engage in the learning process. Recent student experiences have included practicing grant writing, monitoring animals in partnership with Mesker Zoo, and politely prodding government representatives. Service to UE and the surrounding community has been a cornerstone of Dr. Gordon's work. In the community some of his work has included volunteering for Wesselman Woods, the IN Department of Natural Resources technical advisory committee, and Ohio river cleanup efforts. At UE he has made numerous service contributions. He meets regularly with visiting students, he spearheaded the committee that revised student teaching evaluations, and, as his dean noted, Dr. Gordon "chaired the faculty senate at a particularly difficult time."
---
Kristina Hochwender, Department of English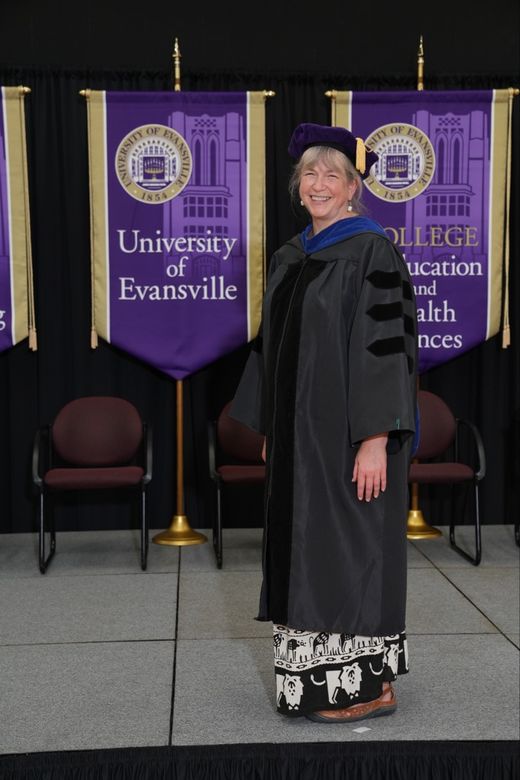 Dr. Hochwender received her B.A. from Cornell College, and her M.A. and Ph.D. from Washington University in St. Louis. Since 2007, she has taught literature at U.E. Alongside her interest in literature for children, her research centers on the Victorian clerical novel, and particularly the ways in which the clergyman--in the words of Samuel Butler, "a kind of human Sunday"--mediates national and religious identities and crises in novels that captured the Victorian imagination throughout the latter 19th century. She has published work in the Journal of Victorian Literature Online, The Victorian Web, and Religion and Literature. Dr. Hochwender teaches courses in Children's and Young Adult literature, as well as courses in the British Novel, the novels of Jane Austen, Eighteenth Century literature, and Victorian literature. She received the Dean's Teaching Award in 2017 and the Berger Award for Service in 2022.
---
Rania Mousa, Department of Accounting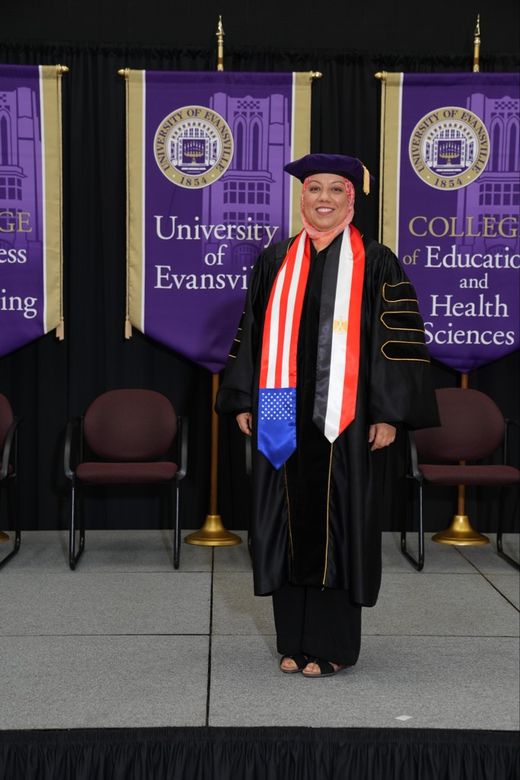 Dr. Mousa is the Mead Johnson Nutrition Endowed Chair in Business. She earned her B.A. in Accounting from the American University in Cairo, Egypt (2000). She received an M.B.A. degree from Illinois Institute of Technology (2002), and a Ph.D. in Accounting from the University of Birmingham, U.K. (2010). Dr. Mousa's main teaching interests are financial accounting, accounting information systems, computer accounting, and forensic accounting. Her research interests include accounting information systems, financial and non-financial reporting, forensic accounting, and accounting education.
---
Mari Plikuhn, Department of Sociology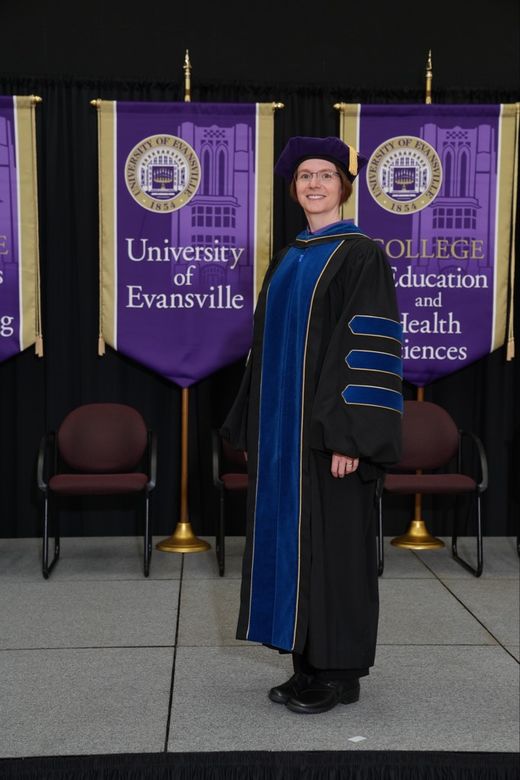 Dr. Plikuhn received from Purdue University Calumet a B.A. degree in Sociology and Clinical Psychology with a minor in English with Distinction in 2001, and she also received her M.S. degree in Child Development and Family Studies in 2004. From Purdue University, she received an M.S. degree in Sociology in 2005. Her Ph.D. was earned from Purdue University in 2010 in Sociology with a graduate minor in gerontology. Her area of research specialization is in family sociology, specifically in the success of first-generation college students. She was named U.E.'s Outstanding Teacher of the Year in 2012, presented the Berger Award for Service in 2016, and awarded the Eykamp Prize for Extraordinary Contributions to the University in 2022. Currently, she is the Director of the Gerontology Center at U.E., and serves as the Director of Sociology Programs.
---
Phil Plisky, Department of Physical Therapy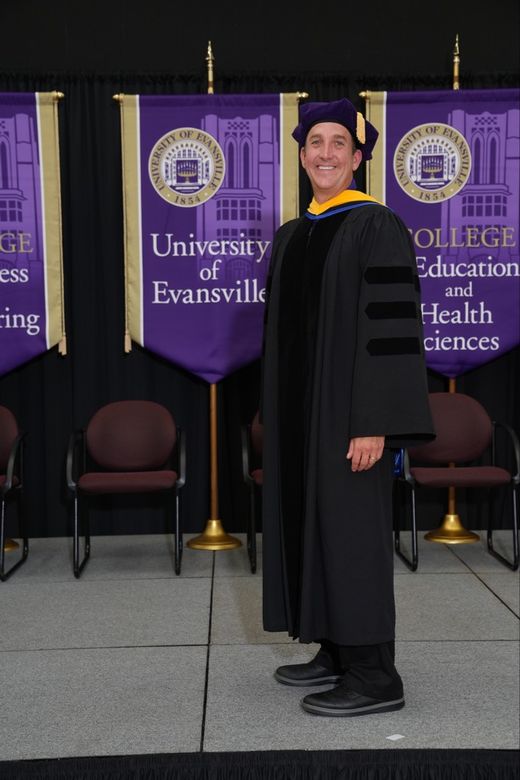 Dr. Plisky received his B.S. and Master of Physical Therapy degrees from U.E. He earned a Doctor of Science degree in Orthopedic Physical Therapy from Rocky Mountain University of Health Professions. He is a Certified Athletic Trainer and Certified Strength and Conditioning Specialist with over 25 years of experience and is a board-certified clinical specialist in orthopedics through the American Board of Physical Therapy Specialties. He teaches within the musculoskeletal and leadership/practice administration areas of the Doctor of Physical Therapy curriculum. He has published 35 original research articles in leading scientific journals, 60 peer-reviewed scientific presentations, several book chapters, and has lectured internationally on injury prevention and field expedient movement testing. Dr. Plisky has received multiple research grants totaling over three million dollars from federal and private agencies for performance and injury prevention studies. His current research is focused on comprehensive movement and performance testing and interventions in athletes and military personnel. He is a performance systems consultant with numerous collegiate and professional teams and the U.S. military. In addition, he serves as a manuscript reviewer for several scientific journals. He is actively engaged in patient care in his own private practice in Evansville, Indiana, and is the Director of U.E. Residency Programs.
Submitted by Noah Alatza na122@evansville.edu
Sympathy to Dr. Kenneth Steinsultz
We extend sympathy to Dr. Kenneth Steinsultz and his family on the death of Ken's father, LeRoy D. Steinsultz who passed away on Saturday, August 26. The obituary can be found here: https://www.stricklinfuneralhome.com/obituary/LeRoy-Steinsultz?fbclid=IwAR1vS4eR7WhJJsciDiHp3aQwpLvaNX894Krtd8nfDGHGUdERhET0k3NcWQE
Please keep Ken and his family in your thoughts and prayers.
Submitted by Dennis Malfatti dm155@evansville.edu
Indiana Grabs 1-0 Victory Over UE Women's Soccer
In front of one of the largest home crowds in University of Evansville women's soccer regular-season history, the visiting Indiana Hoosiers made a first-half goal by Marisa Grzesiak stand up on Sunday night at UE's Arad McCutchan Stadium to remain unbeaten with a 1-0 result over UE.
A crowd of 1,072 packed into Arad McCutchan Stadium to provide UE with one of its largest crowds in the last 20 years. Evansville nearly struck first in front of a lively crowd in the eighth minute, as freshman forward Taylor Johnson got behind the IU defense on a long ball by junior Hailey Autenrieb, but IU goalkeeper Jamie Gerstenberg was able to break up the connection and clear the UE danger.
The Hoosiers then pressed forward themselves, putting Evansville under pressure until Grzesiak was able to break through in the 18th minute with her first career goal. Off a corner kick, UE goalkeeper Myia Danek was able to deny a header by Indiana's Lauren Costello with a leaping save, but Grzesiak was able to head home the rebound to snap a scoreless minutes streak of 197 minutes by Danek to open the season.
IU would maintain the pressure for much of the first half, but Danek was able to record three saves to keep the match a one-goal difference going into halftime. UE threatened off of a corner kick of its own in the second half, but Gerstenberg was able to stop a Rachel Rosborough blast from 25 yards out to keep the scoreline 1-0 in favor of IU. Both goalkeepers would pitch shutouts in the second half to maintain the final scoreline for the match.
With the victory, Indiana improves to 3-0-1 overall going into a showdown with #25 Tennessee. Evansville, meanwhile, suffers its first defeat of the year and has its record move to 0-1-2. The Purple Aces will return home to Arad McCutchan Stadium on Thursday night to host the Bellarmine Knights. Kick-off is set for 7:00 p.m.
Submitted by Athletics
Cardona's career match helps UE defeat CMU
Junior Giulia Cardona recorded a career-high 28 kills on Saturday to lead the University of Evansville volleyball team to a come-from-behind victory over Central Michigan in five sets inside Houck Field House.
Cardona's unbelievable effort saw her hit .311 while adding 10 digs, six service aces and two block assists. Melanie Feliciano picked up 12 kills, eight digs and two blocks while Madisyn Steele tallied eight kills and a team-high six total blocks. Freshman Luana Gazda Kuhn completed the victory with seven kills and nine digs. Defensively, Ainoah Cruz had a match-high 15 digs. Pacing the Chippewas was Devon Bright, who had 14 kills and seven digs.
Game 1 – UE 25, CMU 17
It was Central Michigan taking the early 3-1 lead before Evansville took control. An 8-1 rally saw the Purple Aces take a 9-4 edge. Luana Gazda Kuhn registered two kills to put UE in control. The Chippewas battled back with four in a row to cut their deficit to 9-8 with the Aces quickly countering. Maddie Hawkins registered an ace with Madisyn Steele notching a kill to push the lead back to five points at 14-9.
Already up 19-14, Kora Ruff followed with an ace to give her team a 6-point advantage. Two more Steele kills and an ace by Giulia Cardona solidified a 25-17 win to give the Aces the early 1-0 match advantage.
Game 2 – CMU 26, UE 24
Another early start by the Chippewas gave them a 3-0 edge and their solid play continued with the lead going to seven points at 12-5. Evansville slowly chipped away at the deficit with Cardona picking up a pair of kills to chop the lead to four points (14-10).
After CMU countered to establish an 18-12 advantage, the Aces had an answer of their own. Utilizing a 7-1 stretch, UE stormed back to tie the game at 19-19. The defense for Evansville forced four Central Michigan errors while Melanie Feliciano added a kill and ace. Cardona added another kill that gave Evansville a 22-21 lead. The squads battled to a 24-24 tie and CMU was able to post the final two points to knot the match at 1-1.
Game 3 – CMU 25, UE 20
For the third game in a row, Central Michigan had the upper hand at the start. A pair of kills by Claire Ammeraal saw the Chippewas open a 7-3 edge. After Evansville got within three at 13-10, CMU responded with four in a row to take their largest lead of the frame. Despite cutting the deficit to three in the final moments, the Chippewas fended off the challenge, taking a 25-20 win to win their second set of the afternoon.
Game 4 – UE 26, CMU 24
Looking to finish the match, the Chippewas took the early 6-3 lead. Ainoah Cruz picked up an ace with UE tying things up at 7-7 and a Cardona kill put UE in front, 10-9. Tied up at 11-11, CMU posted three in a row before Evansville did the same, resulting in a 14-14 deadlock.
Over the ensuing stretch, Central Michigan continued to fend off the challenges and take multiple leads. A solo block put CMU up 22-20 and they would later have match point, up 24-23. Down to their final point, the Aces staged a clutch rally. A kill from Cardona and another ace by Cruz resulted in a 26-24 UE win to force a fifth set.
Game 5 – UE 15, CMU 12
Central Michigan started on a 3-1 stretch, but it was Cardona continuing her career day with two kills and two more aces to put UE on top – 5-4. After CMU rallied to tie the score at 8-8, Evansville put forth its most important stretch of the day. Two kills apiece from Feliciano and Cardona comprised a 4-0 rally. From there, UE held strong, taking a 15-12 decision to clinch the match.
Next up for the Aces is a home match against USI on Tuesday evening at 7 p.m.
Submitted by Athletics
Aces offense explodes in win over Cal State Fullerton
UE men's soccer put on a thrilling comeback performance Sunday afternoon in the team's 3-1 win over the Cal State Fullerton Titans.
Freshman midfielder Jacopo Federizzi tallied his first collegiate goal to tie up Sunday's game in the 38th minute, and it was all Purple Aces for the next 52. Along with his first tally, Federizzi assisted on Evansville's second goal from junior midfielder Jose Vivas midway through the second half. The two midfielders led the team on offense with four shots each, combining for three shots on goal. Sealing the win for the Aces was forward Nacho Diaz Barragan, as he launched a header in the 77th minute on a cross from sophomore defender Nalu Wagner. Cal State Fullerton applied more pressure at the end of the match but starting senior goalkeeper Aidan Montoure made two of his five saves in the final 10 minutes.
"I think we definitely feel better than we did after Thursday," Interim Head Coach Robbe Tarver said with a laugh following Sunday's 3-1 victory. "Again, we went down 1-0 and had to respond. I think we showed our fight and our passion, and I think who we are as a team. The things that we speak about constantly, I think our guys showed that today. And that ability to respond, we talk a lot about event plus response equals outcome, and we responded super well today and got the outcome that we deserved."
For the second game in a row, the Aces found themselves down early as the Titans scored in the 24th minute. It only took Evansville 14 minutes to respond with their first goal of the afternoon after being awarded a corner kick in the 37th minute. The initial kick landed wide left of the net, where Wagner chased it down for a cross that put the ball near the net. On the cross, freshman midfielder Baraka Tarleton headed the ball back to an open Federizzi, who buried it into the left corner of the net.
UE carried the momentum from its equalizer into the start of the second half, putting up a trio of shots in under ten seconds early in the 48th minute. After a tense few minutes in the Aces' own end that resulted in a yellow card and two saves from Montoure, Evansville got the ball out into the offensive end. In the 65th minute, Fedrizzi was coming in hot on the right side and went for a shot that was redirected to the net by Vivas for UE's first lead of the 2023 season. The Aces gave themselves a comfortable two-goal lead 12 minutes later as Wagner and Diaz Barragan connected for a header goal in the left corner.
Evansville hits the road for the first time this season in its next match. The Aces will make their way to High Point, N.C. for a game against the Panthers on Friday, Sept. 1. Kick-off for UE's first road game is set for 6 p.m. from Vert Stadium.
Submitted by Athletics
Aces tripped up in season opener
Taking on preseason Ohio Valley Conference favorite Southeast Missouri State, the University of Evansville volleyball team put forth a strong effort but dropped a 3-0 decision on Friday morning at Houck Field House.
Each set was decided by two points with two frames going to extra points. Giulia Cardona led the way for the Purple Aces, finishing with 14 points, 8 digs and 4 blocks. Melanie Feliciano added 13 kills and 5 digs. Brooke Springer registered a game-high eight blocks. Marsia Guisti and Lucy Arndt paced SEMO with 12 and 11 kills, respectively.
Game 1 – SEMO 26, UE 24
In the early portion of the opening set, the lead changed hands on multiple occasions before Evansville turned an 8-8 tie into an 11-8 lead. Giulia Cardona and Melanie Feliciano recorded kills. Feliciano registered another kill to push the lead to 13-10. Southeast Missouri State stormed back, scoring five in a row to take their first multipoint lead at 15-13.
Continuing to fight back, the Aces jumped back in front when a Madisyn Steele kill gave her squad a 20-19 advantage. SEMO countered with a 5-2 stretch to force set point at 24-22. Feliciano got her team back on track to tie it up at 24-24 before the Redhawks scored the final two points to take a 26-24 decision.
Game 2 – SEMO 26, UE 24
Carrying the momentum from a strong finish to the first set, SEMO stormed out to a 7-1 lead with two service aces contributing to the rally. Kora Ruff contributed an ace to cut the deficit to a pair (7-5), but the Redhawks scored five of the next six to match their largest lead at 12-6.
Things continued to go the way of Southeast Missouri State as they held a 16-10 lead. Steele and Feliciano posted kills to begin an 8-1 run that gave UE its first advantage of the set. Feliciano totaled three kills during the run while combining with Brooke Springer on the block that put Evansville in front. Springer added a solo block to give UE set point at 24-23, however, it was another late rally that would be the difference. The final three points belonged to SEMO as they took another 26-24 win.
Game 3 – SEMO 25, UE 23
Evansville had the upper hand in the early moments of the set. After Southeast Missouri State took a 6-4 edge, the Aces stormed back with eight in a row to open a 12-6 advantage. Cardona and Springer combined for a pair of blocks during the stretch. A pair of aces from the Redhawks helped them cut the lead in half before a kill made it a 14-12 game in favor of UE.
Steele had a solo block to push the lead back to four points (16-12), but the complexion of the game changed once again as the Redhawks scored six in a row before extending the lead to 24-20. The Aces rallied with three in a row but it was not enough as SEMO clinched the 25-23 win to take the match.
On Saturday, the Aces take on Central Michigan at 12 p.m.
Submitted by Athletics
Contribute to AceNotes
To have content considered for inclusion in AceNotes, please submit a Marketing Request Form. Deadline for submission to AceNotes is 10:00 a.m. on the requested date of publication. Only articles concerning UE related/sponsored activities will be accepted. Articles submitted to AceNotes may be edited for length and clarity. Submitter contact information is at the end of each article.