| | |
| --- | --- |
| PurplePulse | Friday, August 25, 2023 |
Remembering Dean Beverly Brockman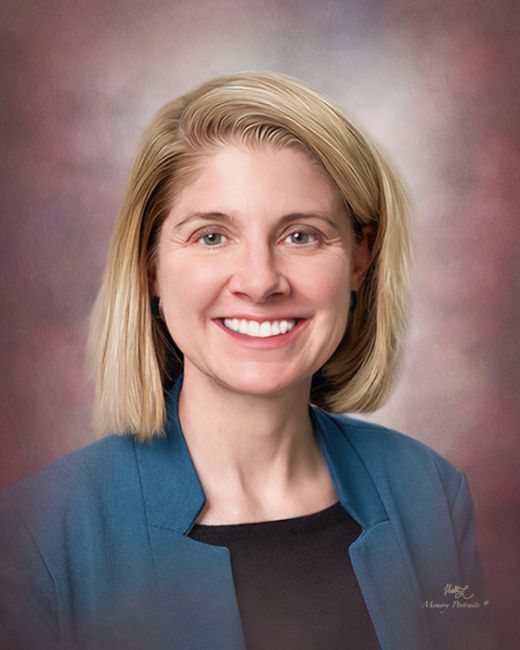 The UE community continues to mourn the loss of Dr. Beverly Brockman. During her tenure as Dean of the College of Business and Engineering, Dean Brockman demonstrated an unwavering commitment to academic excellence, student success, and fostering a vibrant and inclusive learning environment. Her vision and tireless efforts played a pivotal role in shaping UE into what it is today—a center of innovation and learning.
Please continue to keep the Brockman family in your thoughts. A full obituary for Dean Brockman can be viewed here: https://www.boonefuneralhome.net/obituary/DrBeverly-Brockman
Submitted by Noah Alatza na122@evansville.edu
Student Job Fair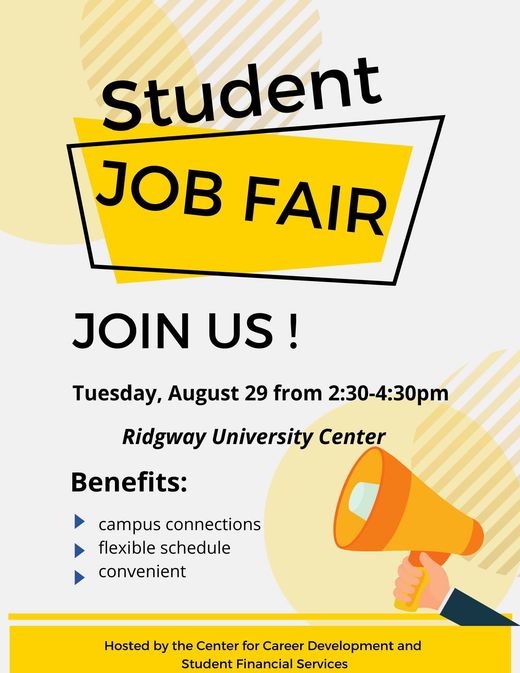 Looking for a part time job with a flexible schedule to accommodate your classes? Working on campus is a great option! Join us for our Student Job Fair where more than 20 different on campus employers will be looking for you!
Tuesday, August 29th
2:30pm-4:30pm
First floor of Ridgway University Center
Submitted by Amanda Wood aw505@evansville.edu
ChangeLab Fair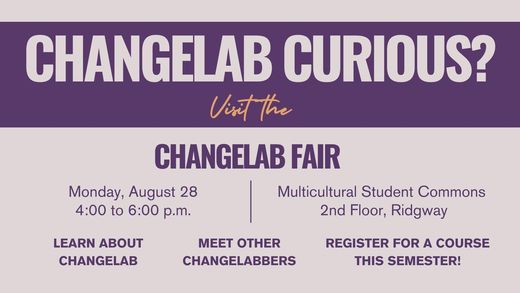 Learn about ChangeLab courses, meet other ChangeLabbers, and register for a course. Everyone is welcome.
Monday, August 28 4:00 to 6:00 in the Multicultural Student Commons, 2nd floor Ridgway.
Submitted by Dina Willming dw285@evansville.edu
Tashi Kyil Monks Presentation and Unveiling of Sue Morrison's "Monks"
The Tashi Kyil Monks of India are visiting campus on August 28 at 10 am in Neu Chapel. Their presentation and dance will be followed by a blessing of Sue Morrison's "Monks" stain glass piece, to be unveiled on the second floor of the Ridgway University Center. All are welcome to attend the presentation and blessing. Sue Morrison was a part of the founding class of Harlaxton College. Several of her stain glass pieces are housed around campus, one of her most famous being "We Are All Bigger on the Inside than on the Outside," affectionately known as "The Lion Window" amongst the UE community. More information on the Tashi Kyil Monks can be found here:
http://tashikyil.org/
Submitted by Morgan Lamberton ml184@evansville.edu
Save the Date - UE Majors and Minors Fair
Save the date for the UE Majors and Minors Fair on Tuesday, October 17, 2023, from 4:00 to 5:30 p.m. in Eykamp Hall.
Faculty, students, and alumni along with campus support teams will provide information about their discipline, professional outcomes, education programs, academic support, social innovation, and much more.
Watch for additional information coming soon. Contact Paula Heldt at ph28@evansville.edu or 812-488-2479 with questions.
Submitted by Paula Heldt ph28@evansville.edu
Join UE Orchestras
Students, staff, faculty, and administrators are invited to play in the University Symphony Orchestra and String Ensemble. The University Symphony Orchestra meets on Monday at 5:30 p.m. and Wednesday at 6:30 p.m. The String Chamber Ensemble meets on Thursday at 4 p.m. in the Krannert Hall of Fine Arts. Please E-mail Dr. Chun-Ming Chen, director of orchestral activities, at cc319@evansville.edu for more information.
Submitted by Chun-Ming Chen cc319@evansville.edu
Loan Textbooks for Free at the UE Lending Library
Last year, Students for Social Change ran a book drive to collect used textbooks, which are now available to be loaned out for the Fall 2023 semester! These books are organized through the UE library and are free to check out for an entire semester. To view the Lending Library's catalog, click on the link below! And if you would like to make a donation for future UE students, a box will be available at the library front desk.
Submitted by Micah Doty kd257@evansville.edu
Join a Choir at UE! It's Not Too Late to Audition
Anyone with a love of singing is welcome to audition for the UE Choir program. For current UE students, to schedule an audition:

• First, sign-up for a day/time at this link
• Second, complete the online information form

For UE Faculty or Staff who are interested in singing in choir, please email the Director of Choral Activities directly to schedule an audition: dm155@evansville.edu
Submitted by Dennis Malfatti dm155@evansville.edu
UE Planners Are Here
The 2023-2024 UE Planners are HERE! Keep track of your assignments, important to-do list items, and organize your busy academic, social, personal life with this FREE tool. The UE Planner book also includes a student resource guide and built-in important university deadlines and event dates.
Get your FREE planner at the Solution Station table in Ridgway this Friday, August 25, from 10:00 AM to 1:00 PM.
Planners are also available NOW in Academic Services (Olmsted 116). Just ask!
Don't miss out on this great FREE resource! Come by and ask for one.
Submitted by Chad Hart ch299@evansville.edu
Hotworx recruiting for part time help
HOTWORX will have a recruiting representative on campus Wednesday, August 30th from 11am-1pm. Their Evansville location has employment opportunities with flexible scheduling options. Stop by their table on the first floor in Ridgway for more information.
Join the HOTWORX Team! We are a 24-Hour Infrared Fitness Studio…. the first ever implementation of 3-dimensional training. We combine Heat (dimension 1), Infrared Energy (dimension 2) & Exercise (dimension 3) to help members flush toxins, tone up, and torch calories. Our studio offers 24-hour access to unlimited sessions ranging from HOT Yoga, to Hot Cycle, Hot Buns and more. Our exclusive workouts are led by a virtual instructor in a semi private environment, suitable for all fitness levels to give members MORE WORKOUT IN LESS TIME!
Submitted by Amanda Wood aw505@evansville.edu
New Campus Key procedure
Facilities Management & Planning has updated both the University Key Policy and Key request submission procedure.
Look for the University Key Policy at; https://ueliveevansville.sharepoint.com/sites/UEPolicyCenter
Find the Key Request Form at; workflow.evansville.edu which is in My UE portal/UE Workflow tool and click the Facilities tab at the top, and then click on key request. The online submission process is streamlined and will notify individuals where the key request is in our system.
Key pickup and return can be done on Mondays from 2 PM – 4 PM and Tuesdays and Thursdays from 8 AM – 2 PM. If you are unable to stop by during these hours, please contact us to setup an alternative appointment.
We look forward to the 2023-2024 Academic Year and our office is always available to assist the campus.
Please contact us at 812-488-2775 or email facilities@evansville.edu for any questions regarding our services.
Submitted by LISA CRESCI lc70@evansville.edu
Men's Basketball Sport Science Internship
UE Men's Basketball is looking for students at either the professional, graduate, or undergrad level with a background in Microsoft Office, statistics, and programming (R, Python, etc.), as well as students with an experience in kinesiology and biomechanics to assist with data collection, processing, analysis, and report building for sport science initiatives and projects here at UE. Students will be immersed in the day-to-day operations of the basketball team and sports performance.
If any student is interested, please email a resume to Jeremy Portillo (jp450@evansville.edu). Interviews will be conducted immediately.
Submitted by Jeremy Portillo jp450@evansville.edu
Welcome the Evansville Promise Neighborhood Team
The University of Evansville (UE) recently hired five talented individuals who will be joining the Evansville Promise Neighborhood (EPN) team. This significant step forward is a result of UE's commitment to the EPN initiative and our continuous efforts to foster positive change in our community.
As you may recall, in March, UE proudly announced the receipt of a $30 million federal grant program from the United States Department of Education (DOE) to establish Evansville's Promise Neighborhood. This esteemed grant places UE as one of only three neighborhoods in the nation to be awarded this honor in 2023. Our involvement in the new cohort founded this year signifies the tremendous impact we aim to make on education, growth, and prosperity within the neighborhood.
Over the past few months, the Center for Innovation & Change, where the Promise employees will be housed, together with the Promise Neighborhood partners, diligently worked to source applications, and conduct thorough interviews to ensure we select the most qualified candidates for these crucial roles. Today, we extend a warm welcome to the following new members who have now become part of the UE family:
Director – Derek McKillop: Derek brings invaluable experience as the immediate past Director of Community Learning Centers for the Evansville Vanderburgh School Corporation. His expertise in leveraging federal grant opportunities for youth, resource management, and empowering the communities he serves will undoubtedly contribute to the success of the Evansville Promise Neighborhood. Derek holds a bachelor's degree in business from the University of Strathclyde in Scotland and has received graduate training from Harvard in building partnerships for equity, justice, and student success.
Program Coordinator – Lisa Allen: Lisa joins us with a wealth of experience and a service-oriented mindset. Previously serving as an Employment Specialist for Work One Southwest in Evansville, Lisa's well-connected nature and empathetic approach will be instrumental in coordinating programs and managing calendars. She has been actively involved in various neighborhood organizations such as Head Start, Catholic Charities, Job Works, and Youth Build. Lisa earned her bachelor's degree in early childhood education from the University of Southern Indiana.
Marketing Coordinator – Irais Ibarra: We are delighted to have Irais, a recent graduate of the University of Evansville, on our team. With a bachelor's degree in marketing, Irais brings a fresh perspective and innovative marketing techniques. Her leadership as the former Chief Executive Officer of Embrace Marketing Agency, a student-run ChangeLab at UE, has allowed her to work closely with Promise Neighborhood organizations and partners, fostering her passion for serving non-profits.
Data & Program Evaluation Manager – Dr. Stephanie Doneske: Dr. Doneske, a research scientist and PhD-trained chemical engineer, brings a unique blend of expertise to the team. Previously, she taught math and chemistry in the local school system while working at a biotech start-up in Houston. Driven by a passion for community improvement and a deep love for learning, we are confident she will be an exceptional partner for our data team at UE and with Diehl Consulting.
Grant Accountant – Renee Heil: Renee, previously the Finance and Operations Senior Manager for Junior Achievement, joins us as the Grant Accountant. With her Master's in Accountancy and proven ability to ask the right questions and develop effective solutions, Renee will be an invaluable asset in managing the funds necessary to complete the work of the Promise Neighborhood.
Submitted by Noah Alatza na122@evansville.edu
Reminder: UE Department Shipments/Deliveries
Departments having package shipments sent to UE should use the Shipping Address:
University of Evansville,
Department Name/Contact Name,
1 S Frederick St.,
Evansville, IN 47714.
This Shipping Address is Central Receiving's location. Using this address will help to avoid delays and loss shipment.
Please do not use UE's Mailing Address, 1800 Lincoln Ave., Evansville, IN 47722, for package shipments.
Submitted by Kim Winsett kw83@evansville.edu
Employee Fall Health Risk Assessment
Employee & Spouse Fall Health Risk Assessments will take place September 11th -13th from 7:00am -10:45am each day in Eykamp Room 251. Complete your health risk assessment and earn HRA credits. This health risk assessment is available for UE employees and their spouses on the UE medical insurance plan. Please remember, fasting 8-10 hours is recommended. Water and Black coffee are allowed. Please take maintenance medications as prescribed, as long as they are not required to be taken with food. Please click the link below to sign up today!
https://acelink.evansville.edu/areas/medicalclinic/appointments/Index.cfm
Submitted by Haley Karges hw164@evansville.edu
Lytho one on one lessons
The Office of Marketing and Communications is offering 1:1 learning sessions for Lytho, the University workflow system for marketing requests and materials. If you are still trying to navigate Lytho or want to learn more about its tricks and tools, the session can cover:
Submitting requests
Marking up changes to your proofs and leaving comments
Review statuses
Accessing deliverables (completed files)
And more
This is open to any faculty, staff, or administrator that has used Lytho or is planning to. For more information, please contact Abigail Perry at ap445@evansville.edu.
Submitted by Abigail Perry ap445@evansville.edu
Faculty Members Presented Purple Tams at Academic Convocation
Each year, the University of Evansville holds a Purple Tam Ceremony, which is a significant moment during Academic Convocation. Purple tams are awarded to members of the faculty who have achieved the rank of full professor, which indicates their service to UE. The awarding of a purple tam is symbolic of UE's gratitude to these professors and their contributions to this institution. The purple velvet tams, which are seen at every official academic event, provide a visible sign of achievement.
Purple Tams were presented at Academic Convocation on Tuesday, August 22.
---
Omer Bayar, Department of Economics
Dr. Bayar received his B.A. degree in Management from Bogazici University in Istanbul, Turkey. He earned his Ph.D. in Economics with concentrations in monetary economics, international economics, and applied econometrics from the University of Tennessee, Knoxville, in 2010. He is the recipient of United Methodist Exemplary Teacher Award from the University of Evansville for 2015-2016, Class of 1961 Faculty Fellowship Award from the University of Evansville for 2014-2015, Dean's Research Award from the Schroeder School of Business at the University of Evansville for 2014-2015 and 2020-2021, Dean's Teaching Award from the Schroeder School of Business at the University of Evansville for 2012-2013 and 2015-2016, and J. Fred and Wilma A. Holly Fellowship from the University of Tennessee, Knoxville, for 2006-2010.
---
Stephen Boulmetis, Department of Theatre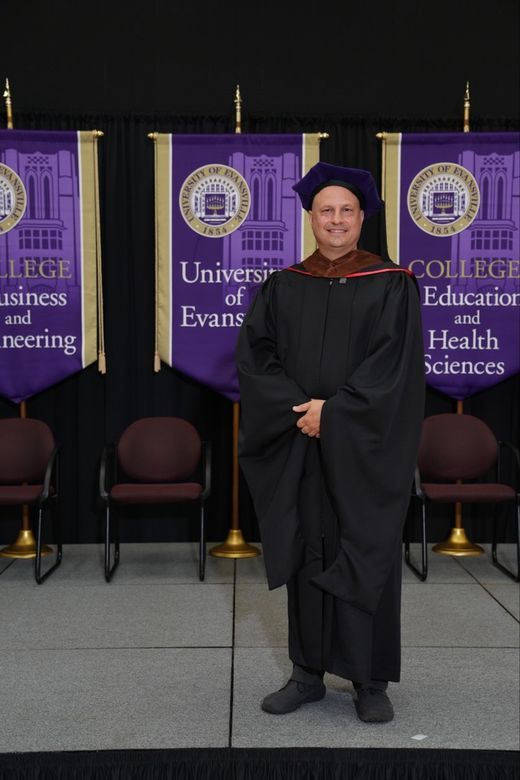 Professor Boulmetis received a B.F.A. from the University of Cincinnati College Conservatory of Music in 1996 and his M.F.A. from Boston University in 2002. He has been a member of the United Scenic Artists Local 829 since 2003 coinciding with his first Broadway show Six Dance Lessons in six weeks, as an Assistant Lighting Designer. Professor Boulmetis started teaching at U.E. in 2010 designing more than 25 productions for the campus community. His professional credits span the entertainment industry in television, fashion shows, cruise lines, theme parks, corporate events, various regional theatre and architectural projects. His additional Broadway credits include Associate Lighting Designer for The Drowsy Chaperone, Assistant Lighting Designer for Ring of Fire, Whoopi, Old Acquaintance, Butley, and Prymate.
---
Noah Gordon, Department of Biology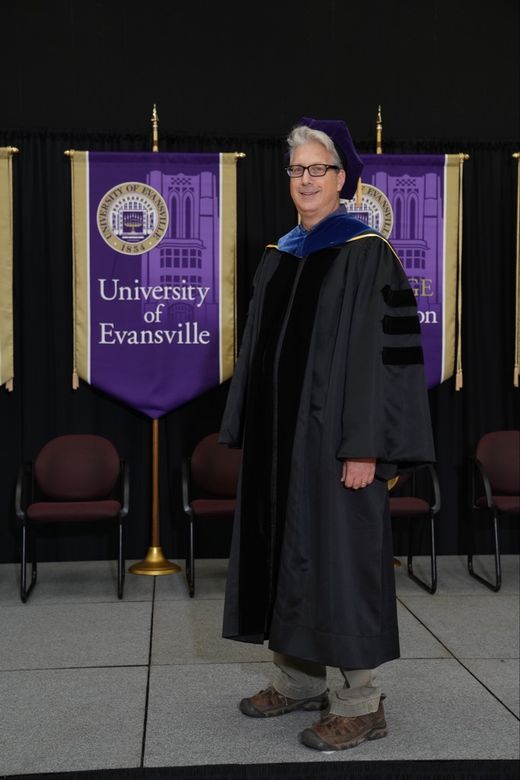 Dr. Gordon earned a Bachelor of General Studies degree from the University of Connecticut in 1998 and his M.S. in Zoology in 2001. He earned his Ph.D. in Biology from the University of Missouri in 2008. His research specializes in behavior and physiology of vertebrates. Much of his recent work has been exploring the climate change induced range expansion of green treefrogs (Hyla cinerea). He has received several grants and awards including the Biology Department Ivory Tower Award in 2022, the Sadelle & Sydney Berger Award for Scholarship in 2021, two Global Scholar Awards (2018 and 2021), one for exploring research and teaching opportunities for U.E. students in Namibia, and the other for facilitating student research experiences in Costa Rica. He has collaborated with over twenty students on over a dozen UExplore grants for summer research projects.
Dr. Gordon teaches a diverse array of biology courses for both majors and non-majors. His chair notes that what is especially noteworthy about Dr. Gordon's teaching pedagogy, regardless of the courses he teaches, is his commitment to student-centered learning. In particular, he implements a variety of participation-oriented experiences into each of his courses, allowing students to actively engage in the learning process. Recent student experiences have included practicing grant writing, monitoring animals in partnership with Mesker Zoo, and politely prodding government representatives. Service to UE and the surrounding community has been a cornerstone of Dr. Gordon's work. In the community some of his work has included volunteering for Wesselman Woods, the IN Department of Natural Resources technical advisory committee, and Ohio river cleanup efforts. At UE he has made numerous service contributions. He meets regularly with visiting students, he spearheaded the committee that revised student teaching evaluations, and, as his dean noted, Dr. Gordon "chaired the faculty senate at a particularly difficult time."
---
Kristina Hochwender, Department of English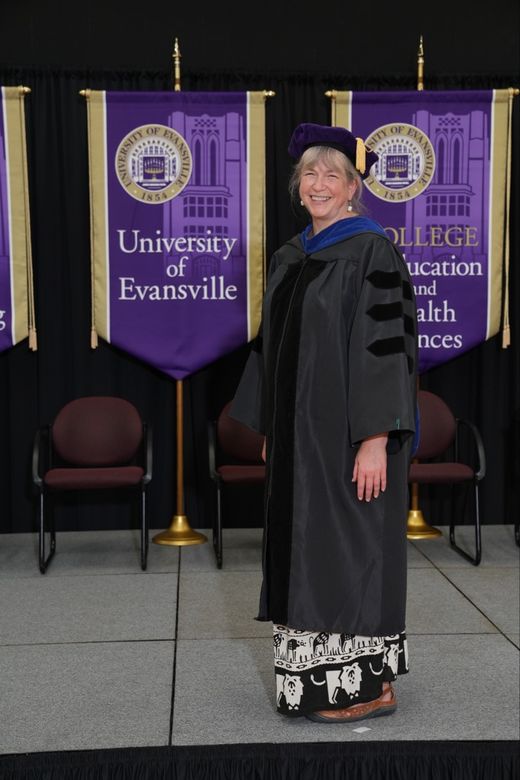 Dr. Hochwender received her B.A. from Cornell College, and her M.A. and Ph.D. from Washington University in St. Louis. Since 2007, she has taught literature at U.E. Alongside her interest in literature for children, her research centers on the Victorian clerical novel, and particularly the ways in which the clergyman--in the words of Samuel Butler, "a kind of human Sunday"--mediates national and religious identities and crises in novels that captured the Victorian imagination throughout the latter 19th century. She has published work in the Journal of Victorian Literature Online, The Victorian Web, and Religion and Literature. Dr. Hochwender teaches courses in Children's and Young Adult literature, as well as courses in the British Novel, the novels of Jane Austen, Eighteenth Century literature, and Victorian literature. She received the Dean's Teaching Award in 2017 and the Berger Award for Service in 2022.
---
Rania Mousa, Department of Accounting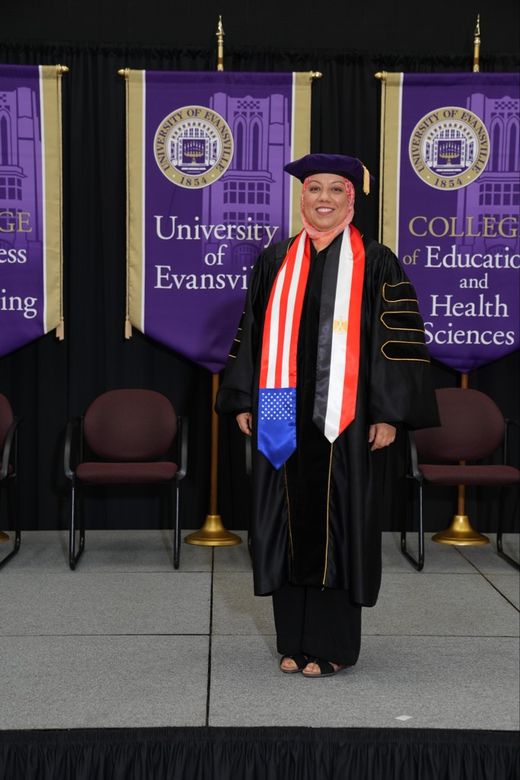 Dr. Mousa is the Mead Johnson Nutrition Endowed Chair in Business. She earned her B.A. in Accounting from the American University in Cairo, Egypt (2000). She received an M.B.A. degree from Illinois Institute of Technology (2002), and a Ph.D. in Accounting from the University of Birmingham, U.K. (2010). Dr. Mousa's main teaching interests are financial accounting, accounting information systems, computer accounting, and forensic accounting. Her research interests include accounting information systems, financial and non-financial reporting, forensic accounting, and accounting education.
---
Mari Plikuhn, Department of Sociology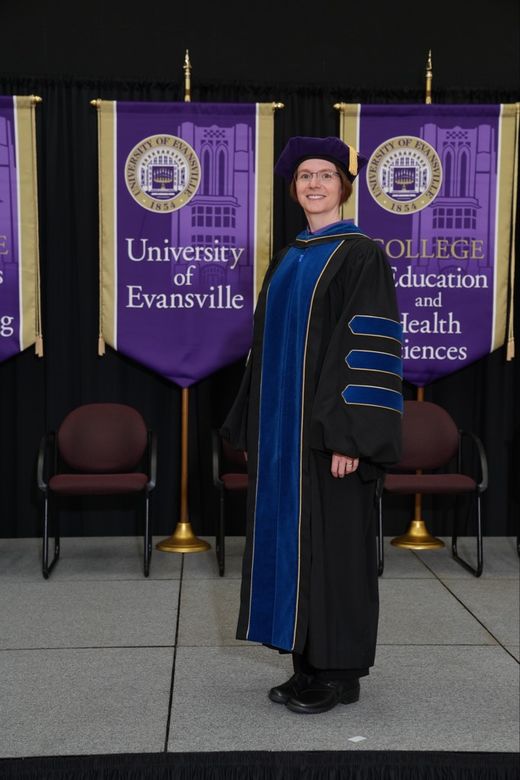 Dr. Plikuhn received from Purdue University Calumet a B.A. degree in Sociology and Clinical Psychology with a minor in English with Distinction in 2001, and she also received her M.S. degree in Child Development and Family Studies in 2004. From Purdue University, she received an M.S. degree in Sociology in 2005. Her Ph.D. was earned from Purdue University in 2010 in Sociology with a graduate minor in gerontology. Her area of research specialization is in family sociology, specifically in the success of first-generation college students. She was named U.E.'s Outstanding Teacher of the Year in 2012, presented the Berger Award for Service in 2016, and awarded the Eykamp Prize for Extraordinary Contributions to the University in 2022. Currently, she is the Director of the Gerontology Center at U.E., and serves as the Director of Sociology Programs.
---
Phil Plisky, Department of Physical Therapy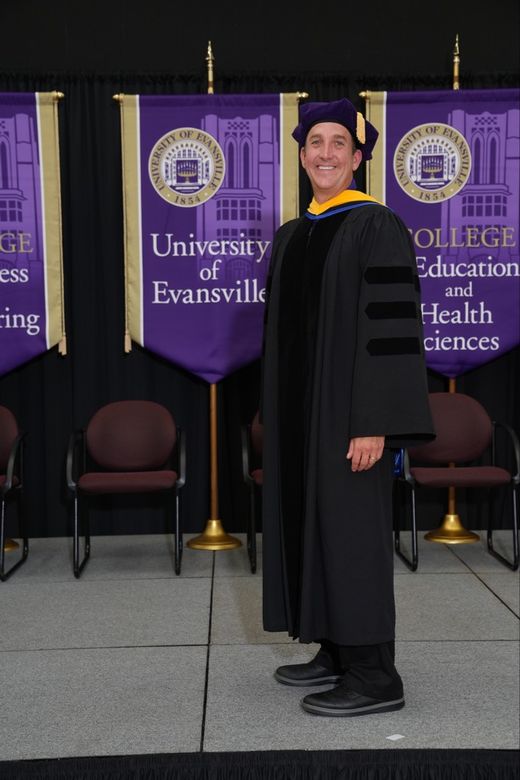 Dr. Plisky received his B.S. and Master of Physical Therapy degrees from U.E. He earned a Doctor of Science degree in Orthopedic Physical Therapy from Rocky Mountain University of Health Professions. He is a Certified Athletic Trainer and Certified Strength and Conditioning Specialist with over 25 years of experience and is a board-certified clinical specialist in orthopedics through the American Board of Physical Therapy Specialties. He teaches within the musculoskeletal and leadership/practice administration areas of the Doctor of Physical Therapy curriculum. He has published 35 original research articles in leading scientific journals, 60 peer-reviewed scientific presentations, several book chapters, and has lectured internationally on injury prevention and field expedient movement testing. Dr. Plisky has received multiple research grants totaling over three million dollars from federal and private agencies for performance and injury prevention studies. His current research is focused on comprehensive movement and performance testing and interventions in athletes and military personnel. He is a performance systems consultant with numerous collegiate and professional teams and the U.S. military. In addition, he serves as a manuscript reviewer for several scientific journals. He is actively engaged in patient care in his own private practice in Evansville, Indiana, and is the Director of U.E. Residency Programs.
Submitted by Noah Alatza na122@evansville.edu
UE Women's Soccer Posts Second-Straight Shutout At SEMO
University of Evansville senior goalkeeper Myia Danek (Laingsburg, Mich./Laingsburg) and the Purple Aces' defense posted their second-straight shutout on Thursday night, as UE played to a 0-0 draw at Southeast Missouri State. It marks just the second time in program history in which UE has opened the year with consecutive shutouts.
Danek recorded five saves, including four in the second half, on a night in which the heat index was well over 100 degrees even deep into the second half. The defense in front of her also blocked away a pair of close-in shots in the second half, as Evansville stood tall defensively to post back-to-back shutouts to open the 2023 season. It marks the first time since 2001 in which UE has opened the year with consecutive shutouts. That year, the Purple Aces opened the year with three-straight shutouts on the way to 13-7-1 overall record and a spot in the 2001 NCAA Tournament as MVC Tournament champions.
The opening half was a back-and-forth affair for the first 25 minutes, until UE put freshman forward Taylor Johnson (Evansville, Ind./Reitz) on as a substitute. As in the first match of the year at Mercer, Johnson changed the complexion of the match, as UE dominated much of the final 20 minutes of the first half with Johnson on the field. She nearly teamed up with fellow freshman Ashlyn Koutsos (Cumming, Ga./West Forsyth) for UE's first goal of the season, but SEMO's Sophia Elfrink denied Koutsos from eight yards out just minutes before halftime.
In the second half, both teams used reserves freely to combat the stifling heat. Despite the steady stream of new faces in and out of the lineup, Evansville's defense was able to keep the Redhawks off the scoreboard, including a stretch where a point-blank shot was blocked and then kicked away by Evansville defender Kaylee Woosley and Danek in the 65th minute. UE also pressed forward with a stretch of a pair of corner kicks and a free kick within a minute of each other, but neither side could find the back of the net during the scoreless draw.
With the result, Evansville moves to 0-0-2 and will return home to Arad McCutchan Stadium on Sunday evening to host undefeated Big Ten foe Indiana (2-0-1). Kick-off is set for 7 p.m. and tickets for the match can be purchased by contacting the UE ticket office by phone at (812) 488-2623.
Submitted by Athletics
UE men's soccer ties Bellarmine in opening contest
University of Evansville men's soccer opened the 2023 season in front of its fans with a 1-1 draw against the Bellarmine Knights.
The Purple Aces outmatched the Knights in shots and possession through 90 minutes on Thursday evening, coming back from a one-goal deficit thanks to a goal from forward Nacho Diaz Barragan. Defenders Tobias Bak and Nacho Diaz-Caneja chipped in with Evansville's first assists of the young season in the 56th minute. Midfielder Jose Vivas had multiple on-target opportunities for UE, leading the team with five shots and three on goal.
"After preseason we felt pretty prepared coming into this match," said Interm Head Coach Robbe Tarver. "Bellarmine is a familiar opponent but also one that is going to give you a tough game. [Their] well coached, committed, always going for 50/50's and they're relentless. I thought we matched Bellarmine's intensity, which needs to be a calling card for us if we're going to be successful this year,".
It was a slow burn to begin the game as the teams found their footing in the new season. The Knights opened up the shooting in the sixth minute but would only record two shots in the first 45 minutes compared to the Aces seven. Evansville tested Bellarmine goalkeeper Matthew Brozovich, forcing two saves including a late corner kick attempt by midfielder Carlos Barcia. Barcia's shot from the left corner forced a jumping save almost finding its way into the far upper corner of the net.
But it would be the Knights who struck first as they scored in the 51st minute on a goal by CalleSjoberg. Their lead wouldn't last long as the Aces quickly found the tying goal in the 56th minute. Bak made a cross to the right side of the field where Diaz-Caneja connected with his head, putting the ball just inside the box. Diaz Barragan finished the job with a leaping scissor kick, connecting with his right foot to beat Brozovich. With momentum on their side, the Aces peppered Bellarmine's end through the rest of the second half, racking up six shots that included three for Vivas in the final two minutes of play.
UE gets to remain home for the weekend, with its next match at McCutchan Stadium on Sunday afternoon. The Aces will take on Cal State Fullerton on Aug. 27 with kick-off at 1 p.m.
Submitted by Athletics
Volleyball opens 2023 season on Friday morning
Record-breaking team and individual accomplishments in the fall of 2022 have the University of Evansville volleyball team primed to make another run in 2023. The Purple Aces face a tough test out of the gate as the regular season opens this weekend with a trip to the SEMO Invitational. Friday's opener pits UE against the Redhawks at 11 a.m. before Saturday's match has Evansville taking on Central Michigan at 12 p.m.
Puerto Rico National Team
- UE head coach Fernando Morales continues his work as the head coach of the Puerto Rico National Team
- He will be splitting time between Evansville and Puerto Rico over the first month of the season
- In his absence, assistants Michelle Nogueras and Jonathan Vila will split head coaching roles
First to 500
- Giulia Cardona put forth one of the best seasons the Evansville program has ever seen last fall
- Completing the season with 574 kills and 1,581 attempts, Cardona set the UE single-season program record for both stats
- With an average of 4.35 kills per set, she ranked second in the league behind teammate Alondra Vazquez
- On a national scale, Cardona ranked third with 674.0 total points, fifth in attacks (1,581) and sixth in total kills (574)
- The MVC leader in service aces with 0.49 per set was 18th in the NCAA
- Cardona set her career mark with 25 kills on two occasions last season - at Southern Illinois and in the MVC Championship win over Bradley
- She was named to the All-MVC First Team and garnered league Player of the Week accolades on Sept. 26, 2022
A Season of Firsts
- As the UE program continues to establish itself in the top half of the MVC, 2022 saw the Aces take multiple steps towards that goal
- Evansville went 11-7 in conference action, marking the top win tally for the program since joining the Valley in 1994; before 2022, the 2000 squad was the only one to finish above .500 in MVC play, going 10-8
- Entering last season, UE was 0-29 in road matches at Illinois State but came through last October with a 3-0 sweep at Redbird Arena
- Between 2009 and 2018, Evansville failed to qualify for the MVC Championship; since that time, the program has made the tournament in three out of four seasons (the lone outlier was the spring of 2021)
- UE won just one MVC Tournament match between 1994 and 2021 before tripling its win total with victories over Bradley and SIU last season
MVC Preseason
- Receiving 99 votes, the Purple Aces were picked to finish 5th in the MVC Preseason Poll
- UNI, Drake, UIC and Southern Illinois were chosen in the top four positions
- Junior Giulia Cardona was voted to the Preseason All-Conference Team
Scouting the Opposition
- Preseason Ohio Valley Conference favorite SEMO is the first opponent of 2023
- The Redhawks went 17-16 last season while winning 10 OVC matches
- Tara Beilsmith and Zoey Beasley were voted on the Preseason All-Conference Team
- Saturday's opponent will be Central Michigan, who is coming off a 20-12 campaign while going 12-6 in the Mid-American Conference
- The Chippewas played in the NIVC Tournament where they fell to Xavier in the opening round
She's Back
- Limited to just 29 sets over eight matches in 2022 due to injury, Melanie Feliciano is back for her 5th season with the program
- A member of the All-MVC First Team in 2021, Feliciano averaged 2.86 kills and 2.41 digs in limited action last fall
- She recorded at least eight kills in each of her matches last season including her top tally of 14 versus Western Carolina
- Feliciano finished the fall of 2021 with 380 kills, an average of 3.28 per set, which ranked 6th in the Valley
- With 1,169 kills in her career, Feliciano is quickly approaching Evansville's top ten career list with Brooke Maher holding the #10 spot with 1,254 kills
Submitted by Athletics
Men's soccer opens 2023 season at home against Bellarmine
The University of Evansville men's soccer team will kick-off the 2023 regular-season on Thursday night, as the Purple Aces host the Bellarmine Knights. Kick-off is set for 7 p.m. CT from Arad McCutchan Stadium.

Evansville vs. Bellarmine | Thursday, August 23 | 7 PM CT
Site | Location Arad McCutchan Stadium | Evansville, Ind.
Evansville returns 25 players from last season's squad, led by 2022 Missouri Valley Conference Freshman of the Year, Nacho Diaz Barragan (Almeria, Spain/Almeria). Barragan was the Aces lone representative on the MVC Preseason Team as voted on by league coaches. Evansville's returners include seven consistent starters from the 2022 season along with almost all of the teams' goal scoring. Along with returning over half of its roster, the Aces have added a deep 2023 class of 15 players with 12 true freshman and three sophomore transfers.
Bellarmine is a familiar opening opponent for UE, as the two teams met to open the 2022 season as well. In their meeting a year ago, the game ended in a draw after a penalty kick from the Knights tied the game in the final 10 minutes. Evansville had the upper hand for most of the 2022 game and will look to seal the deal in the 2023 opener.
Following last year's match, Bellarmine went 6-4-8 for its first winning season at the NCAA Division I level after moving to the highest level in 2020. The Knights made it all the way to the ASUN Tournament semifinals in 2022 along with four players recognized with postseason honors. Bellarmine played two exhibition contests against Oakland City and Xavier to warm up for the 2023 season.
Thursday night's opener will not have video coverage. Live stats are available at GoPurpleAces.com.
Submitted by Athletics
2024 MVC Baseball Championship is coming to Evansville
It was less than three months ago that the University of Evansville baseball team made a run to the deciding game of the Missouri Valley Conference Championship. Next year, the Purple Aces will have the opportunity to take the conference crown on their home field as the MVC announced German American Bank Field at Charles H. Braun Stadium as the host of the 2024 championship.
Purple Aces Head Baseball Coach Wes Carroll and multiple supporters have put in countless hours of work to bring the MVC Championship onto the University of Evansville campus for the first time. Evansville hosted the 1998 championship at Bosse Field. The 2020 opening of German American Bank at Charles H. Braun Stadium was an important step taking the facility to the next level with a full Astroturf field and other renovations. The recent renovations to the facility, the partnership with the City of Evansville and the Evansville Sports Commission (ERSC) put UE in a position to secure the bid.
"I would like to thank MVC Commissioner Jeff Jackson and the rest of the MVC Leadership team for their confidence in us putting on an excellent Championship for everyone. This announcement is the culmination of a complete group effort," UE Director of Athletics Ziggy Siegfried said. "Also, a special thank you to the Evansville Regional Sports Commission and Executive Director Brandon McClish for stepping up their partnership with us to help bring the MVC Championship to Evansville."
"Coach Carroll and multiple supporters have worked tirelessly to put the program and facility in a position to host the tournament," Siegfried added. "This is an opportunity for our program to take a significant step forward. We are grateful to the ERSC, Dunn Hospitality Group, Mayor Lloyd Winnecke and everyone else who helped to make this a reality. This accomplishment is also a testament to the baseball student-athletes and coaches over the years who have worked to establish our program as one of the best in the MVC."
Eight of the league's 10 teams qualify for the double-elimination tournament, which is set for May 21-25, 2024.
"Evansville Regional Sports Commission worked collectively with the University of Evansville and many of our community supporters to secure the bid to host the MVC Baseball Championship," McClish exclaimed. "The MVC is one of the premier baseball conferences in the country and this was a collaborative effort between ERSC, UE, and the City of Evansville to bring this high-profile event to our city."
Bringing an event of this magnitude to the area provides benefits to city's economy including increased occupancy hotels and additional revenue for restaurants. Dunn Hospitality Group stepped up as the lead hotel partner and is preparing to welcome teams and fans next spring. Those impacts were recognized by Mayor Winnecke.
"We are thrilled to be selected as the host city for the 2024 Missouri Valley Conference Baseball Championship," said Mayor Lloyd Winnecke. "Evansville's strong tradition of supporting collegiate sports makes us an ideal location for this event."
Coach Carroll directed his team to 37 victories in the spring of 2023 and is set up to make another run to the tournament title. The 37 victories were the most for Evansville since 2006 and the appearance in the MVC Tournament final was also the first since 2006.
"I want to thank the MVC for awarding us this great opportunity. This has been many years in the making and I'm grateful to all the people who helped make this happen," Carroll exclaimed. "The MVC tournament is such a great event that our fans and community will enjoy. Our student-athletes are fired up and we will be ready to showcase our program on this stage."
For ticket information, contact 812-488-2623.
Submitted by Athletics
Contribute to AceNotes
To have content considered for inclusion in AceNotes, please submit a Marketing Request Form. Deadline for submission to AceNotes is 10:00 a.m. on the requested date of publication. Only articles concerning UE related/sponsored activities will be accepted. Articles submitted to AceNotes may be edited for length and clarity. Submitter contact information is at the end of each article.