| | |
| --- | --- |
| AceNotes Today | Wednesday, August 9, 2023 |
Water Outage Notice
Questions or Concerns Regarding this Work: Please contact the Facilities Management office at 812-488-2775.
Description of Work:
The Facilities Management department will be conducting Back Flow testing. It will be necessary to temporarily turn water off.
Affected Dates and Buildings:
On Thursday, 8/10/2023, testing will be conducted on various buildings across campus.
Impact for Occupants:
During this testing you may experience brief water outages. The testing may cause some water discoloration but nothing to cause a health concern.Action(s) Required:
If you experience any water discoloration, please allow water to flow through the faucet to clear the lines.
Thank you for your patience as we maintain our beautiful campus.
To report a facilities emergency, call (812) 488-2775.
Submitted by Karen McDonad km598@evansville.edu
Save the Date - Fall Conference Sessions
The opening session of the University of Evansville Fall Conference is Tuesday, August 15, beginning at 9:00 a.m. in Shanklin Theatre, Hyde Hall. All faculty, staff, and administrators are welcome and encouraged to attend.

Concurrent sessions and workshops will be held on Tuesday afternoon, August 15, starting at 1:30 p.m. in the Schroeder School of Business Administration. This year's theme is Inclusive Excellence: Embracing Values that Engage and Include Students, Employees, Alumni, and Donors from Diverse Backgrounds. Additional information on the sessions with be forthcoming. The campus community is encouraged to attend.

An Assessment Workshop will be held on Wednesday, August 16, from 8:30 a.m. to 3:30 p.m. in Eykamp Hall, Ridgway University Center. The sessions will be facilitated by Stephen Hundley and Jerry Daday from the Assessment Institute of Indianapolis. All faculty are encouraged to attend along with academic administrators and selected campus community members involved with assessment. Invitations along with registration information will be coming soon.
Submitted by Paula Heldt ph28@evansville.edu
Lincoln Commons Groundbreaking Ceremony
The campus community is invited to join President Pietruszkiewicz and other community leaders for a groundbreaking ceremony on UE's new residence hall, Lincoln Commons. The ceremony will begin at 11:00 a.m. on Thursday, August 10.
Submitted by Noah Alatza na122@evansville.edu
Employee Columbia Store Dates Coming Soon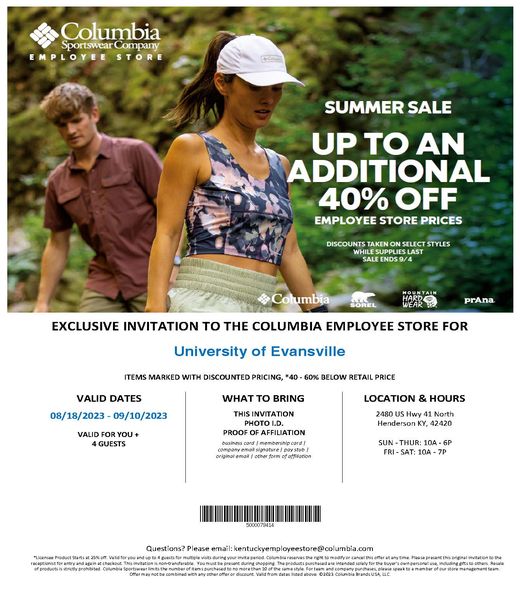 EXCLUSIVE INVITATION TO THE COLUMBIA EMPLOYEE STORE FOR University of Evansville
ITEMS MARKED WITH DISCOUNTED PRICING, *40 - 60% BELOW RETAIL PRICE
VALID DATES
08/18/2023 - 09/10/2023
VALID FOR YOU +
4 GUESTS
WHAT TO BRING
THIS INVITATION
PHOTO I.D.
PROOF OF AFFILIATION
business card | membership card |
company email signature | pay stub |
original email | other form of affiliation
LOCATION & HOURS
2480 US Hwy 41 North
Henderson KY, 42420
SUN - THUR: 10A - 6P
FRI - SAT: 10A - 7P
Questions? Please email: kentuckyemployeestore@columbia.com
*Licensee Product Starts at 25% off. Valid for you and up to 4 guests for multiple visits during your invite period. Columbia reserves the right to modify or cancel this offer at any time. Please present this original invitation to the receptionist for entry and again at checkout. This invitation is non-transferable. You must be present during shopping. The products purchased are intended solely for the buyer's own personal use, including gifts to others. Resale of products is strictly prohibited. Columbia Sportswear limits the number of items purchased to no more than 10 of the same style. For team and company purchases, please speak to a member of our store management team. Offer may not be combined with any other offer or discount. Valid from dates listed above. ©2023 Columbia Brands USA, LLC.
Submitted by Lori LeDuc ll138@evansville.edu
Employee Fall Health Risk Assessment
Employee & Spouse Fall Health Risk Assessments will take place September 11th -13th from 7:00am -10:45am each day in Eykamp Room 251. Complete your health risk assessment and earn HRA credits. This health risk assessment is available for UE employees and their spouses on the UE medical insurance plan. Please remember, fasting 8-10 hours is recommended. Water and Black coffee are allowed. Please take maintenance medications as prescribed, as long as they are not required to be taken with food. Please click the link below to sign up today!
https://acelink.evansville.edu/areas/medicalclinic/appointments/Index.cfm
Submitted by Haley Karges hw164@evansville.edu
Move In Day Volunteers NEEDED
Hello All! We still have some open spots to help at move in day. Check your calendars and sign up using the link below! We are looking for faculty and/or staff who will help direct traffic outside of the residence halls and in parking lots.
Most importantly you will be one of the first to greet our new students and families!!!
Move in day is Saturday, August 19th from 8am until 2pm. We need volunteers in 2-hour increments at each residence hall. Grab a buddy and sign up today!
Please use the link below to sign up for your time slot. Thank you in advance!!
https://www.signupgenius.com/go/10C084FA8A92DABFBC70-move
Any questions, please let me know.
Submitted by Amanda Wood aw505@evansville.edu
Chick-Fil-A Hours
August 19th, 11 am- 3 pm Chick-Fil-A will be open for early move-in! We will open for regular hours on August 23rd!
Submitted by Ka'Bria Carr kc403@evansville.edu
Online Title IX Training from Catharsis
Please be on the lookout in your email for an email from Catharsis Online Support Team, catharsisonlinetraining@catharsisproductions.com. This email will include a link to online Title IX Training. All individuals hired between August 1st, 2022, and July 31, 2023, as well as returning employees with last names A-J will receive the training link and should complete the training no later than December 8, 2023. If you have any questions, please reach out to Annie Sills at cs175@evansville.edu
Submitted by Annie Sills cs175@evansville.edu
Lytho one on one lessons
The Office of Marketing and Communications is offering 1:1 learning sessions for Lytho, the University workflow system for marketing requests and materials. If you are still trying to navigate Lytho or want to learn more about its tricks and tools, the session can cover:
Submitting requests
Marking up changes to your proofs and leaving comments
Review statuses
Accessing deliverables (completed files)
And more
This is open to any faculty, staff, or administrator that has used Lytho or is planning to. For more information, please contact Abigail Perry at ap445@evansville.edu.
Submitted by Abigail Perry ap445@evansville.edu
Floor Cleaning Notice for Multiple Buildings
Floor Cleaning Notice for Multiple Buildings (See Impact Below)
Questions or Concerns Regarding this Work: Bob Dale, bd22@evansville.edu
Description of Work:
A contractor will conduct annual floor cleaning per the schedule listed below. If your building is not listed, it has already been cleaned or will be completed during Christmas Break. Facilities Maintenance Services technicians will move trash containers, recycling bins, chairs, and floor mats. A blue sticker will be placed on the office doorknob when work is finished.
Affected Dates and Buildings:
Sunday, August 6 through Thursday, September 14, 2023
Week of August 6 through August 10: Krannert Hall
Week of August 13 through August 17: Igleheart Building
Week of August 20 through August 24: Sampson Hall
Week of August 27 through August 31: Libraries
Week of September 3 through September 7: Neu Chapel
Week of September 10 through September 14: General Services Building
Impact for Occupants:
There will be intermittent noise, vibrations, and non-toxic odors associated with this work.
Action(s) Required:
Remove any paper, boxes, and personal belongings from your office floor prior to the scheduled cleaning date.
Please allow time for the floor to dry prior to placing objects on the floor.
To have your research lab floors cleaned, contact the Facilities Service Center at 812-488-2775 prior to the scheduled cleaning date.
Thank you for your patience as we maintain our beautiful campus.
To report a facilities emergency, call (812) 488-2775
Submitted by Karen McDonald km598@evansville.edu
Order Textbooks Online and Skip the Lines
Did you know you can order your textbooks online ahead of time and skip the long in-store lines? Simply visit the bookstore online at evansville.bncollege.com, click on "Find Course Materials" under the "Course Materials & Textbooks" header, select your courses from the dropdown menus, and the website will pull a personalized list of Required and Recommended titles!
If you plan on renting any books, you will need to put in a credit card to secure the rental BUT you can pay a different way! Need to use your Book Loan before your Financial Aid is distributed? Have VA benefits? You can do use these AND rent! When it comes time to check out, make sure you follow the directions, putting in your credit card AND selecting the secondary form of payment as "Financial Aid: Student Account". When the order comes through, the appropriate account will be charged (nothing will be charged to the credit card unless you damage the books or don't bring them back at the end of the semester).
Please allow up to 72 hours for web order processing during the first 2 weeks of class. You will receive 2 emails: one confirming the order, the other letting you know when it is ready to pickup/has been shipped. Please wait for that second email before coming in to pick up your order. If you have decided to have your books shipped, the tracking number will be in that email. Please note that we do not begin to fulfill web orders until August 1st, so if you don't think they'll arrive before you leave for campus, please select "pickup in-store".
Find out you don't need the book? You have one week from the start of classes to return the book for a full refund with the book in original condition and a copy of your receipt.
Dropped a class? Get a full refund if you return your book by September 29th, with proof that you dropped the course, the book in original condition, and a copy of your receipt.
Of course, if you don't feel comfortable ordering online, you're more than welcome to bring your schedule into the store (either printed or pulled up on your phone), we will pull your books at our back counter, and you can pay at the register. Remember, if you're renting, you need to have a credit card to secure the rentals, even if you're using a different form of payment!
=*IMPORTANT*= If you are a student athlete, we are changing the way you gets your books, so please DO NOT place an online order. You will receive further instructions directly from Athletics.
Submitted by Becky Lamont bl164@evansville.edu
Dennis Malfatti Presents Session at Professional Conference
Dr. Dennis Malfatti, the Oramay Cluthe Eades Distinguished Professor of Music and Director of Choral Activities, recently presented a session at the annual summer conference of the Indiana Choral Directors Association held at Marian University in Indianapolis. The session was on the topic of choral conductors working with orchestras. Many choral works also call for orchestra, yet many choral conductors are not trained in the specifics of conducting orchestras. Attended by collegiate, church, high school, community, and professional choral conductors, Malfatti's session introduced pedagogical and rehearsal concepts that choral conductors can utilize when leading a combined choir and orchestra. The Indiana Choral Directors Association is the state chapter of the American Choral Directors Association, a professional organization with approximately 22,000 members.
Submitted by Dennis Malfatti dm155@evansville.edu
Sean Harper Receives Military Promotion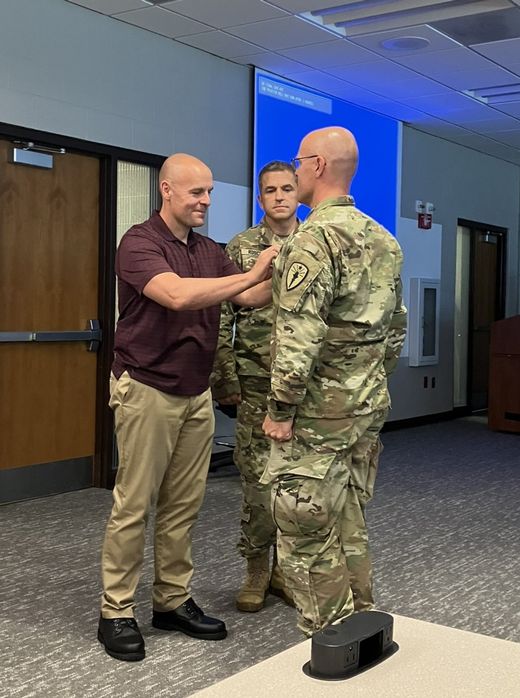 On Saturday, July 22, 2023, Sean Harper, Clinical Assistant Professor and Associate Program Director in the Physician Assistant Program, was promoted from captain to major. His twin brother, Patrick, was on hand to pin his rank. In addition to his role in the PA program, Major Harper is the commander for the Indiana Medical Readiness Detachment Company (IMRD). The IMRD is responsible for managing the physical and mental wellness for every army national guard service member in the state.
Congratulations Major Harper!
Submitted by Andy Lampkins al207@evansville.edu
UE President Named Vice Chair of NCAA Division I Board of Directors
University of Evansville (UE) President Christopher M. Pietruszkiewicz has been named Vice Chair of the National Collegiate Athletic Association (NCAA) Division I Board of Directors, showcasing his commitment to advancing excellence in higher education and collegiate athletics. Pietruszkiewicz will also continue to serve on the Finance Committee and become the Chair of the Administrative Committee as the NCAA navigates the changing landscape in college sports.
Evansville's sports culture is enriched by NCAA Division I athletics, fostering teamwork, discipline, and pride among our university and Evansville community, both on and off the field. Pietruszkiewicz's appointment comes as he finishes his term as Chair of the Board of Directors of the Independent Colleges of Indiana, the collective voice for excellence in higher education for all of Indiana's 29 private, non-profit, regionally accredited colleges, and universities.
"In a time of great transformation in collegiate athletics, I am honored to serve our nearly 200,000 Division I student-athletes as they work in the classroom to prepare themselves for a lifetime of success and on the field as they pursue their athletic dreams. We know we have work to do in the next few years and I look forward to being a part of the solution," said Pietruszkiewicz. "I take great pleasure in being a member of an institution that values the significance of athletics in higher education and demonstrates the positive impact it has on the lives of student-athletes and our community."
Submitted by Noah Alatza na122@evansville.edu
David Unger publishes technical note
Professor Emeritus, David J. Unger, of Mechanical and Civil Engineering has published the technical note, Material Stability Criteria for a Plane Stress Asymptotic Solution for Steady Mode I Crack Growth in an Elastic / Perfectly Plastic Solid in the journal Zeitschrift für angewandte Mathematik und Physik 74:174 (2023), pp. 1-10.
Submitted by David J. Unger du2@evansville.edu
Erin Lewis Presented Closing Keynote to Indiana Society of Association Executives ICON 2023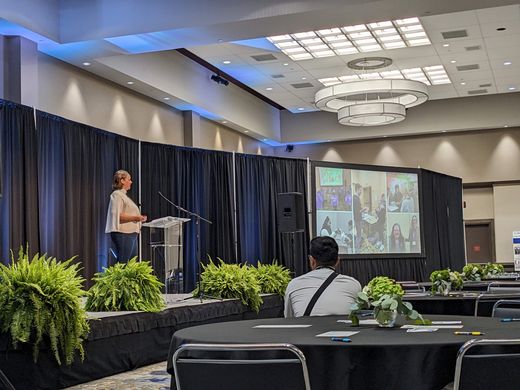 Erin Lewis was invited to present the closing keynote for ICON 2023, the premier destination for nonprofit executives in the Indiana Society of Association Executives. Her keynote was entitled "Navigating Change through Design Thinking". For association professionals, navigating project ideation and implementation through immense change can be overwhelming. Lewis's keynote walked attendees through the design thinking process, using ChangeLab stories to illustrate each step.
Submitted by Andrew Carter ac116@evansville.edu
UE Women's Basketball adds Tené Smith to 2023-24 class
Head Coach Robyn Scherr-Wells has announced the signing of freshman point guard/shooting guard Tené McFarquhar-Smith for the upcoming women's basketball season.
"I am thrilled to welcome Tené to Evansville!" says Scherr-Wells. "Her athleticism and ability to play the point with pace fills a need we have in our program. We love the way she leads on the floor and her basketball IQ. She makes good decisions in pick and roll action and can finish at the rim. She is a very capable shooter and will keep the defense honest with her ability to knock down shots.
"What sold me on Tené was her character, work ethic, and personality. She and I connected instantly which is very important between a point guard and her head coach. I know Tené will be a great ambassador for Evansville on and off the court!"
Smith joins the Purple Aces with a wealth of experience on both the local and national stage in Canada. A Brampton, Ontario native, she spent the past year playing for the Kings Christian Collegiate women's basketball team. With the King's, Smith averaged shooting totals in the double-digits, including a career best 17-point performance against Crestwood Preparatory College.
"With a welcoming coaching staff, an intimate campus, and a playing style that fits me like a glove, basketball at the University of Evansville is more than a game but a pursuit of passion, which is why I'm ecstatic to start my journey at UE!," Smith says of her signing.
Smith played club basketball with the Brampton Lady Warriors. During the regular season, the Lady Warriors had a perfect record of 57-0 under Head Coach Keith Johnson. Smith was also a member of Team Canada for the Jr. NBA Global Tournament. With the Canadian Jr. NBA team, she participated in the tournament finals and was recognized as an International Champion and a World Champion Silver Medalist.
Along with her involvement in the Jr. NBA program, Smith was a member of Team Ontario with Canada Basketball. She was named a Canada Basketball Targeted Athlete, a program that identities top Canadian athletes that receive additional training and development opportunities. She also played with Canada Elite on the Under Armour Circuit.
Away from the court. Smith enjoys reading and discovering new R&B music. She will be majoring in psychology during her four years in Evansville.
Submitted by Athletics
UE Women's Soccer To Offer Free Admission To Monday's Exhibition Match With SIUE
All fans will be admitted free of charge to Monday night's exhibition match between the University of Evansville women's soccer team and Southern Illinois University-Edwardsville (SIUE). Kick-off will take place at 5 p.m. at UE's Arad McCutchan Stadium, and fans will also be permitted to bring outside food and drink for Monday night's match only, as there will be no concessions available.
UE returns 22 players from last season's squad, led by third-team all-MVC defender Rachel Rosborough (Mt. Brydges, Ontario/Strathroy District CI). Evansville will add eight talented freshmen led by local standouts Ella Hamner (Evansville, Ind./Memorial) and Taylor Johnson (Evansville, Ind./Reitz), and including talented forwards Brooklyn Robinson (West Haven, Utah/Fremont) and A'Liyah Warrick (Mableton, Ga./Campbell), midfielder Ashlyn Koutsos (Cumming, Ga./West Forsyth), defenders Emily Karr (Mooresville, Ind./Center Grove) and Brinli Helms (Indianapolis, Ind./North Central) and goalkeeper Elke Travis (Henderson, Nev./Faith Lutheran).
SIUE has advanced to three-straight NCAA Tournament appearances, after winning the Ohio Valley Conference tournament title last year for the third-consecutive season. The Cougars went 8-6-4 a year ago, including 5-1-2 in the OVC. UE and SIUE played to a 0-0 draw last September, as Evansville senior goalkeeper Myia Danek (Laingsburg, Mich./Oakland Univ.) turned away five SIUE shots to record her first career shutout at UE.
Season tickets are currently available by contacting Associate Athletics Director for Revenue Generation Logan Belz by phone at 812-488-2623.
Submitted by Athletics
UE Baseball Team Earns ABCA Team Academic Excellence Award
On the heels of a strong season both on the diamond and in the classroom, the University of Evansville baseball team has earned the 2022-23 American Baseball Coaches Association (ABCA) Team Academic Excellence Award, which is presented by Sports Attack.
Evansville ranked as one of 130 Division I men's baseball teams, and one of 450 collegiate baseball teams overall to earn the ABCA Team Academic Excellence Award, after posting a team grade point average of 3.382 during the course of the 2022-23 academic year, including a 3.399 team GPA during the spring 2023 semester.
The ABCA Team Academic Excellence Award honors both high school and college programs coached by ABCA members that post a cumulative GPA over 3.0 on a 4.0 scale. The ABCA has a long tradition of recognizing the achievements of baseball coaches and student-athletes. The ABCA/Rawlings All-America Teams are the nation's oldest, founded in 1949.
The Purple Aces finished the 2023 season with a 37-24 overall record and advanced to the finals of the 2023 Missouri Valley Conference Tournament.
Submitted by Athletics
Contribute to AceNotes
To have content considered for inclusion in AceNotes, please submit a Marketing Request Form. Deadline for submission to AceNotes is 10:00 a.m. on the requested date of publication. Only articles concerning UE related/sponsored activities will be accepted. Articles submitted to AceNotes may be edited for length and clarity. Submitter contact information is at the end of each article.