| | |
| --- | --- |
| AceNotes Today | Wednesday, August 2, 2023 |
Save the Date - Fall Conference Sessions
The opening session of the University of Evansville Fall Conference is Tuesday, August 15, beginning at 9:00 a.m. in Shanklin Theatre, Hyde Hall. All faculty, staff, and administrators are welcome and encouraged to attend.

Concurrent sessions and workshops will be held on Tuesday afternoon, August 15, starting at 1:30 p.m. in the Schroeder School of Business Administration. This year's theme is Inclusive Excellence: Embracing Values that Engage and Include Students, Employees, Alumni, and Donors from Diverse Backgrounds. Additional information on the sessions with be forthcoming. The campus community is encouraged to attend.

An Assessment Workshop will be held on Wednesday, August 16, from 8:30 a.m. to 3:30 p.m. in Eykamp Hall, Ridgway University Center. The sessions will be facilitated by Stephen Hundley and Jerry Daday from the Assessment Institute of Indianapolis. All faculty are encouraged to attend along with academic administrators and selected campus community members involved with assessment. Invitations along with registration information will be coming soon.
Submitted by Paula Heldt ph28@evansville.edu
Regular Business Hours Returning
Regular hours for all UE employees will return Monday, August 7, from 8:00 a.m. to 5:00 p.m.
Submitted by Noah Alatza na122@evansville.edu
Headshots on Wednesday, August 9
Are you a new employee who hasn't yet had a headshot, or are you in need of an updated one? Photographer Chris Berneking will be on campus to take headshots on Wednesday, August 9, at 9:00 a.m.
If you would like to have your headshot taken, please contact Julie Beer, Assistant Director of Marketing, in advance at jb855@evansville.edu. Headshots will be taken outdoors near the southwest corner of the front oval lawn.
Submitted by Julie Beer / jb855@evansville.edu
Lincoln Commons Groundbreaking Ceremony
The campus community is invited to join President Pietruszkiewicz and other community leaders for a groundbreaking ceremony on UE's new residence hall, Lincoln Commons. The ceremony will begin at 11:00 a.m. on Thursday, August 10.
Submitted by Noah Alatza na122@evansville.edu
Online Title IX Training from Catharsis
Please be on the lookout in your email for an email from Catharsis Online Support Team, catharsisonlinetraining@catharsisproductions.com. This email will include a link to online Title IX Training. All individuals hired between August 1st, 2022, and July 31, 2023, as well as returning employees with last names A-J will receive the training link and should complete the training no later than December 8, 2023. If you have any questions, please reach out to Annie Sills at cs175@evansville.edu
Submitted by Annie Sills cs175@evansville.edu
Lytho one on one lessons
The Office of Marketing and Communications is offering 1:1 learning sessions for Lytho, the University workflow system for marketing requests and materials. If you are still trying to navigate Lytho or want to learn more about its tricks and tools, the session can cover:
Submitting requests
Marking up changes to your proofs and leaving comments
Review statuses
Accessing deliverables (completed files)
And more
This is open to any faculty, staff, or administrator that has used Lytho or is planning to. For more information, please contact Abigail Perry at ap445@evansville.edu.
Submitted by Abigail Perry ap445@evansville.edu
Information Regarding Large Wasps/Hornets Seen on Campus
Description of Cicada Wasps:
During the late summer months, Facilities typically experience reports of very large wasps/hornets that can be approximately ½" - 2". Photos are included below. Facilities would like to provide information about these beneficial insects known as cicada wasps. We typically do all we can to protect beneficial insects but recognize not all can be informed of their benefits, nor find them ok to be around. Consequently, we can have our pest control contractor treat these nests to allay fears.

Affected Times:
Adult cicada wasps emerge and are seen in late summer and live for about 6 weeks. Most cicada wasps keep to themselves during the day and are content to hunt cicadas. They are in their burrows at night.

Impact: Are cicada killers dangerous?
Females have significant stingers with which they inject a paralyzing venom into cicadas. Without doubt, their stings are painful. Stings are reported to be less painful than that of a honeybee. However, cicada wasps are not aggressive, do not have the nest-guarding instinct of honeybees and hornets, and typically only sting if they are picked up or defending themselves. You can walk through areas where they are active without attracting attention. Males lack stingers but are territorial. Males will approach anything that enters "their area", including walkers, people mowing or using weed-eaters, or riding tractors. They may hover and challenge trespassers but are harmless.

Action(s) Required:
Do not provoke the insects.

If you have questions concerning cicada wasps, or find them in your area, feel free to report them to the Facilities offices at 812-488-2775.
Submitted by Karen McDonald km598@evansville.edu
Move in day is almost here and we need YOUR help
Hello all! Move in day is just around the corner and we need YOUR help!! Student volunteers will be helping with the actual moving, while faculty and staff will be directing traffic.
Move in day is Saturday, August 19th from 8am until 2pm. We need volunteers in 2-hour increments at each residence hall. Grab a buddy and sign up by August 5th.
Please use the link below to sign up for your time slot. Thank you in advance!!
https://www.signupgenius.com/go/10C084FA8A92DABFBC70-move
Any questions, please let me know.
Submitted by Amanda Wood aw505@evansville.edu
Floor Cleaning Notice for Multiple Buildings
Floor Cleaning Notice for Multiple Buildings (See Impact Below)
Questions or Concerns Regarding this Work: Bob Dale, bd22@evansville.edu
Description of Work:
A contractor will conduct annual floor cleaning per the schedule listed below. If your building is not listed, it has already been cleaned or will be completed during Christmas Break. Facilities Maintenance Services technicians will move trash containers, recycling bins, chairs, and floor mats. A blue sticker will be placed on the office doorknob when work is finished.
Affected Dates and Buildings:
Sunday, July 2 through Thursday, August 10, 2023
Weeks of July 2 through July 17: Hyde Hall
Weeks of July 18 through July 27: Olmsted Hall
Week of July 30 through August 3: Ridgway University Center
Week of August 6 through August 10: Krannert Hall
Impact for Occupants:
There will be intermittent noise, vibrations, and non-toxic odors associated with this work.
Action(s) Required:
Remove any paper, boxes, and personal belongings from your office floor prior to the scheduled cleaning date.
Please allow time for the floor to dry prior to placing objects on the floor.
To have your research lab floors cleaned, contact the Facilities Service Center at 812-488-2775 prior to the scheduled cleaning date.
Thank you for your patience as we maintain our beautiful campus.
To report a facilities emergency, call (812) 488-2775
Submitted by Karen McDonald km598@evansville.edu
Order Textbooks Online and Skip the Lines
Did you know you can order your textbooks online ahead of time and skip the long in-store lines? Simply visit the bookstore online at evansville.bncollege.com, click on "Find Course Materials" under the "Course Materials & Textbooks" header, select your courses from the dropdown menus, and the website will pull a personalized list of Required and Recommended titles!
If you plan on renting any books, you will need to put in a credit card to secure the rental BUT you can pay a different way! Need to use your Book Loan before your Financial Aid is distributed? Have VA benefits? You can do use these AND rent! When it comes time to check out, make sure you follow the directions, putting in your credit card AND selecting the secondary form of payment as "Financial Aid: Student Account". When the order comes through, the appropriate account will be charged (nothing will be charged to the credit card unless you damage the books or don't bring them back at the end of the semester).
Please allow up to 72 hours for web order processing during the first 2 weeks of class. You will receive 2 emails: one confirming the order, the other letting you know when it is ready to pickup/has been shipped. Please wait for that second email before coming in to pick up your order. If you have decided to have your books shipped, the tracking number will be in that email. Please note that we do not begin to fulfill web orders until August 1st, so if you don't think they'll arrive before you leave for campus, please select "pickup in-store".
Find out you don't need the book? You have one week from the start of classes to return the book for a full refund with the book in original condition and a copy of your receipt.
Dropped a class? Get a full refund if you return your book by September 29th, with proof that you dropped the course, the book in original condition, and a copy of your receipt.
Of course, if you don't feel comfortable ordering online, you're more than welcome to bring your schedule into the store (either printed or pulled up on your phone), we will pull your books at our back counter, and you can pay at the register. Remember, if you're renting, you need to have a credit card to secure the rentals, even if you're using a different form of payment!
=*IMPORTANT*= If you are a student athlete, we are changing the way you gets your books, so please DO NOT place an online order. You will receive further instructions directly from Athletics.
Submitted by Becky Lamont bl164@evansville.edu
Establish or Renew Your Payroll Deduction for 2023-24
We would like to express our sincere gratitude for your unwavering commitment to excellence in education. We are so fortunate that our campus community tirelessly gives their time, talents, and treasures.
As we move FORWARD>> into our next fiscal year, we want to be sure we provided you with the opportunity to establish or renew your payroll deduction. To establish a payroll deduction, please access the MyUE portal, and click on "Campus Campaign Pledge Form." When completed, please send the form to alumni@evansville.edu.
A gift via payroll deduction is an easy way to support our students and campus. It also lends itself to becoming a President's Club member, which is our gift society of donors who contribute at least $1,000 in combined gifts per fiscal year. One benefit of becoming a President's Club member is receiving a parking decal/hangtag which allows you to park anywhere on campus (except for the admissions' purple and handicap spots). Giving through payroll deduction will also count towards the goals for FORWARD>> The Campaign for the University of Evansville. To learn more, visit forward.evansvlle.edu.
We are stronger together, and when we support each other, we strengthen our ability to continue to live out the University of Evansville's mission to think critically, act bravely, serve responsibility, and live meaningfully in a changing world.
Thank you and go Aces!
Submitted by Jennifer J Calderone jj130@evansville.edu
Erin Lewis Presented Closing Keynote to Indiana Society of Association Executives ICON 2023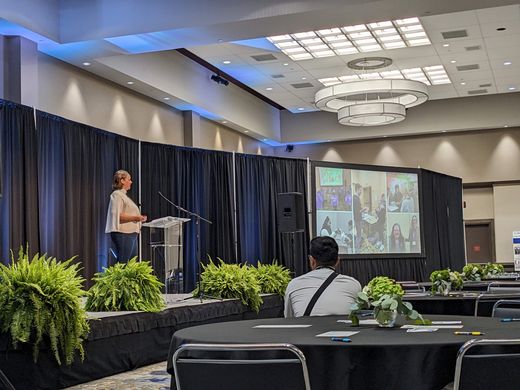 Erin Lewis was invited to present the closing keynote for ICON 2023, the premier destination for nonprofit executives in the Indiana Society of Association Executives. Her keynote was entitled "Navigating Change through Design Thinking". For association professionals, navigating project ideation and implementation through immense change can be overwhelming. Lewis's keynote walked attendees through the design thinking process, using ChangeLab stories to illustrate each step.
Submitted by Andrew Carter ac116@evansville.edu
Catie Taylor selected as member Rotary Club's 20 under 40
Congratulations to Senior Associate Director of Admission Catie Taylor on recently being honored and selected as a winner of Evansville Rotary's 20 Under 40. The entire UE family is sending our congratulations to Catie!
Submitted by Noah Alatza na122@evansville.edu
Congratulations to Alejandro Malla and Dr. Pallav Bera for presenting and publishing their work at an international conference
Alejandro Malla, a junior computer science student from the School of Engineering and Computer Science and Dr. Pallav Bera, Assistant Professor of Electrical and Computer Engineering published a conference paper titled, "Artificial Neural Network with Dropout and Batch Normalization Applied on Diabetic Patient Data", at the 3rd International Conference on Electrical, Computer, Communications and Mechatronics Engineering (ICECCME). This conference was organized in a hybrid mode in Spain (July 19-21, 2023). Alejandro presented this paper as the lead author. This conference is the premier event that brings together industry professionals, academics, and engineers to exchange information and ideas on electrical, computer, communications, and mechatronic engineering.
In this paper, the authors examined a data set of diabetic patients for diabetes detection. An Artificial Neural Network (ANN) was designed with several regularization methods to prevent over-fitting. The benefits of combining dropout layers with batch normalization layers were justified using the Central Limit Theorem in this paper. Congratulations to Alejandro and Dr. Bera!
Submitted by Suresh Immanuel ss476@evansville.edu
UE President named in IBJ Media Indiana 250 list
University of Evansville President Christopher M. Pietruszkiewicz has been named to the IBJ Media Indiana 250 list for the first time. The list includes 250 of the most influential executives across the state in an array of economic sectors.
During the nomination process, IBJ Media, which includes Indianapolis Business Journal (IBJ), Inside INdiana Business, and Indiana Lawyer, sought out individuals from across the state who have the most significant impact on Indiana's economy and its people. Through an extensive assessment, the organizations determined the distinguished group known as the "Indiana 250 class" for this year.
"I am honored to be selected as part of the Indiana 250 class by IBJ Media," said President Pietruszkiewicz. "I am particularly grateful for the supportive campus community in helping demonstrate each and every day the impact that we have on our students, our community, and our State. We challenge ourselves daily to serve responsibility and live meaningfully in a changing world and this honor is reflective of the good work UE does to make a difference in the lives of our fellow Hoosiers."
IBJ Media published full profiles of the honorees in their magazine published in the July 21 issue of the Indiana Business Journal and is available online at Indiana250.com.
"Our 2023 Indiana 250 list is chock full of private- and public-sector leaders who are making big impacts in their communities, in our state and even in our nation," said IBJ Media CEO Nate Feltman. "We chose these leaders because they are doing inspiring work, and we want to share their stories so others can be inspired, too."
Submitted by Noah Alatza na122@evansville.edu
Professor Khan Published a Journal article and a book
Walayet A. Khan, Professor of Finance, published a coauthored paper titled, "An empirical Study on the relationship between credit ratings and banks' performance: Evidence from an emerging market." In the recent edition of International Journal of Accounting & Business Finance.
Professor Khan also coauthored a book, "Black gold´s price plunge: Are conventional and interest free Islamic banks equally vulnerable?" ISBN: 978-999949-8-310-0, 2022, Eliva Press.
Submitted by Walayet A. Khan wk3@evansville.edu
Sympathies to the family of Bill Morrison
The UE family is saddened to hear the news of the passing of Sue Thompson Morrison. Sue was a 1974 graduate of the University of Evansville and wife of Dr. Bill Morrison, professor emeritus of the UE Department of Chemistry. Please keep the Morrison family in your thoughts and prayers during the difficult time. A celebration of life will be held at Patchwork Central (100 Washington Avenue in Evansville) on Saturday, August 19. Visitation starts at 2:30 p.m., with a brief memorial to begin at 4 p.m., followed by food and music until 7 p.m.
Submitted by Noah Alatza na122@evansville.edu
Purple Aces Volleyball announces 2023 schedule
With the program gaining momentum each season, the University of Evansville volleyball squad looks ahead to an exciting 2023 campaign. Facing six postseason teams from last season, the Purple Aces are set for a balanced schedule that includes multiple non-conference challenges before the Missouri Valley Conference slate opens.
Opening day will see the Aces travel to the SEMO Invitational on August 25-26. Evansville opens against Southeast Missouri State, who won 17 matches last season, before facing Central Michigan in the second day of action. Last year, the Chippewas went 20-12 en route to a berth in the National Invitational Volleyball Championship.
August 29 marks the home opener, which will see UE welcome crosstown squad USI to Meeks Family Fieldhouse. September starts off with a trip to the Samford Invite where the Aces open against the host Bulldogs. Going 19-13 in 2022, Samford won the Southern Conference Tournament Championship to earn a spot in the NCAA Tournament. After facing the Bulldogs on Sept. 1, UE takes on North Alabama one day later.
Non-conference action continues with a trip to the DePaul Invitational on Sept. 8-9. Evansville faces St. Thomas, Northern Illinois and the Blue Demons in the event. On Friday, Sept. 15, the Aces will be in Knoxville, Tennessee where they face Chicago State and Tennessee. In 2021, Chicago State earned a spot in the NIVC while the Volunteers were an at-large selection to the 2022 NCAA Tournament.
Road matches at Murray State and Belmont open the MVC schedule on Sept. 22 and 23. Following a home game versus Chicago State on the 25th, UE is back on the road for league matches at Southern Illinois and Missouri State.
The month of October begins with a huge home weekend. On Oct. 6, the Aces welcome defending MVC Tournament Champion Northern Iowa to Meeks Family Fieldhouse. Evansville gave the Panthers all they could handle in last year's conference championship match-up. Defending NIVC runner-up Drake comes to Evansville on Oct. 7. The Bulldogs won a league-best 30 matches a season ago. On the 9th, the Aces play host to Indiana State.
Home action continues against UIC (10/13) and Valparaiso (10/14) before a 3-match road trip to Illinois State, Bradley and the season's third contest against Chicago State. Following home matches against Missouri State (10/27) and Southern Illinois (10/28), UE embarks on a road swing through Iowa to face Drake on November 2 and UNI on the 3rd. The final two home contests follow with Belmont coming to town on Nov. 10 and Murray State following on the 11th. Regular season play comes to a conclusion on Nov. 13 at Indiana State.
Springfield, Missouri will be the host of the 2022 MVC Championship, which runs from Nov. 19 through the 22nd.
Submitted by Athletics
Contribute to AceNotes
To have content considered for inclusion in AceNotes, please submit a Marketing Request Form. Deadline for submission to AceNotes is 10:00 a.m. on the requested date of publication. Only articles concerning UE related/sponsored activities will be accepted. Articles submitted to AceNotes may be edited for length and clarity. Submitter contact information is at the end of each article.