| | |
| --- | --- |
| AceNotes Today | Wednesday, June 14, 2023 |
Self Defense Class
Jeff Chesnut is hosting a FREE self-defense class for UE Employees. Please email Amanda Wood at aw505@evansville.edu to reserve your spot.
Wednesday, June 21
5pm-6:30pm
Fitness Center gymnasium
Wear tennis shoes and comfortable clothing. Class is open to all UE employees and guests of employees. If you have someone else that is interested in attending with you, add them to your RSVP.
Submitted by Amanda Wood aw505@evansville.edu
Employee Summer Health Risk Assessment
Employee & Spouse Summer Health Risk Assessments will take place July 17th - 19th from 7:00am -10:45am each day in Eykamp Room 253. Complete your health risk assessment and earn HRA credits. This health risk assessment is available for UE employees and their spouses on the UE medical insurance plan. Please remember, fasting 8-10 hours is recommended. Water and Black coffee are allowed. Please take maintenance medications as prescribed, as long as they are not required to be taken with food. Please click the link below to sign up today!
https://acelink.evansville.edu/areas/medicalclinic/appointments/Index.cfm
Submitted by Haley Karges hw164@evansville.edu
Community Puzzle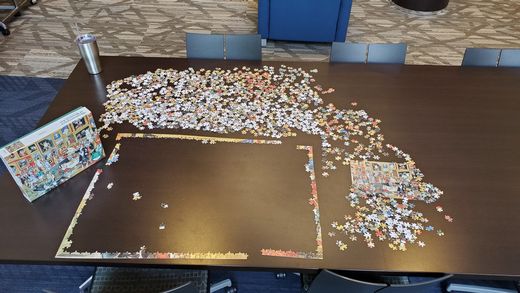 Love puzzles? The library always has one on the go. Stop by and add a few pieces. The current puzzle is a called Meowsterpiece of Western Art, based on Johann Zoffany's 18th century painting, Tribuna of the Uffizi.
Submitted by Meg Atwater-Singer ma35@evansville.edu
New Fiscal Year Copy Code Transition
As of 6/13/23, new Xerox Satellite Copy Codes for FY23-24 have been distributed to Dept. Heads and uploaded into the Facilities, Carson Center, Hyde Hall, Olmstead, Fine Arts, Ridgway, Graves and SOBA copiers. The remaining production satellite copier in Koch is being scheduled in the near future to be updated. Watch for signage on the satellite copiers indicating the upload is completed. Reminder: FY22-23 Xerox Copy Codes are no longer valid, once new copy codes have been uploaded.
Submitted by Kim Winsett kw83@evansville.edu
White Printer Paper (Meteor)
Effective immediately, white paper (8.5" x 11" Letter, 20#, Meteor) for office printer use has been discontinued from the In-House Office Supply inventory. Departments may order white paper for office printer use via online by the carton (box) from Office Depot. While several options are available, the Office Depot Brand Business Multi-Use white paper is item # 6028288 and available 10 reams/carton for $39.99/carton.
Submitted by Kim Winsett kw83@evansville.edu
Order your business cards and stationery
Don't forget to plan for the fall and order your letterhead, business cards, envelopes, and stationery through Marcom.
Visit the Marcom webpage to place an order. If you have never ordered through Marcom, you will be prompted to create an account.
Marcom will provide directions for ordering, create a proof to approve for your order, and also indicate how to enter your budget code for the request.
If you have any questions or concerns, please contact Wendy Marx at wm74@evansville.edu and 812-488-2561.
Submitted by Abigail Perry ap445@evansville.edu
FIN 280 - Intro to Personal Finance now being offered in Fall 2023
FIN 280 - Introduction to Personal Finance is now being offered this fall 2023 on MWF at 11:00 am. This class is generally only offered in the summer, so this is a great opportunity to take a class that is relevant to everyone and will benefit you all in the future! Topics include: Money Management Strategies: Financial Statements and Budgeting; Financial Services; Consumer Credit; The Housing Decision; Property and Auto Insurance; Investing; Retirement Planning; Estate Planning.
Submitted by Chris Brockman cb455@evansville.edu
Floor Cleaning Notice for Multiple Buildings
Floor Cleaning Notice for Multiple Buildings (See Impact Below)

Questions or Concerns Regarding this Work:
Bob Dale, bd22@evansville.edu

Description of Work:
A contractor will conduct annual floor cleaning per the schedule listed below. If your building is not listed, it has already been cleaned or will be completed during Christmas Break. Facilities Maintenance Services technicians will move trash containers, recycling bins, chairs, and floor mats. A blue sticker will be placed on the office doorknob when work is finished.

Affected Dates and Buildings:
Sunday, May 14 through
Thursday, June 29, 2023

Week of May 14:
Graves Hall

Weeks of May 21-June 1:
Koch Center

Weeks of June 4 – June 15:
Schroeder School of Business (SOBA)

Weeks of June 18 – June 29:
Carson Center

Impact for Occupants:
There will be intermittent noise, vibrations, and non-toxic odors associated with this work.

Action(s) Required:
- Remove any paper, boxes, and personal belongings from your office floor prior to the scheduled cleaning date.
- Please allow time for the floor to dry prior to placing objects on the floor.
- To have your research lab floors cleaned, contact the Facilities Service Center at 812-488-2775 prior to the scheduled cleaning date.

Thank you for your patience as we maintain our beautiful campus.
To report a facilities emergency, call (812) 488-2775
Submitted by Karen McDonald km598@evansville.edu
Emeritus Professor of Political Science, Young Kim, becomes the Vice President of Academic Affairs abroad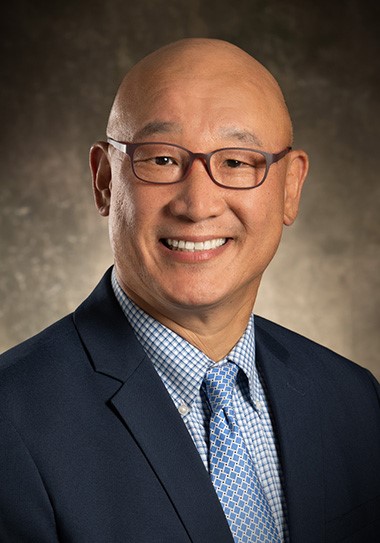 Dr. Young Kim, the Emeritus Professor of Political Science, is newly appointed the Vice President of Academic Affairs at the American International University Kuwait. He taught Political Science at UE from 2004-2021, including Middle East Politics. He has been the Dean of the Arts and Sciences Division at Pueblo Community College in Colorado for two years from July 2021 to June 2023.
Submitted by Young Kim yk23@evansville.edu
Writing Professor Katie Mullins Publishes Poetry Book
Professor Katie Darby Mullins has released her latest poetry collection, "Me & Phil," a linked saga through her house fire and stroke with an imaginary, pixelated Dr. Phil to keep her company (and provide gentle therapy). Local readings will be announced soon and you can find more about the book at the publisher's webpage. Also UE related: a student, Jenna (Sumpter) Wray ('20) edits for Kelsay Books and worked on the release, and UET grad Everin Casey ('23) designed the cover.
Submitted by Katie Mullins kd60@evansville.edu
Inaugural Harlaxton Brass Festival A Huge Success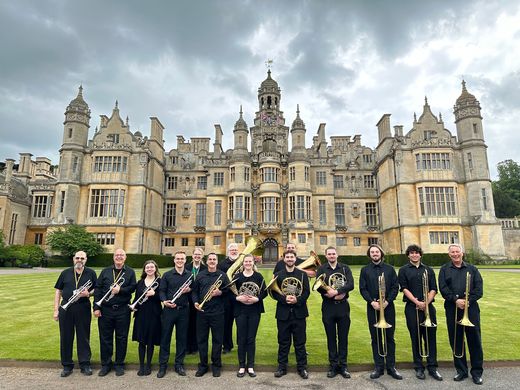 The inaugural Harlaxton Brass Festival took place May 25 through June 4, 2023 at Harlaxton College. The brass students and faculty had regular rehearsals and class time as well as performed four concerts at local churches (Grantham and Harlaxton Village) and in the Great Hall in Harlaxton Manor. All of the participants also visited London for two days touring the Royal Opera Theatre, Royal Albert Hall, British Museum, and many other London sight-seeing landmarks.
Submitted by Timothy Zifer tz3@evansville.edu
UE's Roberts Earns ABCA/Rawlings All-Region First Team Honors
On the heels of an historic season at the University of Evansville this past spring, UE graduate outfielder Eric Roberts (Hamilton, Ohio/Hamilton) has been voted to the American Baseball Coaches Association/Rawlings All-Midwest First Team in a vote of the region's head coaches. Roberts is now a finalist for ABCA/Rawlings All-America honors.
Roberts became the first player in UE baseball history and just the second player in the last 30 seasons in Missouri Valley Conference history to record over 20 home runs and 20 stolen bases in the same season this year, as he hit a Valley-best 21 home runs, and stole a career-best 20 bases. Overall, Roberts ranked in the MVC's top 10 in ten different offensive categories, including leading the league in home runs (21) and total bases (150), ranking second in the Valley in runs scored (61), stolen bases (20), and walks (42), and ranking in the league's top 10 in slugging percentage (3rd-.622), hits (8th-71), RBI (3rd-58), triples (4th-3), and sacrifice flies (4th-4). The first-team all-MVC selection was one of the most consistent players in the country, as he homered in 11 of UE's 14 weekend series, and did not go more than 35 plate appearances without a home run from March 5-on this spring.
The ABCA Midwest region includes teams from the states of Indiana, Illinois, Iowa, Kentucky, Michigan, Minnesota, and Wisconsin. All ABCA member coaches in the region have the opportunity to vote for All-Region selections. The first-team All-Region honorees are now finalists for the ABCA All-America teams, which will be announced on Friday, prior to the start of the College World Series.
NCAA Div. I Midwest All-Region First Team

| Pos. | Player | Cl. | School | State |
| --- | --- | --- | --- | --- |
| C | Jack Payton | Jr. | Louisville | KY |
| 1B | Brock Vradenburg | Jr. | Michigan State | MI |
| 2B | Paul Toetz | Jr. | Purdue | IN |
| 3B | Ryan Peltier | Gr. | Ball State | IN |
| SS | Noah Fisher | Sr. | Northern Kentucky | KY |
| OF | Eric Roberts | Gr. | Evansville | IN |
| OF | Ryley Preece | Jr. | Morehead State | KY |
| OF | Brennan Orf | Jr. | Southern Illinois-Edwardsville | IL |
| OF | Pier-Olivier Boucher | Sr. | Southern Illinois | IL |
| DH | Ryan Ignoffo | Sr. | Eastern Illinois | IL |
| P | Connor Fenlong | Sr. | Indiana State | IN |
| P | Lane Miller | Sr. | Indiana State | IN |
| P | Brody Brecht | So. | Iowa | IA |
| P | Connor O'Halloran | Jr. | Michigan | MI |
| RP | Zane Robbins | Sr. | Eastern Illinois | IL |
Submitted by Athletics
Robyn Scherr-Wells inks contract extension with Purple Aces
With two years of steady improvement to the University of Evansville women's basketball program, University of Evansville Director of Athletics Ziggy Siegfried has announced a contract extension for head women's basketball coach Robyn Scherr-Wells.
"Robyn is one of the most driven coaches that I have ever worked with in my career. She has shown a commitment to academics, the student-athlete experience and competitive excellence and her engagement with the campus and community has been fantastic," Siegfried stated. "Robyn is committed to being at UE and understands that commitment takes time. We are proud to show that commitment to her. I have no doubt that she is a leader who can and will build a championship program."
In a short amount of time, Scherr-Wells has made significant progress in building the Purple Aces program. The first season under her direction saw the team post its highest amount of wins in five seasons. Her team followed that up with an 11-win campaign last season, which was the marked the first double digit win season and the highest victory total since the 2016-17 season.
"I would like to thank President Pietruszkiewicz, Dr. Siegfried, and Sarah Solinsky for their belief in me and their commitment to Evansville Women's Basketball. I am grateful to lead the Purple Aces," Scherr-Wells said. "We have made great strides forward in the last two years, and I am excited to continue to build upon that. When I was hired in 2021, I wanted the job because of the top, private school education that UE offers combined with high mid-major basketball in the MVC."
"We fit a unique niche in Division I basketball that not many schools can offer, and I am so proud to recruit student-athletes to UE. I will continue to work tirelessly to build UE Women's Basketball into an MVC championship program!"
Scherr-Wells' system has led to a much higher pace of play. In four seasons prior to her arrival, UE averaged 59.5 points per game and under. Since she took the helm, the team has averaged 66.1 and 64.6 points, respectively. Her staff has recruited and coached four All-Missouri Valley Conference selections and that success translated to increased attendance and the first sellout in program history.
Off the court, her impact has been just as important. The team GPA for the women jumped from 3.0 in her first season to 3.3 last year. Her efforts have also translated to an increase in fundraising. During the 2022-23 campaign, her program raised over five times the amount of funds as it did in the season prior to her arrival.
Submitted by Athletics
UE's Baer Wins Israel National Championship In 100-Meter Breaststroke
University of Evansville rising senior Alon Baer (Gesher HaZiv, Israel) has had a very decorated career as a member of the UE men's swimming and diving program over the past three years. Now, he can add the title of "National Champion" to his list of achievements, as Baer took home the individual title in the men's 100-Meter Breaststroke event earlier today during the 2023 Israeli Championships at the Wingate Institute in Netanya, Israel.
Baer posted a time of 1:01.85 to best Kristian Pitshugin by 0.32 seconds and take home the individual title in the men's 100-Meter Breaststroke. Baer also placed second in the 50-Meter Breaststroke, finishing just 0.07 seconds behind Pitshugin to take home the silver in the event with a time of 28.46 seconds. It has continued a strong week in the pool at the Israeli Championships for Baer, who also placed fifth in the men's 200-Meter Breaststroke on Wednesday.
"In prelims, I placed third with a time of 1:02.63," said Baer after winning the 100-Meter Breaststroke. "I opened as hard as I could in the final, going 28.67 in the first 50, and managed to hold on for the win!"
Baer became Evansville's first-ever Mid-American Conference individual champion this past March, as he took home the MAC title in the 200-Yard Breaststroke. Baer earned first-team All-MAC honors for his efforts at the MAC Championships, while also capturing Academic All-MAC honors for his work both in and out of the pool this year. Baer is the school-record holder in both the 100- and 200-Yard Breaststroke events at UE, and he was earned the Acespys' award for "Best Male Athlete" in UE's season-ending awards ceremony.
Submitted by Athletics
UE Athletics Announces Staff Reorganization and Executive Team
University of Evansville Athletics Director Dr. Kenneth "Ziggy" Siegfried has unveiled a staff reorganization within the Purple Aces Athletics Department. Included in the plan is the creation of an executive team, which will play an integral role in the success of athletics at UE.
"When I first started, I made the comment that I would wake up every morning and go to sleep every night thinking about the Purple Aces. I have done just that, and I have been inspired by so many others in our department doing the exact same thing," Siegfried exclaimed. "We are now focused on putting the right people, in the right places to move our department forward."
Siegfried has announced the newly formed AD's Executive Team. This group will meet regularly to discuss and implement ideas and strategies, which will contribute to the future success of Aces athletics. The executive staff includes:
Sarah Solinsky: Deputy Athletics Director of Internal Operations/SWA
Bob Pristash: Senior Associate Athletics Director for Athletic Communications
Logan Belz: Associate Athletics Director for Revenue Generation
Tom Benson: Associate Athletics Director for External Relations
Morgan Harding: Human Resources/Executive Assistant – Director of Athletics
"The AD's Executive Team is an experienced, driven, detail-ortiented group, who brings a wealth of experience in multiple administrative roles in collegiate athletics," Siegfried said. "This group combines for over 100 years of experience at 15 Division I universities and more than 50 years of institutional knowledge working at UE. They are outstanding leaders who will work together in an efficient manner to take our department to a new level."
Along with the formation of the Executive Team, Siegfried has announced three administrative promotions.
*Sarah Solinsky: Promoted from Sr. Associate Athletics Director for Internal Operations/SWA to Deputy Athletics Director for Internal Operations/SWA. Sarah will serve as the #2 person in the athletics department providing oversight of the department in the absence of the AD. Sarah will oversee the areas of student-athlete services, academics, compliance, sports performance, sports medicine, facilities, equipment, and risk management. She will also serve as the sport administrator for W. Basketball, Volleyball, Women's Soccer, Softball, and Men's Soccer.
*Bob Pristash: Promoted from Associate Athletics Director for Media Relations to Senior Associate Athletics Director for Athletic Communications. Bob will continue in his role overseeing all athletics communications. He will also oversee creative content and serve as the Chief Athletics Communications officer for the Director of Athletics.
*Tom Benson: Promoted from Assistant Director of Media Relations to Associate Athletics Director for External Relations. Benson will oversee the areas of ESPN/Broadcasting, Marketing/Fan Engagement, and he will continue to play a role in Athletics Communications. He will also serve as a member of the Executive Staff.
Submitted by Athletics
Contribute to AceNotes
To have content considered for inclusion in AceNotes, please submit a Marketing Request Form. Deadline for submission to AceNotes is 10:00 a.m. on the requested date of publication. Only articles concerning UE related/sponsored activities will be accepted. Articles submitted to AceNotes may be edited for length and clarity. Submitter contact information is at the end of each article.