| | |
| --- | --- |
| AceNotes Today | Wednesday, May 17, 2023 |
Gathering with Ray Lutgring and Mark Kopta
On Friday, May 19, between 1:30 pm and 3:30 pm, there will be an informal gathering with Ray Lutgring, who has accepted a position at Lindsey Wilson College, and with Mark Kopta, who recently retired from the Psychology and Behavioral Sciences Department. We will be on the second floor of Hyde Hall, between the Dean's Suite (Hyde Hall 208) and the Department of Psychology and Behavioral Sciences Suite (Hyde Hall 217). We would like to extend a welcome to anyone who would like to drop by to reminisce, to say goodbye, and to wish Dr. Lutgring and Dr. Kopta well in their future endeavors.
Submitted by Cheryl Emmons ce36@evansville.edu
Lytho 1:1 Learning Sessions
The Office of Marketing and Communications is offering 1:1 learning sessions for Lytho, the University workflow system for marketing requests and materials. If you are still trying to navigate Lytho or want to learn more about its tricks and tools, the session can cover:
- Submitting requests
- Marking up changes to your proofs and leaving comments
- Review statuses
- Accessing deliverables (completed files)
- And more
This is open to any faculty, staff, or administrator that has used Lytho or is planning to. For more information, please contact Abigail Perry at ap445@evansville.edu.
Submitted by Abigail Perry ap445@evansville.edu
Free framed world map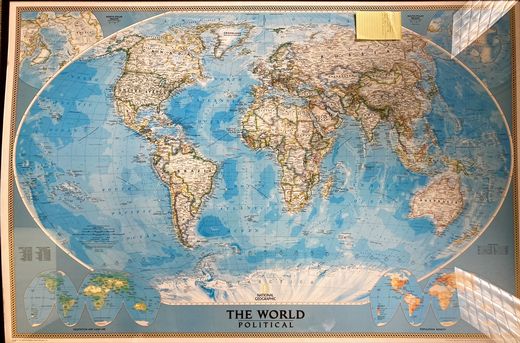 The Harlaxton office is clearing out storage and has a large framed world map available. It is around 6ft wide and 4ft tall, so it would be great to fill a large open wall in your office or area! Photo attached. Contact Kaylynn McCalister by June 1 if interested at extension 2039 or kc205@evansville.edu!
Submitted by Kaylynn McCalister kc205@evansville.edu
Dr. Martha Lumley Farewell Reception
Please join the Schroeder Family School of Business Administration as we say goodbye to Dr. Martha Lumley. Dr. Lumley is a 2009 graduate of the university and has served the school since 2015 in a variety of roles including faculty, Interim Associate Dean, and Associate Dean. Please join us as we wish her farewell and good luck in all of her future endeavors. A reception will be held in the Schroeder School of Business Atrium on Monday, May 22nd from 1 – 2:30 pm.
Submitted by Rebecca Oates ro32@evansville.edu
PSYC 259 (Abnormal) Offered During Summer Session 2
PSYC 259 (Abnormal Psychology) will be offered during Summer Session 2 as an online, asynchronous class. If you have questions about this 3 credit hour course, which will run from June 19-July 21, please contact Prof McCracken via email – em157@evansville.edu
Submitted by Evan McCracken em157@evansville.edu
PSYC 121 Offered During Summer Session 2
PSYC 121 (Introduction to Psychology) will be offered during Summer Session 2 as an online, asynchronous class. If you have questions about this 3 credit hour course, which will run from June 19-July 21, please contact Prof McCracken via email – em157@evansville.edu.
Submitted by Evan McCracken em157@evansville.edu
Floor Cleaning Notice for Multiple Buildings
Floor Cleaning Notice for Multiple Buildings (See Impact Below)

Questions or Concerns Regarding this Work:
Bob Dale, bd22@evansville.edu

Description of Work:
A contractor will conduct annual floor cleaning per the schedule listed below. If your building is not listed, it has already been cleaned or will be completed during Christmas Break. Facilities Maintenance Services technicians will move trash containers, recycling bins, chairs, and floor mats. A blue sticker will be placed on the office doorknob when work is finished.

Affected Dates and Buildings:
Sunday, May 14 through
Thursday, June 29, 2023

Week of May 14:
Graves Hall

Weeks of May 21-June 1:
Koch Center

Weeks of June 4 – June 15:
Schroeder School of Business (SOBA)

Weeks of June 18 – June 29:
Carson Center

Impact for Occupants:
There will be intermittent noise, vibrations, and non-toxic odors associated with this work.

Action(s) Required:
- Remove any paper, boxes, and personal belongings from your office floor prior to the scheduled cleaning date.
- Please allow time for the floor to dry prior to placing objects on the floor.
- To have your research lab floors cleaned, contact the Facilities Service Center at 812-488-2775 prior to the scheduled cleaning date.

Thank you for your patience as we maintain our beautiful campus.
To report a facilities emergency, call (812) 488-2775
Submitted by Karen McDonald km598@evansville.edu
College Mentors for Kids Volunteers Needed
College Mentors for Kids, a UE student volunteer organization, seeks a Treasurer who will also serve as our Vice President of Fundraising for the next academic year. If you are interested in this leadership position on our Executive Board, don't hesitate to contact Lilly Kolley, our President, at lk165, or Dr. Lisa Hale, our faculty sponsor, at lh241. Anyone interested in mentoring an elementary-aged child should reach out too. We hope to change as many young lives as possible, but we need UE student leaders to make it happen. Please volunteer today.
Submitted by Lisa Marie Hale lh241@evansville.edu
2023 David Ragland Kids Camp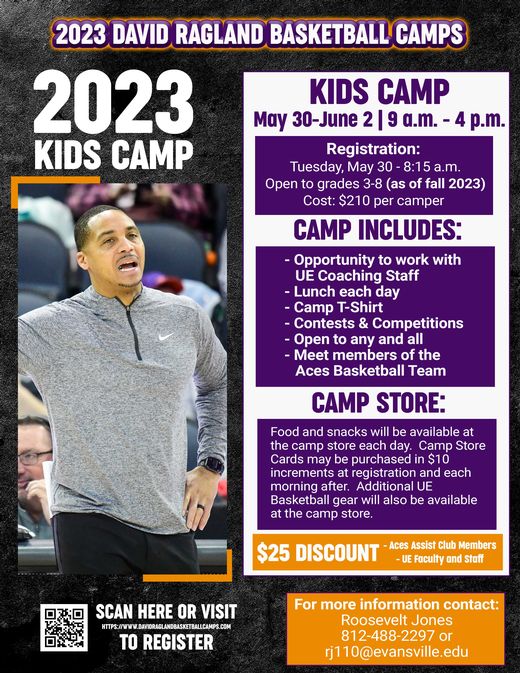 The 2023 David Ragland Boys & Girls Basketball Camp will take place from May 30th - June 2nd. Camp will take place between 9:00am and 4:00pm over the four days with registration opening on Tuesday the 30th at 8:15am in Meeks Fieldhouse.
An amazing experience for basketball players of all ages, the camp includes lunch each day, the opportunity to work with the UE coaching staff while meeting members of the Purple Aces men's basketball team, a camp t-shirt, contests, competitions and more.
*Discounts of $25 are given to current Aces Assist Club members and UE faculty and staff.
Submitted by Roosevelt Jones rj110@evansville.edu
2023-24 Outside Scholarship Opportunities
Student Financial Services has a list of outside scholarship opportunities for the 2023-24 academic year. The document is updated regularly and contains information on applying for outside scholarships of varying requirements, deadlines, and award amounts. To access the document, go to myue.evansville.edu, click on Menu, select Department and Office Pages, select Student Financial Services, and click on Additional Scholarship Opportunities.
Questions: Please contact Amber Chandler, Administrative Assistant to the Office of Student Financial Services, at ac547@evansville.edu or 812-488-2364.
Submitted by Amber Chandler ac547@evansville.edu
English Professor presents research at International Conference
Sara Petrosillo, Assistant Professor in the Department of English and Creative Writing, presented three papers at the 58th International Congress on Medieval Studies, an annual 3-day conference hosted by Western Michigan University where thousands of medieval scholars gather from around the globe. Petrosillo presented on each day of the conference and represented the University of Evansville as an executive board member of the Medieval Association of the Midwest. Her paper, "Lyric and Delivery: The Mind-Womb Connection in Modern Obstetrics and Marian Lyrics" was selected for inclusion on a panel sponsored by Yale University's Medieval Studies Program. She presented her research on the legend of Phyllis and Aristotle depicted on a 14th century ceramic jug for the University of New Mexico's Institute for Medieval Studies' roundtable "Assertive Women Across the Globe: Women, Poetry, and Art." And finally, she contributed to a roundtable on New Approaches to Medieval Ecocriticisms, sponsored by the journal of the same name with the paper, "RSD (Reversed Sexual Dimorphism): Ornithological Perspectives on Gender Hierarchy from Scientific to Literary Texts."
Submitted by Sara Petrosillo sp220@evansville.edu
Mathematics Award Recipients
Congratulations to this year's Mathematics Award recipients!
The Bennett-Knott Outstanding Senior in Mathematics Award recipients are Nicole Tucker and Sarah Vreeland.
The Gruenwald Commitment to Excellence award was presented to Nicole Benati.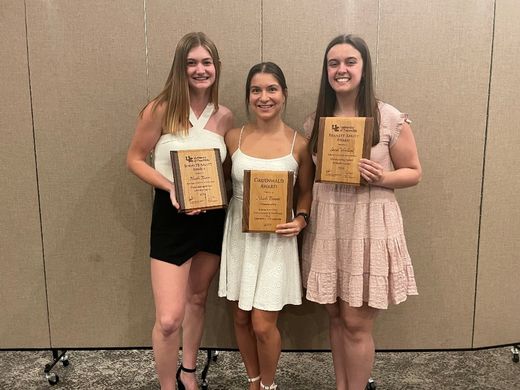 ---
The Outstanding Freshman Mathematics award recipient is Daniel Dwyer.
Submitted by Stacey Beard sb454@evansville.edu
Creative Writing Professor Published in Craft Antholofy
Katie Darby Mullins has an essay, "Not to Mention the Parking," in a new textbook on craft, HOW TO WRITE A NOVEL: AN ANTHOLOGY OF 20 CRAFT ESSAYS ABOUT WRITING, NONE OF WHICH EVER MENTION WRITING, forthcoming at Autofocus Lit.
Submitted by Katie Mullins kd60@evansville.edu
Creative Writing Professor Publishes Follow-Up Essay at Drunk Monkeys
Katie Darby Mullins recently published "TV Boyfriend: Evolution," a partner piece to award-nominated "Saying Goodbye to My TV Boyfriend," both at Drunk Monkeys, both tangentially about Dr. Spencer Reid from "Criminal Minds," and both much more largely about both the privilege and burden of getting to know oneself.
Submitted by Katie Mullins kd60@evansville.edu
Honorary Degrees Bestowed During UE's 165th Commencement Ceremony
Wilfred C. Bussing III.: Doctor of Humane Letters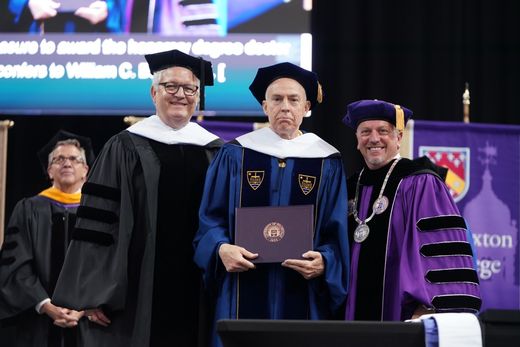 The University of Evansville celebrates Bussing's many contributions to the life of UE's campus and the Evansville community. Bussing was born and raised in Evansville, he is an esteemed alumnus of the University of Evansville and has deep roots in the community.
Currently, Bussing is not only a well-respected attorney, but he and his family are proud owners of the Evansville Otters Baseball Team.
Bussing is a highly engaged member of various community organizations and has been recognized with several accolades for his meaningful contributions to society. He embodies the essence of local talent, and we are lucky to have him as part of our community.
Sheila L. Huff: Doctor of Humane Letters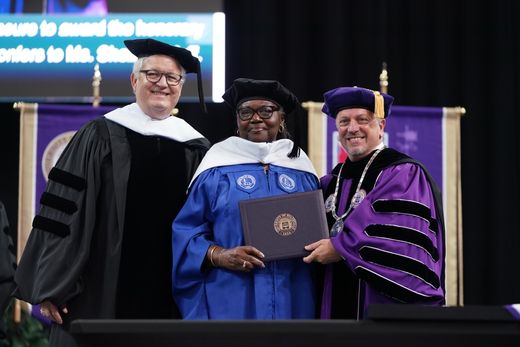 The University of Evansville pays tribute to Huff's many contributions and accomplishments in the life of the UE campus and the Evansville community. Sheila has made a significant impact on the education system and has been recognized for her contributions to society.
Sheila is the Director of Strategic Engagement for the Evansville-Vanderburgh School Corporation and is actively involved in several organizations. Her dedication to teaching has inspired many students to pursue careers in education, and she has received recognition for her outstanding work.
Submitted by Emily Ormson eo52@evansville.edu
Mayor Winnecke receives UE Presidential Medal of Honor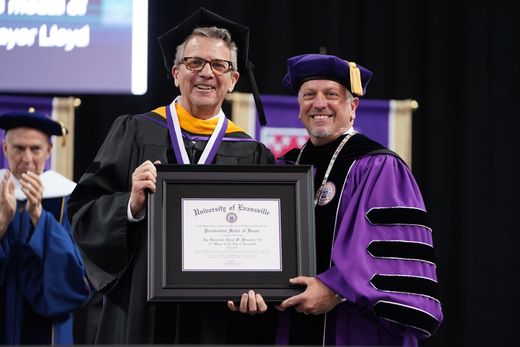 In light of his extraordinary contributions to the community, the University of Evansville presented the Presidential Medal of Honor to Mayor Lloyd Winnecke at this year's graduation ceremony.
Since being elected as Mayor of Evansville in 2012, Winnecke has made a series of positive impacts during his three terms in office. Among his accomplishments are the oversight of major infrastructure projects like the Ford Center and the Stone Family Center for Health Sciences. In addition, he initiated Clean Evansville, a monthly litter pick-up program that received recognition and awards for promoting civic pride and volunteerism.
As a 1982 University of Evansville alumnus, Winnecke continues to be involved with the university in several capacities, including as a UE Connect member, a supporter of UE Theatre and Aces Athletics, and a former PAC Board member.
Submitted by Emily Ormson eo52@evansville.edu
2023 Outstanding Teacher Award Recipient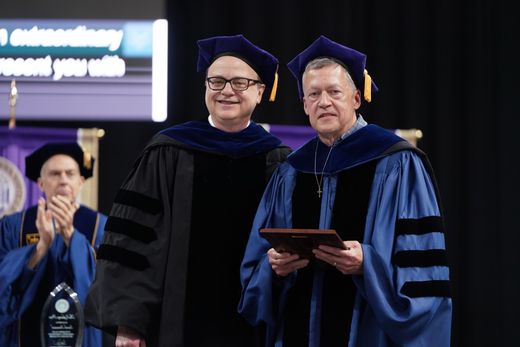 The 2023 Outstanding Teacher was awarded to Dr. Jim Ware, Professor of Religion.

Dr. Ware teaches classes in the Bible, the Gospels, and ancient Christianity, as well as courses in ancient Greek and literature. His teaching has supported the archaeology, history, classics, and religion programs. Dr. Ware developed and has served as the advisor for the pre-ministry track and is the faculty sponsor for the Newman Club.
Submitted by Emily Ormson eo52@evansville.edu
2023 Eykamp Prize Recipient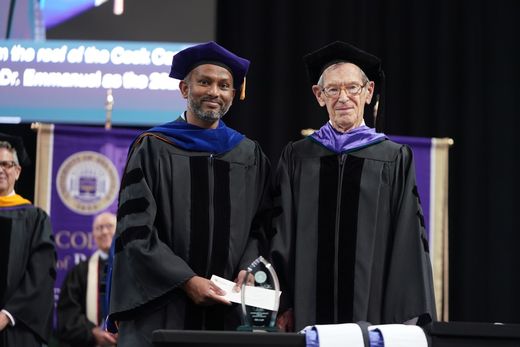 The recipient for the 2023 Eykamp Prize was Dr. Suresh Immanuel, Associate Dean and Professor of Civil Engineering.
Dr. Immanuel is involved in actively recruiting students for the School of Engineering and Computer Science. He takes the initiative to meet with prospective students individually, and he communicates directly with both parents and students to address any concerns they may have.
Submitted by Emily Ormson eo52@evansville.edu
2023 Mabel Dillingham Nenneker and Guthrie May Outstanding Senior Award Recipient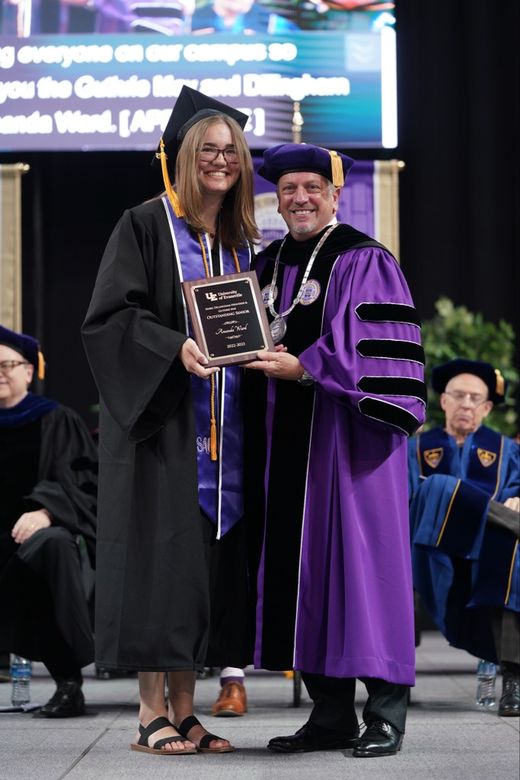 Each year, a committee of students and faculty selects an award recipient for the most outstanding senior. The selection is based on high academic performance, commitment to service, outstanding leadership, and involvement in diverse campus activities. The award is named after two of the University's most respected alumni, Mabel Dillingham Nenneker and Guthrie May.
This year's recipient is Amanda Ward. She truly embodies UE's core values of inclusivity, innovation, integrity, and intellectual curiosity.
Ward had been pursuing her Bachelor of Science in Psychology with minors in Social and Human Services, Criminal Justice, and Sociology, making the Dean's List for six semesters. She was heavily involved with Residence Life, the Student Activities Board, and Sigma Alpha Iota.
Submitted by Emily Ormson eo52@evansville.edu
Ninth-Inning Rally Falls Short, As UE Falls To Indiana, 6-2
A ninth-inning rally fell short on Tuesday night, as the University of Evansville baseball team dropped a 6-2 decision to the homestanding Indiana Hoosiers at Bart Kaufman Field in Bloomington, Indiana.
"A tough one tonight," said UE head coach Wes Carroll. "I thought that our pitching gave us a really good chance tonight against a very good Indiana lineup, but we just couldn't get that key base hit that we needed to unlock a big inning.
"It was really special to see the game that Eric Roberts had though, as it was great to see him go up top twice and close to within one home run of the single-season record.
"We have to put this one behind us though, as we have a very important series this weekend at UIC."
Trailing 6-2 going into the top of the ninth inning, the Purple Aces got a hit-by-pitch and a walk from Roberts to put two men on with two out. With former Indiana Hoosier Kip Fougerousse in the on-deck circle representing the game-tying run, Indiana right-hander Luke Hayden was able to strike out UE fifth-year first baseman Chase Hug to close out the contest and preserve the win for IU.
The Hoosiers' victory overshadowed a monster game by Roberts, who went 3-for-4 with two home runs to drive in both of Evansville's runs. Roberts opened the game with a lead-off single, but was later picked off first base to end a scoreless first inning. He then launched a solo home run over the old bullpen area in right field for his 18th home run of the year – a solo shot – in the top of the third inning to get UE back within a run at 2-1, after the Hoosiers rallied for two two-out runs in the bottom of the second inning. Roberts then crushed a solo home run in the seventh inning over 430 feet to right field for home run No. 19 of the year to close to within one home run of the UE single-season record of 20.
Roberts went 3-for-4 to lead UE, while junior shortstop Simon Scherry had two hits as well. Evansville had seven hits on the night, but went 0-for-14 with runners on base in the contest.
With the victory, Indiana extends its winning streak to eight games and improves to 39-14 overall, while Evansville slips to 31-21 overall. The Purple Aces will continue north to Chicago now to open a crucial three-game Missouri Valley Conference series at UIC (26-21, 12-12 MVC) beginning on Thursday night at 6 p.m. The winner of the three-game series is guaranteed to finish in the top four of the MVC, and will earn a first-day bye in next week's MVC Tournament in Terre Haute, Indiana. Thursday night's game can be seen live on ESPN+ and heard live in the Tri-State area on 107.1 FM-WJPS and the Old National Bank/Purple Aces Sports Network from Learfield.
Submitted by Athletics
Antonio Thomas joins UE Men's Basketball
With two years of Missouri Valley Conference experience along with two seasons in the Evansville area, Antonio Thomas has officially joined the University of Evansville men's basketball program.
"We are extremely excited to officially welcome Antonio and his family to our UE family. My staff and I wanted to prioritize adding an experienced guard to fill this scholarship spot," Purple Aces head coach David Ragland said. "Tonio has been through the wars of college basketball. He has been part of winning a championship in the Missouri Valley, it won't be his first time in the arenas and locker rooms of the MVC."
"Antoinio is a great young man with a very good work ethic. He comes from a wonderful family and has grown up in a passionate basketball community in Memphis," Ragland continued. "Tonio is focused on what's best for the team. He is a pass first point guard who is not afraid to hear his own voice. He will help lead our group through his actions and words both on the court and in the classroom."
Thomas comes to Evansville from Kentucky Wesleyan where he spent two seasons with the Panthers. He is coming off an excellent season that saw him record 9.8 points and 3.0 rebounds per game while making the start in all 29 games. He shot 41.1% from outside and ranked second for KWC with 83 assists.
His first season with the Panthers saw him lead the way with 100 assists while starting each of the 28 contests. Thomas recorded 7.3 points and 3.1 rebounds.
Prior to his time in Owensboro, Thomas spent two seasons playing at Bradley. Highlighting his tenure with the Braves was winning a Missouri Valley Conference Tournament Championship in 2020 as a freshman. Thomas started seven games in his first college season and registered a season-high 14 points in his first-ever start versus Toledo.
As a sophomore in 2020-21, Thomas made 22 appearances while averaging 2.0 points and 1.2 assists in 11.5 minutes of work. He helped the Braves take down Drake in the regular-season finale as he totaled 11 points, four assists and two steals.
The Memphis, Tennessee native played at East High School where he helped them pick up their fourth-straight Tennessee Class AAA state championship appearance in 2019. He also played at Ridgeway High School.
Submitted by Athletics
UE Shot Put Records Fall On Second Day Of MVC Outdoor Track & Field Championships
University of Evansville senior Zach Dove (Princeton, Ind./Princeton Community) and graduate student Antonia Lamond (Nutley, N.J./Paramus Catholic) both broke the UE school records in the shot put events on Saturday, as the Purple Aces wrapped up day two at the 2023 Missouri Valley Conference Outdoor Track & Field Championships in Normal, Illinois.
Dove went a full meter past his personal-best mark, while topping former teammate Michael Boots' school record with a toss of 15.94 meters (52' 3.75") to place tenth overall in a tightly-contested field. Dove was just 0.01 meters shy of ninth place, and only 0.28 meters (one foot) shy of sixth place.
Lamond, meanwhile, broke a school record for the second-straight day at the MVC Championships, as she went a full meter past her own previous school record mark with a toss of 11.38 meters (37' 4"). Lamond also broke the women's hammer throw record at UE on Friday at the Valley Championships.
In the throwing events, senior Jaden Hayes (Huntingburg, Ind./Southridge) also placed 17th overall in the men's shot put with a toss of 13.30 meters (43' 7.75").
On the track, Evansville got personal-best performances from sophomore Adam Oulgout (St. Paul, Minn./Central) and freshman Jose Ocampo (Monterrey, Mexico) in the 800-meters and 400-meters, respectively. Oulgout placed 17th overall in the 800-meters with a time of 1:54.38 to beat his previous-best mark, and come within a second of the UE school record. Ocampo, meanwhile, cut over a second off of his season-best mark in the 400-meters with a time of 51.79 to place 17th overall as well. Freshman Joey Taylor (Grove City, Ohio/Central Crossing) placed 22nd in the 800-meter race with a time of 2:00.07, while senior Giovanni Purser (Port Maria, Jamaica) placed 20th in the 100-meters with a time of 11.05.
The Missouri Valley Conference Outdoor Track & Field Championships will conclude on Sunday, with action beginning at 12 p.m. Sunday's final day can be seen on ESPN+, beginning with coverage at 1:15 p.m.
Submitted by Athletics
Dove, Hayes Break UE School Record In Discus On Final Day At MVC Championships
University of Evansville seniors Zach Dove (Princeton, Ind./Princeton Community) and Jaden Hayes (Huntingburg, Ind./Southridge) both broke the school record in the discus event on Sunday, and three Purple Aces scored on the men's side, as the UE track & field team concluded the 2023 season at the Missouri Valley Conference Championships in Normal, Illinois.
Dove was the first Purple Ace to break the school record in the discus with a career-best toss of 49.92 meters (163' 9") in his first throw of the day. Hayes then came back four throws later to become the first Purple Ace to break the 50-meter barrier in the discus with a school-record throw of 50.24 meters (164' 10"). Those two throws helped Hayes and Dove score in the Valley scoring, as they placed seventh and eighth overall in the Valley, respectively.
Hayes and Dove were joined in the scoring column on Sunday by sophomore Denzel Lasam (St. Louis, Mo./De Smet Jesuit), who placed sixth overall in the men's triple jump with a leap of 13.32 meters (43' 8.5"). Combined, those three helped UE post six points on the afternoon at the Valley Championships.
On the women's side, graduate student Antonia Lamond (Nutley, N.J./Paramus Catholic) wrapped up her UE career with a 17th-place showing in the discus event with a throw of 32.76 meters (107' 5").
Evansville placed tenth overall as a team in the men's standings, while the women placed 11th. Team-wise, Indiana State's men and Illinois State's women won the overall titles at the Valley Championships.
Submitted by Athletics
Lamond Breaks UE Record In The Women's Hammer Throw At MVC Championships
University of Evansville graduate student Antonia Lamond (Nutley, N.J./Paramus Catholic) broke the school record in the women's hammer throw for the fifth meet this spring on Friday afternoon to highlight the first day of action at the Missouri Valley Conference Outdoor Championships in Normal, Illinois.
Lamond went two meters past her own school record in her final collegiate hammer throw competition with a school-record toss of 43.26 meters (141' 11"). She is the only UE woman to throw over 40 meters currently, as she placed 14th overall. Freshman Gwen Darrah (Cleveland, Ohio/Orange) also turned in a personal-best performance in the hammer throw with a toss of 36.03 meters, as she added three meters to her PR mark at the Valley meet while placing 17th overall.
Friday's best individual finish for UE came from senior Jaden Hayes (Huntingburg, Ind./Southridge) in the men's javelin competition, as he placed 12th overall with a toss of 41.43 meters. Sophomore Preston Riggs (Ft. Branch, Ind./Gibson Southern) finished right behind Hayes with a toss of 40.05 meters.
Senior thrower Zach Dove (Princeton, Ind./Princeton Community) also placed 13th overall in the men's hammer throw event with a toss of 50.50 meters (165' 8"), as he is the only UE male to break the 50-meter barrier in the hammer throw.
On the track, sophomore Adam Oulgout (St. Paul, Minn./Central) turned in a time of 4:04.71 to place 21st overall in the men's 1,500-meters. Senior sprinter Giovanni Purser (Port Maria, Jamaica) and freshman Jose Ocampo (Monterrey, Mexico) posted season-best times in the 200-meters of 22.40 and 22.81, respectively, to place 24th and 26th overall.
The Missouri Valley Conference Outdoor Championships will continue on Saturday afternoon, with field events scheduled to begin at 3 p.m. and track events set to begin at 5 p.m. Action from Saturday can be seen on ESPN+ beginning at 4:45 p.m.
Submitted by Athletics
Dodie Dunson named UE Women's Basketball Associate Head Coach
University of Evansville Head women's basketball Coach Robyn Scherr-Wells has announced the hiring of Dodie Dunson as Associate Head Coach of the Purple Aces. Dunson officially joins the staff on May 11, 2023.
"I am ecstatic for Dodie Dunson to join our staff as our Associate Head Coach. I have admired Dodie and his work ethic since he was a young assistant at SIUE," Scherr-Wells exclaimed. "Dodie has a warmth and energy about him that lights up a room. He is relationship driven and I know he will build strong connections with our student-athletes, within the Evansville community, and with our recruits."
"Beyond that, he has gained great basketball experience throughout his career and his experience within our conference this past season will help him hit the ground running," she continued. "I know our program will continue to make great strides with his addition to our staff!"
Dunson joins the Aces following a season as an assistant coach at UIC where he helped the Flames navigate the transition to the Missouri Valley Conference. His work at UIC came after a successful season as an assistant at Tulsa that saw the Golden Hurricane record two postseason victories along with an appearance in the second round of the WNIT.
From 2018-21, Dunson enjoyed a successful 3-year tenure on the staff at UAB. During his three seasons with the squad, the Blazers recorded 56 wins, including back-to-back 20+ win campaigns in his first two years. The 2018-19 season saw UAB post the second-highest win total in school history, going 26-7 on the way to an appearance in the WNIT Second Round. During his three seasons, UAB had six all-conference honorees.
"I am very excited and grateful to join Robyn Scherr-Wells' staff. Coach Scherr-Wells is a proven winner and highly respected in our profession with limitless potential," Dunson said. "I am a huge believer in the power of true relationships. I am excited and honored to have the privilege to serve alongside her helping to positively impact lives and elevate the Purple Aces women's basketball program."
Prior to UAB, Dunson had a major footprint in the Midwest. From 2016 through 2018, he was an assistant coach and recruiting coordinator at SIU-Edwardsville where he helped the Cougars earn 31 wins, make back-to-back Ohio Valley Conference tournament appearances and play in the 2018 Women's Basketball Invitational. Dunson was also instrumental in coaching three all-conference selections.

Previously, Dunson served as the director of basketball operations for both the men's and women's teams at Western Illinois (2014-16), as the associate head coach at Wabash Valley College (2013-14), as the Bloomington High School boys varsity coach (2011-13) and as Team Illinois Educational AAU U16 boys associate director (2009-13).

Dunson played his freshman season at Iowa State (2006-07), where he played in all 31 games and averaged 5.2 points, scored 30 three-pointers, the fourth most for a Cyclone rookie, and shot 81.6-percent from the free throw line. Dunson transferred to Vincennes University for one season, helping the Trailblazers to a 28-6 record, and was named as the MVP of the National Junior College Association of American (NJCAA) District 3 Tournament. Dunson finished his career at Bradley University, playing the 2008-09 and 2010-11 seasons, after missing all but two games of the 2009-10 season due to injury. He tallied 692 points in 68 games for 10.1 points per game and was named a 2011 Lowe's Senior CLASS Award finalist.

He established the Dodie Dunson II Foundation in 2019, which was created to inspire, motivate and provide resources for people in at risk youth communities. Dunson graduated from Bradley with a degree in social work in 2011 and earned his master's degree in physical education and coaching pedagogy from SIUE in 2017.
Submitted by Athletics
Scherr-Wells adds four more to 2023 class
Following a 2022-23 campaign that saw the Aces post their best performance in over five years, University of Evansville head women's basketball coach Robyn Scherr-Wells has announced the signing of four student-athletes for the upcoming campaign.
Joining the Aces are 6'1" forward Tamesha Dozier (Louisville, Ky. / Wabash Valley College), 6'1 forward Anica Skrivan (Trebinje, Slovenia / Northeastern Oklahoma A&M College), 5'10 guard Sydney Bradley (St. Louis, Mo. / Westminster Christian Academy), and 5'7 guard Julia Palomo (La Seu d'Urgell, Spain / Casper College).
Dozier comes to the River City after spending one season at one of the top junior college programs in the nation at Wabash Valley College. For the Warriors, Dozier averaged nearly seven points and four boards per game, while shooting just shy of 50% from the field. Across her 31 appearances for WVC, Dozier recorded double-figures in scoring six times. In her prep career, Dozier played for Manual High School in Louisville, Ky., the same side that produced former Ace A'Niah Griffin.
"Tamesha brings us more winning experience coming off of a great year at Wabash Valley," said Scherr-Wells. "She is a very versatile post play who can shoot the 3 well and also put a lot of pressure on teams inside. We will count on her to be an excellent rebounder for us on both ends of the floor. Her athleticism and length make her a very versatile defender and I am excited that we will be able to use her in multiple spots in our press. I look forward to seeing how her game will continue to grow with us at UE!"
"I chose UE because of the great bond with Coach Robyn and her vision of building UE into a winning program," said Dozier.
Coming to Evansville from Northeastern Oklahoma A&M, Skrivan adds another post presence for the Aces. Last season, Skrivan played in 26 games, making nine starts for the Golden Norsemen, while averaging nearly eight points per game and five boards. Skrivan notched double-figures in 11 games, including a pair of double-doubles.
"When Anica visited campus, it felt like she had already been a part of our team," said Scherr-Wells. "She fits in seamlessly. Anica brings us toughness in the post and a very strong face up game from the t-post and high post areas. I look forward to seeing how her game will continue to grow with us at UE!"
"I chose the University of Evansville because it offers a great balance between academics and athletics," said Skrivan. "I was impressed with the quality of the academic program and drawn to the university's academic reputation with the range of majors this program has to offer. I was also impressed by the support that student-athletes receive at UE, both in terms of academic resources and athletic training and development. Winning games is definitely a priority for me, and I believe that the coaching staff and support system at UE will help me develop the skills and mindset I need to be successful both on and off the court."
The third addition for the Aces, Bradley joins Evansville as a preferred walk-on from Westminster Christian Academy in St. Louis. Bradley averaged nine points and four boards for WCA, earning all-district and all-conference recognition. Bradley helped lead her prep side to to a pair of district championships and an appearance in the elite eight.
"Sydney's best basketball is ahead of her. She is a great athlete and has a beautiful shot," said Scherr-Wells. "She comes from a high school program with a great culture and I know she will bring great work ethic. I look forward to seeing how her game will grow with us at UE!"
"I see the vision Coach Robyn has when it comes to building the basketball program here, I like the style of coaching her and the rest of the staff bring to the table," said Bradley. "I like UE's atmosphere and its proximity to home. I'm also excited to see the opportunities the school brings academically!"
Bringing a year of collegiate experience, Palomo comes to Evansville after a season at Casper College in Wyoming. In 2022-23, Palomo averaged over seven points per game and chipped-in nearly four boards per game, while compiling 48 steals on the season. A lethal shooter, Palomo knocked-down 30 triples a season ago, shooting at a 44% clip.
"Julia brings us athleticism and toughness at the guard position," said Scherr-Wells. "She will be a force in our press defense. She comes from a successful transition style at Casper so she will fit seamlessly into our transition offense. She is a great cutter and finishes fearlessly at the rim. She can stretch the floor with her shooting. I am excited to help her continue to grow her game!"
"Playing basketball in the US has always been a dream for me," said Palomo. "I chose UE because I think they can help me grow both as a basketball player and as a person. I'm very excited to start this new chapter of my life and enjoy the opportunity they are giving me."
Submitted by Athletics
Contribute to AceNotes
To have content considered for inclusion in AceNotes, please submit a Marketing Request Form. Deadline for submission to AceNotes is 10:00 a.m. on the requested date of publication. Only articles concerning UE related/sponsored activities will be accepted. Articles submitted to AceNotes may be edited for length and clarity. Submitter contact information is at the end of each article.