| | |
| --- | --- |
| AceNotes Today | Friday, May 5, 2023 |
Commencement
Everyone is invited to the 165th commencement ceremony on Saturday May 6th to honor the class of 2023. The ceremony will begin at 1:30 p.m. at the Ford Center. No tickets are required. For those who cannot attend in-person, the ceremony will also be live streamed at www.evansville.edu/live/. Seniors should also complete the 2023 Graduation Survey.
Submitted by Emily Ormson eo52@evansville.edu
Lytho 1:1 Learning Sessions
The Office of Marketing and Communications is offering 1:1 learning sessions for Lytho, the University workflow system for marketing requests and materials. If you are still trying to navigate Lytho or want to learn more about its tricks and tools, the session can cover:
- Submitting requests
- Marking up changes to your proofs and leaving comments
- Review statuses
- Accessing deliverables (completed files)
- And more
This is open to any faculty, staff, or administrator that has used Lytho or is planning to. For more information, please contact Abigail Perry at ap445@evansville.edu.
Submitted by Abigail Perry ap445@evansville.edu
Faculty Invitation: FREE ChangeLab Spring Workshop at French Lick
Whether you have coached a ChangeLab or are interested in coaching one, this FREE workshop is for you! Spaces are very limited, so respond soon. RSVP to ac116@evansville.edu to receive registration link!
All full-time UE faculty are invited to join the Center for Innovation & Change team for a workshop about ChangeLab at the beautiful French Lick Resort and Hotel on May 29 and 30.
Sessions will start immediately after lunch on 5/29, then you'll check in, stay the night, and sessions will continue till about 3pm the next day (Eastern Time). Full participation required. Whether you've coached a ChangeLab before, or have been thinking about doing one, this will be a great chance to unpack the experience a bit. We'll learn from experienced coaches, provide helpful tools, and help you think about experiential learning in your class or department.
Spots are extremely limited, and will be given first come first serve. Meals, individual hotel room, materials and commemorative item provided. Families are welcome, but meals for family members will be on your own.
RSVP to ac116@evansville.edu to receive registration link!
Submitted by Andrew Carter ac116@evansville.edu
Employee TIAA Individual Counseling Sessions Summer 2023
You can meet with a financial consultant at University of Evansville
No matter where you are in life—just getting started or planning for retirement—a session with Mike Dooley can help
you create a plan for your goals. And, it's at no cost as a part of your retirement plan. You'll get answers to these questions
and more:
Am I invested in the right mix of investments to help meet my goals?
Am I saving enough to create the retirement income I need?
How do I take income from my retirement account once I stop working?
TIAA will be available these dates and times for one-on-one sessions:
Tuesday, May 16, 2023 9:00 am - 4:00 pm School of Business, Room 153
Wednesday, Jun 14, 2023 9:00 am - 4:00 pm School of Business, Room 153
Wednesday, Jul 19, 2023 9:00 am - 4:00 pm School of Business, Room 153
RSVP today, as space is limited. Register for sessions at www.tiaa.org/schedulenow or by calling
800-732-8353, weekdays, 8 a.m. to 8 p.m. (ET).
Submitted by Lori LeDuc ll138@evansville.edu
Purchasing Procedures Announced for May 2023
As the end of the University's fiscal year approaches on May 31, Administrative Services and Accounting and Audit announce the following procedures related to purchases of goods and services during May.
Pcard Purchases
• Pcard purchases posting on the May statement (cycle end date is May 22) will be paid from FY 2022-23 funds unless a prepaid item. Most shipments post on your Pcard within three to four business days. However, vendors have up to nine business days to post transactions.
• Pcard purchases posting from May 23 through May 31 will be paid from FY 2023-2024 (new year) funds, unless the item purchased exceeds $500. Purchases exceeding $500 will be paid from FY 2022-2023 funds.
Office Depot Orders
• Normally, Office Depot orders placed online by 3 p.m. for items in stock are delivered the next business day. Upon delivery, the transaction should post on your Pcard within three to four business days.
• Office Depot orders received by May 15 will likely post on the May 22 Pcard Cycle and be paid from FY 2022-2023 funds.
• Office Depot orders placed and received but posting to the Pcard between May 23 and May 31 will be paid from FY 2023-2024 funds, unless the items purchased exceed $500. Purchases exceeding $500 will be paid from FY 2022-2023 funds.
Purchase Orders
• Approved requisitions converted into purchase orders and delivered by May 31 will be paid from FY 2022-2023 funds.
• Approved Requisitions indicating FY 2023-2024 in Self-Service with a Requisition Date of 6/1/23 or later and a typed Internal Comment of FY 2023-2024 will be processed with a delivery date of June 1 or later.
• Backordered Purchase Orders not delivered by May 31 will be paid from FY 2022-2023 funds.
Blanket Orders
• All FY 2022-2023 Blanket orders expire on May 31, 2023.
• Approved Requisitions for FY 2023-2024 (new year) Blanket Orders may now be submitted via Self-Service with a Requisition Date of 6/1/23 or later with "Blanket Purchase order for ____________ effective June 1, 2023 through May 31, 2024" included in the line item description.
• Backordered Blanket Purchase Order items not delivered by May 31, 2023 will be paid from FY 2023-2024 funds.
Payment Requests
• All services completed and items purchased (and on campus) by May 31 must be submitted and approved on a Payment Request in Self-Service by Monday, June 12 to be paid from FY 2022-2023 funds. Any pre-May 31st purchases submitted for payment after this date will be charged to FY 2023-2024.
Submitted by Kim Winsett kw83@evansville.edu
Student Veteran Survey
The University is seeking feedback from student veterans regarding your college search and the veteran section of the UE Webpage. If you're a student veteran, please complete our brief survey by May 12.
Your participation in the survey is appreciated; thanks in advance!
For questions, please contact Hilary Hillenbrand at hm38 or Cherie Leonhardt at CL29. Thank you.
Submitted by Cherie Leonhardt cl29@evansville.edu
Faculty and staff, looking for new ways to volunteer?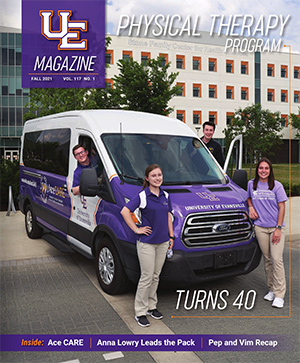 Ace CARE is a student-run organization that provides free physical therapy services to the uninsured and underinsured people of the Evansville community. This wonderful program allows students from the physical therapy, physician assistant, athletic training, and health science undergraduate degrees to get hands-on practice with patients while also providing health care to individuals who would not receive it otherwise!
Ace CARE has the amazing ability to provide a vulnerable community with transportation to and from their sessions on campus through the use of a van. There are even one to two physical therapy students riding along throughout the routes to help safely transfer patients into and out of the van. Currently, there is a need for more volunteers to donate their time, and help drive the van on Tuesday nights from 4 - 7:30pm! We need faculty and staff to help us keep the van operating for our patients!! If you are a UE faculty or staff interested in helping out or have any questions, please reach out to Dr. Schwartzkopf-Phifer at ks148@evansville.edu.
Come be a part of an organization that truly is changing lives and making the Evansville community a better place!
Submitted by Megan Fulhorst mf217@evansville.edu
College Mentors for Kids Volunteers Needed
College Mentors for Kids, a UE student volunteer organization, seeks a Treasurer who will also serve as our Vice President of Fundraising for the next academic year. If you are interested in this leadership position on our Executive Board, don't hesitate to contact Lilly Kolley, our President, at lk165, or Dr. Lisa Hale, our faculty sponsor, at lh241. Anyone interested in mentoring an elementary-aged child should reach out too. We hope to change as many young lives as possible, but we need UE student leaders to make it happen. Please volunteer today.
Submitted by Lisa Marie Hale lh241@evansville.edu
Bookstore Reduced Summer Hours
The bookstore will have reduced hours for the Summer, beginning on Monday, May 8th and ending on Wednesday, August 16th.
• Monday-Thursday: 10am-3pm
• Friday: 10am-2pm
• Closed Saturday and Sunday
Please note that we will have extended hours for special events (SOAR, etc). Keep an eye on our Facebook page for updates.
Have a wonderful Summer!
Submitted by Becky Lamont bl164@evansville.edu
Faculty Retirements of Dr. Mark Kopta, Dr. James Ware, and Dr. Tim Zifer
The following long-time faculty members will retire this May: S. Mark Kopta, James Ware, and Tim Zifer. They will each leave behind a great legacy of successful careers, commendable work ethics, and excellent service to our institution. Please help us wish them well in their retirements. From all of your UE family, we wish you all the best.
In honor of them, a Forest Pansy Redbud Tree has been planted between Hyde Hall (on the south side) and Sampson Hall. (The location of the tree can be seen marked in red on the map at the bottom of this article.)
---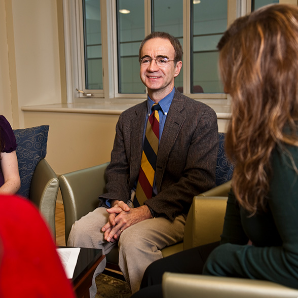 S. Mark Kopta, Ph.D., H.S.P.P., Professor of Psychology.
Along with teaching at UE, Dr. Kopta is a clinical psychologist in private psychotherapy practice. He is a leading expert in psychotherapy and mental health, with numerous publications, including a book, a video, chapters in books, published articles, and scholarly paper presentations. He specializes in researching how adults improve in psychotherapy and the assessment of mental health. His 1986 and 1994 articles on the dosage model are two of the most cited scholarly works in psychotherapy research. His dose-effect model was selected as one of the most influential psychotherapy theories of the 20th Century by the Encyclopedia of Psychotherapy. His research achievements were also noted in the 1988 edition of Encyclopedia Britannica.
With regard to child and adolescent psychiatry, Dr. Kopta coauthored the book, Right Versus Wrong: Raising a Child with a Conscience. The book delineates how children acquire healthy values through conscience development. He has coauthored articles on child/adolescent development and mental health published in psychiatry's most influential journals.
---
James Ware, PhD, Professor of Religion and Classics.
Dr. Ware has taught at UE since 1995, teaching courses in the New Testament, the Gospels, Paul's letters, ancient Christianity, and ancient Greek language and literature. He is thankful for the many students he taught during that time, all of whom he remembers fondly and each of whom contributed in a unique way to each class. Dr. Ware holds an M.A. in Greek and Latin Classical Literature from Washington University, St. Louis, and a Ph.D. in New Testament and Ancient Christianity from Yale University. He is the author of Paul's Theology in Context: Creation, Incarnation, Covenant, and Kingdom (Eerdmans, 2019), Paul and the Mission of the Church (Brill, 2005; softcover Baker Academic, 2011), and a new tool for the study of Paul's epistles, Synopsis of the Pauline Letters (Baker Academic, 2010). He is currently at work on a book on 1 Corinthians 15, the fullest treatment of the resurrection in the Bible, due out in 2024. After retirement from full-time teaching at UE, he will continue teaching part-time at UE and at Saint Meinrad Seminary.
---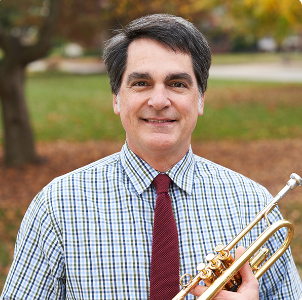 Dr. Timothy Zifer, Professor of Music.
Dr. Zifer holds a bachelor's degree in music education from Ohio University, a master of music in trumpet performance from Louisiana State University, and a doctorate in trumpet performance with a minor in wind conducting from Louisiana State University. He teaches courses in applied trumpet, UE Jazz Ensemble I, UE Trumpet Ensemble, jazz studies, and music management. He received the Dean's Teaching Award in 2010.
Dr. Zifer is the principal trumpet of the Evansville Philharmonic Orchestra and is an active soloist and recitalist. He also serves as the principal trumpet and founding member of the Shepard Brass (UE Faculty Brass Quintet). Most recently, he recorded Robert Russell Bennett's Rose Variations with the UE Wind Ensemble.
Prior to taking over the jazz program, Dr. Zifer served as director of bands (1996-2008). During this time, the University of Evansville wind ensemble toured over 20 states and appeared at the 2001 International Trumpet Guild Conference, competed in the 2002 International Hawaiian Music Festival, and performed at the 2006 and 2008 Indiana Music Educators. Association conventions. The UE Jazz Ensemble I has performed and competed at the prestigious Elmhurst Jazz Festival from 2008-2012, having received two honorable mentions and recognition for an original composition by a student. The UE Trumpet Ensemble has performed at the 2001 and 2004 International Trumpet Guild Conferences as well as the 2011 University of Kentucky TrumpetFest. In 2001, Dr. Zifer served as the conference host for the International Trumpet Guild Conference on the campus of UE. The conference brought in over 800 attendees from around the world and featured recitals, lectures, exhibits, and clinics by some of the world's leading trumpet professionals.
---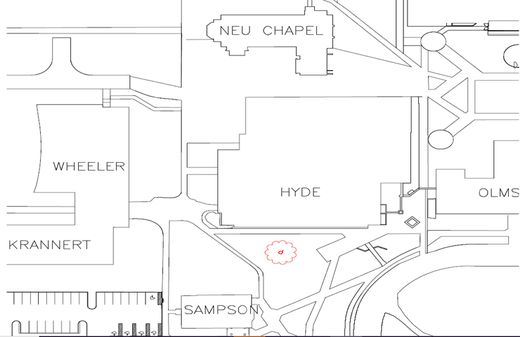 Submitted by Tobi Audas oa51@evansville.edu
New Members of Gamma Phi Omega- Welcome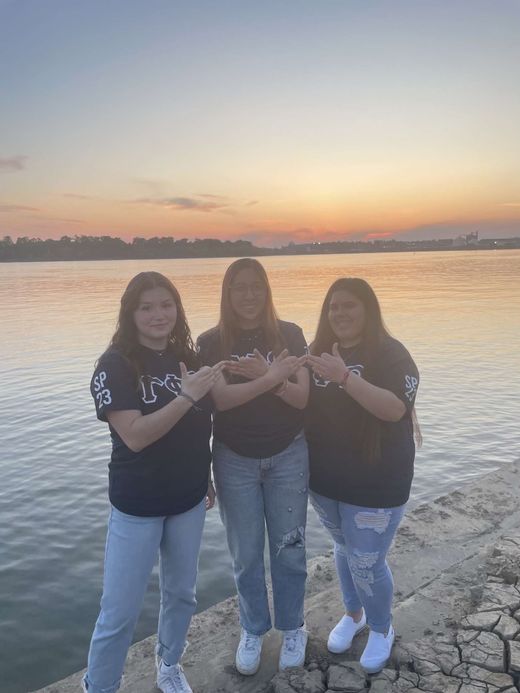 The University of Evansville and the Center for Diversity Equity and Inclusion would like to extend a warm welcome and congratulations to the newest members of Gamma Phi Omega International Sorority, Inc.
On Wednesday, April 26th, 2023, the Stellar Psi Chapter of Gamma Phi Omega announced three of their newest members- UE second year Sophia Reyes and UE first years Elizabeth Tapia and Mia Melendez.
GPhiO is the first Latin-oriented Greek Organization to have a chapter at the University of Evansville. The newest members are the first UE students to gain membership in GPhiO and we are excited to see all that they bring to their organization and to the UE campus. Congratulations, baby Swans!
Gamma Phi Omega International Sorority, Inc. is a Latina-oriented organization and was founded on April 17, 1991, at Indiana University. The Stellar Psi Chapter was established in 2019 at the University of Southern Indiana. In 2022, the chapter expanded to the University of Evansville to create the Stellar Psi- Metro Evansville Chapter where individuals from both USI and UE have access to seek membership. To learn more about GPhiO please visit their national website here: http://gammaphiomega.org and follow them on Instagram at @evansville_swans!
Submitted by Abagail Christine Catania ac532@evansville.edu
AceNotes Going on Summer Holiday
As there are fewer submissions to AceNotes during the summer, AceNotes will only be published on Wednesday starting the week of Monday, May 8. AceNotes Extras will still be published whenever needed. The regular AceNotes publication schedule of every Monday through Friday will resume when school begins again in August.
Submitted by Holly Smith hh98@evansville.edu
CRNA Whitecoat Ceremony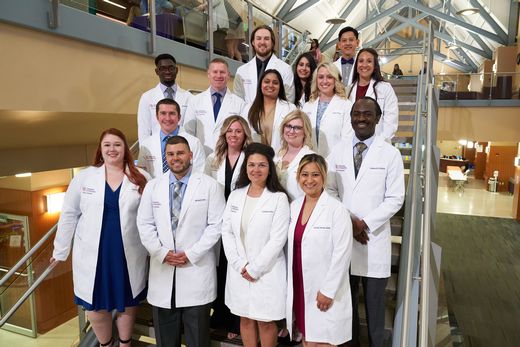 The University of Evansville Nurse Anesthesia Program held its second Whitecoat Ceremony on Friday, April 21st. We appreciate all of the administration, faculty and staff, families, and friends who helped make this a special day for our students. This milestone achievement signifies the end of the residents' didactic year of education and entry into clinical residency.

Congratulations to the Class of 2024!
Submitted by Stephanie Knust sk306@evansville.edu
Congratulations to Data Analytics Certificate and Badge Recipients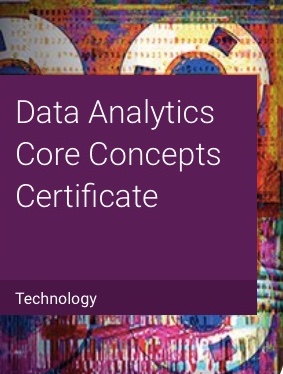 Rania Mousa, Associate Professor of Accounting, would like to congratulate her students for successfully completing the requirements of the Data Analytics Core Concepts Certificate. The certificate is offered by the Association of International Certified Professional Accountants (AICPA). The certificate is composed of four individual interactive modules. It offers an opportunity to understand the language of data analytics and develop data-driven mindset by using three real-world business scenarios covering revenue analysis, financial planning and analysis, and business performance. Students have also earned digital badges which can be shared on professional networks.
The following students have completed their certification and earned their digital badges while enrolled in Accounting Information Systems course in Spring 2023:
• Alley Angermeier
• Hayley Buerster
• Audrie Collins
• Crispin Ewen
• Samuel Hatchett
• David Martin
• Brooke McCorkle
• Samer Nassif
• Carson Parker
• Landon Stoll
• Ethan Ziegler
Submitted by Dr. Rania Mousa rm190@evansville.edu
UE Track & Field To Take Part In Billy Hayes Invitational On Friday
The University of Evansville track and field team will get one final tune-up meet in before next week's 2023 Missouri Valley Conference Outdoor Championships on Friday afternoon, as the Purple Aces will return north to Bloomington, Indiana to take part in Indiana University's Billy Hayes Invitational. The meet will begin with throwing events at 12 p.m. central time, with the action on the track scheduled to begin at 3 p.m. central.
Evansville last competed on April 21 and 22 at IU's Indiana Invitational. The Purple Aces were able to post five top-10 finishes on the last day of competition to wrap up a solid weekend on the track. Now, UE will look to get one more competition in before the conference meet next weekend, while competing against a talented field from throughout the Midwest.
This weekend's field will include competitors from 26 different schools, including such Division I schools as UE, Butler, Cincinnati, Eastern Illinois, Indiana, Indiana State, Miami (OH), Michigan, Notre Dame, Southeast Missouri State, Southern Illinois, and Illinois-Chicago. A lot of the competitors at the meet will be using this meet not only as a tune-up for their respective conference meets, but also a "last-chance" meet to try and qualify for the NCAA Outdoor Championships coming up in a few weeks.
Below is a list of when each Evansville competitor will compete (all times central):
12 PM Women's Discus: Antonia Lamond
Men's Discus: Jaden Hayes, Zach Dove
Women's Hammer Throw: Gwen Darrah, Antonia Lamond
Men's Hammer Throw: Zach Dove
Men's Javelin: Jaden Hayes, Preston Riggs
Men's Shot Put: Jaden Hayes, Zach Dove
3 PM Men's Triple Jump: Denzel Lasam
3:20 PM Men's 100 Meters: Giovanni Purser
4:30 PM Men's 1,500 Meters: Adam Oulgout
4:50 PM Men's 800 Meters: Joey Taylor, Adam Oulgout
5:05 PM Men's 400 Meters: Jose Ocampo
6:35 PM Men's 200 Meters: Giovanni Purser
Submitted by Athletics
Baseball Aces Travel To Illinois State This Weekend For Three-Game Set
With only three weeks and nine conference games remaining before the 2023 Missouri Valley Conference Tournament, the University of Evansville baseball team will hit the road this weekend for an important Valley series against Illinois State in Normal, Illinois.
The series will begin on Friday night at 5 p.m. in a contest that can be seen live on ESPN+. It will continue on Saturday and Sunday afternoons with 3 p.m. and 1 p.m. contests, respectively. All three games of the series can be heard live in the Tri-State area on 107.1 FM-WJPS and the Old National Bank/Purple Aces Sports Network from Learfield.
Evansville will enter the weekend series at 26-18 overall and 9-9 in the MVC. The Purple Aces are currently in fifth place in the Valley standings, just two games out of third place, but only four games up on last-place entering this weekend's series.
Evansville knocked off Butler, 4-1, on Wednesday night behind strong pitching from senior Tyler Denu, grad student John MacCauley, freshman Max Hansmann and junior closer Nate Hardman. Hardman is a Normal, Illinois native and attended University High School in the shadows of Illinois State. Hardman earned his sixth save of the year on Wednesday night with a scoreless ninth inning, and he has not allowed an earned run in his last four appearances, while earning three saves for UE. Overall, he ranks second in the Valley with the six saves, and in eight Valley appearances this year, Hardman is 1-0 with three saves and a 0.87 ERA spanning 10.1 innings of work.
Illinois State will enter this weekend's series at 17-24 overall and 6-12 in the MVC. Despite being in a three-team tie for seventh place in the league standings, the Redbirds have won each of the last two MVC series, including taking two out of three games at Southern Illinois last weekend. Junior outfielder Auggie Rasmussen leads a balanced Illinois State attack with a .309 batting average, 12 doubles, nine home runs, and a league-best 19 stolen bases. Overall, the Redbirds feature a lineup with seven regular starters hitting above .280 on the year, and they are tied for the MVC lead in stolen bases with 56 as a team.
The same two teams faced each other on the same weekend last year in Evansville, with the Purple Aces sweeping a three-game series at German American Bank Field at Charles H. Braun Stadium. Overall, Illinois State leads the all-time series, 67-56-1.
Submitted by Athletics
Aces to complete regular season in Cedar Falls
Looking to finish the regular season on a high note, the University of Evansville softball team travels to Cedar Falls, Iowa for a 3-game series against Northern Iowa. Friday's opener begins at 5 p.m. while game two on Saturday starts at 2 p.m. and Sunday's finale will be a 12 p.m. first pitch with all three games on ESPN+ and ESPN3.
Looking at the Match-up
- Last season, the Purple Aces and Panthers met at Cooper Stadium with UNI taking two out of three games
- In Cedar Falls, the Aces have dropped the last eight games versus the Panthers with the last win coming on March 30, 2014 by a 7-0 final
- The last road series versus UNI in 2021 saw the Panthers outscore UE by a 45-8 margin on their way to the 3-game sweep
Last Time Out
- Sunday's rubber match against Illinois State saw the Redbirds score three in the second inning before winning by a final of 7-3 to clinch the series
- Alexa Davis hit her team-leading 7th home run in the game while Hannah Hood hit her third of 2023
Wood's Hit Streak
- Recording at least one hit in all four games over the last week, Marah Wood extended her hit streak to 12 games
- It is the longest streak for the Purple Aces since Eryn Gould had a 12-game streak of her own in 2019
- Should she extend it to a 13th game, it would match Chandra Parr's mark from 2015
- For Wood, it is her longest streak in her college career as she registered a hit in eight consecutive games in 2022.
Back at #1
- With one earned run scoring in her last seven innings, Megan Brenton lowered her ERA to 1.43 and retook the Missouri Valley Conference lead
- On April 29, Brenton picked up her league-leading 6th save of the season versus Illinois State and her .197 opponent batting average remains 5th in the league
- Brenton registered the save in both wins over the Salukis, combining to toss four shutout frames while giving up two hits and one walk while striking out four batters
- In 68 2/3 innings of work in 2023, Brenton has allowed 20 runs, just 14 of which have been earned; she has struck out 71 batters while walking 38
- On April 26, Brenton was named the Comeback Player of the Year at the Acespys, which is the annual UE Athletics awards show
- Brenton overcame a setback while battling an injury prior to the 2022 season but has returned to top form in 2023
Putting a Streak Together
- Jess Willsey has put together her longest hitting streak of the season, registering a hit in eight consecutive games
- Over that time, she is hitting .464 with 13 hits in 28 at-bats and her season average stands at a team-best .293
- Since March 19, Willsey is batting .355 with 27 hits in 76 at-bats
- Willsey finished the Illinois State series with five hits in seven trips to the plate
- In game two against Southern Illinois, Willsey was a perfect 3-3 with four RBI in a 4-0 win for the Aces; the win came less than a day after SIU opened the series with a 17-1 victory
- Willsey has six home runs on the season, which is second on the team
Submitted by Athletics
Jonathan Vila named Assistant Volleyball Coach
Bringing 13 years of coaching experience at multiple levels, Jonathan Vila has been named the Assistant Volleyball Coach for the University of Evansville.
Vila has coached at the high school, club, college and professional levels in Puerto Rico. He is considered to be one of the best coaches in Puerto Rico at developing players in high school and club squads.
"Jonathan brings an impressive experience for his age. His impact in our program will be immediate as he knows how to develop players and teach and run game systems," Purple Aces head volleyball coach Fernando Morales exclaimed. "Me and Jonathan look at the game of volleyball very similar so us working together will be great to continue growing this program. He will be a very important asset in the recruiting side as well since he's been involved in club volleyball for 13 years."
"We are looking forward to adding Jonathan to our staff and having a great 2023 season with him in our bench."
In his work as an assistant coach at the collegiate level, he has won multiple national championship in Puerto Rico. Most recently, his squad was victorious in the 2023 Men's Professional League National Championship. Over the last three years, Vila has worked in Puerto Rico's women's professional league.
Submitted by Athletics
Contribute to AceNotes
To have content considered for inclusion in AceNotes, please submit a Marketing Request Form. Deadline for submission to AceNotes is 10:00 a.m. on the requested date of publication. Only articles concerning UE related/sponsored activities will be accepted. Articles submitted to AceNotes may be edited for length and clarity. Submitter contact information is at the end of each article.