| | |
| --- | --- |
| AceNotes Today | Thursday, May 4, 2023 |
Commencement
Everyone is invited to the 165th commencement ceremony on Saturday May 6th to honor the class of 2023. The ceremony will begin at 1:30 p.m. at the Ford Center. No tickets are required. For those who cannot attend in-person, the ceremony will also be live streamed at www.evansville.edu/live/. Seniors should also complete the 2023 Graduation Survey.
Submitted by Emily Ormson eo52@evansville.edu
Lytho 1:1 Learning Sessions
The Office of Marketing and Communications is offering 1:1 learning sessions for Lytho, the University workflow system for marketing requests and materials. If you are still trying to navigate Lytho or want to learn more about its tricks and tools, the session can cover:
- Submitting requests
- Marking up changes to your proofs and leaving comments
- Review statuses
- Accessing deliverables (completed files)
- And more
This is open to any faculty, staff, or administrator that has used Lytho or is planning to. For more information, please contact Abigail Perry at ap445@evansville.edu.
Submitted by Abigail Perry ap445@evansville.edu
The Hands That Create - Senior Art Exhibition April 17-May 5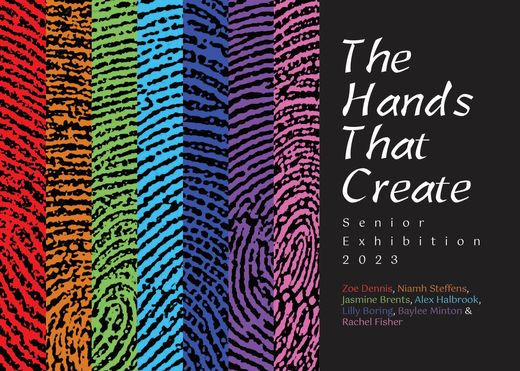 Please join the Seniors in the Department of Art as we celebrate their group exhibition, The Hands That Create. There are two opportunities to visit the exhibition and speak to the artists. The first date is April 20th from 5-7 pm and the second is May 5th, 4:30-6pm. The exhibition is located in the Melvin Peterson Gallery.
The seniors are Lilly Boring, Jasmine Brents, Zoe Dennis, Rachel Fisher, Hannah Holbrook, Baylee Minton, and Niamh Steffens. Ian Leonhardt also contributed to the exhibition with the original music.
The Melvin Peterson Gallery is open during the week with posted hours:
Monday, Tuesday, Friday, and Saturday, 12-3pm
Wednesday and Thursday, 12-6pm
Hope to see you at either reception.
Department of Art
Submitted by Carol McCraney cm177@evansville.edu
Faculty Invitation: FREE ChangeLab Spring Workshop at French Lick
Whether you have coached a ChangeLab or are interested in coaching one, this FREE workshop is for you! Spaces are very limited, so respond soon. RSVP to ac116@evansville.edu to receive registration link!
All full-time UE faculty are invited to join the Center for Innovation & Change team for a workshop about ChangeLab at the beautiful French Lick Resort and Hotel on May 29 and 30.
Sessions will start immediately after lunch on 5/29, then you'll check in, stay the night, and sessions will continue till about 3pm the next day (Eastern Time). Full participation required. Whether you've coached a ChangeLab before, or have been thinking about doing one, this will be a great chance to unpack the experience a bit. We'll learn from experienced coaches, provide helpful tools, and help you think about experiential learning in your class or department.
Spots are extremely limited, and will be given first come first serve. Meals, individual hotel room, materials and commemorative item provided. Families are welcome, but meals for family members will be on your own.
RSVP to ac116@evansville.edu to receive registration link!
Submitted by Andrew Carter ac116@evansville.edu
Employee TIAA Individual Counseling Sessions Summer 2023
You can meet with a financial consultant at University of Evansville
No matter where you are in life—just getting started or planning for retirement—a session with Mike Dooley can help
you create a plan for your goals. And, it's at no cost as a part of your retirement plan. You'll get answers to these questions
and more:
Am I invested in the right mix of investments to help meet my goals?
Am I saving enough to create the retirement income I need?
How do I take income from my retirement account once I stop working?
TIAA will be available these dates and times for one-on-one sessions:
Tuesday, May 16, 2023 9:00 am - 4:00 pm School of Business, Room 153
Wednesday, Jun 14, 2023 9:00 am - 4:00 pm School of Business, Room 153
Wednesday, Jul 19, 2023 9:00 am - 4:00 pm School of Business, Room 153
RSVP today, as space is limited. Register for sessions at www.tiaa.org/schedulenow or by calling
800-732-8353, weekdays, 8 a.m. to 8 p.m. (ET).
Submitted by Lori LeDuc ll138@evansville.edu
Purchasing Procedures Announced for May 2023
As the end of the University's fiscal year approaches on May 31, Administrative Services and Accounting and Audit announce the following procedures related to purchases of goods and services during May.
Pcard Purchases
• Pcard purchases posting on the May statement (cycle end date is May 22) will be paid from FY 2022-23 funds unless a prepaid item. Most shipments post on your Pcard within three to four business days. However, vendors have up to nine business days to post transactions.
• Pcard purchases posting from May 23 through May 31 will be paid from FY 2023-2024 (new year) funds, unless the item purchased exceeds $500. Purchases exceeding $500 will be paid from FY 2022-2023 funds.
Office Depot Orders
• Normally, Office Depot orders placed online by 3 p.m. for items in stock are delivered the next business day. Upon delivery, the transaction should post on your Pcard within three to four business days.
• Office Depot orders received by May 15 will likely post on the May 22 Pcard Cycle and be paid from FY 2022-2023 funds.
• Office Depot orders placed and received but posting to the Pcard between May 23 and May 31 will be paid from FY 2023-2024 funds, unless the items purchased exceed $500. Purchases exceeding $500 will be paid from FY 2022-2023 funds.
Purchase Orders
• Approved requisitions converted into purchase orders and delivered by May 31 will be paid from FY 2022-2023 funds.
• Approved Requisitions indicating FY 2023-2024 in Self-Service with a Requisition Date of 6/1/23 or later and a typed Internal Comment of FY 2023-2024 will be processed with a delivery date of June 1 or later.
• Backordered Purchase Orders not delivered by May 31 will be paid from FY 2022-2023 funds.
Blanket Orders
• All FY 2022-2023 Blanket orders expire on May 31, 2023.
• Approved Requisitions for FY 2023-2024 (new year) Blanket Orders may now be submitted via Self-Service with a Requisition Date of 6/1/23 or later with "Blanket Purchase order for ____________ effective June 1, 2023 through May 31, 2024" included in the line item description.
• Backordered Blanket Purchase Order items not delivered by May 31, 2023 will be paid from FY 2023-2024 funds.
Payment Requests
• All services completed and items purchased (and on campus) by May 31 must be submitted and approved on a Payment Request in Self-Service by Monday, June 12 to be paid from FY 2022-2023 funds. Any pre-May 31st purchases submitted for payment after this date will be charged to FY 2023-2024.
Submitted by Kim Winsett kw83@evansville.edu
Student Veteran Survey
The University is seeking feedback from student veterans regarding your college search and the veteran section of the UE Webpage. If you're a student veteran, please complete our brief survey by May 12.
Your participation in the survey is appreciated; thanks in advance!
For questions, please contact Hilary Hillenbrand at hm38 or Cherie Leonhardt at CL29. Thank you.
Submitted by Cherie Leonhardt cl29@evansville.edu
Faculty and staff, looking for new ways to volunteer?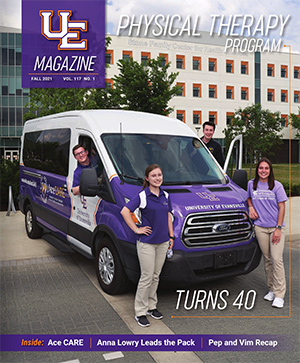 Ace CARE is a student-run organization that provides free physical therapy services to the uninsured and underinsured people of the Evansville community. This wonderful program allows students from the physical therapy, physician assistant, athletic training, and health science undergraduate degrees to get hands-on practice with patients while also providing health care to individuals who would not receive it otherwise!
Ace CARE has the amazing ability to provide a vulnerable community with transportation to and from their sessions on campus through the use of a van. There are even one to two physical therapy students riding along throughout the routes to help safely transfer patients into and out of the van. Currently, there is a need for more volunteers to donate their time, and help drive the van on Tuesday nights from 4 - 7:30pm! We need faculty and staff to help us keep the van operating for our patients!! If you are a UE faculty or staff interested in helping out or have any questions, please reach out to Dr. Schwartzkopf-Phifer at ks148@evansville.edu.
Come be a part of an organization that truly is changing lives and making the Evansville community a better place!
Submitted by Megan Fulhorst mf217@evansville.edu
Bookstore Reduced Summer Hours
The bookstore will have reduced hours for the Summer, beginning on Monday, May 8th and ending on Wednesday, August 16th.
• Monday-Thursday: 10am-3pm
• Friday: 10am-2pm
• Closed Saturday and Sunday
Please note that we will have extended hours for special events (SOAR, etc). Keep an eye on our Facebook page for updates.
Have a wonderful Summer!
Submitted by Becky Lamont bl164@evansville.edu
2023 David Ragland Kids Camp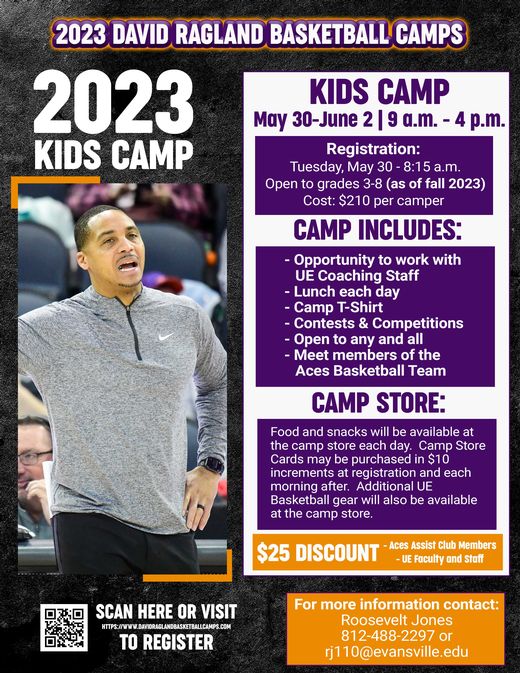 The 2023 David Ragland Boys & Girls Basketball Camp will take place from May 30th - June 2nd. Camp will take place between 9:00am and 4:00pm over the four days with registration opening on Tuesday the 30th at 8:15am in Meeks Fieldhouse.
An amazing experience for basketball players of all ages, the camp includes lunch each day, the opportunity to work with the UE coaching staff while meeting members of the Purple Aces men's basketball team, a camp t-shirt, contests, competitions and more.
*Discounts of $25 are given to current Aces Assist Club members and UE faculty and staff.
Submitted by Roosevelt Jones rj110@evansville.edu
Summer Hours and July 4 Holiday
Summer Hours
UE will reduce business hours during the summer from 8:00 a.m. to 4:30 p.m. Monday-Thursday, and 8:00 a.m. to 4:00 p.m. on Fridays. This schedule will be in place beginning Monday, May 8 through Friday, August 4. Regular hours will return Monday, August 7. Enjoy the sun a little longer.
Friday Jeans Day
You can wear jeans on Fridays in the summer – as long as you wear purple on Fridays. Please dress appropriately and adjust the dress code as necessary on Fridays for visitors or other events. And as always, purple shoes are welcome – and send me pictures for Friday Wrap.
July 4 Holiday
The long weekend will get a little longer. The President's Council added one additional day to create a long holiday weekend. In addition to the University observing the July 4 holiday on Tuesday, the University will also be closed on Monday, July 3. Enjoy the sun even more.
Submitted by Noah Alatza na122@evansville.edu
AceNotes Going on Summer Holiday
As there are fewer submissions to AceNotes during the summer, AceNotes will only be published on Wednesday starting the week of Monday, May 8. AceNotes Extras will still be published whenever needed. The regular AceNotes publication schedule of every Monday through Friday will resume when school begins again in August.
Submitted by Holly Smith hh98@evansville.edu
2023-24 Dr. Marvin E. Hartig Scholarship
Family, friends and loved ones of the late Dr. Marvin E. Hartig are pleased to announce the application process for the Dr. Marvin E. Hartig Memorial Scholarship. This scholarship is dedicated to the loving memory of Dr. Hartig, Dean of Evansville College's Evening College in 1967, and administrator for the Center for Advanced Study, director of the Evansville chapter of the American Institute of Banking (AIB), and the international student advisor. In 1974, Dr. Hartig was appointed Dean of Academic Services. He retired in 1984 after serving his alma mater for thirty-five years and passed away in 2007.
This scholarship will be awarded annually to a deserving sophomore student. Preference will be given to a student working while being enrolled as a full-time student. International students are encouraged to apply.
Eligible students for the 2023-2024 Hartig Memorial Scholarship will be sophomores in the 2023-2024 academic year.
The application can be found online.
Deadline: Please return all materials to the Office of Student Financial Services by May 5, 2023. The decision will be announced by May 26, 2023.
Questions: Amber Chandler, Administrative Assistant to the Office of Student Financial Services, at ac547@evansville.edu or 812-488-2364.
Submitted by Amber Chandler ac547@evansville.edu
Congratulations to Data Analytics Certificate and Badge Recipients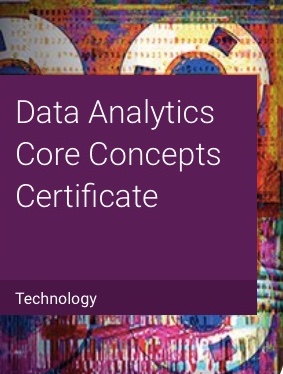 Rania Mousa, Associate Professor of Accounting, would like to congratulate her students for successfully completing the requirements of the Data Analytics Core Concepts Certificate. The certificate is offered by the Association of International Certified Professional Accountants (AICPA). The certificate is composed of four individual interactive modules. It offers an opportunity to understand the language of data analytics and develop data-driven mindset by using three real-world business scenarios covering revenue analysis, financial planning and analysis, and business performance. Students have also earned digital badges which can be shared on professional networks.
The following students have completed their certification and earned their digital badges while enrolled in Accounting Information Systems course in Spring 2023:
• Alley Angermeier
• Hayley Buerster
• Audrie Collins
• Crispin Ewen
• Samuel Hatchett
• David Martin
• Brooke McCorkle
• Samer Nassif
• Carson Parker
• Landon Stoll
• Ethan Ziegler
Submitted by Dr. Rania Mousa rm190@evansville.edu
Computer Science students to present papers at IEEE International Conference
The School of Engineering and Computer Science would like to offer Congratulations to Ethan Abney (Senior) and Daniel Dwyer (Freshman) for having their papers selected to be presented at. the 2023 IEEE International Conference on Electro/Information Technology at Lewis University, Romeoville, IL, May 18–20, 2023
Ethan and Daniel are Computer Science majors in the School of Engineering and Computer Science. We'd also like to congratulate and thank Dr. Maxwell Omwenga for supporting the students through the writing and submission process and for co-authoring their papers.
The papers being presented are listed below:
Ethan D. Abney, Maxwell M. Omwenga, "The Effects of Basic Obfuscation on Neural Based Android Malware Detection," 2023 IEEE International Conference on Electro/Information Technology (eit2023), May 18–20, 2023.
Daniel Dwyer, Maxwell M. Omwenga, "Training Topology With Graph Neural Cellular Automata," 2023 IEEE International Conference on Electro/Information Technology (eit2023), May 18–20, 2023.
Again, the School of Engineering and Computer Science extends Congratulations to these individuals.
Submitted by Tonya Albright ta58@evansville.edu
Pitching Powers Evansville Past Butler, 4-1
Four University of Evansville pitchers combined on a two-hitter on Wednesday night, as the host Purple Aces cruised past the visiting Butler Bulldogs, 4-1, at German American Bank Field at Charles H. Braun Stadium in Evansville.
"Tonight was another great effort on the mound in a mid-week game," said UE head coach Wes Carroll. "Tyler Denu had multiple pitches working tonight, which was great to see. John MacCauley had to deal with some emotions, but handled it well, and didn't give up a run or hit in three innings.
"We are ready to hop on the bus and head to Illinois State this weekend."
Denu set the tone for the evening in the first inning, as he struck out two in a scoreless frame. Evansville then gave him the lead in the bottom of the first inning thanks to an opposite-field RBI single by sophomore catcher Evan Waggoner. Denu struck out the side in order in the second inning, and UE's strong night on the mound was in full force.
The Bulldogs would take advantage of an Evansville error to score a two-out run in the fourth inning to tie the game at 1-1, but that would be the next-to-last Butler batter to reach base on the evening. Evansville would also quickly respond with a solo home run by fifth-year outfielder Danny Borgstrom to right field in the bottom of the fourth inning to grab a lead UE would never lose.
The Aces would tack on two more runs in the sixth inning on an RBI double by junior designated hitter Brendan Hord off of the center-field wall, a ground out and a Butler throwing error to grab a 4-1 lead. From there, Evansville's bullpen trio of graduate reliever John MacCauley, freshman pitcher Max Hansmann, and junior closer Nate Hardman combined to allow just a one-out walk in the eighth inning to nail down the victory.
Denu (4-3) earned the win in a scheduled short-start by scattering an unearned run on two hits, while striking out seven men on just 55 pitches. MacCauley, pitching against a team which he pitched five seasons for before transferring to UE this season, tossed three perfect innings of relief with a pair of strikeouts. Hansmann and Hardman both worked a scoreless, hitless frame with a strikeout to finish out the contest.
Offensively, Hord led Evansville by going 2-for-3 with a double, a run scored and an RBI. Borgstrom, meanwhile, went 1-for-3 with his third home run of the year and two runs scored. Waggoner, junior second baseman Kip Fougerousse and junior shortstop Simon Scherry had UE's remaining three hits.
Evansville improves to 26-18 overall with the win, while Butler falls to 9-35 overall. The Purple Aces will return to Missouri Valley Conference play this weekend in Normal, Illinois, as UE will take on Illinois State in a three-game series beginning on Friday night at 5 p.m. in a game that can be seen live on ESPN+. The series will continue on Saturday at 3 p.m. and Sunday afternoon at 1, with all three games being heard live in the Tri-State area on 107.1 FM-WJPS and the Old National Bank/Purple Aces Sports Network from Learfield.
Submitted by Athletics
Contribute to AceNotes
To have content considered for inclusion in AceNotes, please submit a Marketing Request Form. Deadline for submission to AceNotes is 10:00 a.m. on the requested date of publication. Only articles concerning UE related/sponsored activities will be accepted. Articles submitted to AceNotes may be edited for length and clarity. Submitter contact information is at the end of each article.