| | |
| --- | --- |
| AceNotes Today | Tuesday, May 2, 2023 |
May 2023 Board of Trustees | Front Oval Parking
The May 2023 meetings of the University of Evansville Board of Trustees will be held on campus Thursday, May 4, and Friday, May 5, 2023. Parking in front of Olmsted Administration Hall and the Schroeder Family School of Business Administration will be reserved for University Trustees. Employee parking on the front oval will be limited on both days.
Submitted by Patti Lippert pl23@evansville.edu
SAA Book Club Read for May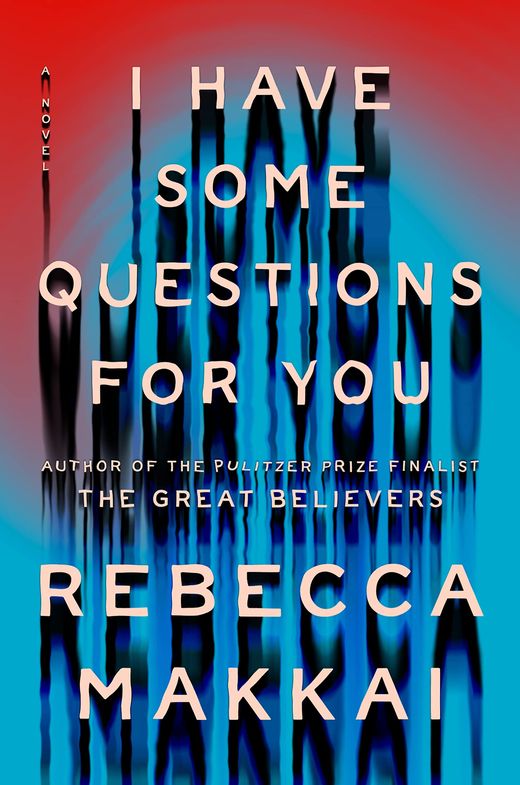 May Book Selection:
I Have Some Questions For You – by Rebecca Makkai
"Part boarding school drama, part forensic whodunit" This is a 448 page Fiction/Mystery Thriller.
A successful film professor and podcaster, Bodie Kane is content to forget her past -- the family tragedy that marred her adolescence, her four largely miserable years at a New Hampshire boarding school, and the murder of her former roommate, Thalia Keith, in the spring of their senior year. Though the circumstances surrounding Thalia's death and the conviction of the school's athletic trainer, Omar Evans, are hotly debated online, Bodie prefers -- needs -- to let sleeping dogs lie. But when the Granby School invites her back to teach a course, Bodie is inexorably drawn to the case and its increasingly apparent ?aws. In their rush to convict Omar, did the school and the police overlook other suspects? Is the real killer still out there? As she falls down the very rabbit hole she was so determined to avoid, Bodie begins to wonder if she wasn't as much of an outsider at Granby as she'd thought -- if, perhaps, back in 1995, she knew something that might have held the key to solving the case. (from Goodreads.com)
We will meet on Thursday May 18th at 12 noon in the University Advancement House on Rotherwood to discuss the book. Everyone is invited.
This is the last book club meeting before the Summer Break. Participants are encouraged to bring a used book or two to swap with others. Hopefully this will provide everyone with a new book to read while on vacation this summer!
If you would like to be added to the Book club email list please contact Kathy Taylor at ks6.
Submitted by Katherine Taylor ks6@evansville.edu
The Hands That Create - Senior Art Exhibition April 17-May 5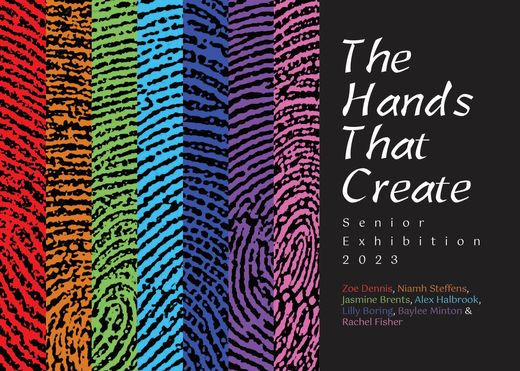 Please join the Seniors in the Department of Art as we celebrate their group exhibition, The Hands That Create. There are two opportunities to visit the exhibition and speak to the artists. The first date is April 20th from 5-7 pm and the second is May 5th, 4:30-6pm. The exhibition is located in the Melvin Peterson Gallery.
The seniors are Lilly Boring, Jasmine Brents, Zoe Dennis, Rachel Fisher, Hannah Holbrook, Baylee Minton, and Niamh Steffens. Ian Leonhardt also contributed to the exhibition with the original music.
The Melvin Peterson Gallery is open during the week with posted hours:
Monday, Tuesday, Friday, and Saturday, 12-3pm
Wednesday and Thursday, 12-6pm
Hope to see you at either reception.
Department of Art
Submitted by Carol McCraney cm177@evansville.edu
Faculty Invitation: FREE ChangeLab Spring Workshop at French Lick
Whether you have coached a ChangeLab or are interested in coaching one, this FREE workshop is for you! Spaces are very limited, so respond soon. RSVP to ac116@evansville.edu to receive registration link!
All full-time UE faculty are invited to join the Center for Innovation & Change team for a workshop about ChangeLab at the beautiful French Lick Resort and Hotel on May 29 and 30.
Sessions will start immediately after lunch on 5/29, then you'll check in, stay the night, and sessions will continue till about 3pm the next day (Eastern Time). Full participation required. Whether you've coached a ChangeLab before, or have been thinking about doing one, this will be a great chance to unpack the experience a bit. We'll learn from experienced coaches, provide helpful tools, and help you think about experiential learning in your class or department.
Spots are extremely limited, and will be given first come first serve. Meals, individual hotel room, materials and commemorative item provided. Families are welcome, but meals for family members will be on your own.
RSVP to ac116@evansville.edu to receive registration link!
Submitted by Andrew Carter ac116@evansville.edu
This Summer Archaeology Majors Cross the Globe for Excavations and Internships
One will be excavating the remains of a "cursed" Etruscan palace in Tuscany. Another will be preparing a photography exhibit of Evansville "then and now." A third will be helping to locate the remains of an 1840s farmstead in Illinois built by a freed slave. Those are just three of the sixteen Archaeology majors who will be participating in experiential learning this summer in four foreign countries and five US states. The full list is below. If you see any of these folks before they leave campus, wish them a great summer and ask them to send you a postcard.
Greece
Anna R. – University of Missouri, St. Louis' Iklaina-Pylos Field School Archaeological Project (working in lab at excavation of a Mycenaean palace)
Israel
Sophia C. – University of Haifa Excavation in the Lower City at Tel Hazor (Israel's largest Canaanite city)
Ever G. – University of Haifa Excavation in the Lower City at Tel Hazor
Daniel G. – University of Haifa Excavation in the Lower City at Tel Hazor
Jade H. – University of Haifa Excavation in the Lower City at Tel Hazor
Brenna M. – University of Haifa Excavation in the Lower City at Tel Hazor
Sam P. – University of Haifa Excavation in the Lower City at Tel Hazor
Maddy W. – University of Haifa Excavation in the Lower City at Tel Hazor
Italy
Julia R. – University of Massachusetts Amherst's Poggio Civitate Archaeological Project (excavation of an Etruscan palace)
Portugal
Sara W. - Caladinho Archaeological Project, Portugal (excavation of a rural Roman fort)
United States
Olivia B. – Southern Illinois University Field School at Ft. Kaskaskia and Miller Grove, Illinois (excavation of an 18th century French colonial fort and a 19th century freed slave's farmstead)
Grace G. – Cultural Resource Management internship with Two Pines Resources, Minnesota (survey and excavation ahead of highway construction)
Gavriel H. – Archival internship at Willard Library, Evansville
Lily K. – Rhode Island Marine Archaeological Project (processing finds from the excavation of two Colonial-era shipwrecks)
Savannah S. – Internship at the Evansville Museum of Arts, History, and Science (creating a "then and now" photo exhibit)
Zoe S. – Intern at the Maritime Museum Louisiana, Madisonville, Louisiana
Submitted by Alan Kaiser ak58@evansville.edu
Bookstore Reduced Summer Hours
The bookstore will have reduced hours for the Summer, beginning on Monday, May 8th and ending on Wednesday, August 16th.
• Monday-Thursday: 10am-3pm
• Friday: 10am-2pm
• Closed Saturday and Sunday
Please note that we will have extended hours for special events (SOAR, etc). Keep an eye on our Facebook page for updates.
Have a wonderful Summer!
Submitted by Becky Lamont bl164@evansville.edu
2023 David Ragland Kids Camp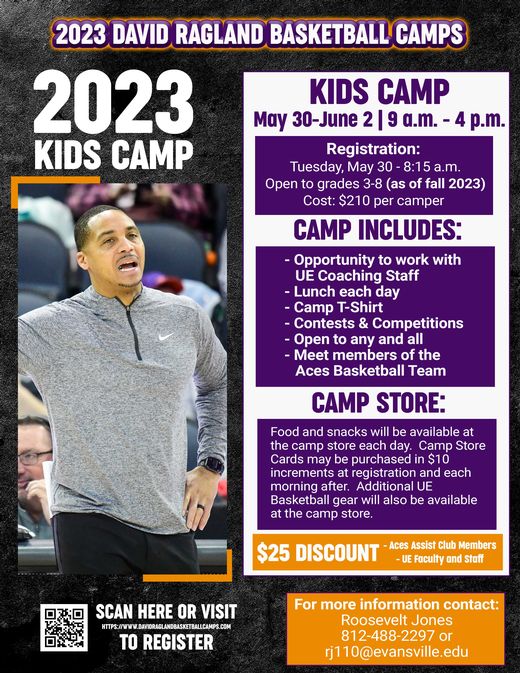 The 2023 David Ragland Boys & Girls Basketball Camp will take place from May 30th - June 2nd. Camp will take place between 9:00am and 4:00pm over the four days with registration opening on Tuesday the 30th at 8:15am in Meeks Fieldhouse.
An amazing experience for basketball players of all ages, the camp includes lunch each day, the opportunity to work with the UE coaching staff while meeting members of the Purple Aces men's basketball team, a camp t-shirt, contests, competitions and more.
*Discounts of $25 are given to current Aces Assist Club members and UE faculty and staff.
Submitted by Roosevelt Jones rj110@evansville.edu
Summer Hours and July 4 Holiday
Summer Hours
UE will reduce business hours during the summer from 8:00 a.m. to 4:30 p.m. Monday-Thursday, and 8:00 a.m. to 4:00 p.m. on Fridays. This schedule will be in place beginning Monday, May 8 through Friday, August 4. Regular hours will return Monday, August 7. Enjoy the sun a little longer.
Friday Jeans Day
You can wear jeans on Fridays in the summer – as long as you wear purple on Fridays. Please dress appropriately and adjust the dress code as necessary on Fridays for visitors or other events. And as always, purple shoes are welcome – and send me pictures for Friday Wrap.
July 4 Holiday
The long weekend will get a little longer. The President's Council added one additional day to create a long holiday weekend. In addition to the University observing the July 4 holiday on Tuesday, the University will also be closed on Monday, July 3. Enjoy the sun even more.
Submitted by Noah Alatza na122@evansville.edu
AceNotes Going on Summer Holiday
As there are fewer submissions to AceNotes during the summer, AceNotes will only be published on Wednesday starting the week of Monday, May 8. AceNotes Extras will still be published whenever needed. The regular AceNotes publication schedule of every Monday through Friday will resume when school begins again in August.
Submitted by Holly Smith hh98@evansville.edu
Abagail Catania to begin as Director of Student Engagement on June 5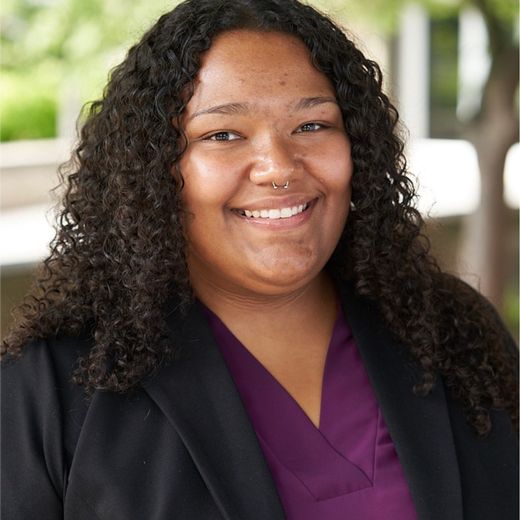 The Division of Student Affairs is excited to announce that Abagail Catania will begin a new role as the Director of the Center for Student Engagement. Her first day will be June 5, 2023.
Abagail Catania was born and raised on the South Side of Chicago, however, that did not stop her from finding a passion for agriculture. During her time in high school, she was heavily involved in organizations such as FFA and MANRRS (Minorities in Agriculture, Natural Resources and Related Sciences). After graduating from high school she attend the University of Wisconsin- Madison where she student Agricultural Business Management with a double major in Legal Studies and two minors (certificates) in Criminal Justice and Leadership. During her time in undergrad she continued her involvement with MANRRS, as well as Ask. Listen. Save and a number of other clubs. She spent a semester studying abroad in London and a semester volunteering abroad in Uganda. After returning from her time abroad, she was an RA and simultaneously worked for study abroad for two years until graduating in 2019. After graduating with her Bachelors of Science, she realized she had a greater passion for youth development and diversity. She worked at a summer camp for individuals with disabilities as a Youth Development and Leadership Coordinator before returning to the University of Westminster in London, England where she received her Masters of Arts in Cultural and Critical Studies and worked in study abroad welcoming students to London from throughout the world. Since graduating from her M.A. She has worked in the UE Center for Diversity Equity and Inclusion working to bridge cultural differences across campus through programming and interpersonal relationships. She is currently going into her second year of her Doctorate of Education (EdD) at Vanderbilt University in Higher Education Leadership and Policy.
She believes that the benefits of college do not stop at obtaining a degree. College is the place that people grow into who they're supposed to become by learning inside and outside the classroom, meeting new people and trying new things. As corny as it may sound this is where people will meet their life long friends, future partners, and develop new passions. She is most excited to be part of that process through student engagement by helping everyone grow into who they're meant to be!
We are looking forward to June 5th!
Submitted by Rachel Carpenter rc35@evansville.edu
The William L. Ridgway College of Arts and Sciences Names Dean's Teaching Award-winners
At the end-of-year faculty meeting, the William L. Ridgway College of Arts and Sciences Dean, Dr. Ray Lutgring, presented the Dean's Teaching Awards to Associate Professor Sarah J. Smith and Associate Professor Katie Mullins.
---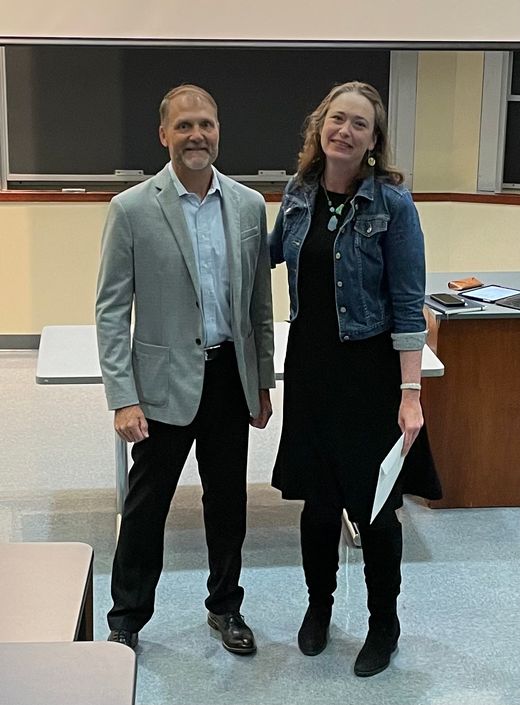 Sarah J. Smith, Associate Professor of Costume Design, has over 15 years of professional work as a costume designer, stylist, and project manager in New York City, Los Angeles, and regional theatres across the country. Her theatre work ranges from small-scale new works to opera and Broadway musicals. Sarah has worked at Disney/ABC Television Studios, styled photo shoots for national print campaigns, and designed costumes for television. She is a proud member of IATSE—United Scenic Artists Local 829 and Theatrical Wardrobe Union Local 764.
---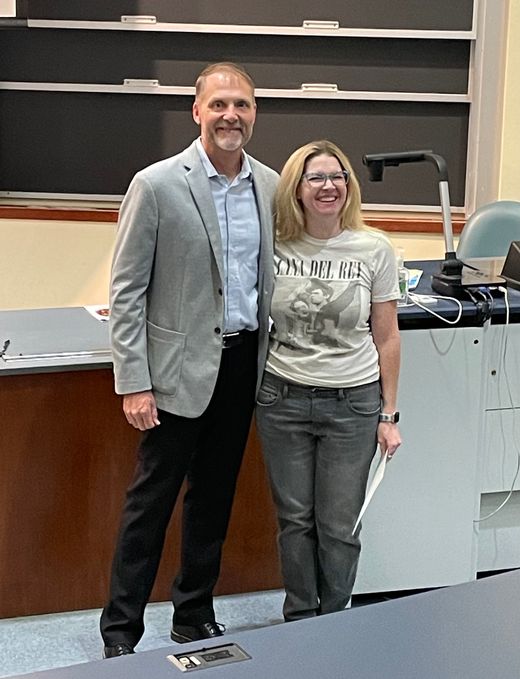 Katie Darby Mullins, Associate Professor of Creative Writing, has been nominated for both the Pushcart Prize and Best of the Net twice. She is the associate editor of metrical poetry journal Measure, and she's been published or has work forthcoming in journals like The Rumpus, Hawaii Pacific Review, BOAAT Press, Harpur Palate, Prime Number, Big Lucks, Pithead Chapel, and she was a semifinalist in the Ropewalk Press Fiction Chapbook competition and in the Casey Shay Press poetry chapbook competition.
Dean Lutgring stated, "The College is so proud of our outstanding faculty. Sarah and Katie are two shining examples. They are both fantastic teachers!"
Submitted by Sharla Cowden sc75@evansville.edu
Biology Annual Awards
The biology awards honoring the outstanding achievements of UE biology students during the 2022-2023 academic year were announced during the Annual Biology Senior Picnic and Awards Ceremony on April 27th.
The recipient of the Jerry T. Seng Freshmen Biology Award was Ashleigh Hoskins.
The David and Jennifer Pollock Sophomore Biology Award was presented to John Erickson.
Brad Schulte and Makayla Gomperts received the P. "Louie" Winternheimer Junior Biology Award.
The James A. Brenneman Student Service Award in Biology was given to Devyn Schaetzle.
Charlie Watts was honored with the Patricia L. Akrabawi Teaching Assistant Award in Biology.
The Charles and Patricia Robertson Senior Biology Award was presented to Elyse Talley.
Biology Metamorphosis Award, an award given to a student who has shown exemplary progress and development during their academic studies in the biology program, was presented to Evan Barr.
During the picnic, the biology department also recognized the achievements of Dr. Cris Hochwender by presenting him with the coveted Bunny the Elephant Award.
Congratulations go out to all biology majors for their success over the past academic year.
Submitted by Dale Edwards de3@evansville.edu
UE Music Conservatory Presents Annual Awards
Congratulations to this year's Music Conservatory Award recipients.
Gumberts Competition:
Allison Enchelmayer – winner
Madelynn Filson
Rachel Taylor
Claire Stout
---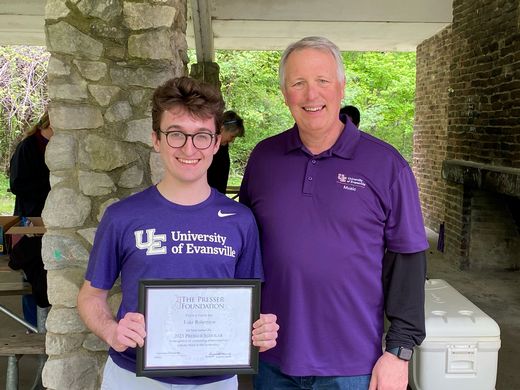 Presser Scholarship Award:
Luke Robertson
Music Service Award:
Luke Robertson
---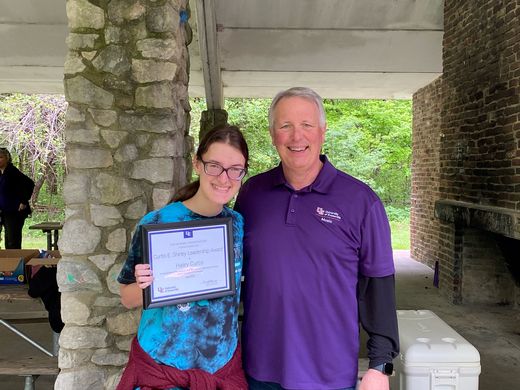 Curtis Shirley Leadership Award:
Haley Curtis
Submitted by Amy Esche ae128@evansville.edu
Faculty Teaching Certificates and Awards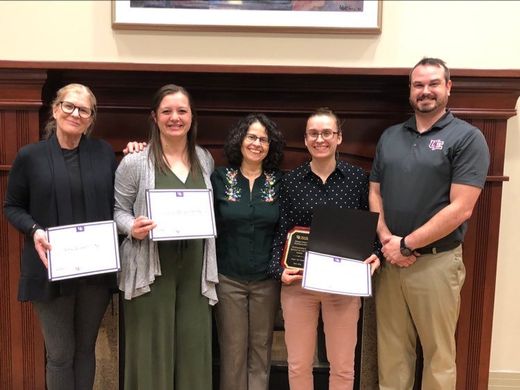 The Eykamp Center for Teaching Excellence offers certificates to faculty members who meet the requirement of engagement and participation in ECTE sponsored events.
Congratulations to the following faculty who earned a certificate or award for the 2022-2023 academic year, demonstrating outstanding dedication to pedagogy.
New Faculty Engagement Certificate:
Megan Voss-Warner
Amy Walker
Joanie Moyer
William Miller
Teaching Development Certificate:
Lisa Hale
Kristen Strandberg
---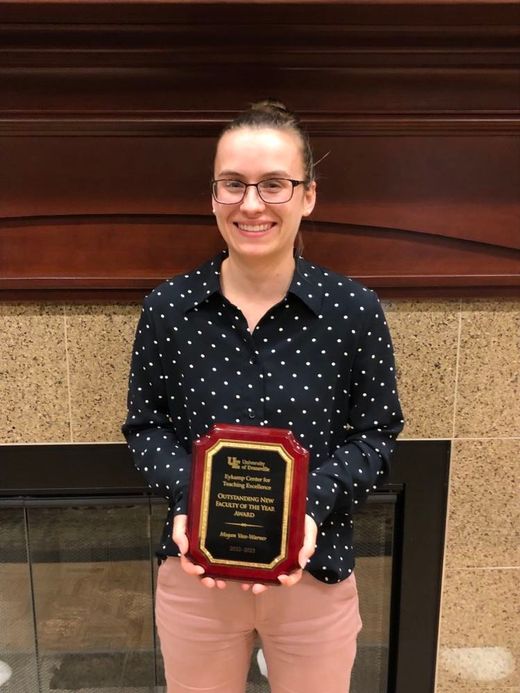 Outstanding New Faculty of the Year Award:
Megan Voss-Warner
Megan attended and participated in every ECTE event including weekly new faculty meetings, book groups, as well as Lunch and Learn and Lunch Bunch gatherings. She has contributed to creating community with colleagues and staff. She also took part in professional development events in her field. Congratulations, Megan for a terrific first year at UE!
Submitted by Diana Rodriguez Quevedo dr130@evansville.edu
Dean's Teaching Awards
The Dean's Teaching Awards for 2022-2023 have been awarded by the Academic Deans. The faculty members being honored are:
Katie Mullins, associate professor of Creative Writing from the William L. Ridgway College of Arts and Sciences.
Sarah Smith, assistant professor of Theatre from the William L. Ridgway College of Arts and Sciences.
Faith Fox, clinical assistant professor of Logistics and Supply Chain Management from the College of Business and Engineering.
Jared Fulcher, associate professor of Mechanical Engineering from the College of Business and Engineering.
Claire Nutt, clinical assistant professor and program director of Physician Assistant Science from the College of Education and Health Sciences.
Jason Pitt, assistant professor of Physical Therapy from the College of Education and Health Sciences.
Congratulations to our most deserving faculty members, and thank you for all you do for our students and the University.
Submitted by Paula Heldt ph28@evansville.edu
Hannah Tarr Receives Outstanding Honors Program Senior Award
The Honors Program congratulates Hannah Tarr on receiving the Outstanding Honors Program Senior Award for this academic year.
Hannah has been active in the Honors Program throughout her time at UE. She served as the president of the Honors Activity Board this year, leading the group in organizing and running events such as Nerd Wars, the Honors Program banquet, community service activities, and the freshman retreat.
Hannah is graduating with a degree in Theatre Studies. Her honors project was entitled "All Things Here Are Possible: Directing The Moors by Jen Silverman". After graduation, Hannah will be spending the summer as a stage crew apprentice at the Santa Fe Opera and then moving to New York City.
The Honors Program thanks Hannah for all her contributions to the program and wishes her all the best for the future. Congratulations!
Submitted by Jayme Williams jw504@evansville.edu
Computer Science students to present papers at IEEE International Conference
The School of Engineering and Computer Science would like to offer Congratulations to Ethan Abney (Senior) and Daniel Dwyer (Freshman) for having their papers selected to be presented at. the 2023 IEEE International Conference on Electro/Information Technology at Lewis University, Romeoville, IL, May 18–20, 2023
Ethan and Daniel are Computer Science majors in the School of Engineering and Computer Science. We'd also like to congratulate and thank Dr. Maxwell Omwenga for supporting the students through the writing and submission process and for co-authoring their papers.
The papers being presented are listed below:
Ethan D. Abney, Maxwell M. Omwenga, "The Effects of Basic Obfuscation on Neural Based Android Malware Detection," 2023 IEEE International Conference on Electro/Information Technology (eit2023), May 18–20, 2023.
Daniel Dwyer, Maxwell M. Omwenga, "Training Topology With Graph Neural Cellular Automata," 2023 IEEE International Conference on Electro/Information Technology (eit2023), May 18–20, 2023.
Again, the School of Engineering and Computer Science extends Congratulations to these individuals.
Submitted by Tonya Albright ta58@evansville.edu
Contribute to AceNotes
To have content considered for inclusion in AceNotes, please submit a Marketing Request Form. Deadline for submission to AceNotes is 10:00 a.m. on the requested date of publication. Only articles concerning UE related/sponsored activities will be accepted. Articles submitted to AceNotes may be edited for length and clarity. Submitter contact information is at the end of each article.