| | |
| --- | --- |
| AceNotes Today | Friday, April 28, 2023 |
Commencement
Everyone is invited to the 165th commencement ceremony on Saturday May 6th to honor the class of 2023. The ceremony will begin at 1:30 p.m. at the Ford Center. No tickets are required. For those who cannot attend in-person, the ceremony will also be live streamed at www.evansville.edu/live/. Seniors should also complete the 2023 Graduation Survey.
Submitted by Emily Ormson eo52@evansville.edu
May 2023 Board of Trustees | Front Oval Parking
The May 2023 meetings of the University of Evansville Board of Trustees will be held on campus Thursday, May 4, and Friday, May 5, 2023. Parking in front of Olmsted Administration Hall and the Schroeder Family School of Business Administration will be reserved for University Trustees. Employee parking on the front oval will be limited on both days.
Submitted by Patti Lippert pl23@evansville.edu
UE Theatre Society Hosts Annual Student Awards Dinner at The Log Inn
On Wednesday, Apr. 26, 2023, the University of Evansville Theatre Society hosted their annual student awards dinner at The Log Inn. 113 students, faculty, staff, Theatre Society board members, and Adopt-a-Parents were in attendance. UE Theatre Society Board President Allyson Shelby offered remarks celebrating the success of this theatre season.
---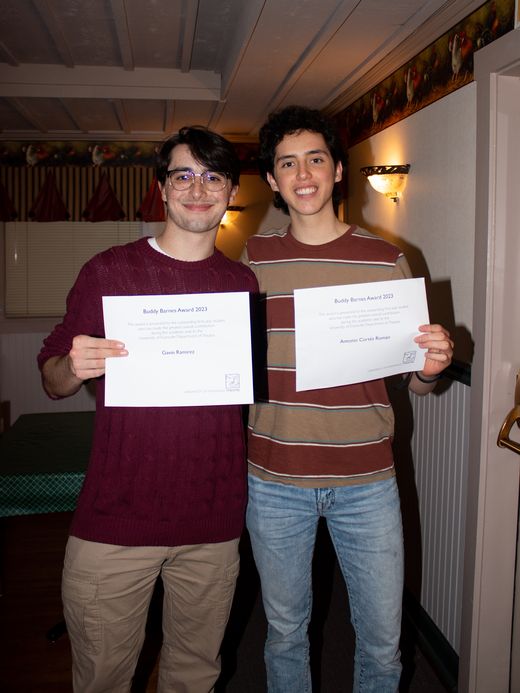 The Buddy Barnes Award for Outstanding First-year Student went to Gavin Ramirez, a performance major, from McKinney, Texas and Antonio Cortés Román, a performance major from Metepec, Mexico.
---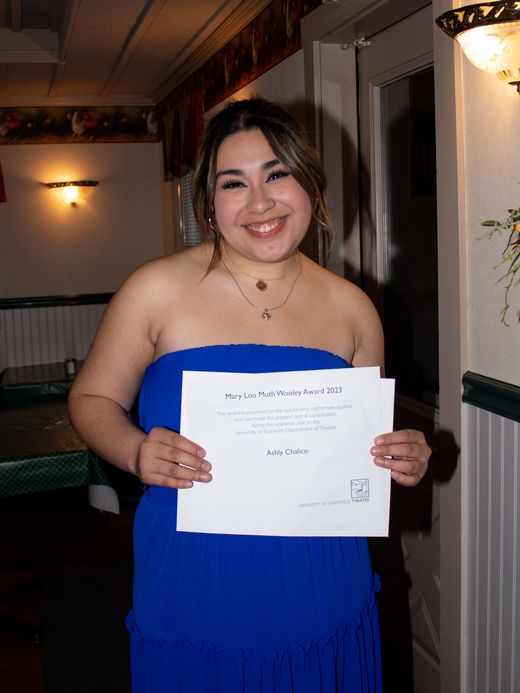 The Mary Lou Muth Wooley Award for Outstanding Sophomore went to Ashly Chalico, a performance major, from Magnolia, Texas.
---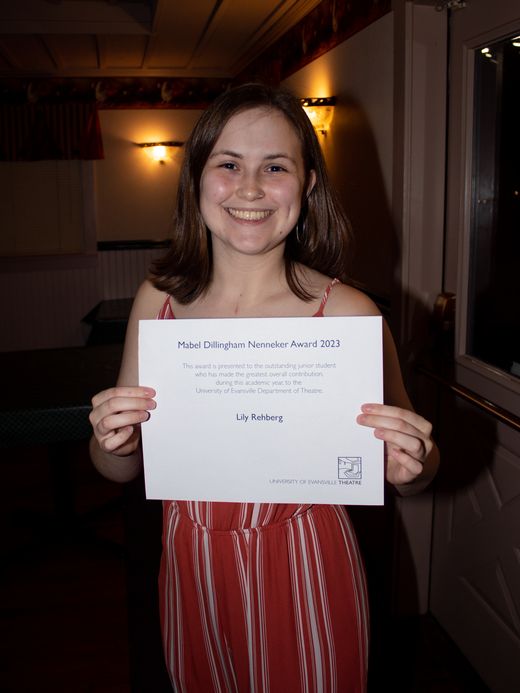 The Mabel Dillingham Nenneker Award for Outstanding Junior went to Lily Rehberg, a design and technology major, from Dalton, Ga.
---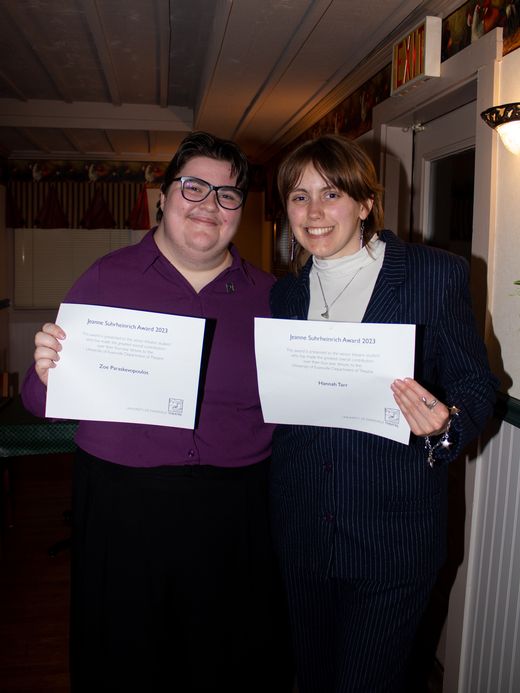 The Jeannie Suhrheinrich Award for Outstanding Senior is given to the person who has made the greatest overall contribution to the department over their four-year tenure. This year's award was given to Zoe Paraskevopoulos, a stage management major, from Flower Mound, Texas and Hannah Tarr, a theatre studies major, from Floyds Knobs, Ind.
---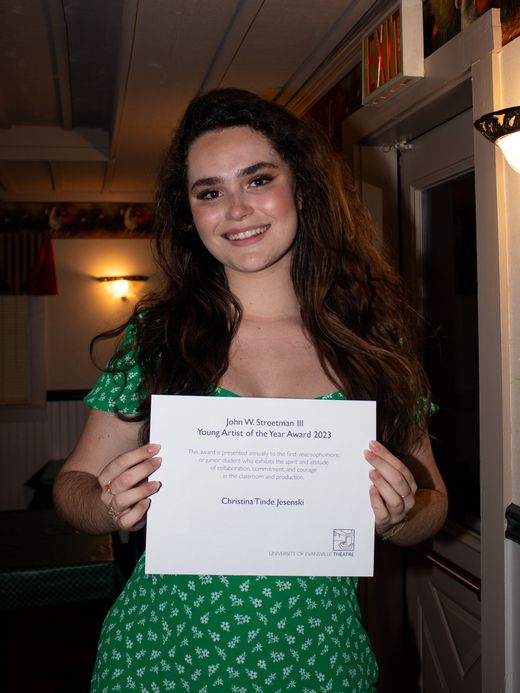 The John W. Streetman III Young Artist of the Year Award is given to a first-year, sophomore, or junior student who exhibits the spirit and attitude of collaboration, commitment, and courage in the classroom and production. This year's award recipient is Christina Tinde Jesenski, a junior performance major, from Rancho Santa Margarita, Calif.
---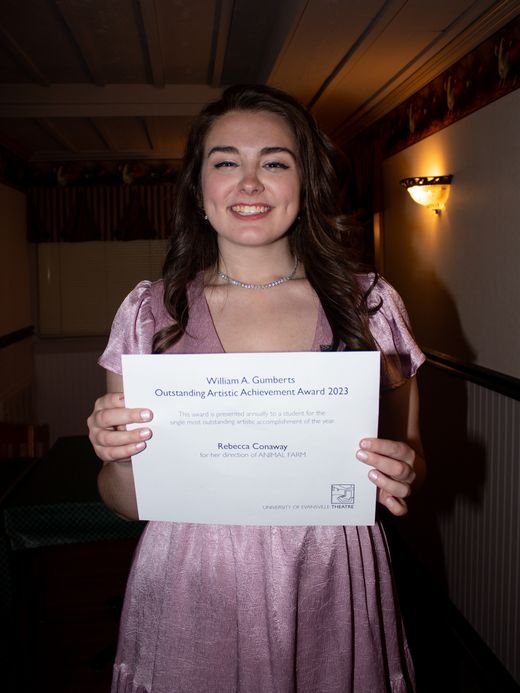 The William A. Gumberts Award honors the single most outstanding artistic accomplishment of the year and was awarded to Rebecca Conaway, a senior theatre studies major, from Wellsburg, W.Va., for her direction of ANIMAL FARM, a production of the UE Theatre's touring company, Rogue and Peasant Aces (RPA). RPA is a ChangeLab offered as part of UE's leading global designation as an Ashoka U Changemaker Campus.
Submitted by Sharla Cowden sc75@evansville.edu
SAA Book Club Read for May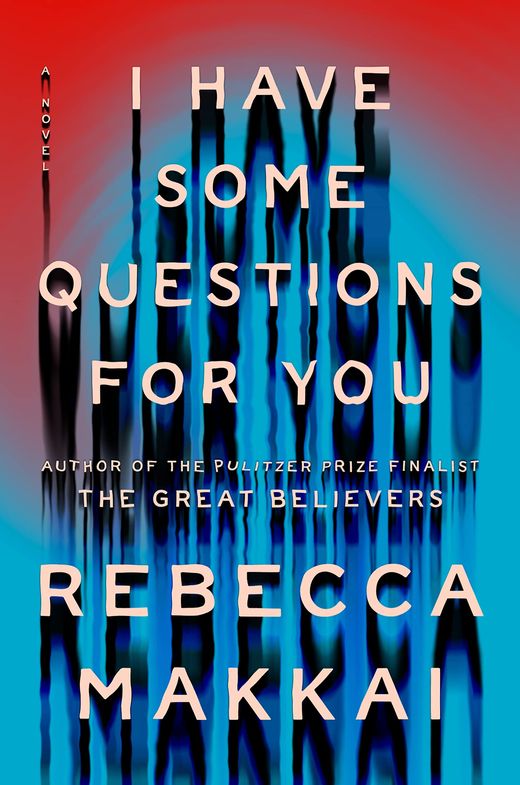 May Book Selection:
I Have Some Questions For You – by Rebecca Makkai
"Part boarding school drama, part forensic whodunit" This is a 448 page Fiction/Mystery Thriller.
A successful film professor and podcaster, Bodie Kane is content to forget her past -- the family tragedy that marred her adolescence, her four largely miserable years at a New Hampshire boarding school, and the murder of her former roommate, Thalia Keith, in the spring of their senior year. Though the circumstances surrounding Thalia's death and the conviction of the school's athletic trainer, Omar Evans, are hotly debated online, Bodie prefers -- needs -- to let sleeping dogs lie. But when the Granby School invites her back to teach a course, Bodie is inexorably drawn to the case and its increasingly apparent ?aws. In their rush to convict Omar, did the school and the police overlook other suspects? Is the real killer still out there? As she falls down the very rabbit hole she was so determined to avoid, Bodie begins to wonder if she wasn't as much of an outsider at Granby as she'd thought -- if, perhaps, back in 1995, she knew something that might have held the key to solving the case. (from Goodreads.com)
We will meet on Thursday May 18th at 12 noon in the University Advancement House on Rotherwood to discuss the book. Everyone is invited.
This is the last book club meeting before the Summer Break. Participants are encouraged to bring a used book or two to swap with others. Hopefully this will provide everyone with a new book to read while on vacation this summer!
If you would like to be added to the Book club email list please contact Kathy Taylor at ks6.
Submitted by Katherine Taylor ks6@evansville.edu
UE Jazz Band Invitational
The UE Jazz Band Invitational will be hosting 6 jazz bands this Sunday April 30th at 4:00 PM in Wheeler Concert Hall. The performance is free and open to the public. Purple Aces In The Hole (UE Faculty Dixieland Band), UE Jazz Band, UE Jazz Quintet, Signature School Jazz Band, Boonville High School Jazz Band, and the South Spencer High School Jazz Band will performing on Sunday afternoon. For more information you may contact Dr. Timothy Zifer at tz3@evansville.edu.
Submitted by Tim Zifer tz3@evansville.edu
MAYhem: An Evening of Short Plays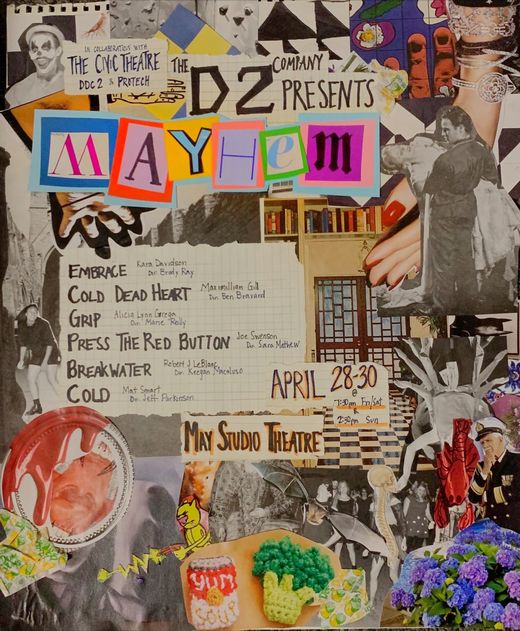 The University of Evansville Department of Theatre and Evansville Civic Theatre wish to invite the campus to experience Mayhem this weekend in the May Studio Theatre.
An evening of short plays directed by students in UET's Directing 2 class, Mayhem will be performed:
Friday, April 28 at 7:30pm
Saturday, April 29 at 7:30pm
Sunday, April 30 at 2pm
Tickets are on sale to the public at https://www.evvcivic.org/buy-tickets. UET students can get free tickets at the door and it's open seating. The same six plays will be presented at each performance.
Submitted by Joe Atkinson ja122@evansville.edu
The Hands That Create - Senior Art Exhibition April 17-May 5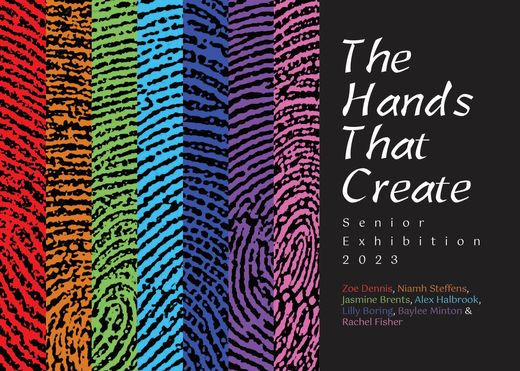 Please join the Seniors in the Department of Art as we celebrate their group exhibition, The Hands That Create. There are two opportunities to visit the exhibition and speak to the artists. The first date is April 20th from 5-7 pm and the second is May 5th, 4:30-6pm. The exhibition is located in the Melvin Peterson Gallery.
The seniors are Lilly Boring, Jasmine Brents, Zoe Dennis, Rachel Fisher, Hannah Holbrook, Baylee Minton, and Niamh Steffens. Ian Leonhardt also contributed to the exhibition with the original music.
The Melvin Peterson Gallery is open during the week with posted hours:
Monday, Tuesday, Friday, and Saturday, 12-3pm
Wednesday and Thursday, 12-6pm
Hope to see you at either reception.
Department of Art
Submitted by Carol McCraney cm177@evansville.edu
Journey to Justice - June 10-17, 2023
From June 10-17, 2023, the University of Evansville will lead an eight-day Journey to Justice bus tour. Travelers will venture through cities of the South to explore the history of the Civil Rights Movement. Students on this journey will learn important, valuable lessons at each stop for an impactful experience of personal reflection and application within their own community.
Journey to Justice is open to current students, high school students age 15 and older, middle school and high school teachers, and adult community members!
Earn College Credit
Through this opportunity, students can earn three college credits. While the Journey to Justice bus tour will be an exciting trip, it will also be an interactive experience as part of Social Justice Movements, an ethics course. Students who register can apply this towards the Ethics & Social Change major or a general education requirement. Some assignments will be completed during the trip, while others will be given before and after returning.
Site Visits
Journey to Justice will include site visits at:
Evansville, Indiana
Montgomery, Alabama
Birmingham, Alabama
Selma, Alabama
Memphis, Tennessee
Louisville, Kentucky
Popular attractions will include the National Voting Rights Museum, Beale Street, Dexter Avenue Baptist Church, Edmund Pettus Bridge, Rosa Parks Museum, and more.
Registration details and tuition costs are available at the Journey to Justice webpage. A limited number of scholarships are available for high school students.
For an in-depth recap by participants of the 2022 Journey to Justice, watch this video.
The deadline to register is April 30, so don't wait to sign up!
Submitted by Julie Beer / jb855@evansville.edu
Faculty Retirements of Dr. Mark Kopta, Dr. James Ware, and Dr. Tim Zifer
The following long-time faculty members will retire this May: S. Mark Kopta, James Ware, and Tim Zifer. They will each leave behind a great legacy of successful careers, commendable work ethics, and excellent service to our institution. Please help us wish them well in their retirements. From all of your UE family, we wish you all the best.
In honor of them, a Forest Pansy Redbud Tree has been planted between Hyde Hall (on the south side) and Sampson Hall. (The location of the tree can be seen marked in red on the map at the bottom of this article.)
---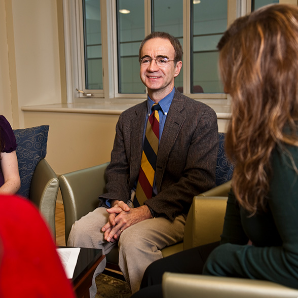 S. Mark Kopta, Ph.D., H.S.P.P., Professor of Psychology.
Along with teaching at UE, Dr. Kopta is a clinical psychologist in private psychotherapy practice. He is a leading expert in psychotherapy and mental health, with numerous publications, including a book, a video, chapters in books, published articles, and scholarly paper presentations. He specializes in researching how adults improve in psychotherapy and the assessment of mental health. His 1986 and 1994 articles on the dosage model are two of the most cited scholarly works in psychotherapy research. His dose-effect model was selected as one of the most influential psychotherapy theories of the 20th Century by the Encyclopedia of Psychotherapy. His research achievements were also noted in the 1988 edition of Encyclopedia Britannica.
With regard to child and adolescent psychiatry, Dr. Kopta coauthored the book, Right Versus Wrong: Raising a Child with a Conscience. The book delineates how children acquire healthy values through conscience development. He has coauthored articles on child/adolescent development and mental health published in psychiatry's most influential journals.
---
James Ware, PhD, Professor of Religion and Classics.
Dr. Ware has taught at UE since 1995, teaching courses in the New Testament, the Gospels, Paul's letters, ancient Christianity, and ancient Greek language and literature. He is thankful for the many students he taught during that time, all of whom he remembers fondly and each of whom contributed in a unique way to each class. Dr. Ware holds an M.A. in Greek and Latin Classical Literature from Washington University, St. Louis, and a Ph.D. in New Testament and Ancient Christianity from Yale University. He is the author of Paul's Theology in Context: Creation, Incarnation, Covenant, and Kingdom (Eerdmans, 2019), Paul and the Mission of the Church (Brill, 2005; softcover Baker Academic, 2011), and a new tool for the study of Paul's epistles, Synopsis of the Pauline Letters (Baker Academic, 2010). He is currently at work on a book on 1 Corinthians 15, the fullest treatment of the resurrection in the Bible, due out in 2024. After retirement from full-time teaching at UE, he will continue teaching part-time at UE and at Saint Meinrad Seminary.
---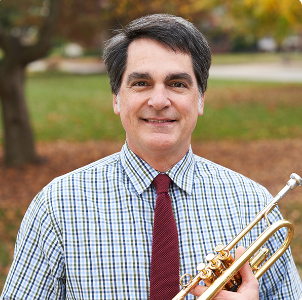 Dr. Timothy Zifer, Professor of Music.
Dr. Zifer holds a bachelor's degree in music education from Ohio University, a master of music in trumpet performance from Louisiana State University, and a doctorate in trumpet performance with a minor in wind conducting from Louisiana State University. He teaches courses in applied trumpet, UE Jazz Ensemble I, UE Trumpet Ensemble, jazz studies, and music management. He received the Dean's Teaching Award in 2010.
Dr. Zifer is the principal trumpet of the Evansville Philharmonic Orchestra and is an active soloist and recitalist. He also serves as the principal trumpet and founding member of the Shepard Brass (UE Faculty Brass Quintet). Most recently, he recorded Robert Russell Bennett's Rose Variations with the UE Wind Ensemble.
Prior to taking over the jazz program, Dr. Zifer served as director of bands (1996-2008). During this time, the University of Evansville wind ensemble toured over 20 states and appeared at the 2001 International Trumpet Guild Conference, competed in the 2002 International Hawaiian Music Festival, and performed at the 2006 and 2008 Indiana Music Educators. Association conventions. The UE Jazz Ensemble I has performed and competed at the prestigious Elmhurst Jazz Festival from 2008-2012, having received two honorable mentions and recognition for an original composition by a student. The UE Trumpet Ensemble has performed at the 2001 and 2004 International Trumpet Guild Conferences as well as the 2011 University of Kentucky TrumpetFest. In 2001, Dr. Zifer served as the conference host for the International Trumpet Guild Conference on the campus of UE. The conference brought in over 800 attendees from around the world and featured recitals, lectures, exhibits, and clinics by some of the world's leading trumpet professionals.
---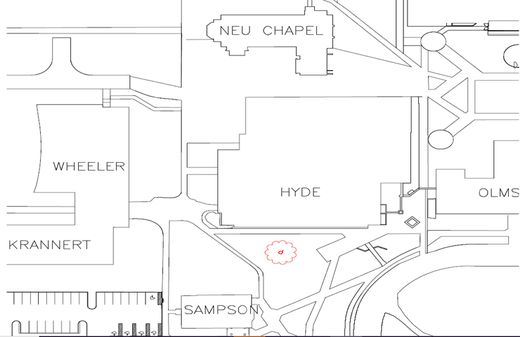 Submitted by Tobi Audas oa51@evansville.edu
2023 David Ragland Kids Camp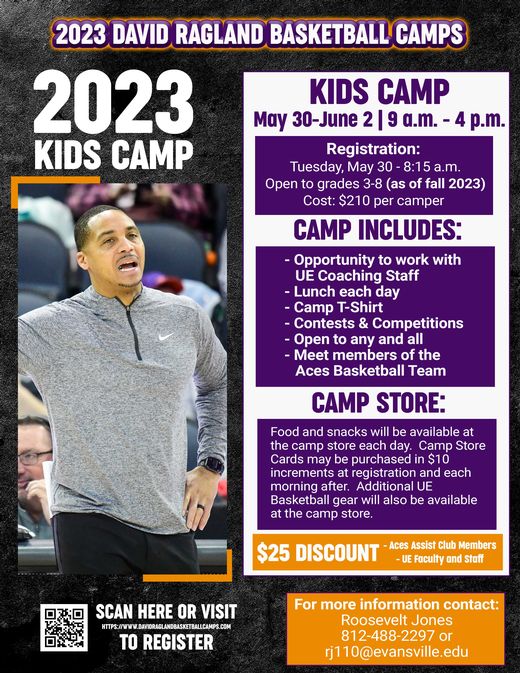 The 2023 David Ragland Boys & Girls Basketball Camp will take place from May 30th - June 2nd. Camp will take place between 9:00am and 4:00pm over the four days with registration opening on Tuesday the 30th at 8:15am in Meeks Fieldhouse.
An amazing experience for basketball players of all ages, the camp includes lunch each day, the opportunity to work with the UE coaching staff while meeting members of the Purple Aces men's basketball team, a camp t-shirt, contests, competitions and more.
*Discounts of $25 are given to current Aces Assist Club members and UE faculty and staff.
Submitted by Roosevelt Jones rj110@evansville.edu
Plant Sitting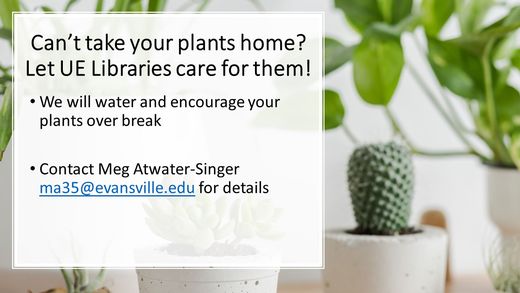 The library is offering to keep students' plants alive over the summer if they cannot take them home. Contact Meg Atwater-Singer at ma35 for more information.
Submitted by Meg Atwater-Singer ma35@evansville.edu
Summer Hours and July 4 Holiday
Summer Hours
UE will reduce business hours during the summer from 8:00 a.m. to 4:30 p.m. Monday-Thursday, and 8:00 a.m. to 4:00 p.m. on Fridays. This schedule will be in place beginning Monday, May 8 through Friday, August 4. Regular hours will return Monday, August 7. Enjoy the sun a little longer.
Friday Jeans Day
You can wear jeans on Fridays in the summer – as long as you wear purple on Fridays. Please dress appropriately and adjust the dress code as necessary on Fridays for visitors or other events. And as always, purple shoes are welcome – and send me pictures for Friday Wrap.
July 4 Holiday
The long weekend will get a little longer. The President's Council added one additional day to create a long holiday weekend. In addition to the University observing the July 4 holiday on Tuesday, the University will also be closed on Monday, July 3. Enjoy the sun even more.
Submitted by Noah Alatza na122@evansville.edu
2023-24 Reeves Foundation Scholarship
The Reeves Foundation was established in 1966 under the terms of the Last Will and Testament of Mrs. Isabel B. Reeves, wife of Judge Ollie C. Reeves, who both resided for many years in Vanderburgh County and firmly believed in the attainment of higher education. Through their frugal efforts and generosity, this scholarship fund has been established to perpetuate their belief.
To qualify for this scholarship, applicants must be enrolled as full-time students and be Vanderburgh County residents. An essay is also required.
The application can be found here.
Deadline: Please return all materials to the Office of Student Financial Services by May 1, 2023.
Questions: Amber Chandler, Administrative Assistant to the Office of Student Financial Services, at ac547@evansville.edu or 812-488-2364.
Submitted by Amber Chandler ac547@evansville.edu
Faculty Teaching Certificates and Awards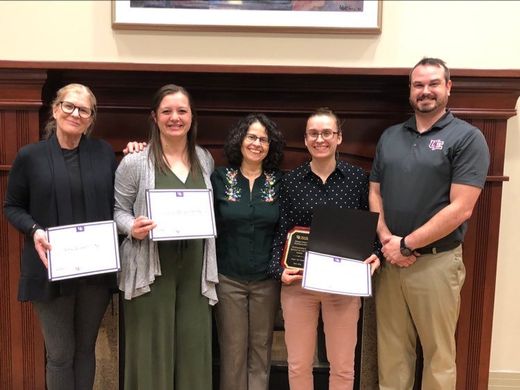 The Eykamp Center for Teaching Excellence offers certificates to faculty members who meet the requirement of engagement and participation in ECTE sponsored events.
Congratulations to the following faculty who earned a certificate or award for the 2022-2023 academic year, demonstrating outstanding dedication to pedagogy.
New Faculty Engagement Certificate:
Megan Voss-Warner
Amy Walker
Joanie Moyer
William Miller
Teaching Development Certificate:
Lisa Hale
Kristen Strandberg
---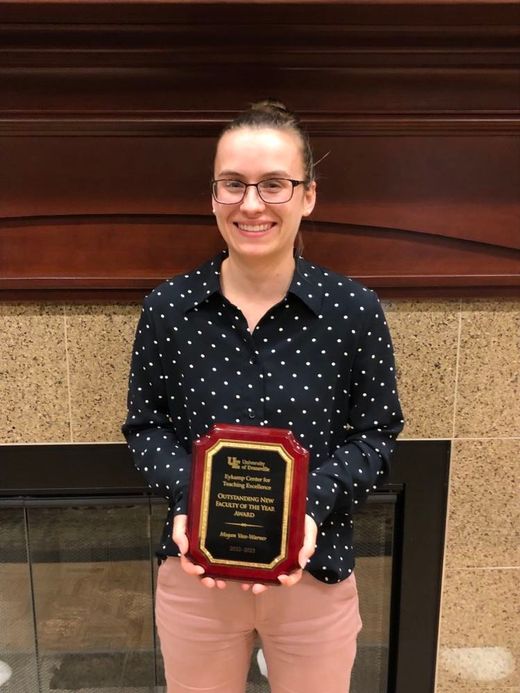 Outstanding New Faculty of the Year Award:
Megan Voss-Warner
Megan attended and participated in every ECTE event including weekly new faculty meetings, book groups, as well as Lunch and Learn and Lunch Bunch gatherings. She has contributed to creating community with colleagues and staff. She also took part in professional development events in her field. Congratulations, Megan for a terrific first year at UE!
Submitted by Diana Rodriguez Quevedo dr130@evansville.edu
Dean's Teaching Awards
The Dean's Teaching Awards for 2022-2023 have been awarded by the Academic Deans. The faculty members being honored are:
Katie Mullins, associate professor of Creative Writing from the William L. Ridgway College of Arts and Sciences.
Sarah Smith, assistant professor of Theatre from the William L. Ridgway College of Arts and Sciences.
Faith Fox, clinical assistant professor of Logistics and Supply Chain Management from the College of Business and Engineering.
Jared Fulcher, associate professor of Mechanical Engineering from the College of Business and Engineering.
Claire Nutt, clinical assistant professor and program director of Physician Assistant Science from the College of Education and Health Sciences.
Jason Pitt, assistant professor of Physical Therapy from the College of Education and Health Sciences.
Congratulations to our most deserving faculty members, and thank you for all you do for our students and the University.
Submitted by Paula Heldt ph28@evansville.edu
Computer Science students to present papers at IEEE International Conference
The School of Engineering and Computer Science would like to offer Congratulations to Ethan Abney (Senior) and Daniel Dwyer (Freshman) for having their papers selected to be presented at. the 2023 IEEE International Conference on Electro/Information Technology at Lewis University, Romeoville, IL, May 18–20, 2023
Ethan and Daniel are Computer Science majors in the School of Engineering and Computer Science. We'd also like to congratulate and thank Dr. Maxwell Omwenga for supporting the students through the writing and submission process and for co-authoring their papers.
The papers being presented are listed below:
Ethan D. Abney, Maxwell M. Omwenga, "The Effects of Basic Obfuscation on Neural Based Android Malware Detection," 2023 IEEE International Conference on Electro/Information Technology (eit2023), May 18–20, 2023.
Daniel Dwyer, Maxwell M. Omwenga, "Training Topology With Graph Neural Cellular Automata," 2023 IEEE International Conference on Electro/Information Technology (eit2023), May 18–20, 2023.
Again, the School of Engineering and Computer Science extends Congratulations to these individuals.
Submitted by Tonya Albright ta58@evansville.edu
Archaeology Major Julia Ribblett Wins Schwarz Prize
Archaeology major Julia Ribblett won the Shirley J. Schwarz Prize for Research in Art History. Ribblett's entry was a paper about the influence of early Roman imperial domestic architecture on the Domus Aurea and the influence of the Domus Aurea on later imperial domestic architecture. All of this year's entries for the Prize were great; the faculty had a challenge picking a winner. Congratulations Julia!
Submitted by Alan Kaiser ak58@evansville.edu
Baseball Aces Host Nationally-Ranked Indiana State This Weekend
The University of Evansville baseball team will try to slow down one of the nation's hottest teams this weekend at German American Bank Field at Charles H. Braun Stadium, as the Purple Aces will welcome nationally-ranked Indiana State to Evansville for a three-game Missouri Valley Conference series beginning on Friday night at 6 p.m.
The series will continue on both Saturday and Sunday afternoon with 2 p.m. and 1 p.m. contests, respectively, and all three games of the weekend series can be heard live in the Tri-State area on 107.1 FM-WJPS and the Old National Bank/Purple Aces Sports Network from Learfield.
Indiana State will enter this weekend's series riding the nation's longest active winning streak at 14 games. The Sycamores are 26-12 overall and 14-1 in the MVC and rank as high as #14 in the various collegiate baseball polls, as they are ranked No. 14 in the Collegiate Baseball poll. It will mark the first time in which UE has hosted a nationally-ranked team since 2015, when UE hosted both nationally-ranked Dallas Baptist and Missouri State. Playing a nationally-ranked team is nothing new to UE though, as Evansville narrowly lost a 2-1 decision in 17 innings at nationally-ranked Vanderbilt earlier this year, and the Purple Aces have played a nationally-ranked team every year since 2012.
Evansville will bring a 24-16 overall record and 8-7 MVC mark into this weekend's series after knocking off Lipscomb, 9-3, on Tuesday night. The Purple Aces have won four out of five games overall, and junior second baseman Kip Fougerousse has helped lead the charge of late, as he will bring a season-best nine-game hitting streak into the weekend series. Fougerousse has hit .467 (14-for-30) with three home runs and 13 RBI during his nine-game hitting streak, as he has raised his batting average to .291 overall. Graduate outfielder/RHP Eric Roberts also launched his 15th home run of the year on Tuesday night, and continues to lead the MVC in both home runs and RBI (43).
Redshirt senior outfielder Seth Gergely leads a potent Indiana State attack this year with a .346 average. Gergely is the current MVC Player of the Week after hitting .727 in three ISU wins last week, including a 10-2 triumph at Vanderbilt. Fellow redshirt senior pitcher Connor Fenlong is the Valley's Pitcher of the Week this week after tossing a complete-game, one-hit shutout over Southern Illinois on Sunday.
The Evansville-Indiana State rivalry is one of the oldest active series in UE baseball history, as it dates back to 1911 when Evansville was still known as Moores Hill College. Since UE entered the MVC in 1995, ISU holds a slim 52-50 edge in the all-time series over UE. The Purple Aces won three out of four meetings with Indiana State last year, including a convincing 9-1 win in the Missouri Valley Conference Tournament.
Submitted by Athletics
Softball to play final home series of 2023
The inaugural season at Tri-State Orthopaedics Field at James and Dorothy Cooper Stadium comes to a close this weekend when the University of Evansville softball team plays host to Illinois State for a 3-game series. Game one is set for Friday at 5 p.m. with the teams competing on Saturday at 2 p.m. and Sunday at 12 p.m. with all three games set to be on ESPN+/ESPN3. Two seniors - Hannah Hood and Erin Kleffman - are set to be recognized during Senior Day festivities following Saturday's game. Alyssa Barela, who completed her playing career in 2022, will also be recognized.
Looking at the Match-up
- Illinois State has had the upper hand in the series, winning 14 in a row over the Purple Aces dating back to the 2016 MVC Tournament
- In the 2016 regular season, UE took two out of three games versus the Redbirds in Normal marking the last wins against ISU
Last Time Out
- Scoring four runs in the third inning, Indiana State picked up the cushion that it needed to take a 6-1 victory over the Aces on Tuesday at Cooper Stadium
- Lacy Smith belted her second collegiate home run to end the shutout
Finishing Strong
- Freshman Jess Willsey is batting .411 over the last five games and has shown great patience at the plate, holding a .323 (21-of-65) average since March 19
- The recent streak has lifted Willsey's season average to .273, which is second ont he squad
- In game two against Southern Illinois, Willsey was a perfect 3-3 with four RBI in a 4-0 win for the Aces; the win came less than a day after SIU opened the series with a 17-1 victory
- Her RBI single against Belmont on April 2 proved to be the game-winner and on April 4 at Indiana State, she hit a solo home run in the 9th inning that temporarily gave UE the lead
- Willsey has six home runs on the season, which is tied for the team lead
9-Game Hit Streak
- Marah Wood begins the weekend with a 9-game hit streak, which is the longest for the team in 2023
- During the streak, Wood has recorded 13 hits in 30 at-bats (.433) while raising her average to .264 while picking up multiple hits in four of the nine outings
- Wood checks in with 19 RBI and 17 runs scored
- In the April 1 opener against Belmont, she went 3-4 with two RBI and two doubles while adding a walk, run and steal
- She followed that up with her second home run of the season and two more RBI in the second game of the series
Flexing Her Muscle
- Two home runs over the last week of play has improved Jenna Nink's season tally to five, which is third on the team
- She connected on a 2-run shot in the finale at UIC to give UE a late advantage
- Batting .333 (5-15) over the last four games, Nink has lifted her average to a team-best .274
- In the April 8 victory over Southern Illinois, Nink scored three of UE's four runs while reaching base with two walks and a hit; a week earlier, Nink recorded two solo home runs in the Belmont series
- With three triples, Nink is tied for fourth in the MVC
- She tied her career-high with three RBI in win over Kansas City in home opener
Home Run #2
- Lacy Smith hit the second home run of her freshman season on Tuesday versus Indiana State
- While she has just eight hits in 47 at-bats since February 25, Smith has been improving at the plate, going 4-for-12 in her last four games while scoring four runs in that time
- Smith scored career-high three runs in Feb. 24 win over St. Thomas and went 1-3 with three runs, two RBI, a triple and walk in the game
Submitted by Athletics
Contribute to AceNotes
To have content considered for inclusion in AceNotes, please submit a Marketing Request Form. Deadline for submission to AceNotes is 10:00 a.m. on the requested date of publication. Only articles concerning UE related/sponsored activities will be accepted. Articles submitted to AceNotes may be edited for length and clarity. Submitter contact information is at the end of each article.