| | |
| --- | --- |
| AceNotes Today | Wednesday, April 26, 2023 |
Commencement
Everyone is invited to the 165th commencement ceremony on Saturday May 6th to honor the class of 2023. The ceremony will begin at 1:30 p.m. at the Ford Center. No tickets are required. For those who cannot attend in-person, the ceremony will also be live streamed at www.evansville.edu/live/. Seniors should also complete the 2023 Graduation Survey.
Submitted by Emily Ormson eo52@evansville.edu
UE Jazz Band Invitational
The UE Jazz Band Invitational will be hosting 6 jazz bands this Sunday April 30th at 4:00 PM in Wheeler Concert Hall. The performance is free and open to the public. Purple Aces In The Hole (UE Faculty Dixieland Band), UE Jazz Band, UE Jazz Quintet, Signature School Jazz Band, Boonville High School Jazz Band, and the South Spencer High School Jazz Band will performing on Sunday afternoon. For more information you may contact Dr. Timothy Zifer at tz3@evansville.edu.
Submitted by Tim Zifer tz3@evansville.edu
MAYhem: An Evening of Short Plays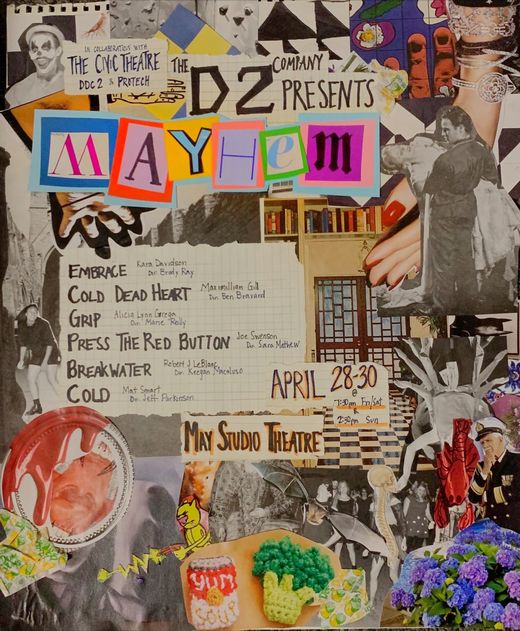 The University of Evansville Department of Theatre and Evansville Civic Theatre wish to invite the campus to experience Mayhem this weekend in the May Studio Theatre.
An evening of short plays directed by students in UET's Directing 2 class, Mayhem will be performed:
Friday, April 28 at 7:30pm
Saturday, April 29 at 7:30pm
Sunday, April 30 at 2pm
Tickets are on sale to the public at https://www.evvcivic.org/buy-tickets. UET students can get free tickets at the door and it's open seating. The same six plays will be presented at each performance.
Submitted by Joe Atkinson ja122@evansville.edu
Pancake Study Break Thursday Night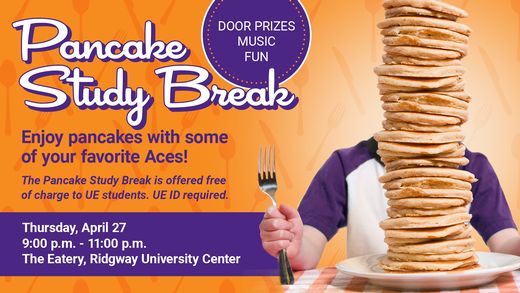 The Pancake Study Break is happening this week! Join us for pancakes and more this Thursday, April 27, from 9:00-11:00 p.m. at The Eatery in Ridgway University Center. There will also be drawings for prizes - so don't miss out! Plan to be at the Pancake Study Break! Study hard and enjoy some pancakes, Aces!
This event is free of charge for all UE students. A UE ID is required to enter.
Questions? Contact Chad Hart at ch299@evansville.edu.
Submitted by Chad Hart ch299@evansville.edu
The Hands That Create - Senior Art Exhibition April 17-May 5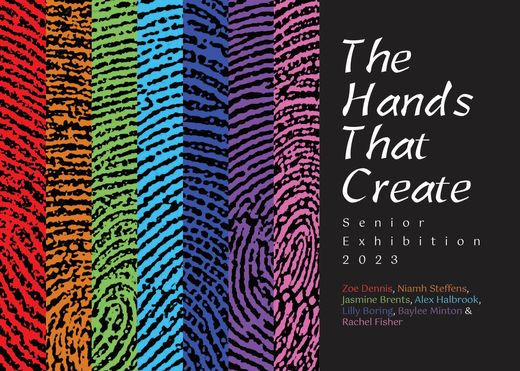 Please join the Seniors in the Department of Art as we celebrate their group exhibition, The Hands That Create. There are two opportunities to visit the exhibition and speak to the artists. The first date is April 20th from 5-7 pm and the second is May 5th, 4:30-6pm. The exhibition is located in the Melvin Peterson Gallery.
The seniors are Lilly Boring, Jasmine Brents, Zoe Dennis, Rachel Fisher, Hannah Holbrook, Baylee Minton, and Niamh Steffens. Ian Leonhardt also contributed to the exhibition with the original music.
The Melvin Peterson Gallery is open during the week with posted hours:
Monday, Tuesday, Friday, and Saturday, 12-3pm
Wednesday and Thursday, 12-6pm
Hope to see you at either reception.
Department of Art
Submitted by Carol McCraney cm177@evansville.edu
Journey to Justice - June 10-17, 2023
From June 10-17, 2023, the University of Evansville will lead an eight-day Journey to Justice bus tour. Travelers will venture through cities of the South to explore the history of the Civil Rights Movement. Students on this journey will learn important, valuable lessons at each stop for an impactful experience of personal reflection and application within their own community.
Journey to Justice is open to current students, high school students age 15 and older, middle school and high school teachers, and adult community members!
Earn College Credit
Through this opportunity, students can earn three college credits. While the Journey to Justice bus tour will be an exciting trip, it will also be an interactive experience as part of Social Justice Movements, an ethics course. Students who register can apply this towards the Ethics & Social Change major or a general education requirement. Some assignments will be completed during the trip, while others will be given before and after returning.
Site Visits
Journey to Justice will include site visits at:
Evansville, Indiana
Montgomery, Alabama
Birmingham, Alabama
Selma, Alabama
Memphis, Tennessee
Louisville, Kentucky
Popular attractions will include the National Voting Rights Museum, Beale Street, Dexter Avenue Baptist Church, Edmund Pettus Bridge, Rosa Parks Museum, and more.
Registration details and tuition costs are available at the Journey to Justice webpage. A limited number of scholarships are available for high school students.
For an in-depth recap by participants of the 2022 Journey to Justice, watch this video.
The deadline to register is April 30, so don't wait to sign up!
Submitted by Julie Beer / jb855@evansville.edu
2023 David Ragland Kids Camp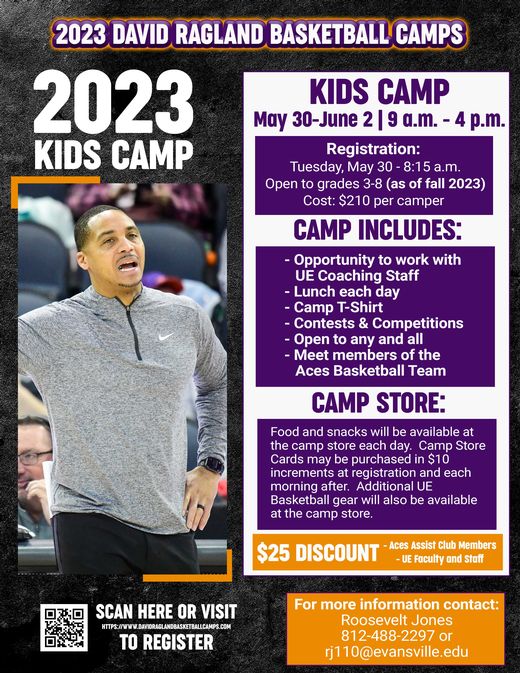 The 2023 David Ragland Boys & Girls Basketball Camp will take place from May 30th - June 2nd. Camp will take place between 9:00am and 4:00pm over the four days with registration opening on Tuesday the 30th at 8:15am in Meeks Fieldhouse.
An amazing experience for basketball players of all ages, the camp includes lunch each day, the opportunity to work with the UE coaching staff while meeting members of the Purple Aces men's basketball team, a camp t-shirt, contests, competitions and more.
*Discounts of $25 are given to current Aces Assist Club members and UE faculty and staff.
Submitted by Roosevelt Jones rj110@evansville.edu
Relaxation Station
The Office of Counseling Services invites you to escape the stress of finals and studying, for a moment, and recharge at the Relaxation Station, on Reading/Study Day. This will be held in Eykamp 253 from 12-3pm and will include games, giveaways, crafts, coffee, hot chocolate, tea, aroma therapy and massages!
Submitted by Isaac Memmer im71@evansville.edu
Solution Station Wednesday: Thinking About Summer Classes?
As the academic year comes to and end, you might be thinking about taking classes this summer to get ahead or get caught up.
If you have questions about how take classes here this summer, or how to make sure classes you take over the summer transfer in properly for credit, please come by the Solution Station! We don't want you to miss out on the academic options summer has - and we don't want you to take a class that won't count toward your degree! Lori Johnson, Transfer Academic Advisor/Student Support Services Specialist, will be there to talk with you to get you headed in the right direction.
Solution Station Wednesday
11:00 a.m. - 1:00 p.m.
Ridgway University Center
Can't make it? Come and see us in Academic Services (Olmsted 116).
Submitted by Chad Hart ch299@evansville.edu
Plant Sitting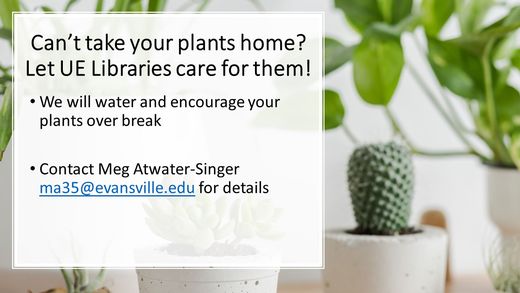 The library is offering to keep students' plants alive over the summer if they cannot take them home. Contact Meg Atwater-Singer at ma35 for more information.
Submitted by Meg Atwater-Singer ma35@evansville.edu
April 27 Obsolete Electronics Recycling - Hale loop drive from 10:00 a.m. - 1:00 p.m.
Students and employees (faculty, administrators and staff) can bring the following personal, obsolete electronic equipment to be recycled at no cost:
• LCD displays, LCD TV's and LCD monitors, computers, printers, fax machines, laptops, cell phones, PDAs, cables, circuit boards, connectors, electrical equipment, audio video equipment, DVD players, stereos, radios, calculators, speakers, VCRs. Small quantities of batteries will be accepted.
The following items will NOT be accepted:
• CRT TV's and CRT computer monitors
• Fluorescent light bulbs (including compact bulbs), refrigerators, freezers, microwaves, stoves, vacuum cleaners, dehumidifiers, leaking or enlarged batteries and any other items C&I deems unallowable
• Electronics owned by the University.
NOTE: The cost of processing CRT TV's and CRT computer monitors has increased significantly, and the University is no longer able to cover these items.
Accepted items included: TVs, computers, monitors, printers, hard drives, laptops, fax/scanners, cell phones, DVD players, digital cameras, modems
Not Accepted: copy machines, microwaves, appliances
For more information or questions contact Amber Elkins at ae152 or 2697.
Submitted by Amber Elkins ae152@evansville.edu
Summer Hours and July 4 Holiday
Summer Hours
UE will reduce business hours during the summer from 8:00 a.m. to 4:30 p.m. Monday-Thursday, and 8:00 a.m. to 4:00 p.m. on Fridays. This schedule will be in place beginning Monday, May 8 through Friday, August 4. Regular hours will return Monday, August 7. Enjoy the sun a little longer.
Friday Jeans Day
You can wear jeans on Fridays in the summer – as long as you wear purple on Fridays. Please dress appropriately and adjust the dress code as necessary on Fridays for visitors or other events. And as always, purple shoes are welcome – and send me pictures for Friday Wrap.
July 4 Holiday
The long weekend will get a little longer. The President's Council added one additional day to create a long holiday weekend. In addition to the University observing the July 4 holiday on Tuesday, the University will also be closed on Monday, July 3. Enjoy the sun even more.
Submitted by Noah Alatza na122@evansville.edu
2023-24 Reeves Foundation Scholarship
The Reeves Foundation was established in 1966 under the terms of the Last Will and Testament of Mrs. Isabel B. Reeves, wife of Judge Ollie C. Reeves, who both resided for many years in Vanderburgh County and firmly believed in the attainment of higher education. Through their frugal efforts and generosity, this scholarship fund has been established to perpetuate their belief.
To qualify for this scholarship, applicants must be enrolled as full-time students and be Vanderburgh County residents. An essay is also required.
The application can be found here.
Deadline: Please return all materials to the Office of Student Financial Services by May 1, 2023.
Questions: Amber Chandler, Administrative Assistant to the Office of Student Financial Services, at ac547@evansville.edu or 812-488-2364.
Submitted by Amber Chandler ac547@evansville.edu
2023-24 Dr. Marvin E. Hartig Scholarship
Family, friends and loved ones of the late Dr. Marvin E. Hartig are pleased to announce the application process for the Dr. Marvin E. Hartig Memorial Scholarship. This scholarship is dedicated to the loving memory of Dr. Hartig, Dean of Evansville College's Evening College in 1967, and administrator for the Center for Advanced Study, director of the Evansville chapter of the American Institute of Banking (AIB), and the international student advisor. In 1974, Dr. Hartig was appointed Dean of Academic Services. He retired in 1984 after serving his alma mater for thirty-five years and passed away in 2007.
This scholarship will be awarded annually to a deserving sophomore student. Preference will be given to a student working while being enrolled as a full-time student. International students are encouraged to apply.
Eligible students for the 2023-2024 Hartig Memorial Scholarship will be sophomores in the 2023-2024 academic year.
The application can be found online.
Deadline: Please return all materials to the Office of Student Financial Services by May 5, 2023. The decision will be announced by May 26, 2023.
Questions: Amber Chandler, Administrative Assistant to the Office of Student Financial Services, at ac547@evansville.edu or 812-488-2364.
Submitted by Amber Chandler ac547@evansville.edu
Seeking financial Aid for summer courses?
UE students seeking financial aid or intending to use loan funds for summer courses at UE, please complete a Summer Financial Aid Application and return to the Office of Student Financial Services (Olmsted 105) however is most convenient. The application will allow our office to assess your financial aid and loan eligibility.
Work-Study:
On-campus jobs are available for continuing UE students during the summer. You do not need to be eligible for need-based Federal Work-Study during the academic year in order to apply. You may also apply regardless of your enrollment in summer courses. Applications will be available within the Student Employment area of WebAdvisor.
Submitted by Amy Sowders as560@evansville.edu
Eta Lambda Chapter of Sigma inductes new members
The University of Evansville Eta Lambda Chapter of Sigma International Honor Society of Nursing inducted new members in a ceremony April 26, 2023. Inductees included Juniors, Chole Carlin, Emily Fortune, Mary Franklin, Jacy Hughes, Olivia McIntire, Adeline O'Brian, Lane Smith. Seniors, inductees included Anna Bury, Emily Hudson, Caitlin Kehler, Sydney Koplinski, Johnna Mitchell along with Nurse Leader, Joanie Moyer, MSN, RN were inducted. Alexa Wheeler received the Key Award. Special thanks to volunteers Heather Mathis and previously inducted members Alexa Wheeler, Emily McMonigle and Delany Herrmann for assisting with the induction of new members. Ellen Wathen, PhD, MSN, RN provided the keynote address. The mission of Sigma International is advancing world health and celebrating nursing excellence in scholarship, leadership, and service.
Submitted by Theresa Price tp86@evansville.edu
Baseball Aces Cruise Past Lipscomb, 9-3
The University of Evansville baseball team opened up a five-game homestand in grand fashion on Tuesday night, as the Purple Aces pounded out a 9-3 victory over the visiting Lipscomb Bisons at German American Bank Field at Charles H. Braun Stadium in Evansville.
"Tonight was a great overall team win," said UE head coach Wes Carroll. "John MacCauley was outstanding on the mound to set the tone for the night, and our offense put up multiple runs in three-straight innings.
"Now, we are on to the weekend with Indiana State coming into town. Should be a big weekend at the ballpark."
MacCauley, a graduate transfer from Butler who was making his first start in an Evansville uniform, struck out the side in the first inning to set the tone for the evening. After Evansville scored a run in the bottom of the first inning on a walk, an infield single, and an RBI ground out, MacCauley retired seven of the next eight batters to keep Evansville in the lead, 1-0. After a one-out double, MacCauley (1-1) struck out Lipscomb designated hitter David Coppedge to end his night on pitch count, but he earned the victory scattering two hits in 3.2 scoreless innings with five strikeouts.
Evansville would score two runs in both the fifth and sixth innings, before exploding for four runs in the seventh inning. Graduate outfielder Eric Roberts led off UE's four-run seventh inning with a solo home run to right field for his 15th home run of the year. Junior second baseman Kip Fougerousse then continued his hot hitting two batters later with a two-run double to deep center field to push UE's lead to 8-3. Sophomore catcher Evan Waggoner then drove in Fougerousse with an RBI single to center field to cap UE's scoring.
Fougerousse, Waggoner, and junior shortstop Simon Scherry all had two hits to lead UE's offensive attack, with Fougerousse adding two runs and three RBI.
With the victory, Evansville improves to 24-16 overall. Lipscomb, meanwhile, falls to 21-20 with the loss. Evansville will continue its homestand this weekend by hosting #14 Indiana State in a three-game series beginning on Friday night at 6 p.m. All three games of the series can be heard live in the Tri-State area on 107.1 FM-WJPS and the Old National Bank/Purple Aces Sports Network from Learfield.
Submitted by Athletics
UE men post low round of the day to complete MVC Championship
Posting a team score of 281 in the third and final round of the Missouri Valley Conference Championship, the University of Evansville men's golf team rallied to finish in 7th place at Oakwood Country Club.
Led by a 2-under 69 from Daniil Romashkin, the Purple Aces recorded the lowest team score of the day. Their 281 was three better than eventual champion Illinois State. UE improved to finish in the 7th position with a tally of 863. Their score was just one behind a 5th-place tie between Southern Illinois and Murray State.
Illinois State took the team championship with a 3-round mark of 836. They defeated Valparaiso by 13 strokes.
Leading the way for Evansville in the final rundown was Nicholas Gushrowski. He carded an even 71 in Tuesday's final round to complete the tournament with a 214. Highlighted by a 2-under 69 in round one, Gushrowski tied for 11th place.
Carson Parker was second on the team with a 217. One day after shooting the low round of the event for UE (4-under 67), Parker recorded a 74 to come home in a tie for 20th. Finishing one shot behind him was Michael Ikejiani. After registering scores of 74 on the first two days, he lowered his score to a 1-under 70 in round three. His 218 tied him for 23rd.
Isaac Rohleder and Daniil Romashkin each posted their lowest rounds of the tournament on Tuesday. Rohleder improved by two strokes each day, culminating in an even 71 in the final 17 holes. He wrapped up the weekend with a 219 to tie for 26th. Romashkin led UE with a 2-under 69 on Tuesday to jump into a tie for 40th with a 223.
Anthony Delisanti of Valpo was the medalist. His final score of 200 bested Felix van Dijk of the Redbirds by four strokes. Delisanti had the lowest round of the tournament on Monday, finishing at seven under with a 64.
Submitted by Athletics
Smith records second home run as Aces fall to Sycamores
Freshman Lacy Smith recorded the second home run of her collegiate career on Tuesday at the University of Evansville softball team dropped a 6-1 decision to Indiana State at Tri-State Orthopaedics Field at James and Dorothy Cooper Stadium.
Smith's homer was the lone score of the day for the Purple Aces, who left ten runners on base. UE notched four hits on the day as Marah Wood, Jess Willsey, Hannah Hood and Smith would record one apiece.
It was Evansville who had the first scoring opportunity of the day, loading the bases in the bottom of the first. Indiana State stranded two runners in the opening two frames but cashed in as the game moved into the top of the third. The Sycamores posted the first four runs of the game while accumulating five hits. Isabella Henning hit a 3-run home run to highlight the inning.
Lacy Smith put Evansville on the board in the bottom of the fourth. She sent the first pitch she saw over the wall in right center to make it a 4-1 game. It was her second home run of the season. Marah Wood added a double as the Aces worked to load the bases with two outs, but Indiana State went to the bullpen with the reliever picking up the final out.
Erin Kleffman kept the deficit manageable with brilliant pitching in the top half of the fifth. After entering the game facing a bases loaded situation with no outs, Kleffman forced a double play before another ground ball ended the threat.
Indiana State put the finishing touches on the win with single runs in the 6th and 7th innings to finish with the 6-1 triumph. Sydney Weatherford was tagged with the loss with four earned runs scoring in her four innings of work. Erin Kleffman tossed the final three frames and allowed two earned runs. Lauren Sackett earned the win for the Sycamores, throwing 3 2/3 frames with one run scoring.
The 2023 home slate comes to a close this weekend as UE welcomes Illinois State.
Submitted by Athletics
Contribute to AceNotes
To have content considered for inclusion in AceNotes, please submit a Marketing Request Form. Deadline for submission to AceNotes is 10:00 a.m. on the requested date of publication. Only articles concerning UE related/sponsored activities will be accepted. Articles submitted to AceNotes may be edited for length and clarity. Submitter contact information is at the end of each article.