| | |
| --- | --- |
| AceNotes Today | Tuesday, April 25, 2023 |
MAYhem: An Evening of Short Plays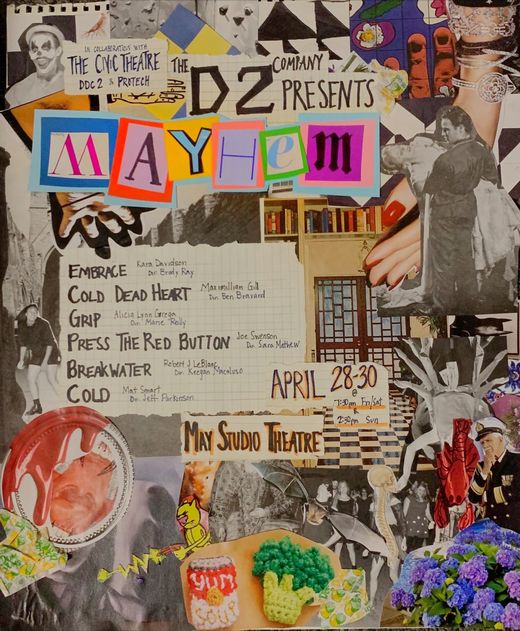 The University of Evansville Department of Theatre and Evansville Civic Theatre wish to invite the campus to experience Mayhem this weekend in the May Studio Theatre.
An evening of short plays directed by students in UET's Directing 2 class, Mayhem will be performed:
Friday, April 28 at 7:30pm
Saturday, April 29 at 7:30pm
Sunday, April 30 at 2pm
Tickets are on sale to the public at https://www.evvcivic.org/buy-tickets. UET students can get free tickets at the door and it's open seating. The same six plays will be presented at each performance.
Submitted by Joe Atkinson ja122@evansville.edu
Pancake Study Break Thursday Night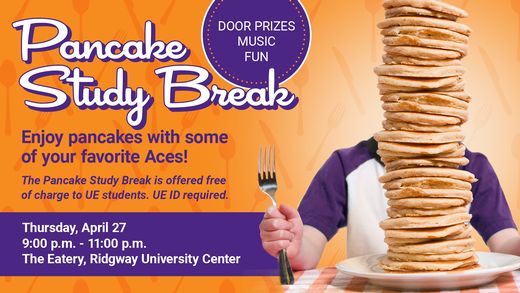 The Pancake Study Break is happening this week! Join us for pancakes and more this Thursday, April 27, from 9:00-11:00 p.m. at The Eatery in Ridgway University Center. There will also be drawings for prizes - so don't miss out! Plan to be at the Pancake Study Break! Study hard and enjoy some pancakes, Aces!
This event is free of charge for all UE students. A UE ID is required to enter.
Questions? Contact Chad Hart at ch299@evansville.edu.
Submitted by Chad Hart ch299@evansville.edu
Journey to Justice - June 10-17, 2023
From June 10-17, 2023, the University of Evansville will lead an eight-day Journey to Justice bus tour. Travelers will venture through cities of the South to explore the history of the Civil Rights Movement. Students on this journey will learn important, valuable lessons at each stop for an impactful experience of personal reflection and application within their own community.
Journey to Justice is open to current students, high school students age 15 and older, middle school and high school teachers, and adult community members!
Earn College Credit
Through this opportunity, students can earn three college credits. While the Journey to Justice bus tour will be an exciting trip, it will also be an interactive experience as part of Social Justice Movements, an ethics course. Students who register can apply this towards the Ethics & Social Change major or a general education requirement. Some assignments will be completed during the trip, while others will be given before and after returning.
Site Visits
Journey to Justice will include site visits at:
Evansville, Indiana
Montgomery, Alabama
Birmingham, Alabama
Selma, Alabama
Memphis, Tennessee
Louisville, Kentucky
Popular attractions will include the National Voting Rights Museum, Beale Street, Dexter Avenue Baptist Church, Edmund Pettus Bridge, Rosa Parks Museum, and more.
Registration details and tuition costs are available at the Journey to Justice webpage. A limited number of scholarships are available for high school students.
For an in-depth recap by participants of the 2022 Journey to Justice, watch this video.
The deadline to register is April 30, so don't wait to sign up!
Submitted by Julie Beer / jb855@evansville.edu
Relaxation Station
The Office of Counseling Services invites you to escape the stress of finals and studying, for a moment, and recharge at the Relaxation Station, on Reading/Study Day. This will be held in Eykamp 253 from 12-3pm and will include games, giveaways, crafts, coffee, hot chocolate, tea, aroma therapy and massages!
Submitted by Isaac Memmer im71@evansville.edu
Solution Station Wednesday: Thinking About Summer Classes?
As the academic year comes to and end, you might be thinking about taking classes this summer to get ahead or get caught up.
If you have questions about how take classes here this summer, or how to make sure classes you take over the summer transfer in properly for credit, please come by the Solution Station! We don't want you to miss out on the academic options summer has - and we don't want you to take a class that won't count toward your degree! Lori Johnson, Transfer Academic Advisor/Student Support Services Specialist, will be there to talk with you to get you headed in the right direction.
Solution Station Wednesday
11:00 a.m. - 1:00 p.m.
Ridgway University Center
Can't make it? Come and see us in Academic Services (Olmsted 116).
Submitted by Chad Hart ch299@evansville.edu
April 27 Obsolete Electronics Recycling - Hale loop drive from 10:00 a.m. - 1:00 p.m.
Students and employees (faculty, administrators and staff) can bring the following personal, obsolete electronic equipment to be recycled at no cost:
• LCD displays, LCD TV's and LCD monitors, computers, printers, fax machines, laptops, cell phones, PDAs, cables, circuit boards, connectors, electrical equipment, audio video equipment, DVD players, stereos, radios, calculators, speakers, VCRs. Small quantities of batteries will be accepted.
The following items will NOT be accepted:
• CRT TV's and CRT computer monitors
• Fluorescent light bulbs (including compact bulbs), refrigerators, freezers, microwaves, stoves, vacuum cleaners, dehumidifiers, leaking or enlarged batteries and any other items C&I deems unallowable
• Electronics owned by the University.
NOTE: The cost of processing CRT TV's and CRT computer monitors has increased significantly, and the University is no longer able to cover these items.
Accepted items included: TVs, computers, monitors, printers, hard drives, laptops, fax/scanners, cell phones, DVD players, digital cameras, modems
Not Accepted: copy machines, microwaves, appliances
For more information or questions contact Amber Elkins at ae152 or 2697.
Submitted by Amber Elkins ae152@evansville.edu
Bring Paper to be Shredded – April 27 from 10:00 a.m. - 1:00 p.m.
Free off site paper shredding by Piranha Mobile Shredding will return to the campus once again! All UE students, faculty, staff and alumni can take advantage of this free service by bringing paper to the Piranha truck in Koch parking lot. Paper will be shredded offsite.
So, if mounds of paper are taking over your office, home, or room, this is the time to gather those old files, receipts, cancelled checks, tax forms, etc. No need to take out the staples or paper clips. Avoid identity theft by having confidential information permanently destroyed.
Please no telephone books, magazines or newspapers. Also, please note that there is a 100lb. paper limit per visit (number of visits is not limited).
Submitted by Amber Elkins ae152@evansville.edu
Episode 4 and 4.5 of The Crescent Sports Report with Troy Schroeder is now available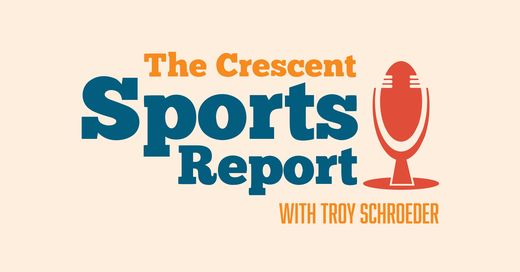 Episode 4 and 4.5 of The Crescent Sports Report with Troy Schroeder is now available.
The University of Evansville Student Media team is now producing The Crescent Sports Report, a weekly podcast dedicated to bringing the Evansville community the latest and greatest in sports news and entertainment. The podcast features the brother duo of Troy and Cole Schroeder, along with fellow UE students Evan Barr and Austin Hernandez. To catch to the latest episode, stream The Crescent Sports Report on Spotify now. Tune in weekly and follow the Crescent Magazine social media accounts to make sure you don't miss any updates!
Submitted by Tommmy J Housman th208@evansville.edu
2023-24 Reeves Foundation Scholarship
The Reeves Foundation was established in 1966 under the terms of the Last Will and Testament of Mrs. Isabel B. Reeves, wife of Judge Ollie C. Reeves, who both resided for many years in Vanderburgh County and firmly believed in the attainment of higher education. Through their frugal efforts and generosity, this scholarship fund has been established to perpetuate their belief.
To qualify for this scholarship, applicants must be enrolled as full-time students and be Vanderburgh County residents. An essay is also required.
The application can be found here.
Deadline: Please return all materials to the Office of Student Financial Services by May 1, 2023.
Questions: Amber Chandler, Administrative Assistant to the Office of Student Financial Services, at ac547@evansville.edu or 812-488-2364.
Submitted by Amber Chandler ac547@evansville.edu
2023-24 Dr. Marvin E. Hartig Scholarship
Family, friends and loved ones of the late Dr. Marvin E. Hartig are pleased to announce the application process for the Dr. Marvin E. Hartig Memorial Scholarship. This scholarship is dedicated to the loving memory of Dr. Hartig, Dean of Evansville College's Evening College in 1967, and administrator for the Center for Advanced Study, director of the Evansville chapter of the American Institute of Banking (AIB), and the international student advisor. In 1974, Dr. Hartig was appointed Dean of Academic Services. He retired in 1984 after serving his alma mater for thirty-five years and passed away in 2007.
This scholarship will be awarded annually to a deserving sophomore student. Preference will be given to a student working while being enrolled as a full-time student. International students are encouraged to apply.
Eligible students for the 2023-2024 Hartig Memorial Scholarship will be sophomores in the 2023-2024 academic year.
The application can be found online.
Deadline: Please return all materials to the Office of Student Financial Services by May 5, 2023. The decision will be announced by May 26, 2023.
Questions: Amber Chandler, Administrative Assistant to the Office of Student Financial Services, at ac547@evansville.edu or 812-488-2364.
Submitted by Amber Chandler ac547@evansville.edu
Two Civil Engineering Seniors receive ASCE Indiana Section Award
Two University of Evansville Civil Engineering seniors, Sarah Lambright and Weston Miller, were presented awards at The American Society of Civil Engineers Indiana Section meeting in Carmel, IN. On April 18, 2023, the ASCE Indiana Section presented the awards: For demonstrating exemplary performance and potential in Civil Engineering.
The School of Engineering and Computer Science would like to congratulate Sarah and Weston on this achievement.
Submitted by Tonya Albright ta58@evansville.edu
Eta Lambda Chapter of Sigma inductes new members
The University of Evansville Eta Lambda Chapter of Sigma International Honor Society of Nursing inducted new members in a ceremony April 26, 2023. Inductees included Juniors, Chole Carlin, Emily Fortune, Mary Franklin, Jacy Hughes, Olivia McIntire, Adeline O'Brian, Lane Smith. Seniors, inductees included Anna Bury, Emily Hudson, Caitlin Kehler, Sydney Koplinski, Johnna Mitchell along with Nurse Leader, Joanie Moyer, MSN, RN were inducted. Alexa Wheeler received the Key Award. Special thanks to volunteers Heather Mathis and previously inducted members Alexa Wheeler, Emily McMonigle and Delany Herrmann for assisting with the induction of new members. Ellen Wathen, PhD, MSN, RN provided the keynote address. The mission of Sigma International is advancing world health and celebrating nursing excellence in scholarship, leadership, and service.
Submitted by Theresa Price tp86@evansville.edu
Parker's 4-under round paces UE men on Monday
Completing the second round of the Missouri Valley Conference Men's Golf Championship with a 4-under 67, Carson Parker paced the University of Evansville men's golf team at Oakwood Country Club.
Parker's score was just three off the all-time program record and marked a 9-stroke improvement from Sunday's round. With his effort, Parker jumped into a tie for 19th place with a 143. Joining Parker with a 143 is Nicholas Gushrowski. After leading the Purple Aces in round one with a 69, Gushrowski carded a 3-over 74 to tie Parker.
Michael Ikejiaini matched his opened day score, posting another round of 74. He is tied with teammate Isaac Rohlder for the 33rd spot. Rohleder lowered his score by two strokes in the second 18 holes, posting a 73. He is tied with Ikejiani with one round to play. Daniil Romashkin scored a 78 on Monday and enters the last day with a 154, tied for 48th.
Evansville remains in the 8th position with a team score of 582. The Aces are eight behind Murray State, who is 7th with a 574 and sit five shots in front of 9th-place Missouri State. Illinois State enters the third round with a 9-stroke lead over Valparaiso and a 13-shot advantage over Northern Iowa. The Redbirds scored a 276 in both rounds.
Anthony Delisanti of Valpo leads the individuals. Following a 66 on Sunday, Delisanti posted a 7-under 64 in the second round. His 130 is four in front of the second position.
Tuesday will mark the final 18 holes of the tournament.
Submitted by Athletics
Softball plays host to Indiana State on Tuesday
In its third and final meeting of the 2023 season, the University of Evansville softball team welcomes Indiana State to Tri-State Orthopaedics Field at James and Dorothy Cooper Stadium on Tuesday at 5 p.m. ESPN+ will have the live broadcast.
Last Time Out
- UIC completed the weekend sweep over the Purple Aces with a 7-6 win in nine innings on Sunday afternoon
- In a back-and-forth contest, the Flames took the early 3-0 lead before UE responded with three in the top of the fourth
- Jenna Nink hit a 2-run home run in the top of the 7th to give the Aces their first lead of the day but UIC countered with two in the bottom of the frame to tie it back up
- Evansville stranded the bases loaded in the 8th but scored the go-ahead run in the 9th, however, the Flames took advantage of two UE errors to pick up the 7-6 win
Third Meeting
- Two contests have been played between the squads in Terre Haute with the Sycamores picking up a 3-2 win on April 4 before the Purple Aces earned a 2-0 shut out on April 11
- Game one in Terre Haute saw the squads fight to a 1-1 tie through seven innings before Jess Willsey gave the Aces a 2-1 edge with a solo shot in the top of the 9th; in the bottom half of the frame, a 2-run homer gave ISU the 3-2 walk-off win
- The second meeting was another low scoring contest with the game being scoreless after five
- Alexa Davis hit a 2-run double in the of the 6th that would prove to be the game winner as Mikayla Jolly and Erin Kleffman combined for the 5-hit shutout
Back on Tracl
- Following the completion of the series at Murray State, Jess Willsey was hitless in nine trips to the plate while her season average dropped to .254
- In the four games last week, Willsey has turned things around, accumulating six hits in 14 at-bats, which translates into a .429 average
- Willsey tied for the team lead with her sixth home run of the year, which came on Sunday at UIC
- One of Evansville's biggest wins of 2023 saw Willsey take over with her performance at the plate
- In game two against Southern Illinois, Willsey was a perfect 3-3 with four RBI in a 4-0 win for the Aces; the win came less than a day after SIU opened the series with a 17-1 victory
Top Streak
- Marah Wood is starting to get on track offensively and carries a UE season-high 8-game hit streak into Tuesday's meeting against Indiana State
- Following an 0-3 game in the finale versus Southern Illinois, Wood's average stood at .220, but the recent streak has pushed her average up 42 points to .262
- Wood is batting .444 during the 8-game streak, picking up 12 hits in her last 27 at-bats while adding four multi-hit games
- In the April 1 opener against Belmont, she went 3-4 with two RBI and two doubles while adding a walk, run and steal
- She followed that up with her second home run of the season and two more RBI in the second game of the series
Providing the Power
- Jenna Nink registered five hits in 12 at-bats in the series at UIC and currently holds the team lead in multiple categories
- Nink paces the squad in batting average (.282), slugging (.527), RBI (22) and on-base percentage (.402)
- She added two home runs in the series to push her season tally to five, which is the second-highest total for the Aces; her 2-run homer in the 7th inning on Sunday temporarily gave Evansville a 5-3 lead
- In the April 8 victory over Southern Illinois, Nink scored three of UE's four runs while reaching base with two walks and a hit
- In the series against Belmont, Nink recorded two solo home runs
Submitted by Athletics
Two Of College Baseball's Top Home Run Teams Meet Tuesday, As UE Hosts Lipscomb
German American Bank Field at Charles H. Braun Stadium in Evansville is not necessarily known as a home run-friendly ballpark. That will be put to the test on Tuesday night, though, as two of the nation's top home run teams will do battle, with the University of Evansville baseball team hosting Lipscomb at 6 p.m.
Evansville will enter Tuesday night's game ranked 70th in the country in home runs with 53. The Purple Aces have launched at least one home run in nine-straight games, which ranks as the third-best streak in the last decade at Evansville, behind only an 11-game and 10-game streak set last season by UE. Lipscomb, meanwhile, ranks 20th in the country in home runs, as the Bisons have bashed 70 home runs this year, including seven over the weekend in a series victory over Bellarmine.
Individually, Evansville is led in home runs by graduate outfielder/pitcher Eric Roberts, who currently leads the Missouri Valley Conference with 14 home runs. Junior second baseman Kip Fougerousse launched two home runs over the weekend, and he currently sits second on the team with eight home runs. Fougerousse has been on fire at the plate, hitting safely in nine of his last 10 games after returning from a finger injury, and he hit an even .500 last week to raise his batting average to .283. The Purple Aces currently stand at 23-16 overall entering Tuesday night's action.
Meanwhile, Lipscomb's lineup features four players with double-digit home run totals, led by redshirt sophomore catcher Austin Kelly, who is hitting a team-best .326 with a team-best 15 home runs. Sophomore infielder Trace Willhoite (12 HRs), junior outfielder Alex Vergara (11 HRs) and sophomore infielder Caleb Ketchup (11 HRs) also have double-digit home run totals so far this year. The Bisons will bring a 21-19 overall record into Tuesday night's contest, but Lipscomb is the reigning ASUN West Division champions, and are currently tied with FGCU for the top spot in the ASUN standings with a 13-5 conference record. Lipscomb also owns a series win over Notre Dame, and a mid-week win at nationally-ranked Louisville this year.
All-time, Evansville leads the series over Lipscomb, 12-6, dating back to a 10-0 UE win in 2005. Tuesday's game will mark Lipscomb's first trip to Evansville in 11 years, as the Bisons have not visited Evansville since a 5-0 UE victory at Braun Stadium on March 28, 2012. The first-ever game for UE head coach Wes Carroll as a member of the Purple Aces' coaching staff came at Lipscomb on February 9, 2007, when Carroll served as an assistant coach for UE in a 10-0 victory in Nashville.
Tuesday's game can be heard live in the Tri-State area on 107.1 FM-WJPS and the Old National Bank/Purple Aces Sports Network from Learfield.
Submitted by Athletics
Contribute to AceNotes
To have content considered for inclusion in AceNotes, please submit a Marketing Request Form. Deadline for submission to AceNotes is 10:00 a.m. on the requested date of publication. Only articles concerning UE related/sponsored activities will be accepted. Articles submitted to AceNotes may be edited for length and clarity. Submitter contact information is at the end of each article.