| | |
| --- | --- |
| AceNotes Today | Monday, April 24, 2023 |
Commencement
Everyone is invited to the 165th commencement ceremony on Saturday May 6th to honor the class of 2023. The ceremony will begin at 1:30 p.m. at the Ford Center. No tickets are required. For those who cannot attend in-person, the ceremony will also be live streamed at www.evansville.edu/live/. Seniors should also complete the 2023 Graduation Survey.
Submitted by Emily Ormson eo52@evansville.edu
Music Conservatory Presents Gumberts Competition
On Tuesday evening, April 25, the Music Conservatory will present a concert featuring the 2023 Gumberts Award Finalists. The Gumberts Award Competition showcases the top senior music performers.
This year's finalists are all vocalists: Rachel Taylor, Maddi Filson, Claire Stout, and Allison Enchelmayer.
The concert begins at 7:30 p.m. and is free and open to the public. Live stream is available at:
Submitted by Amy Esche ae128@evansville.edu
Pancake Study Break Thursday Night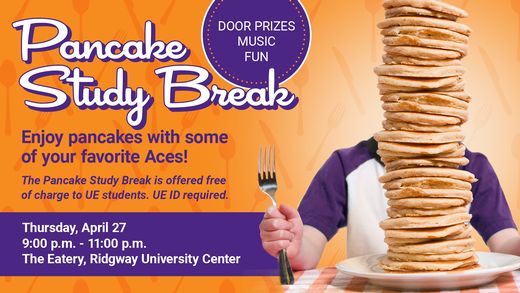 The Pancake Study Break is happening this week! Join us for pancakes and more this Thursday, April 27, from 9:00-11:00 p.m. at The Eatery in Ridgway University Center. There will also be drawings for prizes - so don't miss out! Plan to be at the Pancake Study Break! Study hard and enjoy some pancakes, Aces!
This event is free of charge for all UE students. A UE ID is required to enter.
Questions? Contact Chad Hart at ch299@evansville.edu.
Submitted by Chad Hart ch299@evansville.edu
Visiting Anthropologist Lectures on Ancestor Worship among the Iban of Borneo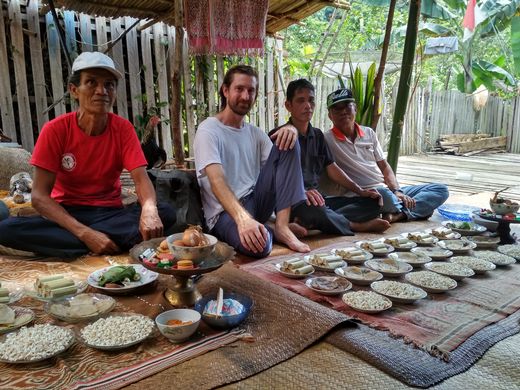 Join us for a Lecture by a Visiting Anthropologist.
Title: Cultural Traditions and Human Evolution
Speaker: Dr. Kyle Clark, PhD in Anthropology from the University of Missouri
Date: Monday, April 24, 4:30 pm
Location: Hyde Hall 14
Description: Humans possess a wide array of distinctive features, one of which is the development of cultural traditions. In this talk, Dr. Clark will delve into the evolutionary significance of cultural traditions and provide insights into how and why they emerged. Of particular interest will be the phenomenon of ancestor worship, as he discusses a mechanism for its evolution and its potential role in shaping human societies based on his research among the Iban of Borneo, Indonesia.
Sponsored by the Department of Archaeology.
Submitted by Alan Kaiser ak58@evansville.edu
The Hands That Create - Senior Art Exhibition April 17-May 5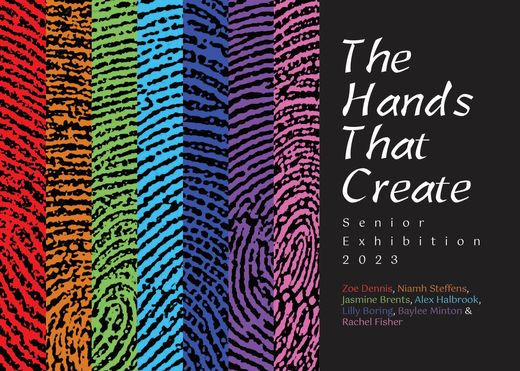 Please join the Seniors in the Department of Art as we celebrate their group exhibition, The Hands That Create. There are two opportunities to visit the exhibition and speak to the artists. The first date is April 20th from 5-7 pm and the second is May 5th, 4:30-6pm. The exhibition is located in the Melvin Peterson Gallery.
The seniors are Lilly Boring, Jasmine Brents, Zoe Dennis, Rachel Fisher, Hannah Holbrook, Baylee Minton, and Niamh Steffens. Ian Leonhardt also contributed to the exhibition with the original music.
The Melvin Peterson Gallery is open during the week with posted hours:
Monday, Tuesday, Friday, and Saturday, 12-3pm
Wednesday and Thursday, 12-6pm
Hope to see you at either reception.
Department of Art
Submitted by Carol McCraney cm177@evansville.edu
Journey to Justice - June 10-17, 2023
From June 10-17, 2023, the University of Evansville will lead an eight-day Journey to Justice bus tour. Travelers will venture through cities of the South to explore the history of the Civil Rights Movement. Students on this journey will learn important, valuable lessons at each stop for an impactful experience of personal reflection and application within their own community.
Journey to Justice is open to current students, high school students age 15 and older, middle school and high school teachers, and adult community members!
Earn College Credit
Through this opportunity, students can earn three college credits. While the Journey to Justice bus tour will be an exciting trip, it will also be an interactive experience as part of Social Justice Movements, an ethics course. Students who register can apply this towards the Ethics & Social Change major or a general education requirement. Some assignments will be completed during the trip, while others will be given before and after returning.
Site Visits
Journey to Justice will include site visits at:
Evansville, Indiana
Montgomery, Alabama
Birmingham, Alabama
Selma, Alabama
Memphis, Tennessee
Louisville, Kentucky
Popular attractions will include the National Voting Rights Museum, Beale Street, Dexter Avenue Baptist Church, Edmund Pettus Bridge, Rosa Parks Museum, and more.
Registration details and tuition costs are available at the Journey to Justice webpage. A limited number of scholarships are available for high school students.
For an in-depth recap by participants of the 2022 Journey to Justice, watch this video.
The deadline to register is April 30, so don't wait to sign up!
Submitted by Julie Beer / jb855@evansville.edu
Summer Hours and July 4 Holiday
Summer Hours
UE will reduce business hours during the summer from 8:00 a.m. to 4:30 p.m. Monday-Thursday, and 8:00 a.m. to 4:00 p.m. on Fridays. This schedule will be in place beginning Monday, May 8 through Friday, August 4. Regular hours will return Monday, August 7. Enjoy the sun a little longer.
Friday Jeans Day
You can wear jeans on Fridays in the summer – as long as you wear purple on Fridays. Please dress appropriately and adjust the dress code as necessary on Fridays for visitors or other events. And as always, purple shoes are welcome – and send me pictures for Friday Wrap.
July 4 Holiday
The long weekend will get a little longer. The President's Council added one additional day to create a long holiday weekend. In addition to the University observing the July 4 holiday on Tuesday, the University will also be closed on Monday, July 3. Enjoy the sun even more.
Submitted by Noah Alatza na122@evansville.edu
2023-24 Outside Scholarship Opportunities
Student Financial Services has a list of outside scholarship opportunities for the 2023-24 academic year. The document is updated regularly and contains information on applying for outside scholarships of varying requirements, deadlines, and award amounts. To access the document, go to myue.evansville.edu, click on Menu, select Department and Office Pages, select Student Financial Services, and click on Additional Scholarship Opportunities.
Questions: Please contact Amber Chandler, Administrative Assistant to the Office of Student Financial Services, at ac547@evansville.edu or 812-488-2364.
Submitted by Amber Chandler ac547@evansville.edu
2023-24 Dr. Marvin E. Hartig Scholarship
Family, friends and loved ones of the late Dr. Marvin E. Hartig are pleased to announce the application process for the Dr. Marvin E. Hartig Memorial Scholarship. This scholarship is dedicated to the loving memory of Dr. Hartig, Dean of Evansville College's Evening College in 1967, and administrator for the Center for Advanced Study, director of the Evansville chapter of the American Institute of Banking (AIB), and the international student advisor. In 1974, Dr. Hartig was appointed Dean of Academic Services. He retired in 1984 after serving his alma mater for thirty-five years and passed away in 2007.
This scholarship will be awarded annually to a deserving sophomore student. Preference will be given to a student working while being enrolled as a full-time student. International students are encouraged to apply.
Eligible students for the 2023-2024 Hartig Memorial Scholarship will be sophomores in the 2023-2024 academic year.
The application can be found online.
Deadline: Please return all materials to the Office of Student Financial Services by May 5, 2023. The decision will be announced by May 26, 2023.
Questions: Amber Chandler, Administrative Assistant to the Office of Student Financial Services, at ac547@evansville.edu or 812-488-2364.
Submitted by Amber Chandler ac547@evansville.edu
Seeking financial Aid for summer courses?
UE students seeking financial aid or intending to use loan funds for summer courses at UE, please complete a Summer Financial Aid Application and return to the Office of Student Financial Services (Olmsted 105) however is most convenient. The application will allow our office to assess your financial aid and loan eligibility.
Work-Study:
On-campus jobs are available for continuing UE students during the summer. You do not need to be eligible for need-based Federal Work-Study during the academic year in order to apply. You may also apply regardless of your enrollment in summer courses. Applications will be available within the Student Employment area of WebAdvisor.
Submitted by Amy Sowders as560@evansville.edu
Gushrowski tied for 4th following opening round of MVC Championship
Recording a 2-under 69 in the opening round of the Missouri Valley Conference Championship, Nicholas Gushrowski is tied for the 4th position at Oakwood Country Club.
Gushrowski's round has him just four points off of the lead, which is currently held by Felix van Dijk of Illinois State. He carded a 6-under 65 to pace the individuals with Valparaiso's Anthony Delisanti in second with a 66.
Second on the Purple Aces and tied for 28th overall is Michael Ikejiani. He posted a 3-over 74 in Sunday's opening 18 holes. One behind him was Isaac Rohleder. His 4-over 75 has him in a tie for 32nd. Carson Parker and Daniil Romashkin carded identical rounds of 76 and are tied for 41st place.
Evansville registered a team score of 294 in the first round to rank in 8th out of 10 teams. UE is just seven strokes outside of the top four as Northern Iowa and Southern Illinois are tied for 4th with scores of 287. Illinois State paces the team standings with a 276. Valparaiso is in second with a 279 while Belmont ranks third with a 284.
Monday will mark the second out of three rounds of 18.
Submitted by Athletics
Baseball Aces Win Series With Doubleheader Split At Murray State
The University of Evansville baseball team earned an important Missouri Valley Conference series victory on Sunday with a doubleheader split with the homestanding Murray State Racers at Johnny Reagan Field in Murray, Kentucky. Evansville won the opener, 6-3, before the Racers responded with a 10-3 win in game two.
"It was great to get the series win on the road," said UE head coach Wes Carroll. "In game one, I thought that Donovan and Michael pitched great in order to get the series win.
"We have a big week ahead, and it will be great to get back home to the Braun to play in front of our fans again!"
In the opener, Murray State struck first, scoring three runs in the first inning with the help of an Evansville error. But, the Purple Aces answered right back to tie the game at 3-3 in the top of the second on a two-out, three-run double by fifth-year first baseman Chase Hug.
Evansville would then take the lead in the third inning on an RBI single by fifth-year outfielder Danny Borgstrom. Senior outfielder Mark Shallenberger then added to the lead in the fourth inning with a two-run home run to right field to give UE a 6-3 lead. For Shallenberger, it marked his fourth home run in the seven games since returning from injury last weekend.
From there, UE starter Donovan Schultz (5-2) and reliever Michael Parks (save) combined to shut down the Murray State offense. From the fourth inning on, the Racers had just five singles scattered through the five innings, and Evansville used two of its three double-plays on the day to get out of any trouble. Schultz earned the win by scattering three runs (one earned) on seven base hits in 5.0 innings of work. Parks, meanwhile, earned his first save since 2021 with 4.0 shutout innings of three-hit relief.
Hug led Evansville in the opener by going 3-for-5 with three RBI, while sophomore designated hitter Evan Waggoner also went 3-for-5 with a run scored.
In the nightcap, Murray State once again jumped out early, scoring two runs in the first inning thanks to three walks from UE starter Tyler Denu (3-3). The Racers would add three more runs in the second inning to grab a 5-0 lead.
Evansville would get one run back in the third inning on a solo home run from sophomore outfielder Ty Rumsey. But, a five-run sixth inning put the game out of reach, as Murray State went on to a 10-3 win.
Junior second baseman Kip Fougerousse had the lone multi-hit game of the nightcap for UE, going 2-for-3. Murray State DH Charlie Corum went 2-for-2 with a double, a run scored and three RBI to pace the Racers in game two.
With the doubleheader split, Evansville and Murray State are tied for fourth place in the MVC standings with 8-7 conference marks, but the Purple Aces gain the head-to-head tiebreaker with the series win. Overall, Evansville is now 23-16 overall heading into a home contest on Tuesday night at 6 p.m. against Lipscomb. Tuesday's game can be heard live in the Tri-State on 107.1 FM-WJPS and the Old National Bank/Purple Aces Sports Network from Learfield.
Submitted by Athletics
UE Track & Field Wraps Up Competition At The Indiana Invitational
The University of Evansville track and field team posted five top-10 finishes and collected three season-best marks on Saturday to wrap up competition at the Indiana Invitational in Bloomington, Indiana.
Sophomore Preston Riggs (Ft. Branch, Ind./Gibson Southern) posted a fifth-place finish in the men's javelin with a toss of 38.72 meters (127'), while also placing seventh in the 110-meter hurdles with a time of 16.86. UE throwers Jaden Hayes (Huntingburg, Ind./Southridge) and freshman Will McDonner also placed sixth and seventh on the men's side in the javelin competition, while sophomore Kaitlyn Sansone (Fairfield, Ohio/Mercy McAuley) placed ninth in the women's javelin with a personal-best throw of 25.38 meters (83' 3").
Sansone was joined in setting a personal-best mark on Saturday by freshmen Jose Ocampo (Monterrey, Mexico) and Joey Taylor (Grove City, Ohio/Central Crossing), who both achieved the feat on the track. Ocampo placed 14th overall in the men's 400-meter race with a season-best mark of 52.98. Taylor, meanwhile, placed 28th in the men's 800-meter race with a season-best time of 2:00.25. He finished on the heels of sophomore teammate Adam Oulgout (St. Paul, Minn./Central), who placed 22nd overall with a time of 1:58.42.
On the track, senior Giovanni Purser (Port Maria, Jamaica) battled a stiff wind and a loaded field in the men's 100-meters to place 13th overall with a time of 11.13 seconds, just .11 seconds from the top 10. In the field events, senior thrower Zach Dove (Princeton, Ind./Princeton Community) had a strong showing in the men's discus, placing 11th overall with a throw of 47.39 meters (155' 5").
The Purple Aces will take this next week off before returning to action on Friday, May 5 with a return trip to Bloomington, Indiana to take part in the Billy Hayes Invitational.
Submitted by Athletics
UIC takes finale in nine innings
In a back-and-forth contest on Sunday at Flames Field, UIC out-dueled the University of Evansville softball team to take a 7-6 victory in nine innings.
With the score tied at 5-5 entering the ninth inning, Evansville took advantage of an error by the Flames to go up 6-5. Unfortunately, UIC cashed in on two UE errors in the bottom of the frame to earn its second walk-off win of the weekend.
UIC took the lead in the bottom of the second inning with three runs scoring. Tess Altevers Harris had a 2-RBI double to highlight the frame.
Things remained the same until the top of the fourth when the Purple Aces had a 3-run inning of their own. Jess Willsey led the inning off with a home run to left field for UE's first score of the afternoon. With two outs, Taylor Howe drew a walk before scoring from first on a double by Lacy Smith.
Next up was Zoe Frossard, who doubled to center to bring home Smith and knot the score. Two frames later, Evansville looked for more. Hannah Hood opened with an infield single and the Aces would advance runners to second and third with one out. A sacrifice fly attempt saw the UE runner thrown out on a close play at the plate to keep it tied at 3-3.
Evansville rebounded in the top of the seventh as Frossard reached on an error to being Jenna Nink to the plate. She launched her fifth home run of the season to put the Aces in front at 5-3.
Just when it looked like the Aces were on the brink of a victory, the Flames rallied back with Altevers Harris hitting an RBI triple in a 2-run inning that tied it up to send the game to extra innings. UE stranded the bases loaded in the top of the eighth but could not bring in the go-ahead run. After a scoreless 8th inning, Marah Wood singled to lead off the ninth and would score on a UIC error. Looking to close the game out, the Aces committed two crucial errors that helped UIC take the 7-6 walk-off win.
Five Aces registered two hits on Sunday with Wood, Willsey, Hood, Howe and Smith accomplishing the feat. In the circle, Mikayla Jolly made the start, allowing three runs in four innings. Megan Brenton tossed 2 1/3 innings with two earned runs crossing the plate. Sydney Weatherford threw the final 2 1/3 frames with two runs, one earned, coming home.
On Tuesday, UE returns home for a 5 p.m. game against Indiana State.
Submitted by Athletics
Dove, Oulgout Lead UE Track & Field On Day One At Indiana Invitational
Facing the stiffest competition of the outdoor season, University of Evansville senior thrower Zach Dove (Princeton, Ind./Princeton Community) and sophomore distance runner Adam Oulgout posted two of UE's best individual finishes on Friday on the first day of competition at the Indiana Invitational at IU's Robert C. Haugh Track & Field Complex in Bloomington, Indiana.
Dove had one of UE's best individual finishes on the day, placing 12th overall in the men's hammer throw with a toss of 49.62 meters (162' 9"). The toss was just over half a foot shy of his school-record mark in the hammer throw, set in UE's last meet at the Pacesetter Sports Invitational on April 1. The field included some of the best throwers in both the Great Lakes and South regions this year. Dove also placed 14th overall in the men's shot put with a toss of 13.77 meters (45' 2.25")
Oulgout had a strong showing in the men's 1,500-meters, placing second in his heat and 22nd overall with a time of 4:03.68. He finished just 2.67 seconds behind Louisville's JB Terrill in his heat. The top four times in Friday's 1,500-meters ranked as four of the 15 fastest times in the Great Lakes region this year.
Elsewhere on the men's side, freshman Cameron Gehlhausen placed ninth in the long jump with a leap of 4.91 meters (16' 1.75"). Freshman Jose Ocampo (Monterrey, Mexico) also posted UE's best time in the 200-meter race with a time of 23.61.
On the women's side, graduate student Antonia Lamond (Nutley, N.J./Paramus Catholic) posted UE's best individual finish of the day in the women's hammer throw, placing 16th overall with a toss of 36.58 meters (120' 0"). Freshman Gwen Darrah (Cleveland, Ohio/Orange) was not far behind in 17th place with a toss of 33.23 meters (109' 0"). Lamond also posted UE's best finish in the women's shot put with a toss of 9.92 meters (32' 6.5").
On the track, junior Mallory Russell (Evansville, Ind./Memorial) edged sophomore teammate Magdalena Borisova (Sofia, Bulgaria) in the women's 200-meter race by 0.06 seconds with a time of 35.41. Junior Hannah Bryan (Evansville, Ind./Reitz) also placed 19th in the women's 400-meter hurdles with a time of 1:29.31.
The Indiana Invitational will continue on Saturday, beginning at 11:30 a.m. central time.
Submitted by Athletics
Softball drops second contest at UIC
UIC pitcher Christina Toniolo tossed a complete game shutout to lead the Flames to a 3-0 win over the University of Evansville softball team at Flames Field on Saturday afternoon.
Evansville registered five hits on the day with Jenna Nink going a perfect 3-for-3. Marah Wood and Jess Willsey added one hit apiece. Larissa Ortiz led the Flames with a 3-for-3 performance that saw her score two runs.
In the top of the first, the Purple Aces put for the first scoring threat of the day when Nink and Willsey both reached on 2-out singles. Despite the early momentum for UE, it was UIC who scored the first run of the game when Alannah Cran had an RBI single.
Wood and Nink added singles for UE in the third and fourth frames, but the effort came up short with two baserunners caught stealing. Up by one in the bottom of the fifth, the Flames tripled their lead with two runs crossing the plate, including a solo home run from Hailey Cowing.
From there, the Flames were able to cruise to the victory. They completed the game with eight hits. Sydney Weatherford made the start for Evansville, allowing three runs on eight hits in five innings of work. Erin Kleffman tossed a scoreless sixth inning and picked up a strikeout.
Tomorrow, the Aces look to pick up a win in the series finale, which is set for a 12 p.m. start time.
Submitted by Athletics
Fougerousse's Grand Slam Sends UE Past Murray State, 7-6
With the University of Evansville baseball team down to its final out on Saturday, junior second baseman Kip Fougerousse launched a go-ahead grand slam in the top of the ninth inning, and junior closer Nate Hardman struck out the side in the bottom half of the frame to send the visiting Purple Aces past the Murray State Racers, 7-6, at Johnny Reagan Field in Murray, Kentucky.
"What a game!" said UE head coach Wes Carroll. "I will be honest, we were outplayed in a lot of areas today, but the guys never quit, and Kip stepped up big for us late offensively to help us get this win. And, then to have Nate come in and slam the door in the bottom of the ninth was huge!
"Hopefully, this will be the spark that lights a fire for us down the stretch with this club!"
Murray State built a 6-1 lead through the first seven innings courtesy of some timing hitting and a pair of home runs by first baseman Brennan McCullough and outfielder Cade Sammons. Fougerousse provided a spark with a two-run home run to dead center field in the top of the eighth inning to trim the Murray State lead to 6-3, but the Racers brought on their closer, Ben Krizen, who entered the game with five saves and a sub-2.00 ERA, to get out of a mini-jam in the eighth inning and keep the score at 6-3.
After reliever Shane Harris (3-2) worked a perfect eighth inning with a pair of strikeouts, UE sent the top part of its batting order to the plate in the ninth inning to face Krizen. After Krizen struck out both Mark Shallenberger and Chase Hug to begin the frame, Evansville worked three-straight walks to load the bases with two outs, and Fougerousse blasted the third pitch he saw over the wall in left-center field to give UE its first lead of the day at 7-6.
Hardman would then come on in the bottom of the ninth inning to strike out McCullough, shortstop Drew Vogel and Sammons around a one-out walk to nail down his fourth save of the year and give UE an important series-opening win over the Racers.
Fougerousse finished the day going 2-for-5 with two home runs and a season-best six RBI. It marked his third-straight multi-hit game and extended his hitting streak to six games overall. Evansville only mustered six hits on the day, but the first eight men in the UE batting order all reached base thanks to earning 10 walks.
Harris earned the victory in relief for UE by scattering three runs on three hits in 3.2 innings of work, while striking out six. Krizen (0-2) suffered the loss by giving up a season-high four runs on just one base hit in 1.1 innings of work. It marked just the second time all year in which he had allowed more than one run in an outing.
With the victory, Evansville improves to 22-15 overall and 7-6 in the Missouri Valley Conference. Murray State, meanwhile, slips into a tie with Evansville in the Valley standings for fourth place with a 20-19 overall record and 7-6 conference mark. The two teams will conclude the series on Sunday with a 12 p.m. doubleheader. UE is expected to send junior LHP Donovan Schultz (4-2, 3.56 ERA) and senior LHP Tyler Denu (2-2, 4.35 ERA) to the mound in the doubleheader, which can be seen live on ESPN+ and heard live in the Tri-State area on 107.1 FM-WJPS and the Old National Bank/Purple Aces Sports Network from Learfield.
Submitted by Athletics
Men's golf ready for MVC Championship
Oakwood Country Club in Coal Valley, Illinois will be the scene of the 2023 Missouri Valley Conference Championship with the University of Evansville men's golf team set to chase the league crown.
Taking place Sunday through Tuesday, the tournament features 18 holes per day. Par is set for 71 while the yardage checks in at 6,760. Ten MVC institutions are set to participate including Illinois State, Valparaiso, Southern Illinois, Belmont, Missouri State, Northern Iowa, Drake, Bradley, Murray State and Evansville.
In last week's TSU Big Blue Intercollegiate, the Purple Aces put forth one of their best performances of the year. Michael Ikejiani carded a 4-under 67 in the final round to rally UE to a second-place finish in the team standings.
Ikejiani's score gave him a 3-round score of 209, which tied him for the 5th position. Nicholas Gushrowski joined Ikejiani in the top ten. Shooting an even 71 in the final 18 holes, he posted a 211 to tie for 9th. Daniil Romashkin recorded a top 15 finish. Highlighted by a 2-under 69 in the second round, Romashkin tied for 12th with a score of 212.
Isaac Rohleder tied for 31st while Carson Parker tied for 36th in the tournament.
Last season, UE earned a 6th place finish in the MVC Championship, which was held in Paducah, Ky. Caleb Wassmer was the top finisher, coming home in 18th while Henry Kiel was one spot behind in 19th.
Submitted by Athletics
Flames rally for 7-6 win in eight innings
With two outs in the bottom of the eighth inning, Alannah Cran scored the game-winning run as UIC took a 7-6 win over the University of Evansville softball team on Friday evening at Flames Field.
Evansville had the early momentum with two runs scoring in the top half of the second. Jess Willsey stole home for the first run of the day before Hannah Hood crossed the plate on a wild pitch. Lacy Smith opened the third inning with a single before Alexa Davis launched a 2-run home run to double the lead and make it a 4-0 score. UIC cut into the deficit with two runs scoring in the bottom of the frame.
Two innings later, it was Smith getting the job done once again. After reaching on a 1-out walk, she scored on a triple from Marah Wood. Jenna Nink hit Evansville's second home run of the game in the top of the 6th. Her solo shot pushed the advantage to 6-2.
In the bottom of the 6th, UIC made a furious rally, accumulating four runs on five hits to tie the game at 6-6. Hailey Cowing had the big hit, posting a 2-RBI single with two outs to cap off the rally. UE had a scoring opportunity in the 7th with Zoe Frossard and Davis reaching with two outs. Willsey followed with a single and the Aces turned the corner at third in an attempt to score the go-ahead run, but a throw from the outfield recorded the out at home.
UIC was kept off the board in the bottom of the 7th and the Aces responded with a threat in the 8th, putting two more runners on. The Flames escaped any damage and took advantage in the bottom of the frame. With two outs, Cran circled the bases on a UE error to give her team the 7-6 win.
The Aces picked up seven hits on the day with Willsey recording a pair. Smith scored twice for UE. The Flames picked up eight hits in the contest. Mikayla Jolly made the start, allowing five runs in 5 1/3 innings. Megan Brenton suffered the tough loss, allowing two runs, one earned, in 2 1/3 innings.
On Saturday, the series resumes with a 2 p.m. game.
Submitted by Athletics
Roosevelt Jones promoted to Director of Player Development
University of Evansville head men's basketball coach David Ragland has announced that Roosevelt Jones has been elevated to Director of Player Development for the Purple Aces.
Jones joined the program in the summer of 2022 and served as the Director of Basketball Operations last season. Before coming to Evansville, Jones was an Assistant Coach at the University of Indianapolis and IU-Kokomo.
"Rose is as competitive a person that I have been around. The fact that he has completely owned the responsibilities of Director of Basketball Operations as passionate as he did this past season was vital to our program," Ragland said. "Rose has a great basketball mind and is going to positively impact our players on a daily basis on and off the court."
Prior to his coaching days, Jones enjoyed a storied playing career. The legend at Butler University completed a record-breaking career with the Bulldogs that saw him rank at or near the top in starts (1st), assists (4th), rebounds (5th), steals (8th) and points (11th). The 2-time All-Big East Second Team player earned NABC All-District accolades in 2015-16.
Submitted by Athletics
Contribute to AceNotes
To have content considered for inclusion in AceNotes, please submit a Marketing Request Form. Deadline for submission to AceNotes is 10:00 a.m. on the requested date of publication. Only articles concerning UE related/sponsored activities will be accepted. Articles submitted to AceNotes may be edited for length and clarity. Submitter contact information is at the end of each article.