| | |
| --- | --- |
| AceNotes Today | Thursday, April 13, 2023 |
Take the UE Campus Survey
We want to hear from you! The UE Campus Survey is a tool to collect feedback from our campus community, including students, faculty, staff, and administration. Select the button below to complete the online survey, which takes about 15 minutes. The survey will be available from April 3-21, 2023.
Submitted by Holly Lee Smith hh98@evansville.edu
Pep and Vim/Reunion Weekend
One Purple Flag = One UE Donor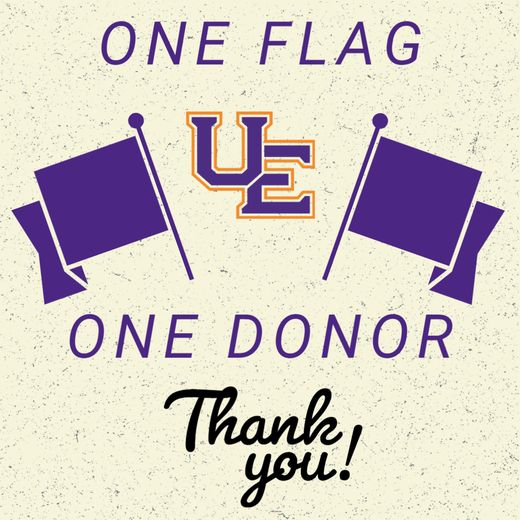 UE's Spirit Week is a celebration of giving and receiving. Annually, thousands of alumni, friends, parents, former parents, faculty, staff, and administrators come together to support the University of Evansville. No matter the size, every gift received propels the university FORWARD, providing students with a transformational and accessible education. At UE, we are Changemakers, but we could not do it alone. As you walk through campus this week and see the purple flags, take a moment to reflect on all the donors who make this possible. Each flag represents one donor, and their combined contributions strengthens the foundation of UE. THANK YOU!
Submitted by Jaime Wilder jw663@evansville.edu
Pep and Vim, the UE Annual Day of Giving, is April 14, 2023 – Click to learn more!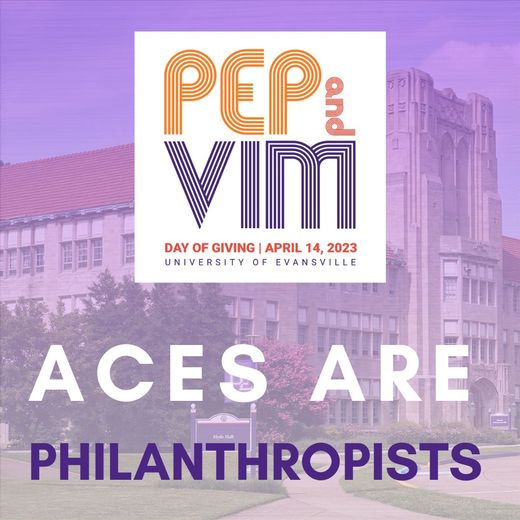 First created by a UE alumnus, "Pep and Vim," UE's Annual Day of Giving, was brought to life in 2012. We shouted our school spirit from the rooftops, and we were honored that the Aces community responded to our first Pep and Vim by making 250 philanthropic gifts that totaled over $5,000.

Flash forward to April 2022, Pep and Vim's 10-year anniversary, and you can see how UE's Day of Giving has grown over the last decade. Over 2,000 gifts were made to the university, totaling over $400,000. Gifts came in from 44 states, providing opportunities for growth within all 3 academic colleges on campus, as well as for Harlaxton College and UE Athletics.
Now it's time for Pep and Vim 2023, and with you by our side, we know we can up our game once more. The UE Alumni Board of Directors has issued a philanthropic challenge! If, as one Aces family, we make 2,023 gifts to any UE project, they will gift $20,000 to the UEvansville Fund!
Sometimes philanthropy can feel too big for us as individuals. But when we join together, we can change the lives of countless others. That's why, at UE, everyone can be a philanthropist. Whether you can give $5 or $5,000, your gift will move the University of Evansville FORWARD into a bright and hopeful future.

To make a gift and help unlock the Alumni Board's challenge, please visit www.evansville.edu/give
Thank you and GO ACES!
Submitted by Jaime Wilder jw663@evansville.edu
UNIVERSITY OF EVANSVILLE THEATRE PRESENTS NOISES OFF
The University of Evansville Theatre announces the season finale of the 2022–2023 season NOISES OFF, written by Michael Frayn. The show opens on Friday, Apr. 14, at 7:30 p.m., in Shanklin Theatre. Additional performances are at 7:30 p.m., on Apr. 15, 20, 21, 22, and at 2:00 p.m., on Apr. 23.
Easily considered the funniest farce ever written, this classic comedy follows a troupe of assiduous actors as they blunder from a disastrous dress rehearsal to complete pandemonium when they embark on an ill-fated tour. Hilarity ensues! With screwball shenanigans, mounting mayhem, slamming doors, and even flying sardines, this rip-roaring romp is the perfect outing for anyone ready to leave reality behind and indulge in the life-affirming and mood-altering benefits of good, old-fashioned belly laughs. This multiple Tony Award-nominated gem of a play will leave audiences in stitches.
NOISES OFF is directed by Assistant Professor Amelia McClain '03. Bradley Baumhover, a junior theatre management major from Joplin, Mo., serves as the assistant director; Ben Kahre '09, guest artist, serves as the fight coordinator; Joseph P. Flauto, serves as the scenic designer; Sara Mathew, a senior design and technology major, from Union, Ky., is the costume designer; Associate Professor Stephen Boulmetis, serves as the lighting designer; Assistant Technical Director Blake Cooper, serves as the sound designer; Assistant Professor Mitch Critel, serves as the technical director, and Zoe Paraskevopoulos, a senior stage management major, from Flower Mound, Texas, is the stage manager.
This cast features Tatiana Robledo, a junior performance major from Houston, Texas., as Dotty; McAllister Reed Stowell, a senior performance major, from Lakewood, Colo., as Lloyd; Gavin Ramirez, a first-year performance major, from McKinney, Texas, as Gary; Amelia Overholt, a senior performance major, from Fort Collins, Colo., as Brooke; Spencer Marfy, a junior performance major, from Tallmadge, Ohio, as Freddy; Marie Reilly, a senior performance major, from Spring Hill, Fla., as Belinda; Aibhlinn Rose, a senior performance major, from Clackamas, Ore., as Poppy; Landry Barker, a first-year performance major, from Fort Worth, Texas., as Tim; Jack Cory, a senior performance major, from Southlake, Texas., as Selsdon.
Adult ticket prices are $20 and $18 for senior adults, UE employees, and non-UE students. UE students may obtain one free student rush ticket beginning at 12 p.m. on the day of the performance they wish to attend. In addition, UE Theatre offers a new "Pay What You Will" initiative. Every Thursday evening performance in Shanklin Theatre is available for any person to pay any price that best fits their budget. Single tickets may be purchased online at theatre.evansville.edu or by calling the ticket office at 812.488.2031, Monday through Friday, 12:00 to 5:00 p.m.
Submitted by Sharla Cowden sc75@evansville.edu
Friends of UE Music to Host Open House
The Friends of UE Music are hosting an Open House for Wheeler Concert Hall on Pep and Vim Day. Stop by the Krannert Fine Arts Building on Friday, April 14, between 11:00 a.m. and 2:00 p.m. FUEM members and student volunteers will be happy to give you a tour of the new concert hall and answer any questions you may have about the renovation project.
If you gave a donation to name a seat in Wheeler, your nameplate is now in place. Please come by and see what our generous donors have helped to bring to life for the UE Music Conservatory.
Submitted by Amy Esche ae128@evansville.edu
UE Theatre's Rogue and Peasant Aces Presents ANIMAL FARM
After a two-year hiatus, the University of Evansville Theatre announces the return of the Rogue and Peasant Aces, their travelling performance troupe, with ANIMAL FARM, based on the book by George Orwell and adapted by Ian Wooldridge. Performances are at 2:00 p.m., Saturday, Apr. 15 and Saturday, Apr. 22, on the UE campus, in the John David Lutz Theatre Lab.
George Orwell's satire on the perils of Stalinism has proved a magnificently long-lived parable about totalitarianism and has given the world at least one immortal phrase: "Some are more equal than others." This dramatization remains faithful to the book's plot and intent and retains both its affection for the animals and the insightfulness of its message.
The aim of the Rogue and Peasant Aces is to provide accessible theatre experiences for individuals who otherwise may not have exposure to the arts. This spring, the Rogue and Peasant Aces are touring to various high schools in the area to perform.
ANIMAL FARM is directed by Rebecca Conaway, a senior theatre studies major, from Wellsburg, W. Va.; Liam Arney, a first-year design and technology major, from McAllen, Texas, serves as the costume and properties coordinator; Josie Madzik, a first-year theatre studies major, from Howell, Mich., is the dramaturg; and William Cooper Sanders, a first-year performance major, from Jeffersonville, Ind., is the stage manager.
Each role is shared by two actors, who will alternate between shows. The cast includes Benjamin Bravard, a senior performance major, from Batavia, Ohio, and Drake J. Susuras, a junior performance major, from Broomfield, Colo., sharing the roles of Old Major, Boxer, and Young Animal; Mason Norton, a first-year performance major, from Bremen, Ind., and Devyn Jolgren, a junior performance major, from Louisville, Ky., sharing the role of Squealer; Trace Levens, a firstyear performance major, from Bryan, Texas, and Jeff Parkinson, a senior performance major, from Mercer Island, Wash., sharing the role of Napoleon; Quinn McGaugh, a first-year performance major, from McAlester, Okla., and Caden Sevier, a junior performance major, from Humble, Texas, sharing the roles of Snowball and Benjamin; Elizabeth Dye, a senior performance major, from Frisco, Texas, and Kennedy Olson, a first-year performance major, from Porter, Texas, sharing the role of Clover; and Beverley Buchanan, a junior performance major, from Tomball, Texas, and Alyssa Meadows, a first-year performance major, from Louisville, Ky., sharing the roles of Moses, Mollie, Minimus, and Pilkington.
UE Theatre's Rogue and Peasant Aces is a part of the Ashoka U Changemaker Program. This leading global designation is part of a dynamic, global network of leading colleges and universities who set the bar for social innovation and changemaking in higher education.
Tickets for the two on-campus performances are free to the public and seating is general admission. The new John David Lutz Theatre Lab is limited to 87 seats. Tickets may be reserved at theatre.evansville.edu or by calling the ticket office at 812.488.2031, open from noon to 5:00 p.m., Monday through Friday.
Submitted by Sharla Cowden sc75@evansville.edu
English Professor to Speak at Willard Library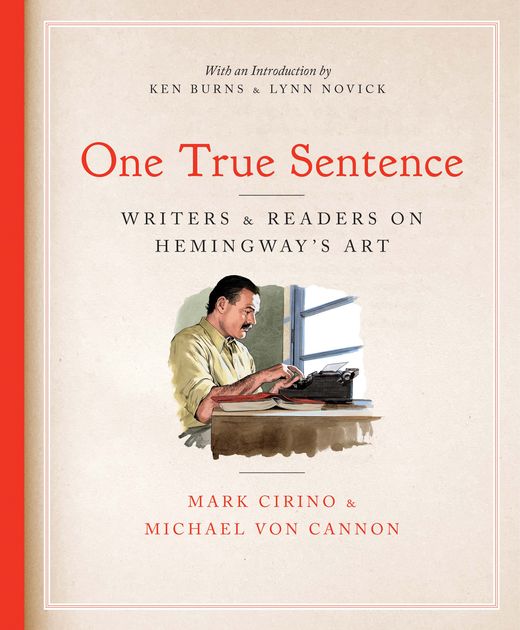 Mark Cirino will present "Ernest Hemingway: One True Sentence" on Monday, April 17 at 6:00 PM in the Browning Gallery (lower level) at Willard Public Library. Book signing to follow!
Ernest Hemingway's cartoonish "Papa" persona – the brawler, boozer, braggart, big game hunter, and chronic womanizer— often overshadows his greatness as a writer. In this presentation, Cirino ignores the temptations of biography and myth to concentrate instead on the most enduring contribution of Hemingway's life: his writing. Using Hemingway's "one true sentence" credo as inspiration, this talk examines representative sentences from texts such as The Sun Also Rises, A Farewell to Arms, and A Moveable Feast to discover techniques that gave his work such lasting power.
Dr. Mark Cirino is a Professor of English and Melvin M. Peterson Endowed Chair of English at the University of Evansville, where he has taught American literature for fifteen years. He has authored or edited ten books, including Ernest Hemingway: Thought in Action, Reading Hemingway's Across the River and into the Trees, and most recently, One True Sentence: Writers & Readers on Hemingway's Art, which he edited with Michael Von Cannon. He hosts the Hemingway Society's popular One True Podcast, which explores Ernest Hemingway's life, work, and world.
Submitted by Michelle Lehman ml281@evansville.edu
Campus Community Invited to UE Student Research and Honors Symposium
The campus community is invited to attend the 2023 UE Student Research and Honors Symposium on Wednesday, April 19. The event will be held from 9:00am-5:00pm in Eykamp 251/252 and will showcase the scholarly activities of students of diverse disciplines across UE's campus, including the graduating seniors of the Honors Program. Panels will be held each hour throughout the day, and you are invited to attend your choice of panels as your schedule permits. A detailed schedule of presenters and topics will be published in AceNotes next week.
We hope you will join us to support the fantastic work of our UE students.
Submitted by Jayme Williams jw504@evansville.edu
UE English and Creative Writing LitFest: Friday 7pm and Saturday starting at 9:30
DEPARTMENT OF ENGLISH AND CREATIVE WRITING
Melvin M. Peterson Literary Forum
Hemminger-Brown Lecture
Hollow Crowns: Shakespeare's Histories
and Netflix's The Crown
Friday, April 14 ? 7:00 p.m.
Room 162, Harkness Hall
Schroeder Family School of Business Administration Building
Vanessa Rapatz, PhD, is an Associate Professor of English at Ball State University, where she specializes in early British literature. Her book Convents and Novices in Early Modern English Dramatic Works (2020) considers the dramatic afterlives of Catholic spaces and figures in the wake of the Reformation. Currently, she is working on a pop culture Shakespeare project that examines contemporary films and television series set in a variety of historical periods that deploy Shakespeare's allusions and performances as vehicles to reflect upon contemporary personal, social, and historical identities.
LITFEST
11th Annual Literary Conference
Saturday, April 15
Student panels at 9:30 a.m., 10:45 a.m., and noon
Rooms 271, 272, and 273, Schroeder Family School of
Business Administration Building
Attendance is FREE and open to the public.
Submitted by Sara Petrosillo sp220@evansville.edu
Purple Palooza
Purplepalooza 2023! April 14th from 6:00 - 9:00 PM! Join us for food trucks, carnival rides, games, giveaways, a petting zoo brought by SCF, and more! Bring your friends and celebrate the end of the semester! Then head to Eykamp and join PRIDE for the Drag Show beginning at 9:15!
Submitted by Kelsey Rowland kr286@evansville.edu
Free Purple Popcorn
A table will be set up in Ridgway University Center to provide more information about the Campus Survey. You can stop by for some free purple popcorn! Visit the table during lunchtime from 11am - 1pm on April 13.
Submitted by Holly Lee Smith hh98@evansville.edu
Solo Exhibition for Professor Todd Matteson at Thyen-Clark Cultural Center, Jasper, Indiana

The Thyen-Clark Cultural Center in Jasper, Indiana, hosts Professor Todd Matteson's solo exhibition, Life's Adventures. The exhibition runs for three months with a gallery talk every first Thursday in March and April. Professor Matteson will also be doing demonstrations to the public and local schools during his exhibition. Please come enjoy his ceramics and catch a glimpse at his new creations.
Submitted by Todd Matteson tm8@evansville.edu
PT Faculty and Sports Resident Alumni Publish Research
PT faculty members Dr. Kyle Matsel and Dr. Kate Schwartzkopf-Phifer along with ProRehab/UE Sports Resident Alumni Jonathan Kirsch, Tessa Netelbeek, Rolando Rodriquez, and Ervin Velic recently published research in the International Journal of Sports Physical Therapy, "Self-Movement Screening using the Symmio Application is Reliable and Valid for Identifying Musculoskeletal Risk Factors." The creation of a patient-driven, self-screening tool for the reliable detection of MSK risk factors can alert individuals of impending MSK needs. The Symmio self-screen can allow individuals to seek evaluation and treatment before MSK injury, which may decrease healthcare dollars spent on preventable issues.
The research article can be viewed at the IJSPT website.
Submitted by Jennifer Simon js698@evansville.edu
Zoom Recording from Benefit Open Enrollment Session
Thank you to all who came out to our Employee Benefit Open Enrollment meetings over the last couple of days. As a reminder, the benefit period began Thursday, April 5. Every employee will need to complete the online election process, even if you are declining all benefits, no later than Friday, April 21.
For those unable to join us for in-person meetings, you can review the Zoom session at your convenience.
Passcode: e#qyAM5y
If you have any questions about open enrollment and/or the University's benefit plans, please contact the Office of Human Resources at ll138@evansville.edu or 812-488-5045.
Submitted by Lori LeDuc ll138@evansville.edu
Tear down walls! Build bridges! Latino Community Outreach
If you would like to contribute to tearing down walls and building bridges, and if you have studied Spanish in high school or college or are a native speaker, please consider signing up for CHNG-310-S02 Latino Community Outreach. We run different projects within the ChangeLab to meet the needs of the Latino community as they arise. Our two areas of focus are healthcare and education. The common themes of all our projects are appreciation of diversity, inclusivity and respect, multicultural understanding, and the correction of stereotypes.
You can take the course for 0,1, 2, or 3 credit hours so that it works optimally in your schedule. If you would like more details on the Latino Community Outreach projects or have any questions, please contact Dr. Cindy Crowe at cc109@evansville.edu.
Submitted by Cindy Crowe cc109@evansville.edu
National Survey of Student Engagement (NSSE)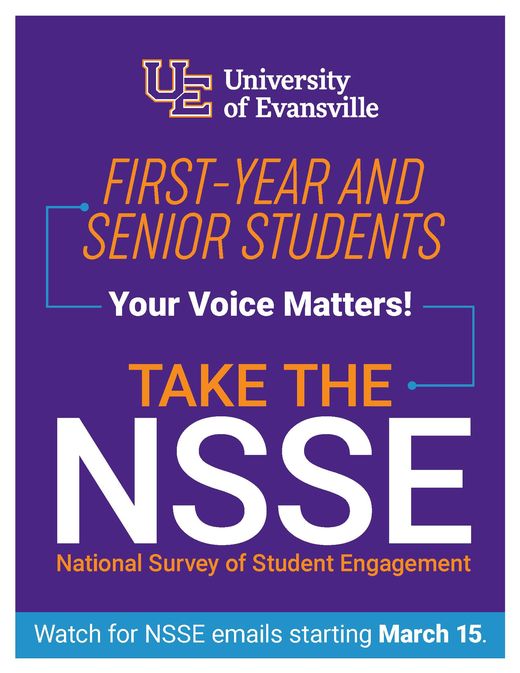 FIRST-YEAR AND SENIOR STUDENTS - Your Voice Matters! Take the National Survey of Student Engagement (NSSE). Watch for NSSE emails starting March 15.
In appreciation for participating, all students who complete the survey by April 14 will be entered into a drawing for one of two Apple Watches (each valued at approximately $280.00) and one of four sets of JBuds Air earbuds (each valued at approximately $70.00). One first-year student and one senior-year student will be selected for the Apple Watches. Two first-year students and two senior-year students will be selected for the earbuds. Students may receive only one item. Your chances of winning depend on how many complete the survey; 965 students were invited to participate.
Submitted by Paula Heldt ph28@evansville.edu
April Employee of the Month
SAA would like to congratulate Melissa Edris Administrative Associate/Dean Education and Health Sciences and Annie Sills Assistant Director of Institutional Equity and Title IX Coordinator on being nominated and selected for April Employee of the Month. Thank you for all you do for our students, faculty, and staff!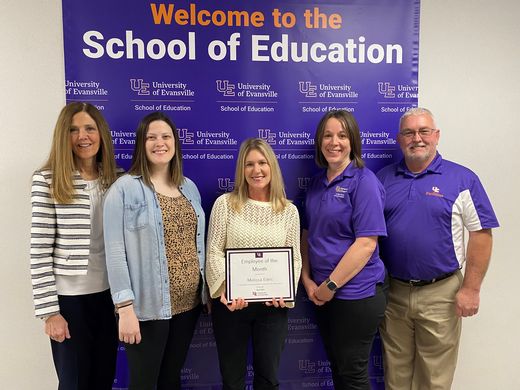 Melissa Edris
---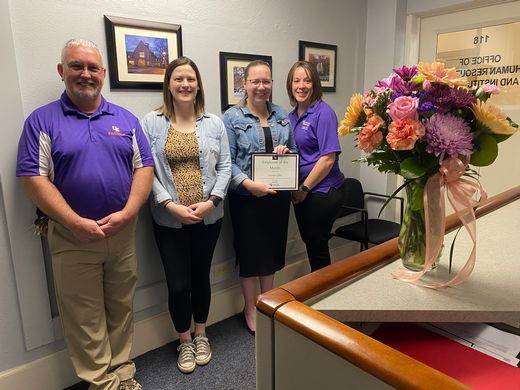 Annie Sills
Submitted by Stephanie Stoll ss810@evansville.edu
Congratulations to Dr. Park on his journal publication
Dr. Hyunsoung Park, Assistant Professor of Civil Engineering from the School of Engineering and Computer Science published a journal paper titled "A Proposal for Basic Formal Ontology for Knowledge Management in Building Information Modeling Domain" in the Journal of Applied Sciences. Congratulations, Dr. Park!
Submitted by Suresh Immanuel ss476@evansville.edu
Contribute to AceNotes
To have content considered for inclusion in AceNotes, please submit a Marketing Request Form. Deadline for submission to AceNotes is 10:00 a.m. on the requested date of publication. Only articles concerning UE related/sponsored activities will be accepted. Articles submitted to AceNotes may be edited for length and clarity. Submitter contact information is at the end of each article.