| | |
| --- | --- |
| AceNotes Today | Monday, April 10, 2023 |
Lot H to close for Bike Race
Lot H will be closed to all vehicles beginning on Sunday, April 9th at 3pm. The closure will remain in place through Saturday, April 15th. The closure is will allow for improvements and preparation for the Annual UE Bike Race. If you are using Lot H prior to April 9th, please move it prior to the closure.
The alternate lots are Lot C behind Koch Center, Lot A behind SOBA, and Lot O next to the Armory.
Submitted by Jason Cullum jc647@evansville.edu
Take the UE Campus Survey
We want to hear from you! The UE Campus Survey is a tool to collect feedback from our campus community, including students, faculty, staff, and administration. Select the button below to complete the online survey, which takes about 15 minutes. The survey will be available from April 3-21, 2023.
Submitted by Holly Lee Smith hh98@evansville.edu
Pep and Vim/Reunion Weekend
Pep and Vim, the UE Annual Day of Giving, is April 14, 2023 – Click to learn more!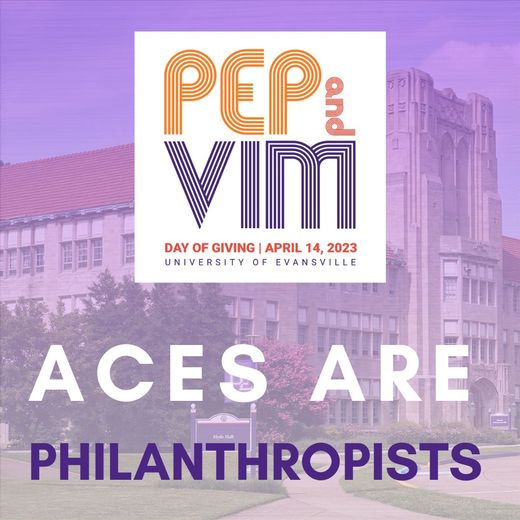 First created by a UE alumnus, "Pep and Vim," UE's Annual Day of Giving, was brought to life in 2012. We shouted our school spirit from the rooftops, and we were honored that the Aces community responded to our first Pep and Vim by making 250 philanthropic gifts that totaled over $5,000.

Flash forward to April 2022, Pep and Vim's 10-year anniversary, and you can see how UE's Day of Giving has grown over the last decade. Over 2,000 gifts were made to the university, totaling over $400,000. Gifts came in from 44 states, providing opportunities for growth within all 3 academic colleges on campus, as well as for Harlaxton College and UE Athletics.
Now it's time for Pep and Vim 2023, and with you by our side, we know we can up our game once more. The UE Alumni Board of Directors has issued a philanthropic challenge! If, as one Aces family, we make 2,023 gifts to any UE project, they will gift $20,000 to the UEvansville Fund!
Sometimes philanthropy can feel too big for us as individuals. But when we join together, we can change the lives of countless others. That's why, at UE, everyone can be a philanthropist. Whether you can give $5 or $5,000, your gift will move the University of Evansville FORWARD into a bright and hopeful future.

To make a gift and help unlock the Alumni Board's challenge, please visit www.evansville.edu/give
Thank you and GO ACES!
Submitted by Jaime Wilder jw663@evansville.edu
UE English and Creative Writing LitFest: Friday 7pm and Saturday starting at 9:30
DEPARTMENT OF ENGLISH AND CREATIVE WRITING
Melvin M. Peterson Literary Forum
Hemminger-Brown Lecture
Hollow Crowns: Shakespeare's Histories
and Netflix's The Crown
Friday, April 14 ? 7:00 p.m.
Room 162, Harkness Hall
Schroeder Family School of Business Administration Building
Vanessa Rapatz, PhD, is an Associate Professor of English at Ball State University, where she specializes in early British literature. Her book Convents and Novices in Early Modern English Dramatic Works (2020) considers the dramatic afterlives of Catholic spaces and figures in the wake of the Reformation. Currently, she is working on a pop culture Shakespeare project that examines contemporary films and television series set in a variety of historical periods that deploy Shakespeare's allusions and performances as vehicles to reflect upon contemporary personal, social, and historical identities.
LITFEST
11th Annual Literary Conference
Saturday, April 15
Student panels at 9:30 a.m., 10:45 a.m., and noon
Rooms 271, 272, and 273, Schroeder Family School of
Business Administration Building
Attendance is FREE and open to the public.
Submitted by Sara Petrosillo sp220@evansville.edu
Purple Palooza
Purplepalooza 2023! April 14th from 6:00 - 9:00 PM! Join us for food trucks, carnival rides, games, giveaways, a petting zoo brought by SCF, and more! Bring your friends and celebrate the end of the semester! Then head to Eykamp and join PRIDE for the Drag Show beginning at 9:15!
Submitted by Kelsey Rowland kr286@evansville.edu
Research in Gerontology Symposium on Tuesday, April 11 at 12:30pm
Please join us for the 4th annual Research in Gerontology Symposium, hosted by the UE Gerontology Center, on Tuesday, April 11 from 12:30-2:30 in the SoBA Atrium. The symposium will feature poster presentations from students in Sociology, Psychology, Criminal Justice, Cognitive Science, Ethics & Social Change, Environmental Administration, Health Services Administration, Education, Creative Writing, and Theatre Design on a variety of topics in death, dying, and bereavement.
Additionally, the Sociology Programs will be announcing the winners of their annual awards, including:
Hanns G. Pieper Sociology and Criminal Justice Senior Research Award
James Berry Sociology and Criminal Justice Outstanding Junior Award
Mary Rode Petkovsek and Ludwig A. Petkovsek Sociology and Criminal Justice Outstanding Service Award
Lowell A. Dunigan Award for Outstanding Research in Gerontology
Submitted by Mari Plikuhn mp168@evansville.edu
Free Purple Popcorn
A table will be set up in Ridgway University Center to provide more information about the survey, and you can stop by for some free purple popcorn! Visit the table during lunchtime on April 11 and April 13.
Submitted by Holly Lee Smith hh98@evansville.edu
Habitat for Humanity Barn Blitz!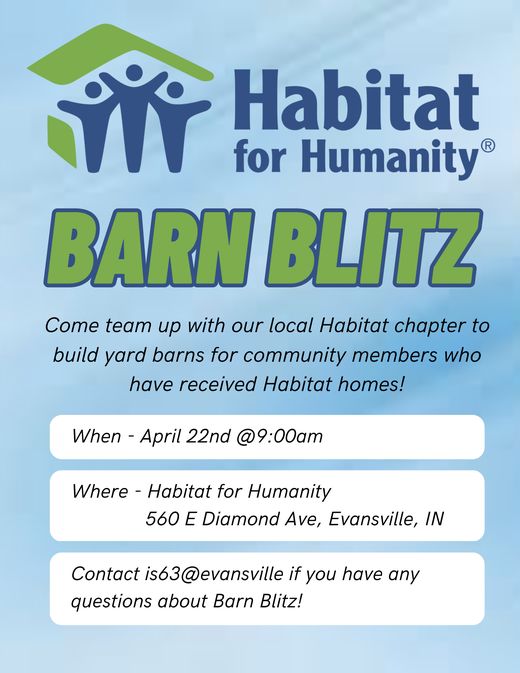 Barn Blitz is an event where UE students team up with the local Habitat chapter to build yard barns for community members who have received Habitat homes.
This year's Barn Blitz will take place on April 22nd at 9:00am in the parking lot behind the Evansville Habitat for Humanity (560 E Diamond Ave. Evansville, IN). Our goal is to have 20 teams, each made up of 6-8 people, so that we can build 20 barns.
Attached is the link to the signup genius for Barn Blitz teams. If you are part of an organization, it would be greatly appreciated if you could encourage them to create a Barn Blitz team!
https://www.signupgenius.com/go/10C0E4EADA62DA6F8C52-habitat1
Feel free to reach out to is63@evansville.edu with any questions.
Submitted by Isabelle Stapp is63@evansville.edu
TIAA Employee Retirement Individual Counseling Sessions
You can meet with a financial consultant at University of Evansville.
No matter where you are in life—just getting started or planning for retirement—a session with Mike Dooley can help
you create a plan for your goals. And, it's at no cost as a part of your retirement plan.
Wednesday, Apr 12, 2023 9:00 am - 5:00 pm Eades Music Room 153, School of Business
RSVP today, as space is limited. Register for sessions at www.tiaa.org/schedulenow or by calling
800-732-8353, weekdays, 8 a.m. to 8 p.m. (ET).. We look forward to working with you.
Submitted by Lori LeDuc ll138@evansville.edu
Computer Science Courses offered during Summer Sessions
Dr. Maxwell Omwnega will be offering CS-101and CS-210 during Summer Session I (May 15 thru June 17) and Summer Session II (June 19 thru July 21) Register today to save your spot in these courses!
Submitted by Tonya Albright ta58@evansville.edu
SPAN-111 Online course – Summer 1
SPAN-111: Elementary Spanish I will be offered during the Summer 1 session as an online, asynchronous class. This course counts towards Outcome 6. This 3-credit hour course will run from May 15 to June 16, 2023. If you have any questions, please contact Dr. Diana Rodríguez Quevedo via email – dr130@evansville.edu
Submitted by Diana Rodríguez Quevedo dr130@evansville.edu
Zoom Recording from Benefit Open Enrollment Session
Thank you to all who came out to our Employee Benefit Open Enrollment meetings over the last couple of days. As a reminder, the benefit period began Thursday, April 5. Every employee will need to complete the online election process, even if you are declining all benefits, no later than Friday, April 21.
For those unable to join us for in-person meetings, you can review the Zoom session at your convenience.
Passcode: e#qyAM5y
If you have any questions about open enrollment and/or the University's benefit plans, please contact the Office of Human Resources at ll138@evansville.edu or 812-488-5045.
Submitted by Lori LeDuc ll138@evansville.edu
SAA Book Club read for April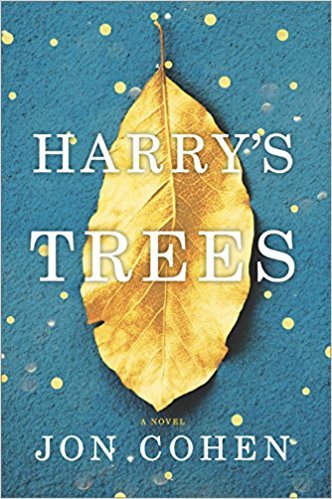 For the month of April the SAA Book Club is reading Harry's Trees by Jon Cohen
This is a fictional novel with magical realism.
"Thirty-four-year-old Harry Crane, lifelong lover of trees, works as an analyst in a treeless US Forest Service office. When his wife dies in a freak accident, devastated, he makes his way to the remote woods of northeastern Pennsylvania's Endless Mountains, intent on losing himself. But fate intervenes in the form of a fiercely determined young girl named Oriana. She, too, has lost someone—her father. And in the magical, willful world of her reckoning, Oriana believes that Harry is the key to finding her way back to him.
Harry's Trees is an uplifting tale about love, loss, friendship, and redemption. Fans of Fredrik Backman's A Man Called Ove and Gabrielle Zevin's The Storied Life of A.J. Fikry will find in its relentless good humor a much-needed remedy for these fraught times" -From Goodreads.com
We will meet on Thursday April 27th (Reading Study Day) at 12 noon in the University Advancment House on Rotherwood to discuss the book. Everyone is invited. If you would like to be added to the Book club email list please contact Kathy Taylor at ks6
Submitted by Katherine Taylor ks6@evansville.edu
2023-24 Dr. Marvin E. Hartig Scholarship
Family, friends and loved ones of the late Dr. Marvin E. Hartig are pleased to announce the application process for the Dr. Marvin E. Hartig Memorial Scholarship. This scholarship is dedicated to the loving memory of Dr. Hartig, Dean of Evansville College's Evening College in 1967, and administrator for the Center for Advanced Study, director of the Evansville chapter of the American Institute of Banking (AIB), and the international student advisor. In 1974, Dr. Hartig was appointed Dean of Academic Services. He retired in 1984 after serving his alma mater for thirty-five years and passed away in 2007.
This scholarship will be awarded annually to a deserving sophomore student. Preference will be given to a student working while being enrolled as a full-time student. International students are encouraged to apply.
Eligible students for the 2023-2024 Hartig Memorial Scholarship will be sophomores in the 2023-2024 academic year.
The application can be found online.
Deadline: Please return all materials to the Office of Student Financial Services by May 5, 2023. The decision will be announced by May 26, 2023.
Questions: Amber Chandler, Administrative Assistant to the Office of Student Financial Services, at ac547@evansville.edu or 812-488-2364.
Submitted by Amber Chandler ac547@evansville.edu
National Survey of Student Engagement (NSSE)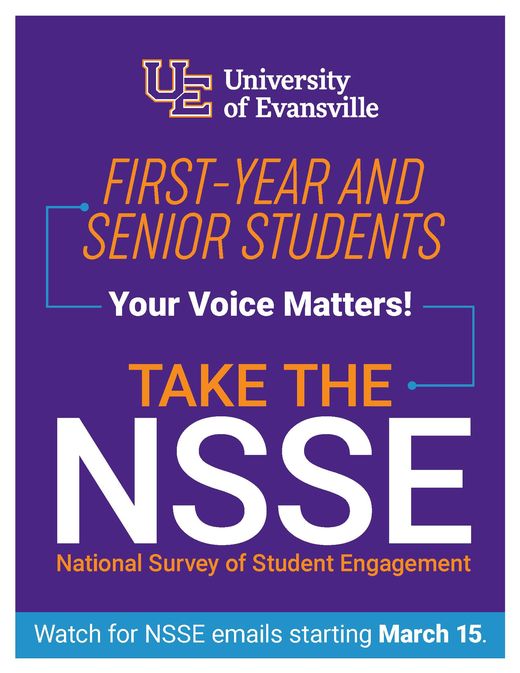 FIRST-YEAR AND SENIOR STUDENTS - Your Voice Matters! Take the National Survey of Student Engagement (NSSE). Watch for NSSE emails starting March 15.
In appreciation for participating, all students who complete the survey by April 14 will be entered into a drawing for one of two Apple Watches (each valued at approximately $280.00) and one of four sets of JBuds Air earbuds (each valued at approximately $70.00). One first-year student and one senior-year student will be selected for the Apple Watches. Two first-year students and two senior-year students will be selected for the earbuds. Students may receive only one item. Your chances of winning depend on how many complete the survey; 965 students were invited to participate.
Submitted by Paula Heldt ph28@evansville.edu
Employee - UE Mobile Mammography Services
Employees - Ascension St. Vincent is providing mobile mammography services for the University of Evansville. The mobile mammography bus will be located next to the Krannert Building on April 13th from 9:00AM - 2:00PM. Please click the link below to sign up for an appointment time! An Ascension Breast Center representative will call you prior to your appointment date to verify all necessary registration information.
Submitted by Haley Walker hw164@evansville.edu
Seeking financial Aid for summer courses?
UE students seeking financial aid or intending to use loan funds for summer courses at UE, please complete a Summer Financial Aid Application and return to the Office of Student Financial Services (Olmsted 105) however is most convenient. The application will allow our office to assess your financial aid and loan eligibility.
Work-Study:
On-campus jobs are available for continuing UE students during the summer. You do not need to be eligible for need-based Federal Work-Study during the academic year in order to apply. You may also apply regardless of your enrollment in summer courses. Applications will be available within the Student Employment area of WebAdvisor.
Submitted by Amy Sowders as560@evansville.edu
Outstanding Educators Award Recipients Announced
The Outstanding Educators of the Year award acknowledges the dedication and contributions of Vanderburgh County educators by recognizing four educators who excel within their profession. Every year, each educator receives a surprise announcement within their school as part of UE's 32nd annual presentation of awards.
The following awards were presented on Wednesday, April 5:
Outstanding Elementary Teacher of the Year: Briana Campbell, first grade teacher at Lodge Community School
Briana Campbell has been immersed in the education field for the last decade and spent the last two years working at Lodge Community School. She teaches reading, writing, math, and social emotional learning in a first-grade classroom.
In nominating Campbell for an Outstanding Educator Award, an individual said that "I cannot say enough wonderful things about Briana, nor can I think of a more deserving educator."
Outstanding Middle School Teacher of the Year: Jance Johnston, sixth grade teacher at Delaware Elementary School
Jance Johnston has been a teacher for 9 years, which is exactly how long he has worked at Delaware Elementary. His primary disciplines are English language arts, math, and science. In addition to his many middle school subjects, he has an array of additional school-related contributions including being an afterschool teacher, 6th-grade boys' basketball coach, inclusion teacher, and summer schoolteacher.
Outstanding High School Teacher of the Year: Timothy Wilhelmus, an eleventh and twelfth grade teacher at Central High School
Timothy Wilhelmus has been teaching for thirty-one years and has spent the last three years teaching at Central High School. Wilhelmus is also involved in numerous school-related responsibilities.
The nominations for Wilhelmus offer incredible words describing how he exceeds the expectations of his students.
One nomination stated that "he goes above and beyond to influence a positive class culture while still being able to finish lessons and allow students to develop an overall understanding of the materials."
Outstanding Building Principal of the Year: Chris Gibson, New Tech Institute
Chris Gibson has been an educator for twenty-four years, spending eight teaching science, six as a counselor, and ten in administration. He has been at New Tech Institute for the last ten years.
"The focus of my educational journey has been to ensure that all students have access to high-quality, rigorous instruction – and that they have the equivalent support to help them reach the expectations inherent in that challenging environment," said Gibson.
Submitted by Noah Alatza na122@evansville.edu
Weatherford and Brenton shut down Salukis to win series
Sydney Weatherford and Megan Brenton combined to earn a 2-0 shut out victory over Southern Illinois at Tri-State Orthopaedics Field at James and Dorothy Cooper Stadium on Sunday.
Weatherford picked up her fourth win of the season with five innings of work. She allowed seven hits and struck out a pair. Brenton threw the final two innings, allowing just one hit while striking out two. Neither pitcher gave up a walk.
The tone was set for a pitcher's duel in the early going as Sydney Weatherford retired the Salukis in order to begin the game. Taylor Howe picked up a hit in the first while Alexa Davis added one in the second. Davis also got the job done on the defensive side, making a diving catch in center field to prevent a sure double.
In the bottom of the fourth, the scoreless tie was broken when the Purple Aces plated two runs. Jess Willsey, Davis and Karlee Frobeter all walked to load the bases with one out. Willsey scored on a wild pitch before Hannah Hood hit a bloop single into left to make it a 2-0 game.
Highlighted by a pair of defensive gems from Zoe Frossard, the Salukis were held scoreless in the top of the fifth. Her diving catch in right field prevented a base hit to record the first out while an even better play cemented the second out. With a runner on first, the Salukis picked up a base hit, which Frossard grabbed and threw out the runner a third.
Brenton entered in the top of the sixth and took care of business, allowing just one hit to secure the shut out victory. UE recorded three hits on the day while the Salukis had eight. Elizabeth Warwick and Emma Austin registered two hits apiece.
For the second week in a row, the Aces will travel to Terre Haute as they will face the Sycamores on Tuesday at 3 p.m. CT.
Submitted by Athletics
Roberts' Walk-Off Blast Sends UE Past Valparaiso, 4-3
University of Evansville graduate outfielder Eric Roberts blasted a two-out, solo walk-off home run to right field in the bottom of the ninth inning on Sunday to power the UE baseball team to a Missouri Valley Conference series victory over the Valparaiso Beacons with a 4-3 win at German American Bank Field at Charles H. Braun Stadium.
"Big-time players do big-time things, and Eric Roberts is a big-time player!" said UE head coach Wes Carroll. "It was great to have a walk-off Valley series win on Easter! This is a big spark for this program."
Roberts crushed the first pitch he saw from Valparaiso reliever Grant Jablonski (0-3) over the right-field wall for his MVC-leading 13th home run of the year. It marked the third-straight Valley Sunday in which Roberts has homered, as he has crushed five home runs on Sundays in league play so far.
Evansville jumped to an early 3-0 lead in the third inning, as Roberts began UE's scoring with a sacrifice fly to right field. Fifth-year first baseman Chase Hug followed with an RBI single to right, and junior catcher Brendan Hord followed two batters later with an RBI single to center field to give UE a 3-0 lead.
The Beacons would not be extinguished easily though. Valpo got a sacrifice fly from emergency starter Spencer Warfield in the fourth inning to cut the UE lead to 3-1. Second baseman Nolan Tucker then came through with an RBI single in the seventh inning to trim the lead to 3-2. Things could have been vastly different in that frame, as Tucker was thrown out at second base trying to stretch the play into a double. Then, Valparaiso tied the game in the eighth inning on a suicide squeeze bunt base hit by Warfield. Warfield originally was not in the starting lineup, but was added after Matt Olive was injured in pre-game warm-ups.
UE threatened with two men on in the eighth inning, but came up empty. UE closer Nate Hardman (1-1) then worked a perfect top of the ninth inning to keep the score tied at 3-3. Jablonski got the first two UE batters of the inning to pop up to begin the frame, before Roberts ended the afternoon with the walk-off blast on the first pitch.
Offensively, sophomore designated hitter Evan Waggoner led all UE players by going 2-for-4. Roberts drove in two of UE's four runs, while adding the walk-off home run and going 1-for-3. Tucker led Valparaiso with a 3-for-5 day at the plate.
With the victory, Evansville improves to 19-12 overall and 5-4 in the MVC. Valparaiso, meanwhile, falls to 10-14 overall and 2-7 in the Valley. Evansville will now hit the road for four-straight road games this week, beginning on Tuesday night, as the Purple Aces will travel to Bowling Green, Kentucky to take on the Western Kentucky Hilltoppers. Tuesday's game is set for a 6 p.m. first-pitch, and can be heard live in the Tri-State area on 107.1 FM-WJPS and the Old National Bank/Purple Aces Sports Network from Learfield.
Submitted by Athletics
Aces drop opener to Salukis
Southern Illinois scored seven runs in the second inning on their way to a 17-1 victory over the University of Evansville softball team on Friday evening at Tri-State Orthopaedics Field at James and Dorothy Cooper Stadium.
Following a scoreless first inning, the Salukis pounced with seven runs in the second. SIU recorded four runs and four hits in the frame.
Evansville's first hit came from the bat of Hannah Hood in the bottom of the second but UE could not get on the board. Southern Illinois came back with three runs in the third and four in the fourth to extend the lead to 14-0.
In the bottom of the fourth, the Purple Aces pushed their first run across the plate. Taylor Howe hit a leadoff single and Callie Meinel followed with a walk. Dori Brown singled to left field to bring in Howe. It marked Brown's second career hit.
Three more Salukis runs scored in the fifth push the advantage to 17-1.
Elizabeth Warwick led the Salukis with seven runs batted in. Emma Austin and Aubree DePron scored four runs apiece. Evansville tallied four hits.
Tomorrow, the teams resume the series with a 2 p.m. contest.
Submitted by Athletics
Valparaiso Wins Series Opener, 6-1, Over Evansville
The visiting Valparaiso University baseball team scored two runs in the top of the sixth inning on Friday night to snap a 1-1 tie, and the Beacons never looked back, as Valparaiso took the Missouri Valley Conference series-opener from the University of Evansville Purple Aces, 6-1, at German American Bank Field at Charles H. Braun Stadium in Evansville.
Evansville jumped to an early 1-0 lead in the first inning on a single by graduate outfielder Eric Roberts and an RBI double by fifth-year first baseman Chase Hug. But, UE would not put another runner into scoring position until the eighth inning, and by that point, Valparaiso had a 3-1 lead.
The Beacons tied the game at 1-1 in the second inning without the use of a base hit, as Valpo took advantage of uncharacteristic wildness from UE starter Nick Smith. Smith issued two walks and a hit batter in the inning. He entered the night with just seven walks in 33.2 innings of work on the season.
The game would remain tied at 1-1 though until the sixth inning, when Valparaiso scored two runs off UE reliever Shane Harris (2-2). After a one-out walk and single put two Beacons on base, catcher Kade Reinertson doubled down the right-field line to give the Beacons a 2-1 lead. Then, third baseman Alex Thurston followed with a perfectly-executed suicide squeeze bunt to move the lead to 3-1.
UE would put two men on in the eighth inning on a pair of walks, but reliever Grant Jablonski got a ground out by UE junior shortstop Simon Scherry to get out of the jam. Then, after Valparaiso added to the lead with back-to-back home runs by second baseman Nolan Tucker and outfielder Kyle Schmack in the top of the ninth inning, Jablonski struck out the side in order to earn his first save of the year and make a winner out of Valpo starter Griffin McCluskey (2-4). McCluskey was dominant, holding Evansville to just the first-inning run on four base hits, while striking out six. He did not allow a runner past first base after the first inning in 7.1 innings of work.
With the victory, Valparaiso improves to 10-12 overall and 2-5 in the MVC. Evansville, meanwhile, falls to 17-12 overall and 3-4 in the MVC. The two teams will continue the series on Saturday afternoon at 2 p.m. UE LHP Tyler Denu (2-1, 4.22 ERA) is expected to be opposed by Valparaiso RHP Nathan Chasey (0-0, 1.90 ERA). Saturday's game can be heard live in the Tri-State area on 107.1 FM-WJPS and the Old National Bank/Purple Aces Sports Network from Learfield.
Submitted by Athletics
Softball defeats Salukis in Saturday contest
Freshman Jess Willsey was a perfect 3-for-3 with four RBI on Saturday to pace the University of Evansville softball team to a 4-3 victory over Southern Illinois at Tri-State Orthopaedics Field at James and Dorothy Cooper Stadium.
Each of Willsey's hits resulted in RBIs as the Purple Aces earned a huge rebound victory. Jenna Nink scored three runs while earning two walks and a hit.
Sydney Weatherford encountered some trouble in the first inning with four of the first five batters reaching base, resulting in a 1-0 lead for the Salukis. Weatherford escaped further damage as she recorded the last two outs. With one out in the bottom of the first, three 1-out walks loaded the bases. Facing a 3-2 count, Jess Willsey doubled to left field to score Jenna Nink and Taylor Howe and give UE a 2-1 lead.
Jenna Nink opened the bottom half of the third with an infield single. After a Howe sacrifice advanced her to second, Jess Willsey came through once again. Another double to left field scored Nink and gave UE a 3-1 edge. Southern Illinois manufactured a run in the fourth to get back within one before an RBI single tied the game in the fifth.
For the third time in the contest, it was Willsey picked up the big hit. With two outs, her single to right field score Nink to put the Aces back in the lead. SIU put its first two runners on to begin the top of half of the 6th but Megan Brenton, who entered at the top of the frame, pitched out of the jam to keep her squad on top.
Brenton recorded her fourth save of the season as she sat the Salukis down in order to clinch the win. Weatherford earned her third victory of 2023.
Sunday's series finale is set for a 12 p.m. start time.
Submitted by Athletics
Baseball Aces Even Series With 9-8 Win Over Valparaiso
The University of Evansville baseball team used a little two-out magic on Saturday afternoon to erupt for nine runs, and the Purple Aces held off a furious ninth-inning rally by the visiting Valparaiso Beacons to even their Missouri Valley Conference series with a 9-8 win at German American Bank Field at Charles H. Braun Stadium in Evansville.
"Our offense came through with some big at-bats today, which was great to see," said UE head coach Wes Carroll. "It is also great to see Brent Widder getting hot, as he delivered multiple times for us today.
"Tomorrow is an important day, with the series on the line."
Evansville went 6-for-14 with two outs and produced six two-out RBI in the contest to fuel the offense.
The Purple Aces struck first in the second inning, as junior second baseman Kip Fougerousse knocked a one-out double and fifth-year outfielder Danny Borgstrom produced a sacrifice fly to give UE a 2-0 advantage.
The Beacons would answer right back with a two-out run of its own in the third inning, before Fougerousse would deliver a two-out, two-run single in the home-half of the frame to push UE's lead to 4-1.
Two more two-out runs would score in the sixth inning to move the lead to 6-1. Graduate outfielder Eric Roberts knocked a two-out RBI double, and junior shortstop Simon Scherry followed two batters later with an RBI single for UE.
The Beacons would scratch across two runs in the seventh inning to make it a 6-3 contest. UE's two-out magic was not done though, as Widder came through with a two-out, two-run single in the eighth inning as part of a three-run frame to push the lead to 9-3. The three insurance runs were needed for UE, as Valparaiso scored five two-out runs in the top of the ninth inning, before freshman Max Hansmann got the final out to nail down his first collegiate save.
Widder went 3-for-4 with a double, two runs scored and two RBI to help lead the UE attack. Fougerousse also had two hits and drove in three runs, and Scherry and Roberts added two hits apiece as well. Graduate reliever Michael Parks (2-0) picked up the victory on the mound, scattering two runs on six hits in 3.2 innings of relief work.
With the victory, Evansville improves to 18-12 overall and evens its MVC record at 4-4. Valparaiso, meanwhile, falls to 10-13 overall and 2-6 in the MVC with the loss. The series will conclude on Sunday afternoon at 1 p.m., as UE junior LHP Donovan Schultz (4-2, 3.82 ERA) is expected to face off against Valparaiso RHP Bobby Nowak (3-0, 2.12 ERA). Sunday's game can be heard live in the Tri-State area on 107.1 FM-WJPS and the Old National Bank/Purple Aces Sports Network from Learfield.
Submitted by Athletics
Softball hosts Southern Illinois for 3-game series
Another home series is on tap for the Purple Aces with Southern Illinois coming to Tri-State Orthpopaedics Field at James and Dorothy Cooper Stadium this weekend. Friday's opener is set for a 5 p.m. start time with Saturday beginning at 2 p.m. and Sunday's finale starting at 12 p.m.. ESPN3 and ESPN+ will have coverage of the three games.
Looking at the Match-up
- Since 2017, the Salukis have had the upper hand in the series, going 13-2 against the Purple Aces
- Evansville's last series win came in 2016 when UE took both games in Carbondale before SIU grabbed a single 3-2 win in nine innings
Last Time Out
- Evansville split its four MVC games over the last week with a series win over Belmont before an extra inning loss at Indiana State
- The Aces opened the series versus the Bruins last weekend with a 3-2 win as Zoe Frossard picked up the game-winning hit in the 11th inning
- After dropping a 6-5 decision in game two, UE responded with a 3-1 win in the finale to clinch the weekend series
- On Tuesday at Indiana State, Jess Willsey gave UE a 2-1 lead in the 9th before the Sycamores hit a walk-off 2-run home run to win by a 3-2 final
Getting back on Track
- Marah Wood enters this weekend on a 6-game hit streak that has seen her average rise from .195 to .236
- The recent streak has seen her record nine hits in 23 at-bats
- In the April 1 opener against Belmont, she went 3-4 with two RBI and two doubles while adding a walk, run and steal
- She followed that up with her second home run of the season and two more RBI in the second game of the series
Starters Excelling in the Circle
- Over the last 13 games, the starting pitching for the Purple Aces has been outstanding
- As a whole, the starters have tossed a total of 49 2/3 innings while allowing just 15 earned runs over that time
- That translates to a 2.11 ERA
Finding her Rhythm
- Sophomore Sydney Weatherford is on an absolute roll in the circle
- Over her last 30 1/3 innings of work, Weatherford has allowed just five earned runs while lowering her season ERA to 2.92
- Her ERA is 14th in the MVC
- After allowing five runs in 2/3 inning against Indiana on March 11, her ERA rose to 5.33
Submitted by Athletics
Baseball Aces Return To Valley Play Against Valparaiso This Weekend
The second half of the college baseball regular-season begins this weekend for the University of Evansville baseball team, as the Purple Aces will welcome in Valparaiso to German American Bank Field at Charles H. Braun Stadium for a three-game Missouri Valley Conference series.
The series begins Friday night at 6 p.m. and continues on both Saturday and Sunday afternoon with 2 p.m. and 1 p.m. contests. The entire series can be heard live in the Tri-State area on 107.1 FM-WJPS and the Old National Bank/Purple Aces Sports Network from Learfield.
Evansville will begin the second-half of the season with a 17-11 overall record and 3-3 MVC mark, after rallying to beat Purdue, 12-10, on Tuesday night in West Lafayette. The Purple Aces hit three more home runs on Tuesday night to raise their season total to 42, as UE ranks 48th in the country in home runs entering this weekend's action. Fifth-year first baseman Chase Hug went 3-for-4 on Tuesday night to raise his team-leading batting average to .410, while also launching his seventh home run of the year. Hug currently leads the MVC in batting average, slugging percentage, and on-base percentage, and has hit a home run in five of UE's seven weekend series so far.
Graduate outfielder Eric Roberts continues to lead UE and the MVC in both home runs (12) and RBI (35) this year. He is trying to join former teammate Tanner Craig as the only two UE players to lead the Valley in both home runs and RBI in a single season in the Purple Aces' now 29 years in the Valley. Craig led the MVC in both categories in the COVID-shortened 2020 spring season.
Valparaiso will bring a 9-12 overall record and 1-5 Valley mark into the weekend series. The Beacons used solid pitching from scheduled Saturday and Sunday starters Nathan Chasey and Bobby Nowak on Monday afternoon to knock off visiting Murray State, 5-2, to earn Valpo's first Valley win of the year. Sophomore infielder Nolan Tucker and junior outfielder Kyle Schmack currently lead the Valparaiso offense with .354 and .301 averages, respectively, with Schmack leading the team with four home runs.
The UE-Valparaiso series dates back to 1948, with the Beacons leading the all-time series, 40-25. UE has led the series, 7-5, since Valparaiso entered the MVC in 2018, though, and since UE made the move to Division I, Evansville has held a 14-8 advantage. The two teams split a weather-shortened series to close out the 2022 regular-season at Braun Stadium last May, with Evansville winning the opener, 9-2, before Valparaiso answered back with an 8-4 win.
Junior RHP Nick Smith (2-3, 5.35 ERA) is scheduled to oppose Valparaiso RHP Griffin McCluskey (1-4, 6.75 ERA) in Friday night's series opener.
Submitted by Athletics
Contribute to AceNotes
To have content considered for inclusion in AceNotes, please submit a Marketing Request Form. Deadline for submission to AceNotes is 10:00 a.m. on the requested date of publication. Only articles concerning UE related/sponsored activities will be accepted. Articles submitted to AceNotes may be edited for length and clarity. Submitter contact information is at the end of each article.